When the pandemic hit and weddings were put on hold, wedding cinematographer Philip Lemoine (@philip_lemoine) found himself with extra time. Lemoine, who also had a passion for food and occasionally filmed videos of himself cooking, decided to fully pursue creating cooking videos and tutorials for his YouTube Channel. We came across his Alpha Universe Profile and connected with him to learn more about his work, why he switched to Sony Alpha and which gear he uses to shoot his cooking videos. Create your own Alpha Universe Profile HERE for a chance to be featured on Alpha Universe.
Work dried up in 2020, so this wedding filmmaker made a quick switch, pouring his time & talent into cooking vlogs. His YouTube channel is now paying the bills.
Career Snapshot
Lemoine is originally from the Bay Area. In 1996 his family moved to Hawaii and his dad got a new camera to capture the memories in their new home. When his dad handed him the old camera, he started using it to make skating videos. His interest in video continued to grow and after graduating high school on the mainland he got even more involved in cinematography. He returned to Hawaii in 2009 and started his wedding cinematography business.
"I started my business, Supreme Video Productions, and I've been shooting full-time weddings since 2010. That was my main bread and butter. The wedding industry here in Hawaii is pretty crazy. It's just thousands of weddings a day so it's not hard to find work. After many years of shooting weddings, it got to the point where I wanted to be doing something else but I wasn't sure what. I've always been passionate about food and I love cooking so I just started filming myself cooking and would put it on Instagram. Then in 2019 I decided I would start a YouTube Channel."
He posted a few videos and they began getting more and more views. When COVID hit and the typical 40 weddings a year Lemoine would shoot came to a complete stop, he decided to use that time to really jump into growing his YouTube. "I used that time to pretty much just pivot into food content creation. I started making a ton of cooking videos that started doing really well. My channel just kind of blew up. It grew to all these subscribers and I was actually making income from my views and affiliate marketing and all these other ways. They were really successful which got me even more motivated to double down on the content for this year, 2021."
The Challenges Of Cooking While Creating
Cooking by itself can be challenging enough, but throw in creating videos while cooking, and you really have to be on your toes. "Honestly, the most challenging thing is timing," says Lemoine. "It's hard to be creative as I'm filming myself cooking. There's no one there filming me. It's me filming myself cooking, and sometimes the cooking itself is difficult. There's a lot of timing involved because you don't want to burn the food."
"Imagine throwing a steak or something down on the pan. If I want to get a different angle, a more creative angle, I have to quickly move my camera and my lighting to get the shot. I want my videos to be more cinematic and engaging and to do that I have to move my camera around a lot. That's a difficult thing to do while you're talking and cooking. That's why I do so much planning and pre-production. I walk through each step and plan out how much time I'll need and if I want to change my angles up.
"It all goes into the pre-production then. So there's a lot of planning on just like, okay, what's the steps that I'm going to do to cook this. Okay. So each of those steps, I could probably buy a little time or, you know, I know this takes this much time to do this so I can change it, my angles or, you know, I'll just shoot all of this before and then just have it ready. And then that way I can focus on kind of like the big stuff that I know. Like I don't really have a lot of time to move around and then, you know, I can, I can focus on those, shoot those a little safer. And then that way, when it comes for the hero shot of the plate, going down, all of those other little things they're kind of already done and I can just focus on the big guy. It's just a lot of preparation to have the shoot run smoothly."
Cooking Videos AND Videos About How To Make Cooking Videos
Lemoine doesn't just make cooking videos, though. He found a way to incorporate his love of cinematography by creating behind-the-scenes videos that show tips for YouTube and the process he goes through to make his cooking videos – and those have been very popular too.
"I was just showing all the gear that I use, all the lights, all the lenses, and that got so much traction and people started asking me more questions about how I did everything. So I started making these tutorial videos on how to make cooking videos. And that's almost how my channel is starting to transition because I know more about photos and video and the technical side of that than I do cooking. I'm not a chef, I'm just a home cook."
"I really geek out and I can talk about that all day. I love helping people and teaching people. And my goal now is to just try and help others make income doing something that I'm passionate about, which is cooking. So that's kind of like where my transition is going into YouTube. I was just trying to help other people become profitable content creators."
Lemoine's Go-To Sony Gear
Lemoine was originally a Canon shooter, but when the Sony Alpha 7S II came out he rented one to try out. He was amazed by all of the functions and what stood out most to him was the Electronic Viewfinder (EVF). He had been photographing weddings on the beach in Hawaii with his Canon 5D Mark III and couldn't see the screen because of the sun. Sony's EVF and other features, like the ability to digitally zoom while you're recording video to check focus, were critical to his wedding cinematography. He's switched up his gear some now that he's shooting more cooking videos, but he's still sticking with the Sony system.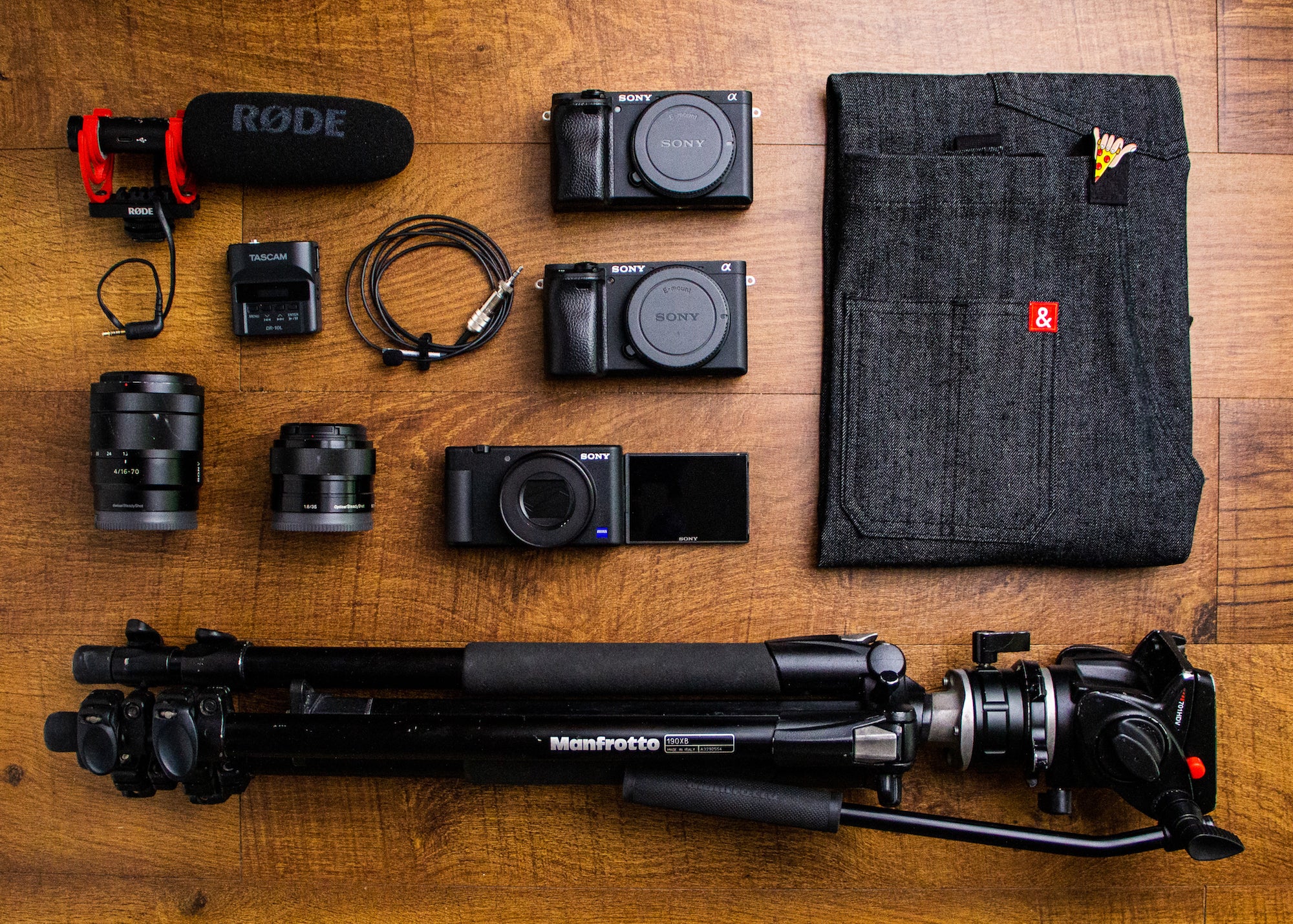 Philip Lemoine's Kit For Cooking Videos. Read more in his What's In My Bag article HERE.
"I have two Sony Alpha 6400's that I use," says Lemoine, "but typically I like to slim down my shooting to where I'm just running one camera and moving it around between each major step. And then the main lens that I use is the 35mm f/1.8. It's great for those tight shots when I'm prepping or cooking. Since I'm using a crop sensor camera, it's almost closer to a 50mm which is a focal length I love. It still punches down a little bit but you don't have to have your camera all up in the action, especially when I'm cooking and greasy stuff is popping."
Lemoine also recently purchased the Sony ZV-1 and is finding interesting ways to incorporate it into his workflow. "I make a lot of horizontal video content for YouTube, but I've also been making more vertical content for Instagram. I recently bought the Sony ZV-1 and I've actually been mounting it on top of my Alpha 6400 vertically. So when I shoot, I'm able to knock out video content for both. I can get each composition I want with the different cameras." (Learn more about Lemoine's gear in his What's In My Bag article HERE.)
Join Alpha Universe and complete your public profile. It's free and you'll have a chance to be featured on Alpha Universe! Click here to learn more.