Robert LeBlanc is a photographer/photojournalist who sees the world through a different lens. His photos are authentic and spontaneous and ideally suited to the RX100 IV. In this collection of photos, LeBlanc gives us a glimpse behind Montana's wildfires and the firefighters who risk their lives daily to stop them.
The Gibralter Ridge Fire was one of several in the greater Eureka, Montana area. Lightning is what caused the fires to start on late Monday, August 7. This particular fire grew overnight to approximately 900 acres and was threatening structures and residences to the east of the city. Since August 7, the fire has burned over 5,100 acres of Montana wilderness and brought in 450+ wildland firefighters from all over the United States, including a hotshot crew from Silver City, New Mexico. I had the opportunity to follow these brave men and women around for several days while they battled against this burning inferno. After witnessing what it takes to go against such a massive fire, my appreciation for them has gone through the roof.
What I learned the most from spending time with these wildland firefighters is that a fire's destruction is unpredictable and you have to be quick on your feet. From sudden wind shifts to falling trees, being on your game at all times is mandatory and could cost you your life if you're not on it. So while I'm taking photos I can't afford to be playing around with my camera and have it be in my way if circumstances change quickly. For those reasons, I decided to use my RX100 IV during this experience. It is portable and I found it very useful to be able to access and edit images on the fly via the RX100I V's internal WiFi and my mobile phone. There is not any room for extra equipment like laptops when in very rural and remote areas in the wilderness.
You also only get a short amount of time to meet these firefighters and be around them. So, if you want to be able to share the photos with them, you need to be quick and efficient without a lot of extra steps. I found that the majority of my time spent editing was through my iPhone, and in return I was able to deliver images almost instantly – resulting in some great moments. For example, one day I shot a photo of a Silver City hotshot member walking the fire line holding a chainsaw over his shoulder (see below), I edited the image that day and shared it with the informations agent, who posted the photo on the The Gibralter Ridge Fire Facebook page that same day. Just by chance the mother of one of the crew member's checked out the Facebook page to hopefully get some updates on the fire and make sure her son was OK. She came across the photo and it was her son and she was ecstatic to see her son right there alive and well. If I waited to get back home and sit down on my laptop to edit the images, she probably wouldn't have seen the photo of her son and not received that same relief she felt from seeing that image. Timing is everything in photography, not only when taking a photo but also the time it takes to get them out into the world to impact people.
All of the photos shown were edited via iPhone using the RX100 IV WiFi feature, PlayMemories mobile app and Adobe Lightroom mobile app.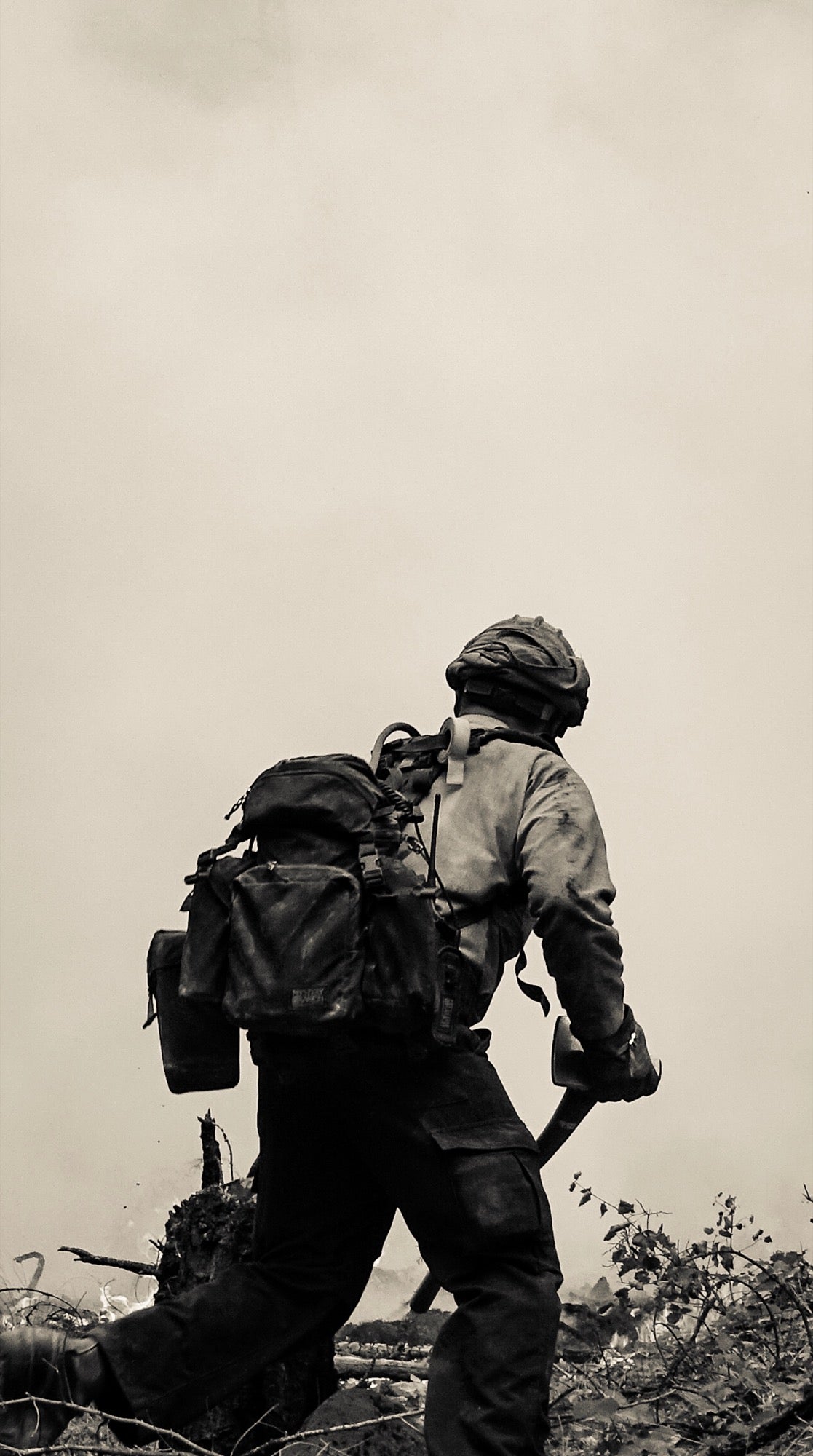 Sony RX100 IV. 1/400-sec., f/7.1, ISO 160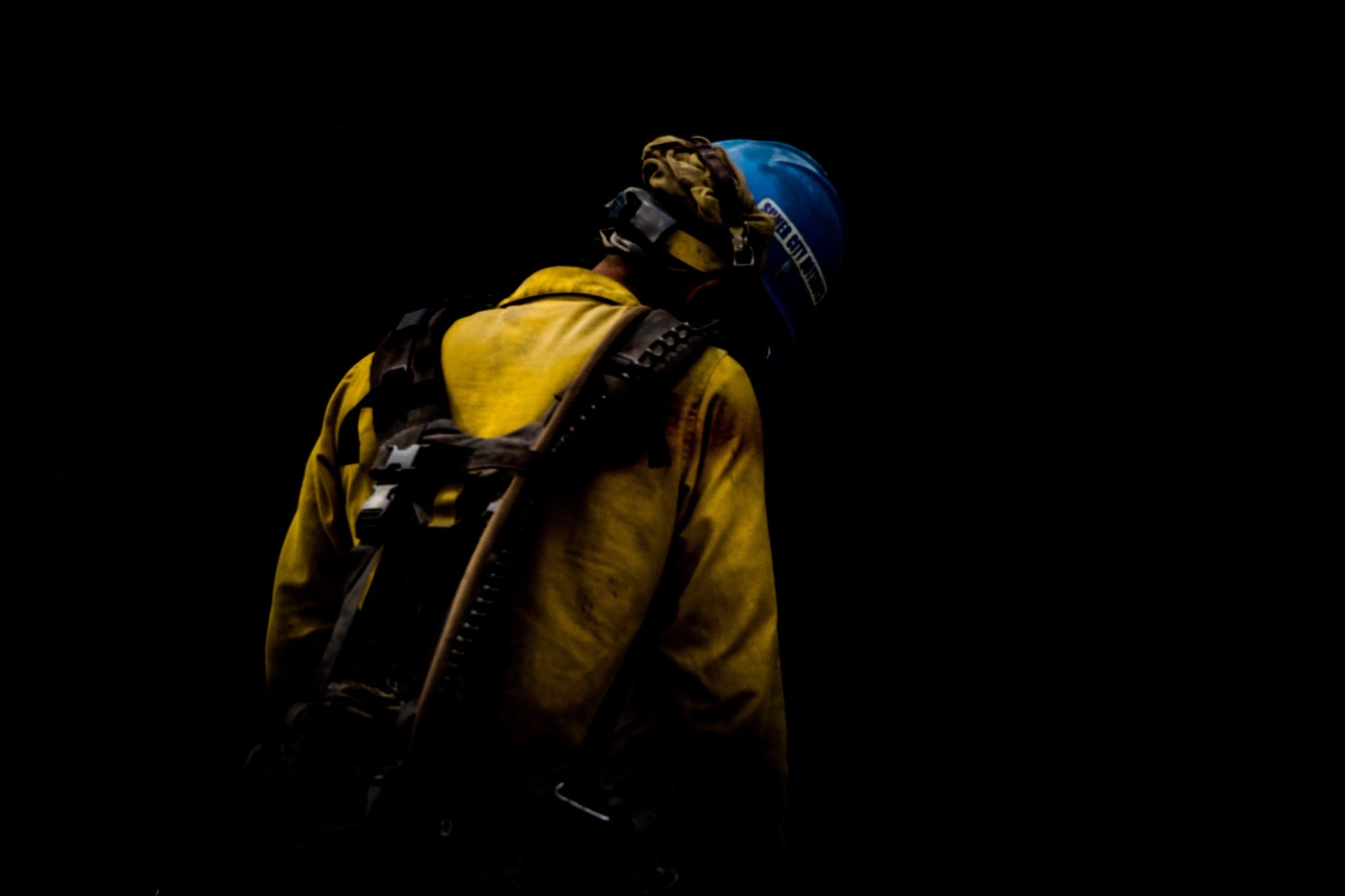 Sony RX100 IV. 1/400-sec., f/5, ISO 160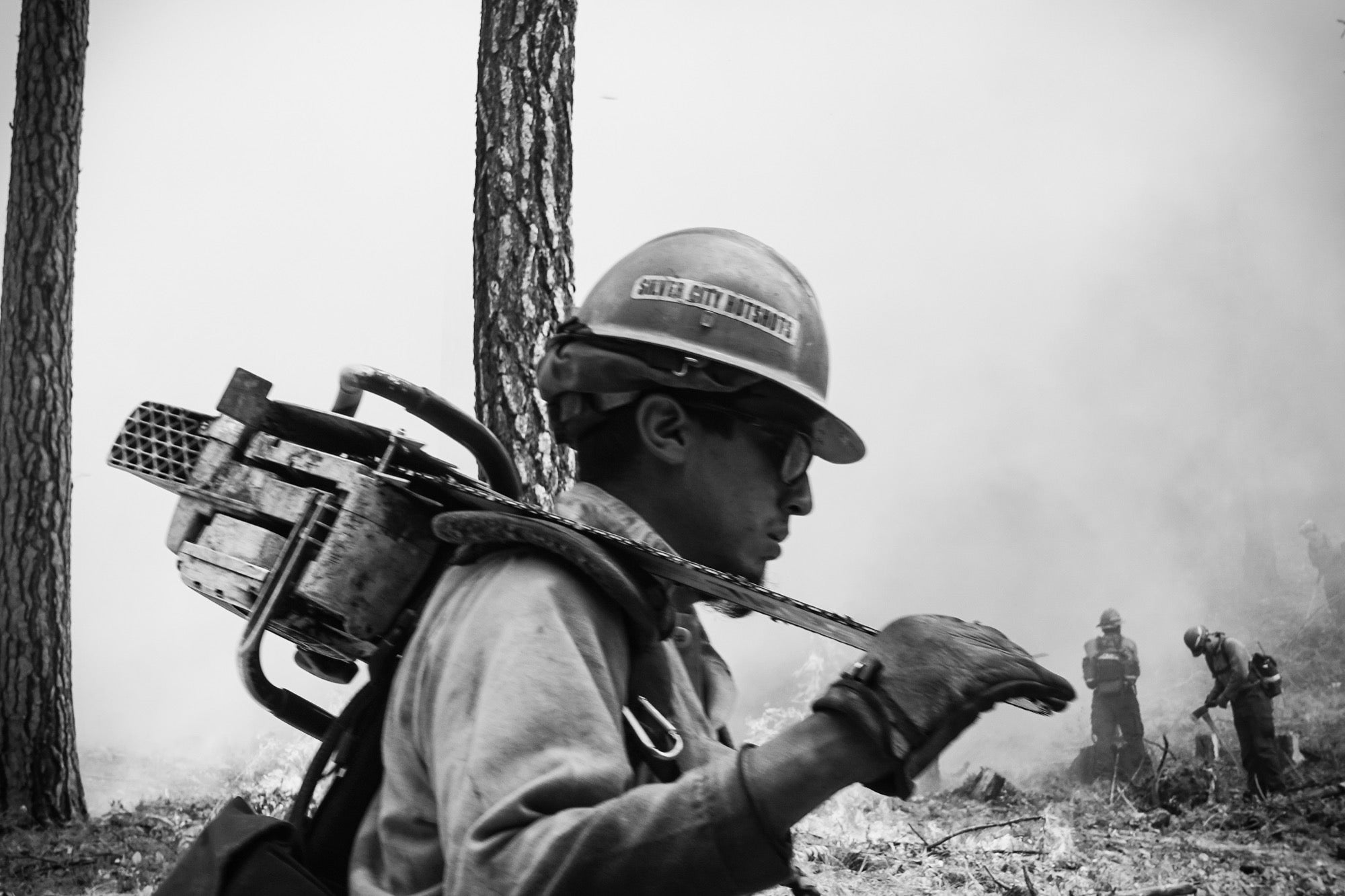 Sony RX100 IV. 1/400-sec., f/7.1, ISO 160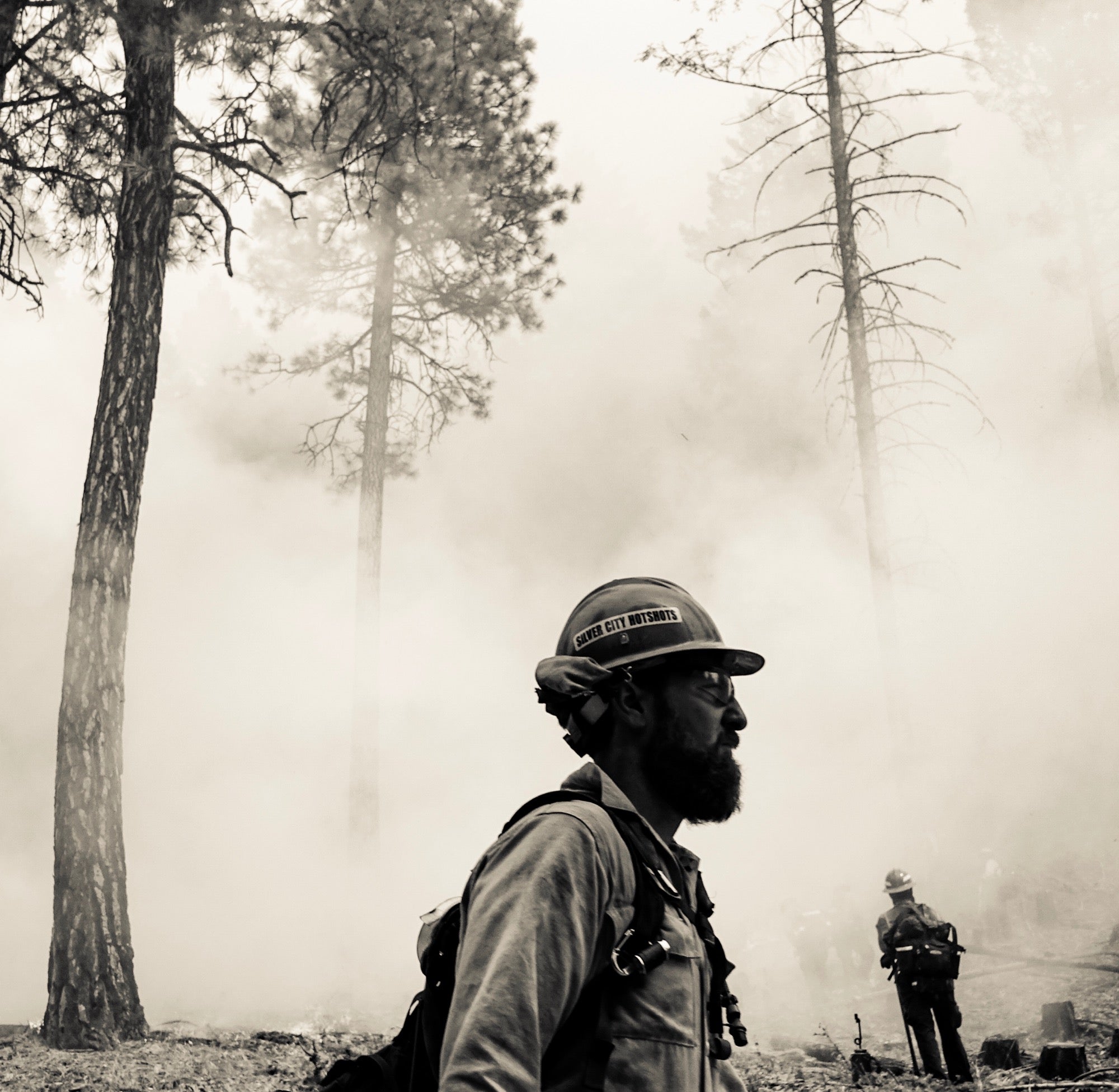 Sony RX100 IV. 1/320-sec., f/7.1, ISO 160
Silver City Hotshots were brought from New Mexico to work on the Gibralter Ridge Fire. Hotshots are to firefighting what Special Forces are to the military. Their training is intense, assignments extreme – and their members are some of the most elite firefighters in the world. Hotshots are specifically trained to respond to fires in the most remote regions of the U.S., where there is little-to- no logistical support to aid in firefighting efforts. Bulldozers and firetrucks aren't able to follow Hotshots into the remote wilderness. Instead, these elite firefighters learn to use smaller equipment, like chainsaws and shovels, to combat out-of-control wildfires. There are about 2,000 Hotshots nationwide, divided into roughly 107 crews of 20 firefighters.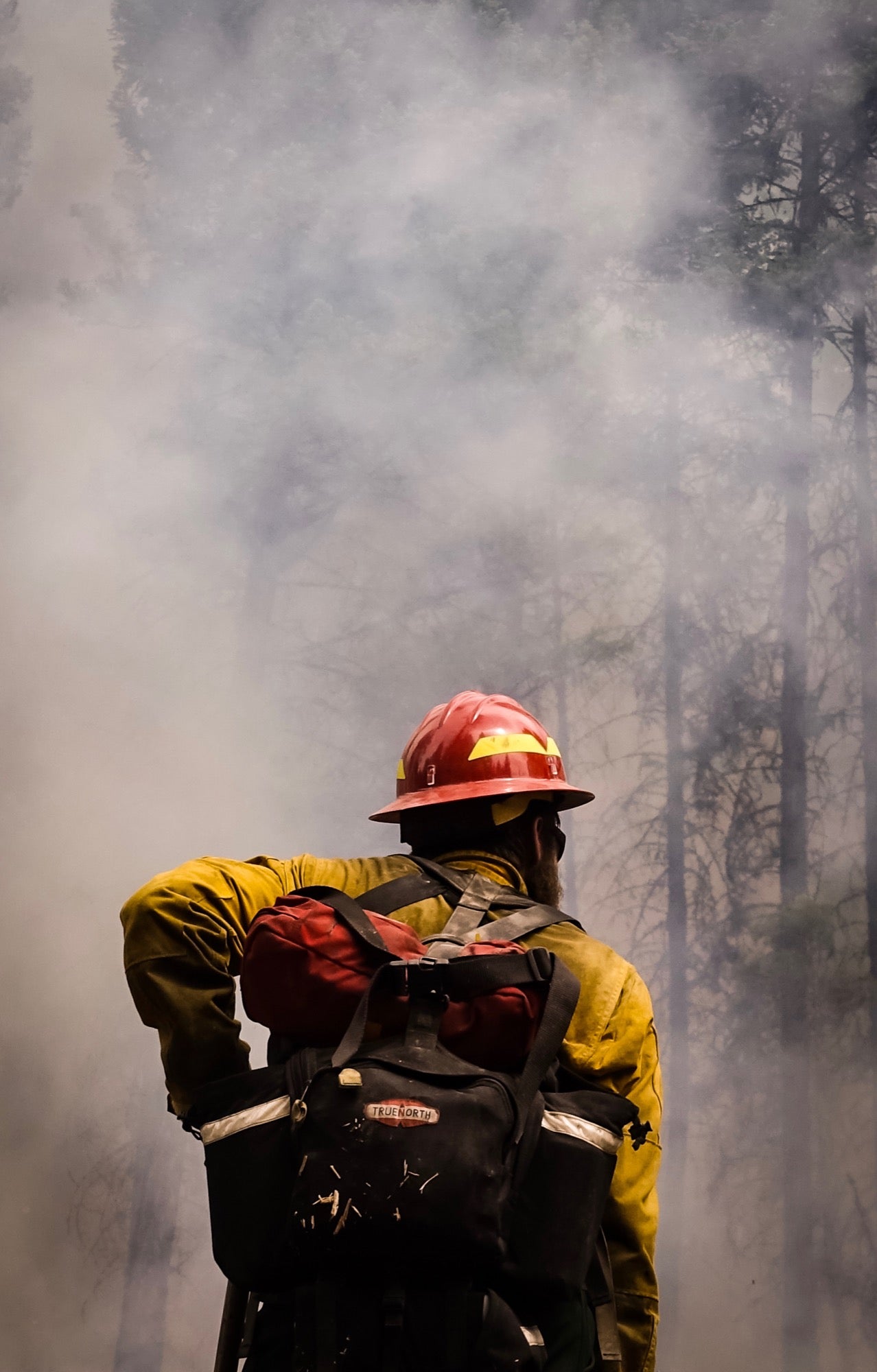 Sony RX100 IV. 1/250-sec., f/7.1, ISO 160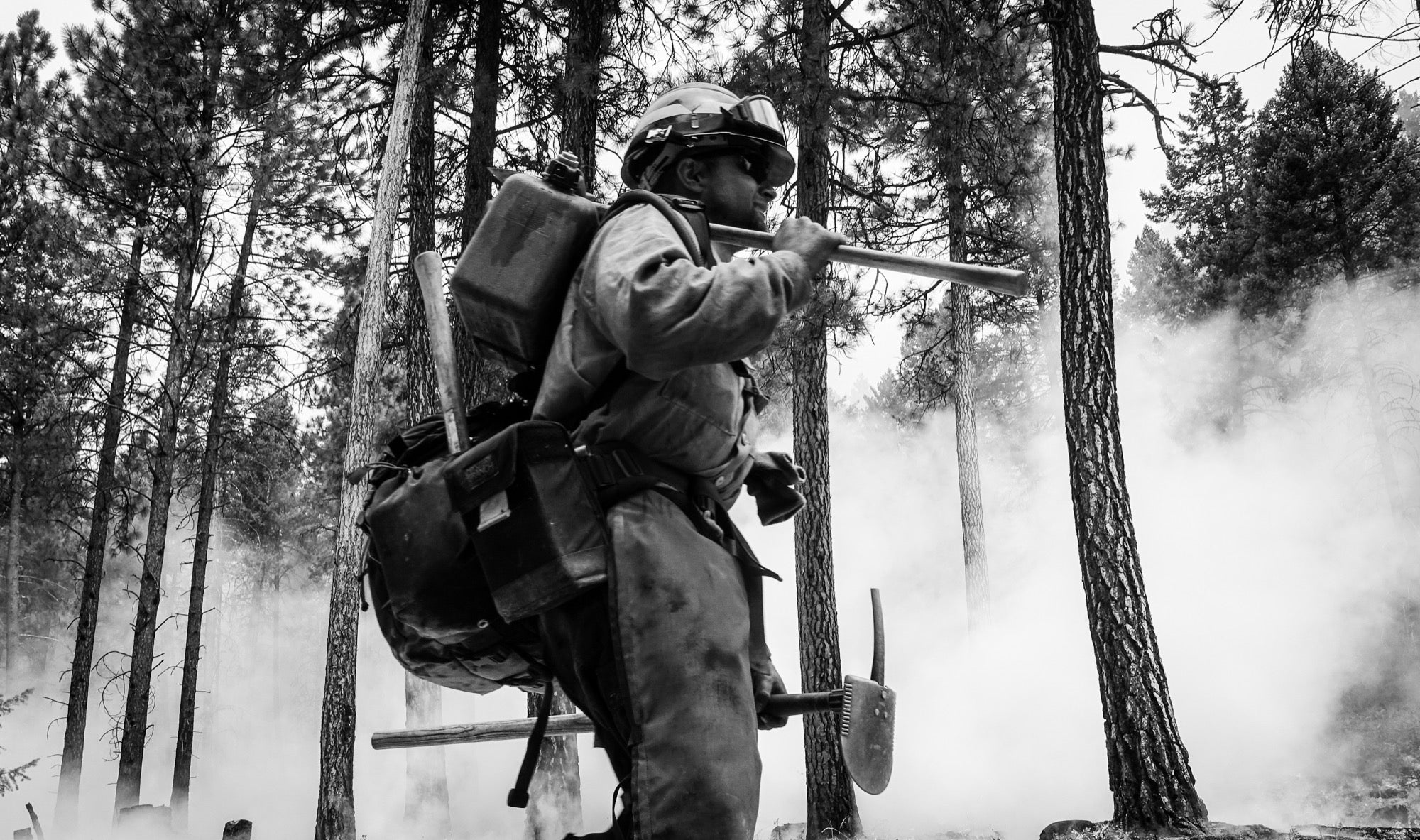 Sony RX100 IV. 1/320-sec., f/7.1, ISO 160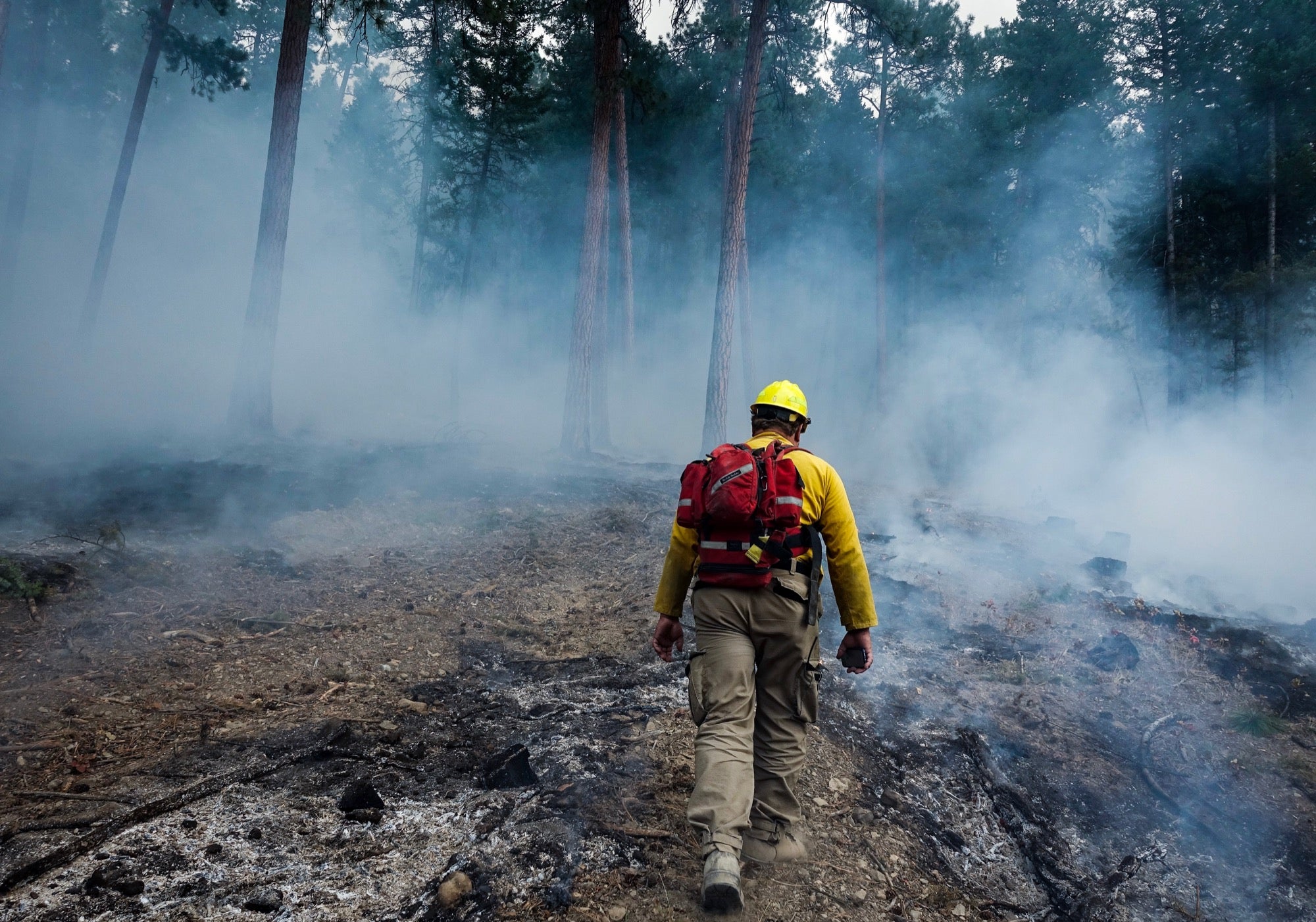 Sony RX100 IV. 1/400-sec., f/5, ISO 160
A day's work for a firefighter is strenuous to say the least. Running heavy hoses up and down steep or rugged trails, digging hand lines and clearing a heavy forest down to the bare earth for a fire break are a few of the things firefighters must do on a daily basis. Firefighters are required to eat around 6,000 calories a day to keep up with the 12-16 hour days. Carrying packs that can weigh up to 45 lbs., the required physical condition is demanding.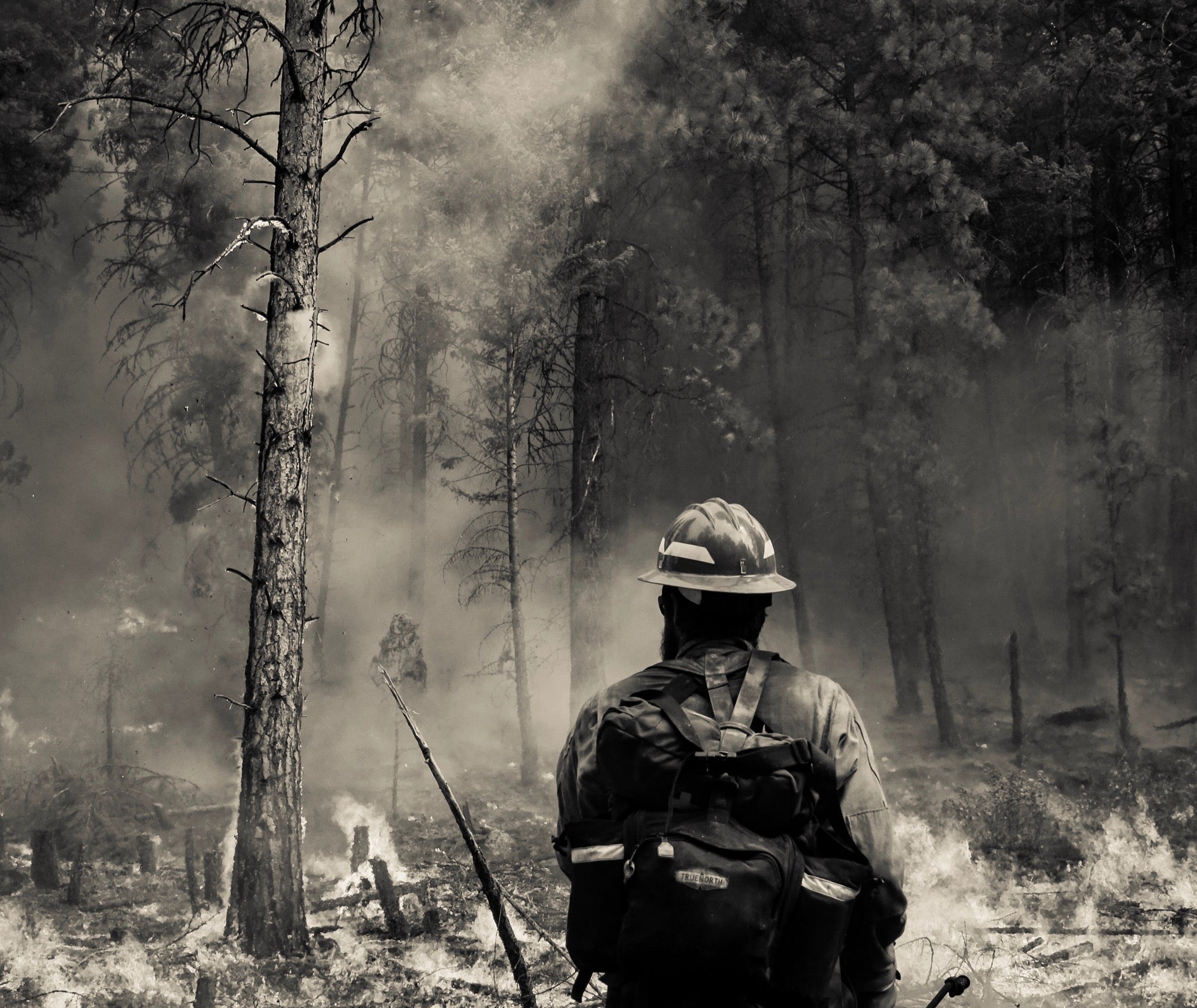 Sony RX100 IV. 1/400-sec., f/7.1, ISO 160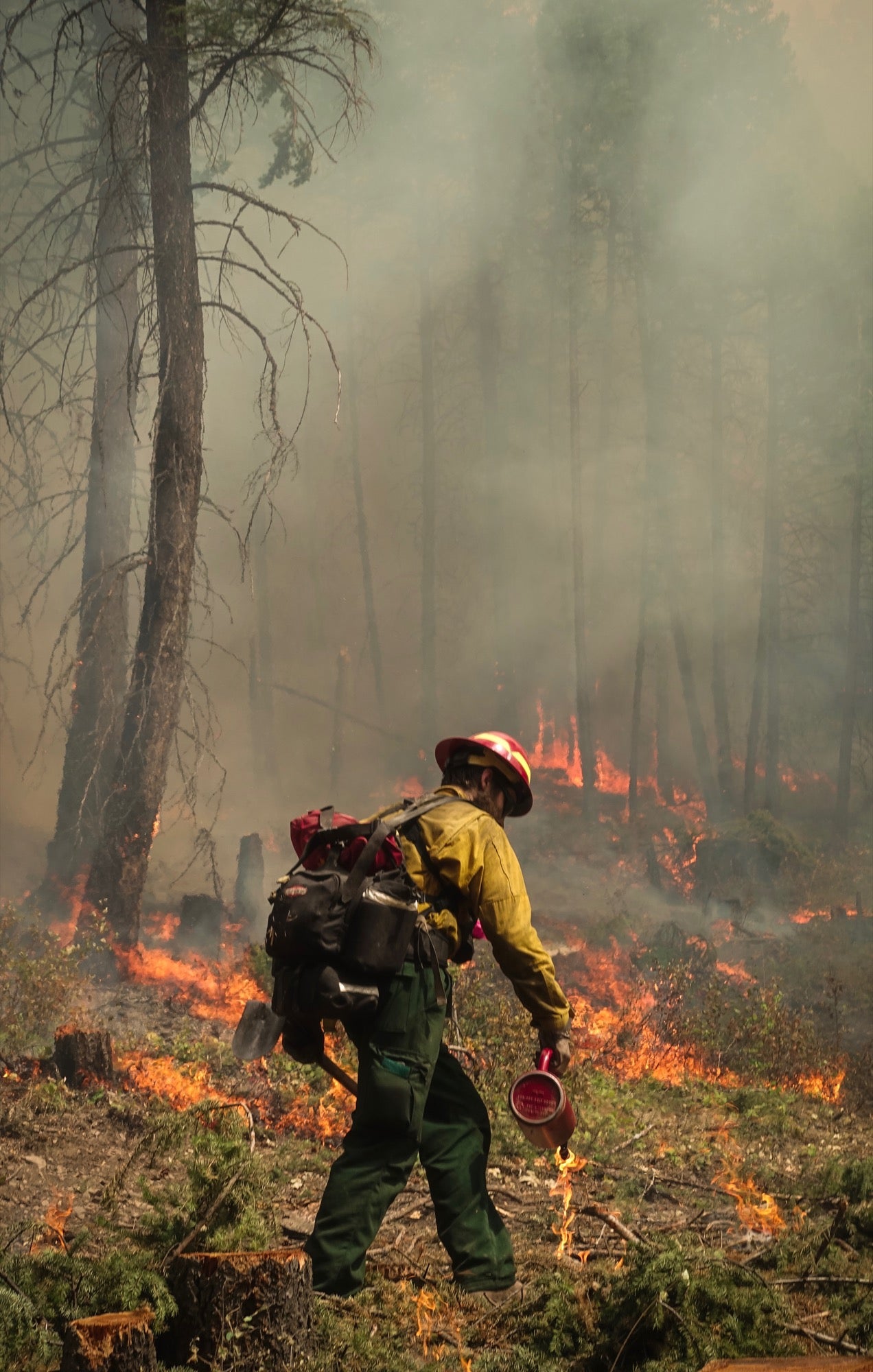 Sony RX100 IV. 1/250-sec., f/7.1, ISO 160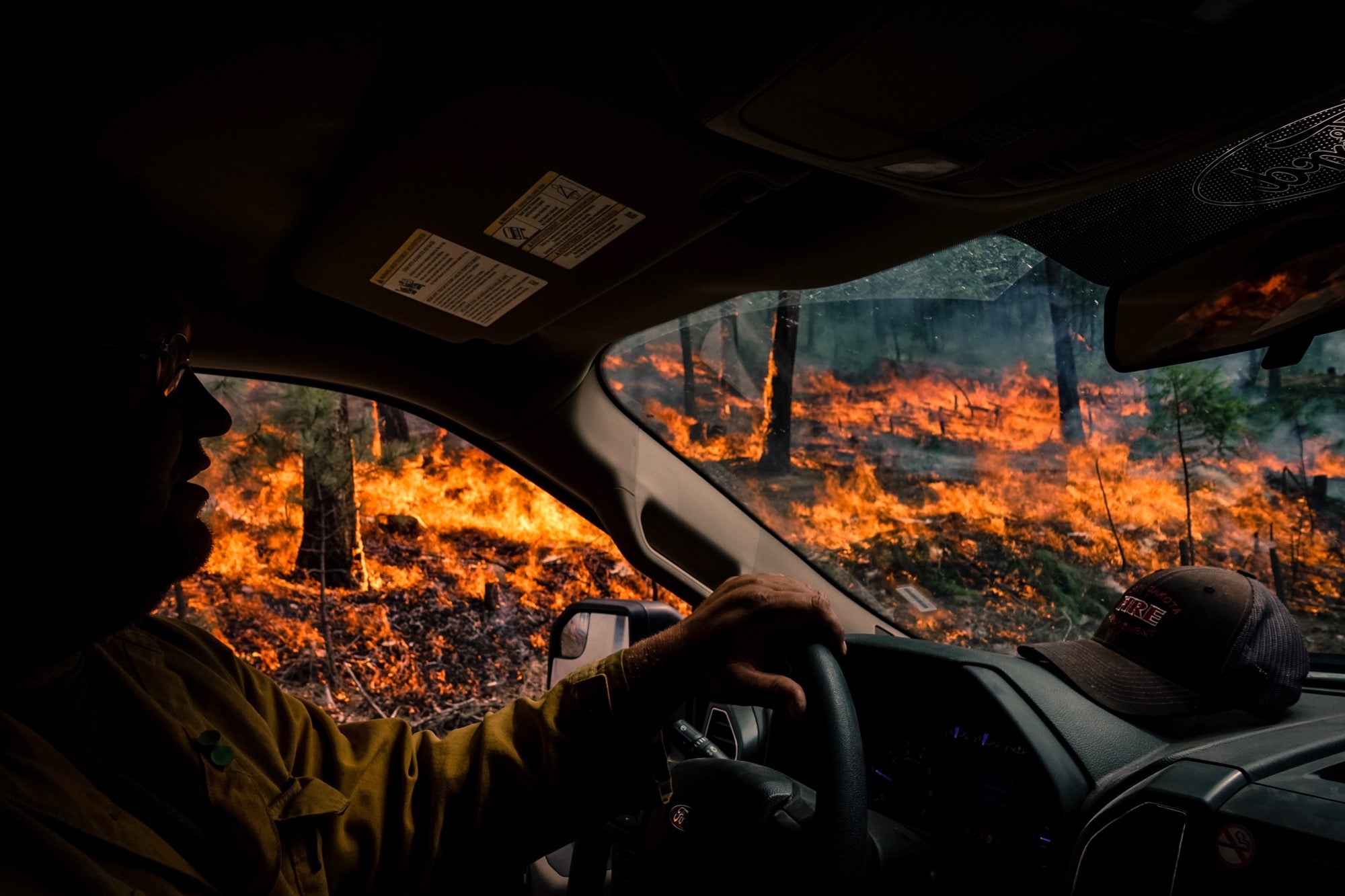 Sony RX100 IV. 1/400-sec., f/5, ISO 160
A strategic and successful technique used during the Gibralter Ridge Fire was "back burning." This involves starting small fires along the natural fire, reducing the amount of fuel that's available to the main fire by the time that it reaches the burnt area. Creating a secure burned perimeter allows the firefighters to push the fire away from residential structures and keep it within a controlled area. Without fuel for the fire to spread, it will eventually put itself out.
Robert LeBlanc is a documentary photographer based on the West Coast. His photojournalism is all about grittiness and authenticity. See more on his website. Follow him on Instagram @photosbyrobertleblanc