Amidst the COVID-19 shutdowns, life has been upended around the world. They say to think globally and act locally and photographer Matt Mendelsohn did just that when he found a way he could do something for a group of people in his community in Northern Virginia. While looking through Facebook Mendelsohn was seeing a lot of posts dedicated to the high school seniors, the class of 2020, and he saw an opportunity to be of service.
See how Sony photographer Matt Mendelsohn is documenting the class of 2020 through black and white portraiture.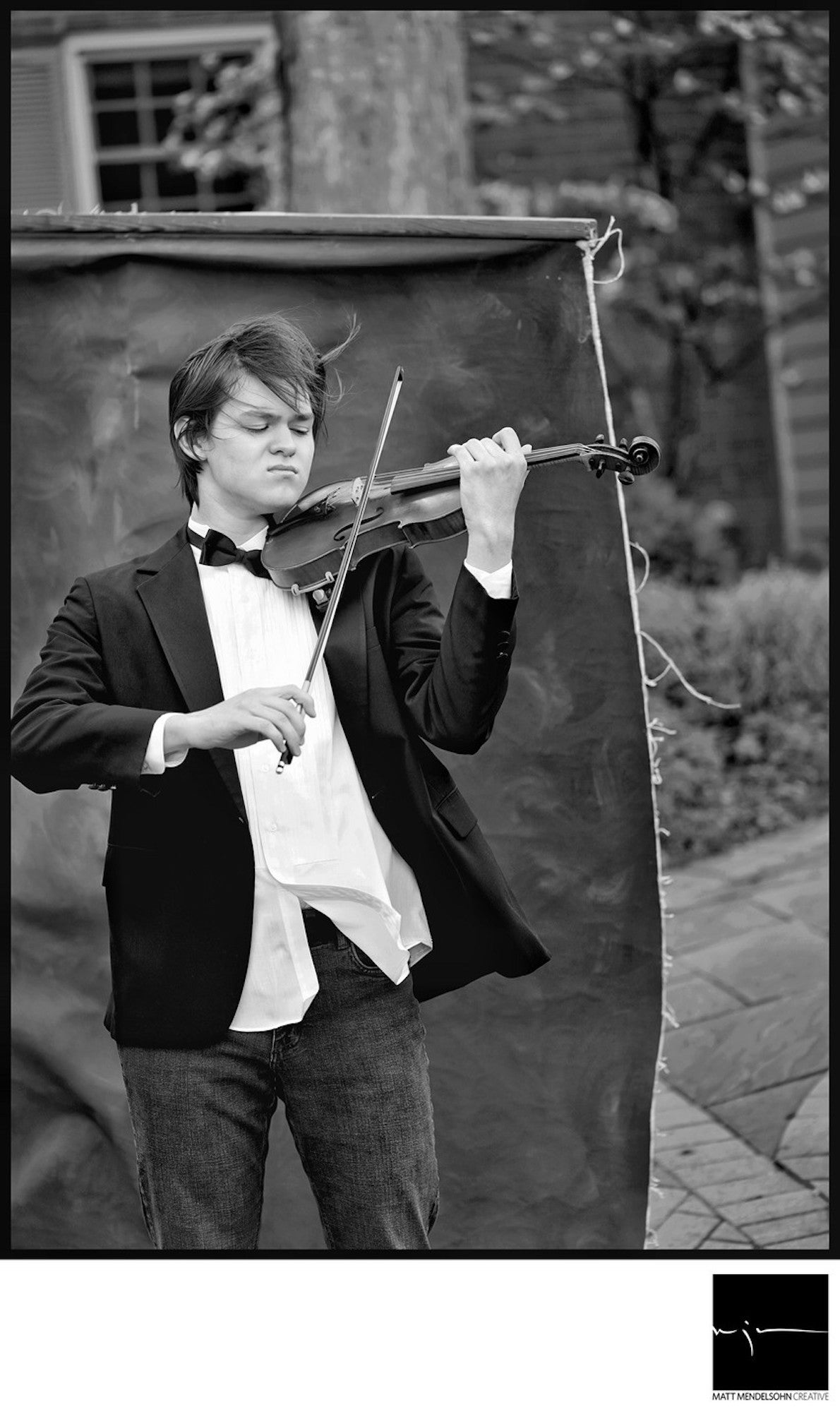 "I just thought, the class of 2020 is there in suspended animation," he says. "This is the cumulation of their entire childhood and education and it just came to an abrupt halt. And it's more than just missing graduation and it's more than missing the prom. It's like four months of your senior year. You didn't get to say goodbye to anybody. You didn't get to clean out your locker. I just felt like they lost that rite of passage. I know that there are bigger issues and certainly very serious issues, but I just felt on a local level that the seniors got the short end of the stick." So he decided to take their pictures to give them some recognition. That's how Not Forgotten: The Yorktown Seniors of 2020 project got started and almost immediately, the project took off. It's been featured in The Washington Post, The Today Show, the CBS Evening News as well as local TV news and magazines.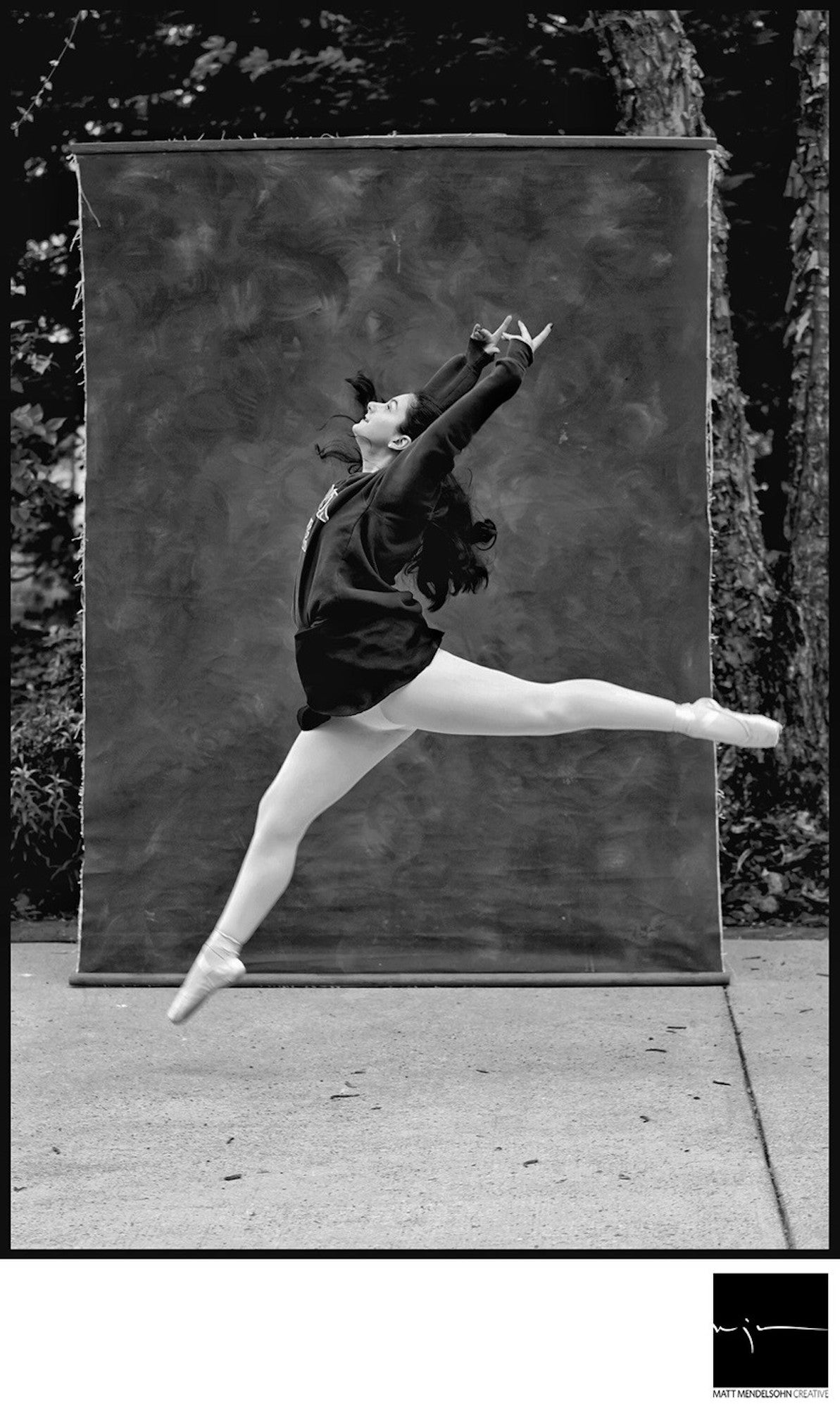 From his career as a photojournalist, Mendelsohn wanted to do more than simply take senior photos. He wanted to document what these kids are going through. He explains, "I've seen some comments from people to the effect of 'suck it up. It's just a prom. I managed to miss my prom and I'm fine.' And I think those people are really missing the boat. You have to be a 17 or an 18 year old to understand the kind of loss that these kids are feeling. You have to step into the shoes of a high school senior to understand the kind loss that's going on."
Mendelsohn continues, "In fact, one of the soccer players I photographed, a girl named Allie summed it up great. She said, 'we understand that people are dying in hospitals in New York. We're not trying to say that our grief is equal to that kind of grief. We're simply saying we have a different kind of grief.' And I thought, 'yes that was exactly it.'"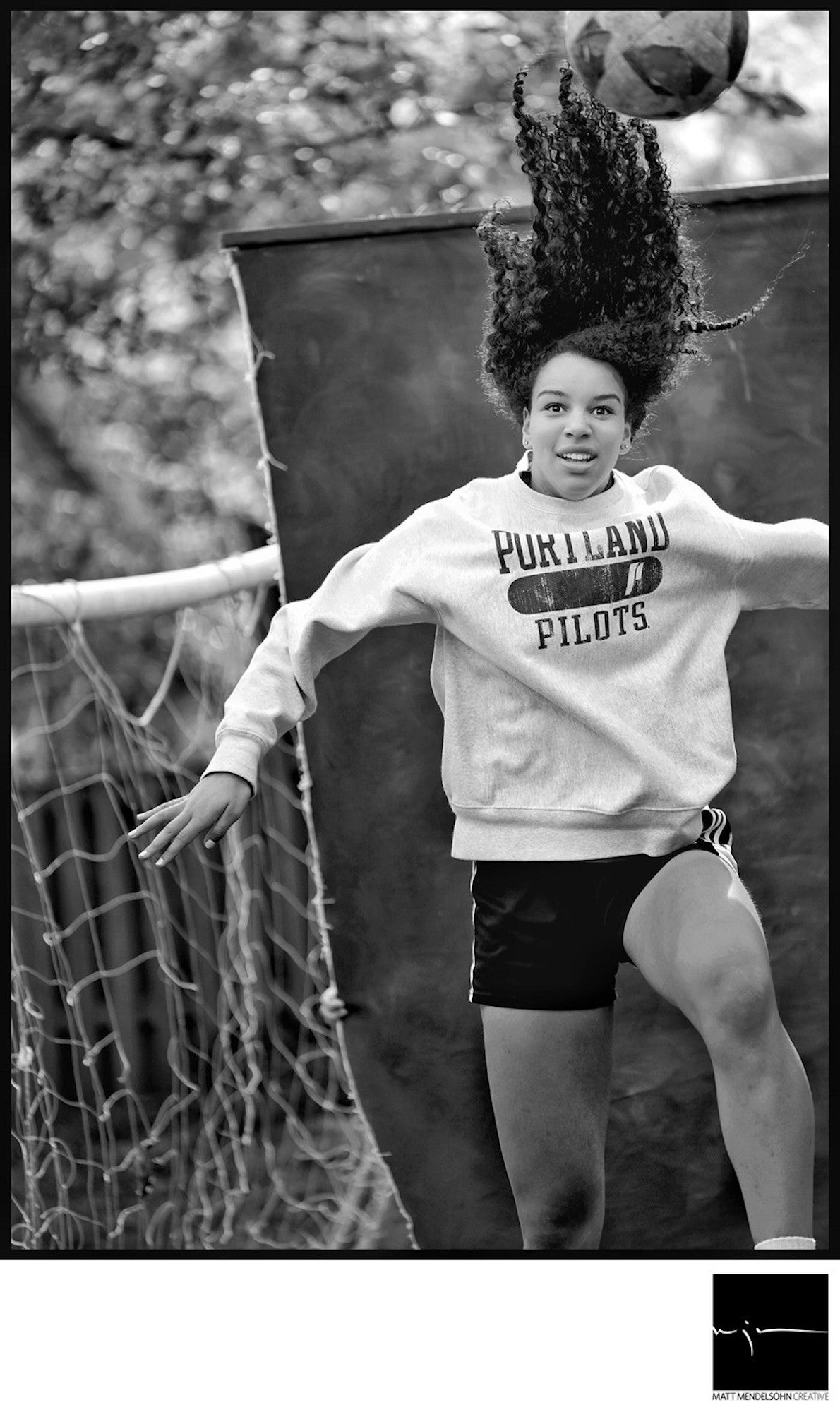 So in addition to giving something to this class of 2020, Mendelsohn is creating a record of this bizarre time in their lives. Photographically he's approaching the photos through the prism of photojournalism. "Journalism is in my DNA. I've been doing this for 35 years and there's a lot of journalist still left in me. I did not want to go out and shoot 500 senior portraits of kids lying in tall grass or in the fields of tulips or sitting on a split rail fence. I felt like somebody else could do that. I thought by doing this journalistically, by having this theme of an artificial backdrop and natural surroundings to create a kind of visual glue I would be making 500 pieces of one puzzle rather than 500 senior photos."
Mendelsohn's backdrop wanders through the images in an oddly artificial way. "I've always loved portraits with kind of a messy backdrop where you could see the natural environment beyond. I had this thought that the backdrop would kind of float into the photos. As we got further on, I had one senior who wants to become an auto mechanic. And I thought, 'you know what, I'll use it as a drop cloth instead and I'll just have him put his stool on the backdrop.' So the backdrop is kind of fun and it's become a little bit of a Where's Waldo kind of thing."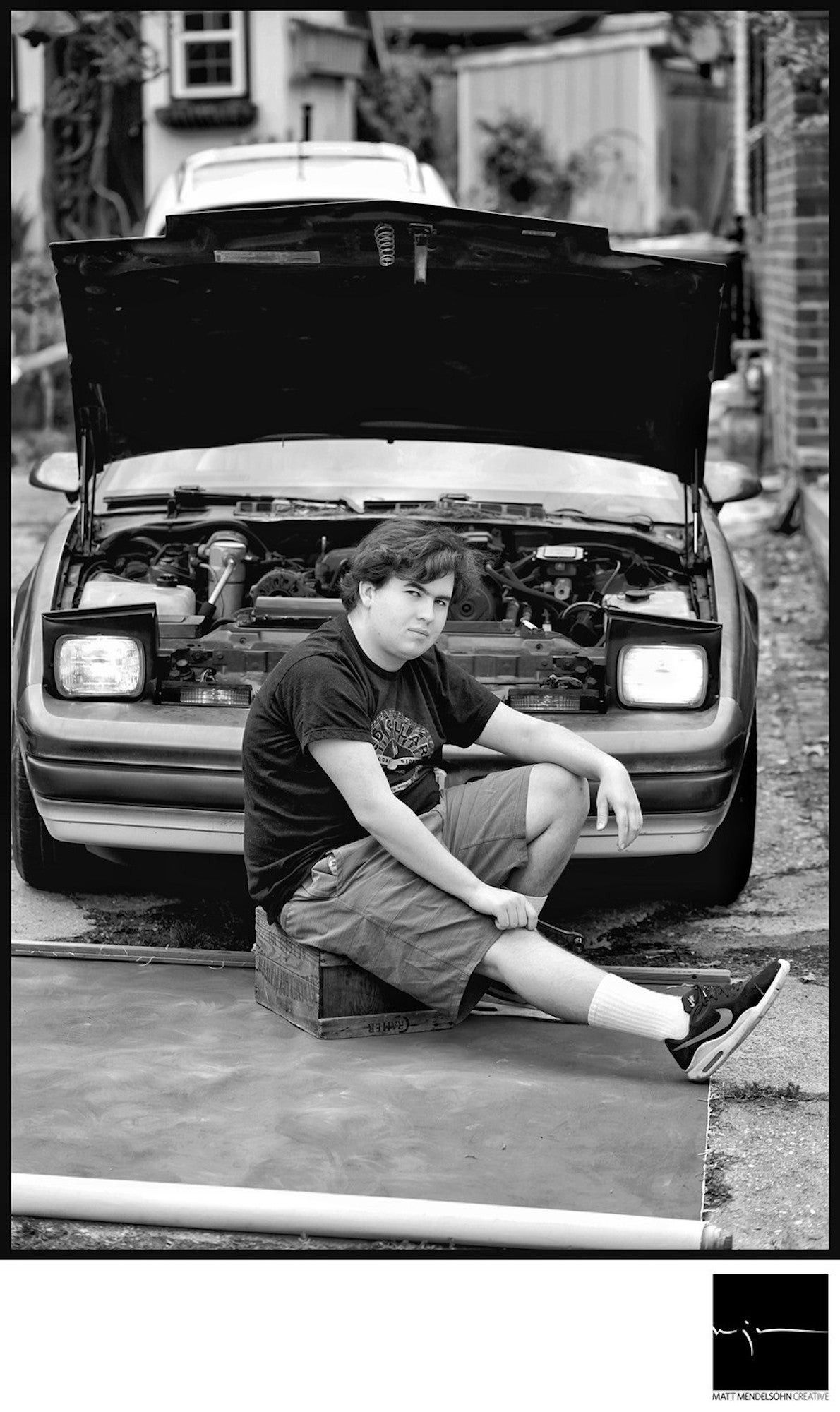 In addition to the backdrop, Mendelsohn made the decision to shoot the entire project in black and white. That decision was equal parts love of black and white and simple logistics. "Because my backdrop is powder blue, it would have had a different feel if the photos were in color. By making the images black and white, it forces you to look at content rather than being distracted by the blue backdrop or any color, really. I wanted people to focus on the content."
The requirements of social distancing and stay at home orders created other logistical challenges for Mendelsohn. His photo kit, which would have ordinarily held a quiver of lenses and assorted gear, has been reduced to the Sony α7R III and a 70-200mm G Master lens, masks, gloves and sanitizer. "This is all safely distanced. I'm 25 feet away from the seniors shooting with the 70-200mm lens. I'm using Eye AF for all of the photos. The Eye AF just makes it so easy to make these portraits. I shoot, and then I zoom in on the LCD, then I see eyelashes that are ridiculous."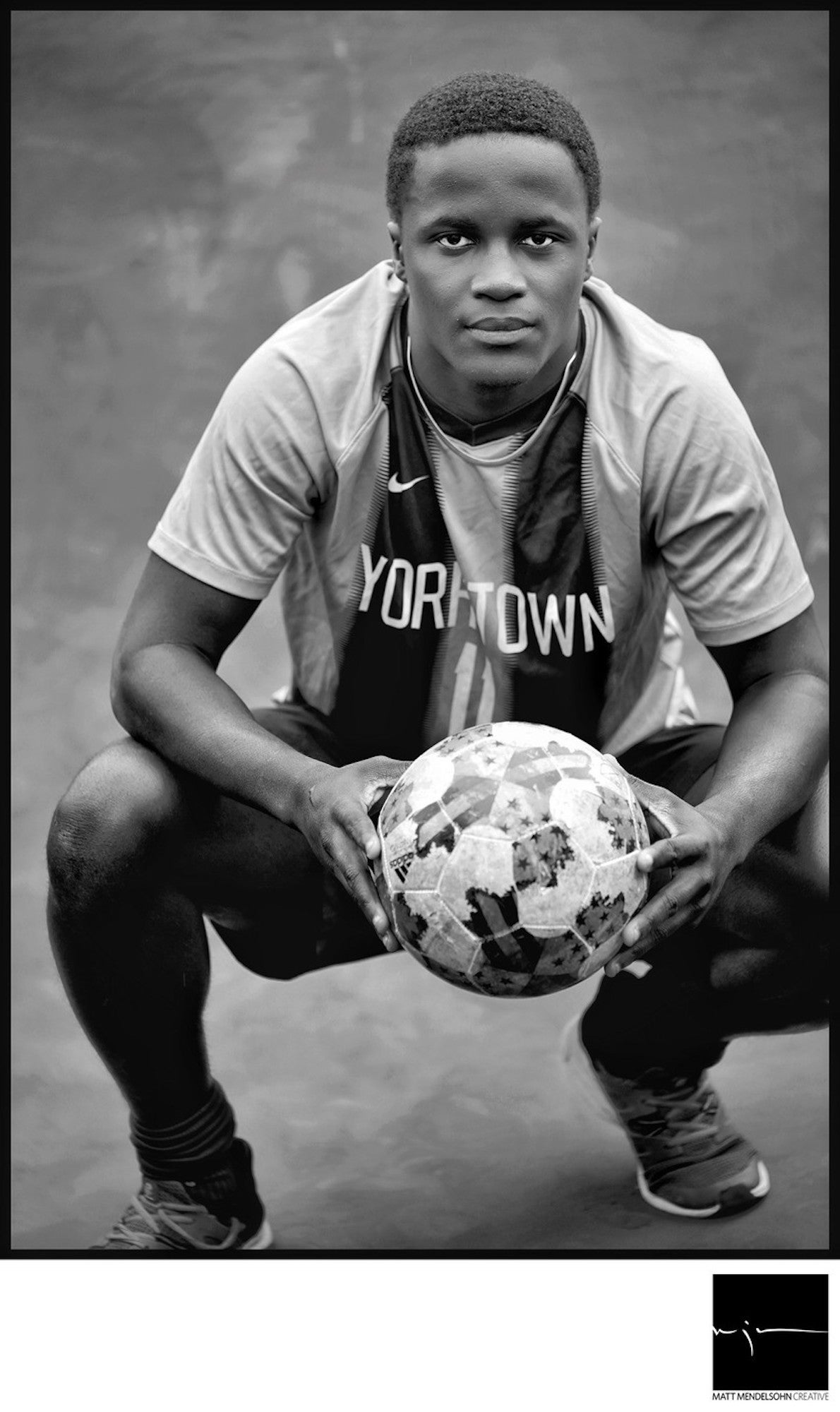 Also, because all of his usual equipment is at his studio, a place he hasn't been to since shutdown orders started, Mendelsohn is doing everything in the camera and using the wireless transfer function to send the images to his phone. "I've been able to transfer so easily out of camera. Even though I'm capturing RAW images, I haven't really even touched a RAW file yet. This is essentially a JPEG project right now because of the quarantine. I couldn't be doing this whole thing without my Sony camera."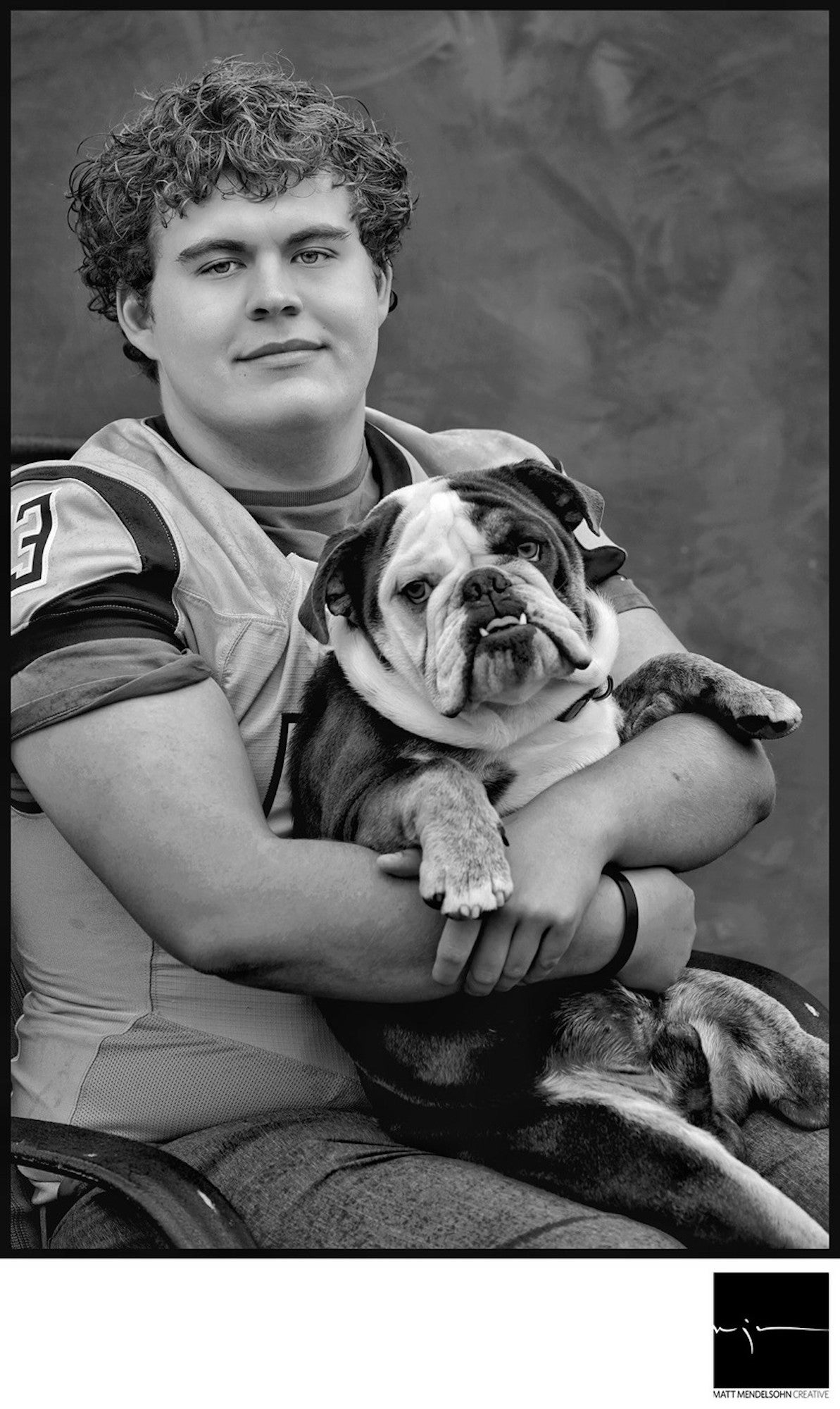 We'd be remiss if we didn't emphasize how carefully Mendelsohn is adhering to social distancing and his attention to safety as he makes the images. "I wear a mask, I wear gloves. I don't get closer than across a driveway. It's all done at a distance and safety is the most important thing. We're doing each shoot individually and it's a slow process because we aren't having any gathering of people at all."
One especially unexpected result of the project has come because of the notoriety. "The whole thing has been pretty unbelievable, but one thing that's happened from the Washington Post article and the CBS news and Today show is that people have noticed the backdrop when they drive by and they're honking and yelling 'congratulations senior!' That's been really nice. I feel like that's given something back to these seniors."