Jennifer Taylor (@jennifertaylorphotography) is a commercial portrait and performing arts photographer based in New York. With a client list that includes Carnegie Hall, Lincoln Center, The New York Times, Yamaha, Rolex, and many orchestras and ensembles, Taylor does plenty of work within the concrete cacophony of the big city. In her personal time, this pro uses her camera and lens to capture a different kind of performance amid the grand landscapes of the US and beyond. Like most pros, Taylor usually has a pre-visualized plan for the sort of images she wants to make for her commercial work as well as her personal landscapes. When we reached out to her to find out more about this dramatic stormy-sky photo that we saw in her Alpha Universe Profile (which you can see HERE), the story turned out to prove the old maxim about luck being the intersection of skill and preparation (and having a versatile lens to take advantage of a fleeting moment).
Photographer Jennifer Taylor shares the story behind how she captured this "Dusk Ride" using the Sony α7R III and Sony 24-105mm f/4 G lens.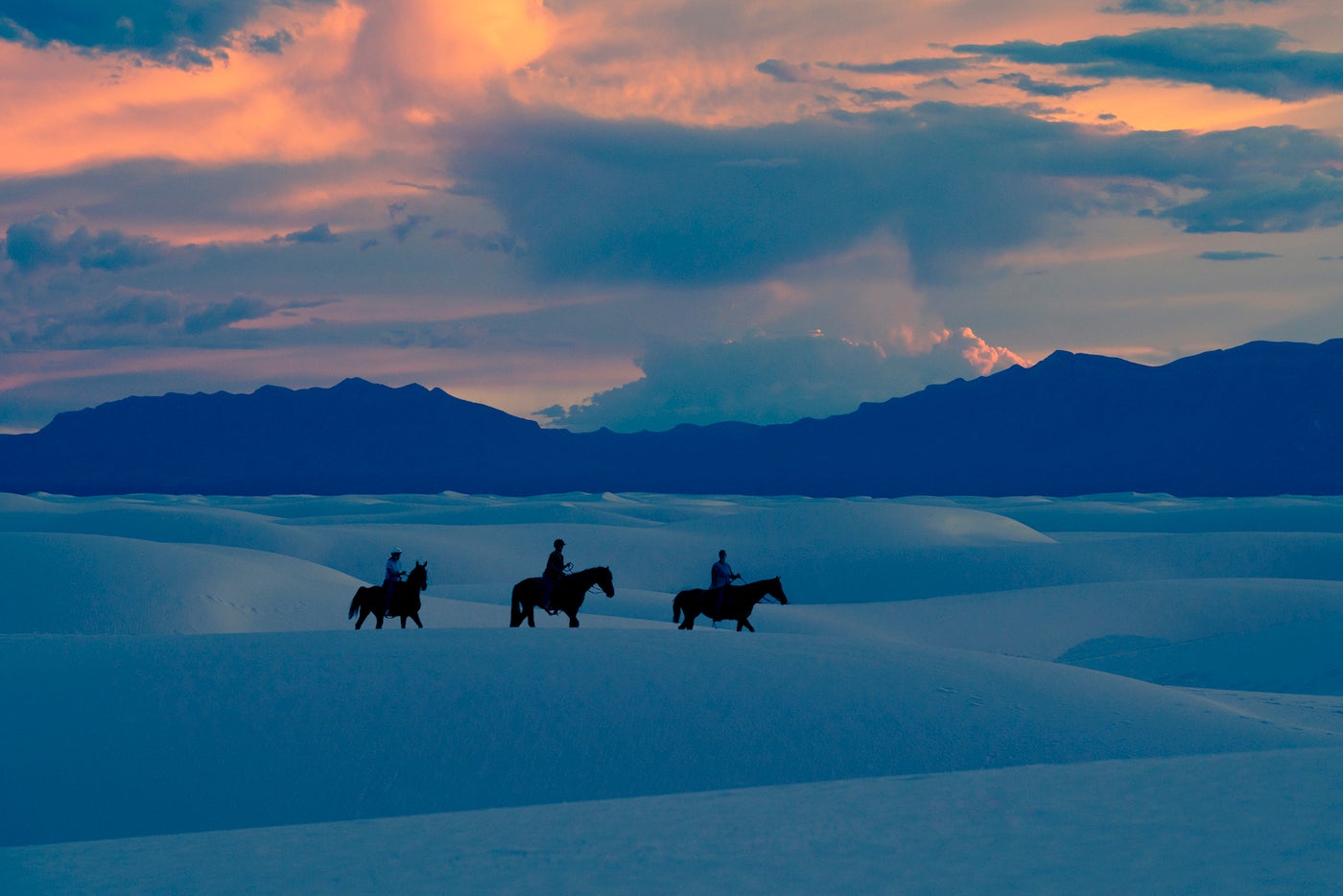 Photo by Jennifer Taylor. Sony α7R III. Sony 24-105mm f/4 G. 1/250-sec., f/7.1, ISO 1250
Location
This photograph, "Dusk Ride", was taken in White Sands National Park in New Mexico. I had been planning to make a trip out to White Sands, but I was determined to plan the outing during the full moon. I found a time that worked with my calendar and coincided with the full moon in August of 2018.
The Gear
I chose the Sony α7R III for it's high resolution and the Sony 24-105mm f/4 G lens for its versatility. I've been lugging camera gear for decades, so when I travel on personal time, I want a nice light bag and the 24-105mm I found to be a perfect travel companion. Even though I had planned on shooting wide angle landscapes, my lens choice ended up being a key factor in creating this image.
How I Got The Shot
As the sun set and dusk settled in, I was perched atop a dune taking in the silent beauty of rolling gypsum hills for as far as the eye could see. I was preparing my tripod and camera settings for long exposures. And then, as if the landscape could get any more awe-inspiring, I heard hooves. I turned around and three horses and their companions were trotting up and down, over and through the dunes. I grabbed my camera off the tripod and quickly adjusted the settings to accommodate for the motion that was now going to be in the frame, zoomed to 105 to fill the frame, and to my unexpected delight, photographed one of the most beautifully unique landscapes I've ever seen. It occurred to me later when all evidence of the sun was gone and the moon bathed the dunes and I sat listening to the singular sound of horses galloping through the white hills, this photograph happened though a meeting of passions between myself and the riders experiencing White Sands under the full moon.
Through my client work, I've learned to always be equally well prepared for the job at hand and open for the unexpected. The spontaneous shot you didn't plan for could end up being one of your forever favorites. Like many other creative fields, photography is a long career with many ups and downs. I have found it necessary to keep pursuing imagery that reignites my passion and keeps me going to stay committed to this field for the long haul because it is worth all of the struggle and hard work, I guarantee you. The business of photography and the creation of inspiring photographs must go hand in hand to be successful. They are different shoes that need to step together in rhythm; the challenge is to find the balance.
I had made the switch to the Sony system because of my work in the performing arts as the combination of high resolution, silent shutter, fast frame rate, and high ISO performance was unbeatable. I'm sure glad I did because not only did I have the right lens for the moment, but I have a file big and detailed enough to make a large beautiful print for my home to remember that evening and keep the passion for photography alive.
Post-Processing
I used Adobe Lightroom and applied split toning to cool the shadows and warm the highlights a bit. After that, I imported the processed file into Adobe Photoshop for basic curves toning, bringing up the mids a touch and ensuring the blacks were rich and low enough to pop. Then applied a standard unsharp mask.
Join Alpha Universe and complete your public profile. It's free and you'll have a chance to be featured on Alpha Universe! Click here to learn more.