Allegra Hutton Rumbough (@allegrahutton) is a photographer who specializes in travel and adventure photography. Growing up with a photographer as a father, her love for photography started at a young age. Once she began to travel (seven continents, 60 countries, so far!) she sought to capture the fleeting moments—the cultures, nature and experiences that she might never see again. Allegra uses her photographs as a way of preserving the environment and culture in the moments she captures. Additionally, she hopes that through visual storytelling, her powerful images can drive change. In Antarctica, where the conditions are notoriously demanding on people and their gear, Rumbough traveled with a pair of Sony Alpha full-frame bodies and two Sony zooms. Keep reading as she explains her story behind the shot and how she managed unpredictability.
Photo by Allegra Hutton Rumbough. Sony Alpha 7R II. Sony 200-600mm f/5.6-6.3 G. 1/1000-sec., f/6.3, ISO 100
How this travel and adventure photographer manages unpredictability at the far end of the world in her quest to photograph one of the most endangered sights on Earth.
A Dream Destination
After five flights, 50 hours and a boat ride, I finally stepped foot on Antarctica. I'd be lying if I said I didn't get emotional (admittedly, a few tears were shed). I studied geology and art as an undergrad at Vanderbilt University, and Antarctica has always been a dream—now, I was finally here. Who knew rock formations and ice could evoke such emotion? And don't even get me started on the wildlife. While I was here to fulfill a personal dream, the goal was to capture photographs for publications around the globe. I had no particular shot in mind, but knew I wanted to take as many epic pictures as I could—by the end I had nearly 10,000 photos. I had a LOT of editing to do!
Packing For The Expedition
Let's talk about gear – Antarctica is definitely not for the faint of heart. It is rough weather and terrain and tough going when it comes to carrying gear. First and foremost, I made sure I had multiple dry bags to protect everything from the elements. Whether in a kayak or zodiac, I was surrounded by water and intended to keep my equipment clean and dry. Because of the harsh weather conditions and range of shots desired, I brought two camera bodies and lenses. I hoped to maximize the images I could get without changing lenses in the field. The two camera bodies were the Sony Alpha 7R II and Sony Alpha 7R V. I paired these with my two absolute favorite lenses, the Sony 200-600mm f/5.6-6.3 G (great for wildlife) and the Sony 24-105mm f/4 G (super for landscape). For several reasons, it's best not to carry a tripod in Antarctica, so I didn't bother bringing one. I was glad I didn't! Upon arrival, I discovered new regulations to help protect penguins from the Avian Flu that is devastating bird populations in the northern hemisphere. The regulations called for footprints only – no kneeling, sitting, or tripods allowed in order to minimize cross contamination – a restriction that made things slightly tricky. I was, however, impressed with the efforts to protect the wildlife whose habitat we were visiting and was quite happy to oblige. Needless to say, by the end of my journey my arms ached from holding such a massive lens, but the incredible results were worth it.
Managing Unpredictability
For this specific shot, I was using my Sony Alpha 7R II paired with the Sony 200-600mm f/5.6-6.3 G lens. This lens is ideal for the zoom I want for wildlife pictures, but the f-stop also gives a nice depth of field allowing the subject to really be the primary focus of the image. When shooting wildlife, I always make sure to use high continuous shooting – you never know when animals are going to make a slight movement that could "make" the shot. This particular penguin was on the move with purpose and I captured these images when we were directly in line with one another. The composition of the shots taken seconds before and after, while still pretty cool, aren't nearly as powerful. Lighting is especially unpredictable in Antarctica—sunny one minute, full on blizzard the next. This image definitely did not have the lighting I hoped for, but Adobe Lightroom helped fix that.
Finalizing The Edit
Editing this picture really made it come to life. I personally prefer to have my photographs look as natural as possible—I want them to replicate exactly what my naked eye saw in the moment. To get this shot looking as I remembered, I sharpened it, and added a little texture, clarity, and dehaze. These all helped give the image that definition and crispness I love. Next, I added two separate masks, one for the subject and another for the glacier in the background. Initially, the penguin lacked definition, so I increased the exposure, highlights, whites and blacks to brighten him up and make him pop. Next, I gave him just a little more texture and sharpness—after all, the spotlight needs to be on him! That's not to say I don't care about the background, as I edited that next. The glacier was a beautiful blue, signifying that it was very old compact ice. Blue is one of the most vibrant colors in Antarctica and stands out among all the white snow and grey rock. I wanted my picture to accurately show this. The blue was totally washed out by the white highlights in the background, so I made sure to bring the highlights down, as well as the blacks. I added some clarity and sharpness to get that rich blue texture, and voila! I think the before and after pictures speak for themselves.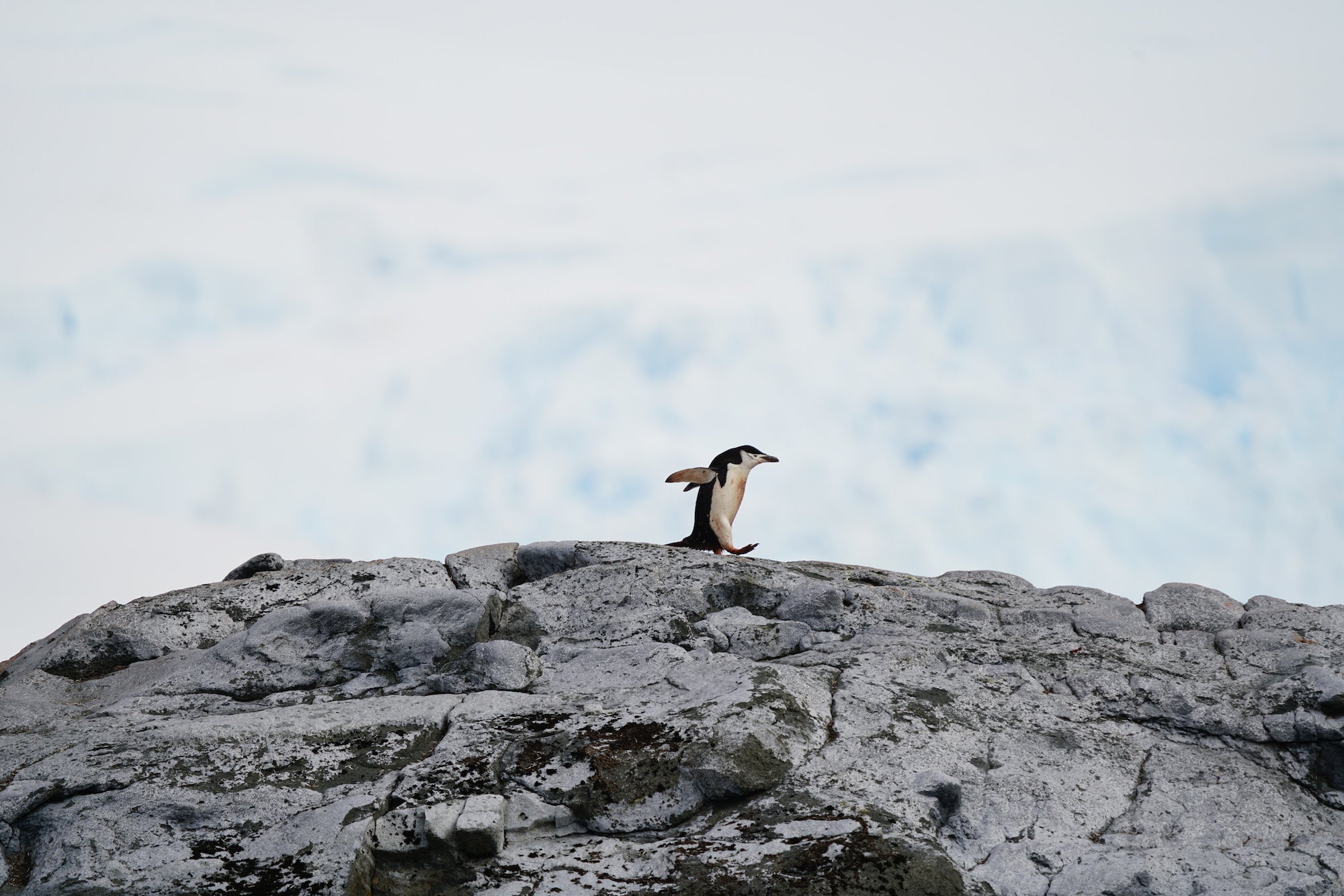 Original unedited version. Photo by Allegra Hutton Rumbough. Sony Alpha 7R II. Sony 200-600mm f/5.6-6.3 G. 1/1000-sec., f/6.3, ISO 100
Edited version. Photo by Allegra Hutton Rumbough. Sony Alpha 7R II. Sony 200-600mm f/5.6-6.3 G. 1/1000-sec., f/6.3, ISO 100
Check out more of Allegra's photographic adventures on Instagram @allegrahutton or her website allegrahutton.com.