Lana Tannir (@lanatannirphoto) is a National Geographic 2023 Explorer, science storyteller and internationally-published photographer. As a World Animal Protection and Girls Who Click ambassador, the core of her work centers around conservation photojournalism and nature photography. Coupled with her scientific background in biology, Tannir aims to raise awareness and incite positive change by highlighting underrepresented stories and species around the globe.
Tannir's work to date has focused on the human-wildlife conflict, marine ecosystems, and climate change in some of the remotest regions on Earth, such as the Arctic. Several of her most recent publications encompass National Geographic Germany, Terra Mater, Oceanographic Magazine, and Nature TTL. We came across this stunning image on Tannir's Instagram and wanted to learn more. Keep reading to uncover the full story behind this stunning shot as Tannir explains it in her own words.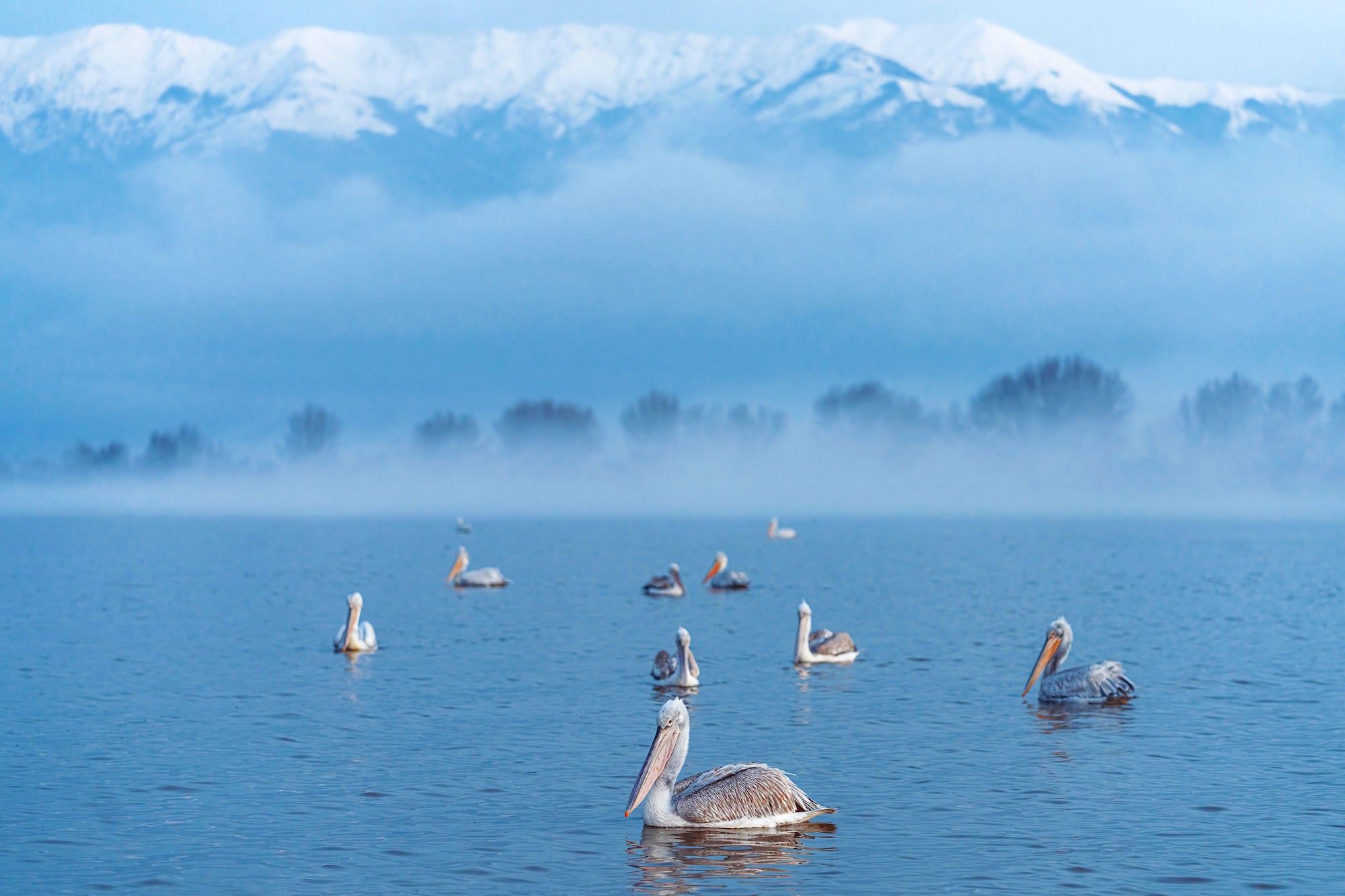 Photo by Lana Tannir. Sony Alpha 7R IV. Sony 70-200mm f/2.8 G Master II. 1/125-sec., f/2.8, ISO 1250
Conservation photojournalist and nature photographer explains how she captured this image of Dalmatian pelicans in Northern Greece.
Locating A Threatened Bird Species
The Dalmatian pelican has been a species that I have been striving to photograph for several years. Having discovered these large freshwater birds via portraits of fellow nature photographers, I was intrigued to witness them firsthand and learn about their ecology in person. My initial curiosity was coupled with a sense of urgency when I uncovered that Dalmatian pelican populations are substantially declining across their entire geographic range. In spite of once thriving colonies across Eurasia, the birds are presently classified as near threatened by the IUCN Red List, with approximately only 14,000 mature individuals left in the wild. This is how my photographic journey to Lake Kerkini came to fruition.
Lake Kerkini is located in Northern Greece and harbors one of the most prominent Dalmatian pelican populations in Europe. In winter, the pelicans accumulate at the lake as their breeding season commences. During this time, the lower mandible and pouch of the pelicans turn orange-red, while their plumage becomes silver-grey. In addition, the behaviors of the birds are different than usual, with frequent vocalizations and courtship displays, which allow for unique interaction shots.
My aim throughout this project was to depict the characteristics of the pelicans to highlight their uniqueness and immortalize their fragile existence via my photographs. Therefore, I focused on capturing the natural behaviors, interactions, patterns, and different individual's characteristics on site.
Gear For Low Light Wildlife Photography
This image was captured with a Sony Alpha 7R IV camera body and a Sony 70-200mm f/2.8 G Master II lens. The advanced dynamic range of the Sony Alpha 7R IV, coupled with the 61 Megapixel sensor allow me to shoot in low light conditions and maintain exceptional image quality. Besides the powerful focusing capabilities, the 10fps frame rate is ideal for wildlife photography and guarantees that I am able to photograph even the most fleeting moments and the minutest details of a scene.
With its wide aperture, the Sony 70-200mm f/2.8 G Master II has been my go-to lens for challenging lighting conditions. Its sharpness, speed, focus accuracy, and internal stabilization ensure unparalleled image quality. In addition, the lens is compact, lightweight, and weather-sealed, making it the perfect choice for nature photography by allowing me to be quick and agile on site under all circumstances.
Settings For Challenging Lighting
This image was taken during an early, foggy morning at Lake Kerkini. I hired a local to take me for a photography tour on his boat while the rest of the world was still fast asleep. We floated through the mist across the peaceful water, as a group of pelicans appeared before my eyes, perfectly positioned in front of the snowy mountain landscape.
My idea for the composition was to incorporate the atmospheric backdrop and the pelicans to set the scene, create depth, and establish balance in the shot. While normally shooting wildlife at eye-level, this image called for a slightly higher angle. This allowed me to separate individual pelicans in the shot and to incorporate the rule of thirds.
When working under challenging lowlight conditions, I always attempt to push my camera settings to the limit. As I was shooting during the blue hour in a misty atmosphere, I opened my aperture to f/2.8, lowered my shutter speed to 1/125 seconds, and increased my ISO to 1250. Shooting the scene handheld at a focal length of 100mm meant that I had to keep my camera extremely still. However, with the automatic focus of the Sony camera and lens, this did not turn out to be an issue. In fact, the open aperture and low shutter speed created a dreamlike setting, which perfectly emphasized the ambience of that morning.
The Edit
During an edit, my general preference is to maintain the authenticity and integrity of my photographs. Therefore, I generally focus on accentuating the colors of the scene and highlighting important details that underscore the atmosphere. This serves to immerse the viewer into my experience and revive the senses that I encountered on location.
For my photograph of the Dalmatian pelicans, I performed the initial processing in Adobe Lightroom by adjusting white balance, contrast, brightness, and texture. Thereupon, I transferred my image into Adobe Photoshop to address the finer details. In Adobe Photoshop, I used the Selective Color adjustment layer to lighten the pelicans and the fog, as well as Color Balance to accentuate the blue hour. Lastly, I used the sponge tool to add more saturation to the orange pouches of the pelicans in order to create a complementary color contrast.
Upon finalizing the color edit, I used the Topaz DeNoise AI software to remove any noise in my image, which was created in-camera through my high ISO setting.
To check out more of Tannir's work for her on Instagram (@lanatannirphoto) and Facebook (@lanatannirphotography). You can also check out her website!