Stacy Garfield (@outdoorstacy) is a landscape and elopement photographer based in the Pacific Northwest. She started her own business, Outshined Photography, after being an aerospace engineer and working on multiple space rocket and satellite programs for over 20 years. As an engineer, she learned a lot about the technical aspects of photography, but never had much time to actually use her camera. After moving to Washington State, she was able to embrace her love of hiking in nature and apply her creative eye and share her love of nature with others through images. Garfield has been a lover of space and the night sky all her life and doing astrophotography brings her joy. Not only does she get to capture something that not everyone gets to see, but she is able to be outside at the most peaceful time of the day and appreciate the universe we live in.
This Milky Way photo caught our eye, in part, because of its subtelty. While a lot of stunning astro images are made through ultra-long exposures and compositing to bring out contrast and deep sky details that the naked eye cannnot discern, Garfield's image has a less dramatic, more attainable feel. One has a sense that you could, on a dark and clear night, step outside and see this scene just as she's rendered it. We sat down with Garfield to learn about the story behind this shot and how she made it and why she chose a single-exposure approach without compositing.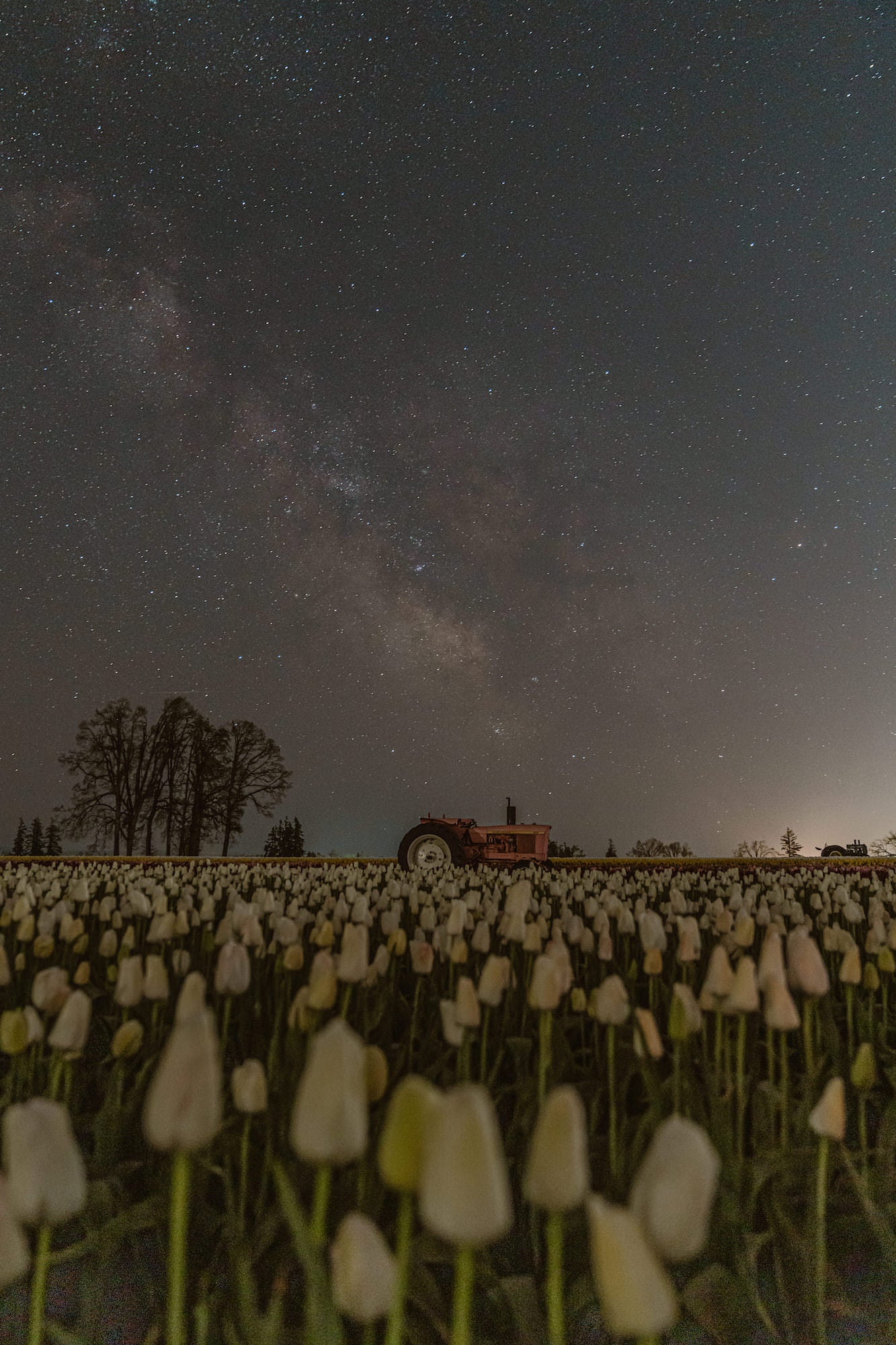 Photo by Stacy Garfield. Sony Alpha 7R IV. Sony 24-70mm f/2.8 G Master. 20-sec., f/2.8, ISO 2500
An aerospace engineer turned photographer shares how she created this single exposure astro landscape with her Sony Alpha 7R IV & Sony 24-70mm f/2.8 G Master.
The Scene
Living in the Pacific Northwest allows me to travel fairly easily around Washington and Oregon. Every April, the PNW tulip fields provide amazing color, as well as great foregrounds for beautiful images. I chose to visit the Wooden Shoe Tulip Farm in Woodburn, Oregon that early April day because it was going to be a clear morning and I wanted to capture images of the hot air balloons launching and flying over the fields at sunrise. Since I was in town the night before, I decided to get up early and visit the fields (with permission) and see what I could capture of the night sky.
In the PNW in spring time it is typically cloudy, so it's rare to see the milky way in the sky in April. As I looked for my spot in the fields, I realized that the milky way was in alignment with this cute pink tractor parked in the fields. I set up my Sony Alpha 7R IV camera on my tripod and took a few images to get the composition and exposure that I wanted. I took over 20 images, both horizontal and vertical and with different exposure times, making sure that I captured the image just the way I wanted it and to represent how it actually looked that early morning.
The Gear
I used my Sony Alpha 7R IV, Sony 24-70mm f/2.8 G Master for a 20 second exposure at f/2.8, 24mm, ISO 2500. When doing astrophotography, I use the widest lens that I have available and the lowest aperture possible to let in the most light, especially if there is no light pollution. Also, for landscape photography, I enjoy using a zoom lens, so that I have more ability to adjust to the surroundings and the composition that I am looking for. I chose my 24-70mm lens because it was the widest lens in my bag that day. I set the aperture to f/2.8 because that is the lowest setting for that lens and lets in the most light.
For low light photography, I typically start with an ISO of 800 and adjust from there. On this morning, an ISO of 2500 allowed for the clearest image and less grain. During this early morning, there was some light pollution from the nearby farms, so I didn't need to let in too much light. A 20-second exposure allowed the right amount of light to show the tulips and the sky, but not show too much motion or blur with movement of the stars.
Getting The Shot
For astrophotography, you must use a tripod, so that your camera is as steady as possible for the longer exposure times. I also use a timer with my camera, so that my hand is not touching the camera and causing any additional blur to the image. I set up my tripod as low as possible on the ground, so that I could get the tulips in the foreground. I did not need to use any additional lighting because the longer exposure and the light from the farms lit up the night sky the way that I wanted and allowed the stars and the milky way to be clearly visible.
The Edit
This is a single exposure. I rarely make composites in landscape photography because I want the viewer to see the landscape exactly as they are able to see it if they visit the location in real life.
I use Adobe Lightroom Classic to process most of my images. For this one, I increased the texture and clarity of the sky to make the stars and milky way stand out even more. I also lightened up the lower part of the image, so you can see the tulips better. I also increased the noise reduction to reduce some of the grain in the image. Other than that, not much processing was needed for this image.
Final Thoughts
I love using my Sony mirrorless cameras for astrophotography because they are truly the best for taking low light images. Being able to capture good night sky photos is a true inspiration for photographers who want to get into astrophotography. Also, with my Sony cameras, I am able to incorporate my couples into night sky images and share my love of the stars with so many people. That has added another dimension and level of creativity to my photography.
See more of Stacy's work on her website or on Instagram @outdoorstacy.