Jay Goodrich (@jaygoodrich) is an internationally published adventure photojournalist based in Jackson, Wyoming. Much of his work is in the realm of action and lifestyle, and it was while on an assignment that he discovered Sony could capture all of the shots he wanted with the quality he needed, and he hasn't looked back since. Using a combination of the Sony α7R IV and Sony 24-70mm f/2.8 G Master lens, he captured this action ski shot that caught our attention. We connected with him to learn more about the photo and how he captured it.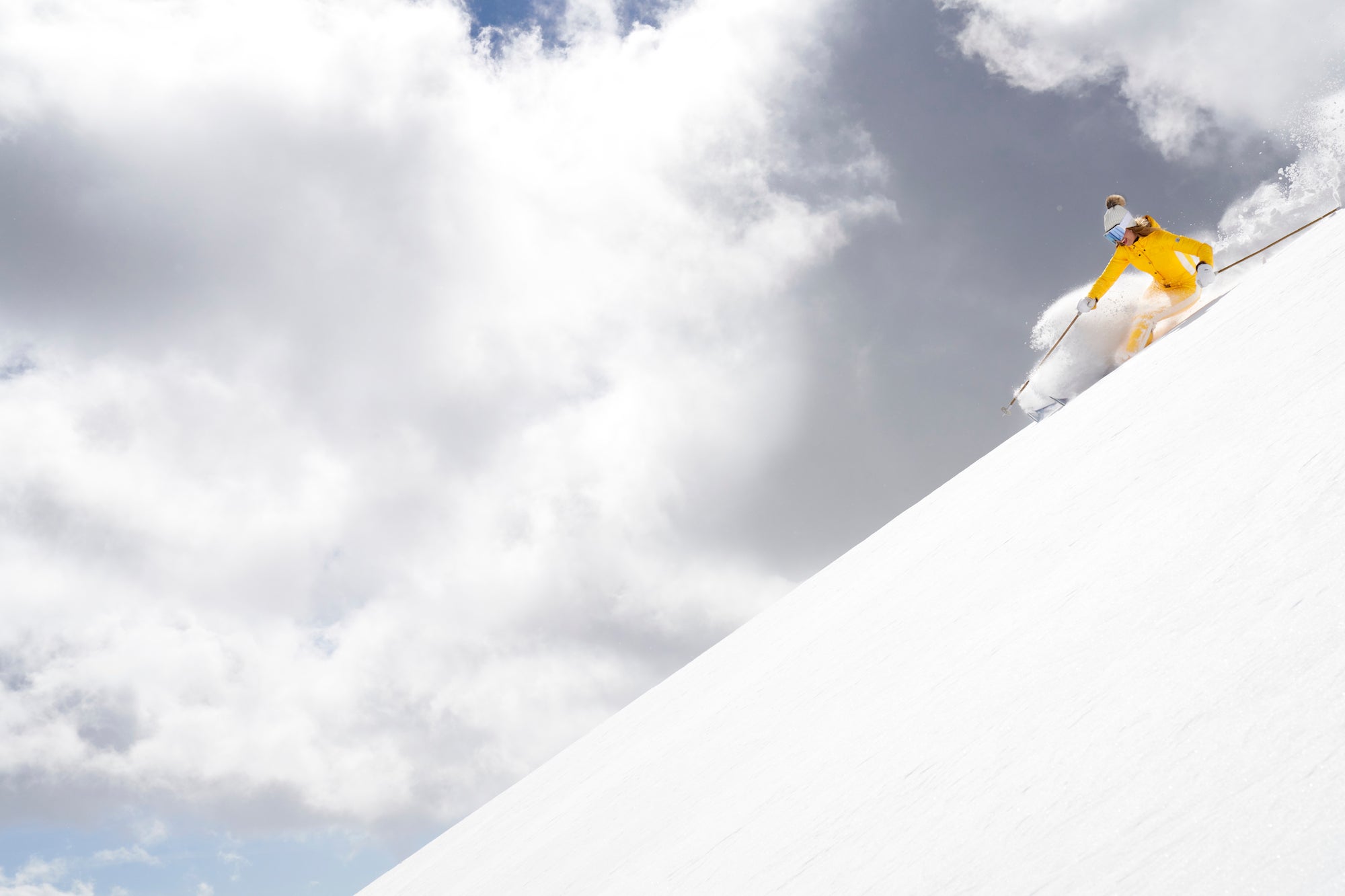 Photo by Jay Goodrich. Sony α7R IV. Sony 24-70mm f/2.8 G Master. 1/2000-sec., f/16, ISO 800
Setting The Scene
Athlete and professional model Sierra QuitiQuit (@sierra) needed some video and stills for her social media outlets, so she hired a film production company that I have worked with in the past to get some quick video clips. I got invited to be the still photographer for the day. This gig didn't pay, but for me it was the opportunity that mattered most.
Join Alpha Universe and complete your public profile. It's free and you'll have a chance to be featured on Alpha Universe! Click here to learn more.
Sierra is sponsored by the ski clothing company Bogner. Bogner is a very high-end European brand that looks at skiing as fashion forward, and not quite as utilitarian as most U.S. clothing manufacturers. So in a way, being able to shoot something very different was the main attraction here. I think it is also important to mention that these shots were for Sierra personally, not Bogner, making it a little easier to spend the day out there off of the clock.
Knowing some history of skiing and ski photography was pretty important to getting this shot… While Bogner is not really a mainstream U.S. brand today, they were, in the 70's and 80's. This little part of history made me want to shoot something that reflected exactly that—a time when skiers bounced a bit more, partied a bit more, and didn't really look to ski crazy steep lines with the aggression of an angry guard dog.
And Sierra, could easily pull off that 80's style – all with a smile on her face – something totally frowned upon in current editorial ski close-ups. For me though, that was entirely the point of this photo: to bring back the 80's ski photo in every way that I could.
Sony α7R IV and Sony 24-70mm f/2.8 G Master
I shot this photo with a Sony α7R IV and Sony 24-70mm f/2.8 G Master lens. The Sony α7R IV is my only camera and I chose it because I like to have the ability to crop in post if necessary. Having 62 megapixels of massive file available to me makes that pretty simple if ever needed. The 24-70mm lens is the one lens that is always with me, it is probably the most versatile lens out there.
Getting 'The Shot'
When you are shooting with a video production crew, you have a lot of variables that come into play that wouldn't if you were just shooting alone. As a still photographer, I have to work with the film crew to get the best composition for me, but then also for them. Another important variable here is snow. We cannot have an athlete re-ski something because we missed the shot—if we want the snow to look pristine and untracked.
Film crews typically need a wider lens angle to track an athlete through their frame, which will have me grabbing a lens more in the telephoto range, making the FE 24-70mm f/2.8 GM lens the perfect equalizer in a scenario like this.
This photo was consequently shot at 70mm, f/16, a shutter speed of 1/2000, and at ISO 800. The aperture was important because I wanted those clouds in focus along with Sierra. The higher ISO choice is not a typical bright snow setting that I would choose, but needed because the sun was in and out during the whole shoot. I just happened to get lucky with the light during this scene.
The higher ISO setting for the Sony α7R IV isn't even a big deal though. I remember when ISO 400 was the highest you would choose on a digital camera if you wanted great results. Now, Sony's sensor technology allows me to choose settings that I need in order to produce the photo I want – it's pretty limitless.
Post-Production
I do all of my post processing in Capture One Pro.
For this photo, I applied a global exposure lift of a third of a stop, I added a global levels adjustment, and a custom white balance. Then I added a local adjustment layer to adjust the yellow color of Sierra's clothing—yellow is one of those colors that digital sensors need a little help to get right and Capture One has amazing color editing tools that simplify this process immensely. In addition to adding a local adjustment layer to darken and add more contrast to the billowing sky.
Join Alpha Universe and complete your public profile. It's free and you'll have a chance to be featured on Alpha Universe! Click here to learn more.