Sports are back, even if the roaring crowds are watching from home. And while COVID-19 has made the games a very different experience for the players on the field, the decisive moments when the action and athleticism come to a peak hasn't changed. Great sports photographers live to capture those moments and that intensity. Joe Toth (@joe_toth_photo) is a professional sports photographer living in the United Kingdom, via South Florida and the United States Air Force. He was born in Frankfurt, Germany and raised in South Florida, where he consumed sports. Toth was very lucky to have a wide variety of sports to watch and play and local newspapers that produced some of the best sports imagery. The weekly delivery of Sports Illustrated also fueled his passion for sports photography. His parents supported his passion, too. "When I was 16," he says, "I was given the choice to have a car or camera equipment. I went with the camera, obviously." Now, Toth travels the world photographing sports. His kit is lean and light and it might be surprising to find that he mostly shoots with primes. In fact that's only one Sony G Master zoom in his bag to accompany his Sony mirrorless bodies. We caught up with Toth to learn more.
How this professional sports photographer works with a Sony full-frame mirrorless kit that has four primes and just one zoom.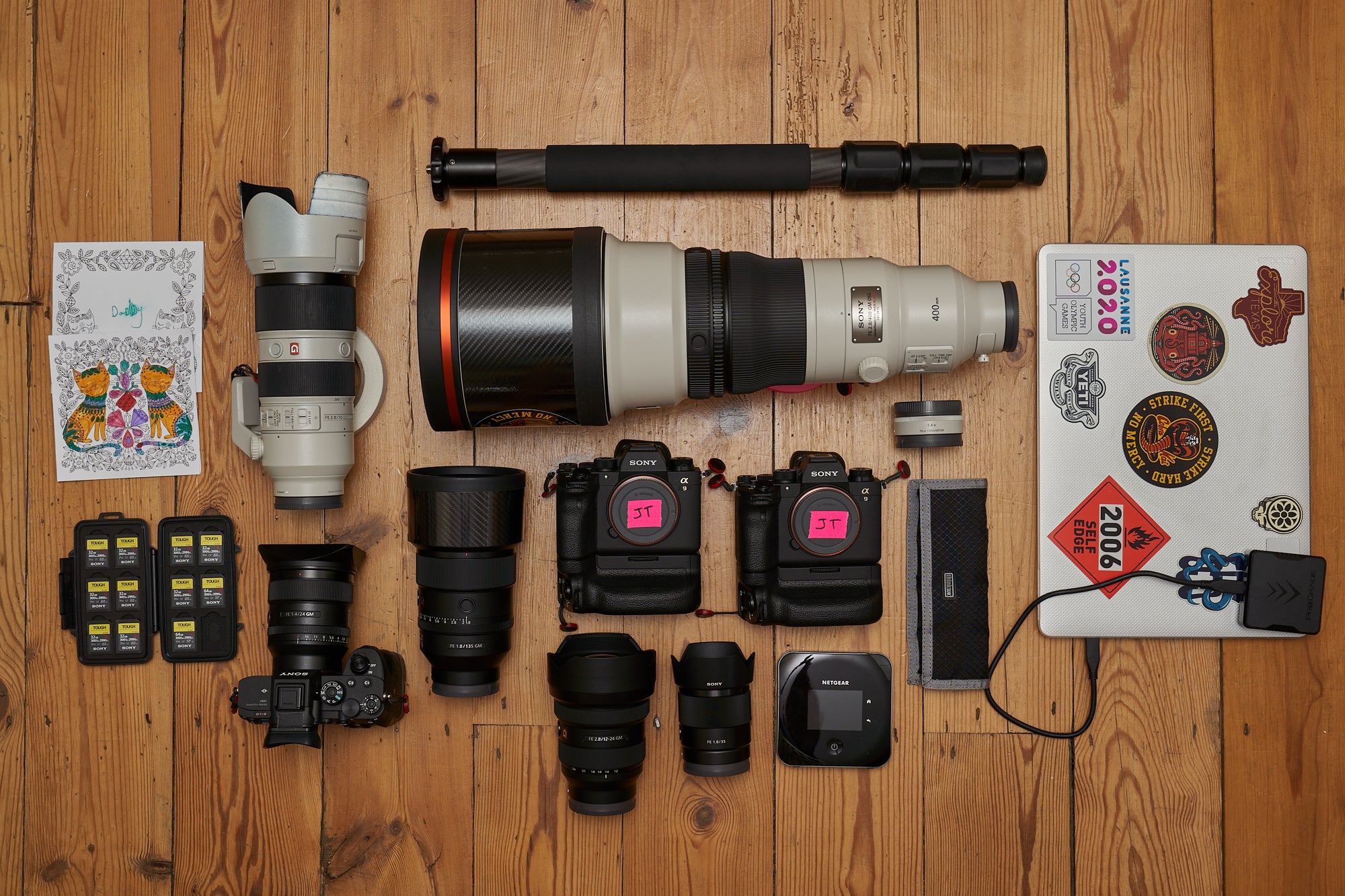 For some 26 years I have traveled the world with the help of the military and now I get the chance to shoot sports professionally every week. I work with an amazing team of photographers and managers at Shutterstock who push me to produce my best work, and also allow me the freedom to step away from the norm, especially in these trying times without fans in stadiums. I really have to think about image aesthetics. I also have had the opportunity to work at Wimbledon and cover several Youth Olympic Games (Winter and Summer), as well as London Marathon Events with Bob Martin.
Cameras
Sony α9 II: Having switched to Sony in August 2019, I moved quickly from my previous cameras into a Sony α9 and then right before COVID lockdows, I moved to the Sony α9 II (so most of these photos are with my α9.) As a sports photographer, the α9 was a game changer. The tracking and speed of autofocus blew me away and gave me more freedom to really work on my overall composition of an image. The α9 II made that even better. The addition of being able to voice tag images so an editor could easily edit them and get the image to clients is a major feature for any professional sports photographer. But what I really love about the Sony α9 II is the dynamic range. Not every stadium I visit has the newest LED lights, many places I work at are still using old style lights that haven't been replaced or cleaned in years. So, you get some tough lighting conditions. Being able to push the ISO and get clean and crisp images that don't need a lot of work is a lifesaver.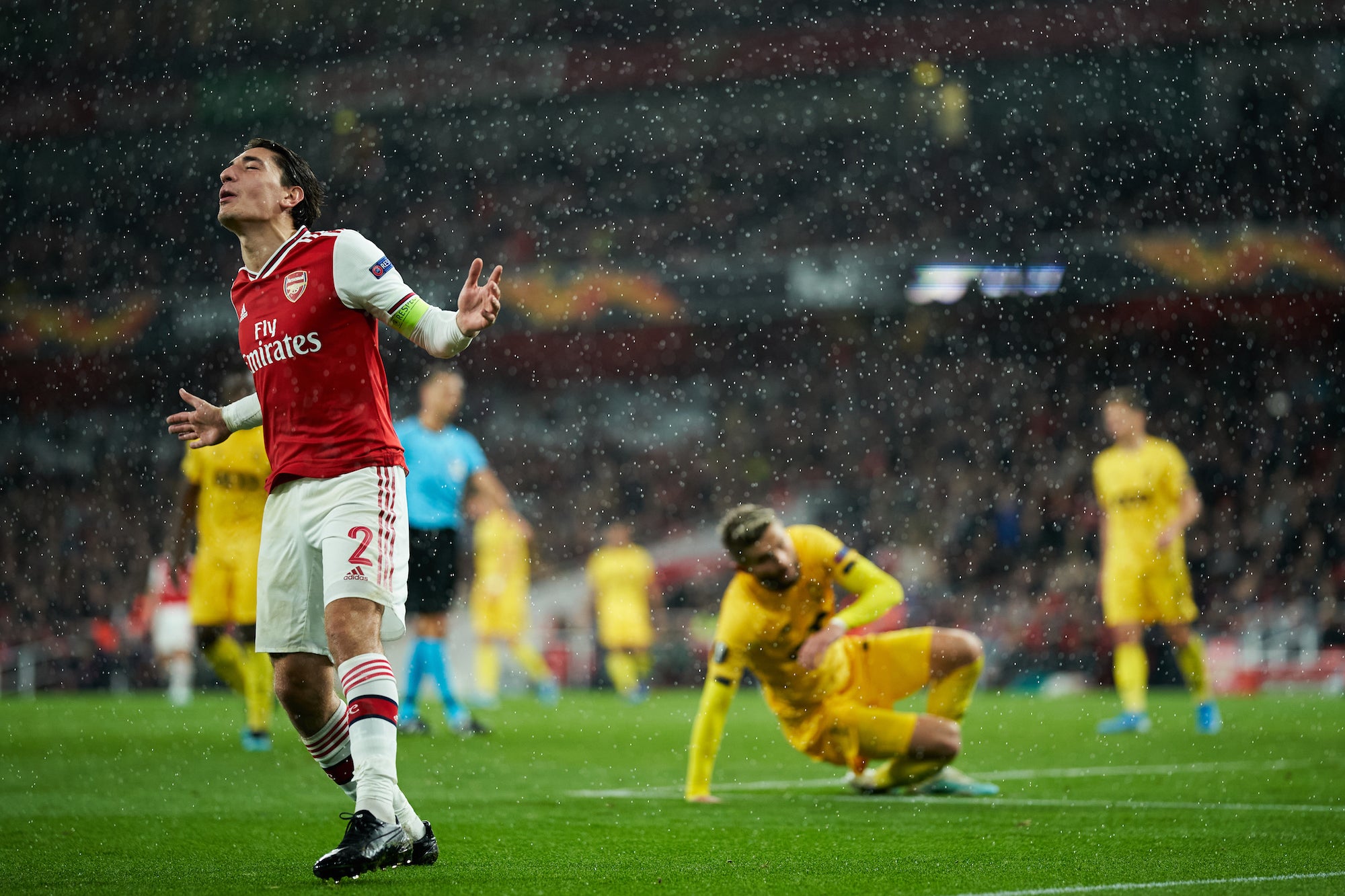 Photo by Joe Toth / Shutterstock. Sony α9. Sony 135mm f/1.8 G Master. 1/2000-sec., f/1.8, ISO 1600
Sony α7R IV: Most sports photographers will use two bodies, one with a large telephoto lens, like a 400mm, and the second body with a short telephoto lens, 70-200mm. I also use a third body that allows me to have a wide-angle lens on it for those moments when the action gets right on top of me. But instead of a third α9 II, I use an α7R IV. In addition to game situations, I use it when I need to do studio work, and I can even stick it on my 400mm f/2.8 with the 1.4 TC, put it in APS-C mode and get some serious reach and still have 24MP. It's a very versatile camera for me. The Sony α7R IV is the best of many worlds for me as a camera.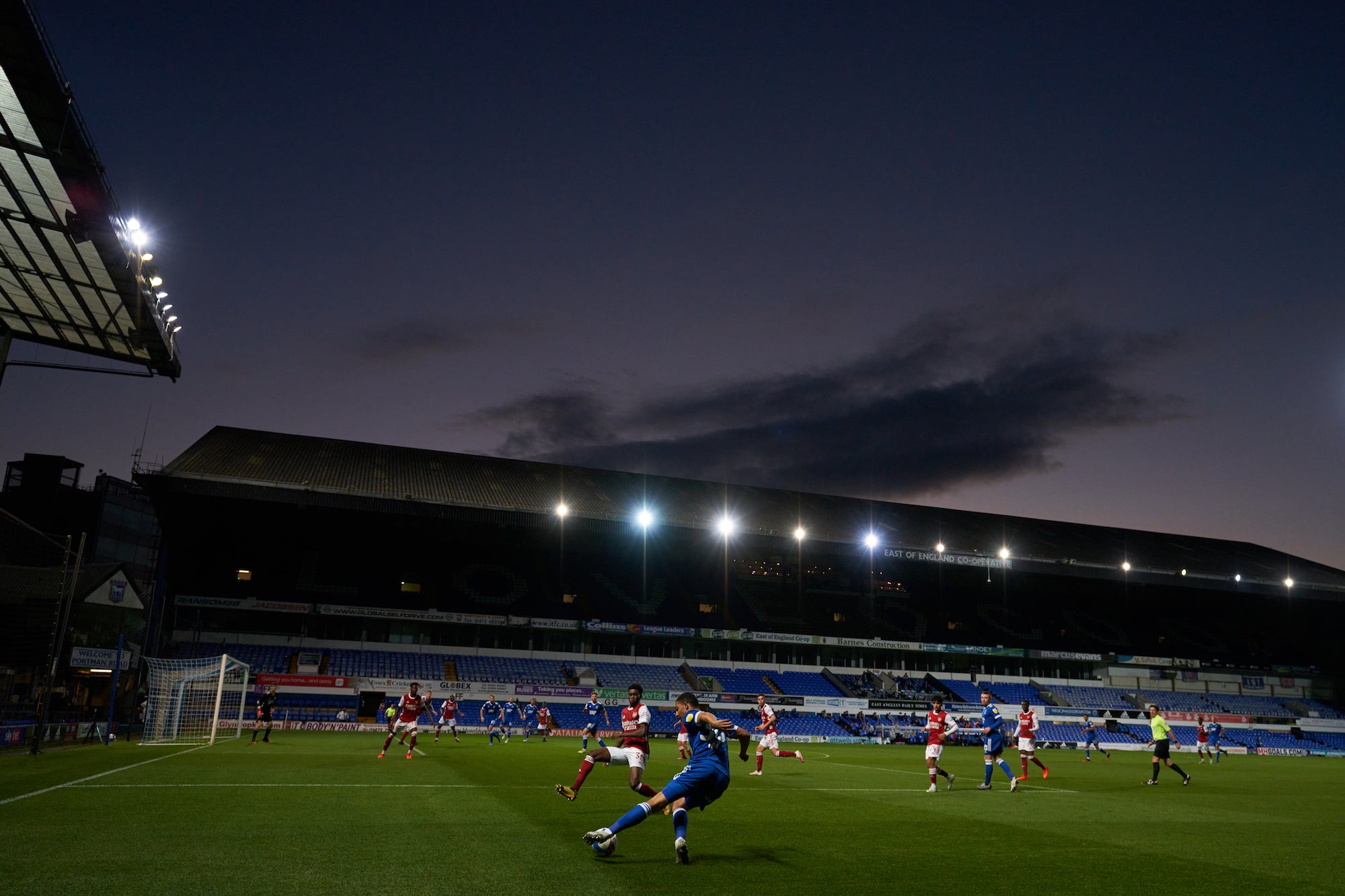 Photo by Joe Toth / Shutterstock. Sony α7R IV. Sony 16-35mm f/2.8 G Master. 1/1250-sec., f/3.5, ISO 2500
Lenses
Sony 400mm f/2.8 G Master: The fun thing about being a sports photographer is that every game and stadium is different. Even if I visit the same stadium time and time again, the importance of the game or the time of year and light might dictate where I sit. Having different lenses helps when I want to achieve a special look or I find myself in a different shooting position. The main lens I don't leave home without is the Sony 400mm f/2.8 GM. This allows me to capture match action nice and tight. What I really love about this lens is that when I add the 1.4 teleconverter on the lens I don't lose any focusing speed or sharpness. I just love the flexibility of being able to go from 400mm to 560mm and back again if I need something different. Paired with my Sony 70-200mm f/2.8 GM and I have a sports photographer's bread and butter pair of lenses.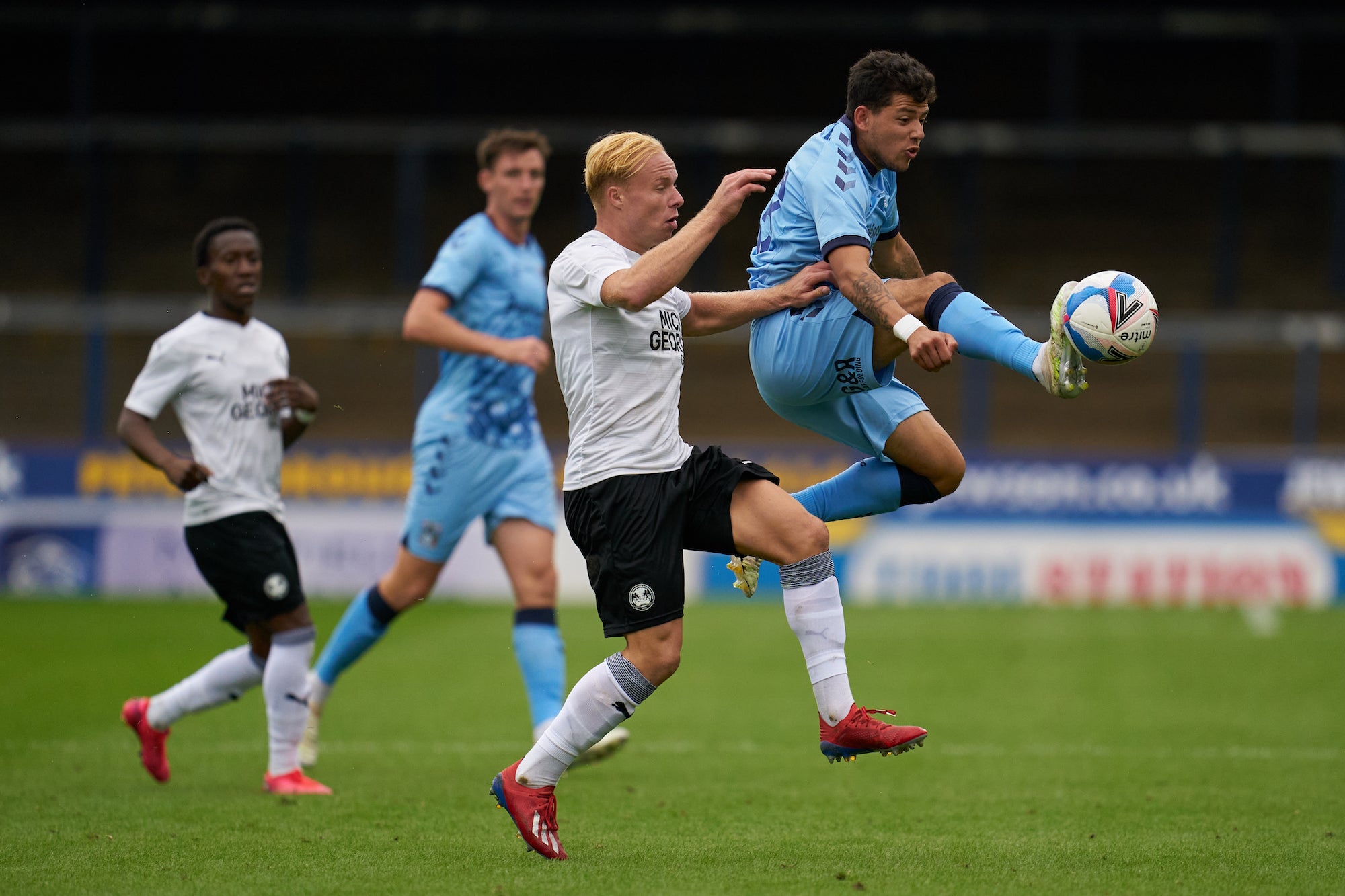 Photo by Joe Toth / Shutterstock. Sony α9. Sony 400mm f/2.8 G Master. 1/4900-sec., f/2.8, ISO 2000
Sony 135mm f/1.8 G Master: I like to give my images a slightly different feel to them. When I can, I will use the Sony 135mm f/1.8 GM instead of the 70-200mm f/2.8 GM on my second α9 II. This lens is sharp, fast and creates a stunning image where the background just drops away from the subject. If I can sit where I want in a stadium this lens will be used for that game. It's also the lens I like to use when I walk around the stadium before kick-off to capture the pre-match atmosphere. It's not too big or noticeable and the perfect focal length where I don't need to get into someone's face to get a picture. Once again, it creates a different look to images.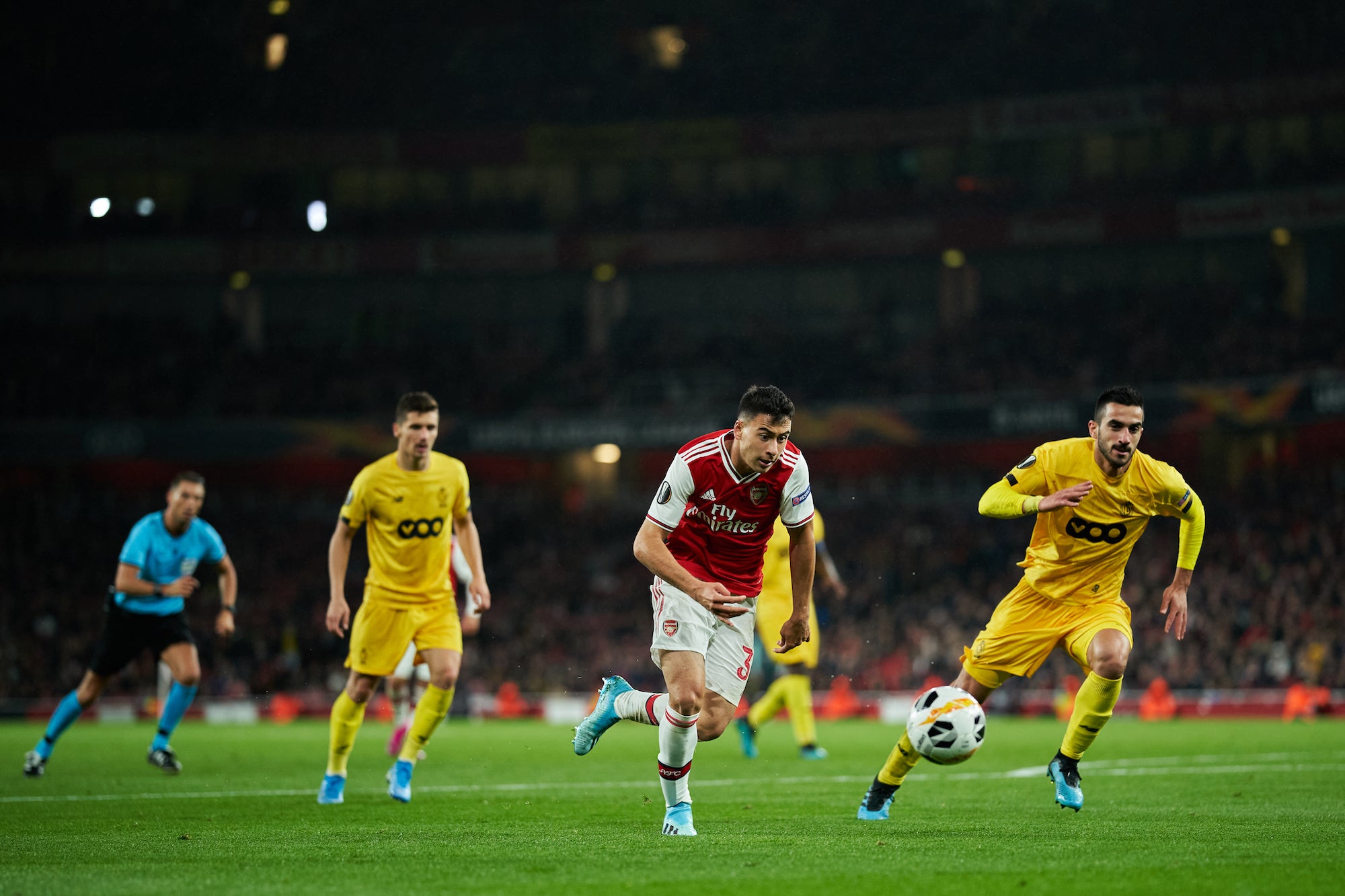 Photo by Joe Toth / Shutterstock. Sony α9. Sony 135mm f/1.8 G Master. 1/2000-sec., f/1.8, ISO 1600
Sony 70-200mm f/2.8 G Master: This is one of the most versatile lenses for a sports photographer. It covers a wide range and offers flexibility. As I mentioned before, it's a bread and butter lens. I never leave home without it for work, because I never know where I might find myself at a stadium.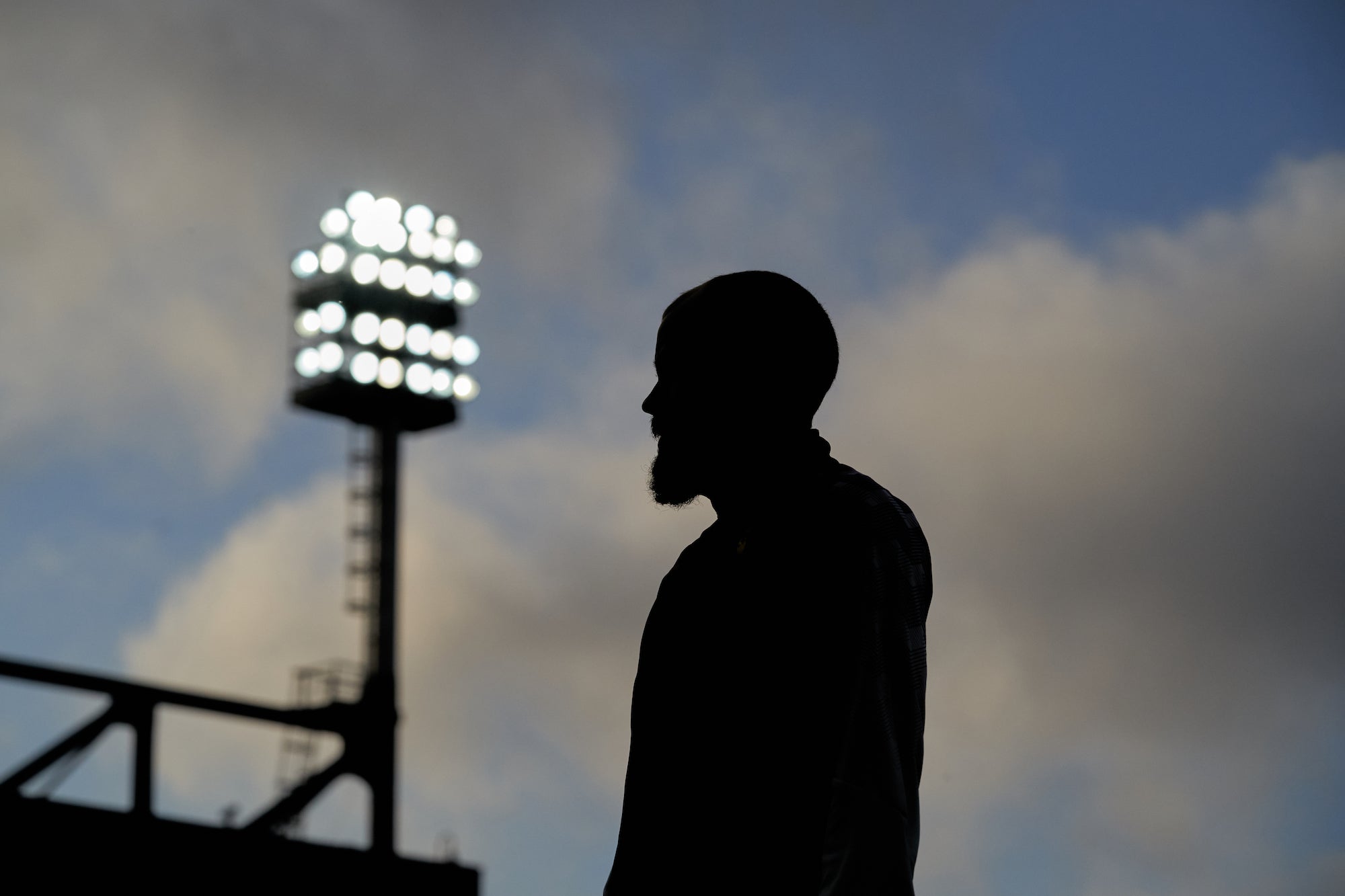 Photo by Joe Toth / Shutterstock. Sony α9. Sony 70-200mm f/2.8 G Master. 1/8000-sec., f/5.6, ISO 1600
Sony 24mm f/1.4 G Master: So… what do I put on that α7R IV during a game? Well this depends on the stadium and how close to the action I am. I tend to lean towards my Sony 24mm f/1.4 GM and the Sony 35mm f/1.8 over a zoom lens. Depending on how wide I want the scene to be will help make that choice for me. In bigger stadiums, the Sony 24mm f/1.4 GM might allow me to get more of the stadium architecture in with the action.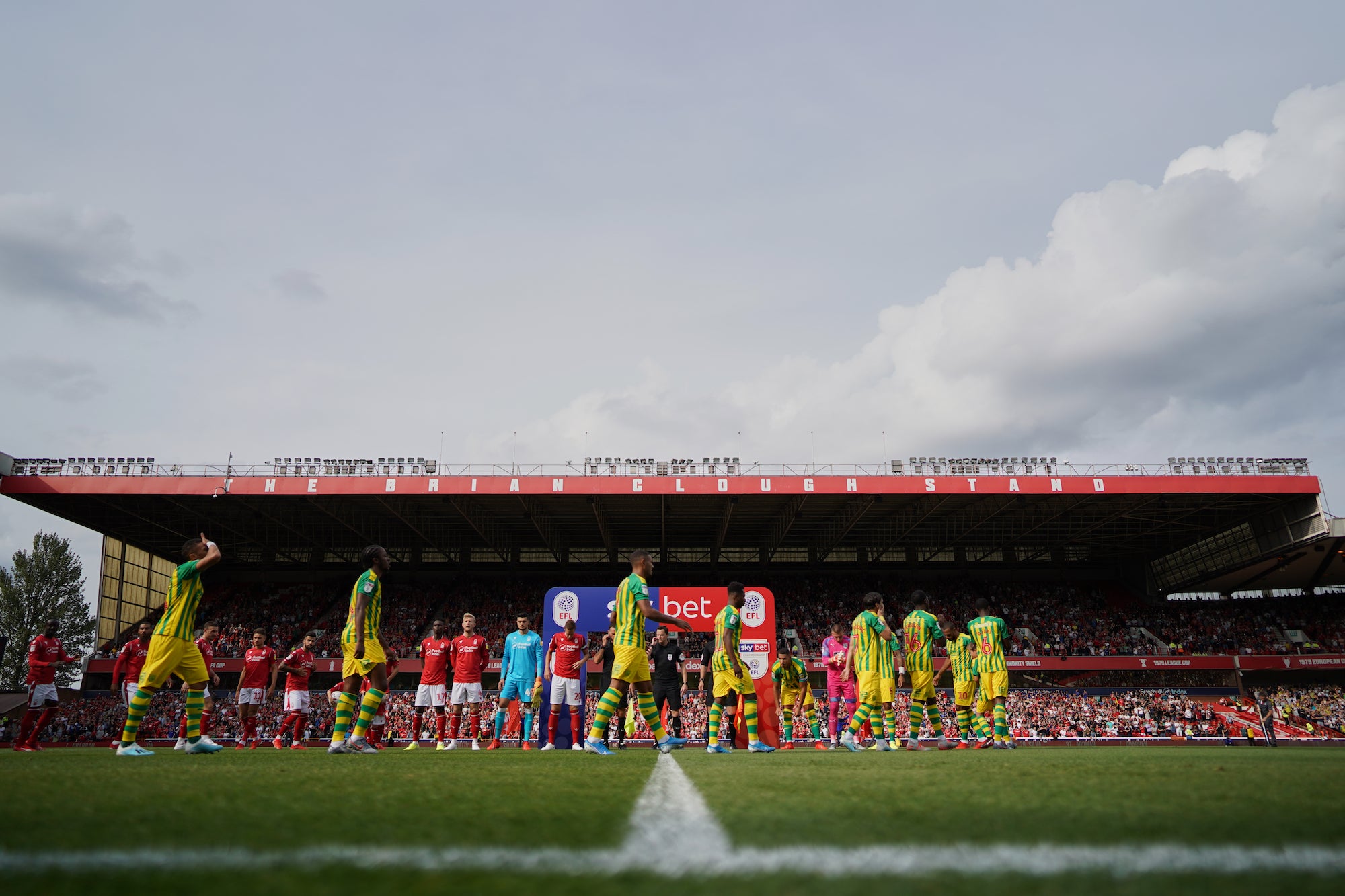 Photo by Joe Toth / Shutterstock. Sony α9. Sony 24mm f/1.4 G Master. 1/8000-sec., f/1.4, ISO 125
Sony 35mm f/1.8: This lens is perfect for small stadiums where I don't need to be as wide. With the wider apertures, I love both lenses and both give me a beautiful image that helps draw the eye to the subject. Every game is different, and as a sports photographer I need to think of all the possible situations I might encounter and try to make the right choice.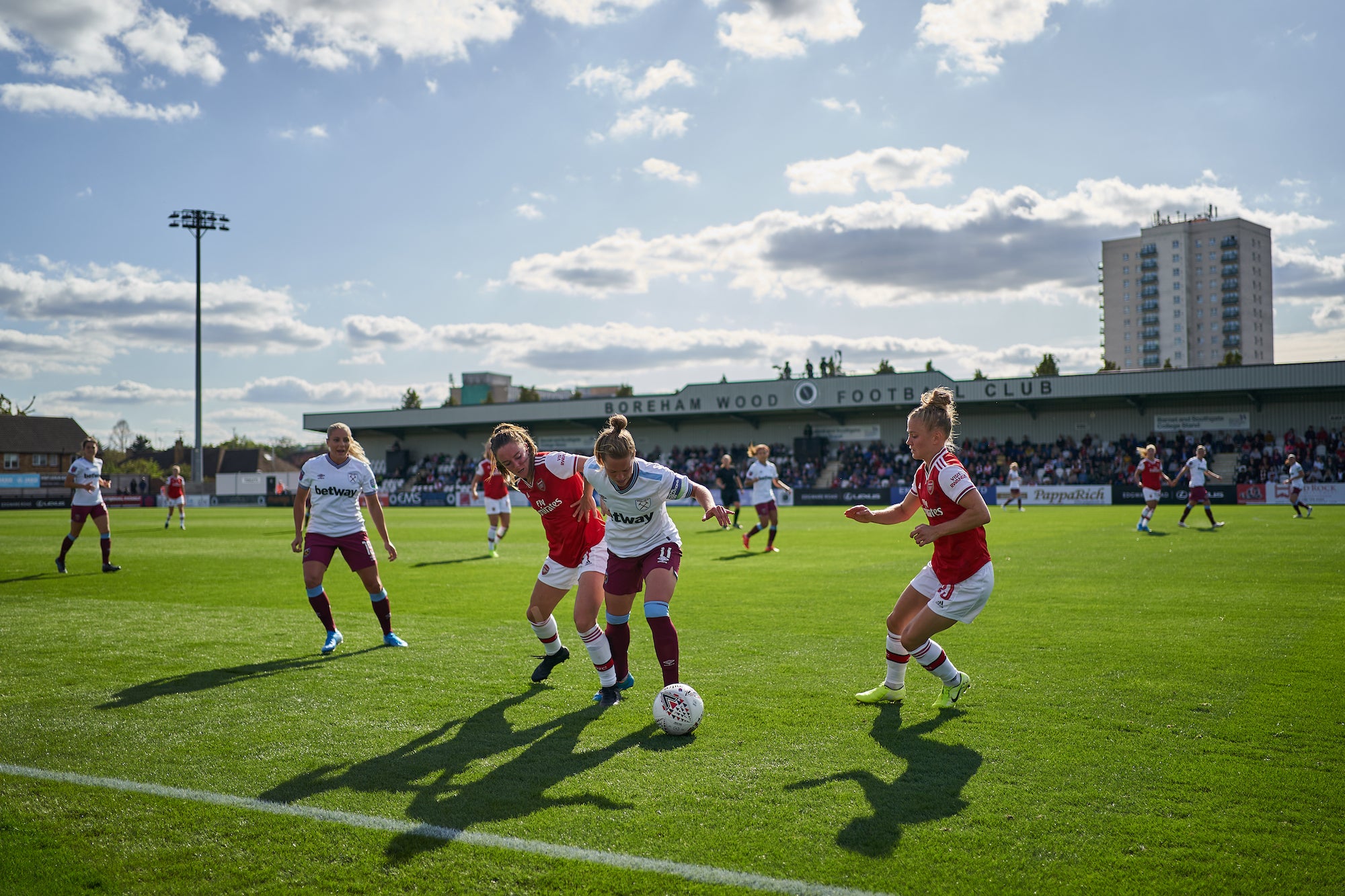 Photo by Joe Toth / Shutterstock. Sony α9. Sony 35mm f/1.8. 1/6400-sec., f/1.8, ISO 200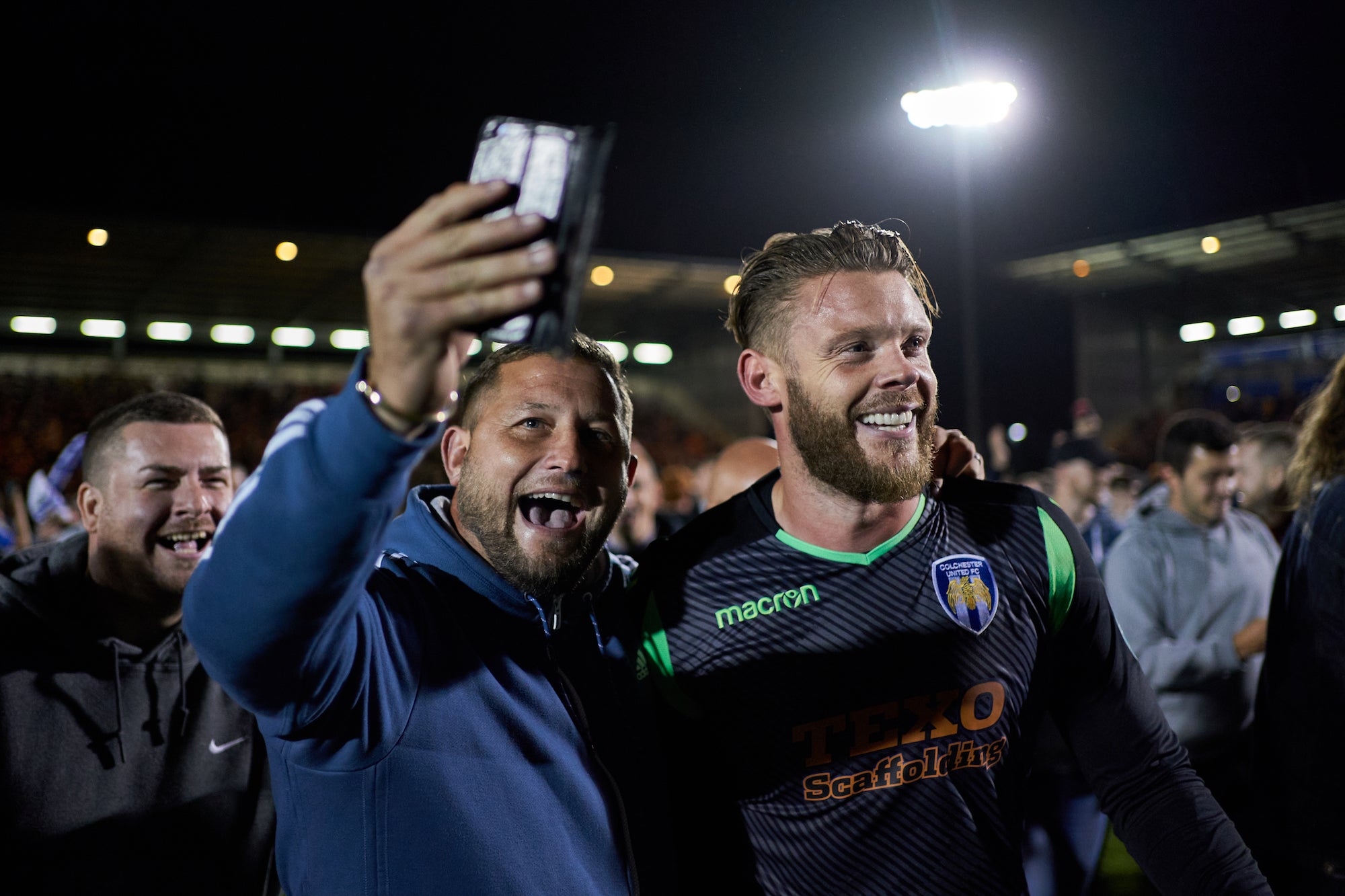 Photo by Joe Toth / Shutterstock. Sony α9. Sony 35mm f/1.8. 1/2000-sec., f/1.8, ISO 4000
Accessories
Extra batteries, SD cards, and two card readers: You always have to be prepared to have something fail on you.
Monopod: I keep a spare monopod in my car, just in case.
Chargers/Cables: What I love about my Sony system is being able to charge the cameras by just plugging them in with a cable to the camera! If I am on a long shoot and I don't have chargers with me, I can take one of my Anker wall plugs and USB-C cable and charge the cameras that way. But with that cool feature aside, a photographer's accessory bag is built over years of experience of seeing what works and what doesn't. Being prepared for all conditions and circumstances.
Rain Covers: I have a few Think Tank Rain Covers as well as rain covers for me. I always keep extra towels or cloths handy for when the rain blows sideways… which happens a lot in England.
Plenty of gaffer tape, extra contact lenses and the latest drawing from my daughter Ava! I try to keep organized and my Think Tank Airport International and Airport Commuter help me keep everything organized and safe.