As 2019 winds down and the inevitable avalanche of best-of lists from the past 12 months come out, at Alpha Universe we wanted to do something a little different. We reached out to the Sony Artisans of Imagery and asked them for the image they made in 2019 that meant the most to them personally. We received everything from dramatic landscapes and night shots to vivid portraits and sports-action photos. The images are as varied in subject matter as the Artisans themselves and each has a story about why it's so important. Here is a selection of some their favorite photos from 2019.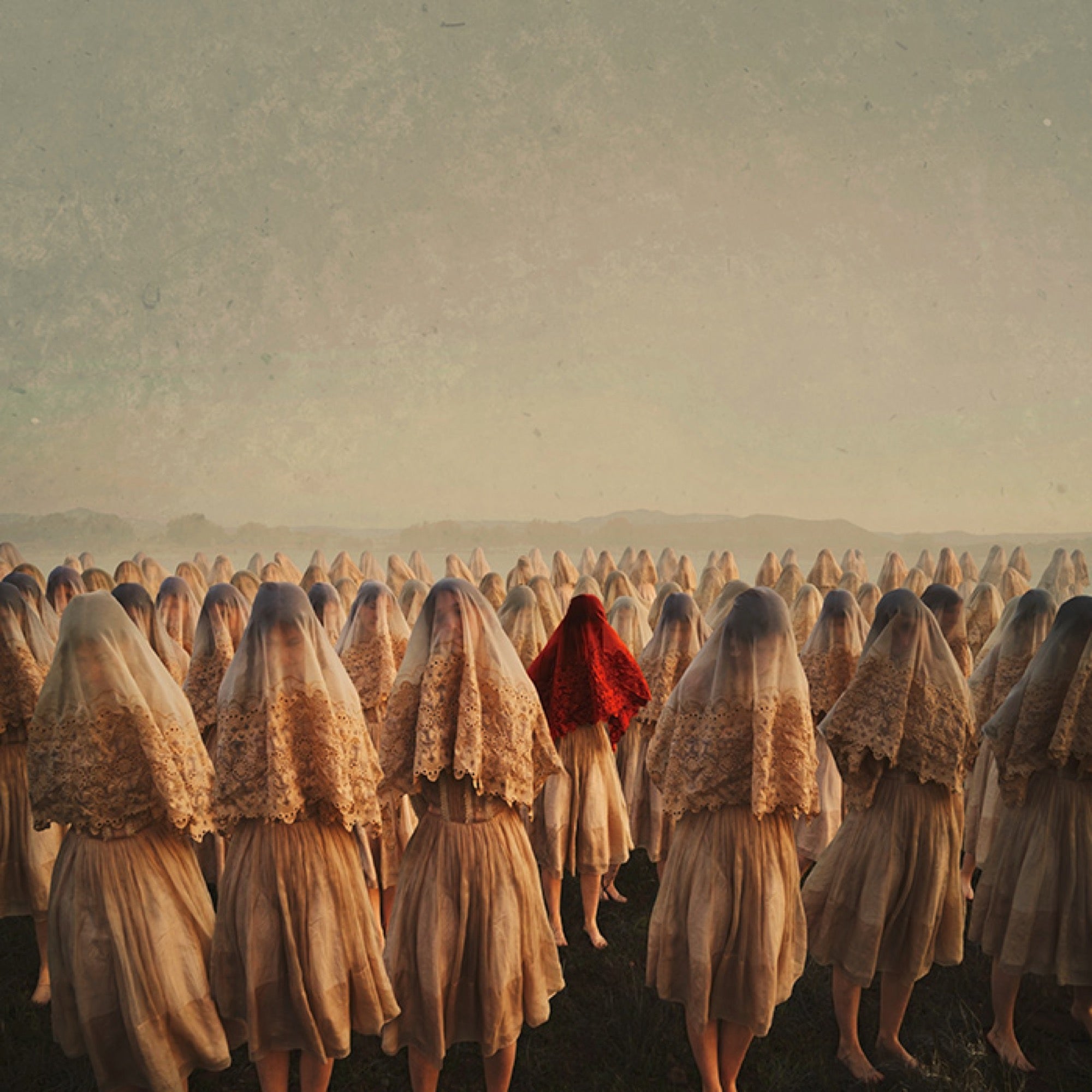 Sony α7R IV, Sony 24-70mm f/2.8 G Master lens.
"'Hidden:Concealed' is part of the larger series Begin Again, a compilation of self-portraits that explore identity. For this image, I photographed myself over 80 times in different positions in the field and then composited each "self" together. It took 90 minutes to shoot all the components, nearly going completely dark outside in the process, and roughly 25 hours to edit.
"I took 2019 to be a year of extreme curiosity and exploration of identity. This image epitomizes that journey through theme. I symbolically tried on every veil or mask I could so that I could find myself in the process. This image was the headliner for my solo exhibition in NYC this year and perfectly illustrates where I am artistically and personally."
Sony α7R IV, Sony 10-18mm f/4 lens.
"These once and still disputed islands remain about as untouched as when the ancient Ainu people lived there. Little to no signs of humans exist besides the deep holes they dug for lookouts and homesteads. Getting the government permit to come ashore here was no easy process and to have a completely clear day in Ushishir Island is like winning the lottery. This place is typically so foggy you can't see the shore from the boat let alone the entire caldera. Ted Hesser and I made a plan and hiked to the highest rim we could find for sunset. I think we both underestimated how steep and long the hike was. Chest deep grass and steep inclines made it feel more like climbing than hiking, but we were committed. When we made it to the rim, sweaty and out of breath we found a large hole that had been dug for the size of a small person to fit , almost like a perfect viewing platform protected from the wind. We later found out at the ancient Ainu people would dig holes for fortification throughout these islands and I had to wonder just how many people had seen this piece of history.
"Remote islands in faraway places are what I used to dream about as a kid. I would flip through the pages of magazines at this tiny magazine shop I used to work in Pismo Beach. At the time I thought that surrounding myself with magazines and the photos I was inspired by would somehow get me closer to those places. Wow, was I wrong! Nothing felt more torturous. So I quit my job at 19 and never looked back. I learned something pretty important during those days. No amount of dreaming about distant shores will get you closer to standing on them. Taking a risk is the only way to progress. I took nearly a decade but I finally made it to where I wanted to be."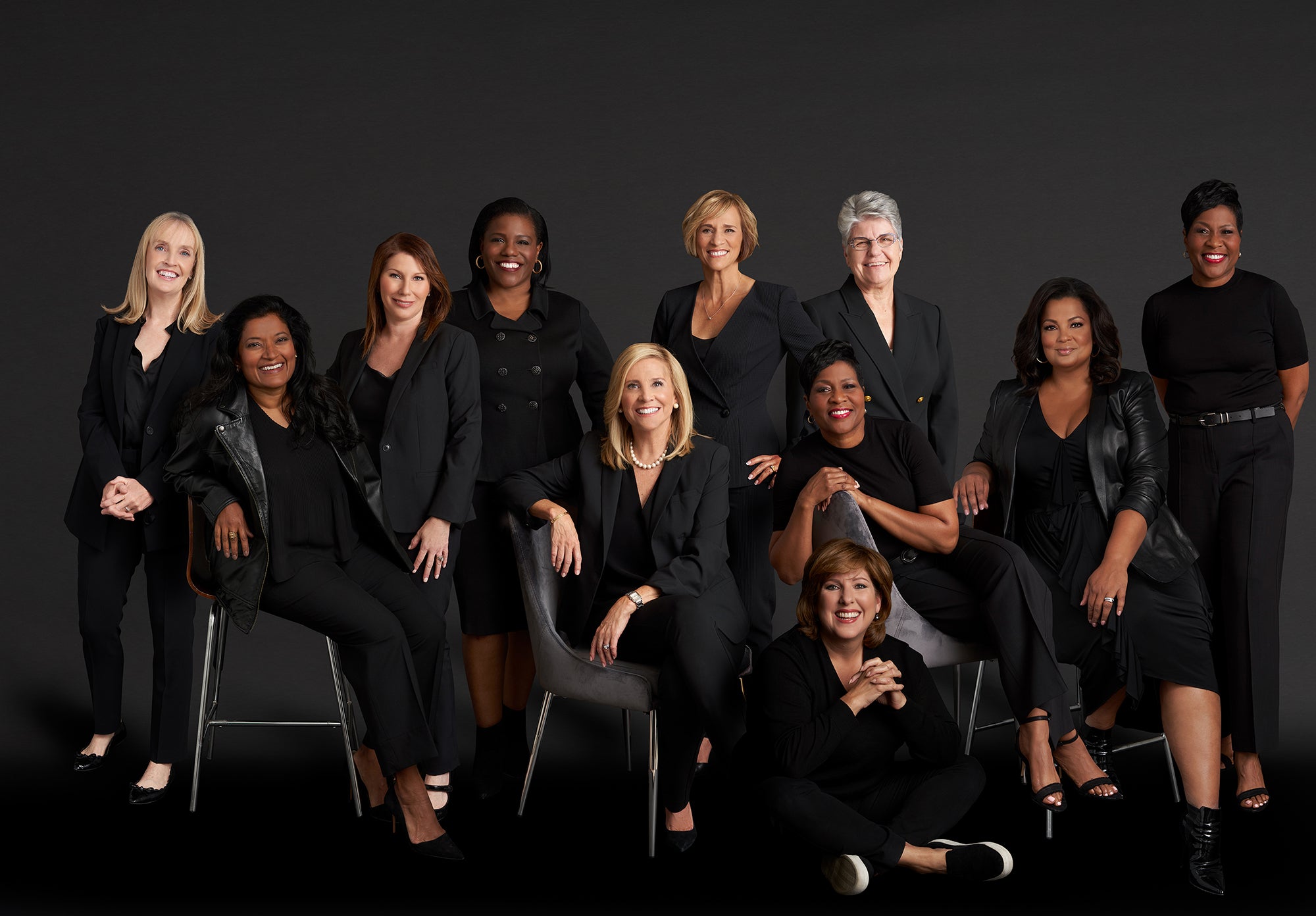 Sony α7R IV, Sony 24-105mm f/4 G lens.
"This is a composite shot over several days of some of the women in the 2019 NY Moves Magazine power issue. I had pitched the magazine on doing a gatefold, and they loved the idea. The version in the magazine has twenty four women from five different photographers. I wanted a version with just the women I photographed so I put this together. It's a great assignment and 2019 was my fourth year shooting it, so the gatefold was a way to mix it up. The final composite was printed eight feet high, so I put the high resolution of my α7R IV to good use."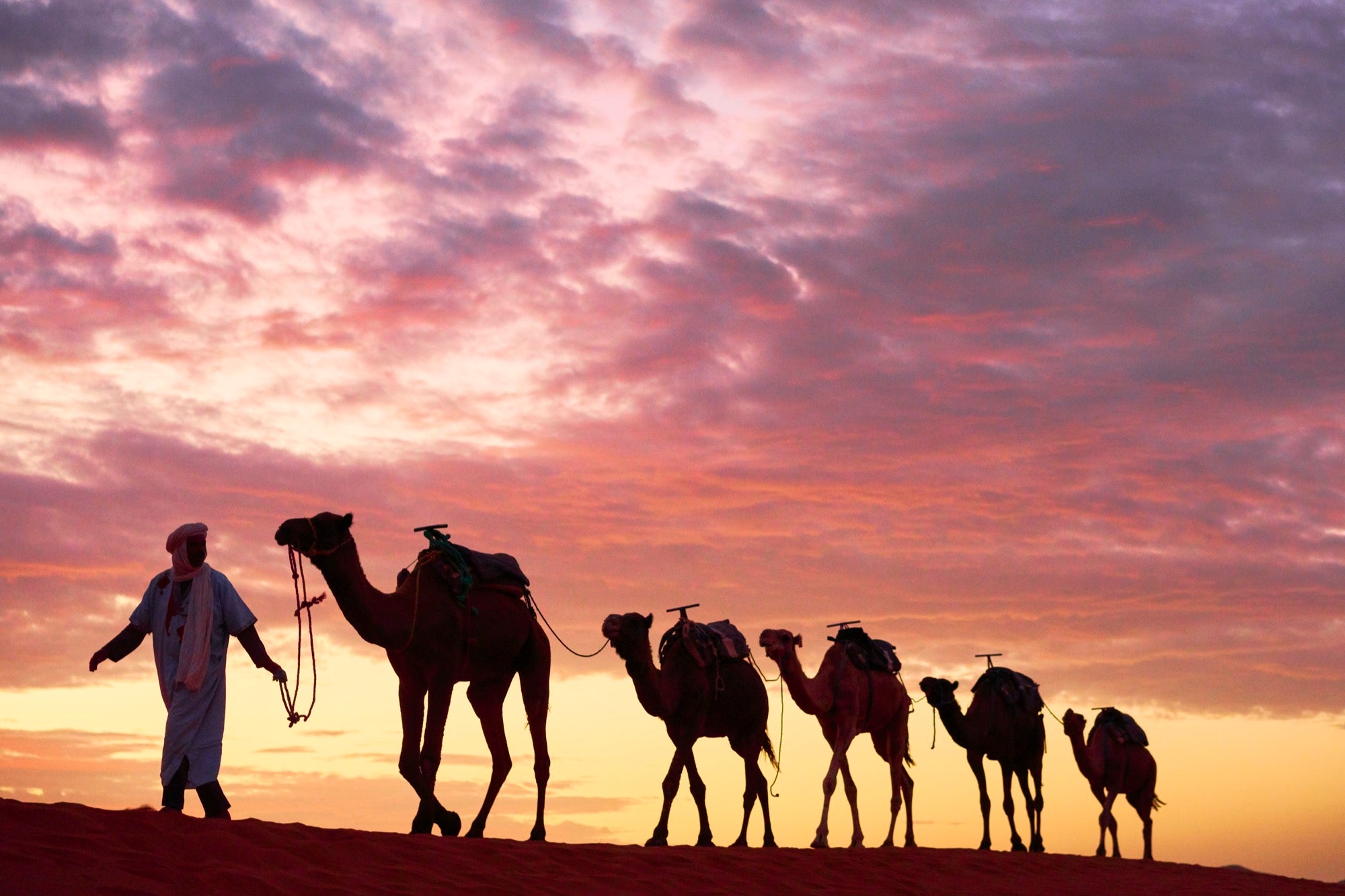 Sony α7R IV, Sony 55mm f/1.8 lens
"I was in the Moroccan desert at this beautiful sunrise and saw some camels coming over a sand dune not too far away. I was barefoot and ran over to the dune to compose a low angle shot with the clouds in the background. I have photographed many camels in the past years and it's always been difficult to keep the camels separated to get a nice silhouette. This image is a combination of pre-planning and luck and reminds me of a great photographic experience."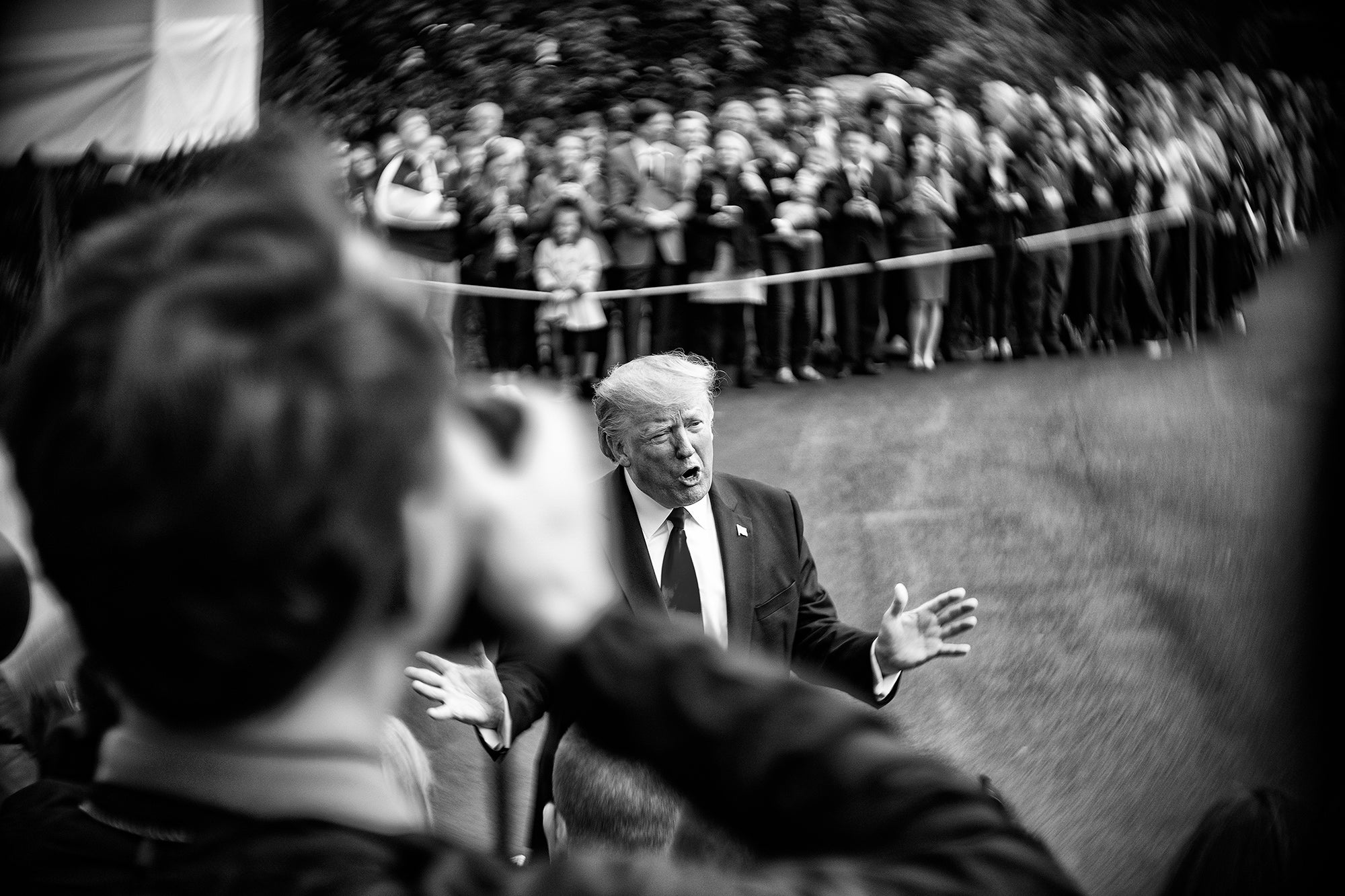 Sony α6500, 50mm Kodak 50mm f/1.6 Anastigmat Cine lens adapted to my Sony camera.
"I have been going to photograph at the White House since the Lyndon Johnson days, and have seen a lot of changes. The changes created by the current administration - departing from so many established traditions – need to be documented. Here, the president conducts a press conference from his preferred venue. No longer in the East Room, it's a walk to the helicopter on the White House South Lawn."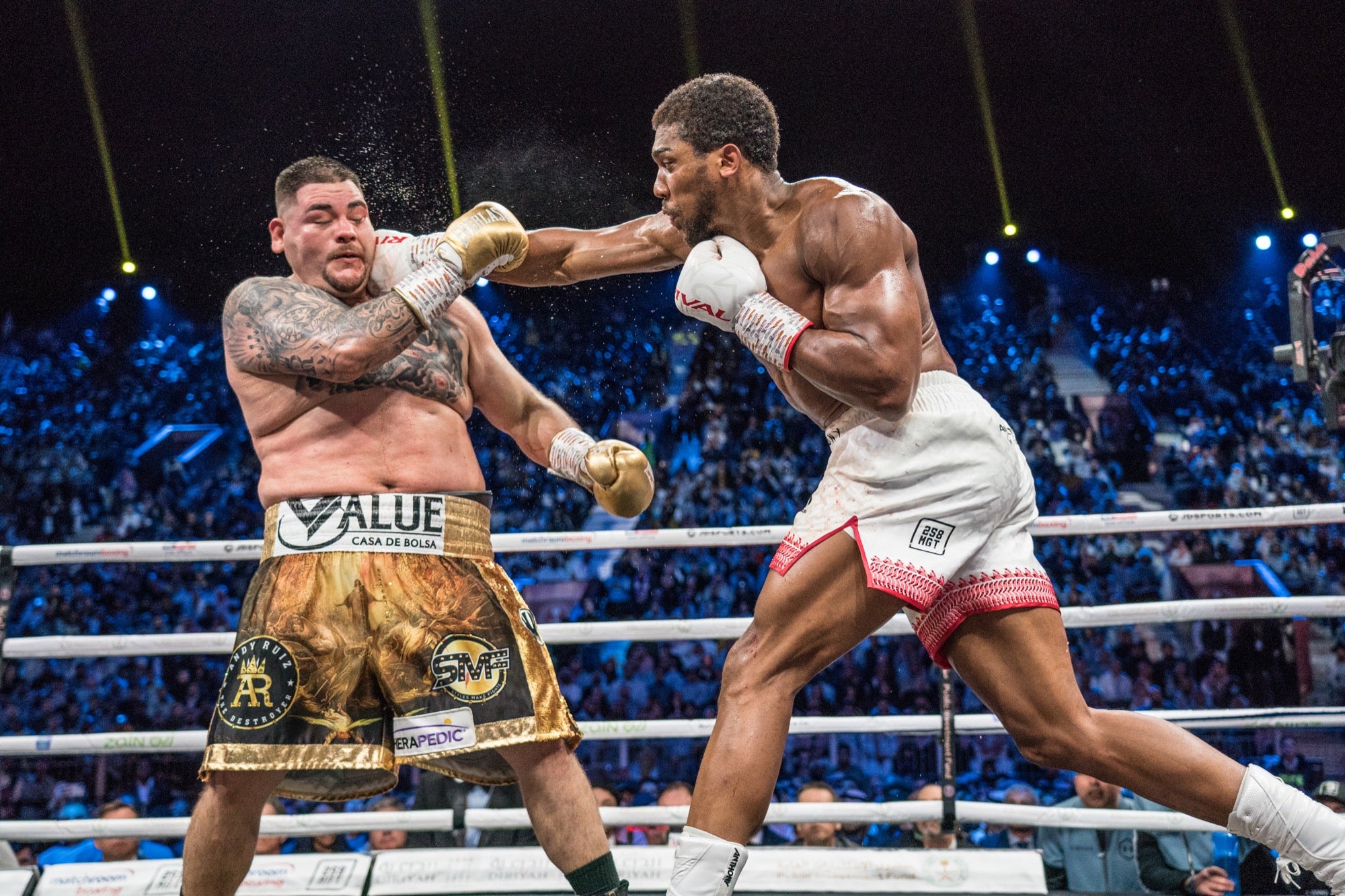 Sony α9 II, Sony 24-105mm f/4 G OSS lens
"Every time you shoot a sporting event you have a picture in your mind that you are hoping to get. When photographing heavyweight boxing, the picture you are usually looking for is a picture of the knockout that ends the fight, but this particular fight went all twelve rounds without any knockdowns so a really good punching picture becomes the goal of the photographer. Working from the ring apron for the December 7th 2019 Heavyweight Championship of the World fight which took place in Diriyah Saudi Arabia between Anthony Joshua and Andy Ruiz Jr., my hope was to get a picture that would tell the story of why or how the winner of the fight got the job done. I think this picture does exactly that."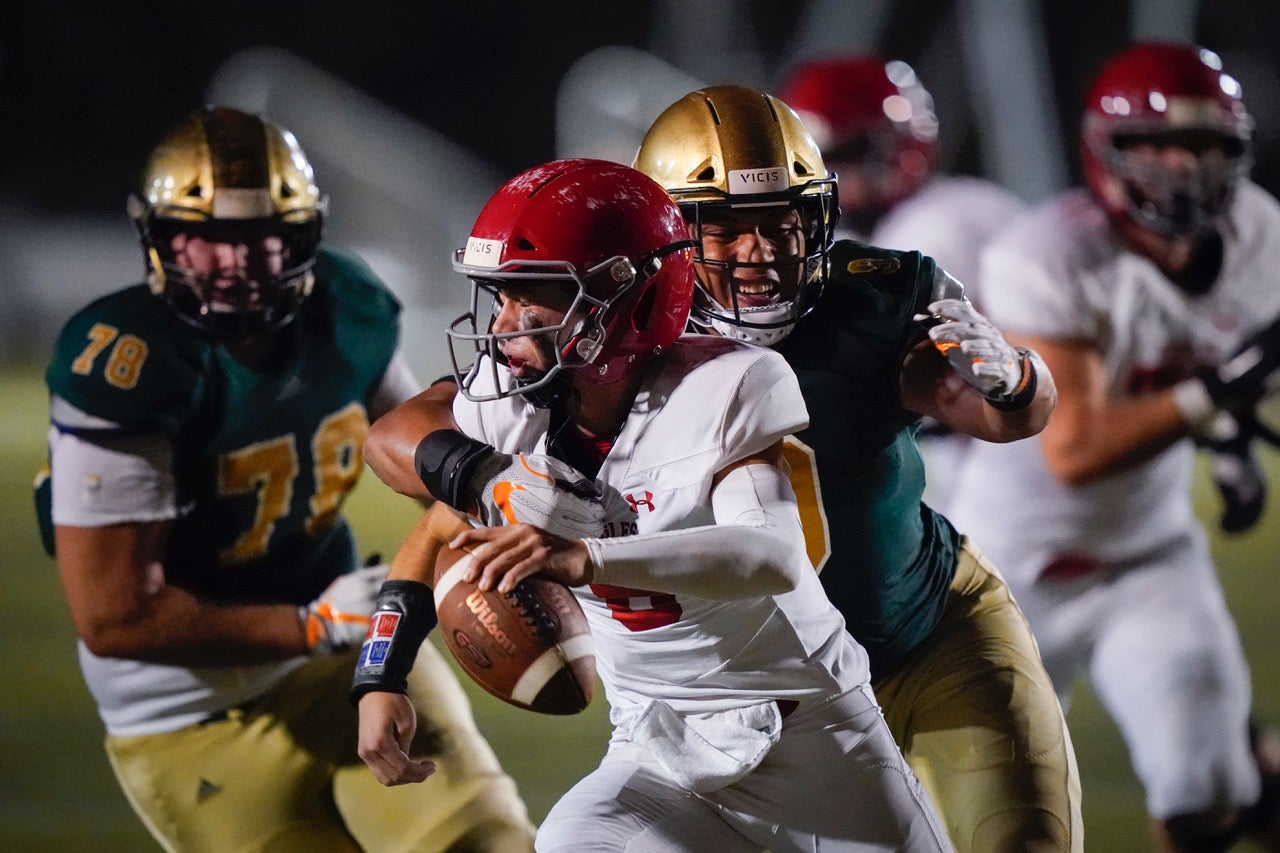 Sony α9 II, Sony 400mm f/2.8 G Master OSS lens.
"Asking a sports photographer for their favorite image from an entire year is tough, but I picked this high school football image for a whole bunch of reasons. First, it's a sweet frame with great action and it shows the reaction on both players' faces. Second, it's tack sharp in the areas it should be and blurry in all the areas that might try to fight with what I want the reader to see. Looking downfield into the traffic jam of offense and defense offers a melee of activity, so using long fast lenses helps clean up the mess into something simple and beautiful. Third, the photograph exhibits super high quality in terms of color, sharpness, and noise is almost completely absent even though it was shot at an unbelievable 16,000 ISO."
"I've been shooting high school football since 1981, back when you had to shoot black and white film and you prayed for enough image to develop on the emulsion just to make a print. Every time I head out with the α9 II to shoot sports in low light, it's a bit like Christmas. As high school sports are obviously not lit as well as college and pro sporting venues, they present even more of a challenge to make great frames in the dark."
"Last, the light at most high school fields comes from up high and way on the sides. As the players near the red zone where they might score, the light drops off to even less than on the rest of the field. This image is shot almost on the goal line. This photograph would literally have been impossible to capture just a few years ago, at least with this kind of color and quality. If I'm honest, making great images of the NFL, NBA and big-time NCAA sports is pretty easy. High school is always a challenge. And I love a challenge!"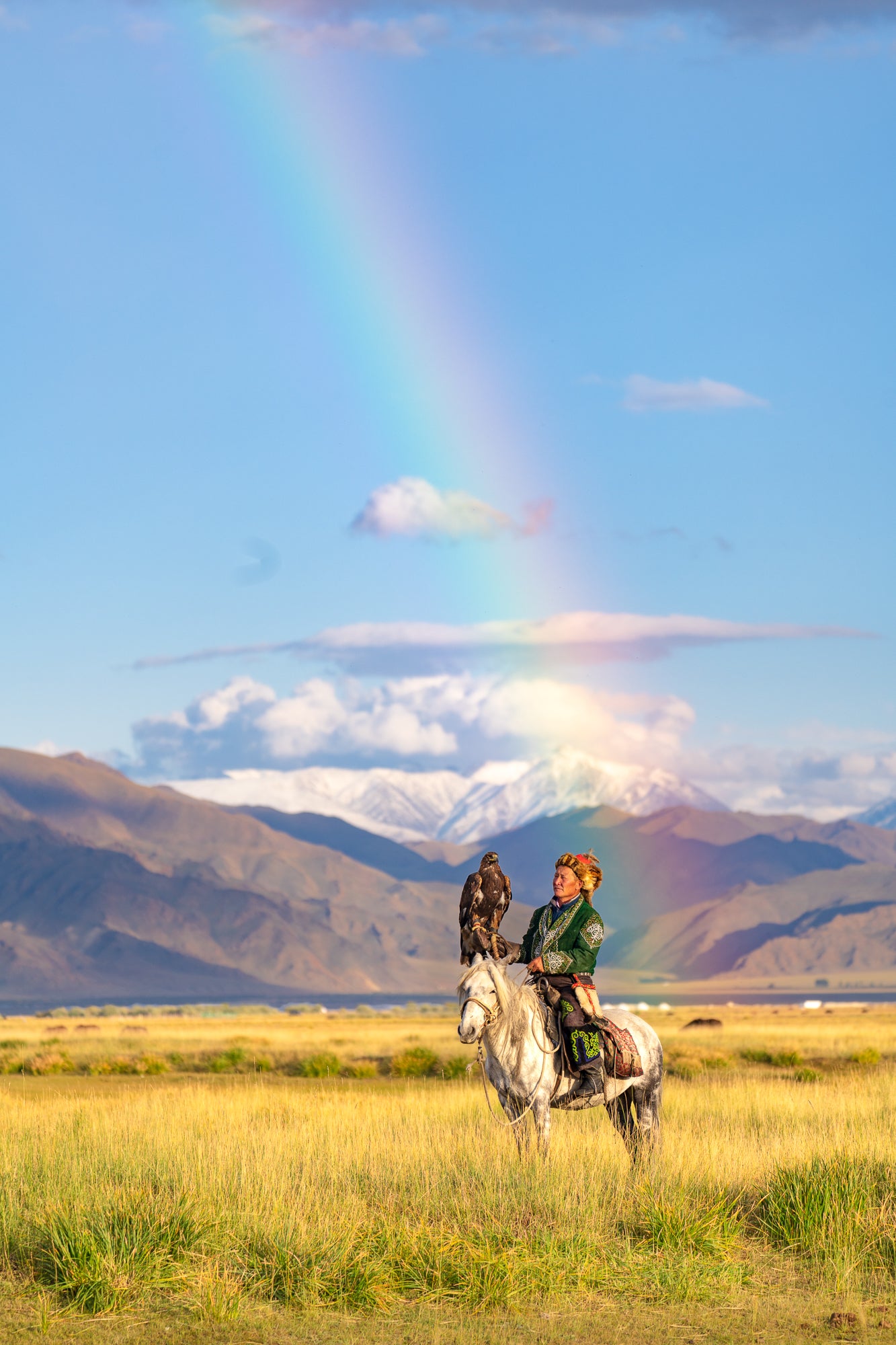 Sony α7R IV, Sony 100-400mm f/4.5-5.6 G Master OSS lens.
"Visiting the famous Eagle Hunters of Mongolia had been high on both my personal and business bucket lists. After arriving into Mongolia, I headed straight for the Western Uglii region of the country. This area is known to house some of the countries best Golden Eagle Hunters. For 8 days, I traveled through this remote region to visit various different hunters in as many different landscapes and backdrops as possible, staying with their families in the process. This gave me the opportunity to get to know my subjects and their families well before I asked to take any of their photos. Ultimately I think this insight helped me not only take better images, but images that spoke more accurately to the different Eagle Hunters I got to know. To be able to see these amazing people in such an incredible scenery with a rainbow appearing overhead was a euphoric experience."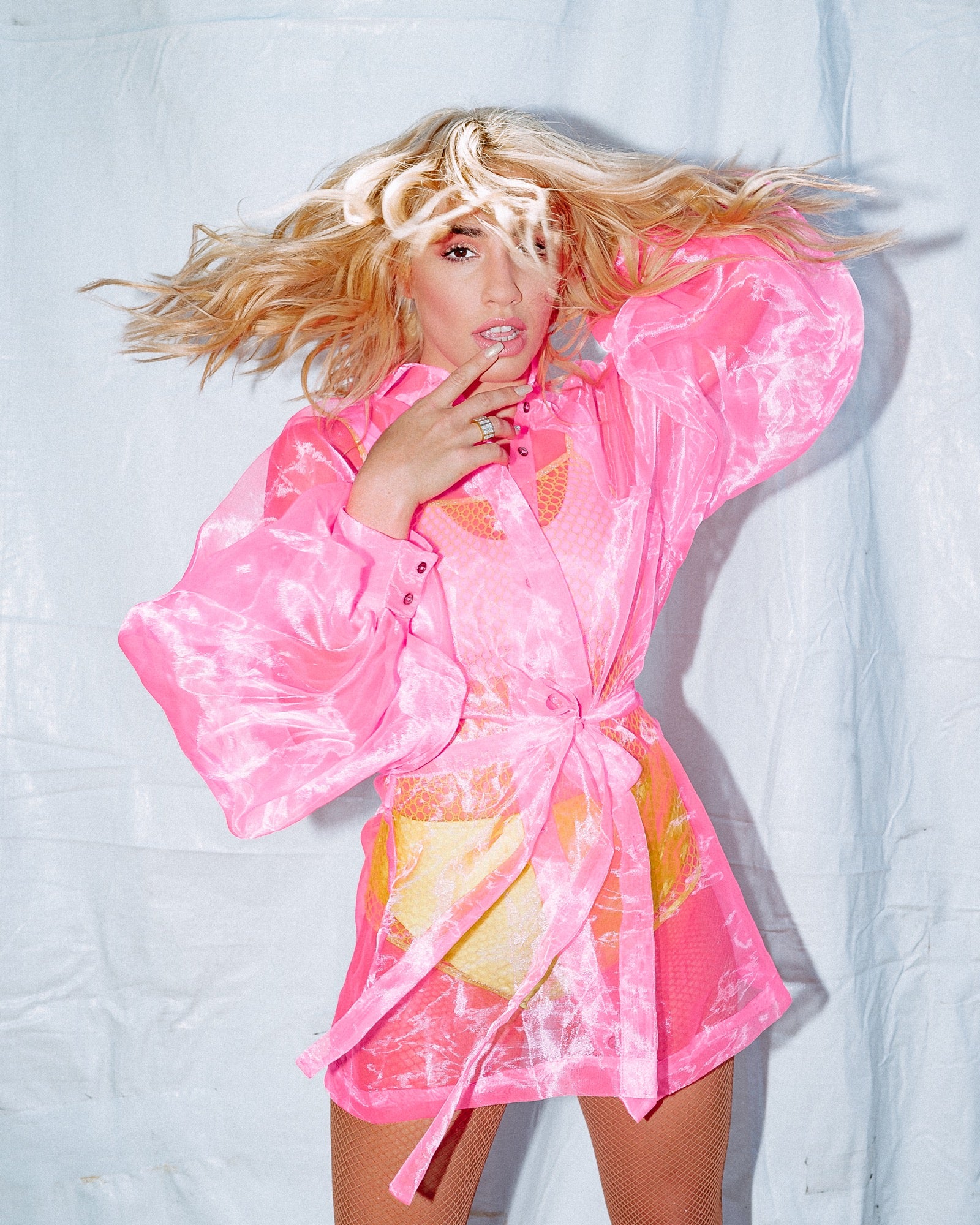 Sony α9, Sony 24mm f/1.4 G Master lens.
"Backstage portraits are challenging, given the usually short amount of time the photographer has to work with the artist. They are often anxious to get onstage or exhausted after a set, so their eagerness to create a special photograph can be tempered. For this photo, Argentinian singer, songwriter and actress, Lali, agreed to do a quick portrait after her performance at Mala Luna Fest in San Antonio, TX. With little time to prepare a concept, I asked Lali if we could incorporate some motion into an otherwise static white backdrop. Using the high frame rate of the Sony a9 and on camera flash, we were able to capture this definitive, vibrant moment. It was a victory of sorts to create a concept in a matter of seconds and execute using tools that, honestly, made it all a bit too easy, and turn it into my favorite artist portrait of 2019."
Sony α9, Sony 400mm f/2.8 G Master lens.
"I shot a lot of great game action throughout the year,including the World Series, that I considered for my favorite of 2019. Game action is exhilarating, but the story and culture of baseball is so much more than what takes place between the lines (on the field). This shot of Willie Mays is my favorite because of the lasting impact he's had on baseball and what he's meant to fans over his seven decades as part of the game's fabric. He's nationally revered and an icon to many. At 88 years of age today, he's a lot less visible than in years past, as he's lost a majority of his vision and doesn't come out to the ballpark often. I'm glad I was able to capture his warm smile and sense of pride as he enjoyed being on the field for his friend Bruce Bochy's retirement ceremony."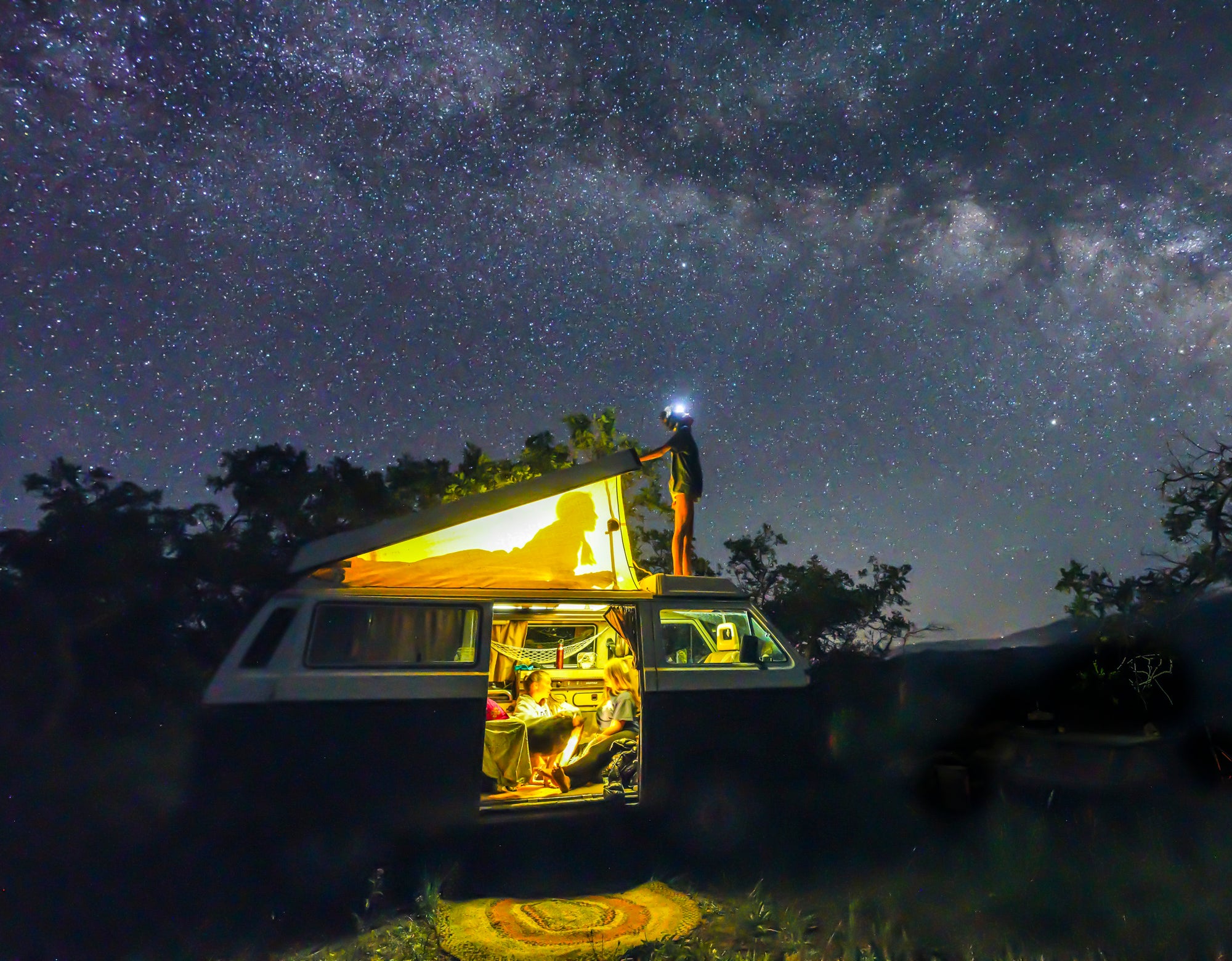 Sony α7R IV, Sony 16-35mm f/2.8 G Master lens.
"While camping in an old school van, I had a chance to test the new α7R IV last summer. Using my nieces and their headlamps to make the scene more dynamic, I took a 10-second exposure to bring out the stars, directing my subjects to look up at the stunning Colorado night sky. As a photographer who relies on digital screens, I still try to find ways to escape their magic and spend time with kids studying constellations the old fashioned way by going outside. Sharing moments like this one with my nieces in the great outdoors is important to me, and I feel lucky to have captured this fun night on camera. I think my nieces will remember this night camping under the stars, talking and laughing away from their devices, more than whatever they saw on their phones that day—I know that I will."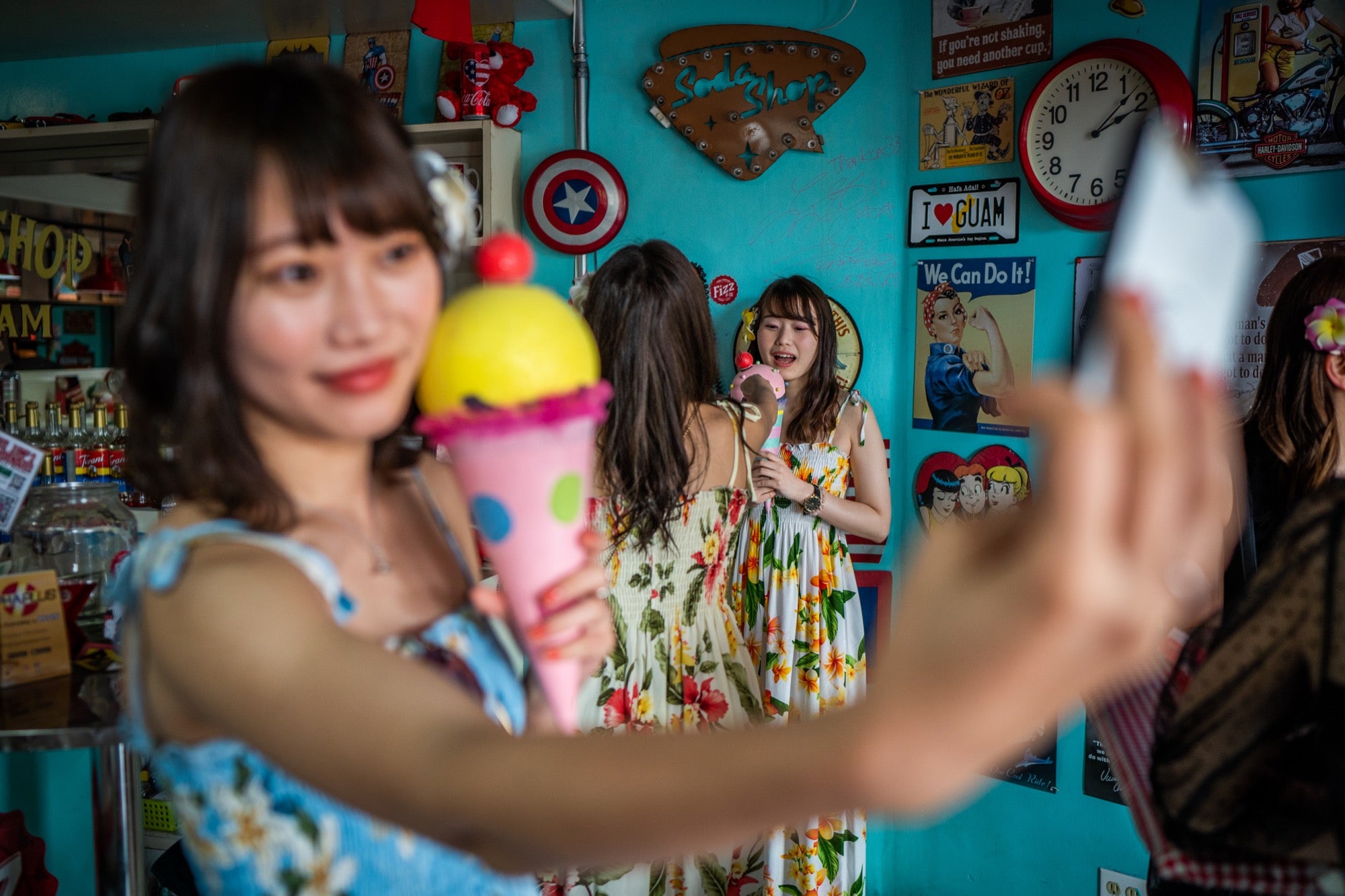 Sony α9, Sony 35mm f/1.4 lens.
"I pitched, shot and wrote my first story for National Geographic about at the culture of tourism on Guam, where visitors come to this small U.S. Territorial island in the middle of the Pacific Ocean to experience America, or at least a facsimile of it. I met a group of college friends from Japan and followed them around as they explored Guam, including going to this retro soda shop on the island. They dug into cream sodas and chili dogs before spending upwards of twenty minutes photographing their food, taking selfies and posing in front of the restaurants decor. They were excited to experience this Hollywood-ified version of America and it was fascinating to experience this with them through their eyes. This image is my favorite from 2019 because it was from the first day of my first National Geographic assignment and my first big job shot entirely with my Sony gear after switching from my previous DSLRs. The moment and the colors just jumped out to me in a meaningful way... one of those gifts from the photo gods!"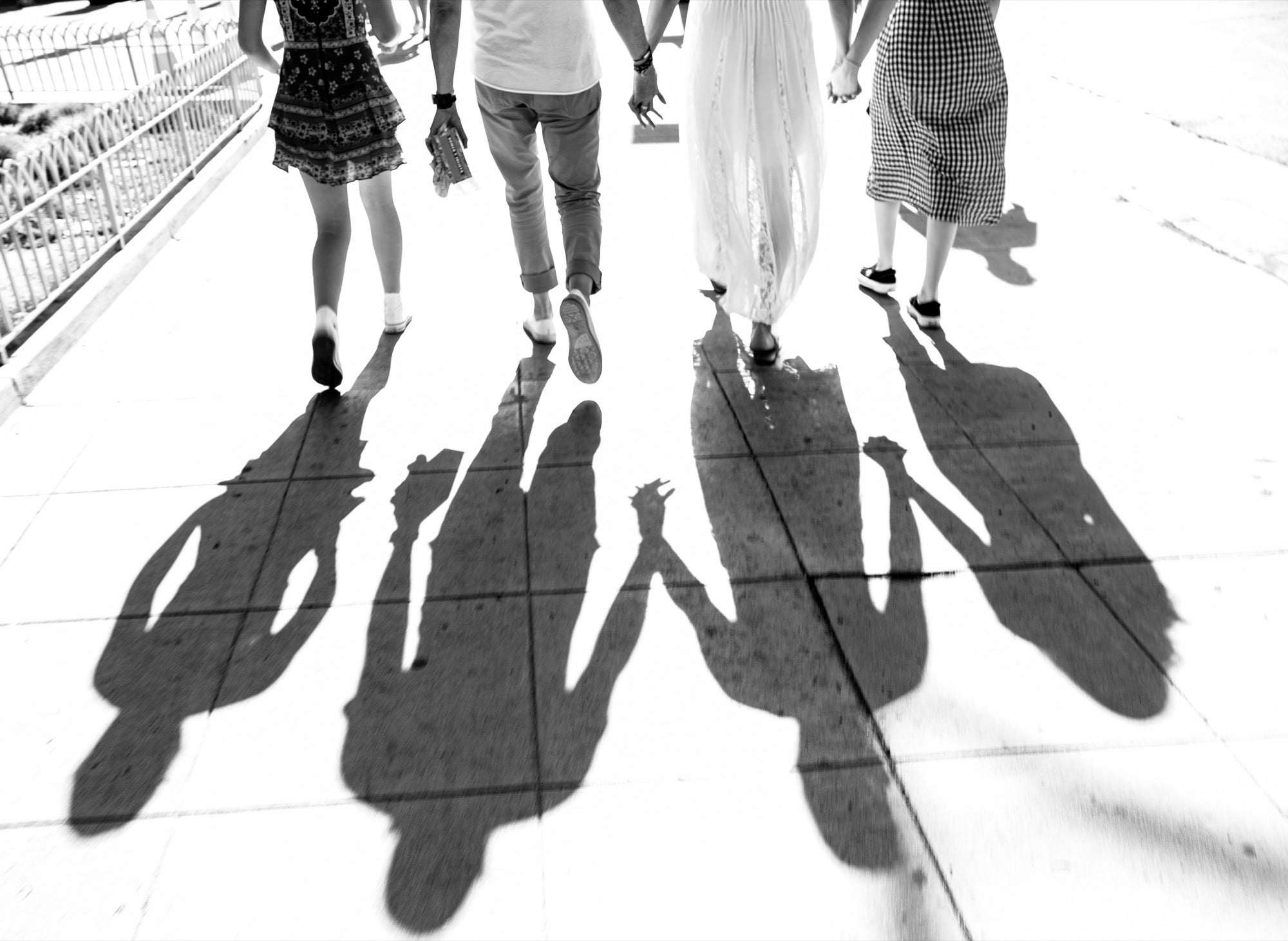 Sony α7 III, Sony 24mm f/1.4 G Master lens.
"I photographed Pash & Jessica's wedding twenty years ago to the day before this image was captured. I also photographed their ten-year renewal of vows, family portraits, their oldest daughters Bat Mitzvah and will I be photographing their second daughters Bat Mitzvah in June of 2020. I value their loyalty and trust, along with their commitment, to have me as their lifetime family photographer. Photographing a couple's wedding is a privilege. Having the opportunity to watch my couple's family lives grow and flourish is a treasure of the heart and a big reason why I continue to love being a photographer."
Sony α7S II, Sony 16-35mm f/2.8 G Master lens.
"My day had started 21 hours earlier and the common sense part of me felt foolish for venturing out at nearly midnight into a frigid New Zealand winter night. But I just couldn't pass on a chance for a unique view of the Lake Wanaka willow tree, which arguably the most photographed tree in the world. Not only was I the only one there (a personal first), the lake surface was a glassy mirror, and the fog that seemed to be massing across the lake held off for nearly an hour.
"This image was the culmination of one of the most memorable photography days of my life. It started at 3 a.m. with a Milky Way shoot right here at Lake Wanaka, and included a spectacular roundtrip drive to Aoraki / Mt. Cook National Park. Although I was exhausted at the end of the three hour drive back to Wanaka, I just couldn't resist giving the Wanaka Tree one more chance. I love stars, fog, and reflections, but rarely do I get the opportunity to include all three in one frame."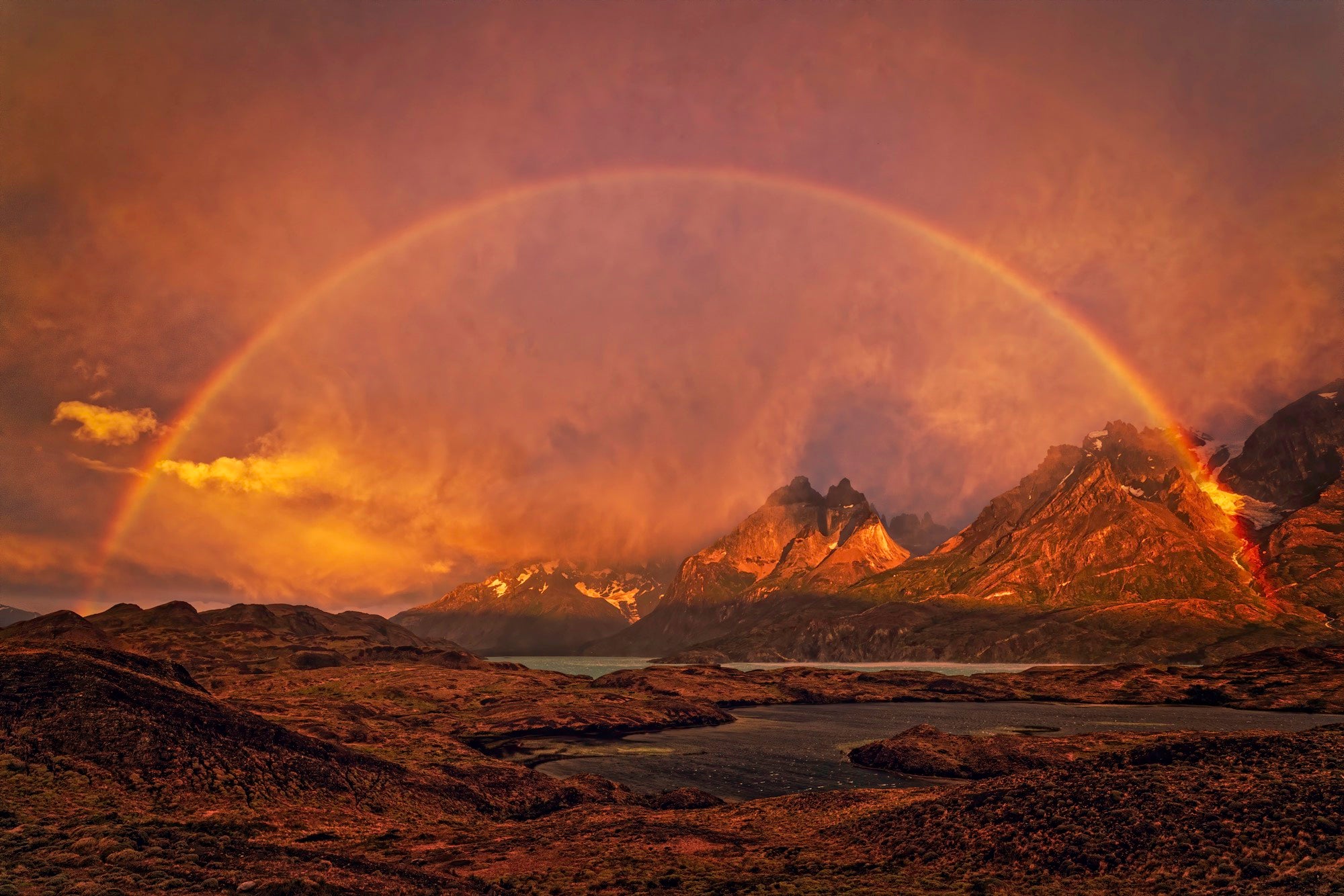 Sony α7R III, Sony 12-24mm f/4 G lens.
"Scouting in Torres del Paine National Park in Chile with my partner Ron Modra, we arrived at this spot in the dark with rain, wind and clouds. Then, as sunrise approached, the clouds over the mountain parted and this full rainbow appeared.
"This image contains all of the elements that makes landscape photography so special to me. There is the ruggedness of The Cordillera Paine, the breaking storm and the lucky timing of the sunrise just as the storm broke that produced a full rainbow. Situations like this are few and far between and you just get the camera to your eye quickly and make as many images as possible before the magic stops."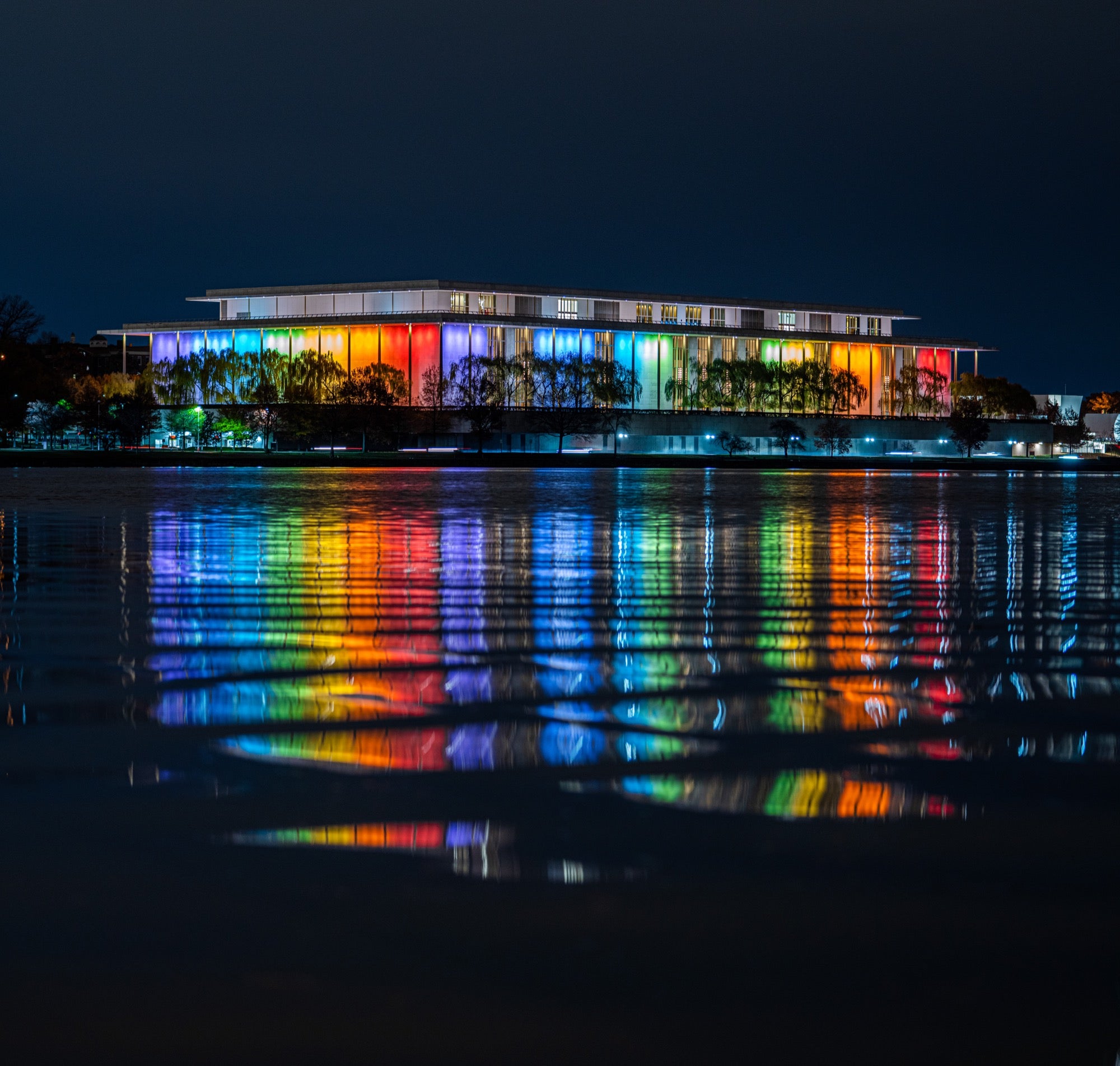 Sony α7R IV, Sony 70-200mm f/2.8 G Master OSS lens.
"It was a brisk November evening down at the Georgetown Waterfront in Washington, DC when I saw the electric glow of what looked to be a rainbow in the darkness of night. I found myself inching as close to the river bank as possible so I could capture both the glasslike waves and the reflection from the Kennedy Center as it beamed it's colorful glow on the water. I had about a 10 minute window before the water turned choppy meaning I needed to nail the shot quickly! This photo combines both city architecture, nature, reflection and color-all of my favorite things wrapped up into a nice, neat, package. It's meaningful to me because I chose to shoot this image -- no one directed me or requested me to do it, I just did it because I loved the composition and knew how beautiful it would be regardless if anyone else saw it."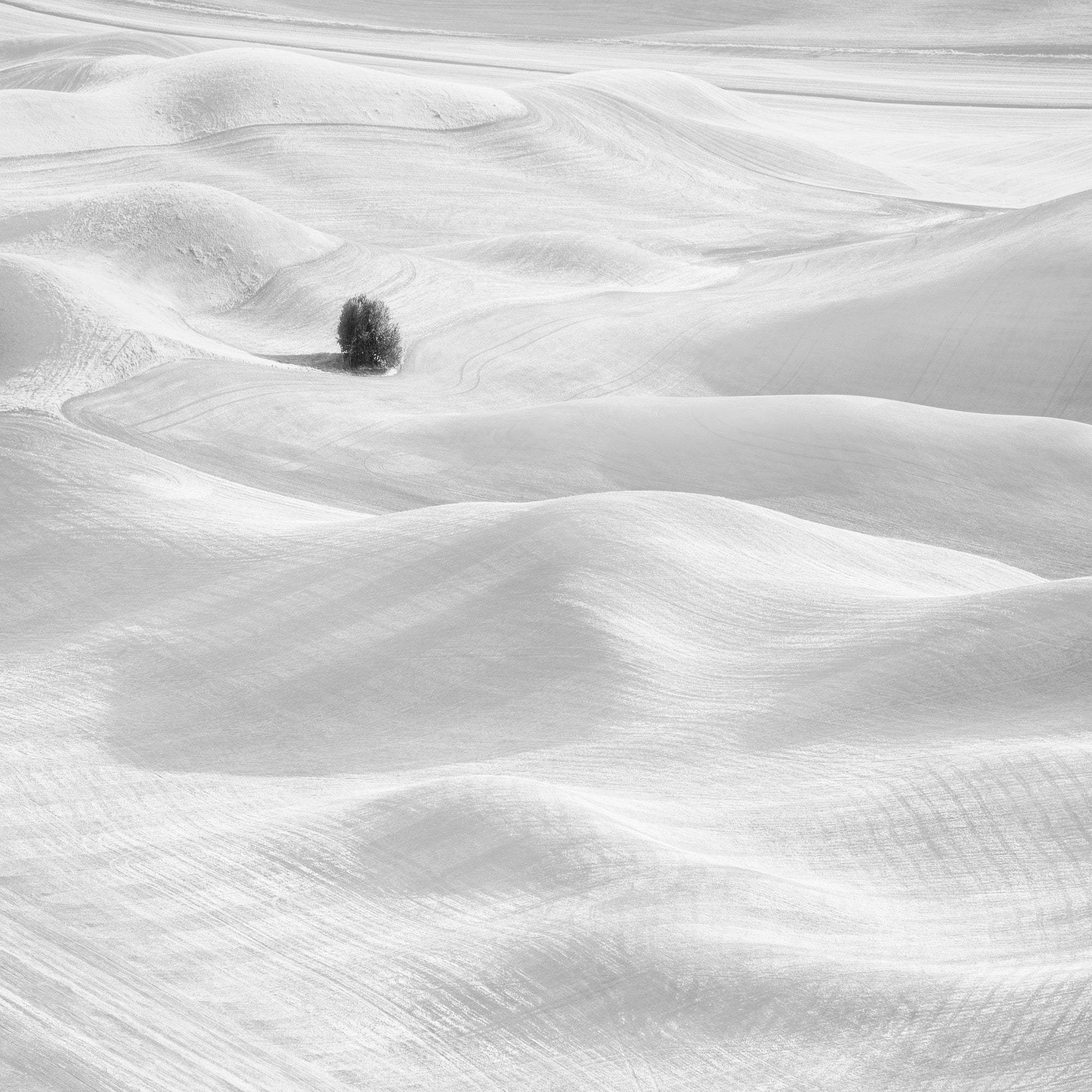 Sony α7R III, Sony 100-400mm f/4.5-6.3 G Master OSS lens.
"This photo is part of my Fractal series. Fractals are a mathematical concept that can be found in nature. They typically present shapes and geometries that look the same no matter the scale considered. They can be astronomically large or atomically small.
"I took the photo in the Palouse area in Eastern Washington. It is shot from one of the most well-known locations there, a towering State Park called Steptoe Butte. Most of the pictures shot from this place show vibrant colors in the fields, but I wanted to create something different by focusing on the lines and shapes of the land. I love that this picture blurs out the sense of scale, as well as the lines between photography and sketching and painting."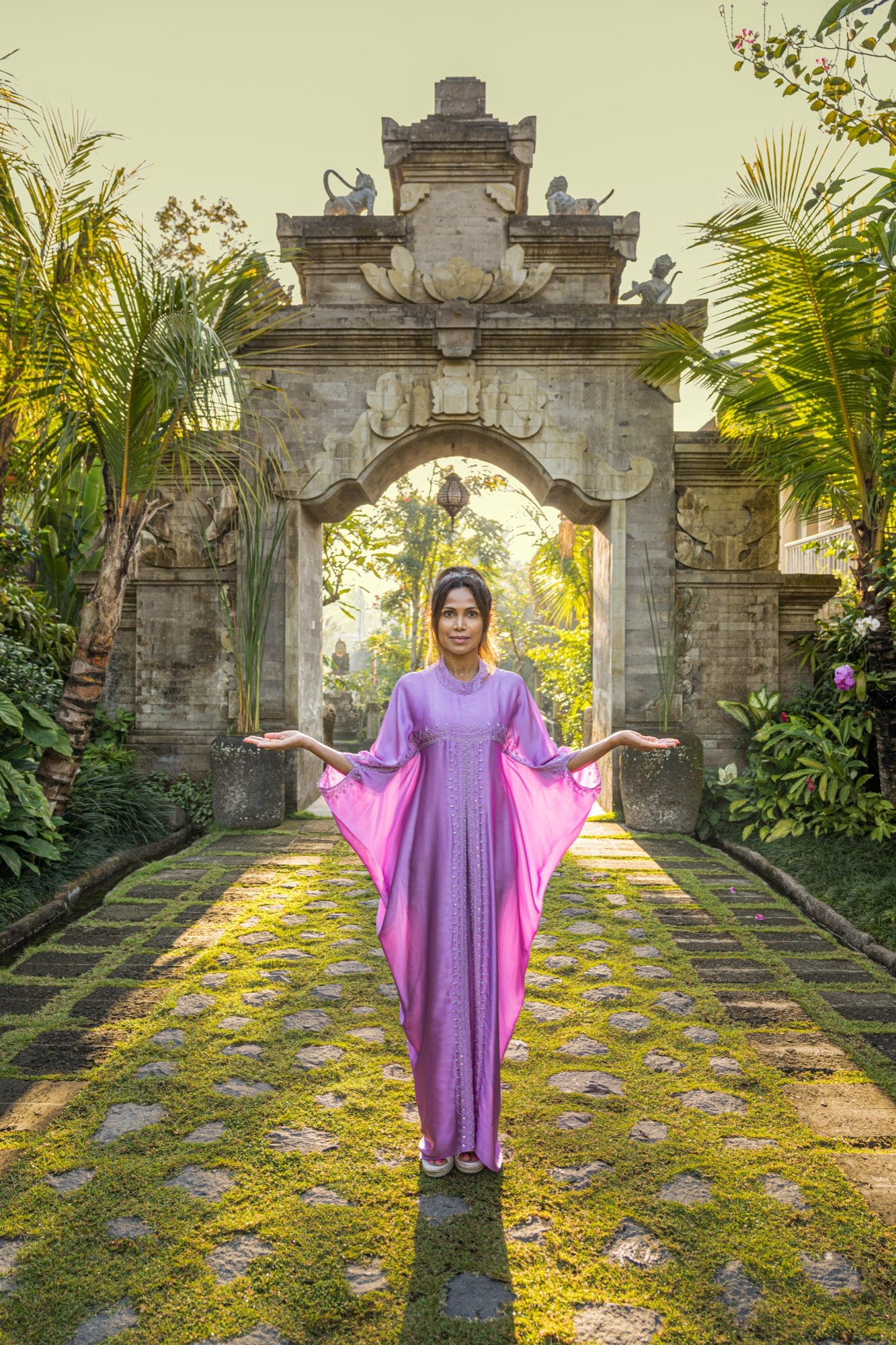 Sony α7R IV, Sony 16-35mm f/2.8 G Master lens.
"I take a lot of portraits for all sorts of clients, but this one was for me. Traveling with my wife, the early morning light was lovely at our hotel in Ubud, Bali so I asked her to stand for a quick portrait."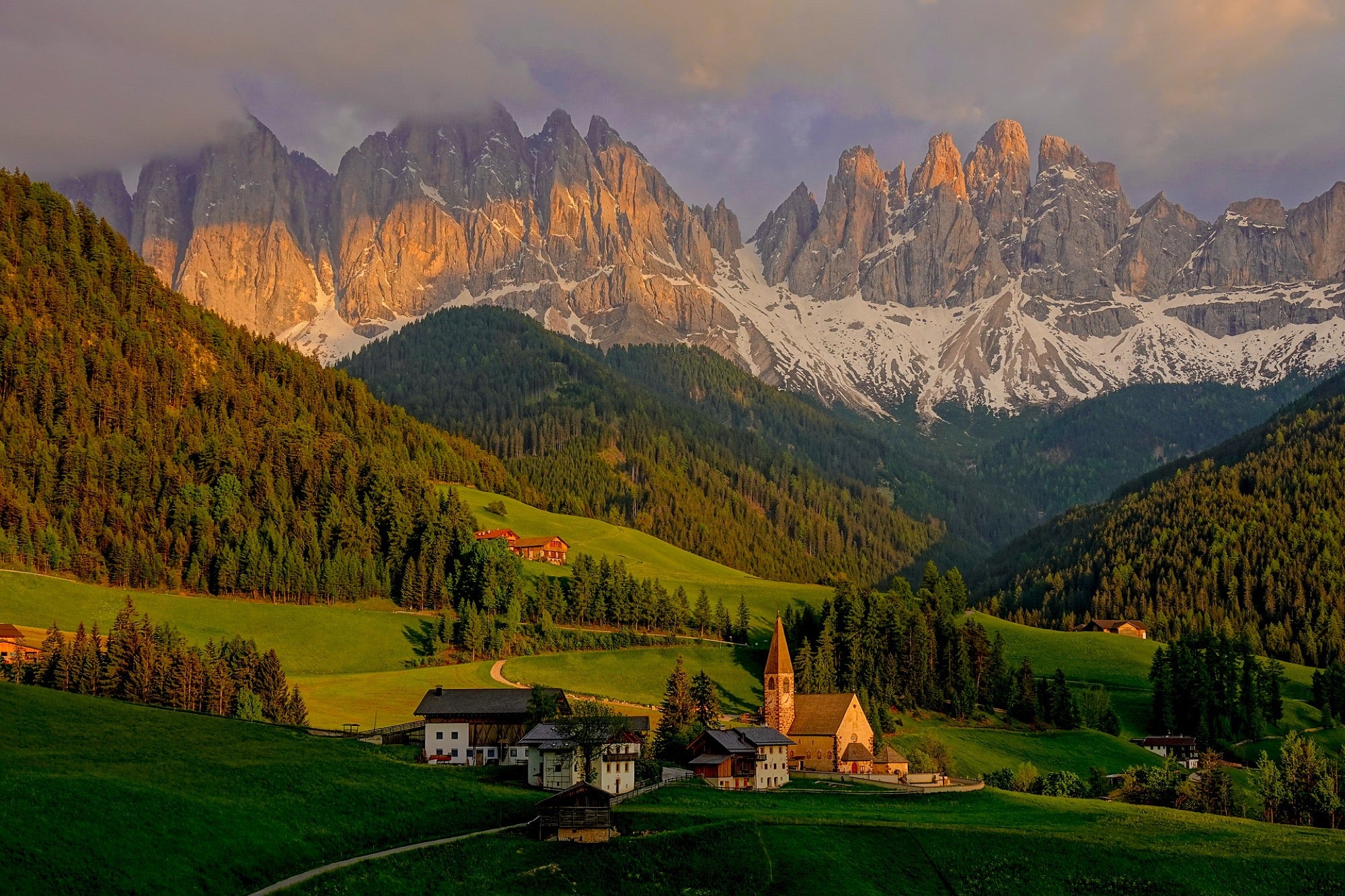 Sony RX10 IV
"I revisited an remote area in the Italian Alps that I had shot earlier in my career, but the first time the weather didn't cooperate. In 2019, I had to pass right through this area again. I booked a couple of nights in a little pension in this village and one evening I went back to the same view only to find that the weather looked cloudy again. But just as I got in place, the skies cleared and we had amazing light!
"I feel fortunate to have been able to return to this place and finally get the shot I saw in my head, but had missed years before. It felt like closure on this particular location. It's a rare treat when you can go back to a location where there's one of those situations that "got away" and actually get it! I felt a sense of closure."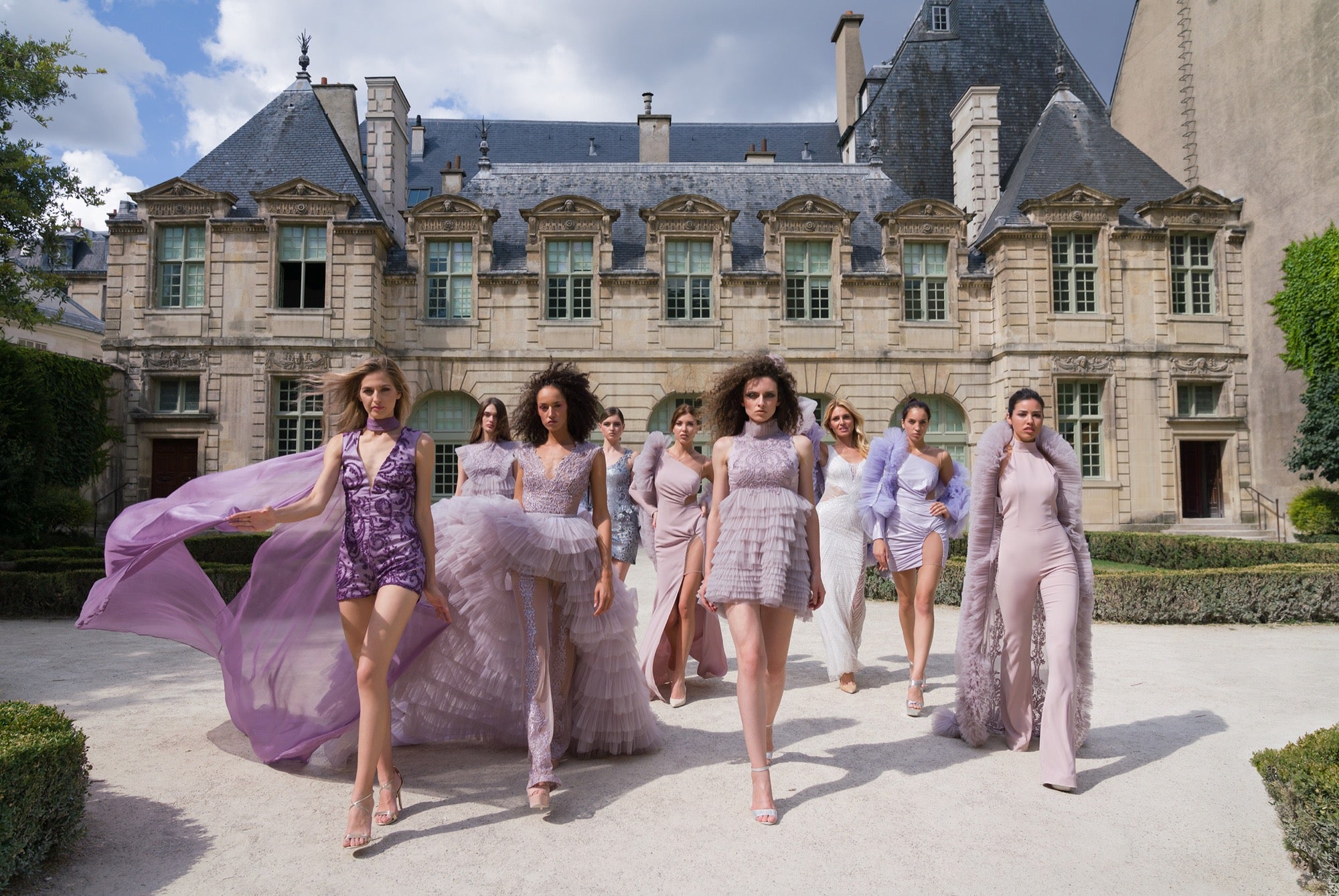 Sony α7R III, Sony 24-70mm f.2.8 G Master lens.
"This photo is part of a 12-page editorial, "Enchanterd Garden" for Al Sharkiah magazine. It was taken Paris, France in July, 2019 and the entire editorial was photographed using available light. It's my favorite photo of 2019 because all of the models are from former Yugoslav republics, the country where I was born and the fashion designs are by one of the top Serbian designers, Marija Sabic."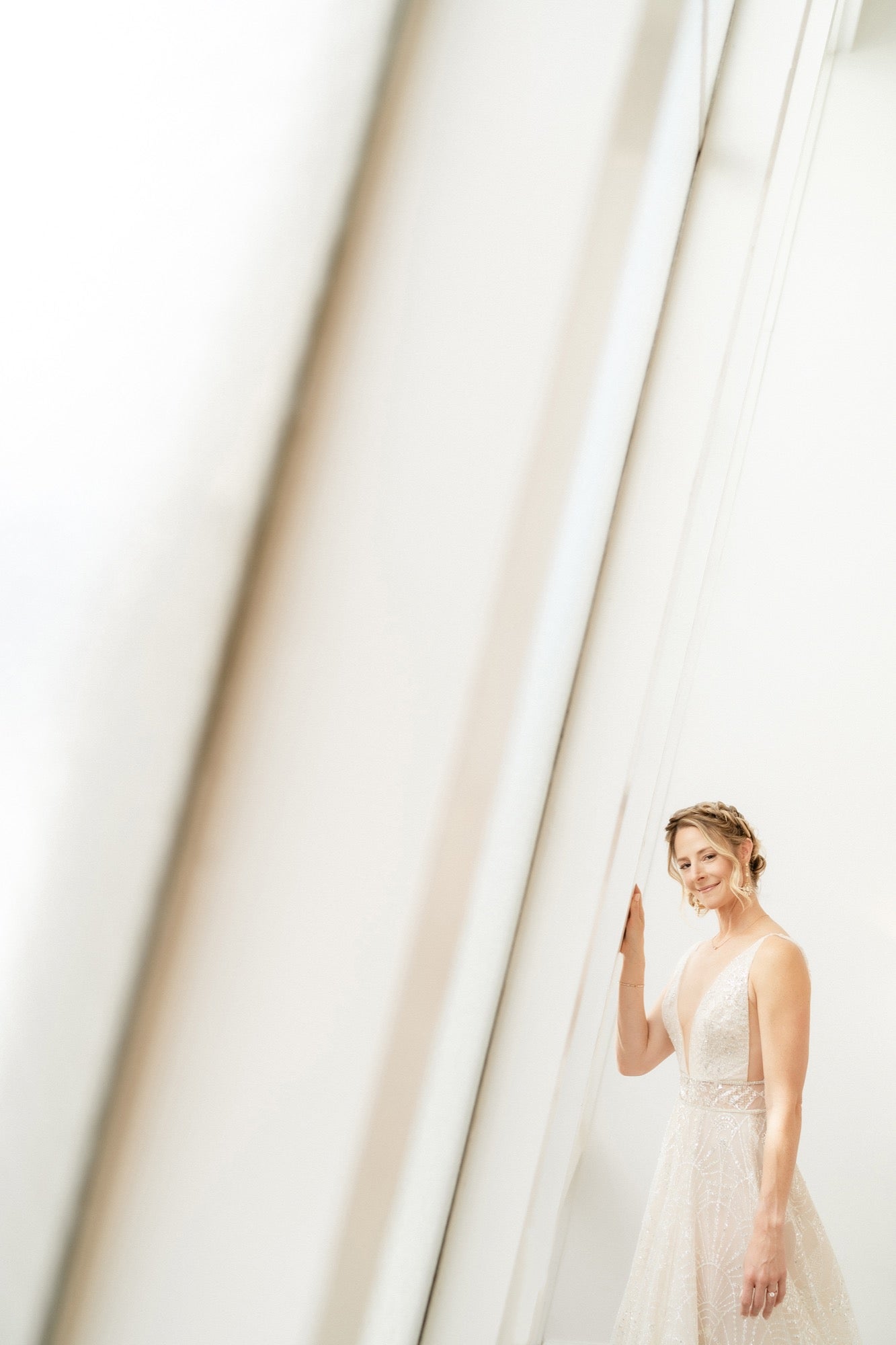 Sony α7R III, Sony 35mm f/1.4 lens.
"As a wedding photographer it is a rare opportunity to get to attend a wedding and even more so, the wedding of a fellow wedding photographer and dear friend. The greatest honor was for her to ask me to do some portraits of her the morning in her studio before heading off for first look.
"This shot was taken in the bride's photography studio while she was getting ready. I wanted to incorporate the beautiful lines and wall of windows that she has in the space so I placed her right up against the windows to capture the classic beauty that she is. I shot it with a shallow depth of field to allow the eye to go straight to her while including all the leading lines.
"This moment in time is one I will remember forever with the excitement and emotions swirling around. Getting to do what I love most for a person so special to me makes this image my favorite image of 2019."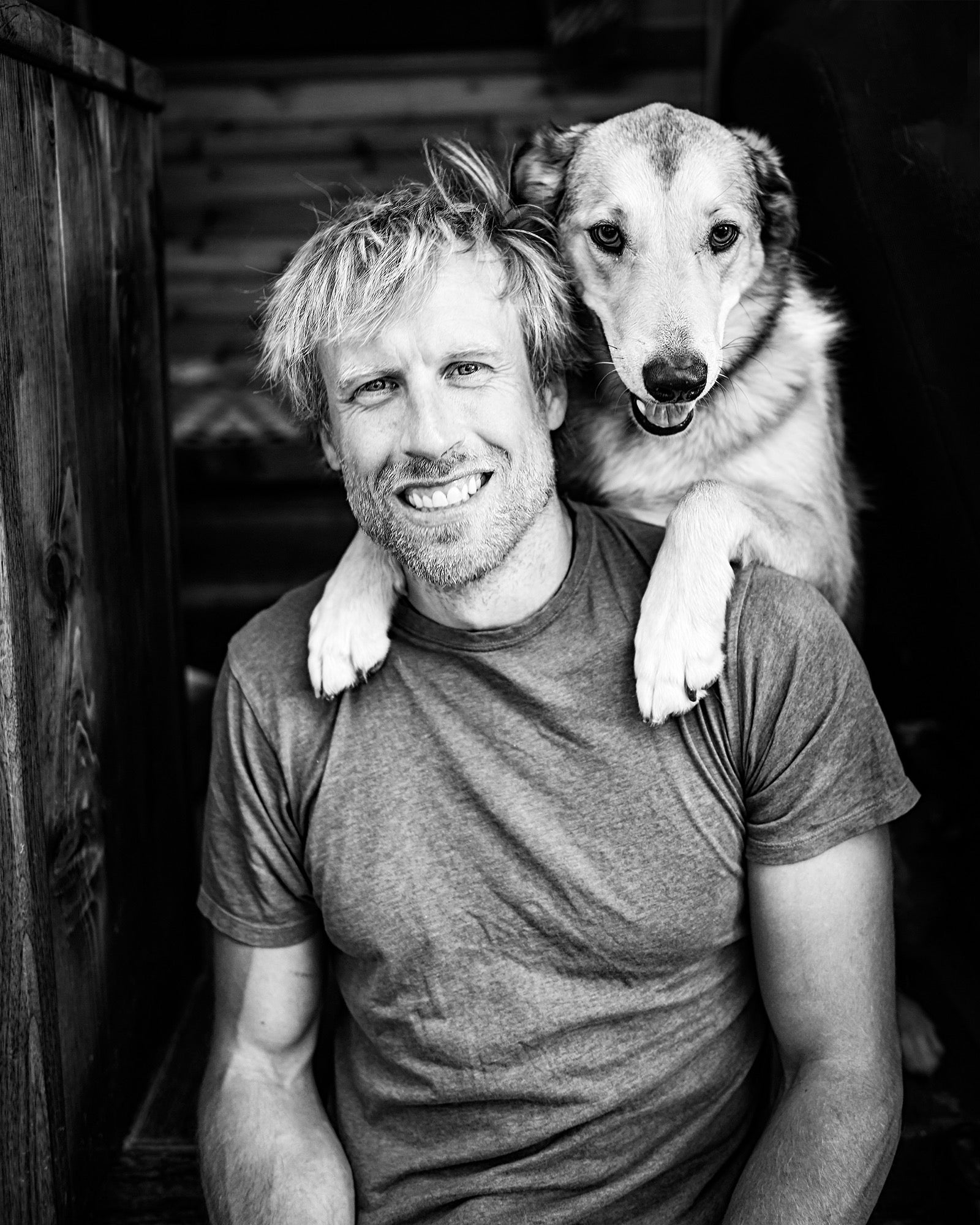 Sony α7R IV, Sony 24mm f/1.4 G Master lens.
"For me, photographer, filmmaker and fellow Artisan of Imagery Ben Moon is one of the most inspiring people in the world. He is humble, thoughtful, kind and intensely creative. The world needs more people like Ben Moon. And I want to become more like him myself. I always encourage people to photograph what inspires them. And in this case, it is this warm and soulful moment with him and his dog, Nori."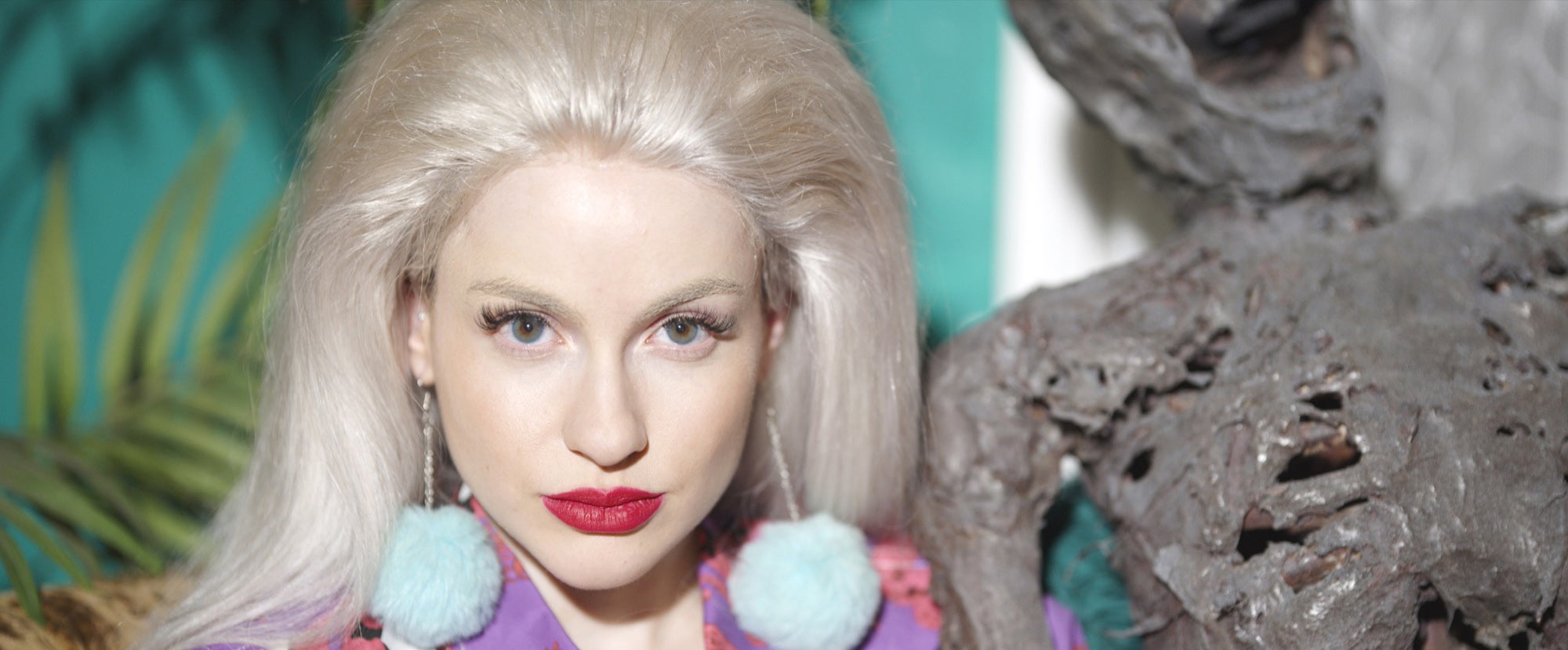 Sony VENICE
"This is actually a frame grab from a music video I shot on my Sony VENICE. The band is an up-and-coming duo named MXMS. The song is titled "Death Row." This video is very fashion inspired and shot with a specific type of hard light that I used to use all the time when shooting fashion. This image is representative of the look I captured throughout the video. I'm proud of this project because it's highly stylized, references a style of work I've shot throughout my career as a fashion still photographer, and one of the sequences reminds me of a fun period of 1990s high fashion."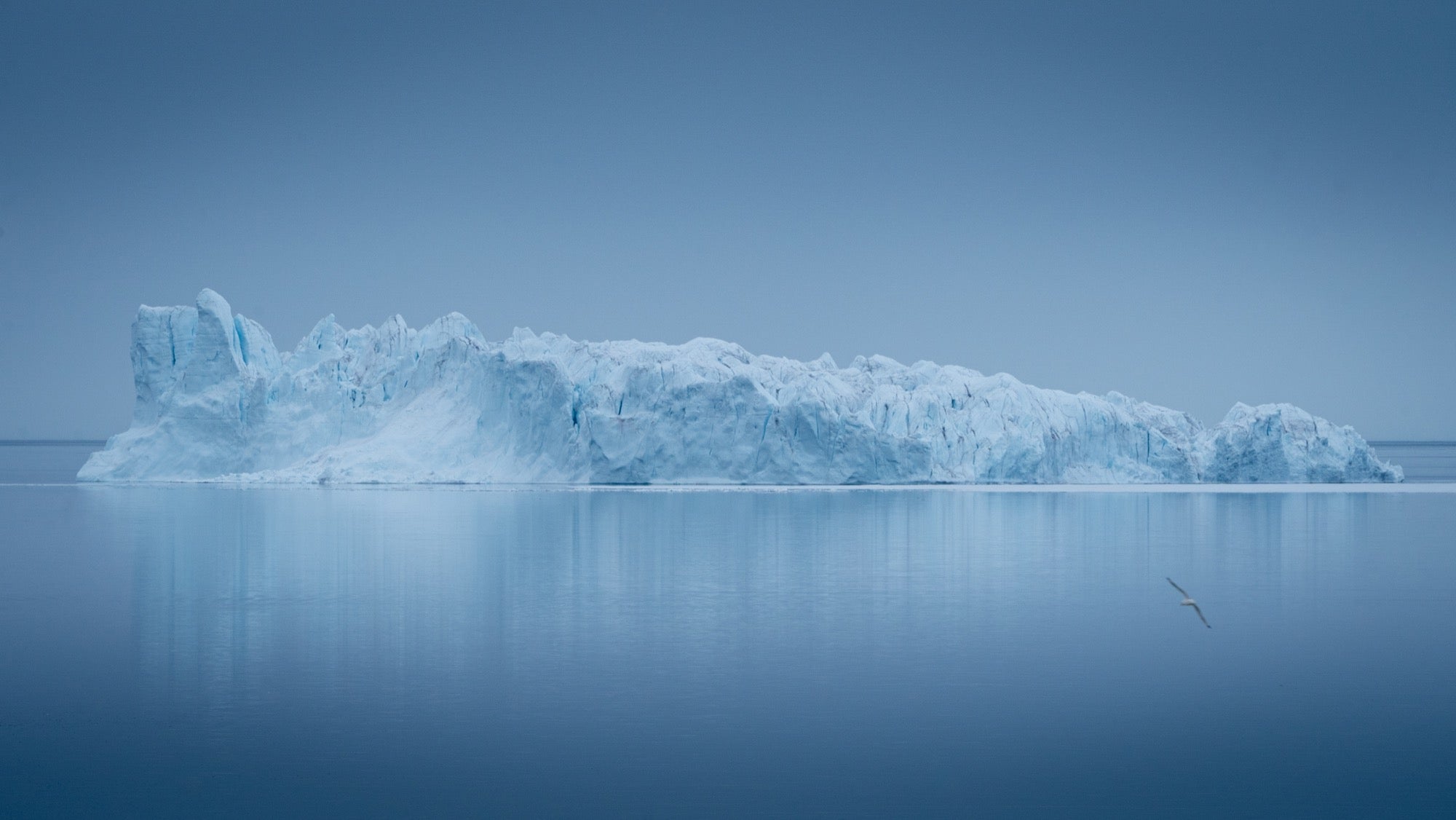 Sony α9, Sony 100-400mm f/4.5-5.6 G Master OSS lens.
"I love cold places, cold light, and ice. In June I was in Qaanaaq Greenland waiting to photograph narwhals when a storm front moved in unexpectedly. For about five minutes the color palette of the entire place went monochromatic blue, then it began snowing."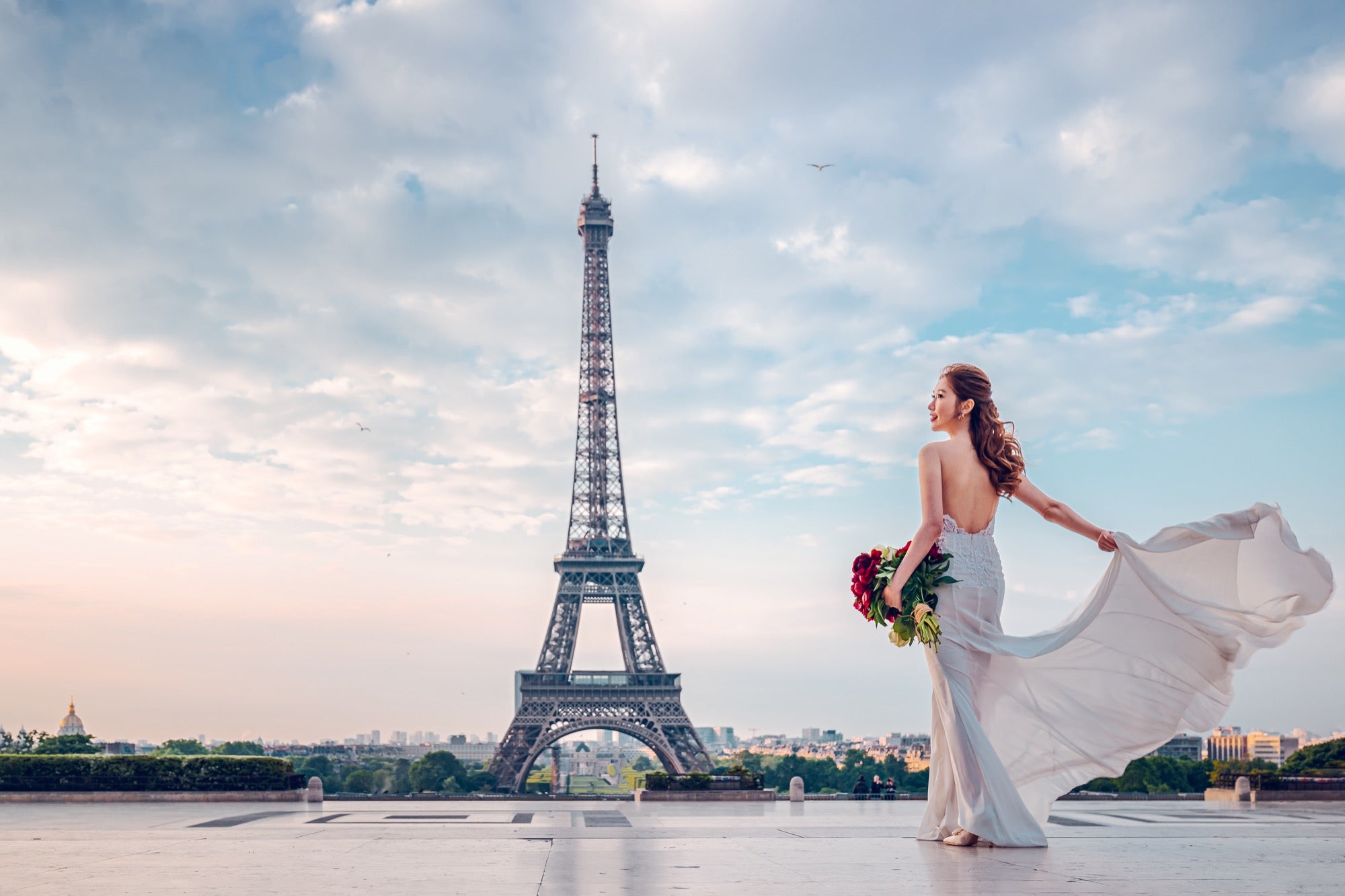 Sony α9, Sony 24-70mm f/2.8 G Master lens.
"The photo was taken at the busiest, craziest, most tourists-filled sight in Paris and after posting it online, I got many messages from photographers around the world asking how I was able to make it. To get this photo, we woke up around 4:00 AM to get hair & makeup done for the client then stood by at the Trocadero before the crack of dawn to wait for the light to show up. It was a relatively cold spring morning, and the wind was chilly but it felt amazing to be in the presence of such epic backdrop, I think we all knew (the client, myself, the makeup artist, the lighting assistant) that we had to bring it to the best of our ability to get The Shot. And it happened. To me, this image shows a lot of strength and resilience, as the subject maintains her grace and elegance in the face of a hilly morning wind, just like the Eiffel Tower behind her."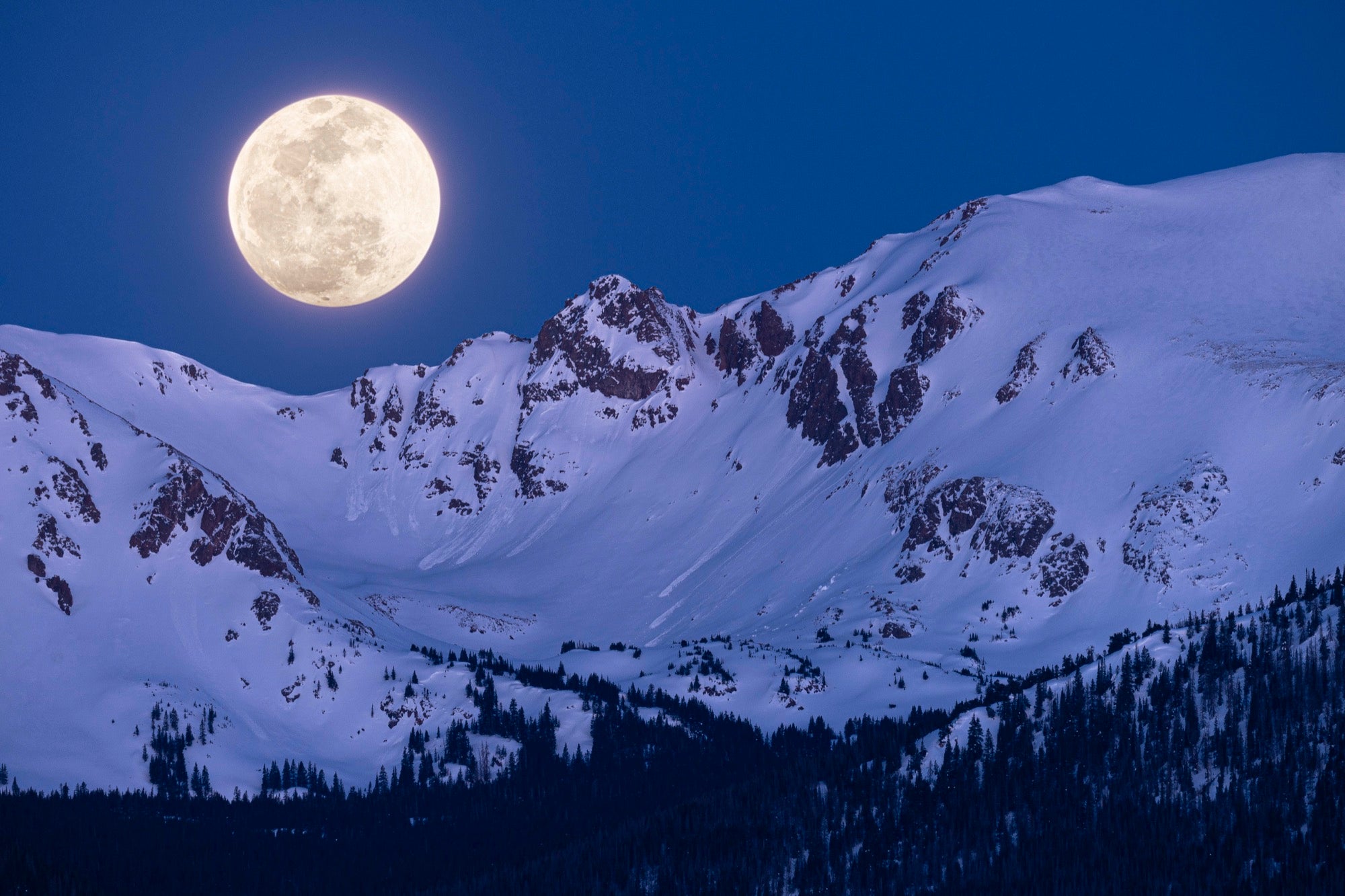 Sony α7R III, Sony 100-400mm f/4.5-5.6 G Master OSS lens.
"This is a composite photo taken near Breckenridge CO, right before sunrise. I'm always looking for a moonrise or moonset that occurs around sunrise or sunset so I'll get some color in the sky too. I used an app called PhotoPills to help me find the right place to shoot from and I set up on a tripod with my 100-400 zoomed to 400mm to make the moon look larger than life. I used a cable release with exposure bracketing turned on to capture the photos. I needed exposure bracketing to make the final composite of two exposures. The moon is NOT enlarged, but it was impossible to capture a well-exposed moon and a well-exposed foreground in the same shot. I layered two versions of the photo on top of each other in Photoshop and did some creative masking to bring out the best exposures in both photos.
"This photo is meaningful to me for two reasons. First, I love it when a photo looks so otherworldly that people think it's fake. That was the majority of comments I got when I posted this, and it is definitely not fake. It's a composite of two exposures, but the moon was not enlarged in post. I also like this photo because it was a total accident. I had no idea there was a full moon happening while visiting Colorado last March. And it was by chance I had the news on before getting ready to ski one day to see that it was happening that very night. So part of why I like the image so much is because of the irony that a photo that I didn't even plan to take became one of my favorites of the year."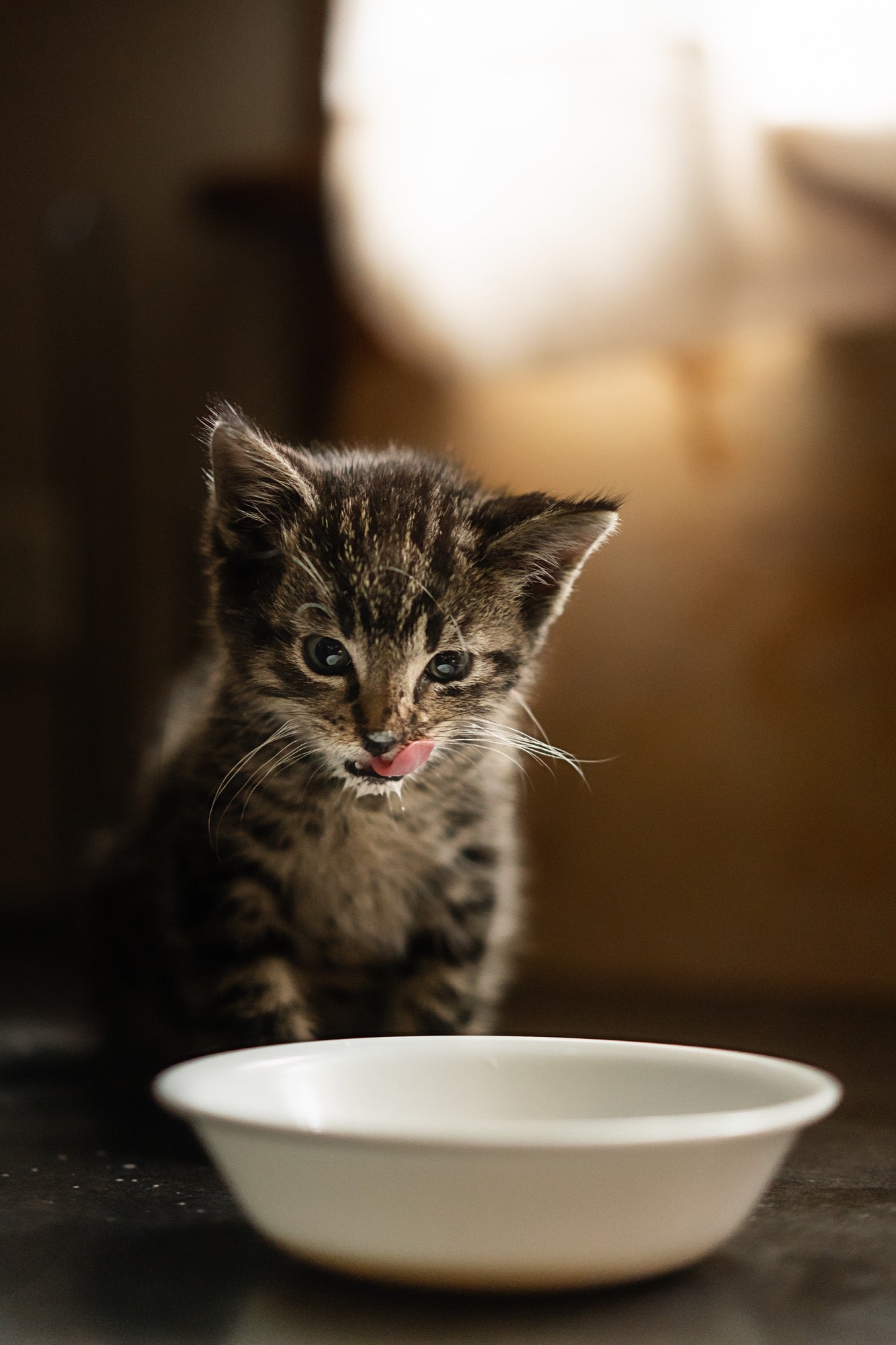 Sony α7 III, Sony 55mm f/1.8 lens.
"This little kitten was saved from the brink of death. He had been found hanging between two boards where people had heard him calling, but couldn't find him. My son eventually dug through to him. He is a little fighter and I am so glad I got the chance to nurse him back to health. He is called Captain which is short for Captain Crazy Pants, because he was the wildest kitten I ever cared for. His fighting spirit helped him to hang on to life until we rescued him and now he is loved everyday and he's become my furry alarm clock. I used animal Eye-AF to get razor-sharp focus on his little eyes (you can even see the bowl reflected in his eyes and the drips on his chin are so sharp). I could have picked many other artistic images, but this is my personal favorite of the year."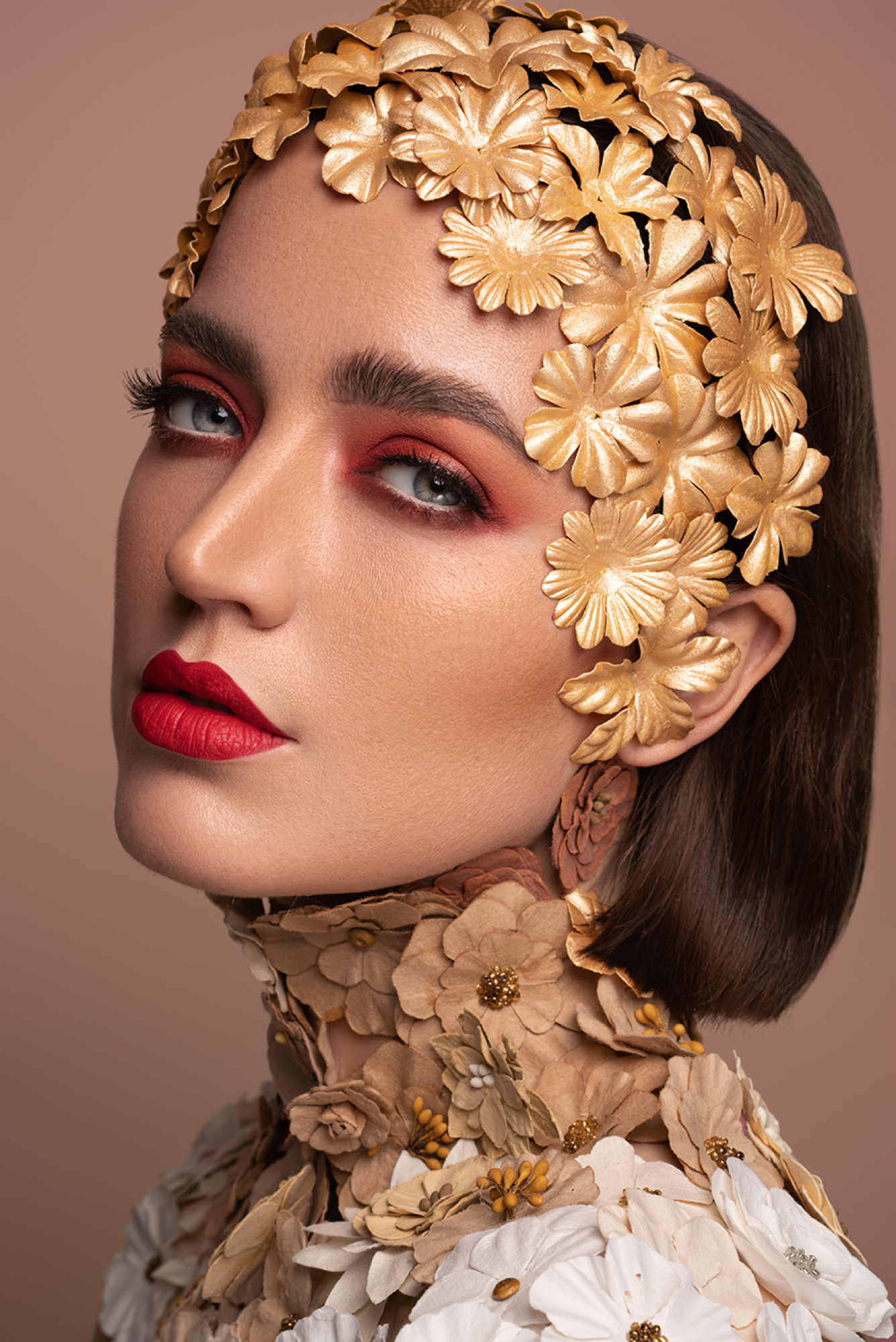 Sony α7R III, Sony 100mm f/2.8 STF G Master lens.
"This was a collaboration between myself, my talented makeup artist (@abglamlooks), and the model (@anelisadurham). We wanted to go for a beauty look that was a little different than the standard beauty looks we had been shooting at the time. I loved how the makeup and lighting all came together to give me an other-worldly look! Sometimes it's hard to bring ideas to life, and this time around everything worked just right to make it a reality."