2020 is winding down and so is our look back at the photos that tell the stories of an unforgettable year. We asked the Sony Artisans of Imagery and the Alpha Imaging Collective to share their most meaningful image of the year and we're showings the photo and the photographer's story behind each one. In this, the final installment of our week-long series, Sony Artisans of Imagery Brooke Shaden, Andy Mann, Paul Gero, Renan Ozturk, Zabrina Deng, Taylor Rees, Me Ra Koh, Drew Geraci, Robert Evans and Chad Wadsworth give us a look at the images that mattered most to each of them from 2020.
We close out 2020 and our week-long look back at the year in pictures with this collection of images and their stories.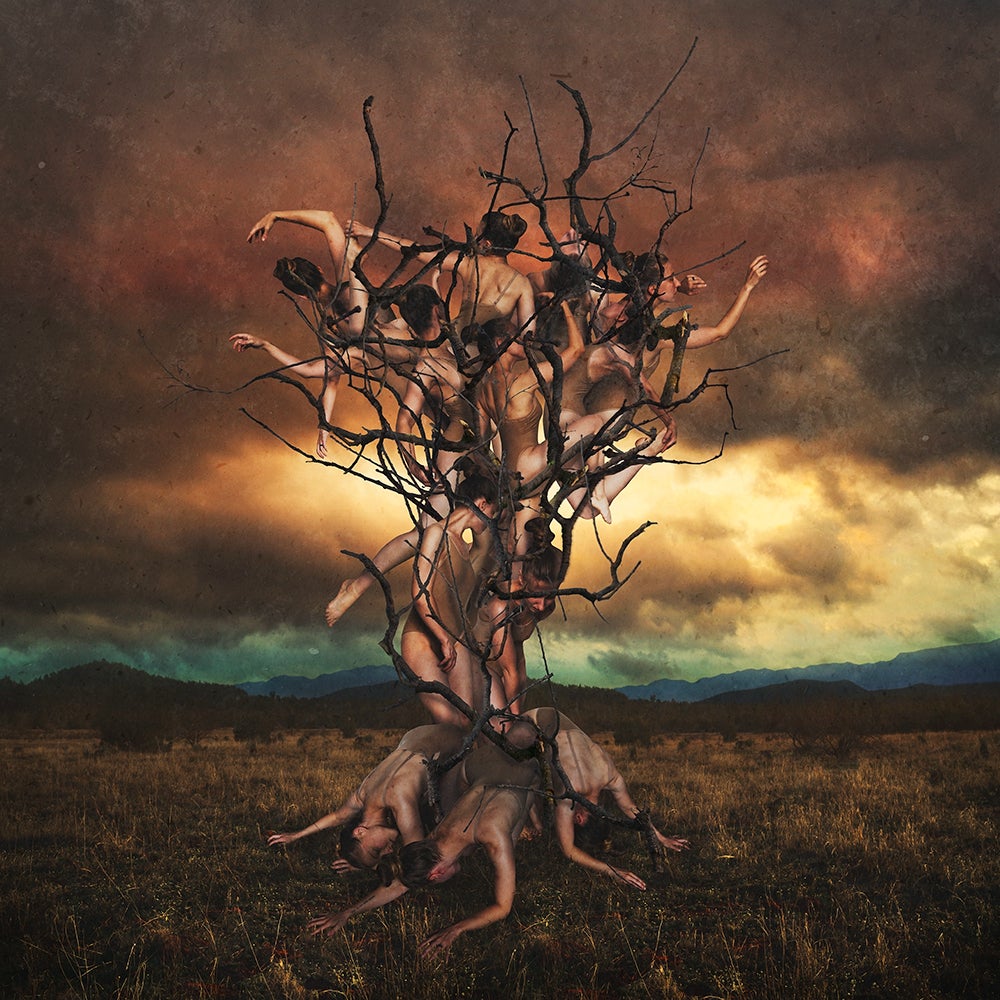 Photo by Brooke Shaden. Sony α7R IV. Sony 24-70mm f/2.8 G Master.
"I photographed myself in my office against a blank wall in each different position, which I then cut out to form the figure of a tree. Each pose was chosen carefully to represent the roots, trunk, or branches. I then photographed real branches to mix in, and finished this heavily composited image in Photoshop with a dramatic sky."
"I created this image hours after I said goodbye to my first foster child. Creating 'The Storms Endured' was my way of grieving the loss while championing my strength and the strength of anyone who loses someone in their life. By becoming a tree, I could become the strong roots, the sturdy trunk, and the broken branches all at once."
Andy Mann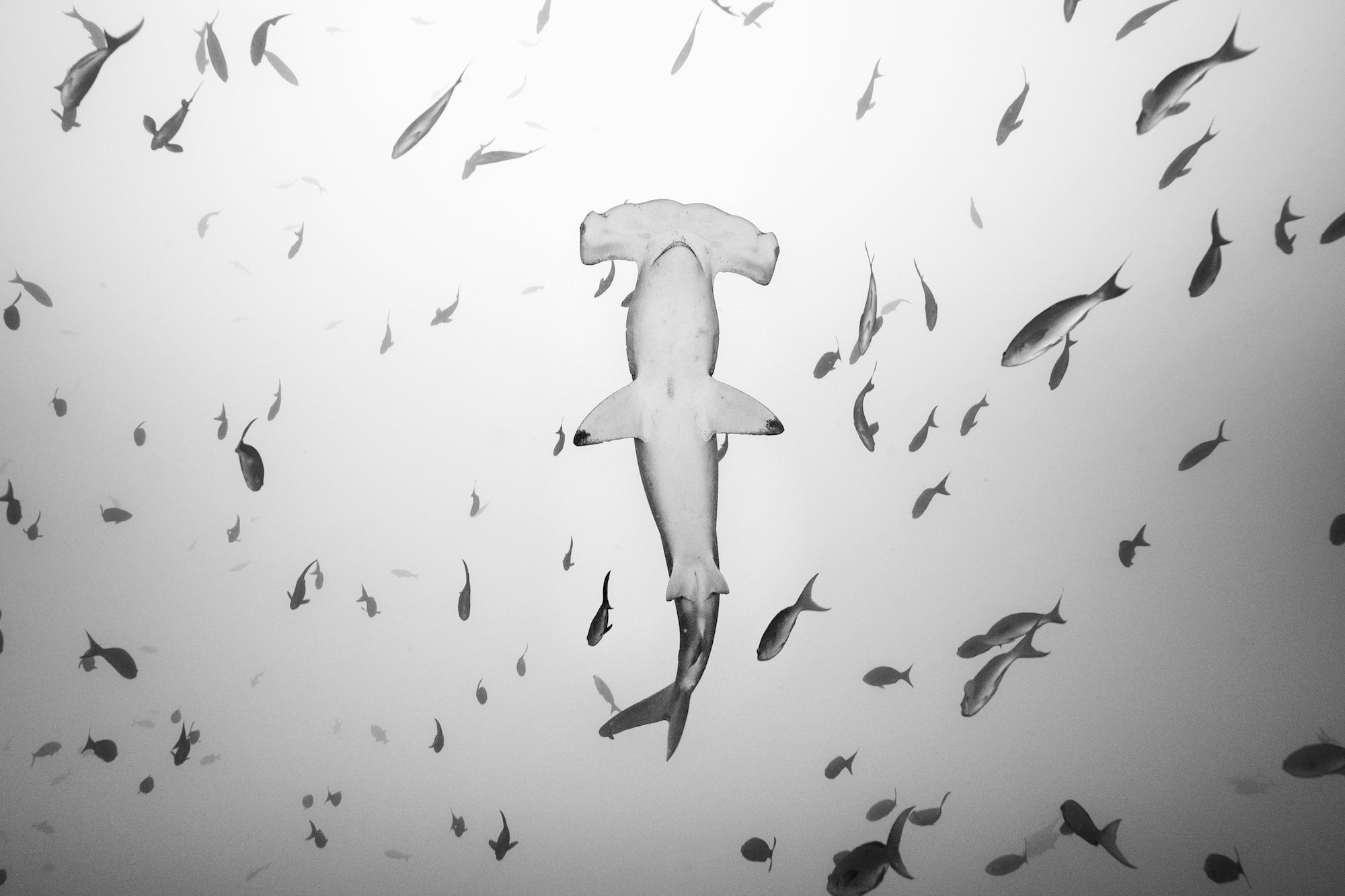 Photo by Andy Mann. Sony α9. Sony 12-24mm f/4 G. 1/200-sec., f/6.3, ISO 800
"At the end of a long week diving at Cocos Island, Costa Rica trying to get close to the critically endangered Scalloped Hammerhead Shark I finally got a perspective I was looking for. Scared and skittish to divers bubbles, hammerheads rarely approach this close, overhead. I was able to time my breath hold and get this shot. The goal of the trip was to create beautiful assets to be used in a campaign to protect this keystone species from extinction in the Tropical Pacific Ocean."
"This image means a lot to me because it was so far out and difficult to get. I hadn't seen an image of a hammerhead quite like it, where smaller fish evenly fill the frame throughout. It's an image I can look at over and over and still get a sense of awe and wonder from this beautiful animal. The image will now go to work on behalf of the species raising awareness of its over-harvesting in the Tropical Pacific Ocean."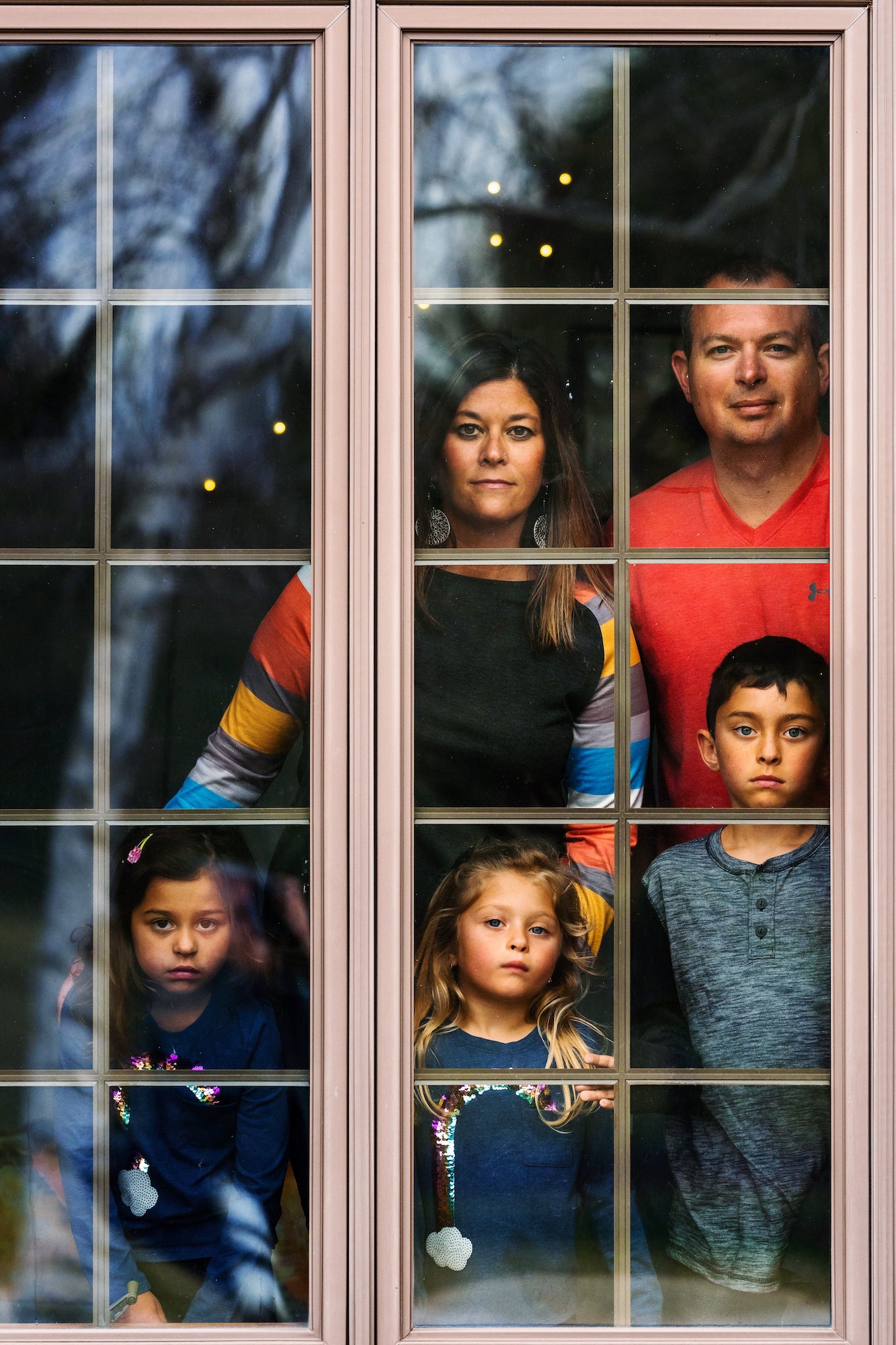 Photo by Paul Gero. Sony α7R IV. Sony 135mm f/1.8 G Master. 1/800-sec., f/3.2, ISO 640
"This is one of my favorite images from my 2020 project entitled: 'Portraits in the Time of Corona.' Through this project I photographed 124 families (including the Cherry family of Lake Mills, WI shown here). I was simply blown away by the number of people that wanted to be a part of this project and it was one of the first projects that became known in the early stages of the COVID-19 shutdown. The portraits were very fast (10-minute sessions) and all were captured with available light."
"This project became a point of positivity for me and the families that participated during a time of much uncertainty. I was amazed at the strength and courage that came through in the photographs and was proud to create something during this time. There were many portraits from this project that I loved, but the strength of the Cherry family and the way that they composed themselves made it especially powerful."
Read more about Paul Gero's porch portrait project HERE and listen to the Alpha Unievrse Podcast with Paul Gero HERE.
Photo by Renan Ozturk. Sony α7S III. Sony 600mm f/4 G Master + 2X TC. 1/100-sec., f/11, ISO 1600
"What a quest! We put all our collective knowledge of the desert landscape, climbing, high-lining and camera tech together for this one. Originally inspired by the late great friend Dean Potter, we spent four full moon cycles hoping to line this all up and push the new α7S III to its limits. To me, @sketchyandylewis's final moonlit freesolo walk was an artistic expression of what humanity is capable of in these times of change."
Watch the film "Moonwalk" below and learn more about its making HERE.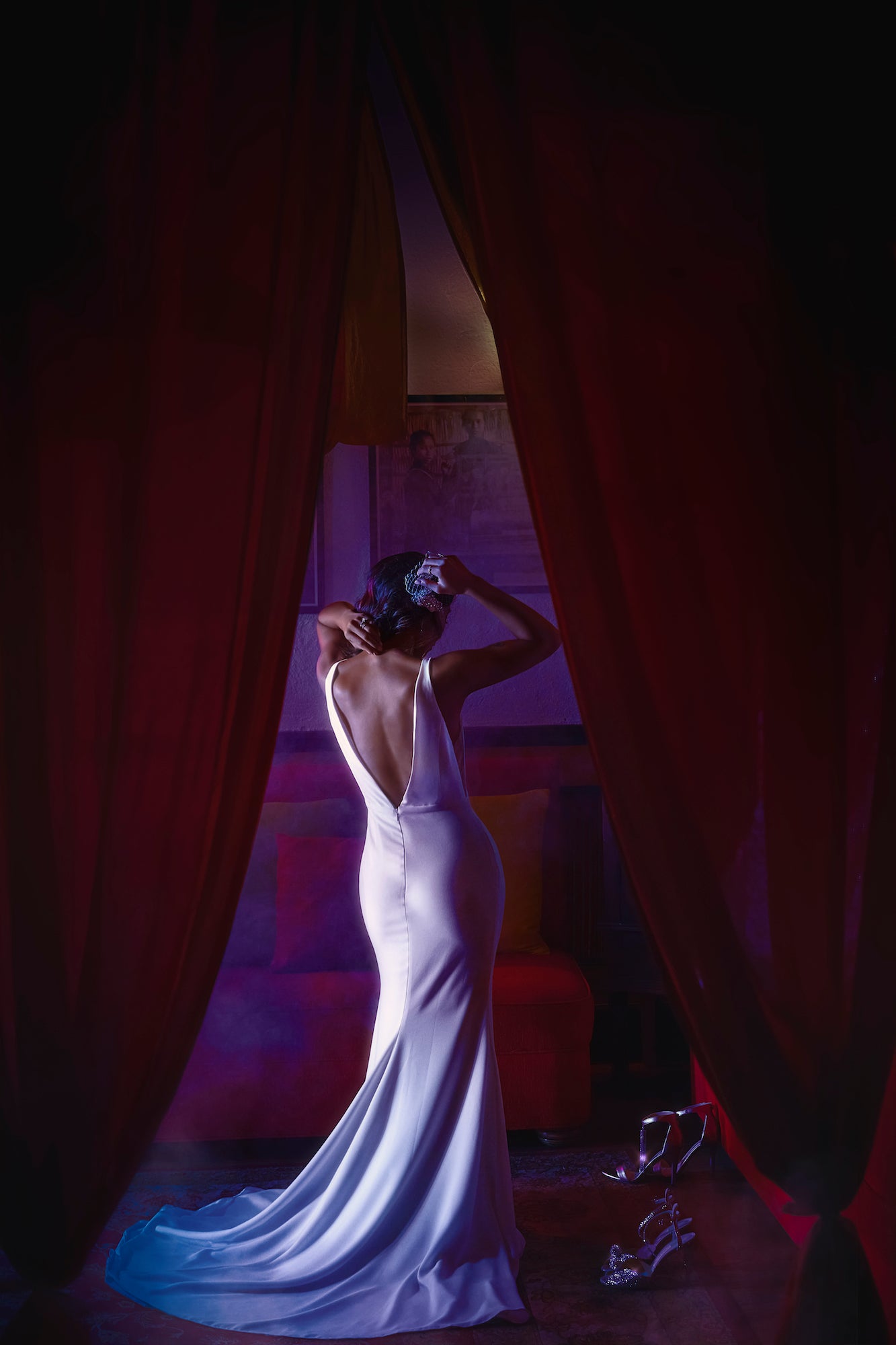 Photo by Zabrina Deng. Sony α7R IV. Sony 55mm f/1.8. 1/60-sec., f/4.5, ISO 640
"This photo is part of a seven-spread editorial I shot for CosmoBride China for their October issue. I really wanted to have a mystery feel of this image, to use just enough light to showcase how beautiful the shape of the female form and also the design on the back of this dress. I have a smog machine to create a bit of a haze, multiple LED for the both side lights with red and blue gels, then an open door on the left to let in some ambient light to showcase the shoes, the hair accessories, etc."
"2020 has been such a year of hardship for many of us, the world hits with a big pandemic, the unstable political climate of our country, the constant issue with racism. Despite all of that, we have a team of women vendors from all walks of life to participate in this project. The pause of all industry events has made many small businesses suffer since the beginning of the year. Many of them have already closed down or are on the cliff of surviving. As one of the members of the creative community, I want to stand up and support our local small businesses, especially our fellow female owners. Many are full time mothers during the day but had to climb out of the warm bed in the middle of the night in order to take care of their own business. So this photo is not just a representation of a single person's work, but a collaborative one with this group of amazing women who've come together during the most difficult time, who contributed time and effort to elevate each other with their talents and passion. Therefore, 'In the darkest hour, that's where the light shines,' is the theme of this photo and that's my photo of 2020."

Photo by Taylor Rees. Sony α7R IV. Sony 200-600mm f/5.6-6.3 G. 1/400-sec., f/9, ISO 400
"A baboon in the sunset light of Northern Kenya. I was in this region, Ngara Mara, helping to shoot a documentary with the Turkana on changing landscapes and political tensions."
"The month we spent in Kenya was particular intense, and this moment.. suddenly finding myself still with this Baboon.. provided me this great centering in the experience. It was like a shock wave of presence."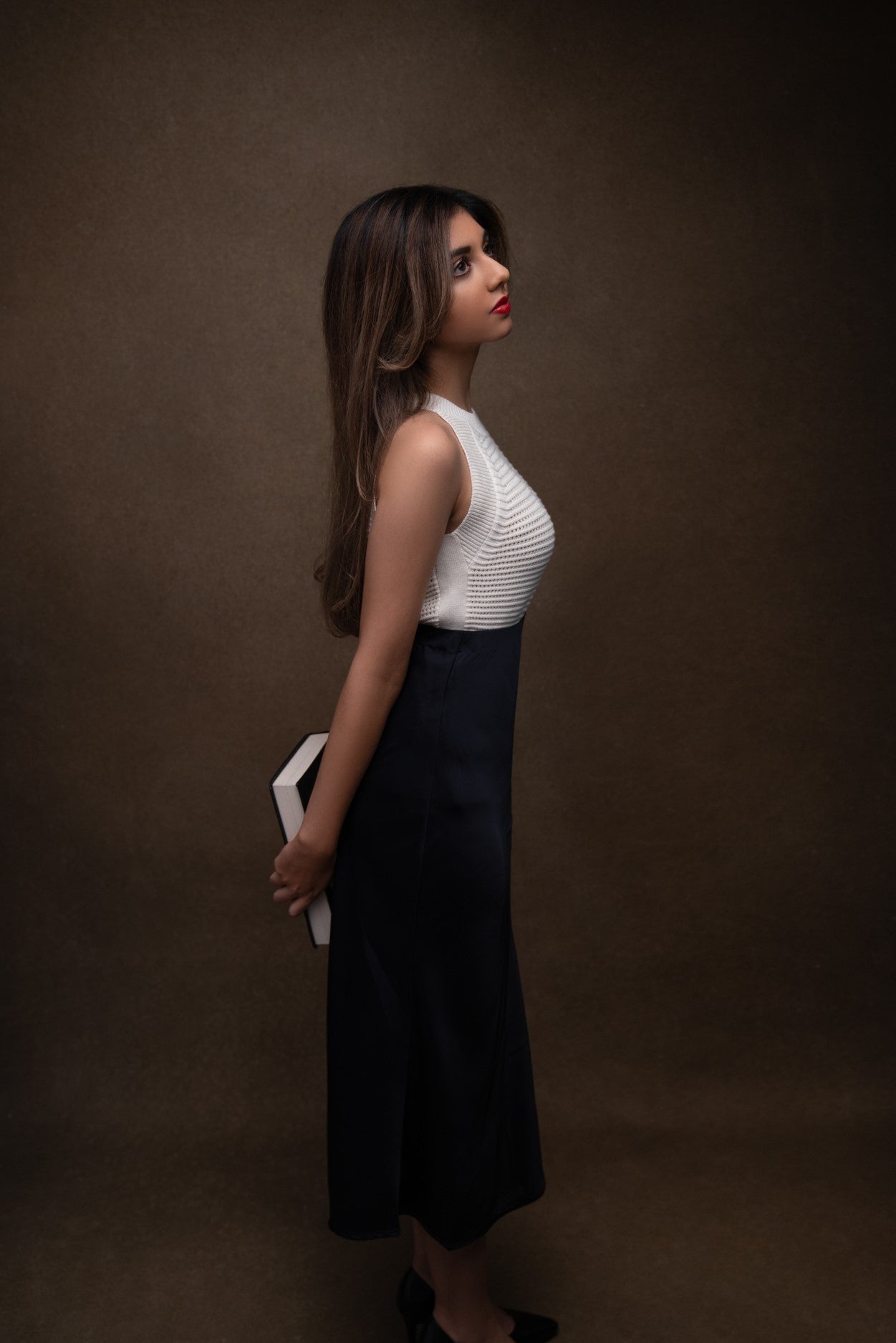 Photo by Me Ra Koh. Sony α7R III. Sony 24-70mm f/2.8 G Master. 1/250-sec., f/3.2, ISO 400
"To capture a painting-like feel, I had Gia turn to the side and used one light (5ft Profoto Octa). The light was positioned slightly above her and only a few feet away so the light would drop off into shadows around her. The moment I saw it come straight-out-of-camera, it took my breath away. It is a portrait of strength, vulnerability and beauty."
"Trying to choose the single most meaningful photo from 2020 felt impossible. Covid has brought more urgency and deeper meaning to family portraits for our clients. But this one portrait of Gia keeps coming back to mind. Her mom wanted to do something unforgettable to celebrate Gia's Sweet 16 birthday, so she scheduled a special shoot just for Gia. Before the day of the shoot, I did a discovery call with Gia to learn more about who she is to best capture her true self. I was so impressed with this young woman. She told me how she was trying to make the best of Covid by rebuilding herself. That if I had asked her a year ago what she valued about herself, she may not have known the answer. But through this time, she's gained more confidence as she's allowed her creativity and curiosity to try new things whether it be drawing, reading, gaming, or research on one of many topics. One of her words is intellect. When she reads, her imagination is opened up to a world of endless possibilities. That's what I wanted to capture in this portrait. A young, strong, beautiful confident woman who takes all that she learns and sees endless possibilities for not only herself but the world. It is a portrait of hope."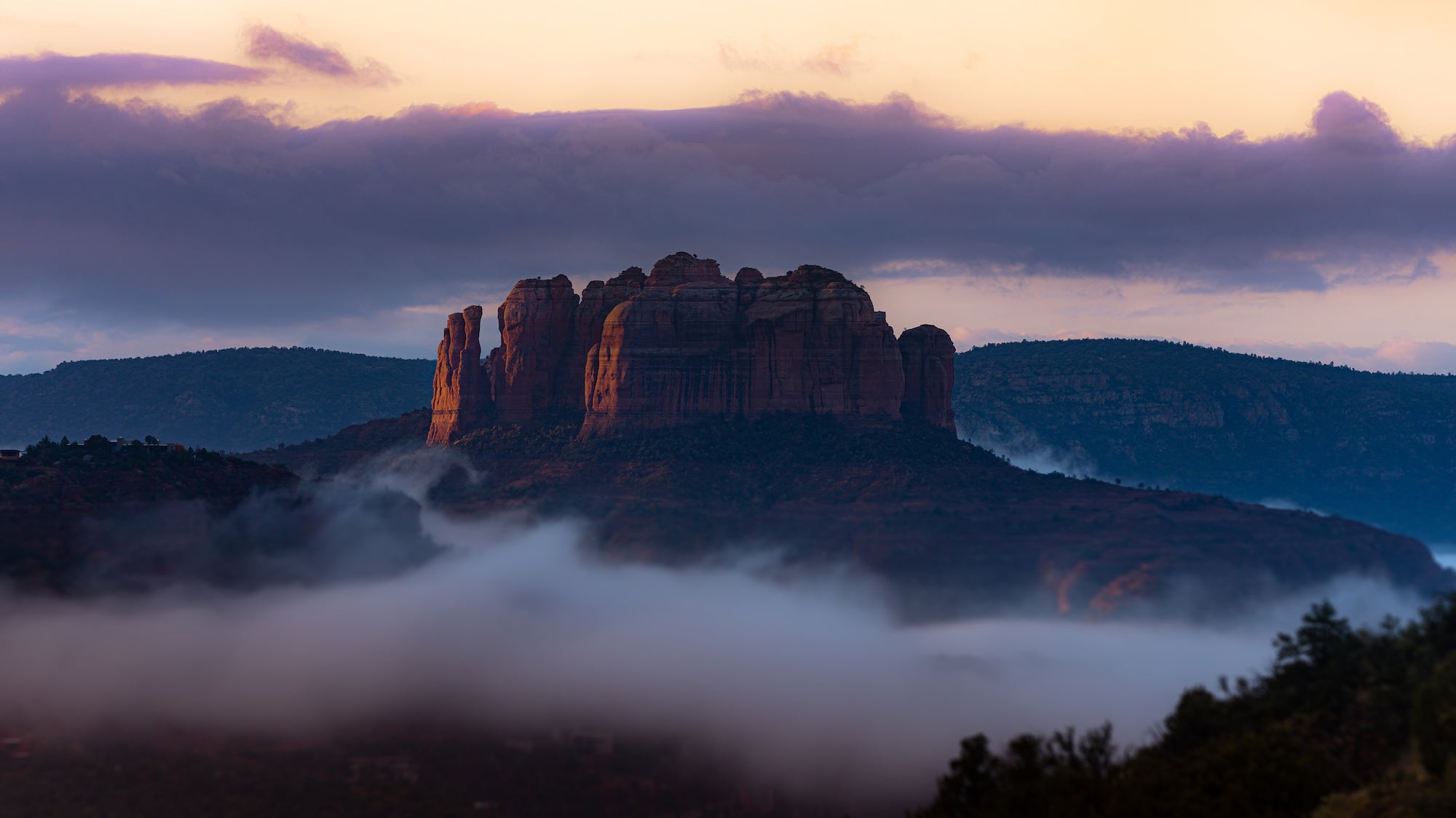 Photo by Drew Geraci. Sony α7R III. Sony 70-200mm f/2.8 G Master. 1/1000-sec., f/5.6, ISO 5000
"I reluctantly got up at 4:45am to capture what I thought was going to be a dull, lackluster sunrise. It was anything but dull. I was pleasantly surprised when I found out fog was rolling in and it allowed me to capture an array of crazy beautiful landscape shots that you don't normally see in the south-western United States."
"This image is meaningful to me because it represents some of the first imagery I've created since the pandemic started. It allowed me to escape back to nature, away from my house and capture a remarkable set of images that ultimately rejuvenated my soul."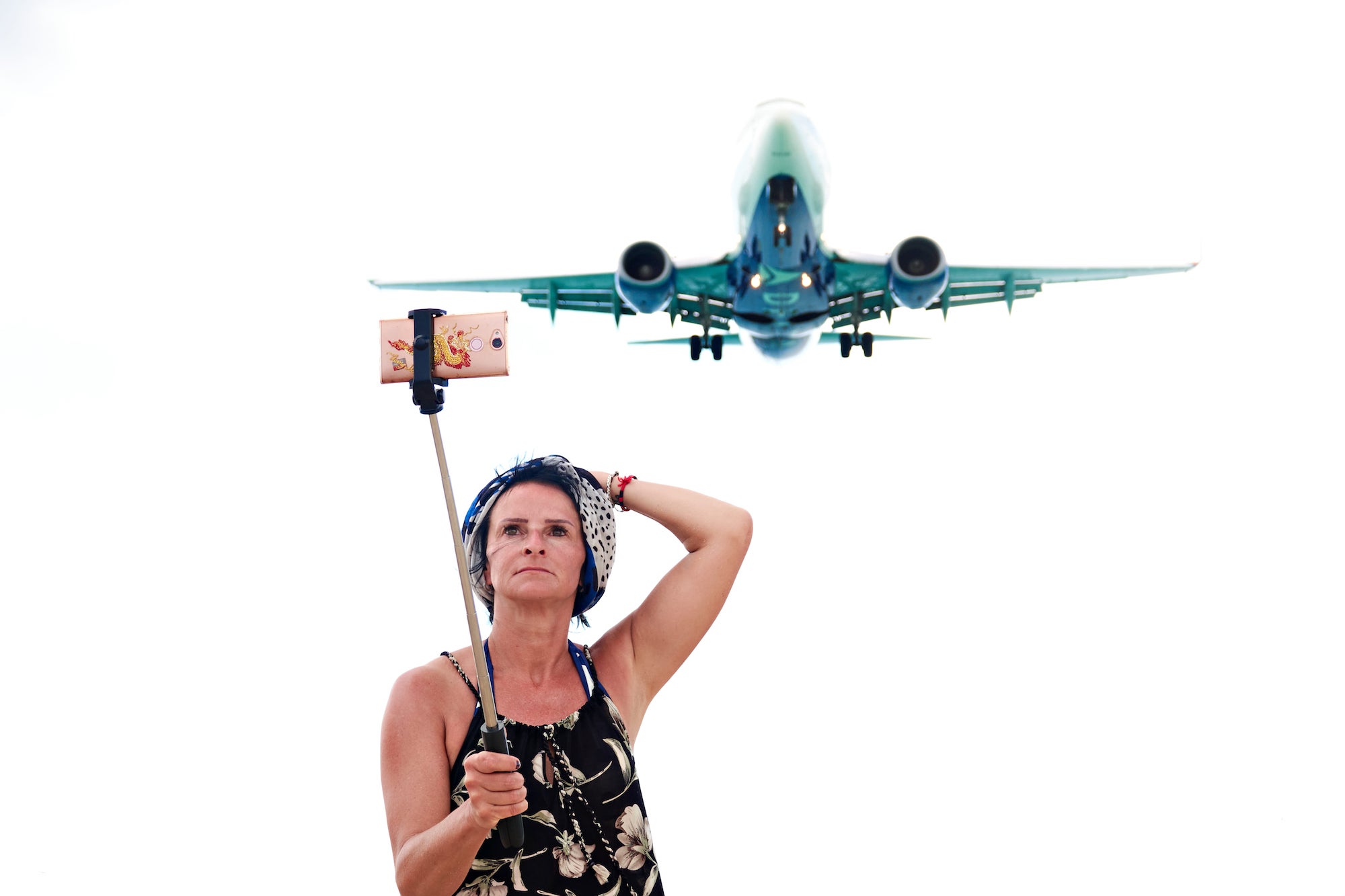 Photo by Robert Evans. Sony RX10 IV. 1/500-sec., f/3.2, ISO 64
"I was on vacation with my family in March just before everything in the world was shut down due to COVID-19. My son, who has a passion for aviation, wanted to visit Maho Beach in St Maarten, which is famous for low flying aircraft passing over the beach, just before they land at the St. Maarten Airport."
"I had photographed several airplanes landing for close to an hour as we witnessed this unique aviation experience. After an hour, I suggested we leave and he asked to see one more airplane land. I had taken many images and wasn't even going to shoot this last airplane landing. As it approached, I noticed this interesting woman in front of me with her selfie stick. I immediately dropped to my knees so I could cut out the other tourists on the beach behind her, framing my subject and the approaching aircraft. I clicked off several frames as the airplane approached and then passed over our heads."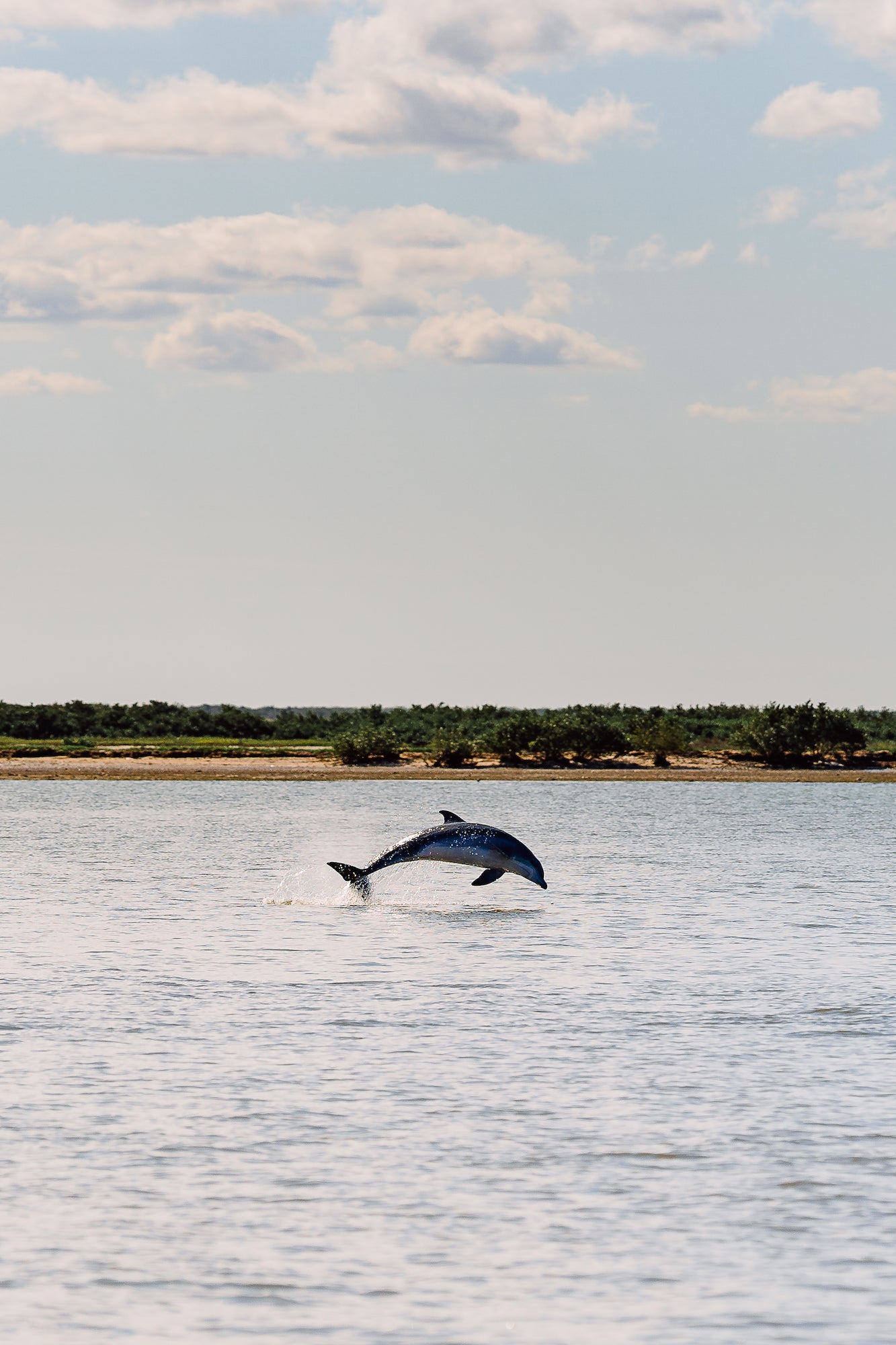 Photo by Chad Wadsworth. Sony α9 II. Sony 135mm f/1.8 G Master. 1/6400-sec., f/2.8, ISO 100
"While fishing on the Lower Laguna Madre in South Texas, we stumbled upon a local pod of dolphins and this solo straggler who seemed more interested in putting on a show than chasing down trout dinner with its family. I always have the Sony α9 II within reach and was able to quickly squeeze off this mid-leap frame with the GM 185mm f/1.8 lens."
"In a year where so much has gone terribly wrong for so many people, a silver lining to the pandemic has been the recharge of our natural resources. I was able to visit the Lower Laguna Madre (the bay adjacent to South Padre Island, TX) several times during the year and as the months progressed, it became clear that the drastic reduction of human traffic on the water was having a near miraculous effect on the health of local bay species. This bottlenose dolphin carelessly frolicking in the wild was a reminder that there is a world outside human concern that may in fact have thrived in 2020."