We asked our Sony Artisans Of Imagery and Alpha Imaging Collective to submit their most meaningful images of 2022. This week we'll be counting down to the end of the year with a selection of the submitted photos along with the story behind each one. See Part 2 below featuring more stunning adventure, travel, landscape and astro images from Don Smith, Andrew Eggers, Dan Joyce, Gregg Jaden, Rachel Jones Ross, Andy Katz, Jess Santos, Stan Moniz, Vince Lim and Juan Flores, and stay tuned to Alpha Universe this week for more.
We're counting down to the end of the year with a selection of the most meaningful images taken by our Sony Artisans Of Imagery and Alpha Imaging Collective in 2022.
Don Smith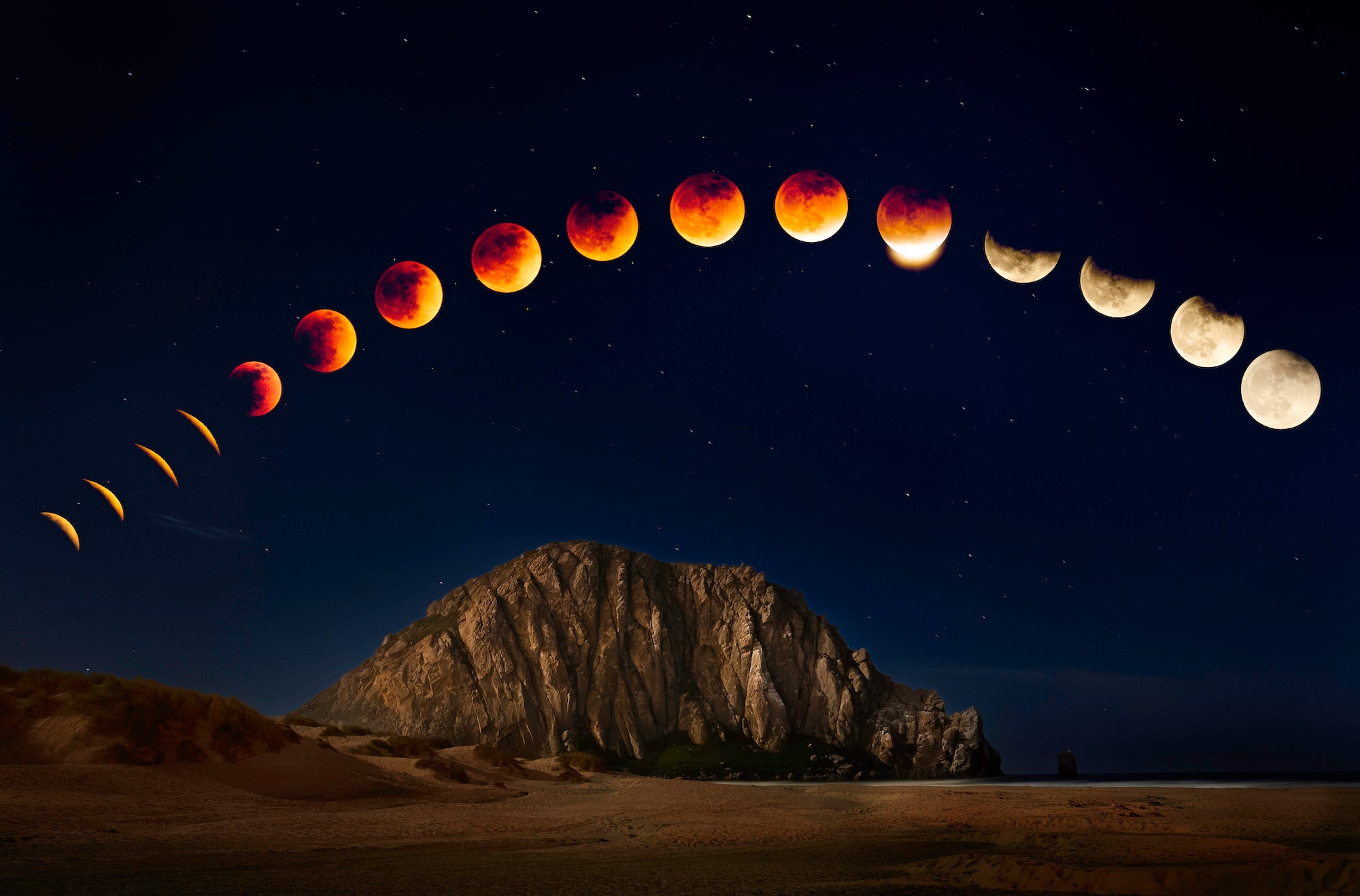 Photo by Don Smith. Sony Alpha 7S III. Moon: Sony 200-600mm f/4.5-5.6 G. Rock/Beach: Sony 24-105mm f/4 G. 30-sec., f/8, ISO 3200
"I rarely do composites but I wanted to show the stages of the lunar eclipse and transpose the viewer to a view as if it happened over the Morro Rock in my new hometown of Morro Bay, California. This Rock is actually a 572 foot volcanic plug from an eruption of over a million years ago. It is the last of 9 such formations (called the 9 Sisters) that begins in neighboring San Luis Obispo and ends in the Pacific Ocean. The actual moon phases were photographed at another location high above the Ocean."
"I've always wanted to try an image like this but never found a worthy scene to match it to. The Morro Rock is a famous landmark in my wife Beri and my new town of Morro Bay where we moved to in 2021. It felt good to actually conceive of this idea, sketch it out, then photograph all the necessary components and put it together in Photoshop."
Andrew Eggers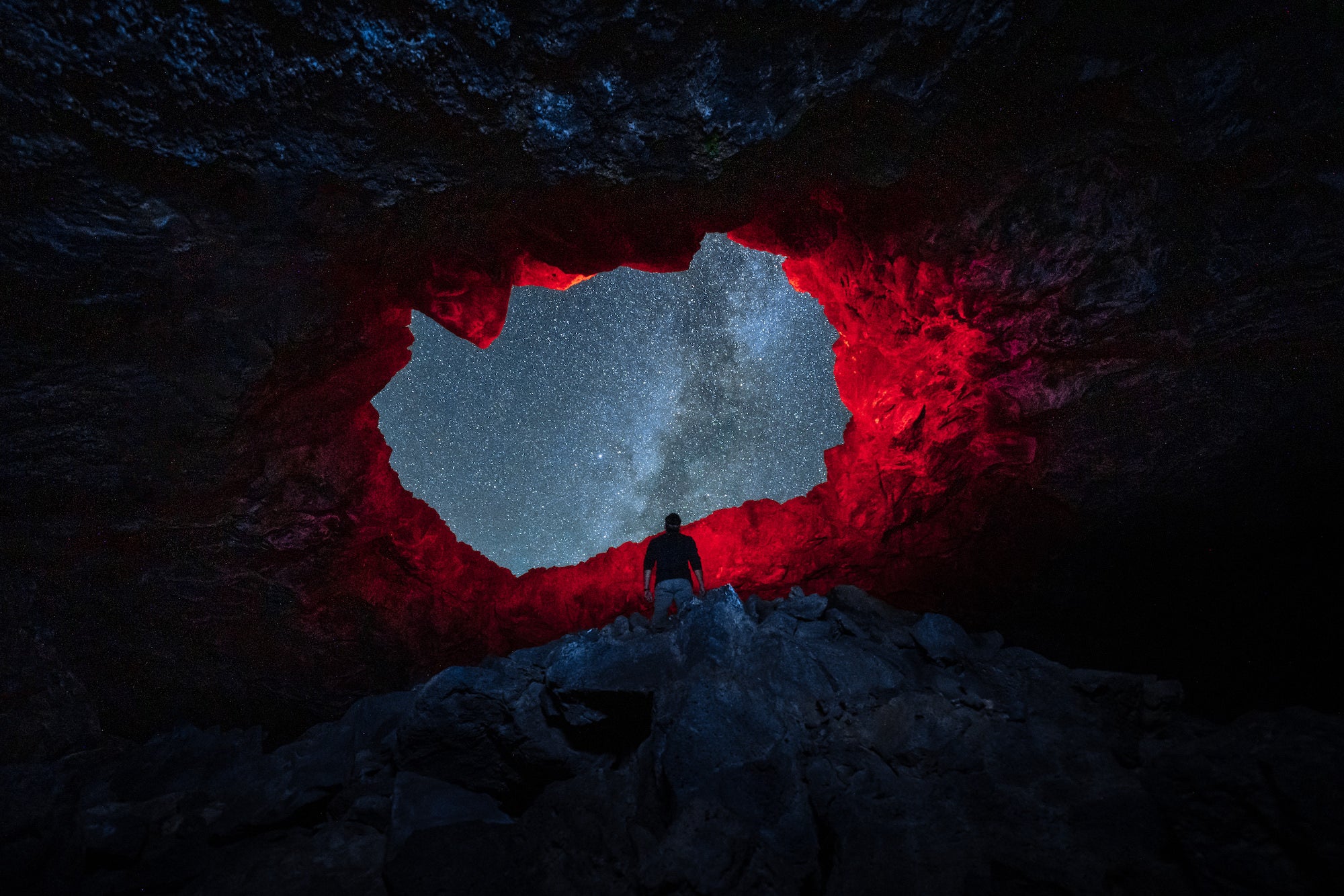 Photo by Andrew Eggers. Sony Alpha 1. Sony 12-24mm f/2.8 G Master. 15-sec., f/2.8, ISO 6400
"This Milky Way photo was taken during the second to last night at Sony Kando 2022 at Craters of the Moon National Monument & Preserve. Max Boncina had rented a car and did all the research to find this spot, so Anthony Castro, Fei Tang and myself joined him on this excursion about 2 hours away from Sun Valley. Our minds were blown when we actually saw this location in person and we also had a local chinchilla pay us a visit in the rocks in front of where our cameras were in this photo."
"There are lots of nights out shooting that I'll never forget for whatever reason such as how epic a place is or how the conditions were so perfect, etc. This night had all of that for sure, but it also had the most impeccable camaraderie and teamwork amongst our group to get the lighting and posing correct for this shot. The four of us have all grown pretty close over the years including Ivan Wong who wasn't able to come with us on this road trip. We hadn't seen each other in a couple years since the Pandemic but we worked in unison and essentially just picked up where we left off. I'll always remember that night and the feeling of brotherhood it gave me."
Dan Joyce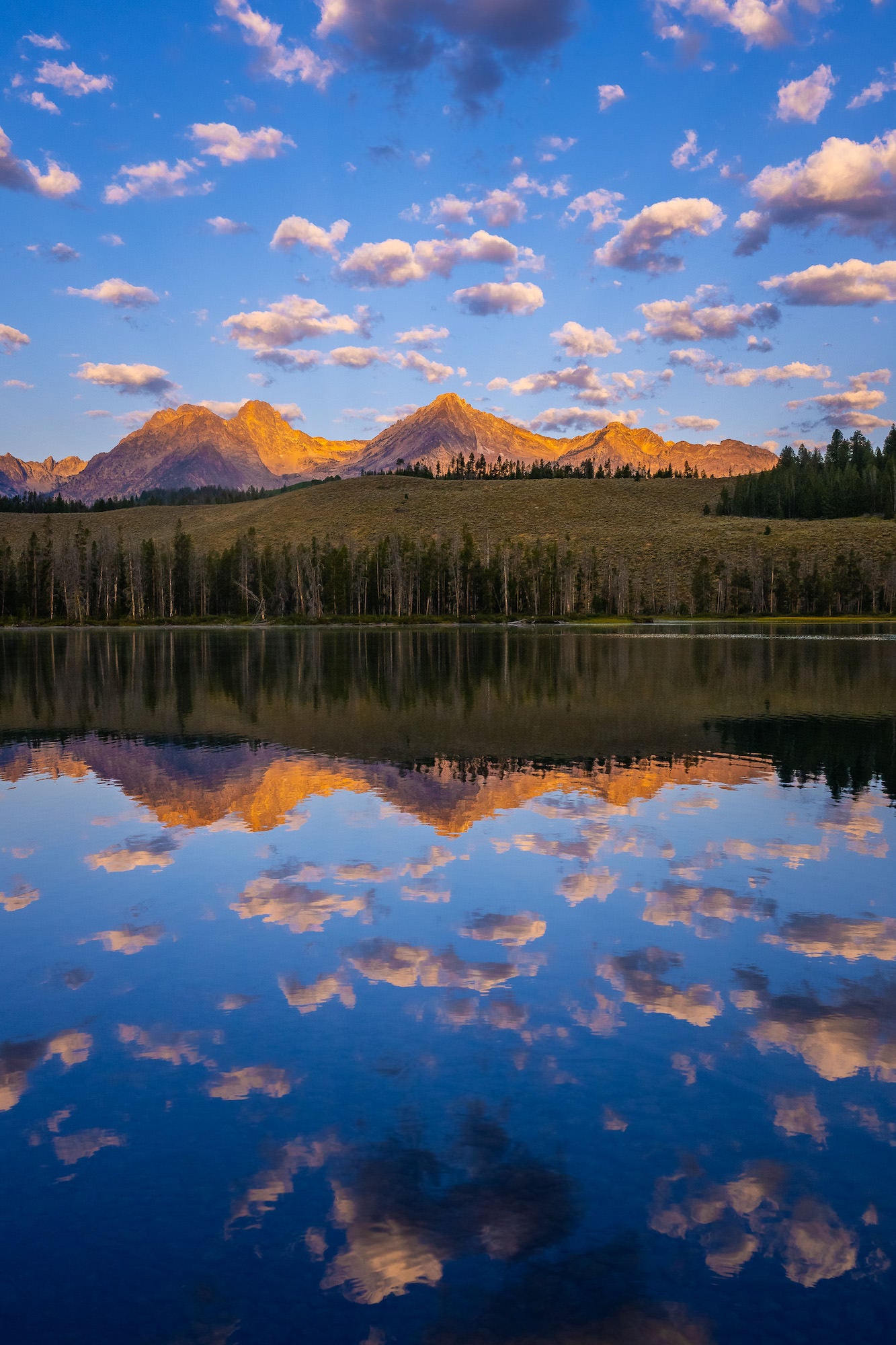 Photo by Dan Joyce. Sony Alpha 1. Sony 24mm f/1.4 G Master. 1/160-sec., f/7.1, ISO 320
"On a super early call time (waking up at 4:30AM) with some of the crew at Kando 2022 in Idaho, we took a bus out to Little Redfish Lake. It was cold, we were tired, we weren't sure the conditions would be favorable, and then for a few short moments, this scene unfolded in front of our eyes. I was grateful that my bud Eric Rubens let me borrow his ND filter while we were perched in the mud along the banks of the lake waiting for magic to happen. And boy did it!"
"This image speaks to me for a number of reasons – one, I remember the moment – connecting deeper with a friend I've known for a few years and sharing this suburb sunrise. It was also in that moment that I took a moment to realize how fortunate I am – being represented by the Sony Alpha family, supported by my blood family to do the things I love, and sharing my love for nature and photography with friends like Eric Rubens. All in all, an exceptional time with this rad image as a souvenir."
Gregg Jaden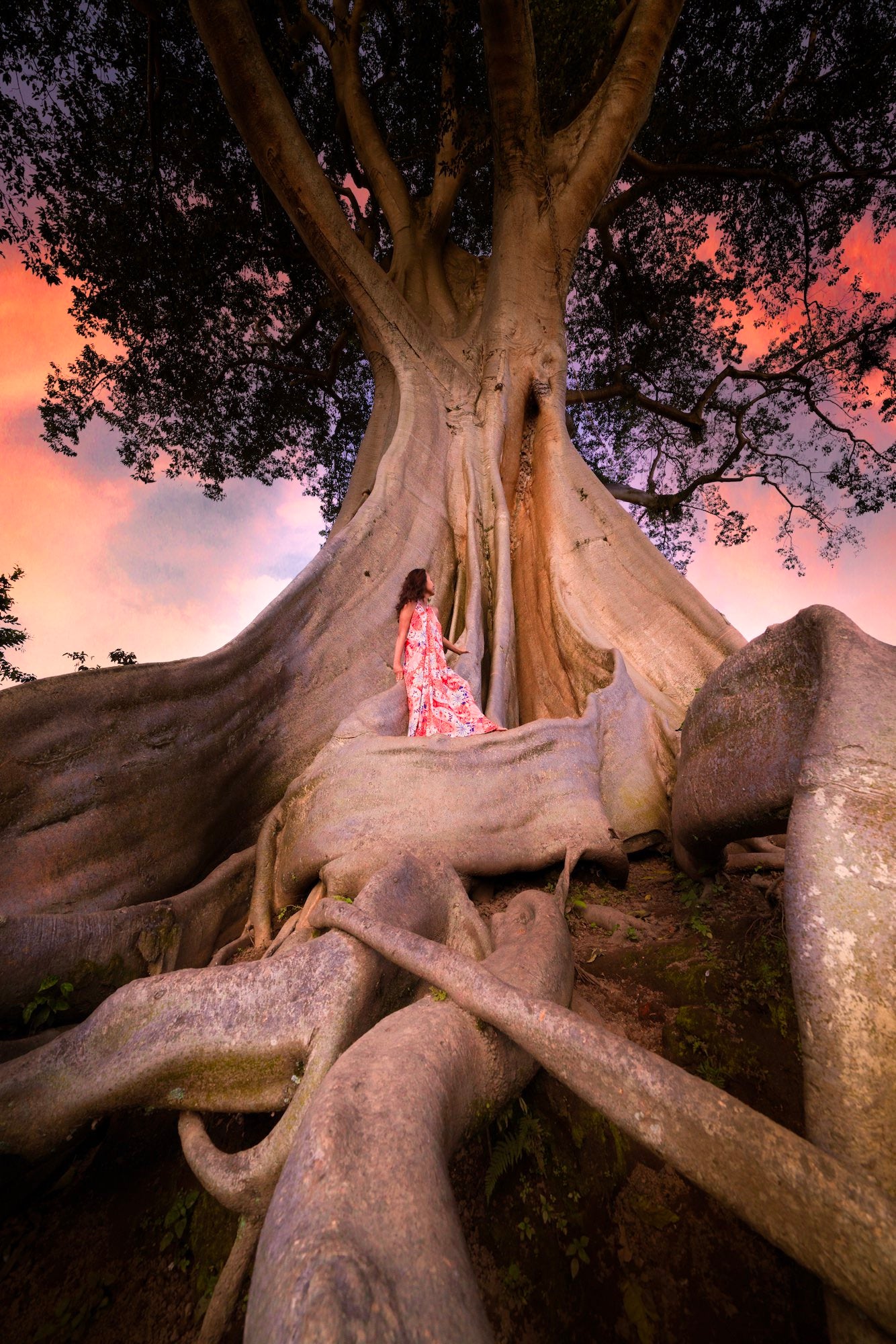 Photo by Gregg Jaden. Sony Alpha 7R III. Sony 12-24mm f/4 G. 1/640-sec., f/8, ISO 400
"This sacred 700-year-old tree located in Bali Indonesia looks incredible when shot linear to see its grandiose size using a model. When I saw the massive exposed roots, I knew I could get down low and turn those roots into ribbons. I shot both angles but this came out much more satisfying."
"This Banyan Ancient tree from centuries ago, perfectly preserved, and sacred to the locals. What makes this so meaningful is not only is this a rare moment but the tree is considered heavenly. It is said that the gods and deceased ancestors love to gather here. I could feel waves of energy radiate off the tree and surrounding me as I shot this incredible tree."
Rachel Jones Ross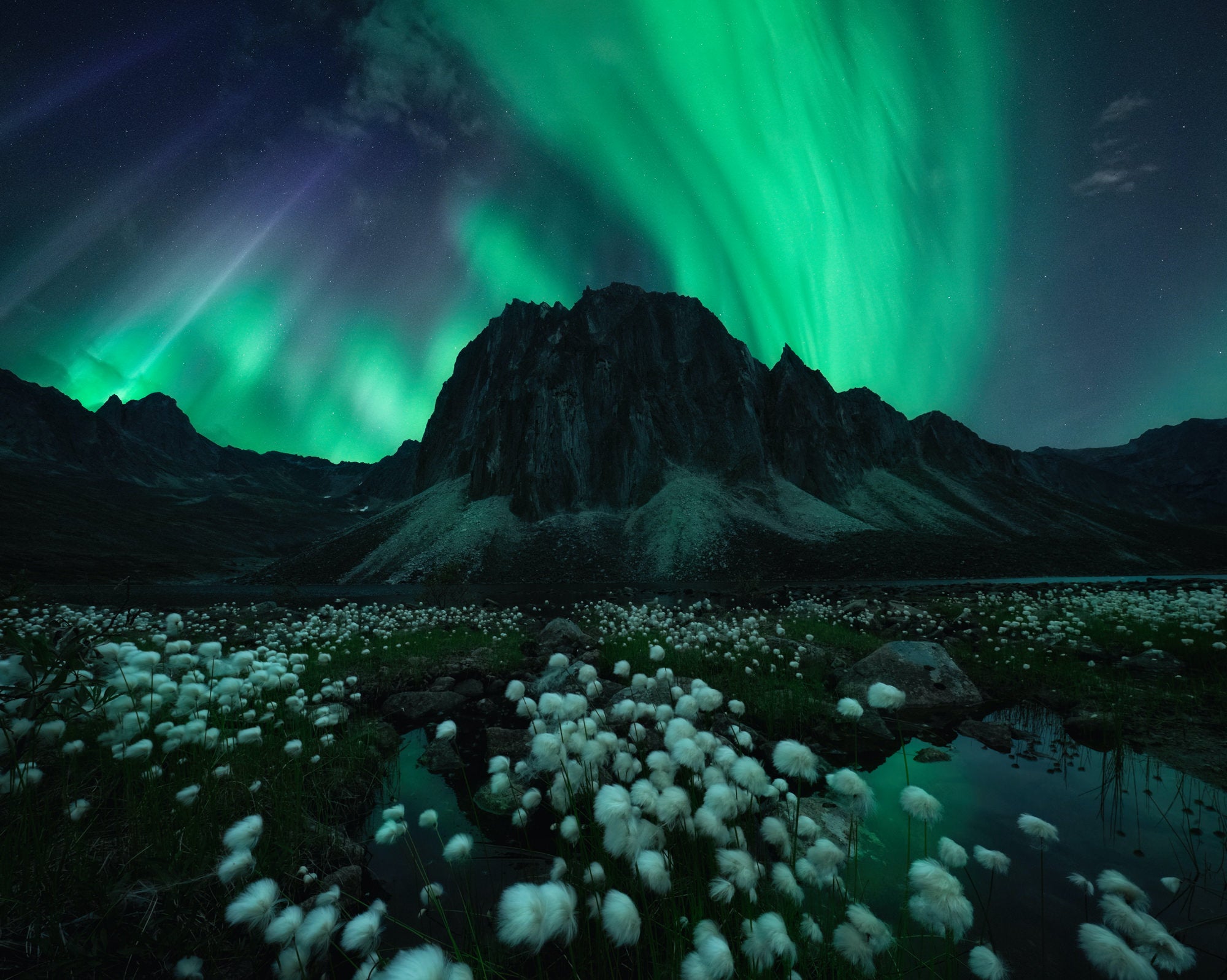 Photo by Rachel Jones Ross. Sony Alpha 1. Sony 12-24mm f/2.8 G Master. Foreground 1/60-sec, f/2.8, ISO 3200 Focus Stacked. Sky: 1-sec. f/2.8, ISO 3200
"This shot was taken on a backcountry camping trip in Tombstone Territorial Park, Yukon in Canada. Of all of the places I have had the privilege of traveling to, this is my favourite place on this beautiful blue planet. This area is remote, rugged, wild and beautiful beyond words. It also happens to sit just beneath the oval of the Aurora Borealis making it possible to watch the dancing green, purple and red celestial lights almost any night with clear skies."
"This image is special because I was able to share the experience with my sweetheart. Troy had never seen the Northern Lights. In fact, he had never even been camping... We drove 31 hours to get there. The next day it began to rain. It started as a grey drizzle and soon evolved into blustery winds, and rain that seemed to fall sideways. There were moments when the wind was so strong that my tent folded over on itself (with us in it!). We played cards (until I got tired of winning or Troy got tired of losing… haha), we daydreamed, talked about endless little things, and planned our next adventure."
"In some ways, those were the best days. Not for photography, but for finding ways to enjoy the pouring rain, for the opportunity to share days uninterrupted by the outside world, and the kind of togetherness that only happens when you're the weight anchoring your tent to the ground. It's a gift to have that kind of time together, and Troy loved the experience despite the rain. When the skies finally cleared, we got to witness the night sky explode with light."
Andy Katz

Photo by Andy Katz. Sony Alpha 1. Sony 24-105mm f/4 G. 1/250-sec., f/14, ISO 200
"Photographing for my book on the National Parks I found myself in Hawaii on top of the world with clouds dancing for me. In spite of everything Mother Earth rocks!"
Jessica Santos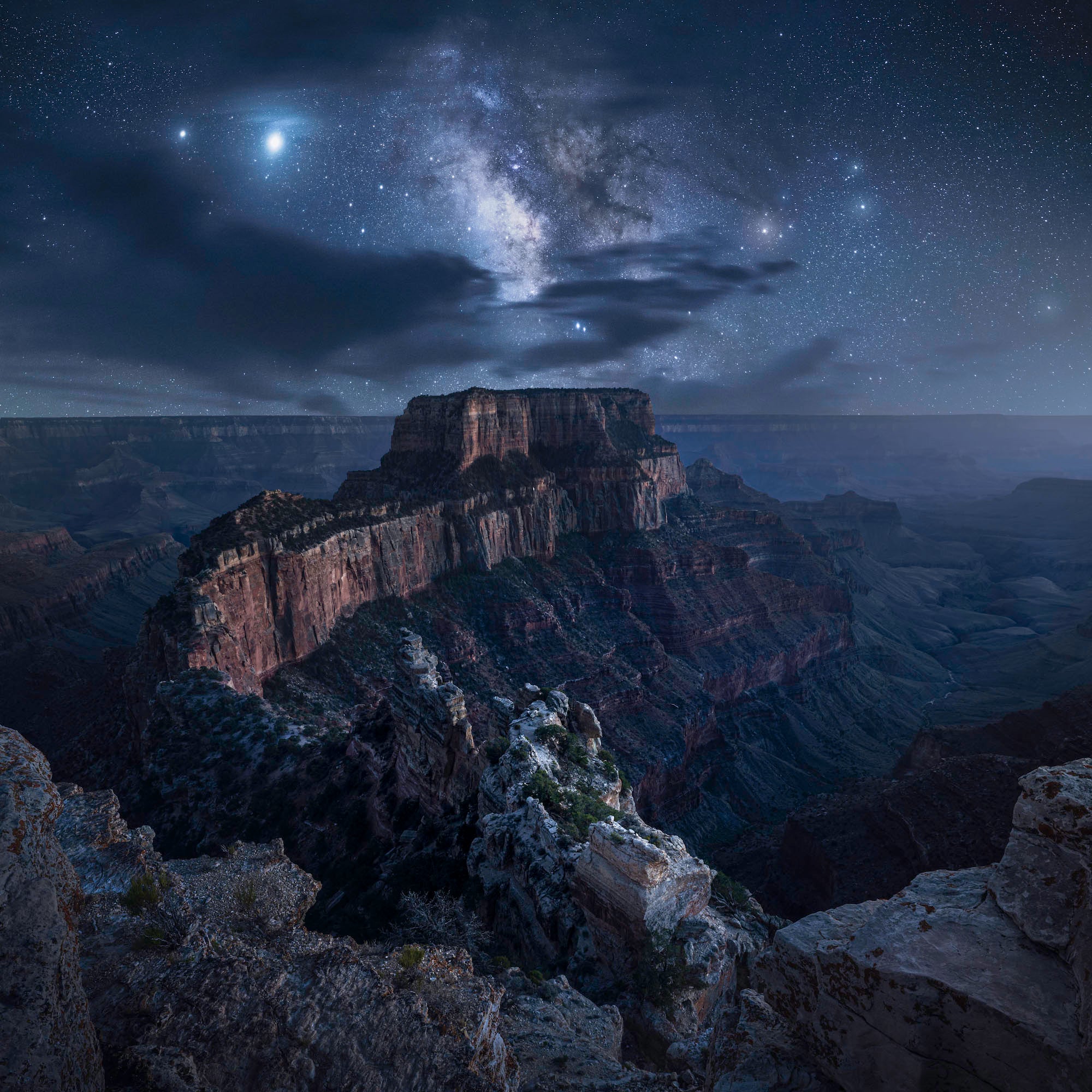 Photo by Jessica Santos. Sony Alpha 7R IV. Sony 12-24mm f/2.8 G Master. 25-sec., f/9, ISO 100
"I waited until blue hour (just after sunset) to photograph the foreground, so I was able to capture all the detail of the canyon with no direct light. Then after the sunlight had faded completely from the sky I photographed the milky way, I especially loved how the clouds danced around the stars just revealing the milky way core. I then combined the two images in post processing."
"A friend and I had spent three days waiting at this location, it was getting close to monsoon season and we were hoping to capture some dramatic summer storms over the Grand Canyon. The first two days, although beautiful and peaceful, there was not a cloud in the sky. Finally on the third day our patience had paid off. I spent six hours timelapsing the light prancing through the canyon between the passing storms, and also capturing this image after the light had faded. Sitting there watching the beauty of nature with a good friend are some memories I won't soon forget."
Stan Moniz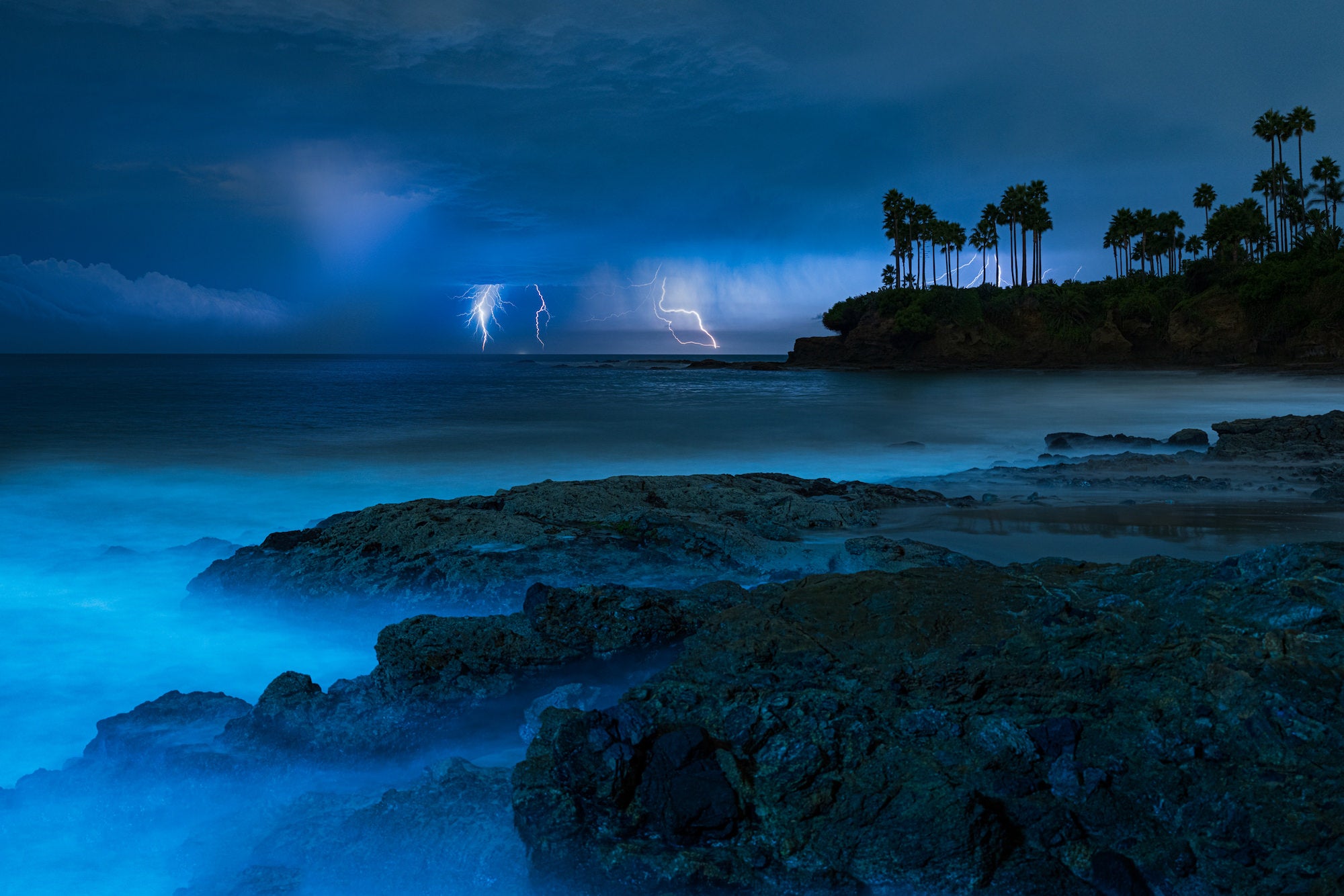 Photo by Stan Moniz. Sony Alpha 1. Sony 16-35mm f/4 G PZ. 30-sec., f/4, ISO 400
"To capture either of these events taking place off the Orange County coastline is a dream shot in itself and a rather tricky one to predict. But after an entire day of storm chasing out to the high desert and back to Laguna Beach, the hunt paid off with one of my last photos of the night. It's truly a once in a lifetime event captured on camera that will be tough to replicate."
"This is my favorite image of the year because of all of the hard work, timing and effort it took to place myself in the right spot. Understanding how to track storms and my extensive ocean knowledge played a key role in making this vision become a reality."
Vincent Lim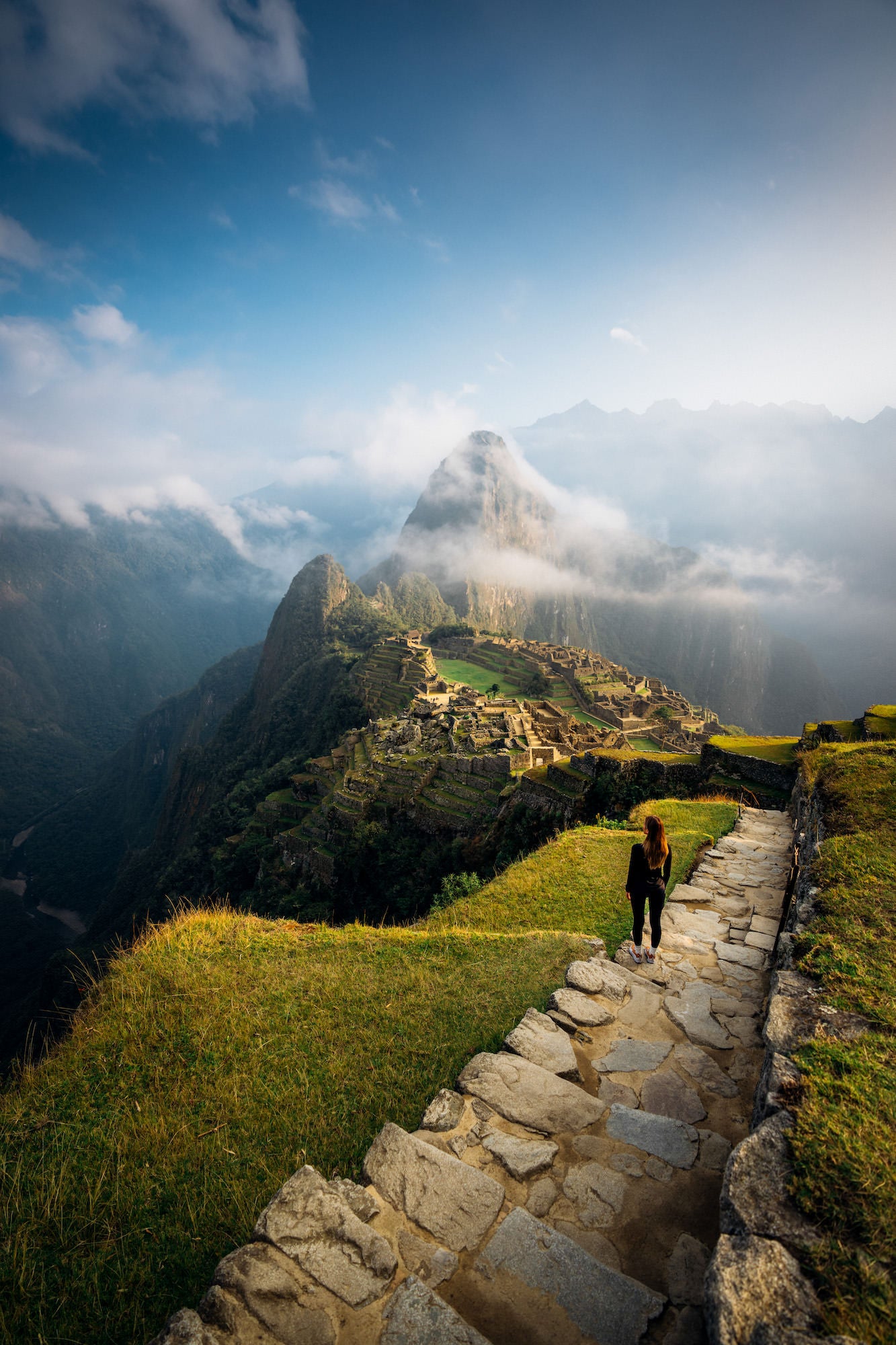 Photo by Vincent Lim. Sony Alpha 1. Sony 16-35mm f/2.8 G Master. 1/400-sec., f/4, ISO 100
"As we ascended to the top of Machu Picchu before the sun came up, we were completely socked in with thick clouds. I've dreamed about experiencing a sunrise here for as long as I can remember, and after traveling all the way from Hawaii, I couldn't leave Peru without a picture perfect moment. When it was time for the sun to rise, we were still in the clouds with no visibility, and I was starting to lose hope I would get that moment I dreamed about. Just as we were about to give up, the sky started to clear, and the morning sun lit up the scene. It was better than I ever could've imagined, and we had the perfect combination of sunlight and low fog rolling over the peak. I wanted a composition that I have not seen before so I used the stairs as the leading line to Machu Picchu."
"From the moment I picked up a camera, Machu Picchu has always been a top place I wanted to photograph. It's my goal to see every one of the 7 Wonders of the World, and Machu Picchu exceeded every and all expectations. We spent two days here, and on both days we stayed as long as we could to truly appreciate what we were experiencing. It really is a magical place."
Juan Flores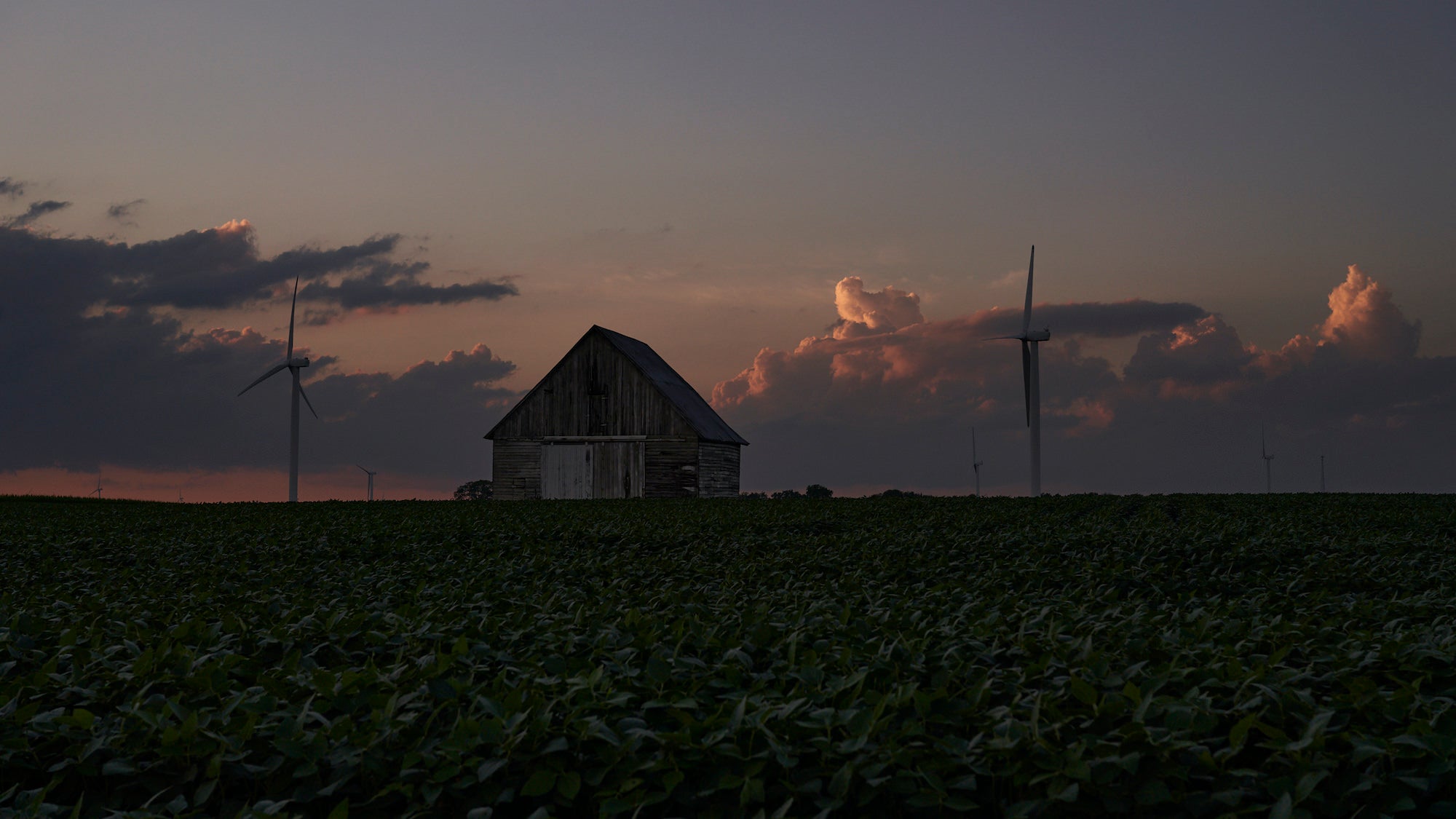 Photo by Juan Flores. Sony Alpha 7R III. Sony 40mm f/2.5 G.
"On my way home, I noticed how the storm clouds grasped onto the warmth from the setting sun. My eyes yearned to photograph the scenery although anxiety almost squashed the moment."
"I believe this is the first time this year that I got out specifically to photograph something. The newer things that have strengthen my depression coupled with anxiety have drained the joy that I feel like a void. In a sense of calmness provided by the outdoors, I repeatedly told myself, at least the anxious part of me, 'that being outside is okay. Being with my camera is okay. Let's have some fun with your camera.' I am proud of myself for pushing through to have a photo of the moment."