Oscar Nilsson (@oscarwastaken) got into photography after moving to California from his native Sweden and when he did, Nilsson gave himself a challenge. "I was traveling around and saw the beauty around California and wanted to find a way to capture that," he explains. "I decided to just do it every day, I decided to take photos of 100 sunrises in a year and actually my initial switch to Sony was with the α7 II because I liked the size. I got it so I could easily bring my camera anywhere I went." Those 100 sunrises were a literal and figurative beginning of a new day for Nilsson as photography became an important part of his life. Now with nearly 65,000 followers on Instagram, Nilsson travels the world with his camera, seeking new and unique ways to capture what he sees.
From the α7 II, Nilsson moved to the α7R II and most recently he had a chance to use the α9 with members of the Alpha Collective in the BVIs. In keeping with his thoughtful and meticulous nature, Nilsson looked into the itinerary for the trip, and then started thinking about how he could use the camera's capabilities to create some special images.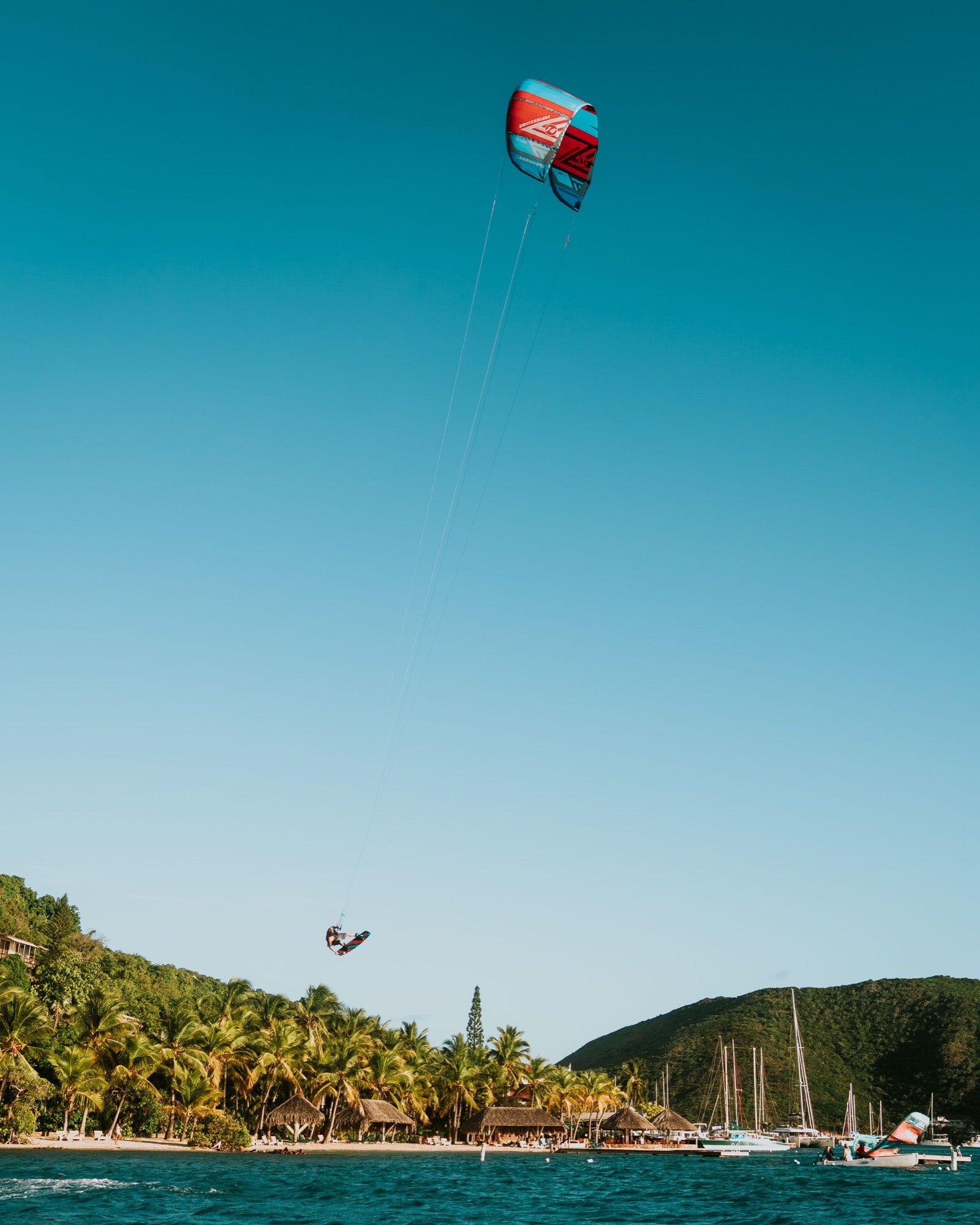 Photo by Oscar Nilsson (@oscarwastaken). Sony α9. Sony 24-70mm f/2.8 G Master lens. 1/250-sec., f/2.8, ISO 50. "This was one of the first images I got, it was sometimes challenging composing my shots from the boat, but really liked how this one turned out with the beach in the background."
"As soon as I found out the activities we were going to do," he says, "I started thinking about the cameras I was going to be using to be ready for the experiences when we went there. I was going to be shooting with both the α9 and the RX100 V in the BVIs. I shot with the α9 at [Kando Trip 1.0] so I was a little familiar with it and I was excited to sue it more, especially when it came to the kite surfing. I felt like that was going to be a great activity for the high speed capacity of the α9. The kite surfers would be moving fast making sudden movements. I had a pretty good sense of the α9's capabilities, but I felt like this was the first time I really got to experience it and use its advantages to my advantage."
Preparation is one thing, but it wasn't until he was actually there that Nilsson realized what he was up against. "They started warming up at first, but before we knew it they were flying above our heads and performing tricks we didn't think were possible. I started shooting with the α9 and really tested the 20 fps and utilized the camera's speed and AF tracking to get sharp images of the kite surfers doing aerobatics and flying by at high speed on the water."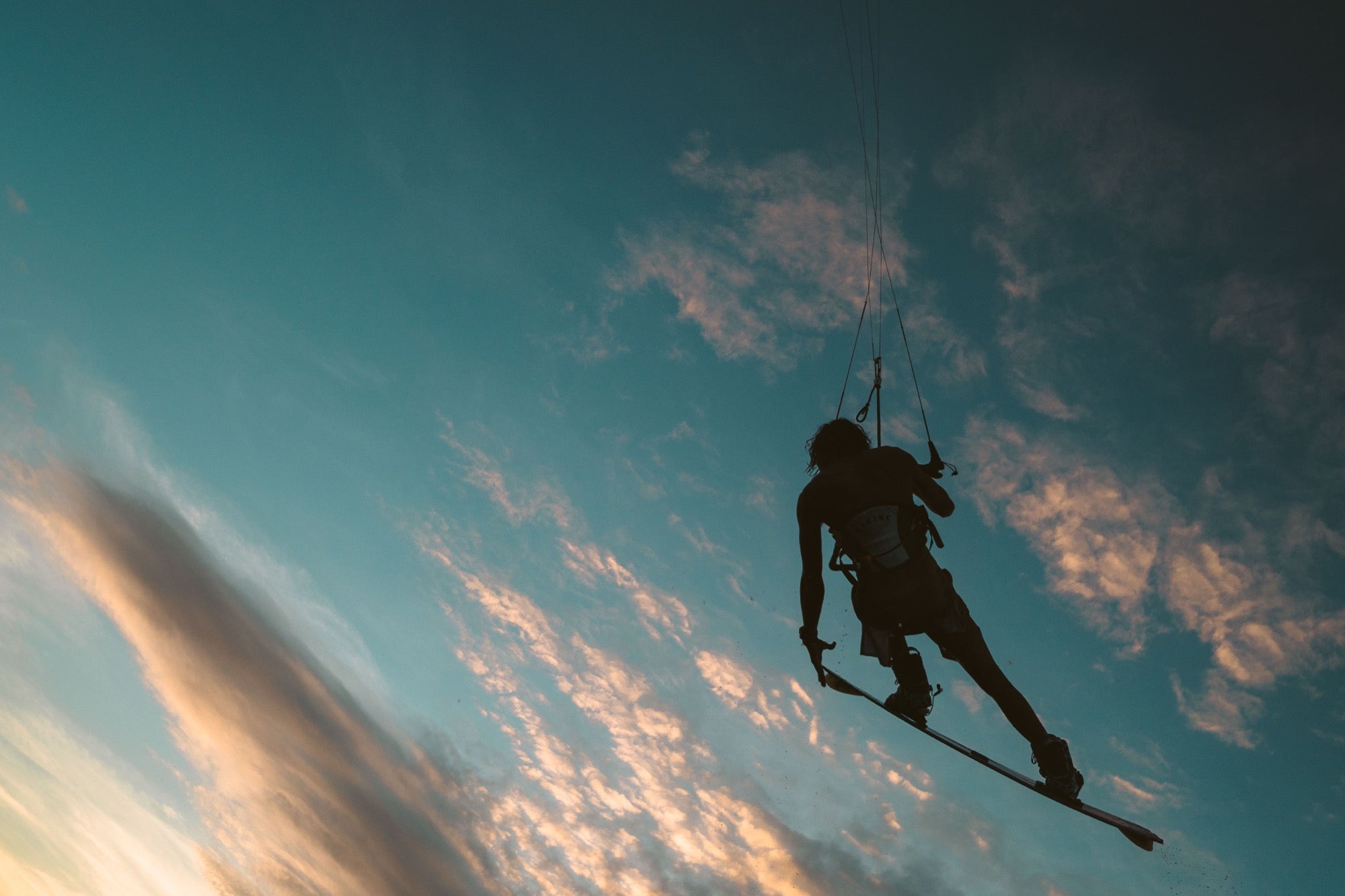 Photo by Oscar Nilsson (@oscarwastaken). Sony α9. Sony 24-70mm f/2.8 G Master lens. 1/1000-sec., f/5.6, ISO 320. "I was trying to capture how these athletes were flying all over the place and it was hard know what was up and down sometimes trying to follow their movements. I like how this image came out and this surfer was literally right above my head as I snapped this."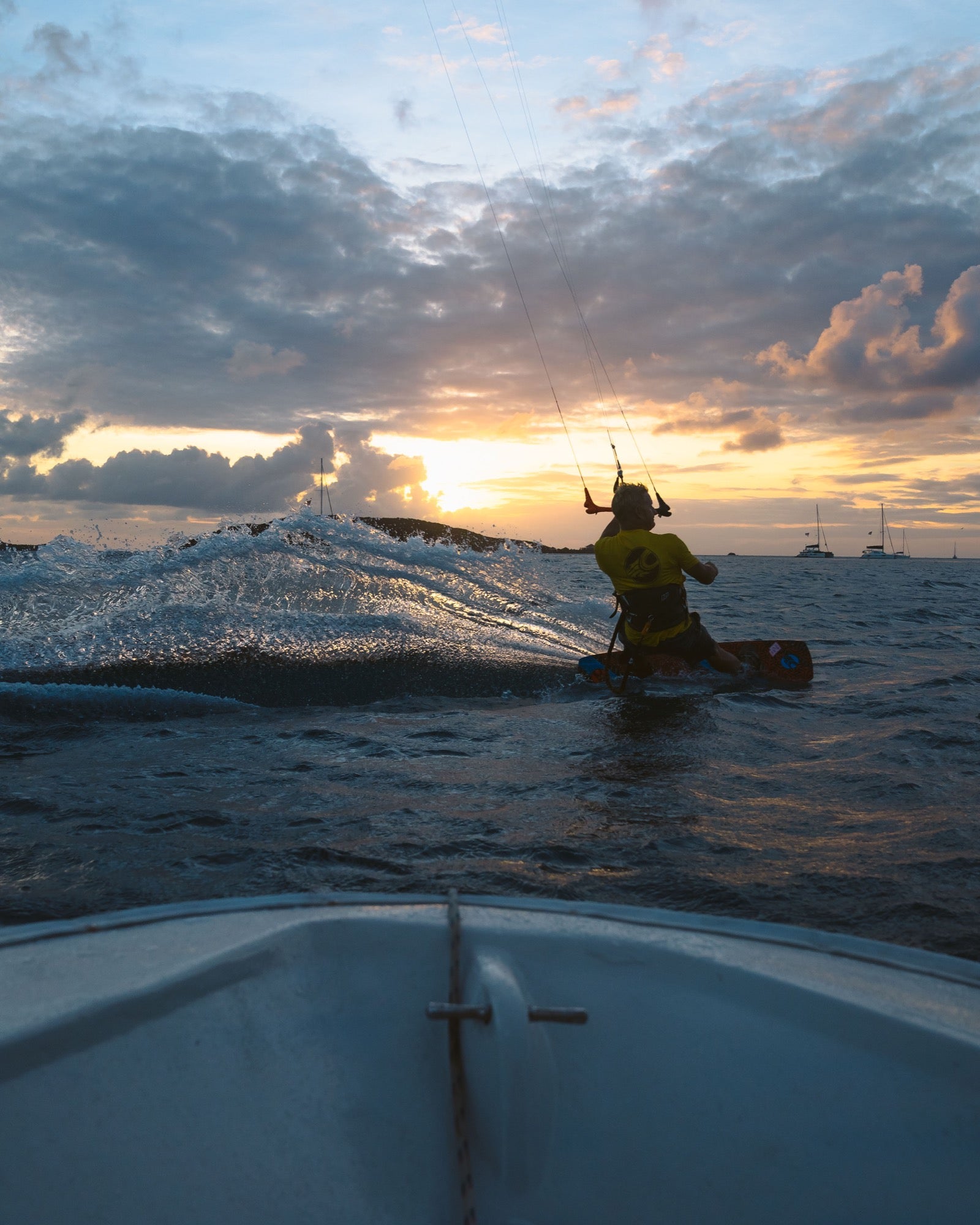 Photo by Oscar Nilsson (@oscarwastaken). Sony α9. Sony 24-70mm f/2.8 G Master lens. 1/1000-sec., f/4.5, ISO 320. "I really like how this photo came out and feel like it really captures how these guys almost can bend the water to work with them. It's an absolute beautiful thing to watch."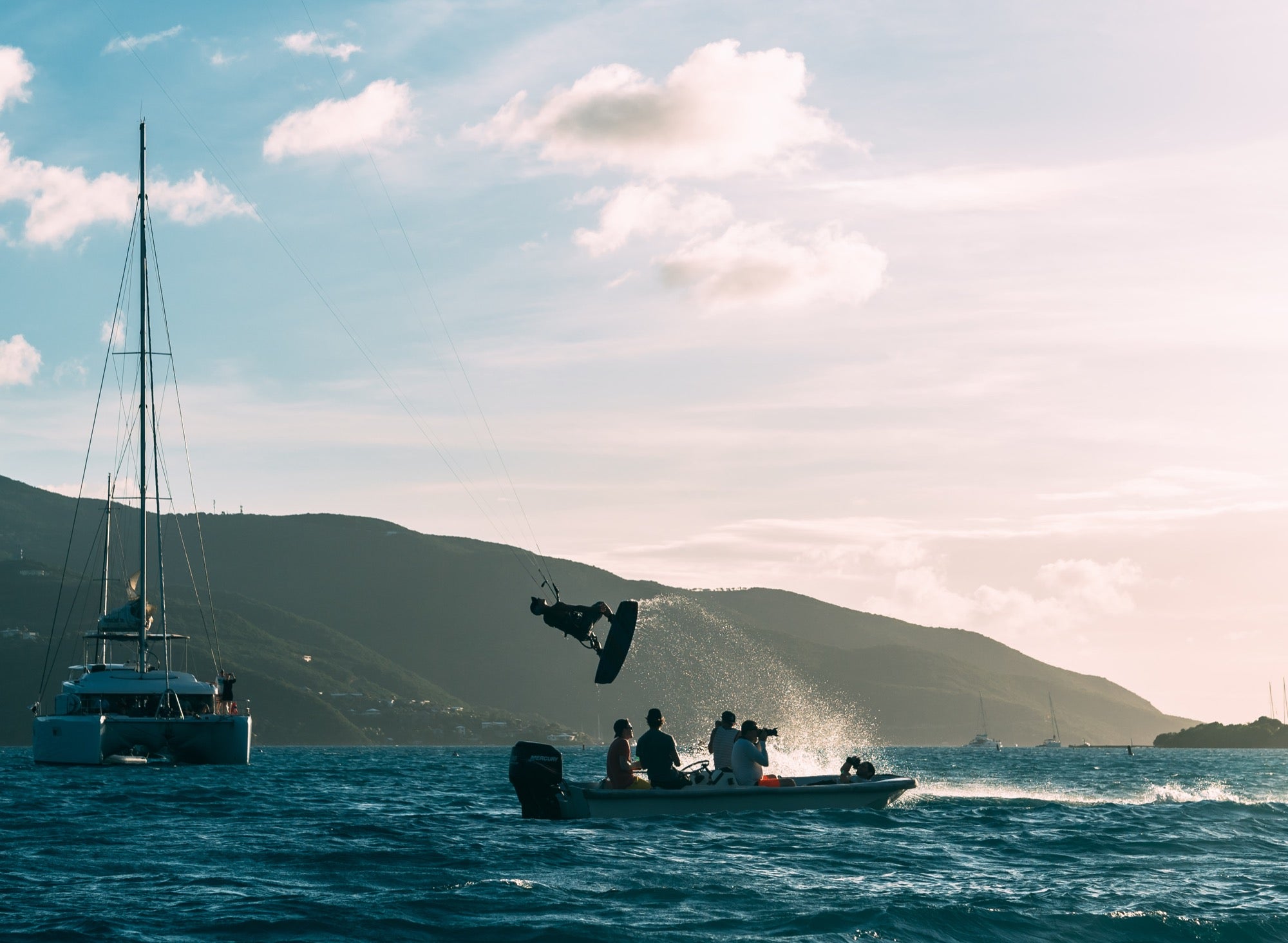 Photo by Oscar Nilsson (@oscarwastaken). Sony α9. Sony 24-70mm f/2.8 G Master lens. 1/1250-sec., f/5.0, ISO 50. "This is a photo of some other Sony Alpha Collective friends in the other chase boat. As you can see the surfers got up close and personal to help us get the right shot."
Nilsson was putting 2 aspects of the α9's speed to the test, the 20 fps frame rate and the fast autofocus. "When I was in the continuous AF mode, it has an auto tracking mode and that worked really well. The kite surfers were making sudden turns and moving out of my focus point, but the camera kept locked on and that really helped a lot when I was shooting. I think the focusing capacity of the α9 is remarkable."
While the α9 worked out extremely well, Nilsson wanted to try something a little different. "After getting what I wanted with the α9," he explains, "I decided to pull out the RX100 V out with its underwater housing and I jumped into the water to get a different perspective than I could from the boat." Like the α9, the RX 100 V can shoot at remarkable speeds. In the housing, Nilsson was able to position the camera right in the water and use the high-speed capability to create some unique photos.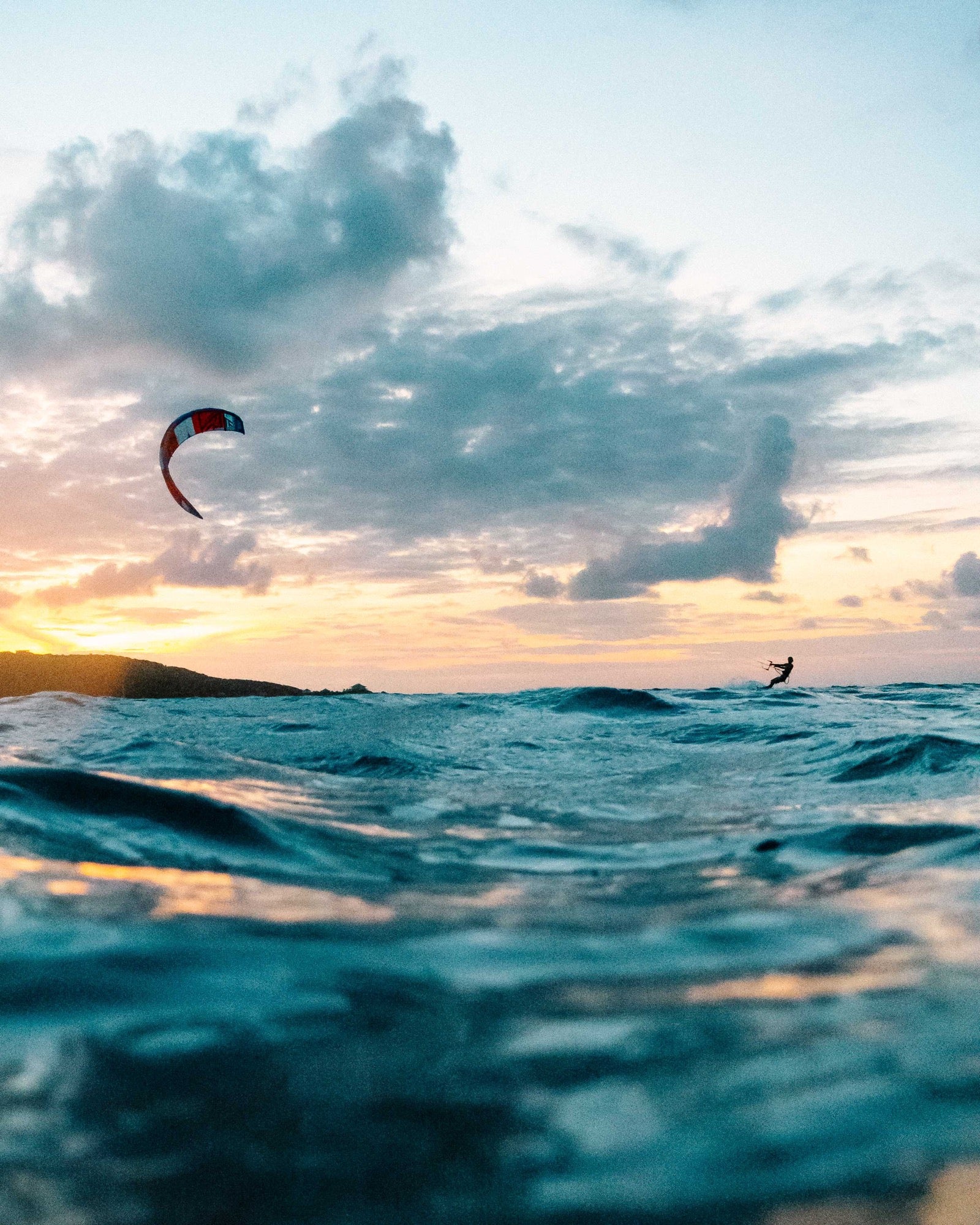 Photo by Oscar Nilsson (@oscarwastaken). Sony RX100 V. 1/640-sec., f/2.5, ISO 6400. "By the time I got into the water to play with a slightly different perspective the light was starting to fade out. In order to keep my shutter speed fast enough to capture their movements I had to crank the ISO up higher than I would like. I do feel like the RX100V handled it well though, it's amazing what power is housed in this tiny camera."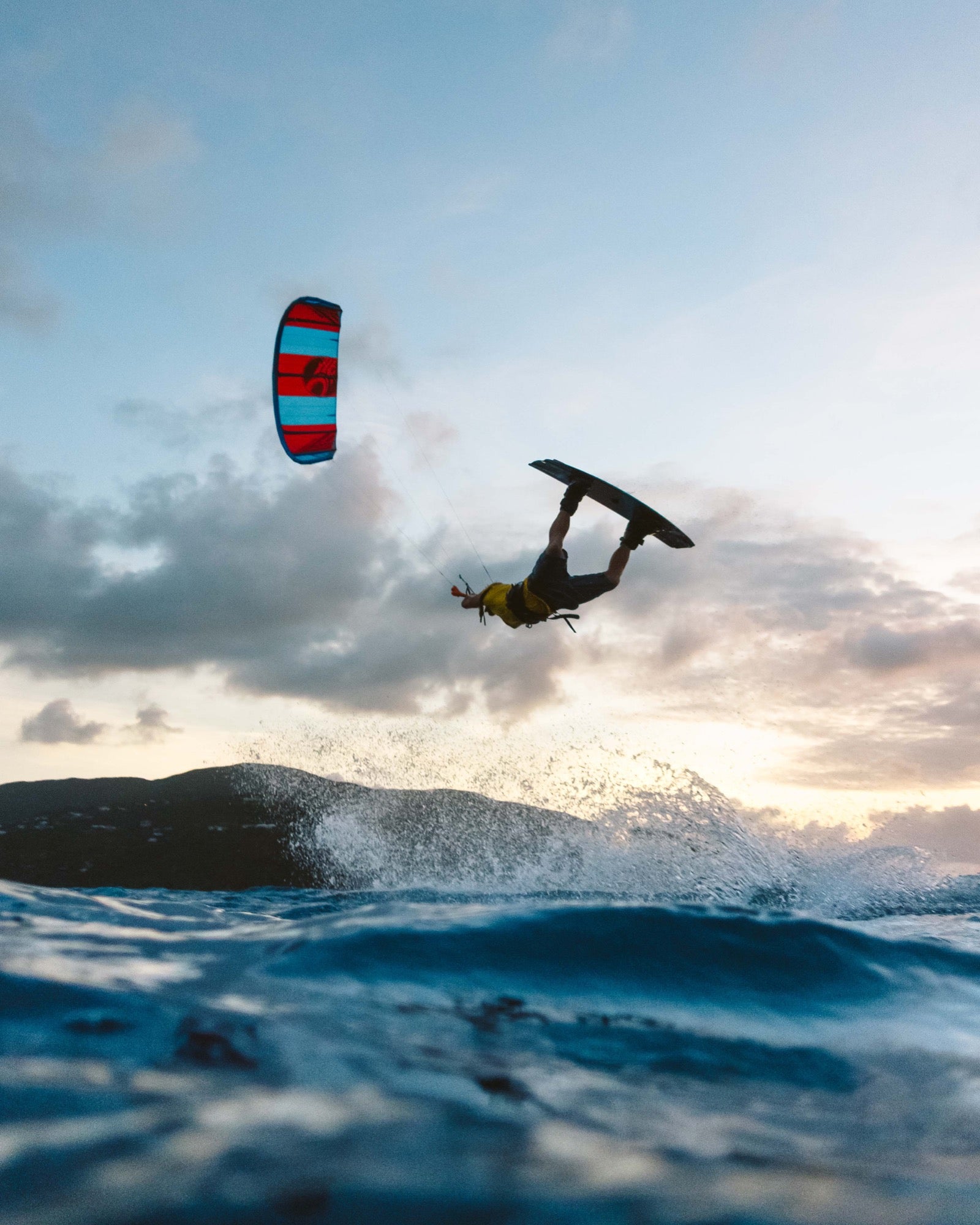 Photo by Oscar Nilsson (@oscarwastaken). Sony RX100 V. 1/500-sec., f/1.8, ISO 1000. "Here's another shot I got while swimming around among the surfers that I feel captures the velocity these guys have while using the wind to take off from the water."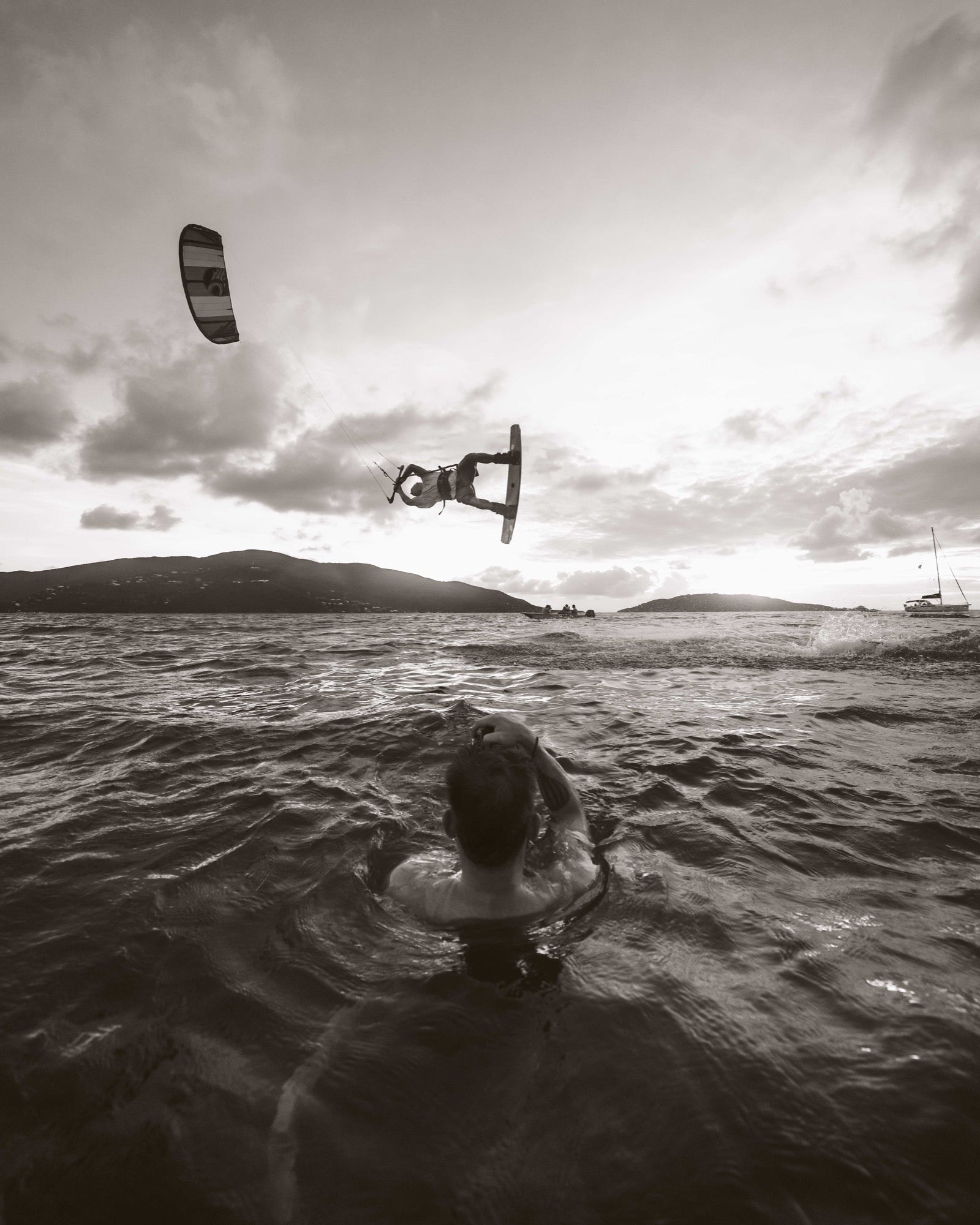 Photo by Eric Ward (@littlecoal). Oscar Nilsson in the water shooting with the RX100 V in a Sony underwater housing.