Mike Meyers (@mmeyers76) and Dan Marker-Moore (@danorst) chased the 2019 total solar eclipse to a remote mountaintop in South America. From their unique vantage point, they were directly in the eclipse's path and, with a collection of Sony Alpha cameras and lenses that rivaled the inventories of some camera stores, they watched and waited as the spectacle unfolded. Meyers and Marker-Moore had planned their adventure meticulously and when the moment came, they hit their shutter buttons, capturing stills, video and timelapse alike.
Totality Close-up Shots
Camera: α7R III

Lens: 100-400mm f/4.5-5.6 GM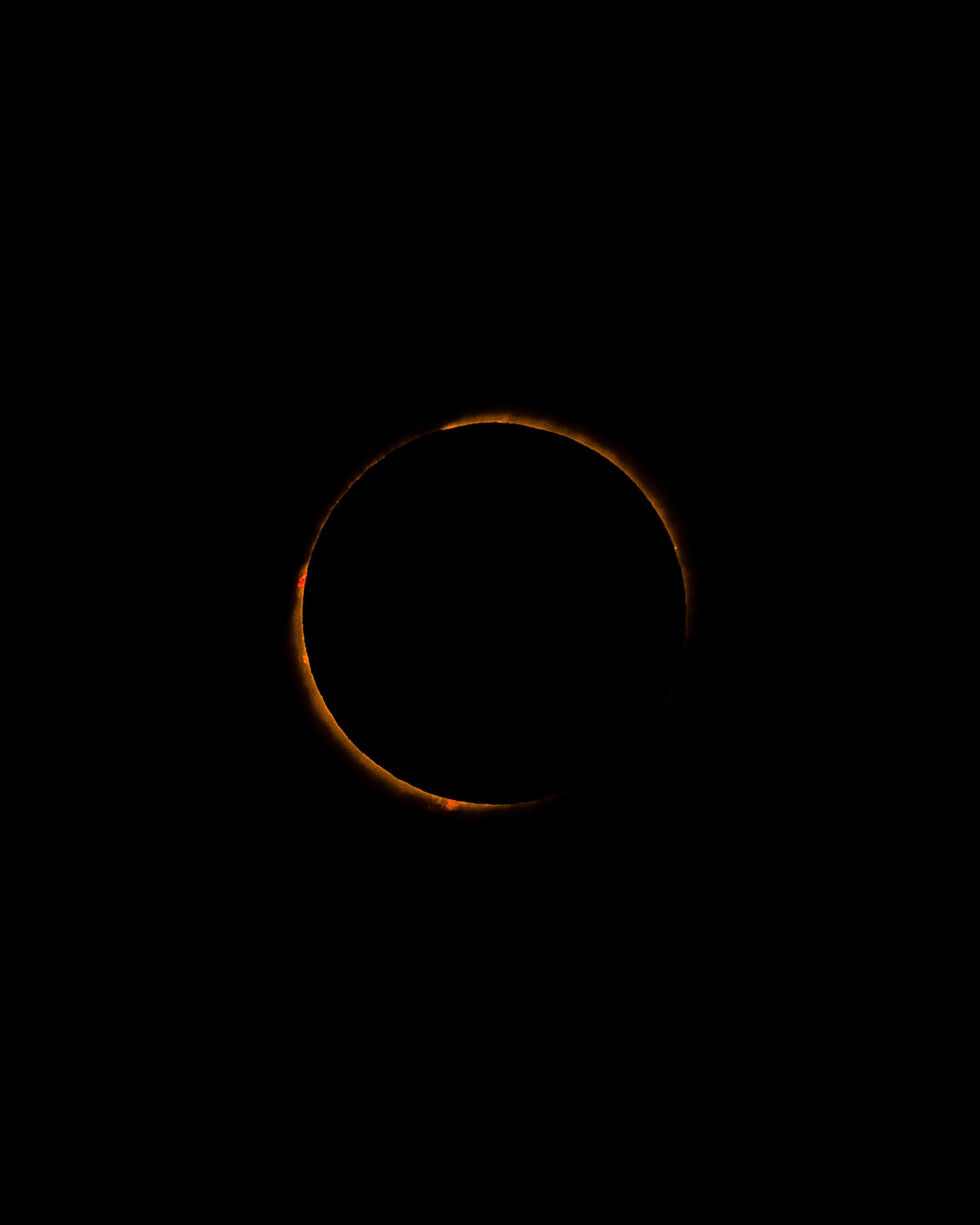 Sony α7R III. Sony 100-400mm f/4.5-5.6 G Master at 400mm. 1/2000-sec., 1/16000-sec, 1/40-sec., f/5.6, ISO 1250.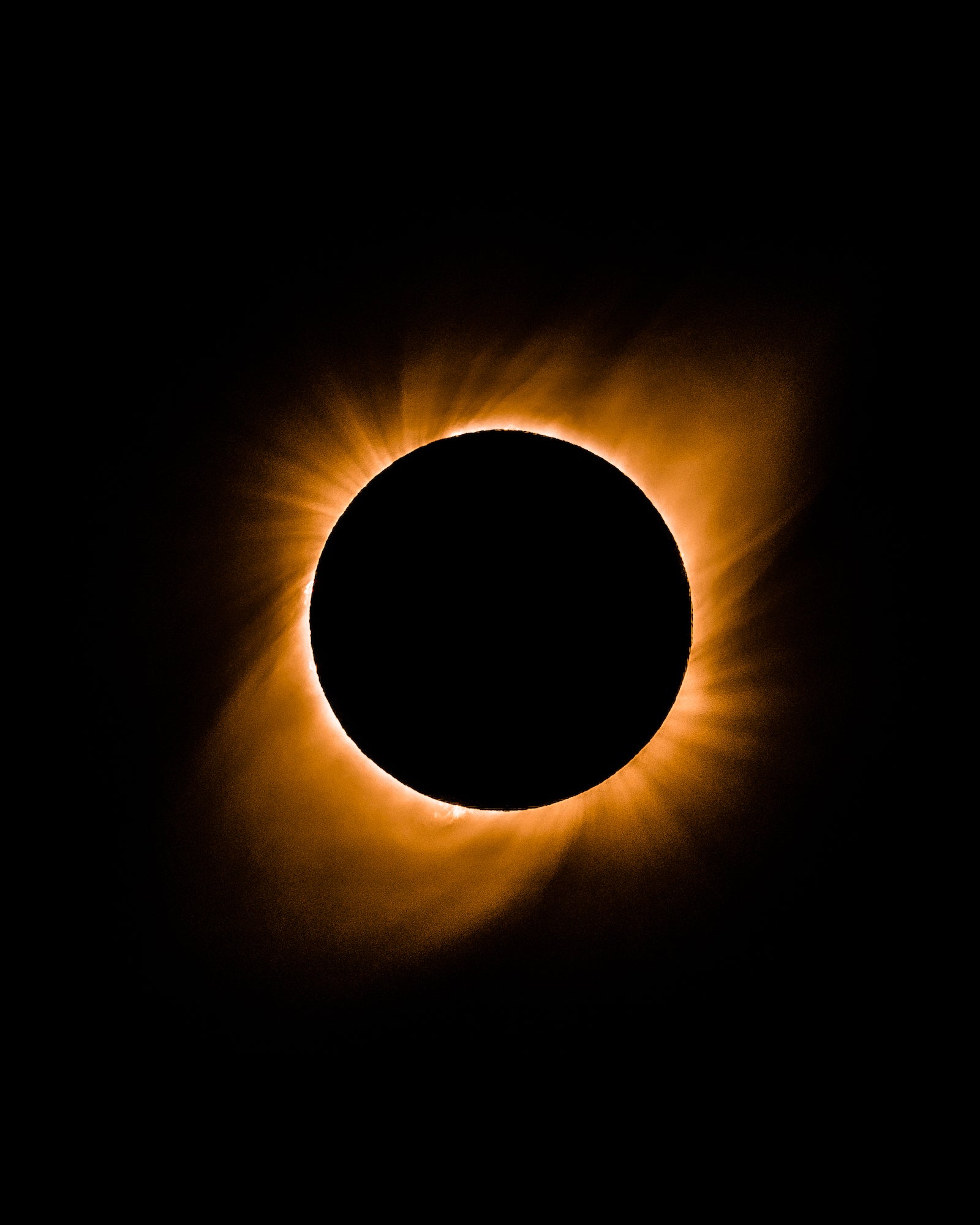 Sony α7R III. Sony 100-400mm f/4.5-5.6 G Master at 400mm. 1/250-sec., f/5.6, ISO 1250.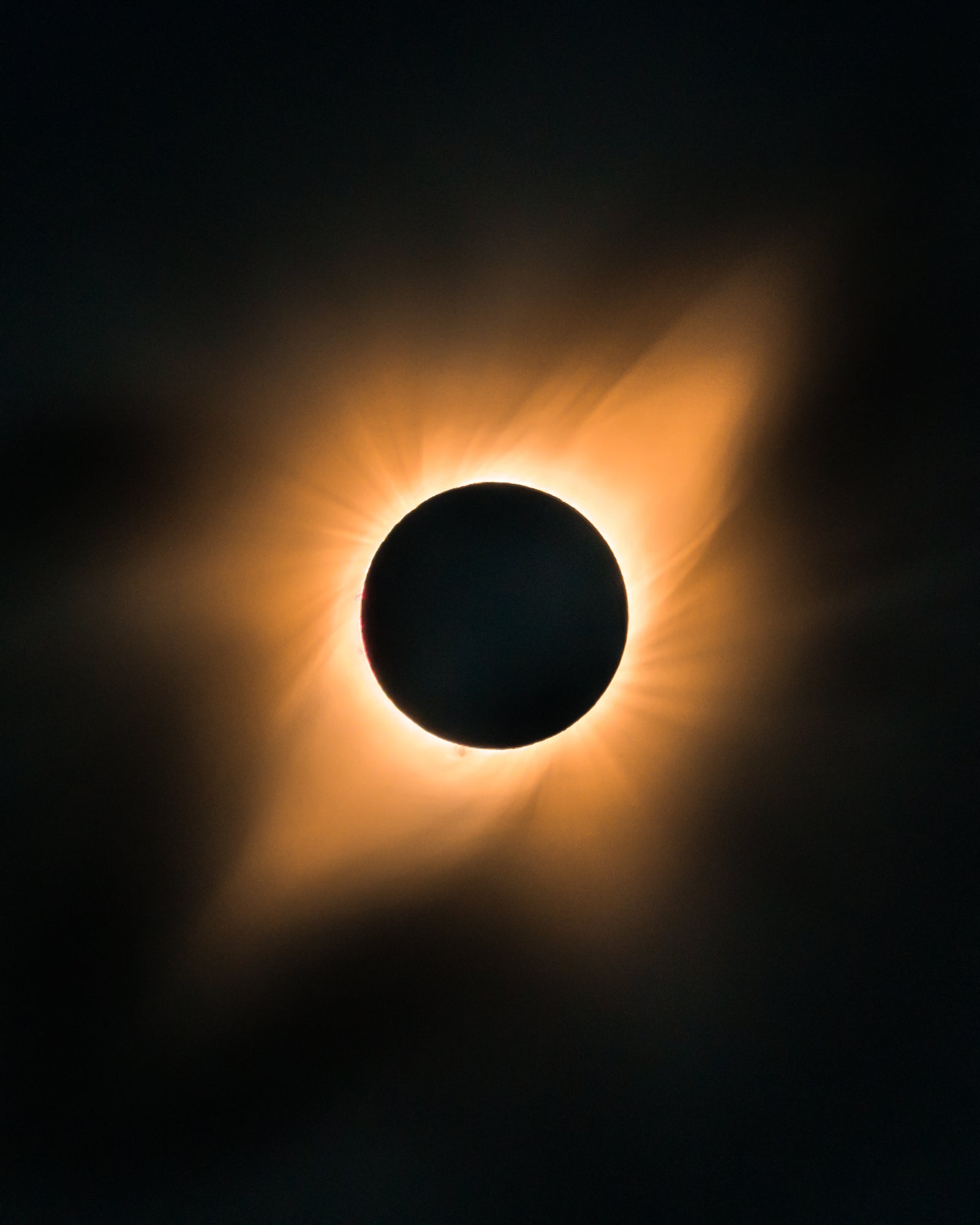 Sony α7R III. Sony 100-400mm f/4.5-5.6 G Master at 400mm. 1/25-sec., 1/16000-sec, 1/40-sec., f/5.6, ISO 1250.
"Maybe it's because I nerd out on anything space related, but the details you can see with a good camera and lens during the totality of a solar eclipse just blows my mind. The corona is that weird cloud you see around the edges of the moon – a plasma of charged particles that's a million degrees hot, millions of miles wide and warped into those strange patterns by the sun's massive magnetic field. You're only able to see the corona during an eclipse because under normal conditions the sun is just too bright to see it."
"Obviously you're able to bring out more details when you process the photos later. But even in camera when I was shooting, I could clearly see the corona. I had to concentrate on shooting during totality, but I wanted so badly to go through and look at the images immediately. I'd seen similar images before, but there's just something about shooting it yourself that makes it a totally different experience. Once I got to editing the files, I was definitely stoked with the finer details I got from shooting with that 100-400mm GM. I was even able to see solar flares from the surface of the sun. This was the shot I'd been wanting since I had my first thoughts about shooting the eclipse in Chile two years ago. I'm super thankful to have the gear I needed to capture it exactly as I'd envisioned, and equally as excited about the clarity and detail I got from each image." – Mike Meyers
Wide Totality
Camera: α7R III

Lens: 16-35mm f/2.8 GM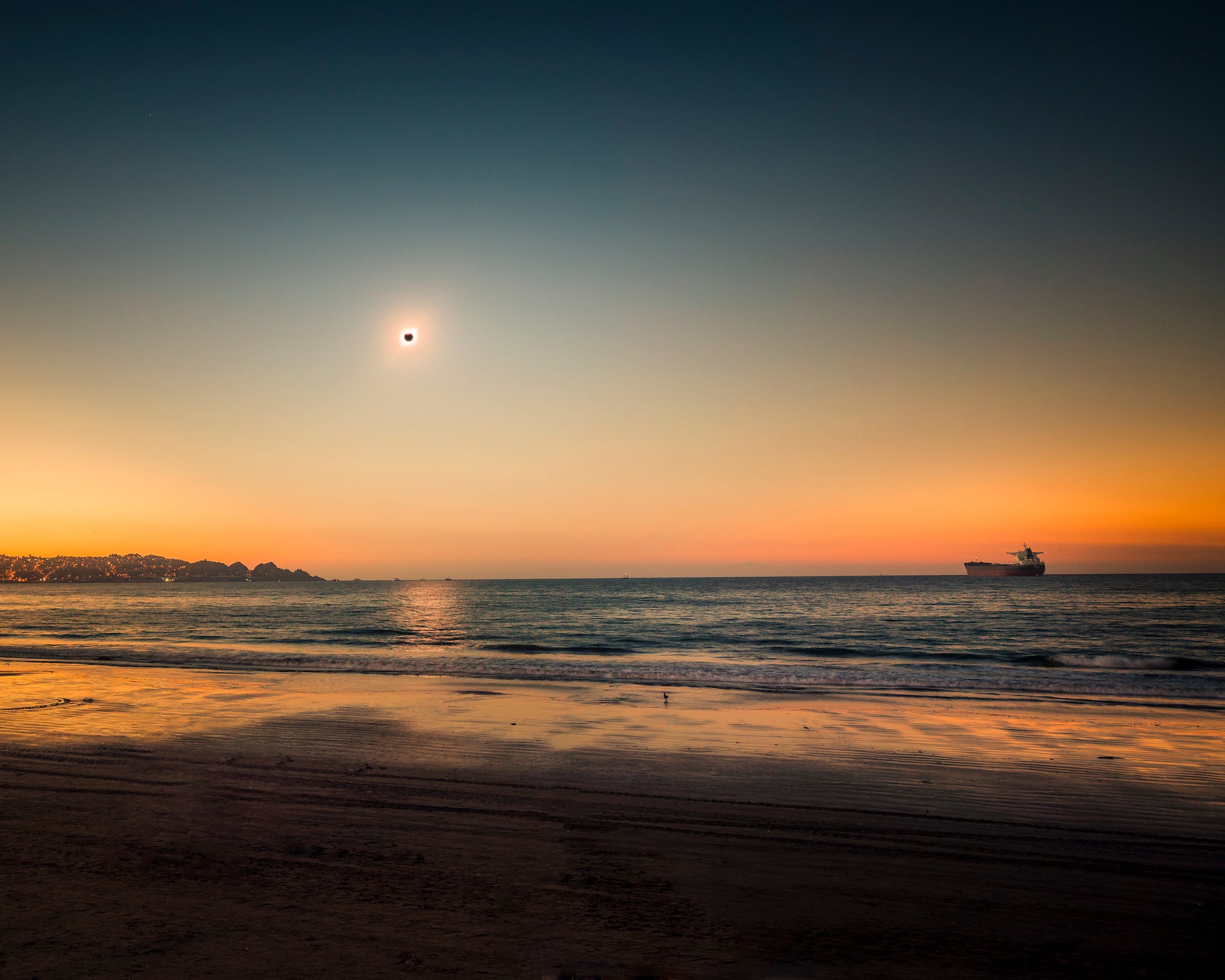 Sony α7R III. 16-35mm f/2.8 G Master at 18mm. ⅙-sec., f/4.5, ISO 100
"There's no way to describe what totality is like unless you've seen it for yourself. It's really cool, and really eerie. Dan and I were talking about how crazy it must have been for people to see thousands of years ago when they had no idea what was actually happening. It's 360-degrees of sunset, you can feel the temperature plummet just before totality hits, then in an instant it's dark. Not midnight dark, but it feels like an hour after sunset. Way too dark for the middle of the day."
"The crowd got super loud. I was way more focused on shooting than anything else, but I was definitely aware of them cheering and whistling. Then in an instant, it's over. Even a tiny sliver of visible sun lights everything back up. Then the crowd just took off! Dan and I were busy blasting away with all the cameras we had setup and everyone else was making their way back to their cars. We had the 16-35mm f/2.8 G Master setup on an α7R III and just let it run on interval mode for hours. It was great to have all these shots to go through later and not have to worry about messing with this setup at all during totality. In the end we got a lot of stills to play with that we really liked." – Mike Meyers
Wide Angle Timelapse Of Totality Through Sunset
Camera: α7R III

Lens: 16-35mm f/2.8 GM
"This wide-angle setup gave us hundreds of stills to create a timelapse that spanned the entire event – from just before the partial eclipse started, through the end of the eclipse and through sunset to blue hour. We were able to get part of the crowd, the beaches and ocean, and the sun as it arced across the sky to set the stage a bit for what it was like to be there. We liked how this timelapse was able to encapsulate what the entire day was like in just a few seconds." – Mike Meyers
Close-up Timelapse/Video of Totality
Camera: α7R III

Lens: 100-400mm f/4.5-5.6 GM

Star Tracker
"This one was a tricky one. Timelapses are great, but they condense an event into a few seconds. With only 111 seconds of totality, we definitely wanted to get video of the entire event. We chose to shoot this in ASPC mode and with a 1.4x teleconverter so we could get as tight of a shot as possible while still retaining 4k video quality."
"The star tracker allowed us to keep the setup focused on the sun and track it through the entire eclipse. I'd been messing with it all morning but found what worked best was using the shadow from the tripod at solar noon to get the alignment perfect. We ended up nailing this comp and capturing the entire thing in 4k video, which I was really happy about." – Dan Marker-Moore
Time Slice Image
Camera: α7R III

Lens: 100-400mm f/4.5-5.6 GM & Sony 70-200mm f/2.8 GM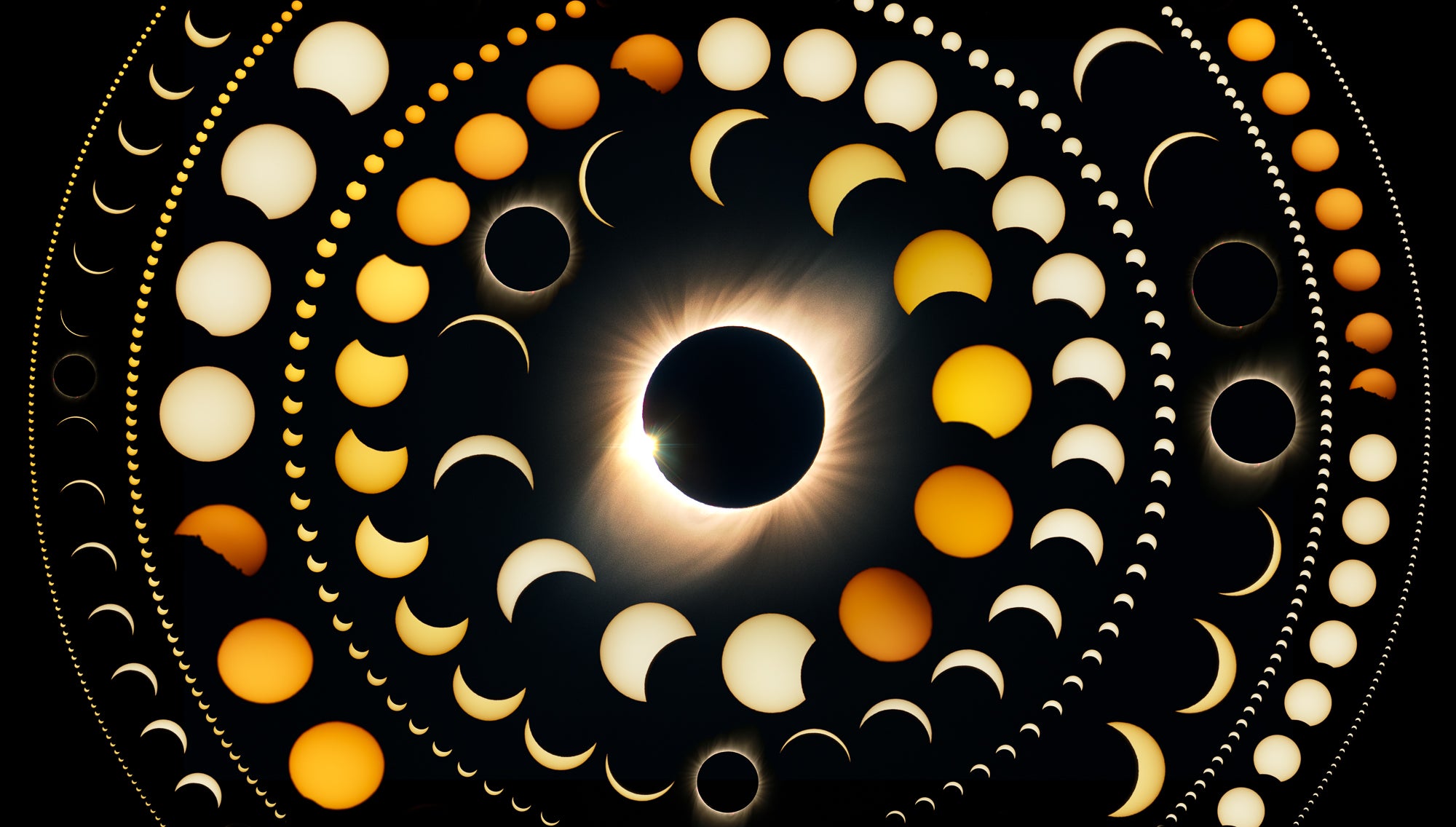 Sony α7R III. Sony 100-400mm f/4.5-5.6 G Master and Sony 70-200mm f/2.8 G Master. Varied(1/4-sec.,1/8000-sec.), varied, ISO 100-1250
"We wanted to create a final image from this event that we hadn't seen before, so I decided to create a visual treatment I developed called a 'time slice.' It's basically a number of composited images across a wide span of time combined into a single image to convey each moment in time in a compelling way, all at once. I had hundreds of images to choose from (literally 507 of them), so obviously it took some time and several iterations to arrive at the compositions I liked the most."
"I wanted to make totality the centerpiece, but also use the time leading up to and after totality to artfully tell the story of the event. In the end, I think I achieved that and this final image is one of, if not my favorite, from the experience." – Dan Marker-Moore
Behind-The-Scenes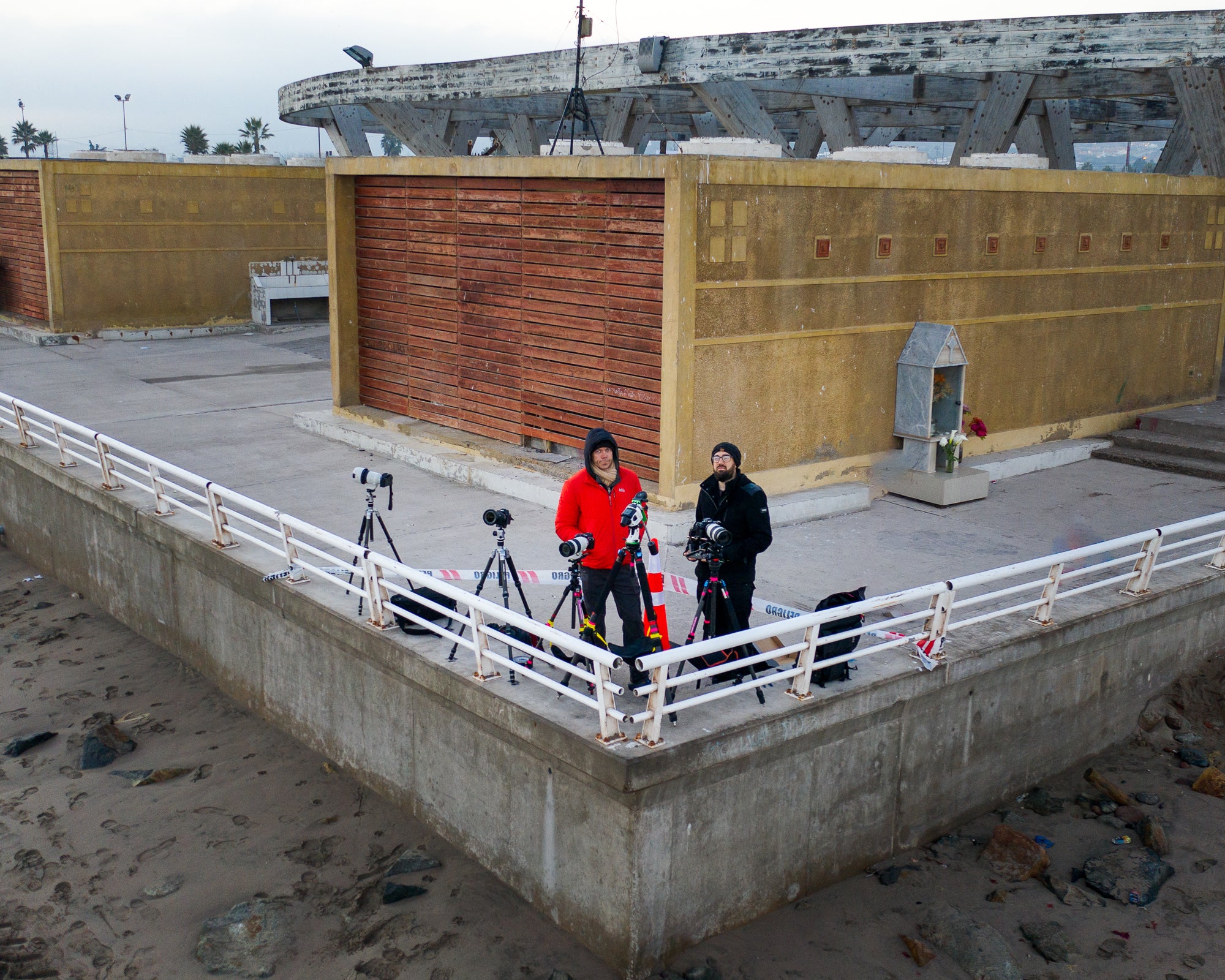 "These are just a few behind-the-scenes shots of Mike and I during the day of the eclipse. We've talked about it before, but we really did love the Chilean people. With so many cameras set up (5x α7R IIIs, 2x RX0 IIs, and a drone), we definitely were a point of curiosity for passersby. They asked us a lot of questions about our setup, where we were from, why we were there, why so many cameras (this one was a favorite that I let Mike answer since his Spanish was a little more polished than mine.)"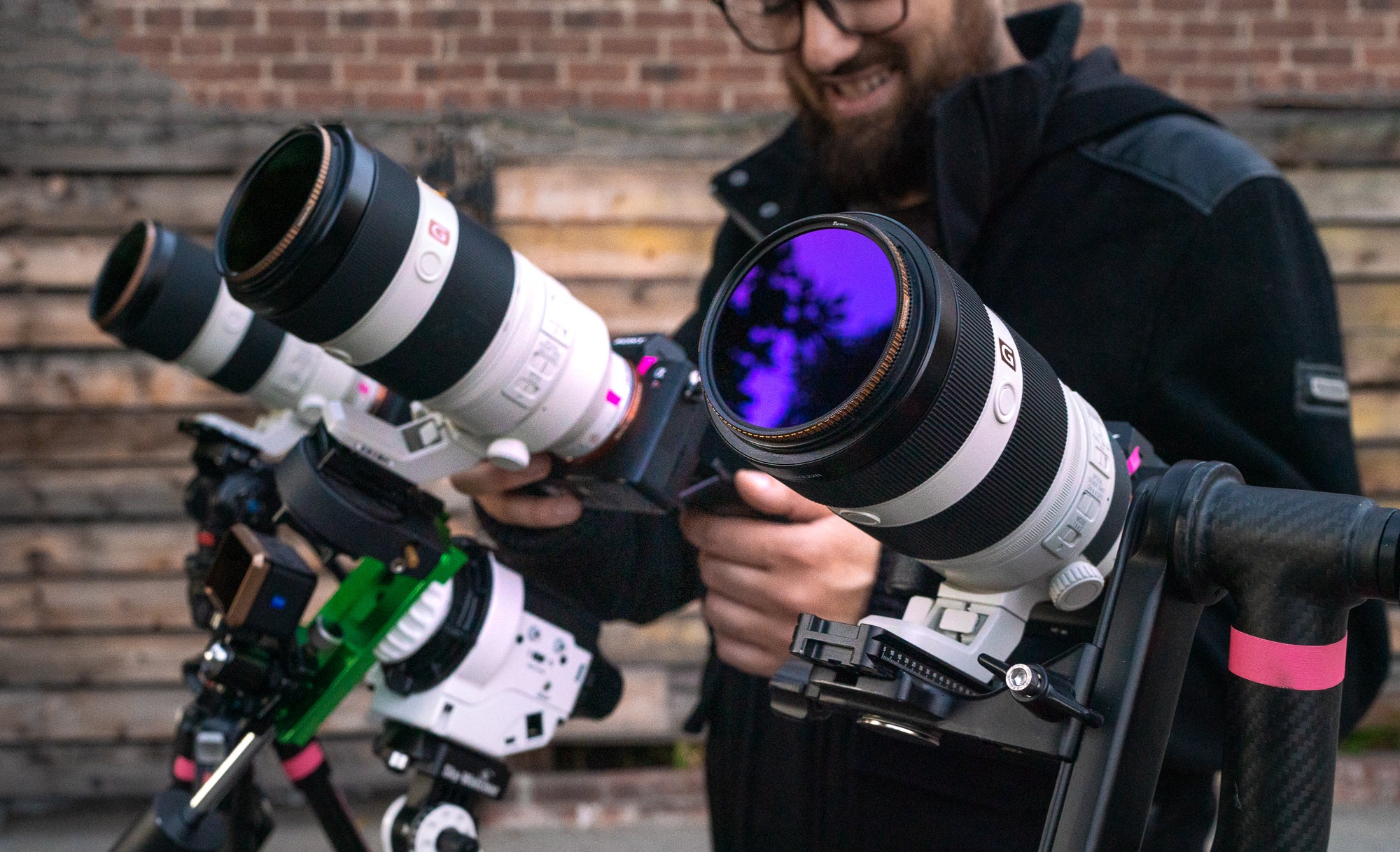 "One of the local fisherman (Leo) who we'd befriended the previous day even brought us some "machas" (Chilean clams) they'd just caught that morning with fresh limes to squeeze over top to enjoy while we waited for the eclipse. Chatting with them all day made the whole event even more special."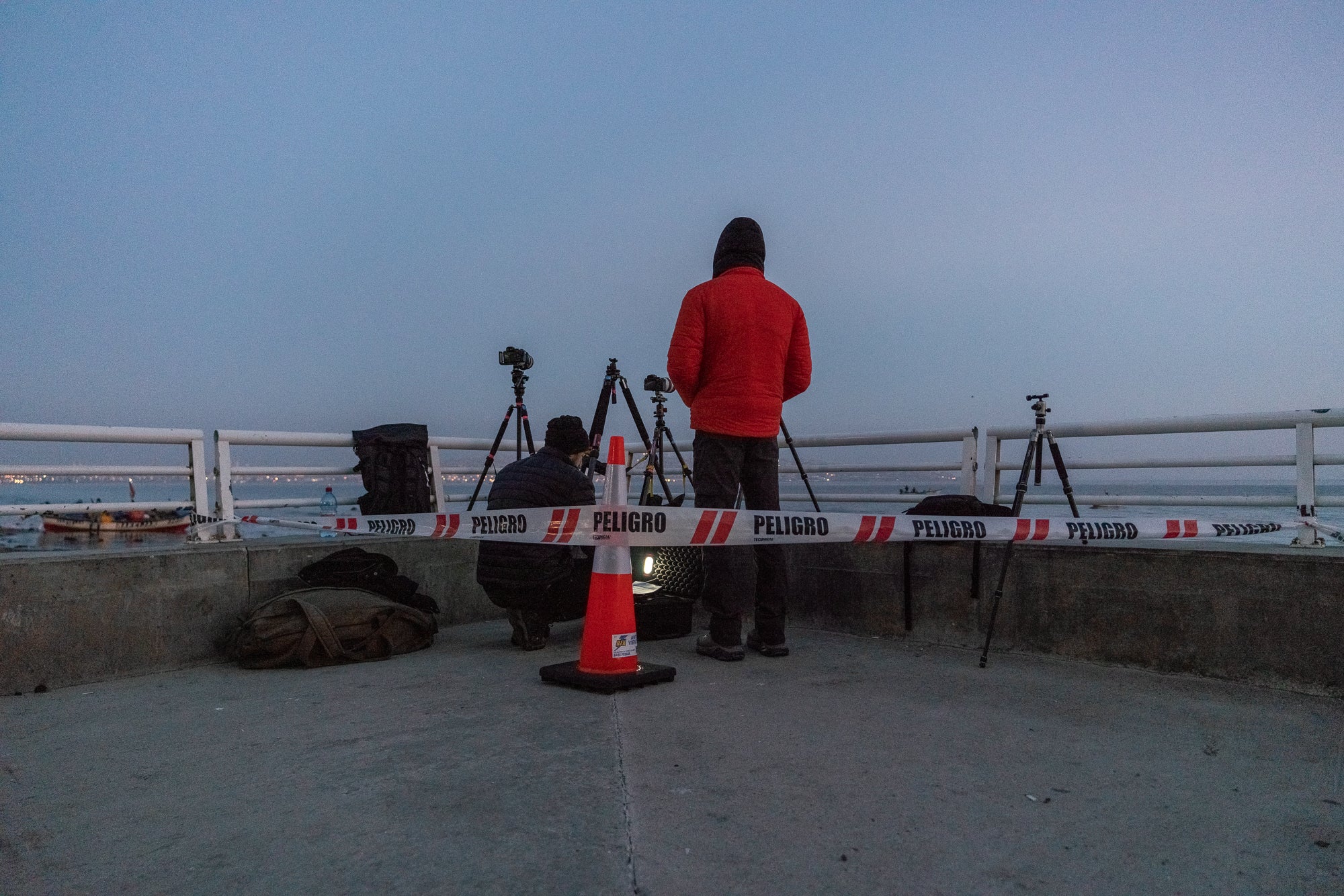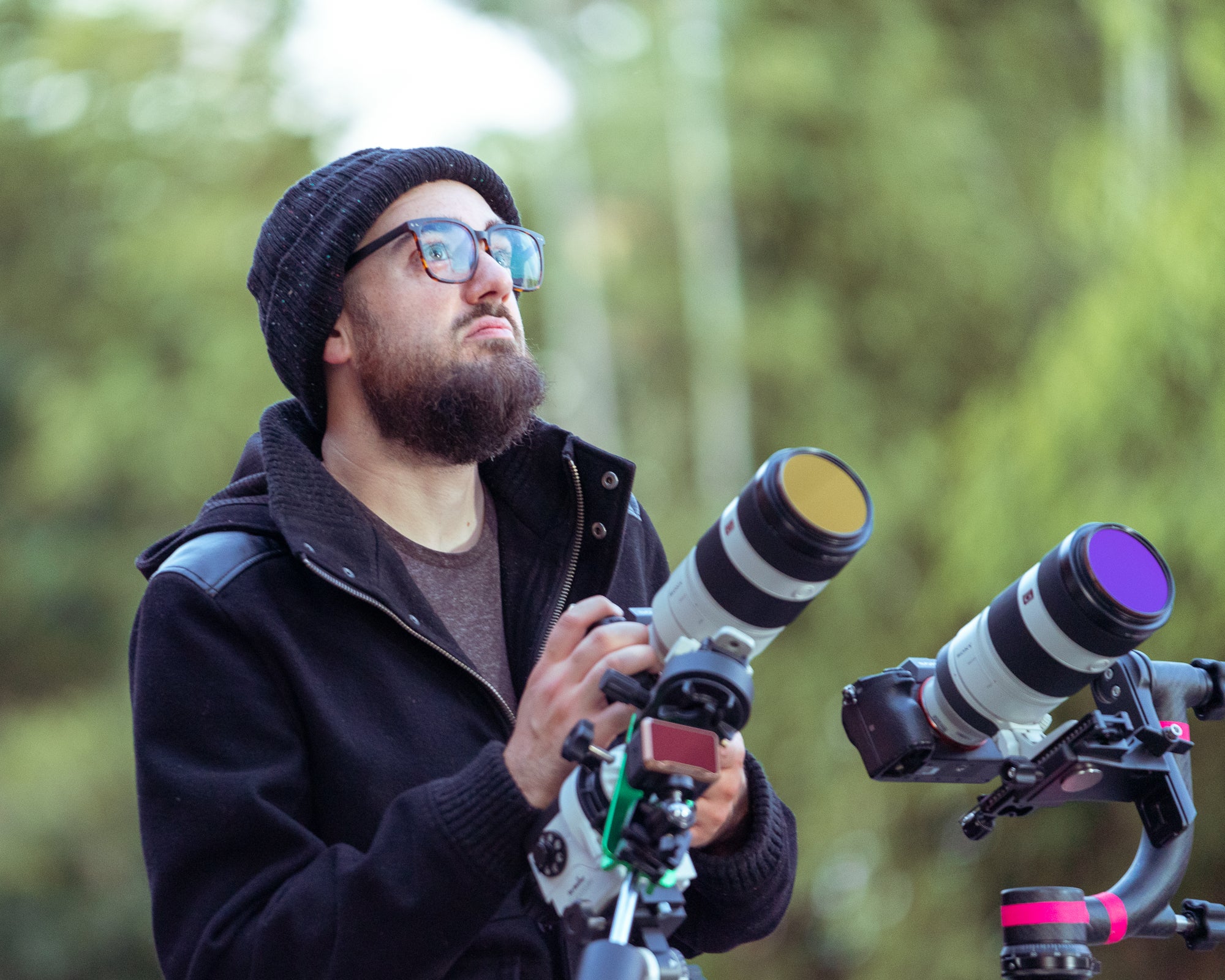 "It's crazy to look at all this gear and not think it's overkill – but it really wasn't. It's a once-in-a-lifetime experience, and in order to make the most of it, you really do need a big setup. We're extremely happy with everything we created, and equally thankful to have all the gear we did, and to have it perform perfectly." – Dan Marker-Moore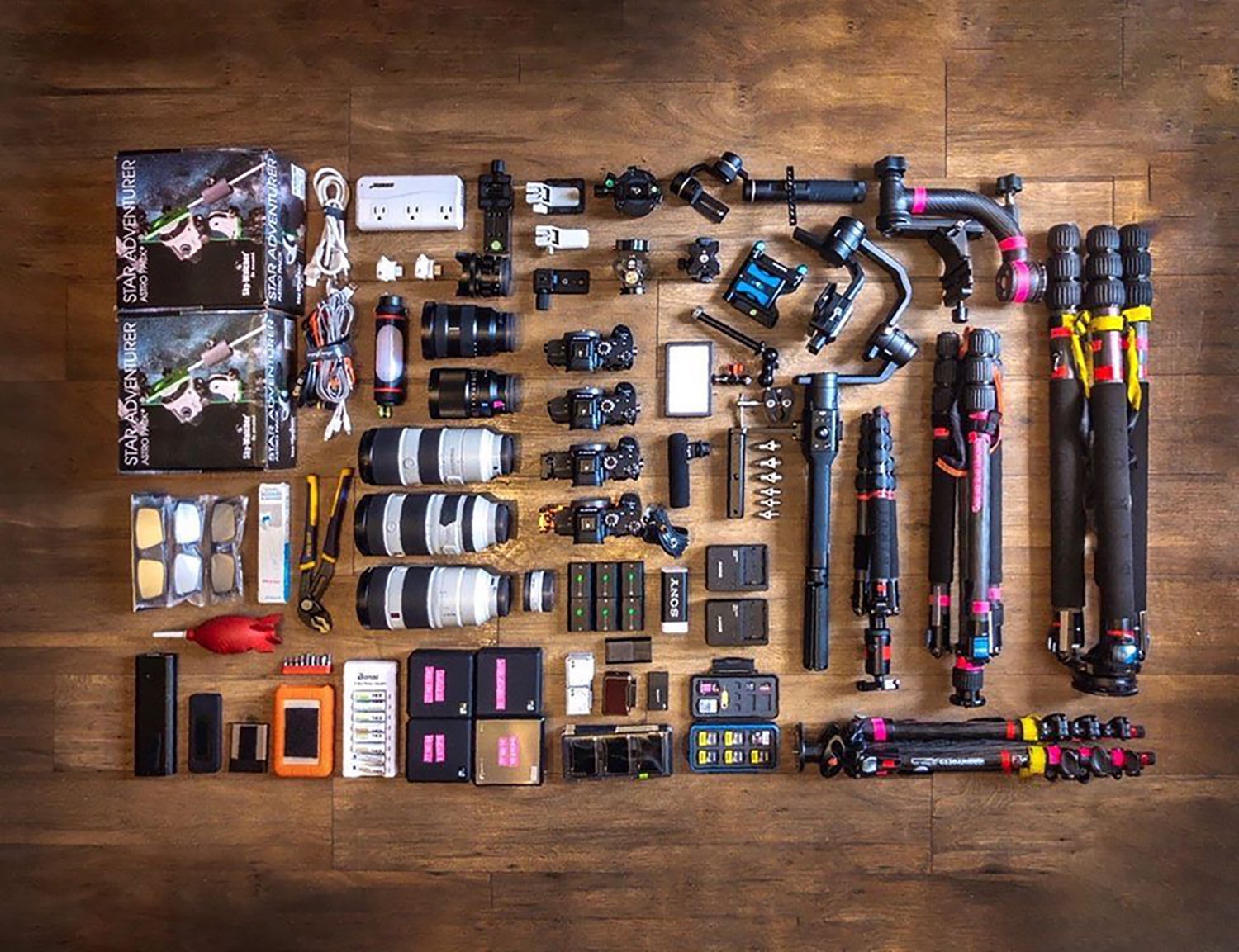 Dan Marker-Moore's Gear For The Eclipse
Learn more about the gear they used and how they prepared in Dan Marker-Moore's What's In My Bag For Eclipse Timelapses.