When Mike Meyers (@mmeyers76) and I (@danorst) set out to shoot the July 2 eclipse in Northern Chile, we knew it was going to be an endeavor. But I'm not sure either of us knew just how much equipment it would take to capture it in the way we'd envisioned. We needed video, still photos and photos to use for several timelapses, and that meant lots of camera bodies, lenses and accessories. Here's a breakdown of everything that was in my bag and how we used it to get as much content as we could from the 111 seconds where the moon completely blocked out the sun.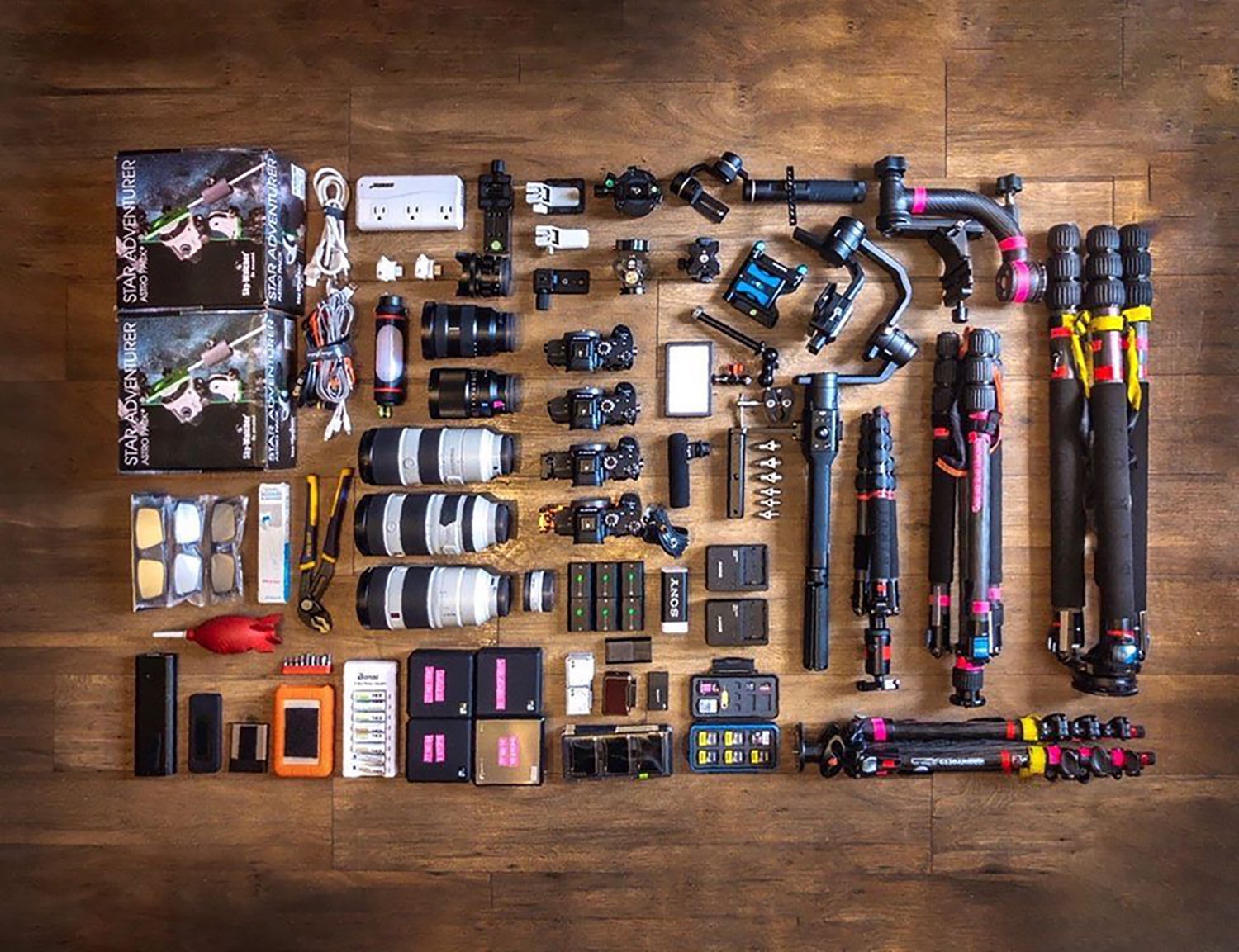 Sony α7R III (x4)
The workhorses of the trip were five Sony α7R IIIs (four of which were in my bag). So many features of this camera make it the ideal tool for capturing an eclipse. The large sensor meant having the ability to crop in without quality loss if need be. The incredibly broad dynamic range is essential for controlling the massive disparity between light and shadow in the moments leading up to totality, and during totality itself. And perhaps the most useful tool was the built-in interval shooting mode. We needed several timelapses to help tell the story of the day, and used several α7R IIIs to accomplish exactly that.
Setup 1: Wide-Angle Timelapse
– Sony α7R III + Sony 16-35mm f/2.8 G Master
– MeFoto Roadtrip Tripod
The first setup we fired was with a 16-35mm f/2.8 G Master lens about a half hour before sunrise to get a wide-angle timelapse of the area where the eclipse would take place to set the scene. The built-in intervalometer is super easy to use and can be set up in a matter of seconds. In aperture-priority mode, the shutter speed will auto-adjust to keep a proper exposure level during changing lighting conditions. This takes hours off the editing process of "Holy Grail" sunset and sunrise timelapses that would otherwise be wildly under or overexposed toward the end of the timelapse. We ran one timelapse for sunrise and another which started about a half hour before the eclipse began and ran until about an hour after sunset.
By the end of the day we had thousands of images to play with to create timelapses that really set the scene and mood, showed elements of the crowd, surrounding area, beach and ocean, and of course the path of the sun as it passed behind the moon and finally below the horizon.
Setup 2: Telephoto Eclipse Video
– Sony α7R III + Sony 100-400mm f/4.5-5.6 G Master
– 1.4x teleconverter
– SIRUI R-5214XL Tripod
– Movo GH800 Gimbal Head
The second camera captured video during totality, so we were able to have real-time footage of the entire event. We shot this in ASPC mode to crop in tighter without losing fidelity, and used a 1.4x converter as well, nearly filling the frame with the sun. We had to move the camera manually during this event to keep the sun and moon centered, and will track them during the edit to keep them center frame as needed.
Setup 3: Tracked Telephoto Eclipse Timelapse
– α7R III + Sony 100-400mm f/4.5-5.6 G Master
– Polar Pro 10-stop ND Filter
– SIRUI W-2204 Tripod
– Star Adventurer Astro Pack Star Tracker
The setup for this footage was a little more ambitious, as we wanted to perfectly track the arc of the sun from before the eclipse, through totality and down to the horizon past sunset without needing to constantly adjust the position of the camera. For this we used a Star Adventurer Astro Pack Star Tracker and fixed it to the sun. It worked nearly perfectly, centering the sun during the entire event through sunset. The tracker works by aligning it to a star during the night sky, or by calculating the angle of the sun and your latitude during the day. When operated properly, it can really be a game changer for "set it and forget it" timelapses and video of moving celestial bodies. It also allows you to get long exposures of the night sky (stars) without needing to worry about getting star trails.
Setup 4: Telephoto Totality Timelapse
– Sony α7R III + Sony 100-400mm f/4.5-5.6 G Master
– Me Foto Globetrotter Tripod
Capturing totality with correct exposure is everything when you're shooting an eclipse, and there are obviously no do-overs. Doing it properly requires bracketing your shots (shooting several continuous exposures at different shutter speeds to expose correctly for all parts of the scene). The α7R III has a bracketing mode that allows you to vary the number of exposures in each burst, and how varied from the base exposure you want the other shots to be. We chose 3-exposure bursts with a variance of three stops. The sun is still very bright just outside the edges of the moon. With a lowest exposure (quick shutter speed), you can see details like sun flares and keep the detail in the highlights without blowing them out (overexposing). The rest of this under-exposed frame will be mostly black with no detail. The base exposure captures the majority of the corona that can be seen just outside of the lunar surface that's obscuring it. The final exposure is the brightest (longest shutter speed), and captures details in the farthest reaches of the corona. When all three exposures are blended in the edit, you get a more detailed final image than would be possible with one exposure.
We captured all of these manually with a remote trigger, adjusting exposure settings on the fly as totality set in. This isn't an exact science, so we did our best to properly expose the frames during totality "by eye" and relied on the wide range of exposures we got by bracketing to compile our final totality images and timelapse frames.
One thing to note about shooting totality – it is best done without a filter to keep shutter times shorter. However, once it ends, it is imperative to replace the ND filter immediately to prevent damage to the lens and/or sensor. This was done for both this setup, and the following setup.
Setup 4: Telephoto Totality Timelapse
– Sony α7R III + Sony 70-200mm f/2.8 G Master
– 1.4x teleconverter
– SIRUI W-2204 Tripod
We wanted to make sure to have a timelapse running that was dedicated to proper exposure for totality. Unlike the previously mentioned setup, we chose to use the interval-shooting mode in the α7R III. We needed to manually adjust the exposures "by eye," so we left the shooting mode in manual to set the exposure levels to our liking. We shot at 200mm with a 1.4x teleconverter to get the sun larger in frame but still have enough room around the edges for the corona.
Setup 5: Wide-Angle Crowd Footage
– Sony α7R III + Sony 16-35mm f/2.8 G Master
– Ronin-S Gimbal
We had a lot of fun walking around and getting footage of people and the crowd before the event. We found the Chileans to be extremely warm, kind and generous and were really interested in our setup and what we were doing there. They were happy to be in front of the camera and we definitely enjoyed our time with them.
Closer to totality, this setup was pointed down the beach to capture the crowd and audio. It was cool to see the area get more and more crowded as it got closer to game time, and to hear the excitement of the crowd swell during totality. We also found it amusing how fast people exited the area immediately after totality was over. There was still a partial eclipse going on!
RX0 II
(w/ Polar Pro filters and FeiyuTech G6 gimbal)
This camera was amazing for capturing b-roll throughout the trip. We mounted it to a DJI Osmo gimbal to steady the footage as we bounced around town, over some less-than-ideal gravely roads and through the Chilean countryside scouting for the best spots to shoot the eclipse. The image and video quality are excellent, and the ability to shoot in a variety of picture profiles give us a lot of flexibility and continuity in edit. We also set up some BTS timelapses of us setting up our gear which we will use in the final video of the trip.
We also used the Polar Pro ND filters to control our exposures to keep shutter speed at 1/25 for more buttery video.
Sony 128GB SF-G Tough Series USH-11 SDXC Memory Cards x5: The last thing you ever want is being slowed down by the write speed of your memory cards, or the read speed when you need to quickly download files and edit after a shoot (as we did). These cards are awesome and let us fire away at will to get as much content as possible during the brief window we had to capture totality.
Lacie Rugged 5TB External HD: We know we'd have a ton of images and video between the two of us, so an external hard drive to store everything and share the content is a must. Always err on more capacity than you think you'll need. You almost always need it. And don't skimp on quality, for obvious reasons.
Polar Pro Filters: We had a wide variety of these (15-stop, 10-stop and 6-stop) to make sure we were covered for the eclipse. We also used them for capturing video to keep our shutter speeds at 1/25s for smoother footage.
Power Strip: If you're ever traveling internationally, these are worth their weight in gold. You only need one adapter to plug in several devices. And when you're charging scores of batteries every night, it comes in handy. We will say this though – those a7riii batteries hold an impressive charge!
Sony α7R III Batteries (x6): We didn't need them all, but we were glad to have them just in case. On even the longest days of shooting we never came close to running out of juice from any of the setups. The α7R III batteries were definitely up to the challenge.
AA Batteries and Charger: These were for the Star Tracker – and a few extra just in case.
Solar Eclipse Glasses: Definitely not a fashion statement (there's a reason you didn't see any images of Mike or me wearing these…) but great to have for a quick check on the eclipse without needing to take a shot.
Sony 1.4x Teleconverter: When we needed a little extra reach from any of our lenses, we had it. We were definitely glad we had this for the trip.
Flashlight and Head Lamp: When you're fumbling around setting stuff up at 3am after zero sleep, these always come in handy.
Microphone: We used this for capturing video of Mike and I talking about our setups and also to capture crowd noise during the event.
Giottos Rocket Air Blaster: These are a must wherever you shoot, but especially if you're planning on shooting in exceptionally dusty environments, beaches, dunes, etc.
External Battery Packs: These are always great to have for charging your phones, camera equipment, etc. when you're on the go.
Whew…that should cover pretty much all of it! If it seems like a lot of gear, it definitely was. But as you can see, everything has its role when you're serious about getting the best images and video you can. For once-in-a-lifetime events like the eclipse, it's always worth it to have the best tools at your disposal.
You'll hear a lot of people tell you it's not the gear that makes the shot, it's the shooter – and they're absolutely right. Without doing our proper research on how to shoot an eclipse, scouting for a week and running through our game plan together time and time again, no equipment would have saved us. We needed to be prepared to pull off a successful shoot. That being said, properly preparing and having the best gear for the job is essential to maximizing your effort. When you want to make the most of your opportunities, the best gear is always part of that equation. Mike and I were really excited with the images and video we created, and very thankful to have the Sony gear to help us realize our vision that started nearly two years ago.