Image making has always been a part of Mark Forman's life. As a young child he got his start on an Ansco 620 box camera before learning to use more capable machines and, eventually, transitioning into the world of moving pictures using his father's 16mm Cine Kodak Model E from the 1930s which he still owns.
Forman cultivated his innate interest in image making continuously ultimately deciding he wanted to go to film school at New York University. On the strength of his portfolio he got in to now what is NYU Tisch School of the arts. From that point on, he would become part photographer, part cinematographer.
"It really progressed from there," he says. "I still did stills, but not as much obviously in those days because motion picture photography was my thing. I was a cinematographer. I won an award for my cinematography in school. It was presented along with Spike Lee who received an award for his film; he was in the graduate school, I was an undergrad, we both were in the same graduating year. We had an award ceremony and I received this cinematography award."
Patent 5467906
More awards were to come. After film school, Forman decided to strike out on his own and see what he could accomplish as a cinematographer. He made a film that was shown on the Discovery Channel. Called Bicycles on Snow, it documented the 1988 Iditabike race on Alaska's Iditarod Trail. The film won best picture at an industry trade show in 1994.
The biggest thing to emerge from that project, however, was one of Forman's leading innovations: the camera bike. Partnering with his friend, famed bicycle frame builder Joe Breeze (a pioneer in mountain biking) Forman patented a custom bicycle mount that could accommodate heavy motion picture cameras in various configurations, while at the same time providing shock absorption to minimize camera shake and vibration on a longer than normal suspended bicycle frame.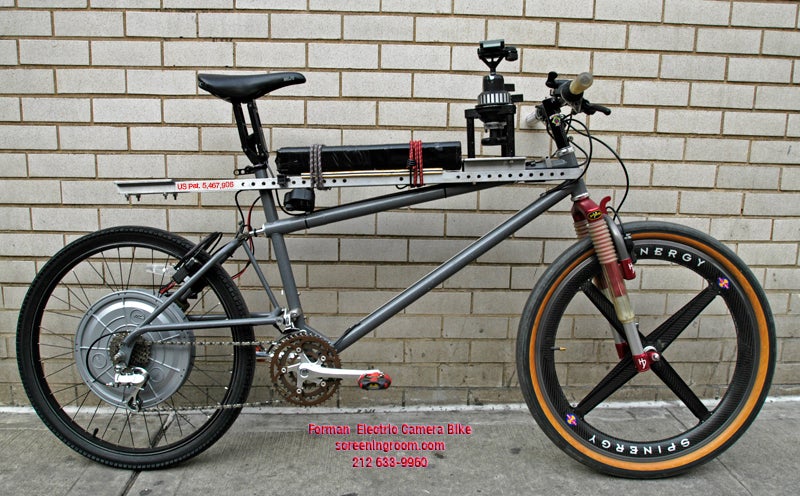 Created for Commercial Motion Picture and Video production, Mark Forman's Camera Bike has a US patent and is still in use today.
"There was no way to film bicycles from other bicycles," Forman says. "And cameras in those days weighed a lot more. My bikes can deal with cameras that weigh 30 pounds without even thinking about it. There was no real way to do it, but I figured it out along with my friend Joe Breeze. We worked together and I told him what to do mechanically, and we both came up with a way of doing it. It was also a very early time with suspension bikes. All those things came together. The bikes still exist and they still occasionally get used. Sometimes I'm the operator, but I have other people too." The camera bike was a true innovation and as such, it received a patent. Asked if he knows the patent number off the top of his head, Forman doesn't miss a beat.
"5467906," he says, smiling.
SMPTE And The Intersection Of Artist & Engineer
The camera bike is just one of Forman's many contributions to the art and science of image making. To that end, he was honored in 2016 by the Society of Motion Picture and Television Engineers with The Citation for Outstanding Service to the Society. He's been an active member and meeting manager for the New York section of SMPTE for more than a decade, and has spent a considerable amount of time organizing and documenting the organization's meetings.
SMPTE is the organization responsible for many innovations relating to moving pictures and Television. Time code, for instance, is standardized according to SMPTE specifications. The organization really does represent the intersection of art and engineering in image-making, which is the ideal place for Forman.
"I've always been a hybrid," he says. "I'm more an artist than I am an engineer. Because in engineering I understand systems more than I do actual components. When I say components, I mean things like resistors, transistors, whatever."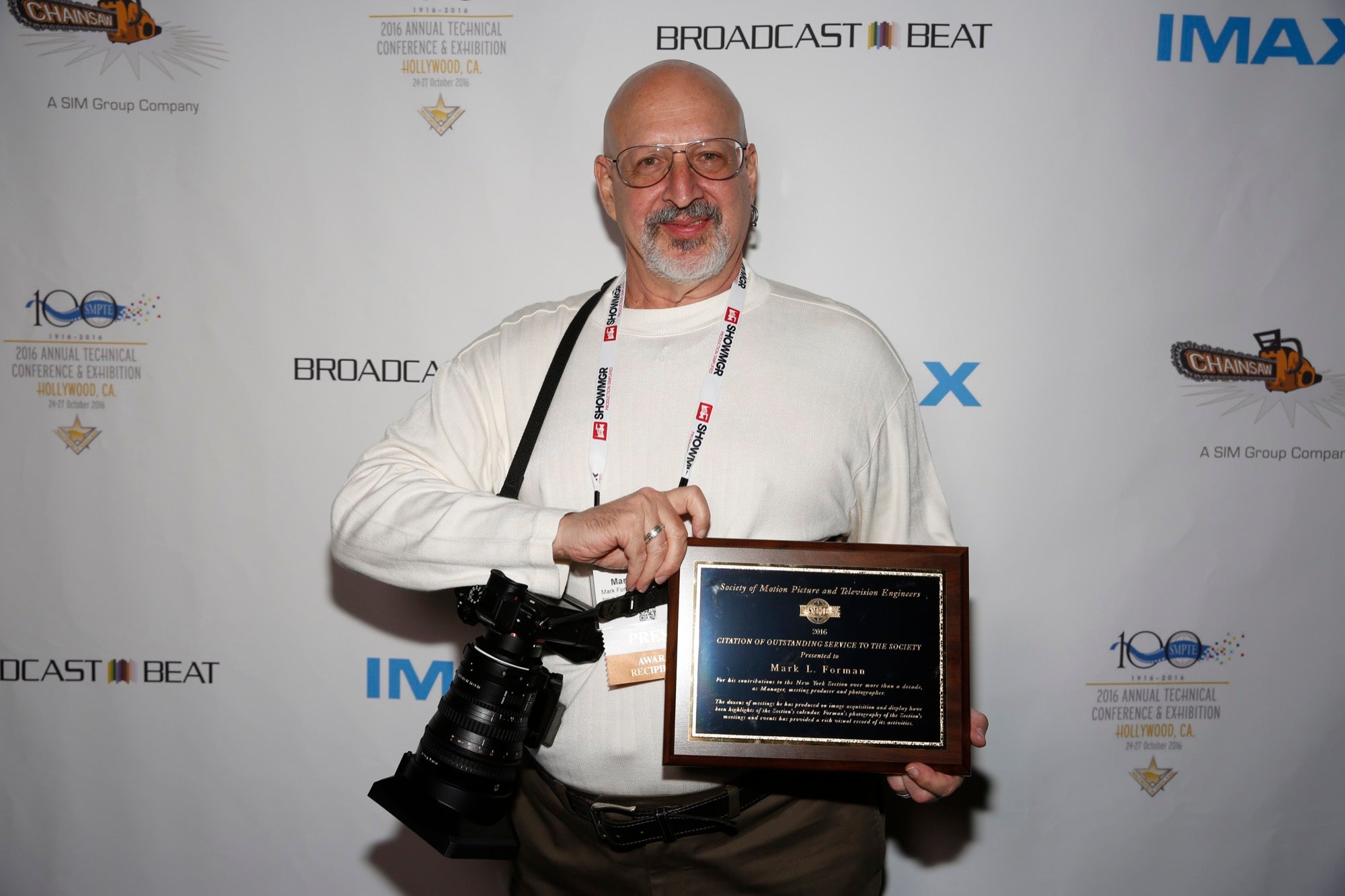 Digital Video, Stills And The Road To Sony
Forman is one of those fortunate souls who truly loves what he does for a living. He appreciates every aspect of image-making, from stills to video, the aesthetic to the technical.
"Absolutely," he says. "Otherwise I wouldn't do it. You only go around once and, boy, I can tell you, if you can do what you want to do, that's an honor by itself."
After a couple decades dedicated to moving pictures, the digital revolution finally reinvigorated Forman's passion for still photography. For that photographer who never could stand the tedium of confinement in a darkroom, the desktop darkroom was especially inviting. And for Forman, the methodology for digital still capture was essentially the same as for his digital video.
"It was very similar to video in many ways," he says, "because it is video in many ways. Digital still photography is video stills. That's really what it is."
When he purchased his first digital camera in 2000, the quality wasn't quite what Forman was used to. But the benefits, even then, he says, outweighed the detriments.
"Within a couple of years of that first camera," he says, "I was back at it doing stills and motion, combined. Not all with that camera, a Nikon D1x, but I would rent a camera for the video. The thing was, of course, it was a professional setup, but it was still digital still images. And digital stills in the early days didn't come close to film. But it gave me the convenience of getting things done quickly."
That purchase indirectly led to Forman's interest in, and eventual work with, Sony. He had always been well aware of the company's influence and had worked with Sony equipment dating back to an audio tape recorder he purchased in the late 1960s just before the recording studio he ran in 1970s. He also says that he was the first private owner of the first professional widescreen SONY DVCAM that existed the D30 WS.
In 2008, he tried out another line of cameras that made some early noise in the stills-to-video hybrid arena.
"I guess I'm good at reading trends," Forman says. "When Canon came out with the 5D Mark II, Vincent Laforet did his thing and everyone in the still world said 'wow this is incredible!' And I said 'well this is interesting, I'm going to buy the camera.' So I ended up with the first 5D Mark II in New York. As soon as someone found out I had the camera they hired me. I shot "Notorious BIG", just an insert shot, but it turns out I'm the very first person in the world to actually be paid to use a DSLR in a feature film. No one else has done that. I still have that camera. I don't use it for anything; it's a piece of history for me."
Forman's early forays into digital still cameras led him to pick up an increasing number of commercial photography assignments—including photography for Sony at the National Association of Broadcasters' annual trade show. It was in this way that he was able to keep an eye on what innovative products Sony was producing. As soon as the company announced its groundbreaking full frame compact mirrorless camera, Forman knew it was time for another change.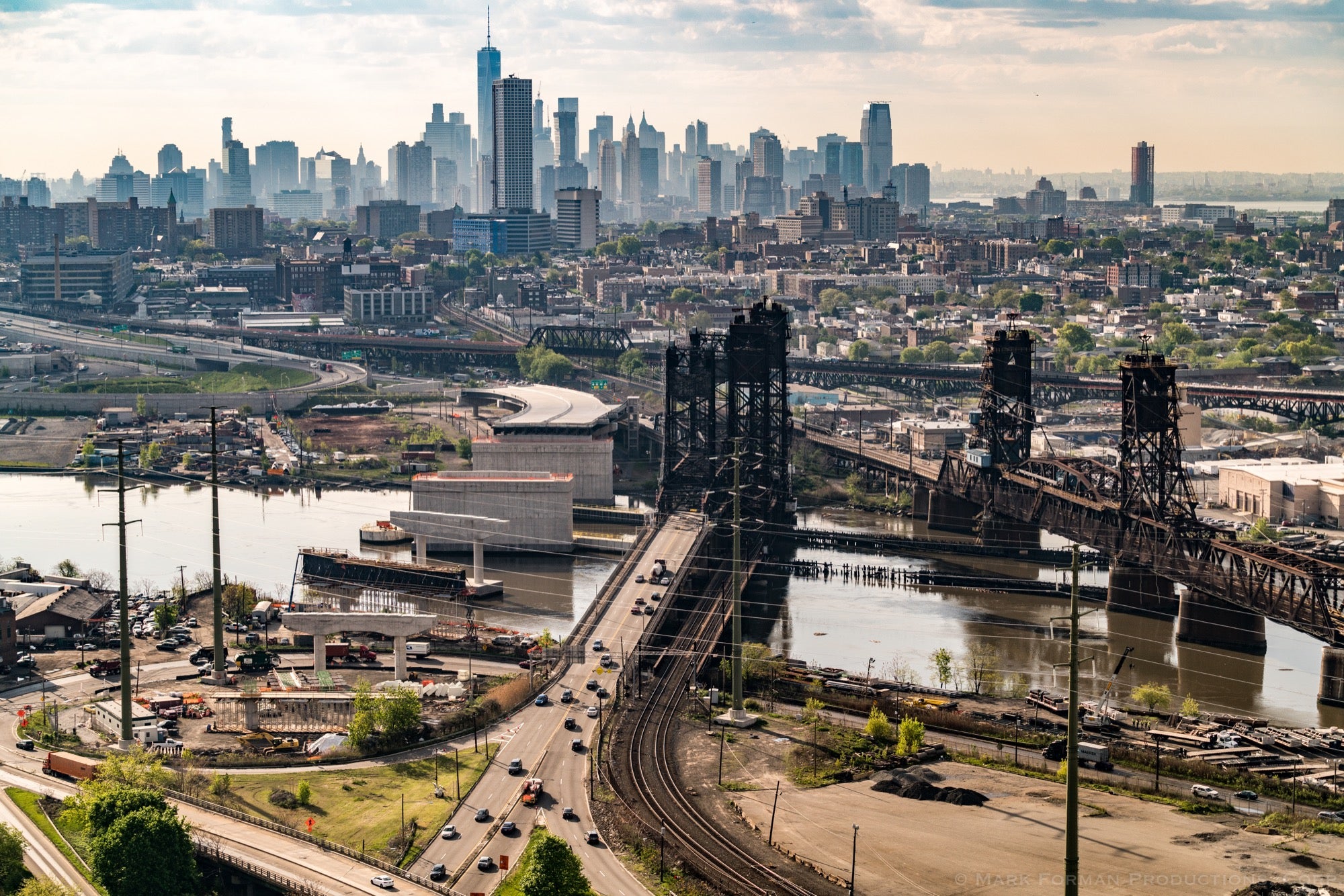 From Forman's project with the Operating Engineers of New York and New Jersey.
"I made the switch," he says, "when Sony came out with the original α7R. I had never used the original Alpha system. What got me to use the α7R was that it had the number of extra stops of range that I needed. It was the visible dynamic range and the support I got from the people at Sony that made me switch. I bought that camera from a retailer."
These days Forman shoots primarily with the α7R II and the α6500 though he also likes the F55 for high-end motion picture projects.
"Along with the α7R II," he says, "I own the 90mm macro, a 28-135mm cine zoom which I used until the G Master lenses came out. I also have a 16-35mm, 70-200mm f/4, and I'm using a G Master 24-70mm which is a favorite lens."
After decades in image-making industries, does Forman profess a preference for one medium over another?
"I'm a combination of both," he says. "I've done so much in so many different worlds. I'm very adaptable. But lately the major things have been stills. Lately I did a helicopter shoot recently for the operating engineers, the people that build the bridges here in New York. And I went to Iceland and made some very large prints from the α7R II. They were spectacular."
After decades of looking at images, stills and video, day in and day out, even with as many different interests and unique changes throughout his career, Forman seems quite content to keep plugging along. If you're fortunate to have the job you most want in life, why wouldn't you be?
"As I always say," Forman says, "I'll retire when I can't see any more."