Winter has already arrived at my home in the Canadian Rockies, and the soft hush of snow is ushering in colder temperatures. As we settle in for the winter, I thought I would share my thoughts on protecting yourself and your gear in wintry weather. But first, a story...
Last winter I had two local ladies from Calgary sign up for two days of private lessons shooting early season Milky Way in Jasper. The night before our shoot we checked the weather. The skies were gloriously clear, but the forecast was for minus 33 degrees Celsius. Terry and Dianne are both accustomed to winter in Alberta and elected to shoot despite the cold. As we were driving, I could not help but notice the temperature gage in my car falling... -34C... -36C... -39C ... -40C.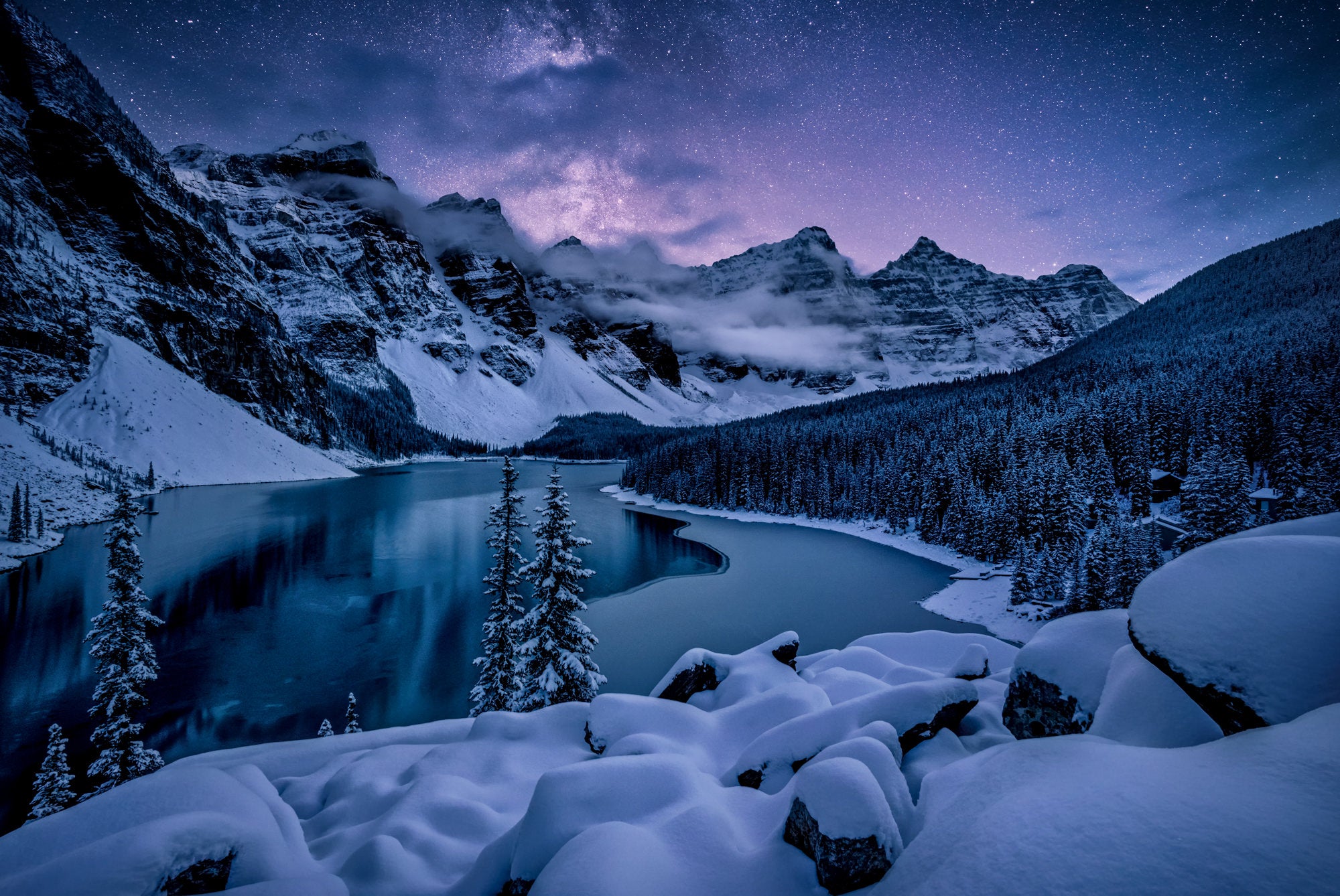 Photo by Rachel Jones Ross.
Landscape and astro-photographer Rachel Jones Ross of the Alpha Collective shares her tips for personal safety, gear safety and more when shooting in extreme cold.
It was cold. It was so cold that on my drive home, the heater in my car would not blow warm air. Luckily, our location was close to the car so we could limit our exposure to the extreme temperatures, and we were dressed for the weather. We set up the cameras (all Sony, and all using the Z batteries). It was so cold that the batteries seemed to discharge in the time it took to pull them out of my warm pocket and put them in the cold camera. Despite the challenges with the cold, we got our shots!
A few days later I was shooting solo at another location, and again the thermometer in my car read -40C. I put on my warmest layers and shot the rising Milky Way. However, this time the batteries in my camera lasted the entire shoot, and I did not feel as cold...
Later that day I was telling my sister about the weather, and I said "this -40C does not feel nearly as cold as the -40C a few days ago." She laughed and said "Rach, you do realize that -40C is the lowest temperature your vehicle registers, right!?"
I hope you get a laugh out of my story if nothing else. However, my experience highlights some important considerations about wintry weather shooting. First, and most importantly, personal safety (and comfort) is always the primary concern. Despite the best planning, temperatures can be much colder than expected.
Safety
In both situations I was within eyesight of my car. This allowed me to limit my exposure to the elements. I carry an emergency kit in my vehicle with a battery booster in the event my car will not start, as well as a Garmin inReach which allows me to communicate via satellite if I have an emergency. I also let someone know where I plan to be, and when I plan to be back!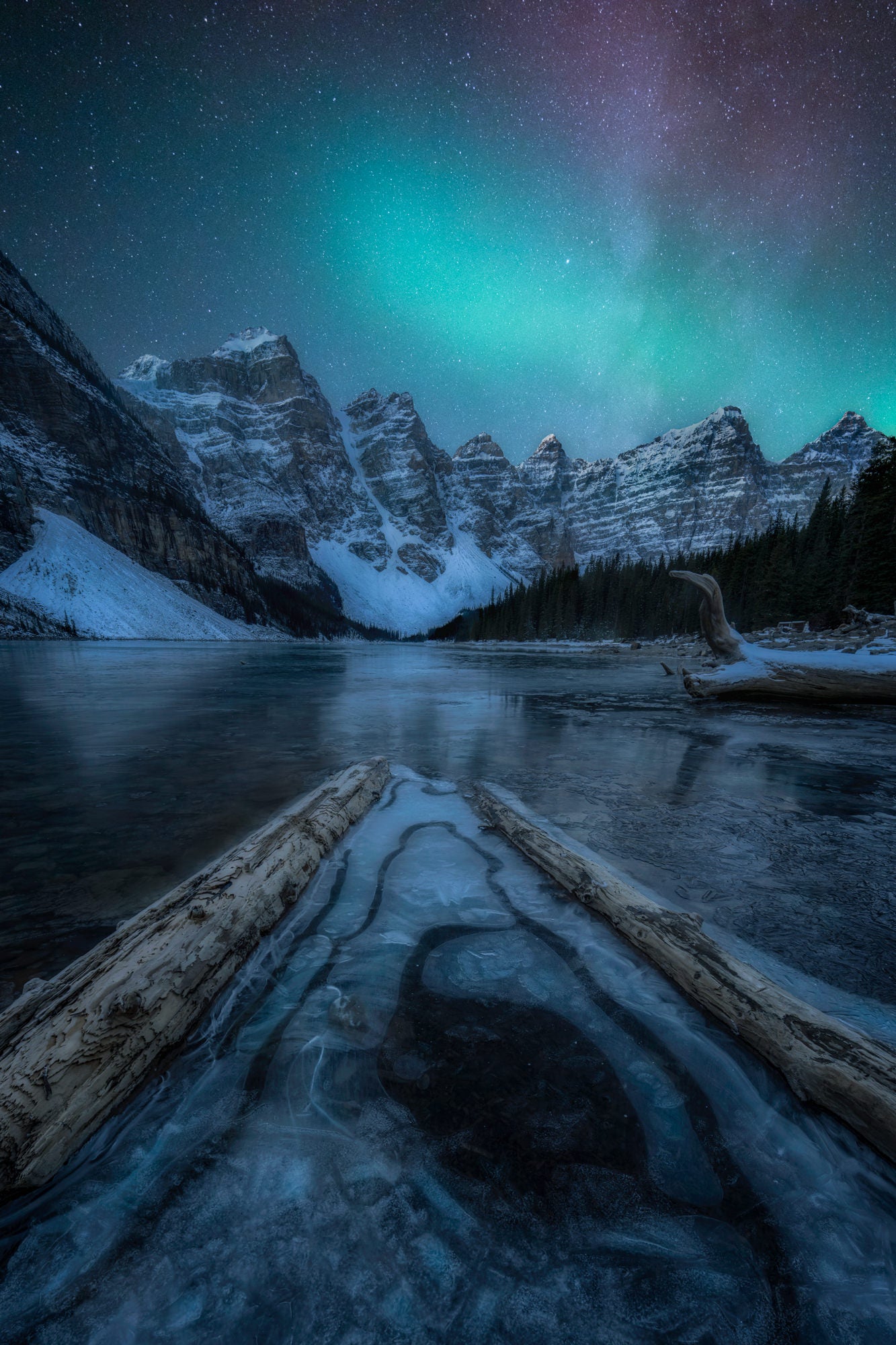 Photo by Rachel Jones Ross.
Staying Warm
Air is what keeps you warm. Down is an excellent insulator because it puffs up and creates little pockets that trap the warm air from your body. Dressing in layers is the key to staying warm. I wear a wool base layer (my favorite is from Patagonia.) I like fleece for a mid-layer and then my outdoor clothing as my outer layer. Avoid tight fitting clothing as it will restrict air movement and leave you vulnerable to the cold.
My Most Recommended Cold Weather Gear
Fjallraven Expedition Jacket: Contrary to popular belief, I really struggle with the cold. For the longest time, I thought it was just me, and I would never be truly warm while doing what I love in the winter months. Then I discovered the Fjallraven Expedition Jacket. I saw an advertisement that said, "never be cold again" and they delivered on that promise. This jacket kept me warm when shooting in temperatures below -40C, and when the heater in my car could not keep up to the cold.
The Heat Company Gloves: These gloves are the warmest gloves I have ever owned. There are a few assorted styles to choose from. My favourite is the Heat 3 Pro. It is a wind resistant, water-resistant mitten, with a built-in liner glove. The liner glove works with touchscreens. It's also thin enough that I can locate functions on my camera and change settings without removing my gloves. The Heat 3 Pro mittens also have a built-in pocket for chemical warmers. These gloves are so good that they are essential gear for my workshop attendees in the winter months.
Chemical Warmers: These little wonders of science have saved my fingers and toes from frostbite countless times. They are air activated when you open the package and produce heat for up to 8 hours. My favourite brand is The Heat Company. The best warmers for your feet are the insole style that run the length of your boot. You can pair that with the toe warmer on the top side of your foot to turn your toes a toasty heat sandwich. It is the little things that make the cold more bearable!
Cameras In The Cold
It amazes me how well my Sony cameras work in the cold. I have tried all the Alpha series of cameras in wintry weather. The latest generation of cameras with the Z batteries have worked for me in temperatures well below -30 Celsius. That said, it is hard on any type of mechanical equipment (the heater in my car included!) to operate in extremely cold temperatures.
(Editor's note: You can learn more about the gear Rachel uses for her photography in her What's In My Bag article.)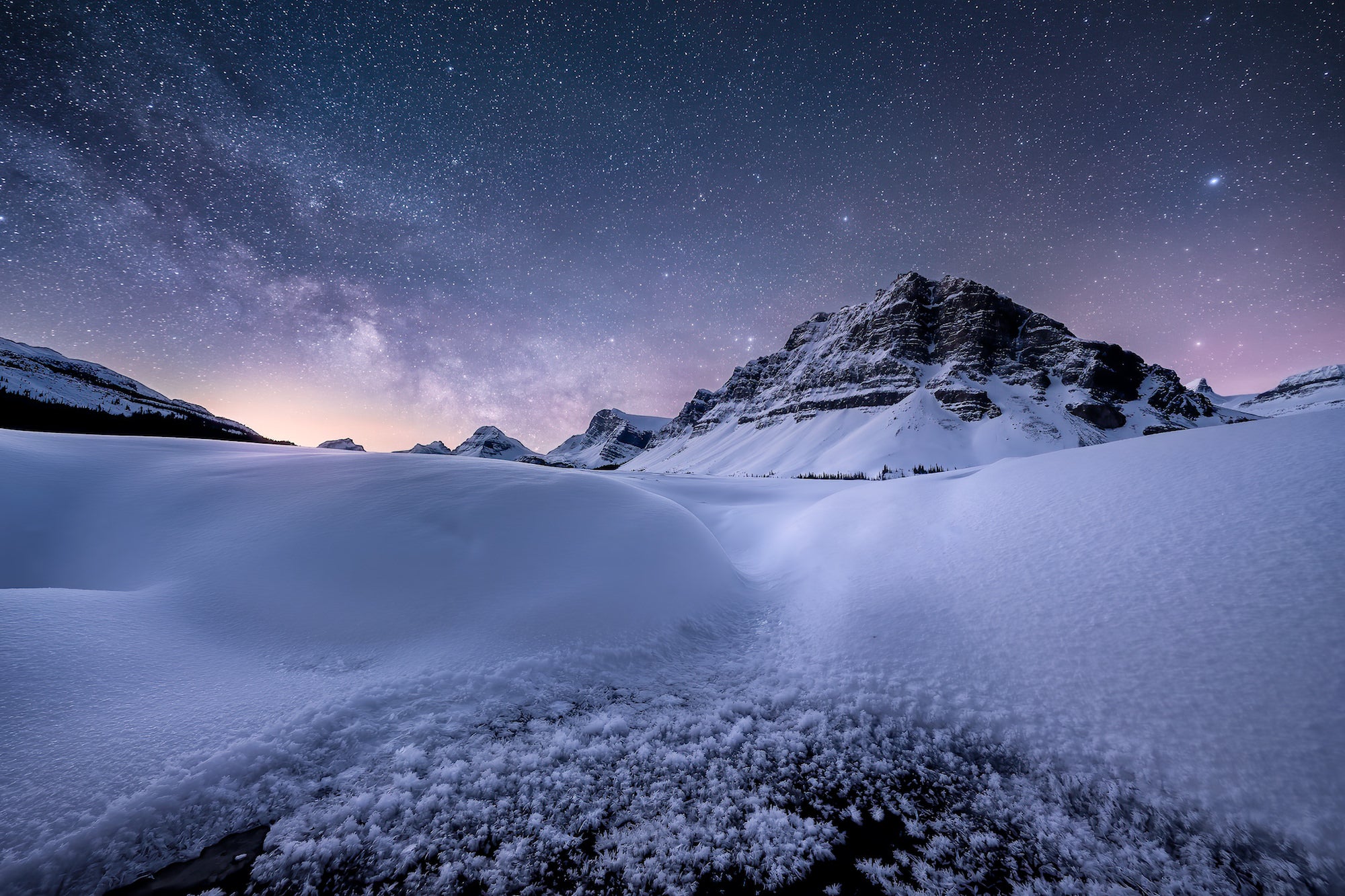 Photo by Rachel Jones Ross.
Caring for Your Gear
Check your lens (and camera) regularly for frost build up. A bit of frost will not hurt your gear. However, it will cause a haze on your image. To remove it, use a simple, plain air blower before reaching for a lens cloth; you are likely to melt the frost from the warmth of your fingers with the cloth, then smear water across the lens (which then freezes!). And never use your breath to try to clean or wipe a lens! You can prevent frost from forming on the body of your camera and lens by using a rain sleeve. Any rain sleeve will work; I use the cheap plastic ones. You can also prevent frost on the front lens element with lens warmers. A friend recently bought me one to try, and so far, it seems to work great (thank you Dan!).
Keep your batteries warm. Your batteries will have a longer life in the field if you carry them in a jacket pocket, rather than your backpack. You can also put a chemical warmer in your pocket next to your battery for a little extra warmth.
The Magic of Winter
Winter is a magical time of year for photography if you are prepared for the weather. The snow simplifies the scene and reflects light at night. The landscape is ever changing as temperatures rise and fall, and the snow falls and blows. You can visit the same location every day and explore new foregrounds to photograph.
I hope you found this information helpful! If you are interested in learning more about winter landscape or astro-photography, connect with me on social media or through my website.
See more of Rachel's work on her Alpha Universe Profile and on Instagram (@rachel_jones_ross).