For some of us photography is what we do for a living, for some it's a passion and a creative outlet, but the one thing we all share is a love for creating imagery. Personal projects and shooting for oneself can be the best thing we do to improve our photography, inspire ourselves, discover, rejuvenate our love for creating imagery and attract the clients we should be working with. In my case I have supported myself one hundred percent on photography since the age of 19. I mostly get paid to photograph people, but I'm sure like many of you, all types of photography excite me. I love to photograph anything I can get my eyes on. And sometimes, I find it especially helpful to do something very different from my usual work to maintain a sharp creative edge.
How wedding pro Robert Evans took a very different kind of photo trip to keep his creative batteries charged
How I Prevent Burnout
I tell my brides "I shoot ninety percent of your wedding for me" because even in my paid assignments, I feel it's important as an artist, to shoot for myself and not to get caught up photographing what I think my clients want. I do this because I want to continue loving my job, attracting the right clients and not getting bored, which can lead to burnout. Shooting for myself means learning to listen to the little voice inside, trusting that intuition and following it.

Sony α7R III. Sony 70-200 f/2.8 G Master. 1/50-sec., f/7.1, ISO 64
Personal projects are a great way to find your voice, your vision and breathe new light into your work. I recently exercised this way of thinking and took a road trip to Door County Wisconsin, with the goal of photographing the fall. I had heard many sing the praises of Door County and had been wanting to get out and photograph different subjects, something other than people which are my usual subjects. So, for a few weeks I kept my eye on the weather and when Mother Nature cooperated, I hopped in my car and drove six hours to the 75-mile long peninsula surround by Lake Michigan just east of Green Bay Wisconsin. I made the trip with the intention of maximizing magic hour opportunities within a 48-hour window. I wanted to shoot one sunrise and two sunsets before I had to return home.
Go For Simple Yet Stunning
My objective was to photograph fall, which turned out to be a bit more challenging than I anticipated. Yes, there were beautiful colorful leaves on a lot of the trees, but you can't just shoot foliage and end up with gallery-worthy images. There must be context to go along with the colorful trees. I was going for simple, yet stunning. Of the 600+ exposures I captured during the 15 hours of light I had on my road trip, I ended up with 8-10 images that I felt were worthy, six of which, I felt were good enough to share in this article, three of those, I would hang in my own home, and one that I'm most proud of.
My Cameras & Lenses For The Trip
Considering I set out to photograph landscapes, I chose to take my Sony α7R III. I wanted a large 42 megapixel file to print from and I wanted the ability to crop in a bit if needed. I also wanted the beautiful image quality and vivid colors that the α7R III produces.
I took four lenses from my kit to photograph Door County, the same lenses I use to photograph weddings and portraits. The two long lenses I brought along were the 100-400mm f/4.5-5.6 G Master, the 70-200mm f/2.8 G Master, the 16-35mm f/2.8 G Master and the 24-105mm f/4 G.
Sony 100-400mm f/4.5-5.6 G Master: I use this lens from time to time at weddings, especially during a ceremony when I want to get in close without being obtrusive or to compress lines in the builidingsI work in.
Sony 70-200mm f/2.8 G-Master: I wanted something with a long focal length, but a little faster aperture in case of a low-light situation. Since I'd be shooting into the edges of the day at sunrise and sunset, the f/2.8 maximum aperture would be welcome.
Sony 16-35mm f/2.8 G Master: This wide-angle zoom is ideal for landscape imagery. In my wedding work, I use my 16-35mm mostly on the dance floor on a camera with a flash. I look over the camera and wait for the best expressions while using the α7R III's Continuous Auto Focus. I don't have to look through the camera shooting this way and I never miss a great moment with this lethal combination. I love the 16-35 G Master + α7R III combination and I was eager to use it in Door County.
Sony 24-105mm f/4 G: For an in-between focal length, I picked the 24-105 f/4 G. This lens is a new addition to my bag and one that I'm extremely pleased with. The image quality is amazing. During weddings, I've been using the 24-105mm lens when I hang out with the bride and dad just before they walk down the aisle. The focal range gives me the freedom to zoom in while keeping a comfortable distance to allow the authenticity of the moment to happen. Just like at a wedding, for my fall trip, the 24-105mm lens is wide enough to allow me to include scenery or multiple subjects to help capture my story.
Camera Setup For Early Morning & Late Afternoon Light
Overall, I kept things simple. I used the electronic viewfinder while in manual mode to dial in my exposures on the fly. To take advantage of the early morning and late afternoon light, I used manual focus, combined with focus peaking (I set it to red), to highlight the areas in my frame that I wanted to make sure were in focus.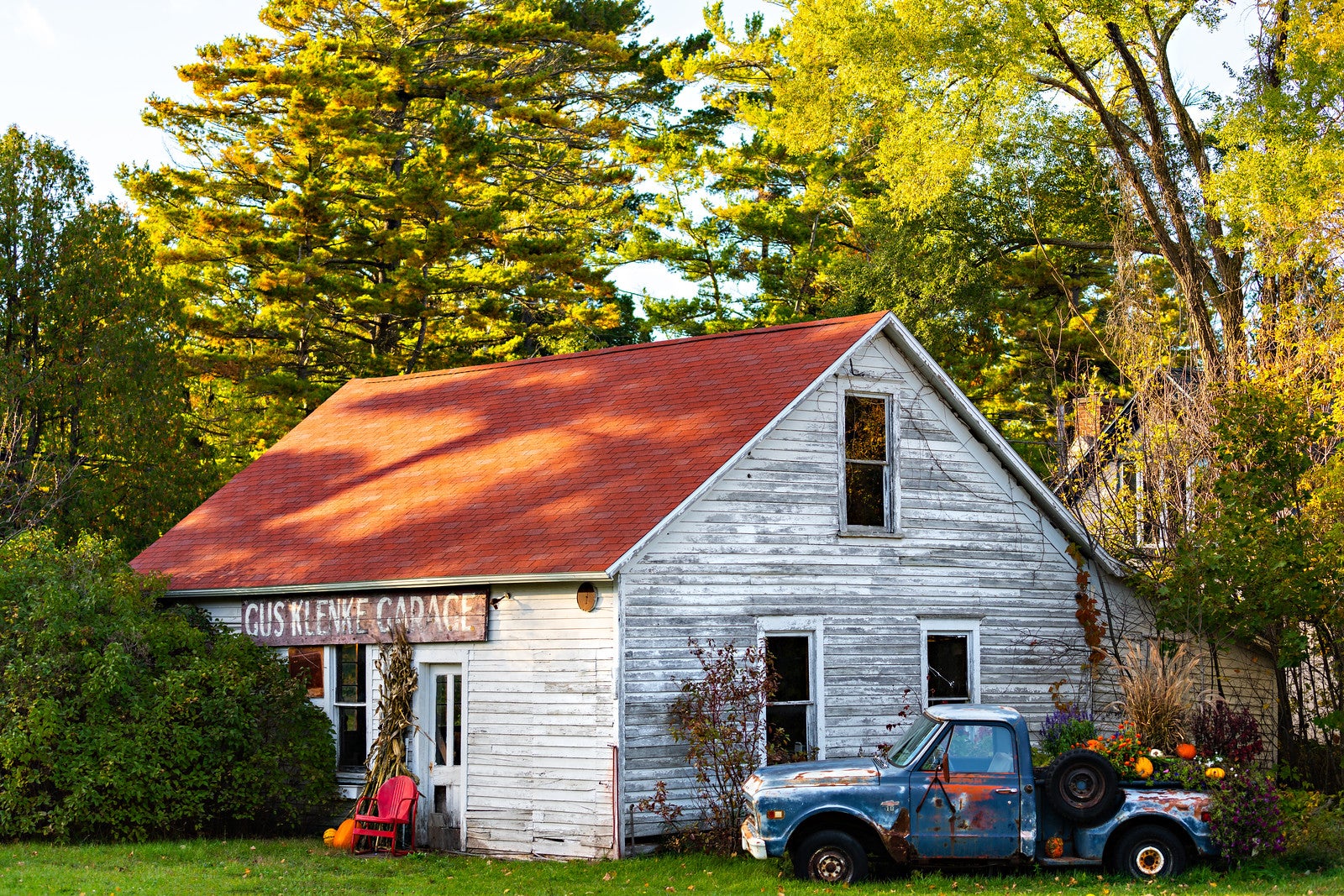 Sony α7R III. Sony 70-200 f/2.8 G Master. 1/400-sec., f/2.8, ISO 64
This image is a perfect narration of Door County for me; quaint, with a little-town feel, lots of character, and full of nooks and crannies, micro scenic vignettes and peacefulness and charm that make you feel welcome. I feel like you never want to leave a scene like this one.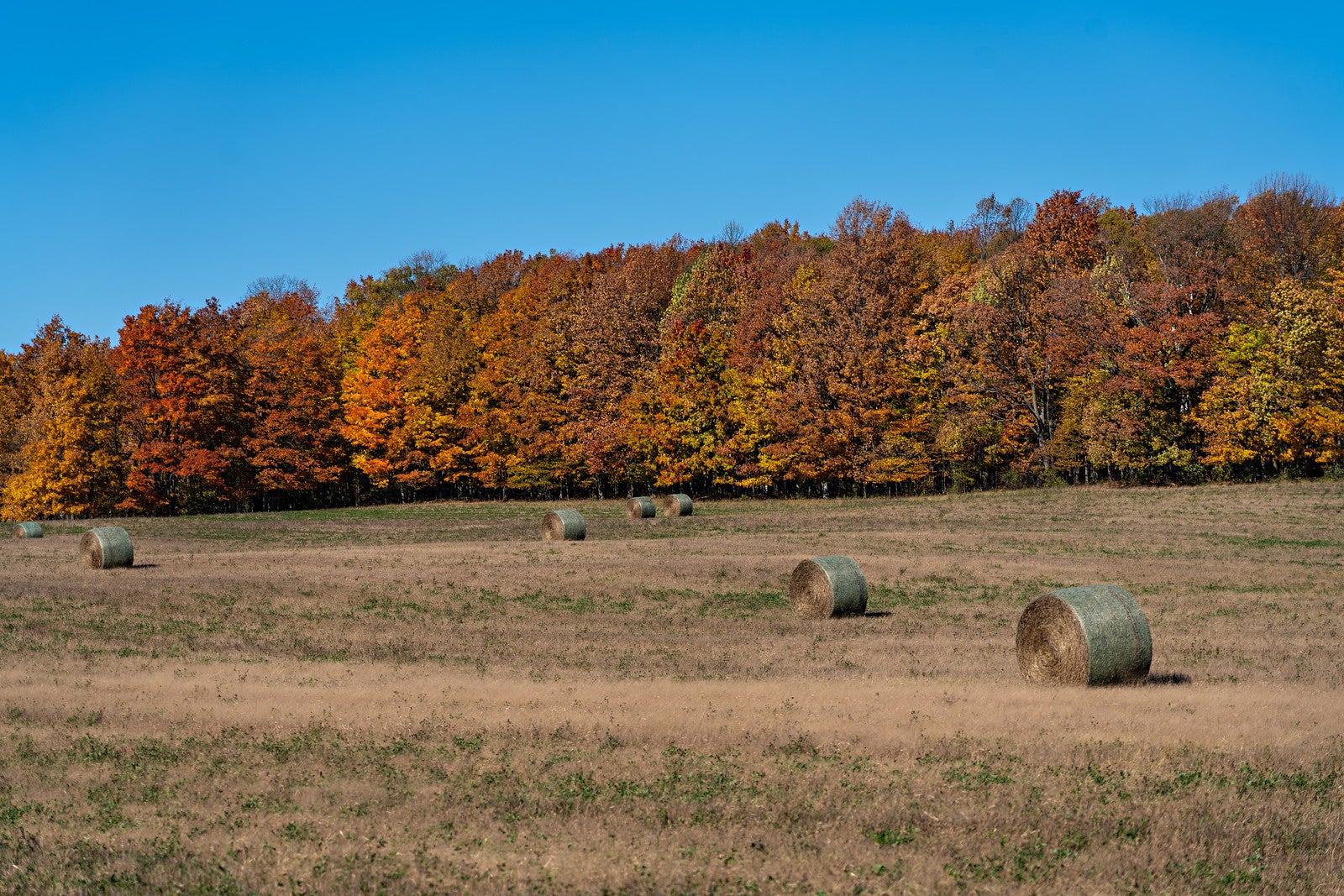 Sony α7R III. Sony 24-105mm f/4.0 G lens. 1/640-sec., f/4.5, ISO 50
Nothing says fall like rolled hay bales resting on harvested fields against a backdrop of yellow, brown and orange-tinted trees set against a refreshing blue sky. I framed the hay bales in order to lead the eye through the image using the rule of thirds, middle ground, foreground and background as well as leading lines.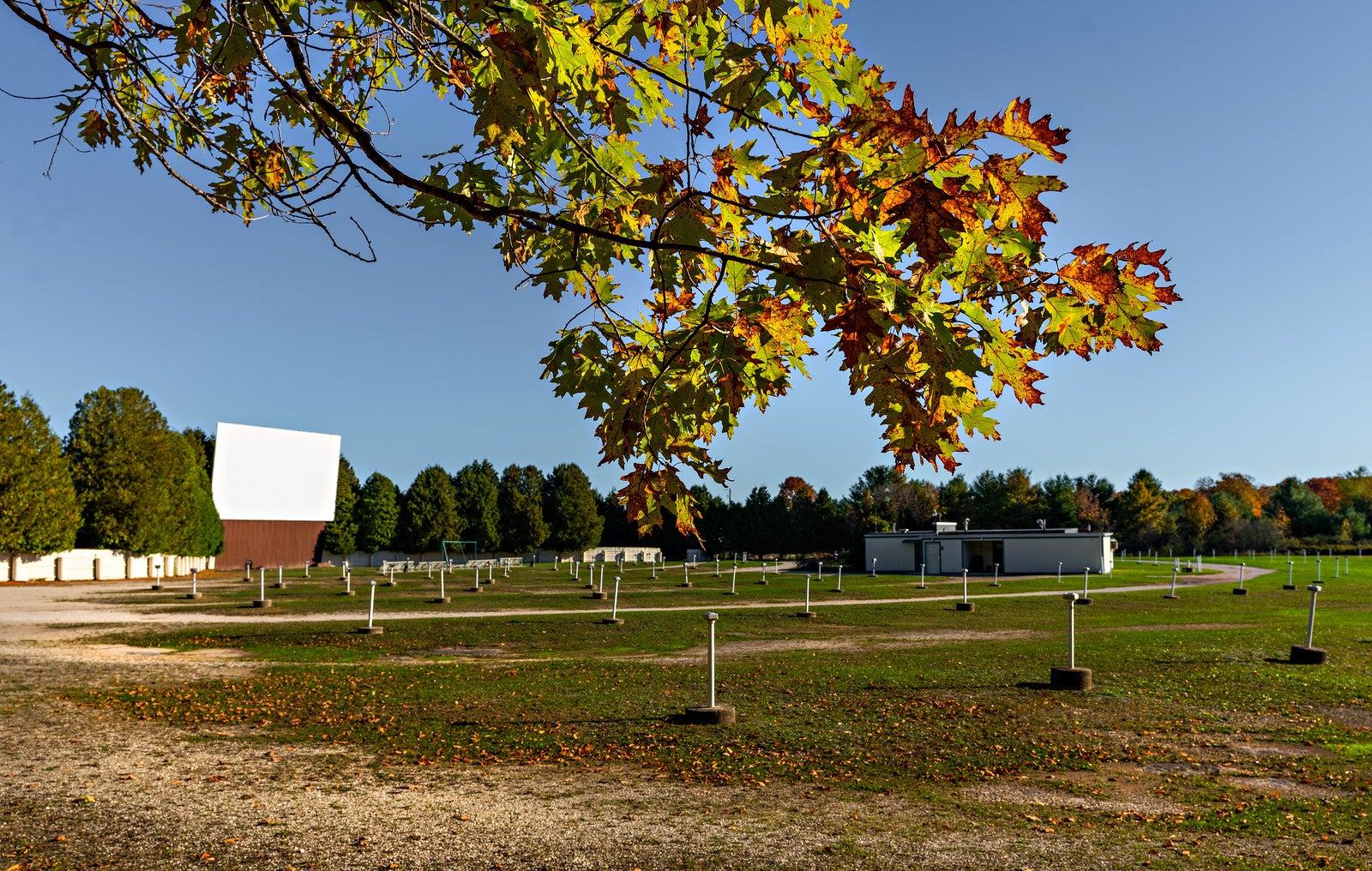 Sony α7R III. Sony 16-35mm f/2.8 G Master lens. 1/250-sec., f/7.1, ISO 64
When was the last time you went to a real drive-in theater? I snuck in through the exit, even though the sign said 'closed for the season.' This place brought back childhood memories of my grandfather and the drive-in when we would go when I was a boy. The sound poles even had the old-school metal speakers that weigh a ton, which attached to your car door so you could hear the film on the big screen.
I had to figure out a way to show the whole drive-in while keeping with my fall theme. After taking several images, I still wasn't happy, so I kept walking around looking for different perspectives and angles. Finally, on the far side, toward the back of the theater, I found my shot – one which included a hint of fall, but still gives a good scene of the space and an overall view of the drive-in. I composed with foreground, middle ground and background zones and I chose to use a small aperture to make sure everything in the frame was in focus from front to back.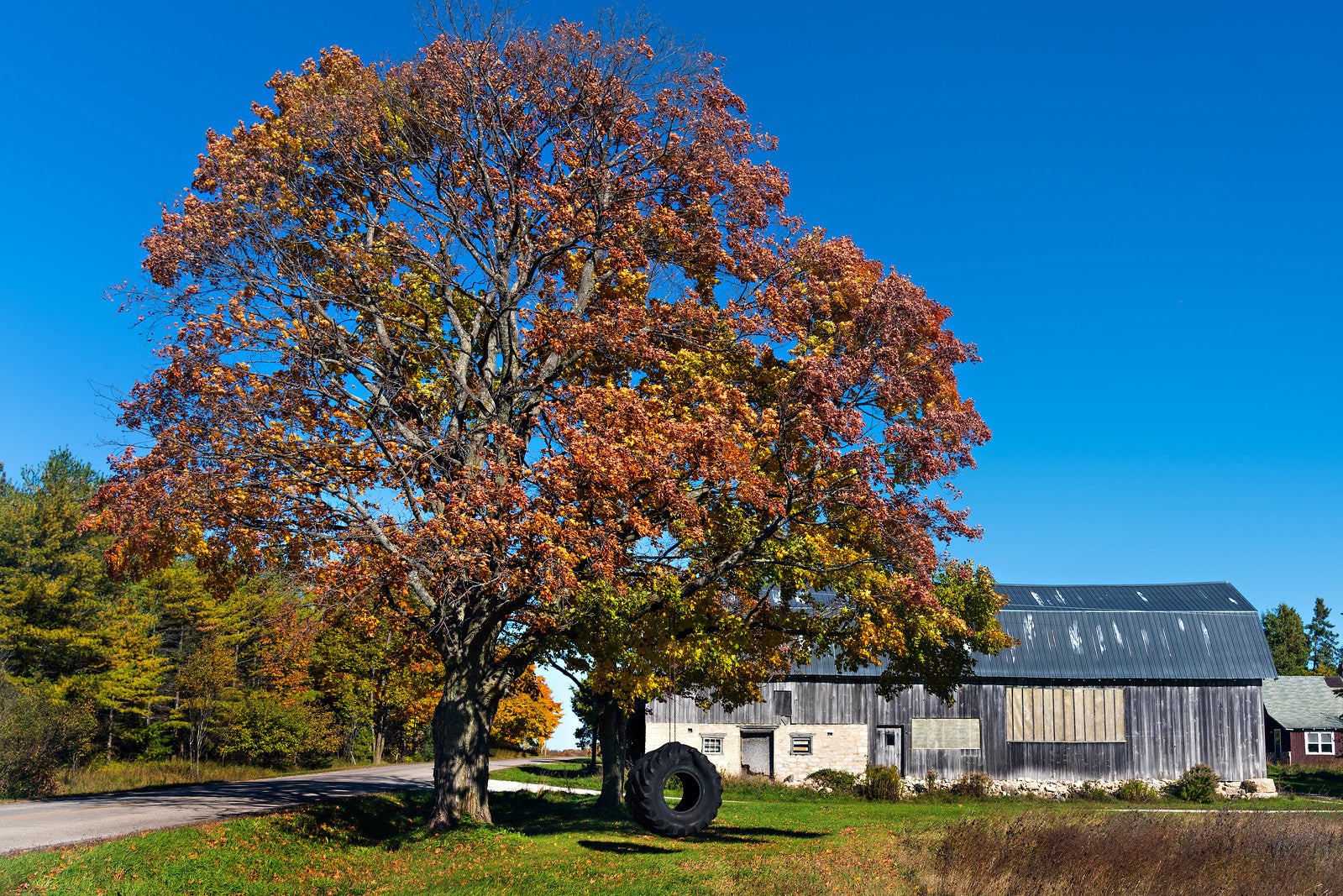 Sony α7R III. 24-105mm f/4.0 G lens. 1/640-sec., f/5.0, ISO 50
Driving back roads and looking for unique photo opportunities that others before hadn't already captured, I came upon the kind of tire swing every child dreams about. It was suspended from a dense rusty chain, in a huge tree under a canopy of fall color. I walked around the field looking for the best angle and storytelling opportunities.
I picked this angle because I wanted to include the barn and show the grand scale of the tree, which gives one perspective on how big the tire swing really is, all while still including the road crossing through the right side of the frame. I felt the road was important to help convey the story; a kid's dream tire-swing along the side of the country road.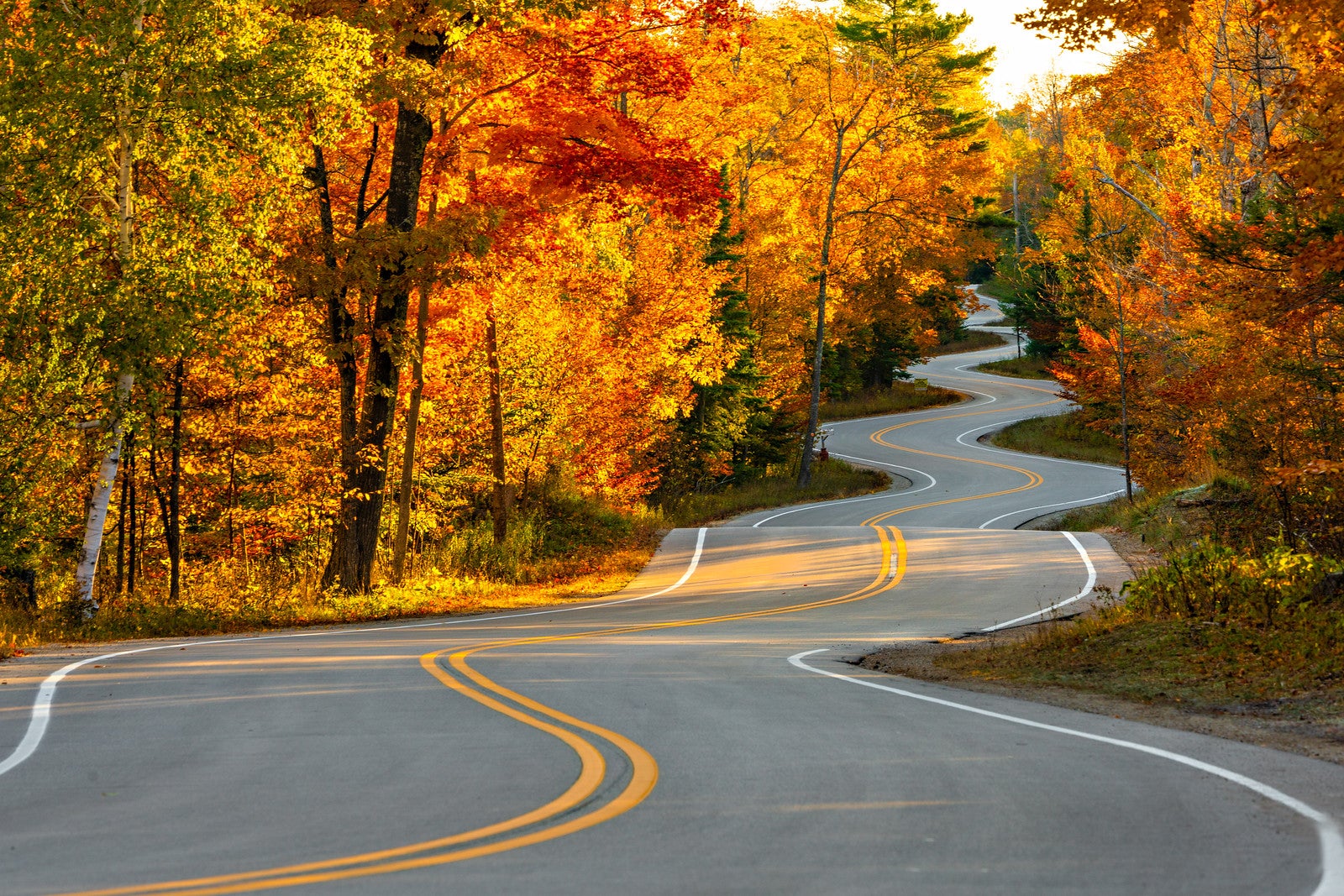 Sony α7R III. Sony 100-400mm f/4.5-5.6 G Master lens. 1/50-sec., f/11, ISO 160
This scene is one that many before me have photographed. This road leads to the ferry on Highway 42 at the tip of the peninsula. Looking for things to photograph during my research, this was one place that was obviously a must-see. The trick was to take an image that was a bit different than those before me. I knew one way to accomplish this was to photograph the scene with the best light possible, so I got up at 5:30 a.m. and sought out this popular location.
I arrived at about 6:45 a.m., as the sun was just rising. I watched and waited over an hour as the light changed the color of the leaves, bringing the scene to life. There were a few tourists who came by and snapped pictures and selfies with their smartphones, but other than that, being in this spot was very peaceful. I only saw about five cars during the time I spent there. I chose the Sony 100-400mm G Master lens to compress the windy road and enhance the entire unique stretch.
With the lens zoomed to 400mm to compress the curvy road, the beautiful morning light and fall colors give this image more impact than what the eye sees. I use the 100-400mm for weddings in the same way, to compress leading lines in architecture in churches or hotels. I've also used it to photograph airshows at 400mm to get in close and capture images you just can't get with other lenses. I find it to be extremely sharp across the frame which is important for showing detail in fall foliage.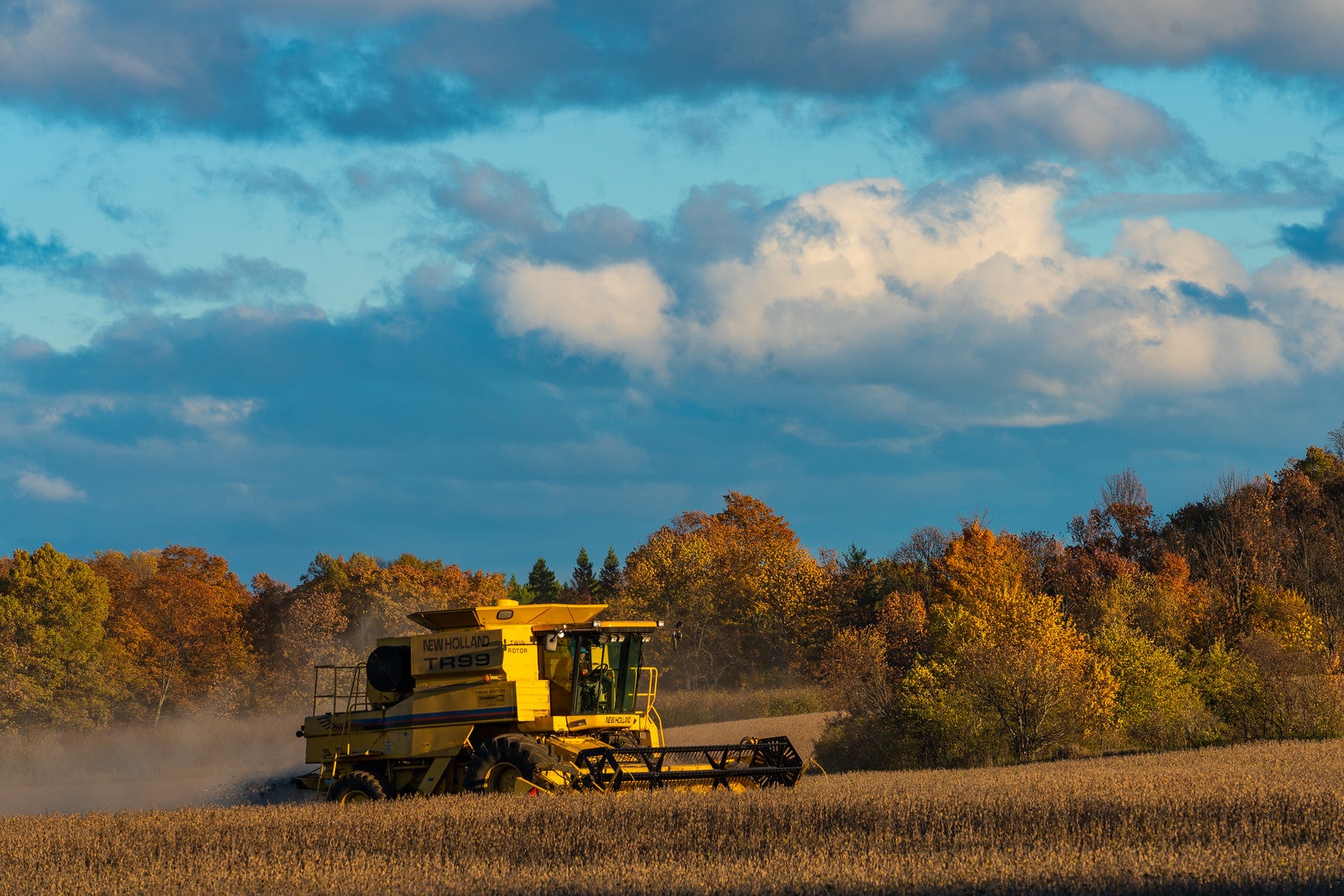 Sony α7R III. Sony 70-200mm f/2.8. G Master lens. 1/200-sec., f/10, ISO 64
If you haven't already guessed, this is the image I'm most proud of during my photographic getaway to Door County. I was across the street photographing a building with repetitive purple doors, however the light wasn't very dynamic, and I wasn't feeling it. Then, I heard a noise behind me in the distance. As I turned around, the first thing I saw was a yellow tractor, then I noticed the glowing late afternoon sun reflecting off the tractor and the beautiful clouds mixed with blue sky; a combination of things that started my feet moving to get a closer view.
First off, you don't usually see yellow as a tractor color. Seeing that, combined with the beautiful late afternoon light against the muted fall leaves in the distance, I knew there was a great image waiting to be had. After clicking off a few frames to get a feel for the image I wanted, I waited for the yellow beast move to the exact location in the field I wanted for high-impact rule of thirds composition.
I exposed for the highlights on the tractor as well as the sky. The image was a little dark in the viewfinder, but I knew I would be able to bring out the detail in the shadows of my RAW file in post-processing. One of my favorite features in my Sony cameras is the electronic viewfinder which allows me to see and adjust my exposures in real time, especially when time is of the essence.
Overall, my shoot-for-myself getaway was a very rewarding adventure. I got out and captured images that are not my typical subject matter. I feel it's important not to label oneself as a certain type of photographer. I'm known for my wedding photography, but that's not the only thing I'm capable photographing well. I'm a photographer first and foremost. I use my vision and my camera to create different kinds of unique, visual art.
Get out and challenge yourself. Shoot content that's outside of your comfort zone. If you do this you'll grow visually and it will enhance your work.
Like the slogan says "Just Do it."