My name is Erik Aune (@mrerikaune), born and raised in Trondheim, Norway, where I work as an engineer in the HVAC industry. Six years ago, I got a camera as a birthday present from my mom and dad for my upcoming trip to the Galapagos Islands. That trip sparked my interest in both travel and photography, and since then I've been traveling and photographing places all over the world as a hobby.
See how photographer Erik Aune captured this mesmerizing blue-hour landscape photo with lightweight APS-C Sony Alpha gear.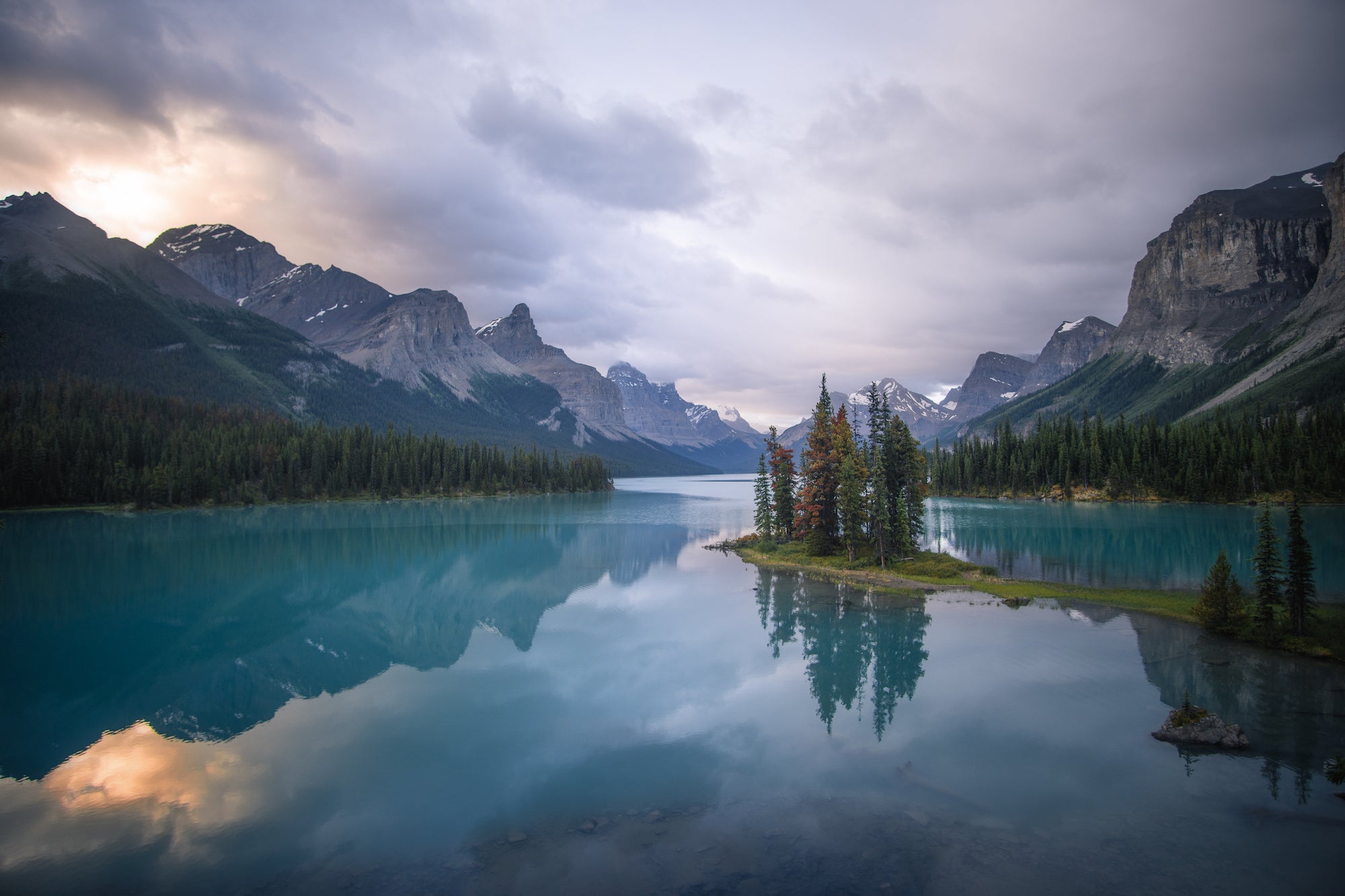 Photo by Erik Aune. Sony α6300. Sony E 18-105mm f/4 G. 1/160-sec., f/4, ISO 100.
Inspiration
What I love about combining landscape photography and traveling, is that it will take me to some absolutely breathtaking locations. If I'm really making an effort to get to that place, it feels so much more rewarding, almost like these photos means more to me than others. Never has this been more true than for this particular spot – the Spirit Island of Maligne Lake in Jasper National Park, Alberta, Canada. I saw this place on Instagram, and it was one of the reasons my friend Øyvind and I decided to do a two-week road trip in Canada.
The Gear
The landscape shot was made from the lookout right next to Spirit Island which is basically the go to spot for photographers, and was taken with the Sony α6300 with the Sony 18-105mm f/4. For me, this lens is the perfect go-to lens for travel and landscape photography from sunrise to sunset. It's sharp and lightweight, and has everything covered except for the widest angles, for which I have a 12mm.
Getting The Shot
Spirit Island is quite possibly one of the most famous landscape spots in Canada. Getting to the island, which is actually a peninsula, is quite easy. You can drive to the lake and take a tour boat from there and have a 15-minute timeframe to photograph the location along with the rest of the passengers. However, the boats run only on daytime and private motorized boats are prohibited, so sunrise and sunset photography are reserved for those who make an extra effort by canoeing or kayaking for a 14 km one-way paddle. If you don't want to do the full 28 km paddle in one day, you'll have to be lucky enough to secure a camping spot in one of the lake's three campgrounds, which is easier said than done. Last but not least, this area is prone to unpredictable and rapidly changing weather, often meaning high winds, rain and low clouds, so your paddle might not turn out the way you hope for.
Photo by Erik Aune. Sony α6300. Sony E 18-105mm f/4 G. 1/200-sec., f/4, ISO 100.
When we set off towards our campground from the docks, we had crystal clear water that mirrored the towering mountains around. The scene was just jaw-dropping. Forecasts were perfect for photography - sun and clouds - although I will admit we weren't prepared for the one-degree Celsius temperature in late-July. After reaching the campground, we paddled the two km to Spirit Island for sunset, and then again very early morning the day after for blue hour and sunrise. The conditions were really good, a mirroring lake and moody clouds with some light from the rising sun. It was just mesmerizing to stand there having this absolute gem all by ourselves, and I could take all the time I needed to set up the composition the way I wanted without bothering or being bothered by other people. I used a sturdy tripod with a five-second self-timer to try to make the photo as sharp as possible in the morning light. I set the camera to f/4, 1/160-sec. shutter speed and ISO 100.
It all made the hard canoe trip so worth it. To add to the magic, we got to witness a mother Grizzly with her two cubs roaming near the shoreline at a safe distance. We really felt like we were in the wild and felt lucky that our canoeing adventure was everything we hoped for.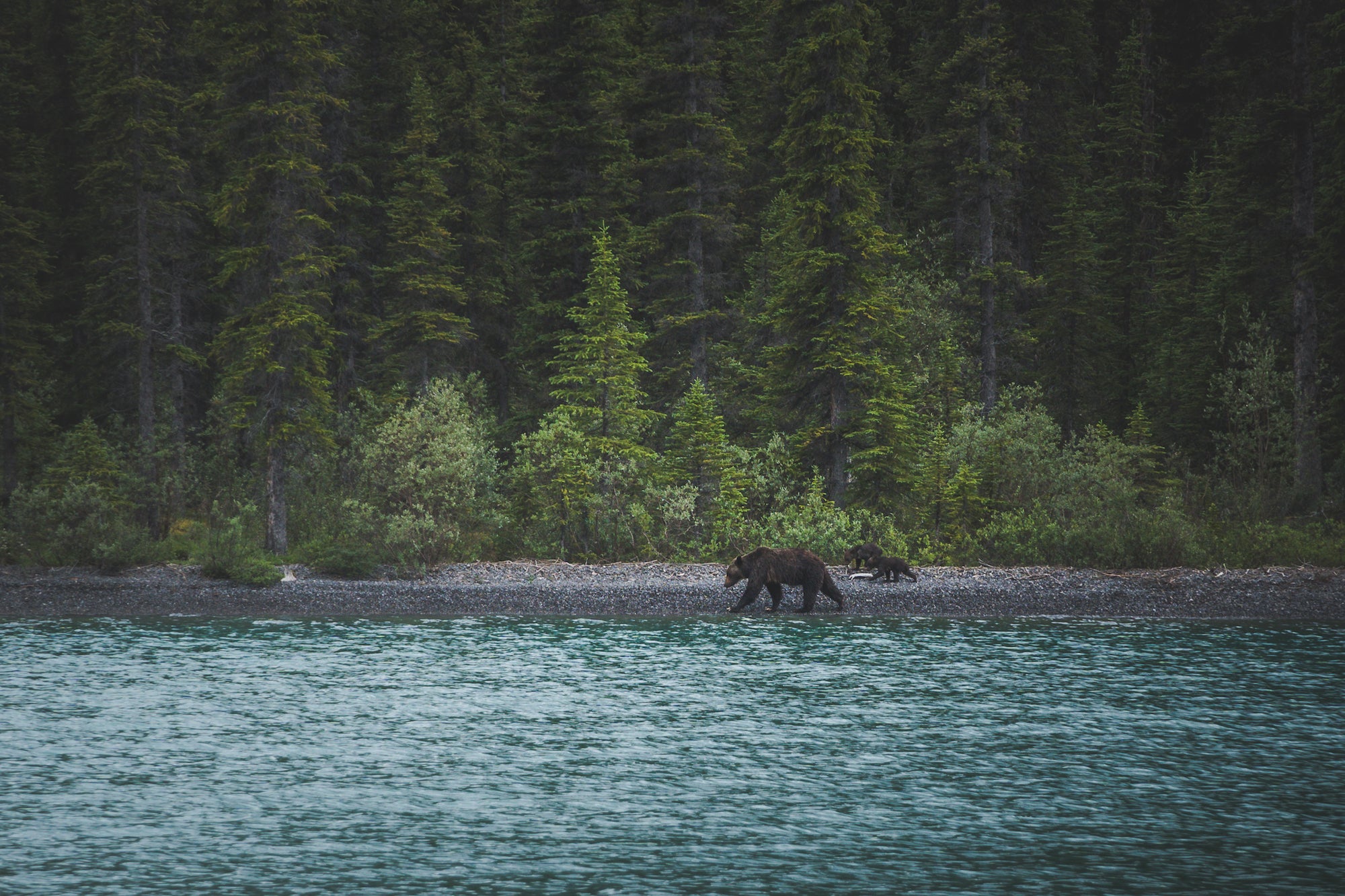 Photo by Erik Aune. Sony α6300. Sony E 18-105mm f/4 G. 1/200-sec., f/4, ISO 100.
Post-Production
When editing the shot, I was trying to convey the feelings I felt when standing there and taking in the colorful and quiet atmosphere. It was late blue hour at its finest, right before the sun started to color the sky. I started in Lightroom where I adjusted the colors, shadows and highlights. I also increased the saturation of the red colored trees on the island. These red colors do indeed look very good on photos, but they are caused by a tree bacterium that in time will kill the trees, so there's a certain sadness connected to the reds that I wanted to emphasize on. Furthermore, I toned down the purple and magenta colors as they were a bit too prominent, particularly on the clouds and grey mountain sides. There's still a good touch of purple and magenta left though, exactly as I remembered the scene. I added a slight dark vignette to further draw your eyes onto the island.
For the end touch I used Photoshop to add a bit of Orton effect, and removed some small distracting objects in the water. Lastly, I used a bit of selective masking with dodge and burn to separate the mountain layers for a little more depth, before I ended the editing with some sharpness, details and contrast enhancements.