The drive to do the work that truly matters is like a fire deep inside some people. For photojournalist Lynn Johnson and documentary filmmaker Melanie Burford, that fire burns bright. But the drive to do something important—to tell the stories that aren't being told—bumps up against an all too familiar challenge. Funding. At a time when the 24-hour news cycle obsesses over 140-character missives, there are scant resources available for in-depth photojournalism and documentary filmmaking.
Through a special grant from Sony in connection with The Photo Society, Johnson and Burford were able to work with the Ripple organization to produce projects on two special aid programs, Operation ASHA and Pact. Founded by legendary National Geographic photographer Annie Griffiths, Ripple seeks to create "the ripple effect." "Ripple Effect Images harnesses the power of visual storytelling to help scale solutions for women and girls globally. We identify best practice aid programs and document their innovative and sustainable solutions. With compelling storytelling assets, aid organizations are able to raise awareness and funding to advance and scale their impact."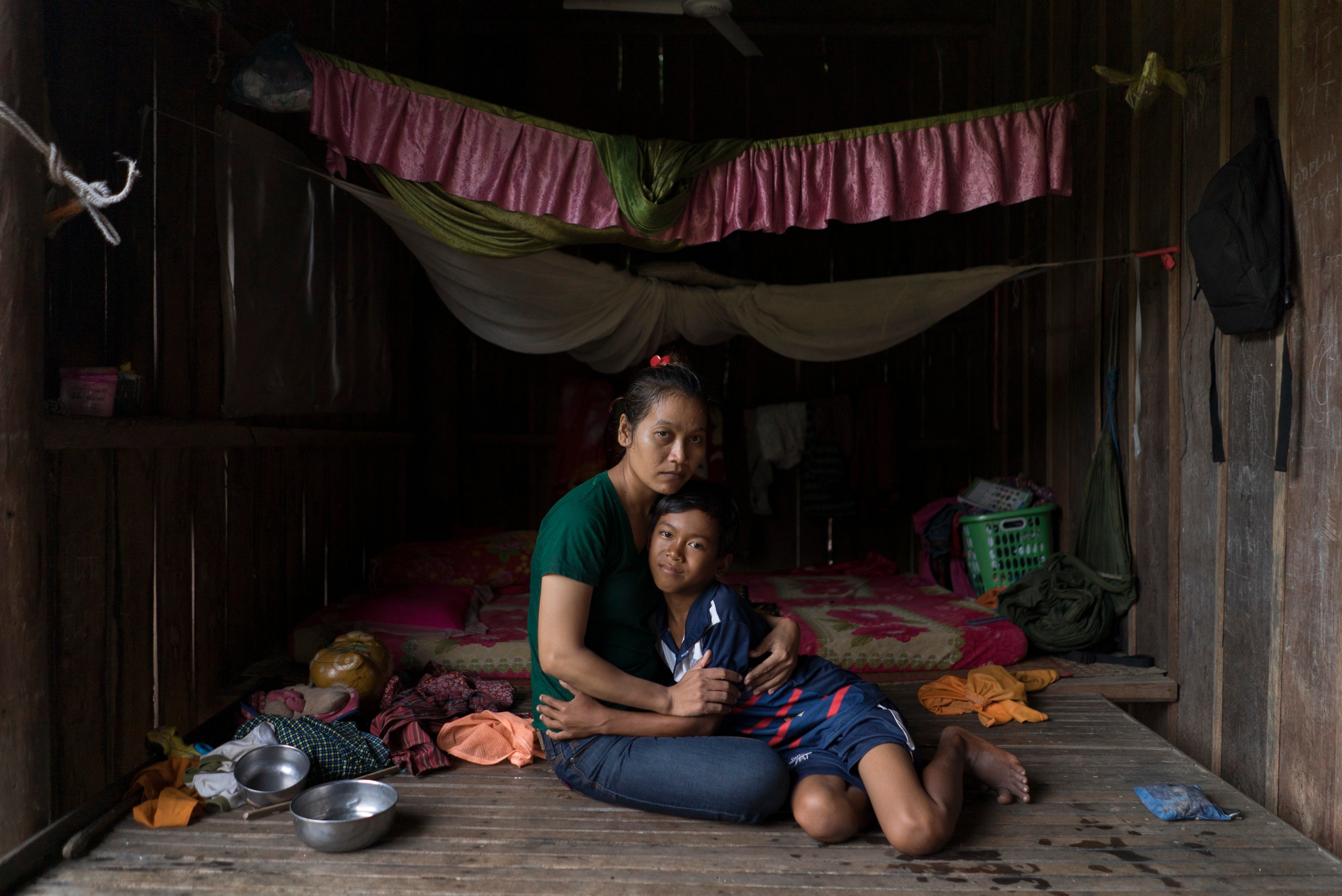 Photo by Lynn Johnson. Cambodia. Sony α7S II. Sony 28mm f/2 lens. 1/320-sec., f/2, ISO 1000. Oeun Samany, 11, and his mother, Khun Tu, sit together on a bed platform in the front of their home. She found the signs of TB first in her son's neck and immediately got him treatment. She is still concerned even though the boy is feeling better. She had just arrived home from her job in a sewing factory, having ridden through the rain. Kanlong Kol Village.

Top Photo by Lynn Johnson. Cambodia. Sony α7S II. Sony 90mm f/2.8 G Macro lens. 1/320-sec., f/2.8, ISO 2000. Sim Sokhoum, 48, suffered for six months before going to a clinic to get tested for TB. He lost 11 kg and grew weaker and weaker. A construction worker by trade, he was unable to work to provide for his family (wife and two children) due to his weakness, the pain in his chest and at the base of his back. He was visited by Operation ASHA health care worker Chak Channy for 10 days and began to feel better.
In Cambodia, Operation ASHA focuses on prevention and treatment of drug-resistant tuberculosis. Their Last Mile program bridges the gap, the last mile, between major aid agencies and the patients who are suffering with the disease. Tuberculosis is a devastating disease, but it's also one that can be stopped in its tracks with simple treatment.
Johnson and Burford applied the resources from their grant to document Operation ASHA's work and show how effective The Last Mile is. "There are so many ways in which people are derailed from good treatment," Johnson explains. "They can't get to the clinic, they're too sick, they're too poor, there's a flood in between the clinic and the house. These amazing women take the drugs to people. We covered two of those women. One who operates primarily by boat in the flooded times of the year and the other uses a kind of motor scooter delivery system."
Burford adds, "Millions of people get tuberculosis and formally go missing every year. The film that we did through the Sony grant in Cambodia is about tuberculosis and these extraordinary women that are on the frontline trying to save people and get them drugs every day."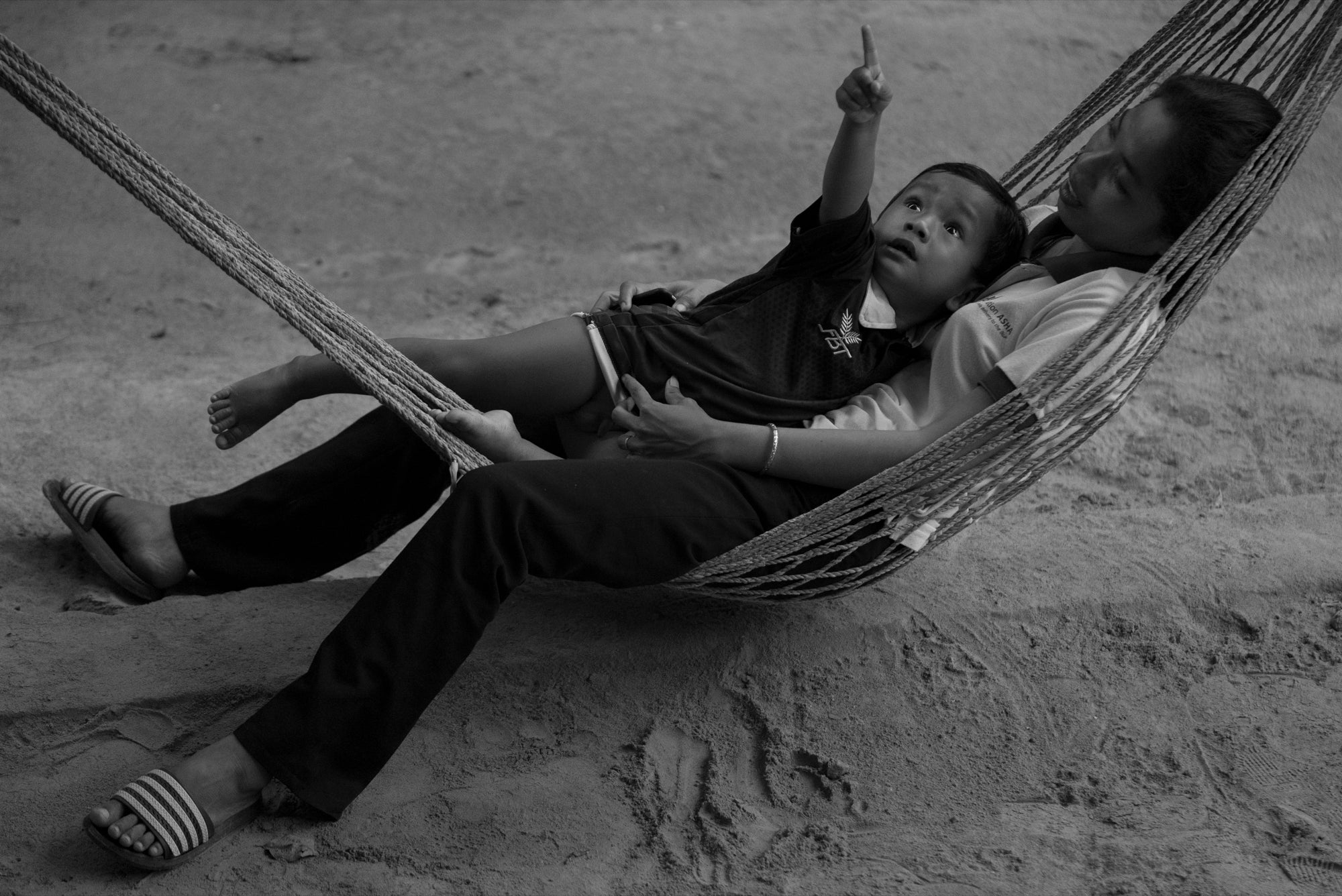 Photo by Lynn Johnson. Cambodia. Sony α7S II. Sony 90mm f/2.8 G Macro lens. 1/320-sec., f/2.8, ISO 2000. Toul Punsang Village. Chak Channy, 27, plays with her nephew, 4-year-old El Punareay, after the workday. Channy has been a village health worker for Operation ASHA for four years. Her mission is to work with patients who have multi-drug resistant tuberculosis. She covers 24 patients in 38 villages. The people who need her help and the life-saving drugs she carries to their threshold, are desperate. She rides to her appointments on a motorbike—paved roads turn to dirt paths then mud trails. She will go anywhere. She makes $180 monthly which is the salary of a full-time field supervisor. Some of her motivation for this work is personal. Her grandmother died 10 years ago of tuberculosis. Channy remembers her suffering the effects of the disease for years before she died—weight loss and a persistent cough. There was no Operation ASHA to help then. The nearest clinic was 20 miles away, impossible to reach in her weakened condition.
The other half of their work with Ripple took Johnson and Burford to Myanmar where they worked to tell the story of women taking economic control of their lives. Pact is a multinational NGO that empowers women to make their own paths and create their own destiny in parts of the world where that kind of freedom isn't the norm. Johnson says, "In Myanmar, we were photographing the work of Pact and they have a multi-dimensional approach to helping women. They focus on healthcare, microloans and other ways to help women really determine the course of their own lives, health and economic stability."
Photo by Lynn Johnson. Myanmar. Sony α7S II. Sony 28mm f/2 lens. 1/200-sec., f/10, ISO 800. In this village lives a very active group of Mother and Child Defenders. They have a routine day where they weigh babies and young children and gather other bio data.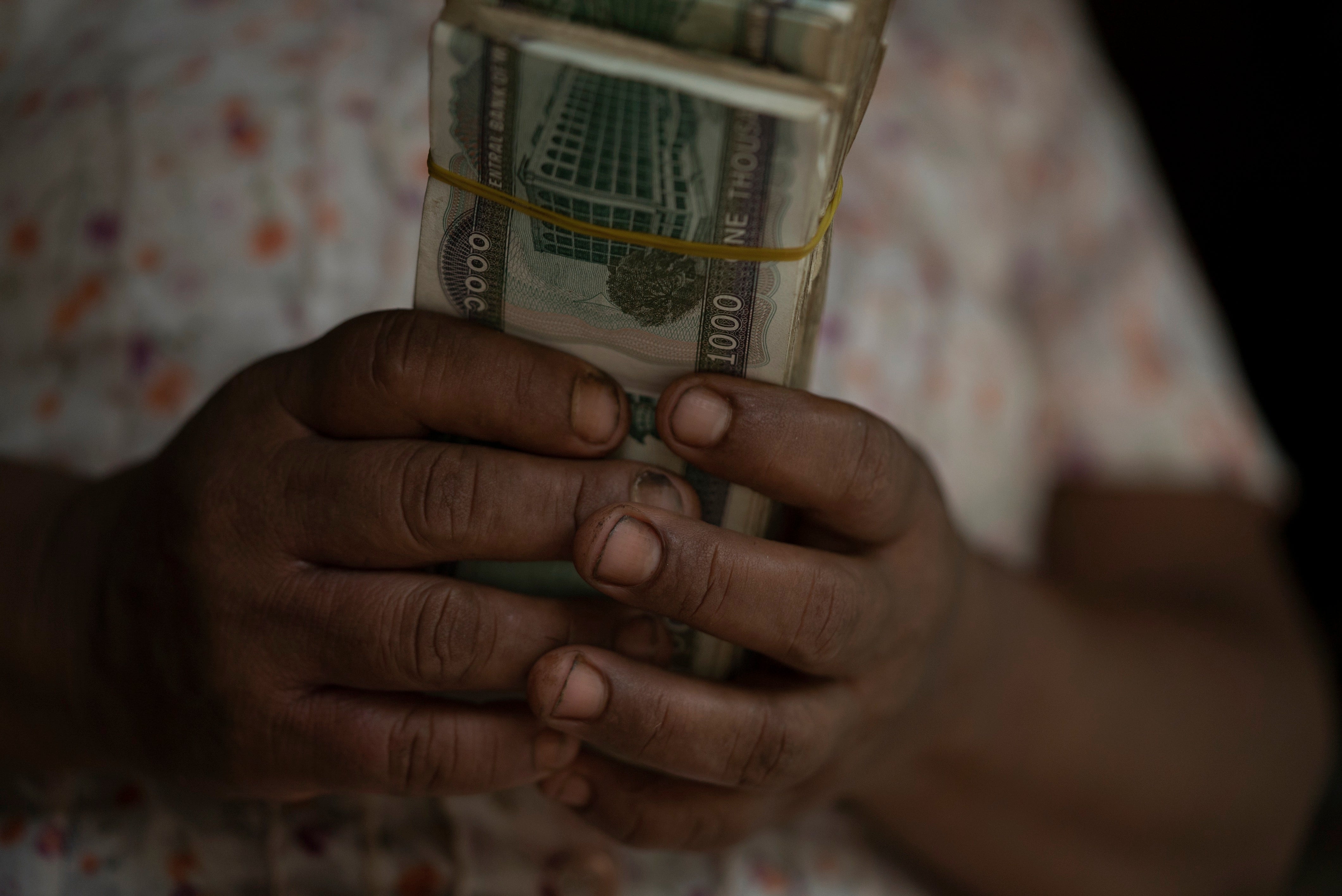 Photo by Lynn Johnson. Myanmar. Sony α7S II. Sony 90mm f/2.8 G Macro lens. 1/1250-sec., f/2.8, ISO 800. Daw Thein Yee, 50, lost everything—her life savings of $7,000— during the Avian Flu crisis when she had to destroy all the chickens she was raising. The family situation was dire. She even considered taking her children out of school to save the school fees. Daw Thein Yee values education above all. Depriving her children of an education would have been an act of survival. She began taking odd jobs to get by. But the WORTH banking group saved the day. The low interest loans allowed her to begin again—first with a bean paste treat then her famous roasted bean snacks. She is a member of several banking groups and chairperson of one. She is so committed to savings that she is teaching the village kids how to save. She employs the kids to make a small slit in the bean casing. It is tedious work but the children come every morning before school to earn money for snacks and school fees. Also with her sister-in-law and niece. Other tasks related to the bean business: holding her loan money, doing the books, etc.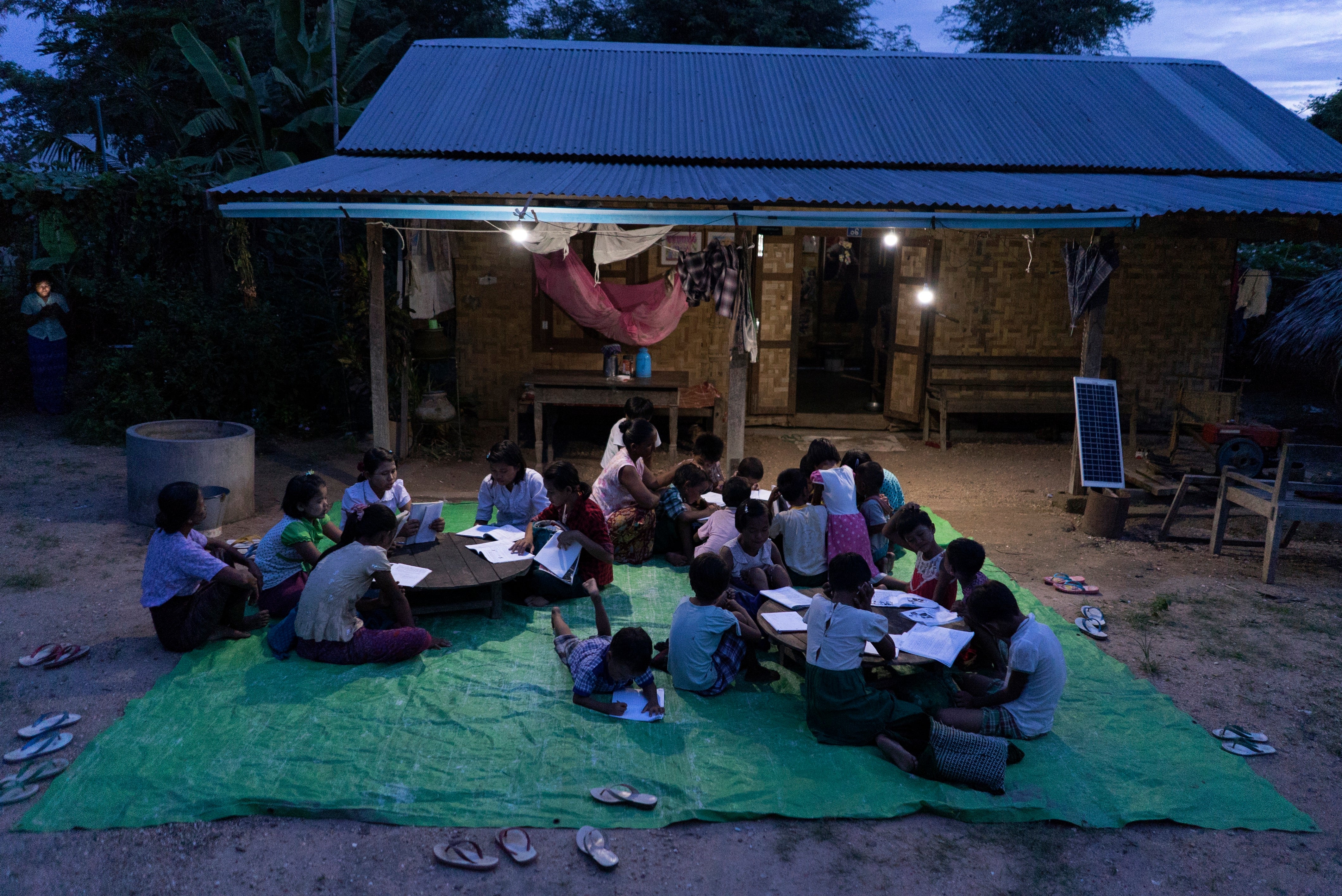 Photo by Lynn Johnson. Myanmar. Sony α7S II. Sony 28mm f/2 lens. 1/125-sec., f/2, ISO 10000. A solar project called Ahlin Yaung, which means light in Burmese, allows 36 out of 50 families in the village to extend their day for reading, socializing and work. A group of children gather in the yard of Ma Than Hla to do their homework and practice reading. Ma Than Hla herself only went to the forth grade but she wants to support those who have more opportunity. It's quite a scene—all the children reading and reciting their lessons at the top of their lungs simultaneously. Also a second scene of children studying at home by solar light and other households using their solar lights to extend the day.
Through images and films, Ripple is having a real impact on lives around the world. The Ripple Effect has the power to multiply the value of aid by a factor of 10. That's the power of images created by thoughtful, dedicated story-tellers like Burford and Johnson.