People often ask what kind of photography I do, and while the easy answer is "Concert" or "Music Industry," that definition is limiting if I want to pursue other genres. For a professional, defining your work is necessary to advance within a creative space. It makes perfect sense that a concert photographer is going to hone their skills shooting concerts, but it's also incredibly beneficial to expand and experiment. Stretching your comfort zone to shoot many different types of photography is a great way to improve your art, build confidence, learn a new technique or just shake off stagnation.
With that in mind, I recently broke a long standing no weddings rule and agreed to travel out to the East Coast to shoot my first solo. The experience reminded me that wedding photographers have a tough but creatively and emotionally rewarding job, similar in many ways to music photography.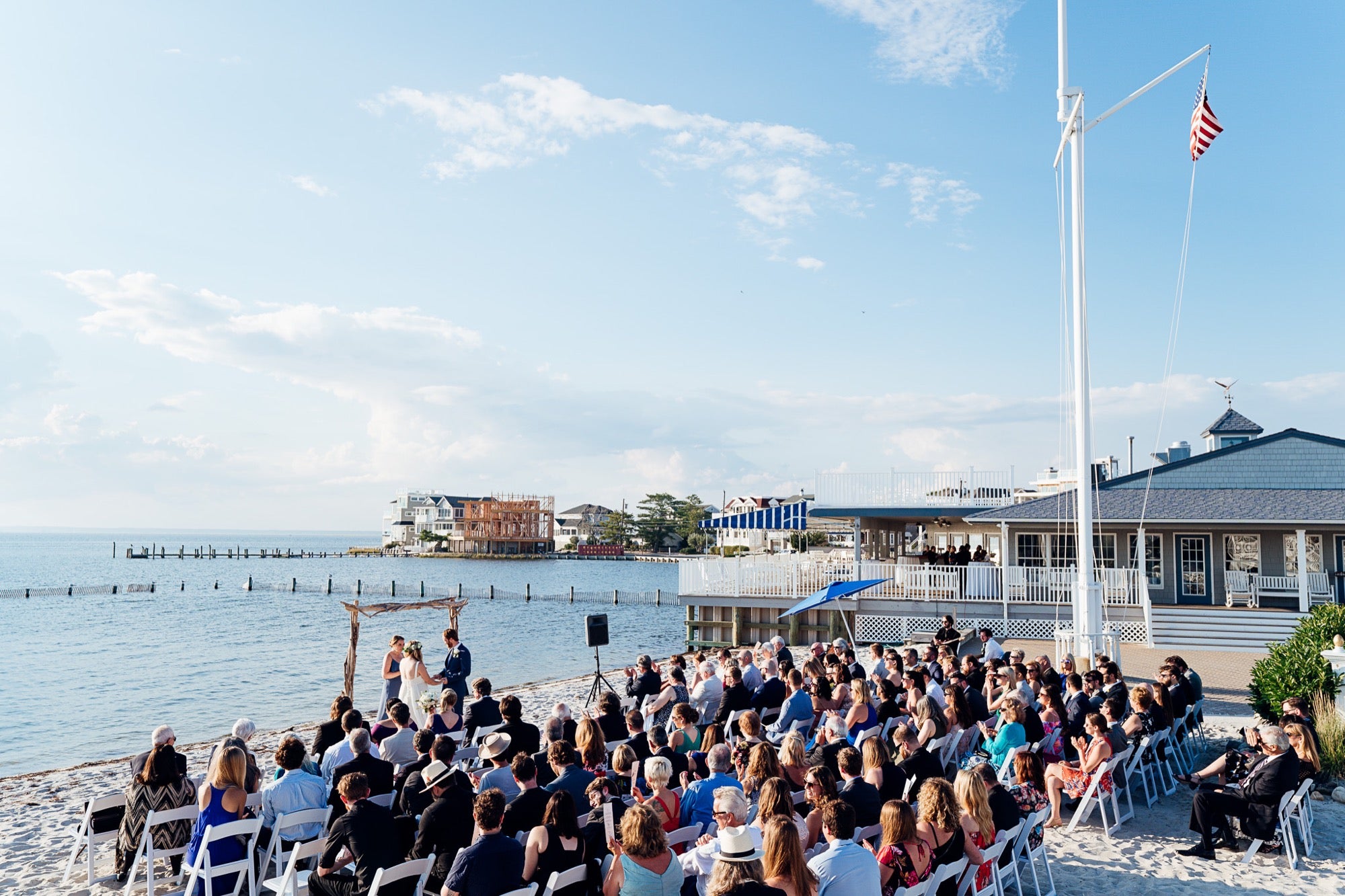 Sony α9. Sony 16-35mm f/2.8 G Master lens. 1/320-sec., f/5.6, ISO 100.
The couple are Alexandra and Zach. Alex is a music industry publicist with LiveLoud Media and Zach is a manager at 7S Management, working with bands like Nathaniel Rateliff & The Night Sweats and Israel Nash, among others. I'd met Zach through shared industry friends and knew that his September beach wedding to Alex would be a guaranteed good time.
Emotion Is Universal
A publicist at heart, Alex was super organized and had a run of show (ROS) for me with a requested shot list that was limited to just a few traditional family group shots. That relatively blank check helped with any anxiety I was having about covering a wedding halfway across the country as a solo photographer. Preparation also goes a long way to ensure performance, so I checked-in with several wedding photographers and picked their brains on gear and tips specific to their industry.
Without the safety net of a second shooter, I put together a plan for covering the day. I ended up with the Sony a9, two high speed primes for shallow depth-of-field, the Sony 55mm f/1.8 ZA and 85mm f/1.4 G Master, and a more flexible, but still fast zoom for wider scenes, the Sony 16-35mm f/2.8 G Master. I also hung my trusty RX1R II around the neck so I could shoot two different focal lengths without changing lenses.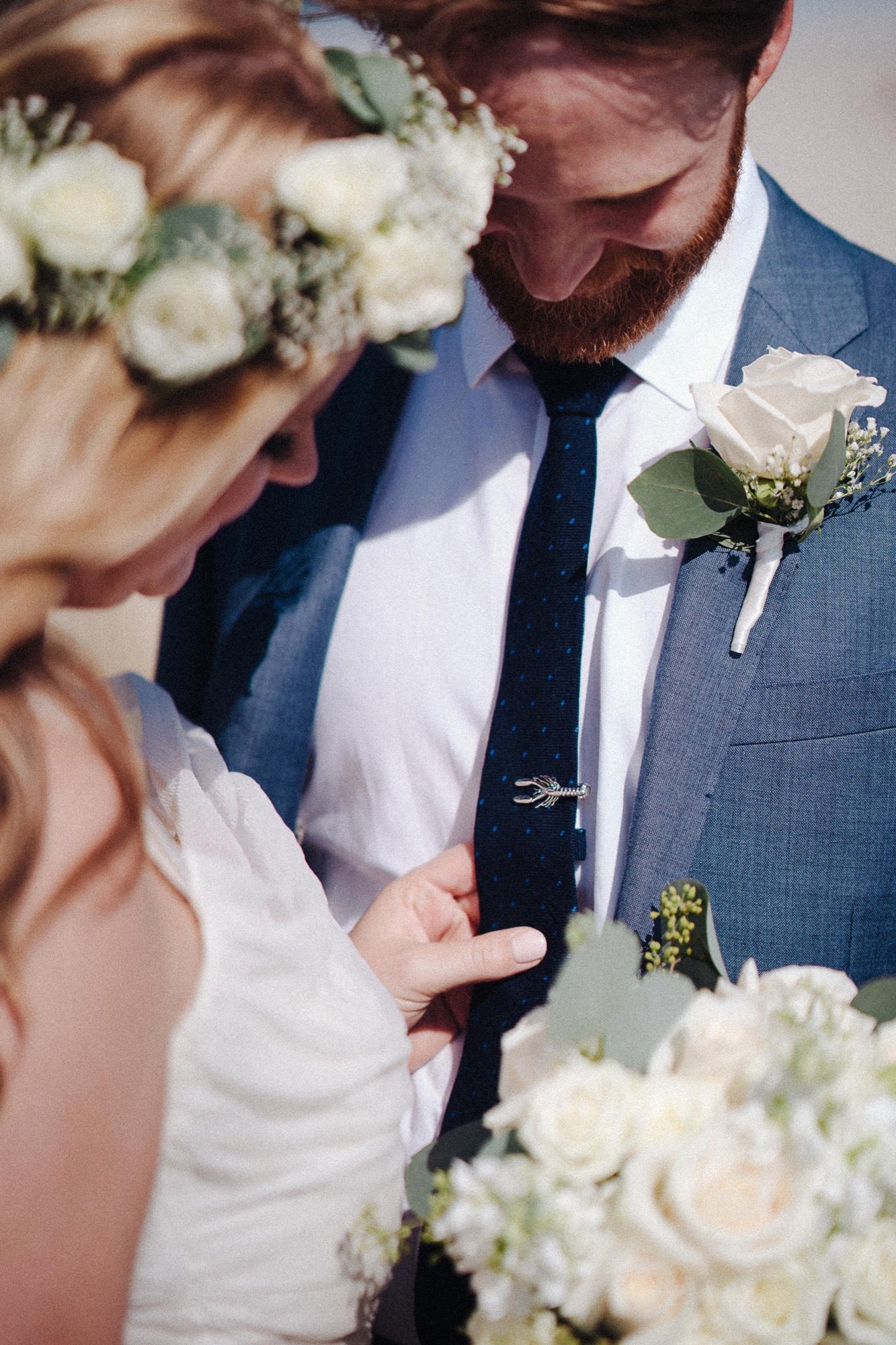 Sony α9. Sony 85mm f/1.4 G Master lens. 1/8000-sec., f/1.4, ISO 64.
Like live music, a wedding presents a wealth of human emotions. There is some posing, but scenes that draw my eye are always the honest ones, when the subject's guard is down. As a viewer, I know those are the images that resonate the deepest so I'm always looking for unchecked expression.
I knew the Sony α9 would be my primary body for capturing those expressions. The blazing AF speed and tracking, plus the 20fps high frame rate is almost cheating. But is it really cheating if the camera is providing tools that enable the photographer to do more? I'd say absolutely not! And the ability to do more with your system is a powerful competitive differentiator for the photographer that masters those tools. For this wedding, I utilized several α9 features that no other system has collectively.
Camera Setup
A decade of shooting in low-light concert environments has a tendency to steer a photographer towards working with fast lenses and many wedding photographers do the same. I like to shoot them wide open, which is usually not a problem, unless the sun is shining and I've blown the upper shutter speed limit. Even at 1/8000-sec., bright daylight will require the photographer to stop down to tame the light when using an f/1.4 or faster lens. One traditional trick is to use a neutral density filter, but those can introduce color casts and are generally a pain to manage. With the α9, the camera can be set to automatically "stretch" the shutter speed electronically up to 1/32,000-sec., which essentially eliminates the restriction and does it without the photographer having to juggle menus or physically screw on a filter. I used this feature on the beach, prior to the ceremony and even leaned on it later in the day as the sun set behind the couple during their vows.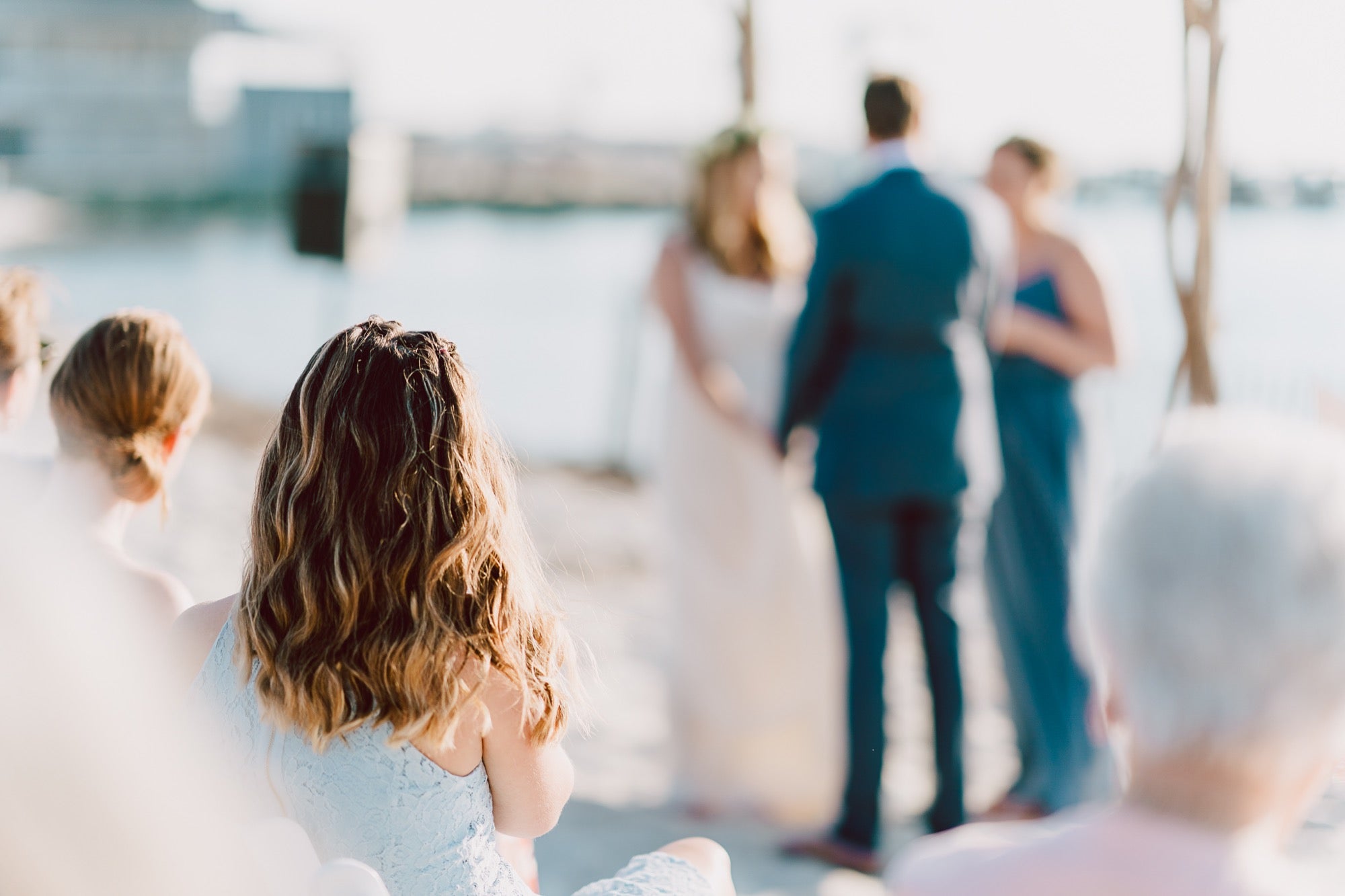 Sony α9. Sony 85mm f/1.4 G Master lens. 1/4000-sec., f/1.4, ISO 100.
Along with that electronic shutter comes the second killer wedding feature, silent shutter. When all eyes are on the bride and groom, it's the noise of a camera that can distract and take guests out of the moment. With a silent shutter, the photographer is one step closer to invisibility. I find this feature is also helpful for general documentary photography, allowing one to be that proverbial fly on the wall.
Alex and Zach wanted to grab some quick portraits on the beach before their ceremony and the Eye-AF mode is what I used to nail focus on those shots. Essentially, when programmed to one of the many available buttons on the camera, the system will lock-on to the closest eye of your subject. If you have Continuous and Lock-on autofocus enabled, Eye-AF will even tenaciously track that eye as the subject moves. This isn't some iffy feature that works in only the best conditions either, it's a rock solid, dependable method to ensure focus on the human face that's proven its strength to me in the concert pit.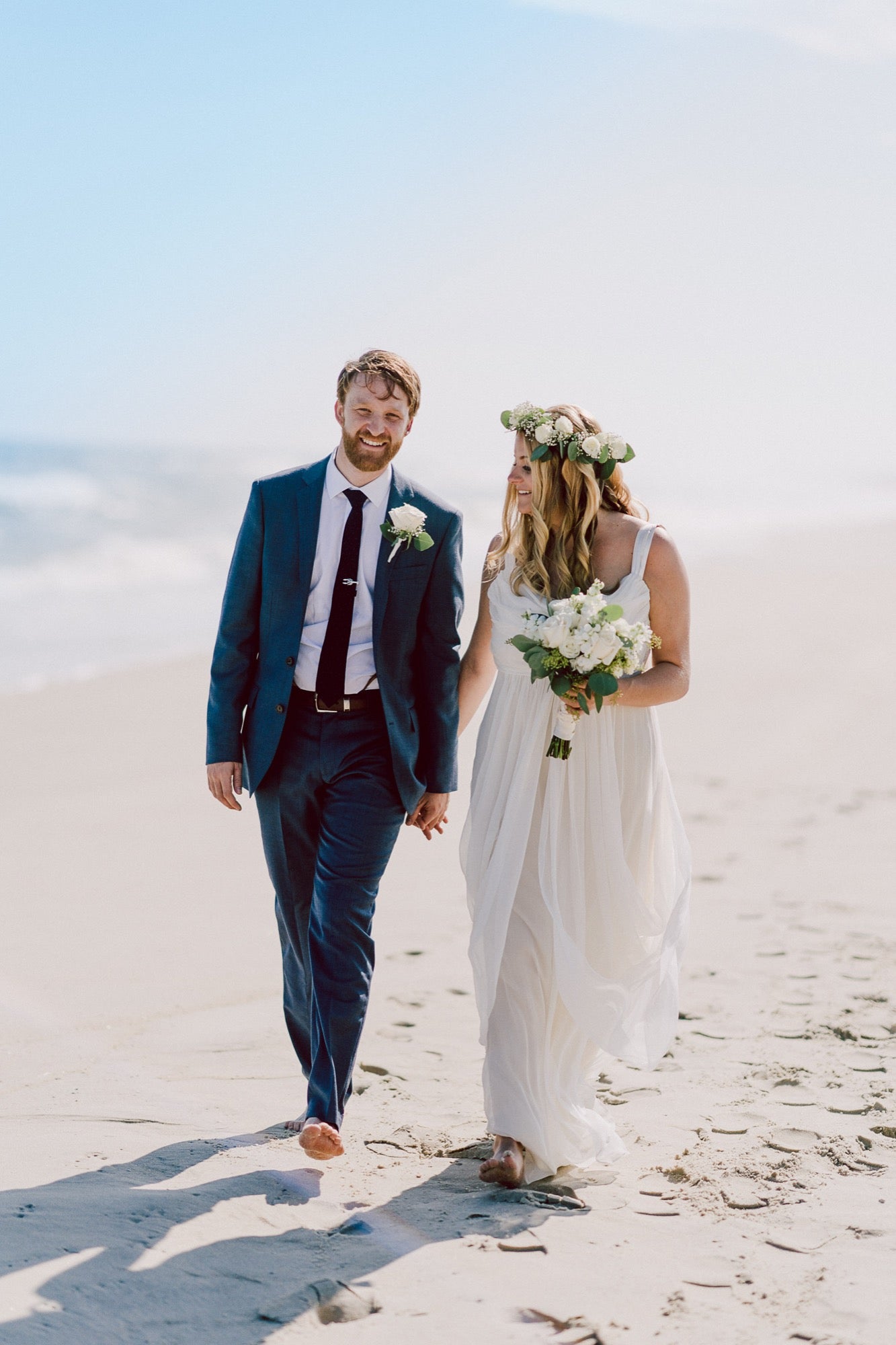 Sony α9. Sony 85mm f/1.4 G Master lens. 1/16,000-sec., f/1.4, ISO 125.
So just think about this, for the first time in history, we have a full-frame system that can silently track a subject's eye in bright daylight with a fast lens shot at its widest aperture, as that subject is moving and at a rate of 20 frames per second! And let's not ignore the power of those 20 frames. A wedding photographer's most critical series of photos are often happening quickly, within a small window of potential success. Having a series of 20 frames in a single second, and a buffer large enough to shoot hundreds of frames without choking, is as close to insurance as any photographer can buy.
None of these features would be worth anything to me if I couldn't access them without menu diving. As a wedding rookie, I had to work efficiently to make up for my lack of experience. Fumbling in a menu to activate a unique feature is a non-starter for any professional and happily, the α9 sports 13 custom buttons, 112 options that can be recalled in memory, a custom My Menu where favorites can be stored for quick access and a Recall Custom Hold feature that enables the photographer to instantly switch between custom modes. Sony also threw in a couple extra physical dials on the top of the camera to control Drive and AF modes, something I would welcome on every camera in the lineup.
When Sony released the a9 and targeted it towards professional sports shooters, I thought "cool camera but not for me." After using it for the past six months covering music festivals, an NFL game, and this wedding, I think they sold it short. Regardless of the genre, a system that can respond as quickly as the photographer demands is the gold standard for every professional.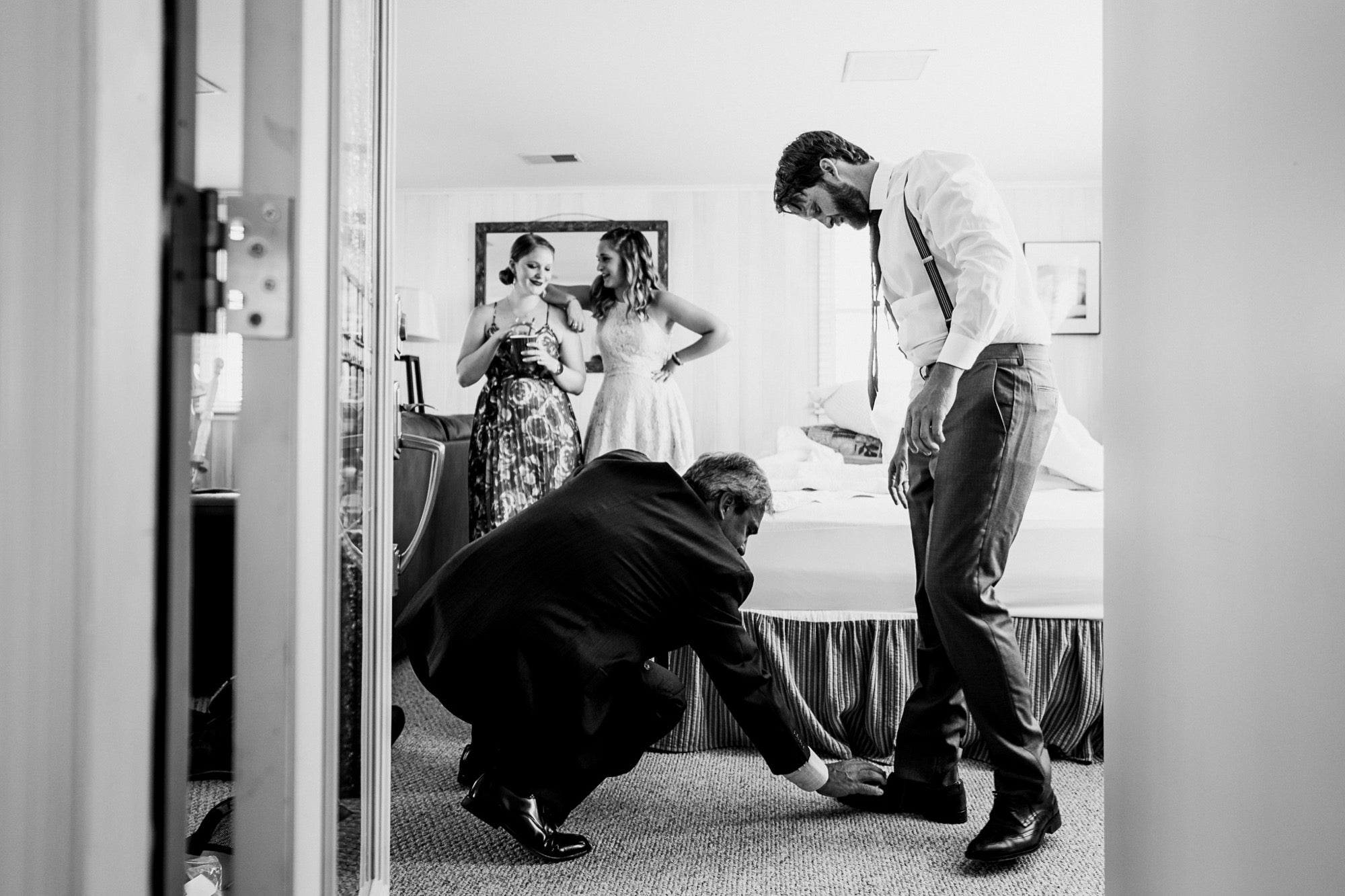 Sony α9. Sony 16-35mm f/2.8 G Master lens. 1/200-sec., f/2.8, ISO 640.
Coming into the wedding, anxiety faded away in favor of being able to do what I always do with a camera—look for moments of emotion and human connection. Those are universal elements that transcend photography genres. I was able to get some excellent advice from other wedding professionals to be prepared for the flow of the day and that, combined with a camera that I had set up for to be an extension of what I was seeing and not a distraction, made for an excellent experience. I broadened my creative horizons and I think I gave the couple the images that will always bring them back to the day. I want to thank Alex and Zach for trusting their milestone with me. I'm so glad to have been a part of their day and equally pleased I didn't manage to screw it up.
Chad Wadsworth is a Sony Artisan Of Imagery. See more about him here. Follow him on Instagram @chadwadsworth_atx.