If you're a professional photographer who works in the editorial space at some point in your career you might have a call like this with a celebrity publicist:
"Ok, so you can come into the space, which is being used for a meeting, and set up about 15 minutes or so before they arrive. After they arrive you'll have 10 minutes to photograph them, but it would be great if you could be faster because they are very busy. And then you'll have about 15 minutes to break down before we need the room again."
"Sure. I can do that. What's the job?"
"Great. You'll be photographing Tina Fey and the creators of Mean Girls The Musical for the Washington Post"
If you're not familiar with Mean Girls the Musical, Casey Nicholaw is the Mean Girls Director & Choreographer, Nell Benjamin is the lyricist and Jeff Richmond is the composer. The musical is based on the book by Tina Fey. Yes, that Tina Fey. And she has been closely involved in the production and was front and center for the photograph the Washington Post wanted for the cover of their Arts & Style section.
I'm not a celebrity photographer by any stretch of the imagination, but I do shoot a pretty good portrait. Occasionally I get a call to photograph someone with a high profile, like a CEO, a musician who's on their way up, or an athlete, but this was the first time I was asked to photograph a true "A-lister." And, just to make the entire experience a little more stressful, an A-lister whose work I really love.
TINA FEY TINA FEY TINA FEY TINA FEY!!!
Let's get this out of the way right now. Yes, she's awesome. Yes, she's nice. Yes, in the seven minutes I had to engage with her she was very much like Liz Lemon.
Getting back to the actual photography, what do you do when you know you have very little time with your subjects, have very little time to set up and have no idea what they will be wearing or what kind of mood they will be in? Oh, and you need a few different looks, too, just in case.
One word: Preparation
I requested images of the space from the publicist who was nice enough to obtain them for me. From those images, I saw that we would be in a rehearsal studio that had a wall of windows. I made the decision that I would shoot natural light and that I would bring my Profoto lights as a back-up. I sketched out a few different scenarios that I could shoot and I hired an assistant for the job so that we could set up and break down quickly, and so I'd have a second set of hands for a scrim or reflector just in case I needed it on the day.
If I have time, I'll actually set up the lights in my house the day before and have a stand-in (usually my wife) sit for a portrait so I can see how the light works. If you can, it is a great exercise before a shoot with a tight timeline that can help you stay calm and organized when it counts. For this job, though, because I was booked solid that week, and because of the huge natural light windows and because I don't generally have four people hanging around my house, I couldn't do it.
Although I couldn't do the full setup, I still had plenty of little things to prepare the day before to make sure that that things would go smoothly at the actual shoot. I make sure all of my equipment is charged and working. I format my memory cards and check all of my cameras to confirm they are set exactly the way I want them to be. In a case like this when you have so little time with your subjects to build a rapport and get the shots, the last thing you want is to have you your equipment getting in the way of that experience.
When I got to the space, before doing anything I took a look around. Because the publicist had given me photos of the space I had a good idea of what to expect, but there's no substitute for seeing it in person. It's in these moments of just looking that I figure out what I want to move, what I can move and how I want the image to look before I start unpacking. A photographer I really respect told me once, "80% of great group portraits is moving furniture." He's right. For this shot we moved tables, rearranged a huge curtain and pushed a piano from the other side of the room.
Equipment and Setup
I used two different Sony cameras for this shoot. The Sony α9 because it's fast and the auto focus is accurate and the camera has such a large buffer that I can shoot and shoot and shoot as long as I'm using a fast card (I use the very fast Sony G series 300mb/s cards). I had the 85mm f/1.4 G Master lens on the α9 to get super sharp, beautifully rendered images with nice focal fall off.
The other camera I used was a Sony RX1R II. I love to have the that camera on set with me. It's small, inconspicuous and very quiet. I can get close to my subjects and not freak them out with a huge camera and lens in their face or I can step back and use it for the wide shot. The 35mm f/2.0 lens is matched to the sensor and I find it to be incredibly sharp even at the corners. And, at 42 megapixels, the image can be printed huge. The client can use them for a billboard, if they wanted to, with no problems.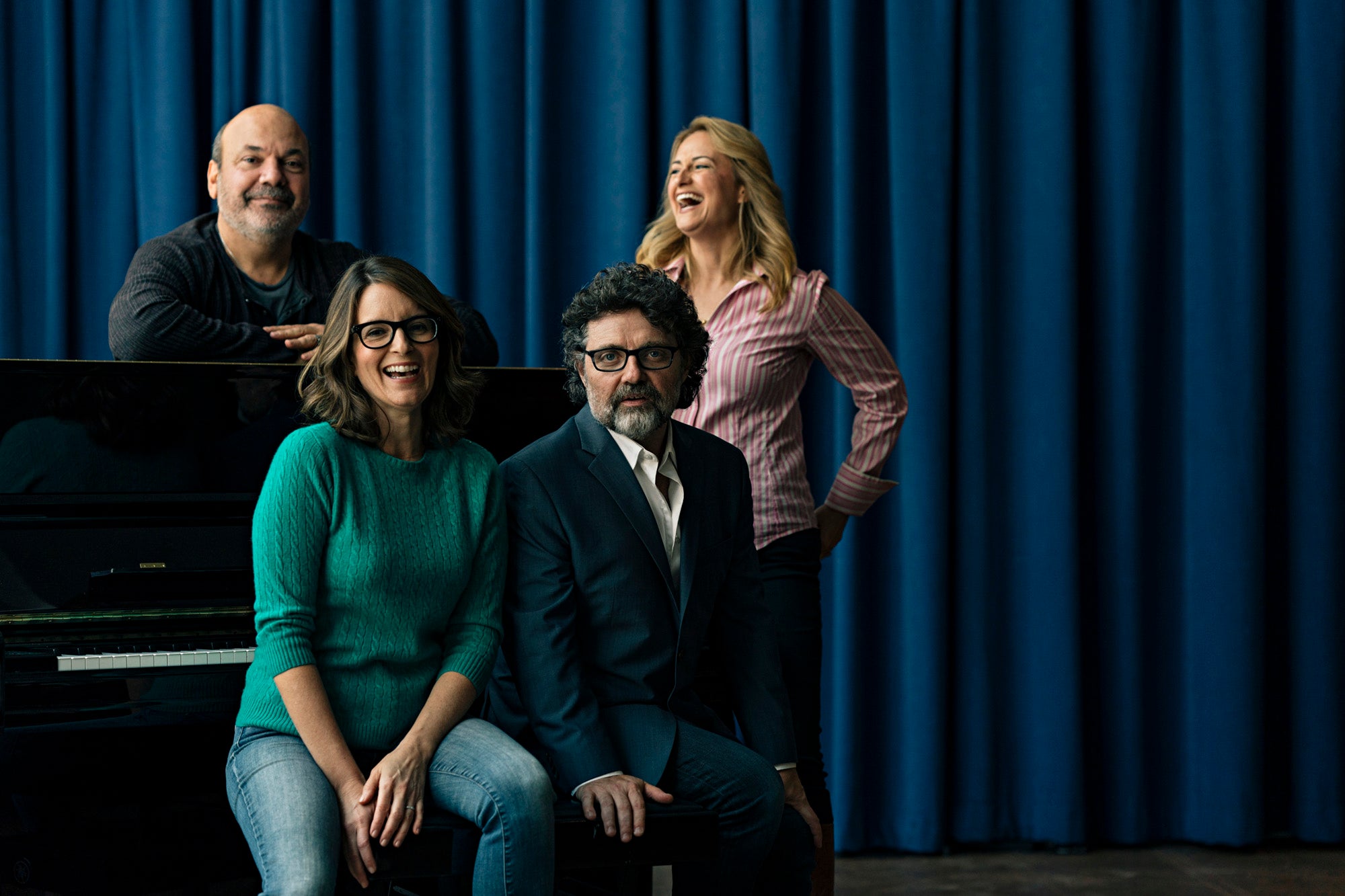 Sony α9. Sony 85mm f/1.4 G Master lens. 1/200-sec., f/2.5, ISO 400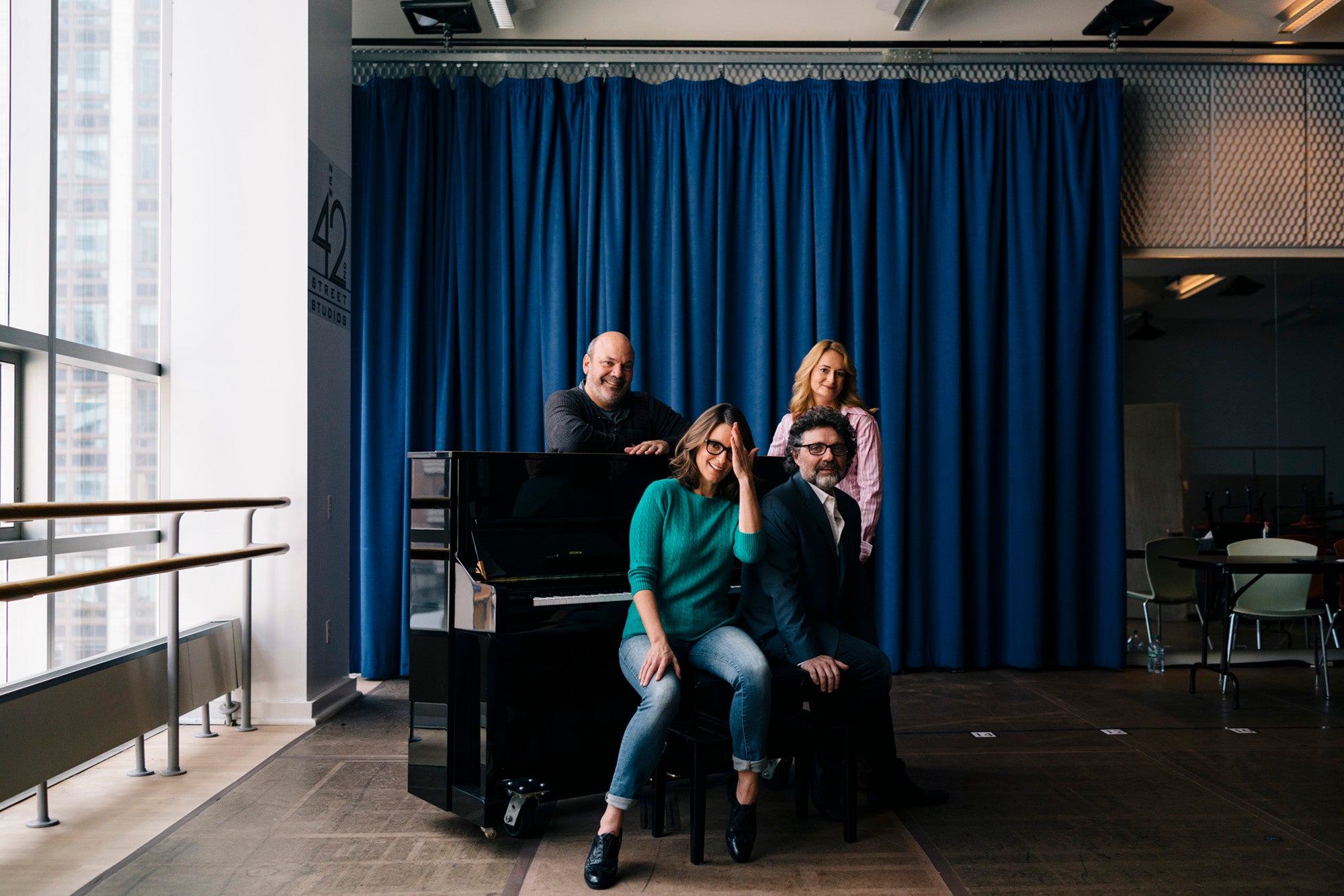 Sony RX1R II. 1/500-sec., f/2.2, ISO 640. With the RX1R II, because it has such a large chip and there is no image stabilization I decided on a faster shutter speed to stop any potential camera shake from nerves and/or adrenaline because…I mean… TINA FEY!

Even though I had decided to shoot natural light, I still set up my lights and tested them to make sure everything worked and that the cameras and lights were set to the correct exposures. I then asked my assistant to write down all the numbers—ISO, shutter speed and aperture—and then I removed the Pocket Wizard from the camera and got ready for the natural light shoot.
When Casey, Nell, Jeff and Tina came in, they were just out of rehearsal and hadn't had lunch yet so I wanted to get them in and out as quickly as I could. I said "hi," introduced myself, told them how much I loved all of their work and how excited I was to be there, without seeming like a total fanboy, and then I placed them where I thought they would look the best.
By this point, I had about five minutes left to shoot. For most of my short shoots, I like spend about 10 minutes or so getting to know someone. If it's an ongoing project, I'll spend a few hours. Here, I had two minutes to make four people comfortable and start shooting. Thankfully these people are all professionals and they're good at what they do. Tina Fey told a bunch of jokes, and we started shooting.
In my experience, editors want options. They want a tight option, a wide option, a vertical option and a horizontal option. They want different angles and they need something for the opener and then they probably need one or two for the inside of the book. They want options. It's my job to make that happen. I had prepared the night before, so I knew all the shots I wanted to have at the end of the shoot. That allowed me to be nice and calm and ready to go.
We finished the shoot on time, got a few different options for my editor and we even popped off a few lit shots just to get a different look. I said thank you, shook some hands and that was that. I helped my assistant wrap the set and we went out to get some lunch.
That's how you photograph one of your favorite celebrities in seven minutes.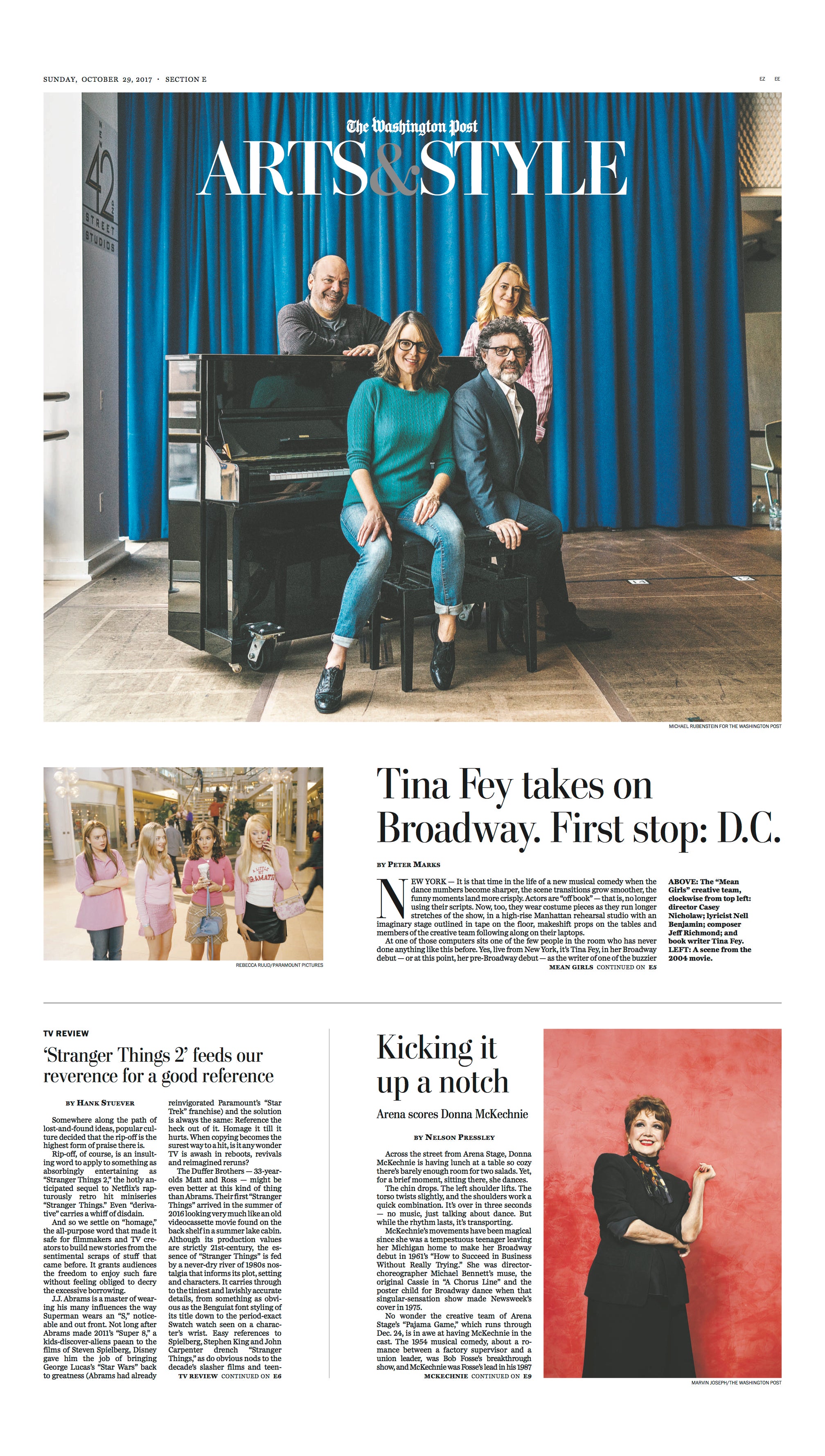 Michael Rubenstein is a Sony Artisan Of Imagery. See more about him here. Follow him on Instagram @mrubee_photo