Thailand is a photographer's dream location. To get the most of it when you go, we worked with National Geographic pro and Sony Artisan of Imagery Ira Block to create a guide of not-to-be-missed places and events to shoot.
Bangkok
Wat Arun - Locally known as Wat Chaeng, Wat Arun is a landmark temple on the west (Thonburi) bank of the Chao Phraya river. It's easily one of the most stunning temples in Bangkok, not only because of its riverside location but also because the design is very different from the other temples you can visit in Bangkok. Wat Arun (nicknamed the Temple of the Dawn) is partly made up of colorfully decorated spires and stands majestically over the water. You can shoot this temple at dusk from the opposite side of the river at one of the many new restaurants.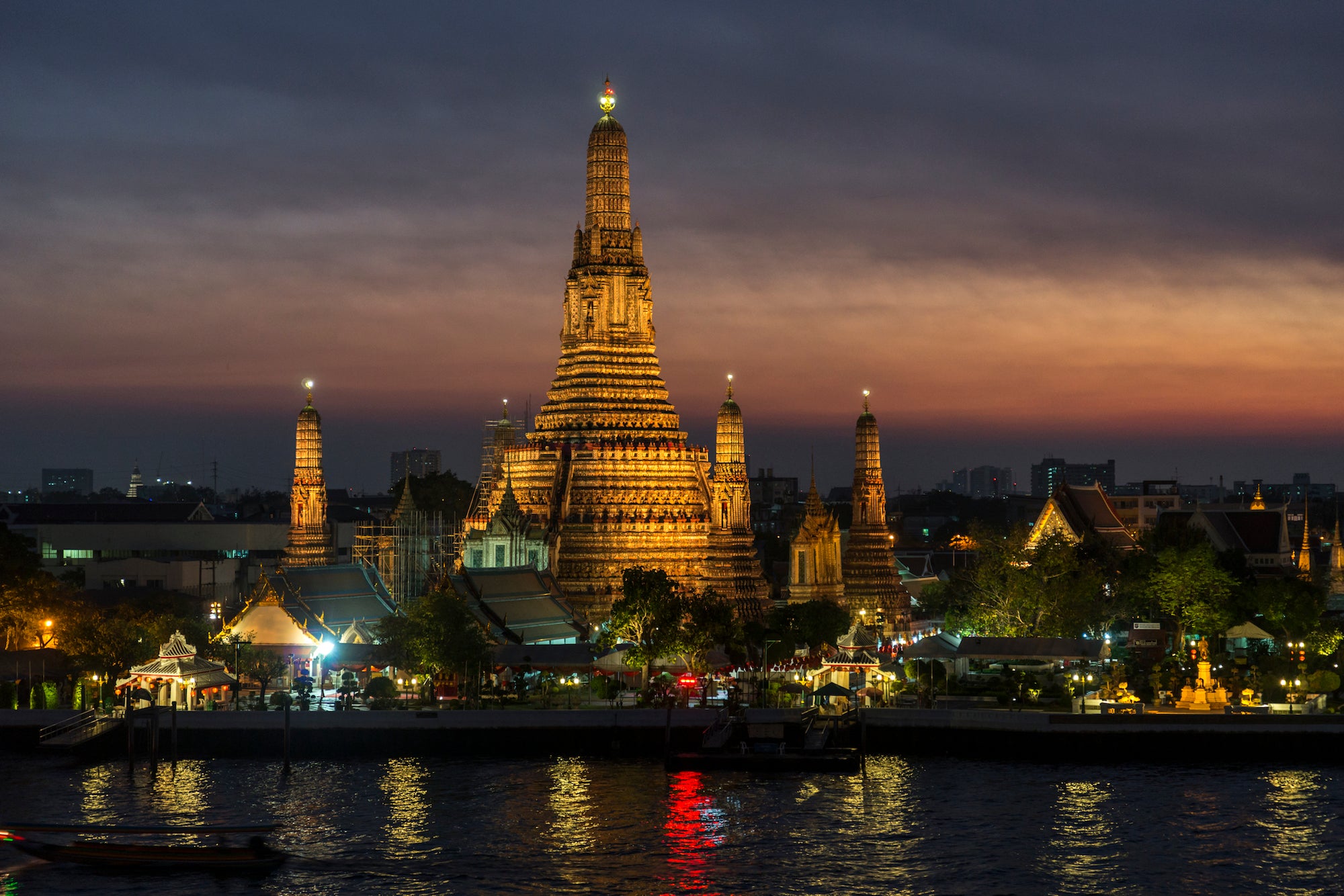 Sony α99. Sony 24-70mm f/2.8. 1/10-sec., f/3.2, ISO 640. You can shoot this temple at dusk from the opposite side of the river at one of the many new restaurants.
Grand Palace - The dazzling, spectacular Grand Palace is undoubtedly the most famous landmark in Bangkok. It's one must-see sight that no visit to the city would be complete without. It was built in 1782 and for 150 years the home of the Thai King, the Royal court and the administrative seat of government.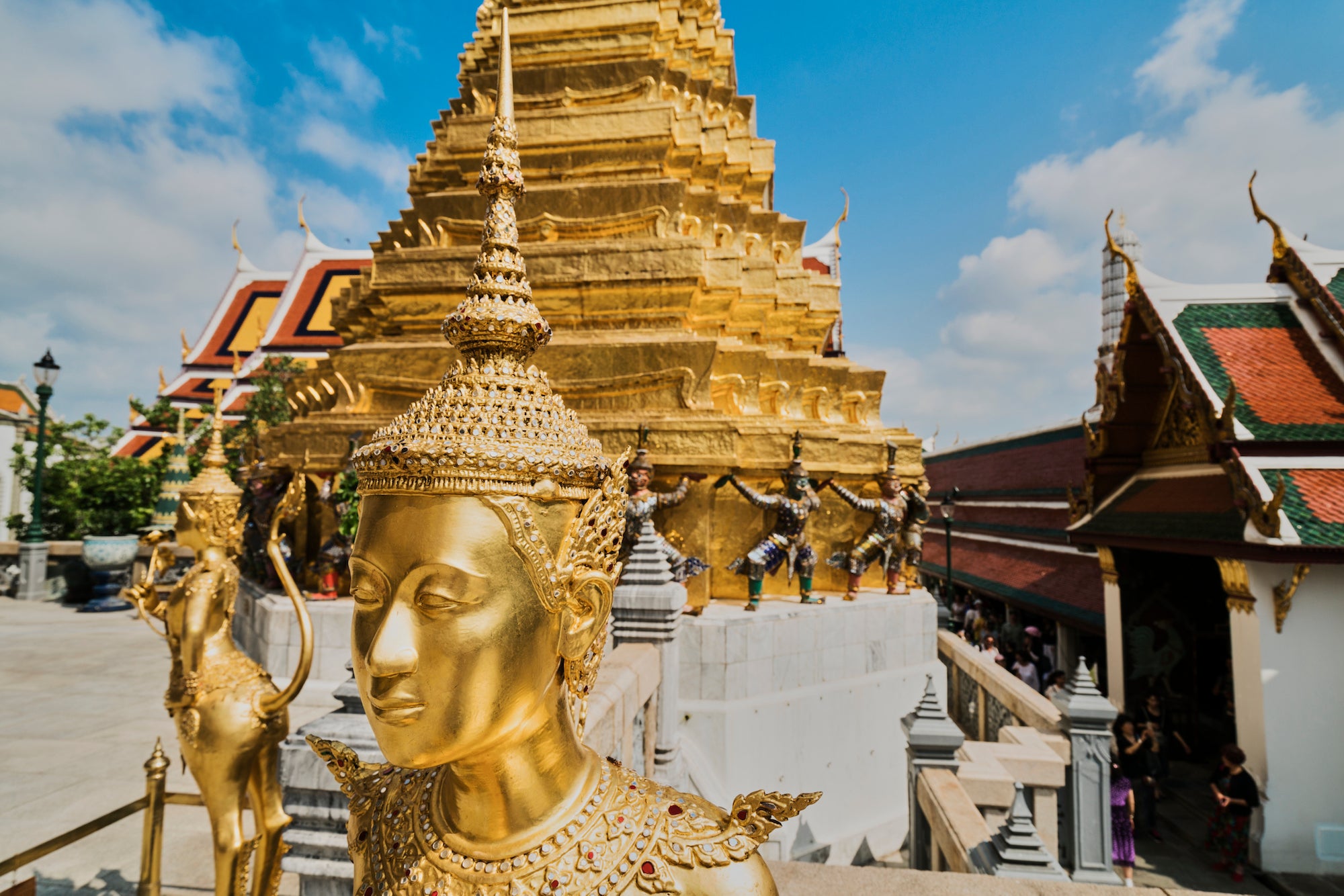 Sony α7R II. Sony 16-35mm f/4. 1/400-sec., f/9, ISO 125
Ayutthaya
Ayutthaya is a city in Thailand, about 80 kilometers north of Bangkok. It was capital of the Kingdom of Siam, and a prosperous international trading port, from 1350 until razed by the Burmese in 1767. The ruins of the old city now form the Ayutthaya Historical Park, an UNESCO World Heritage Site. The park is made up of Buddhist temples, monasteries and statues.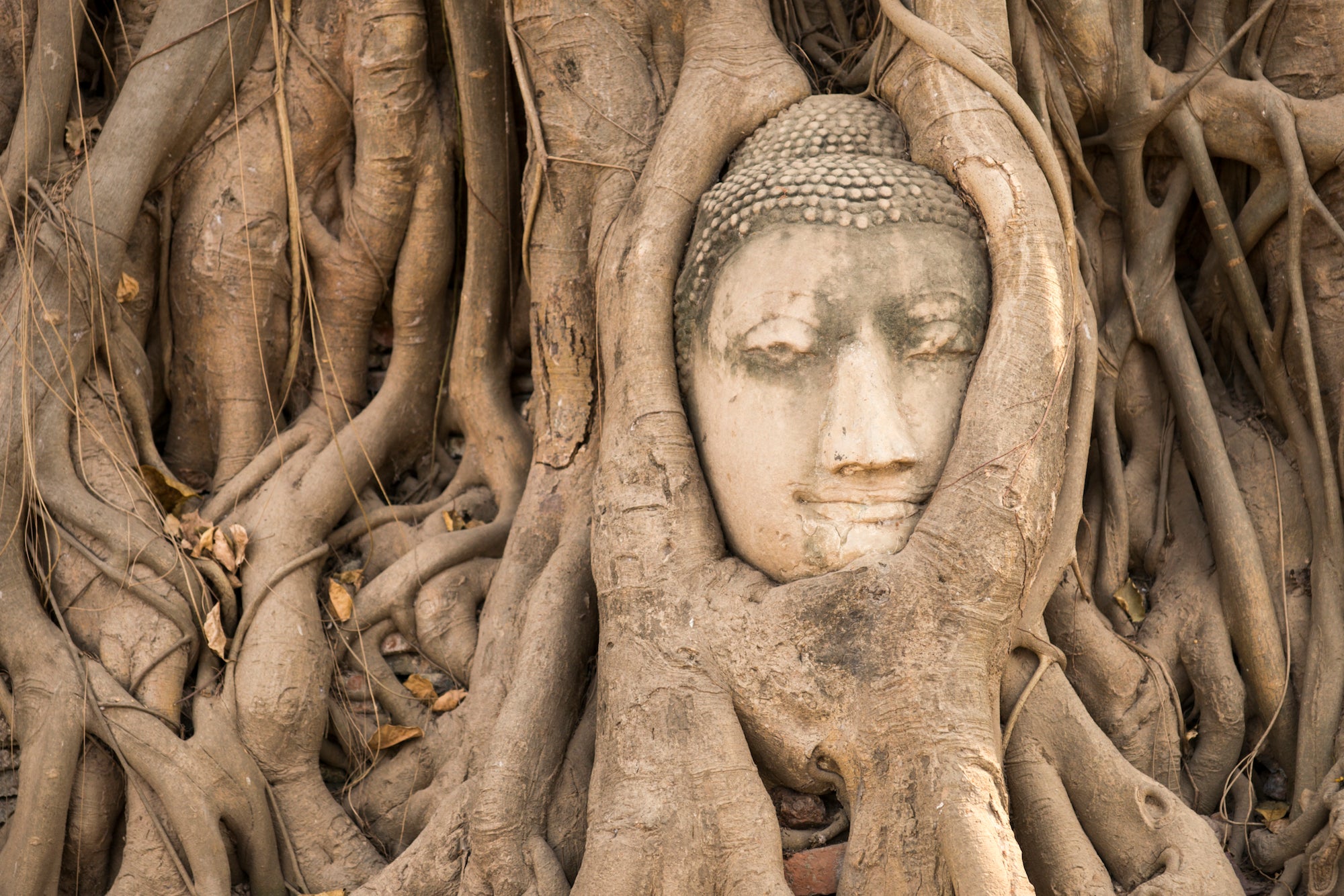 Sony α99. Sony 24-70mm f/2.8. 1/250-sec., f/3.2, ISO 250.
Hua Hin Beach
Hua Hin is a seaside resort on the Gulf of Thailand, in the southern Thai province of Prachuap Khiri Khan. Once a quiet fishing village, it became a fashionable beach escape in the mid-1920s when the Thai Royal family built a summer palace here. There's still a lot of money swirling around Hua Hin, but it remains a good budget destination: seafood is plentiful and cheap.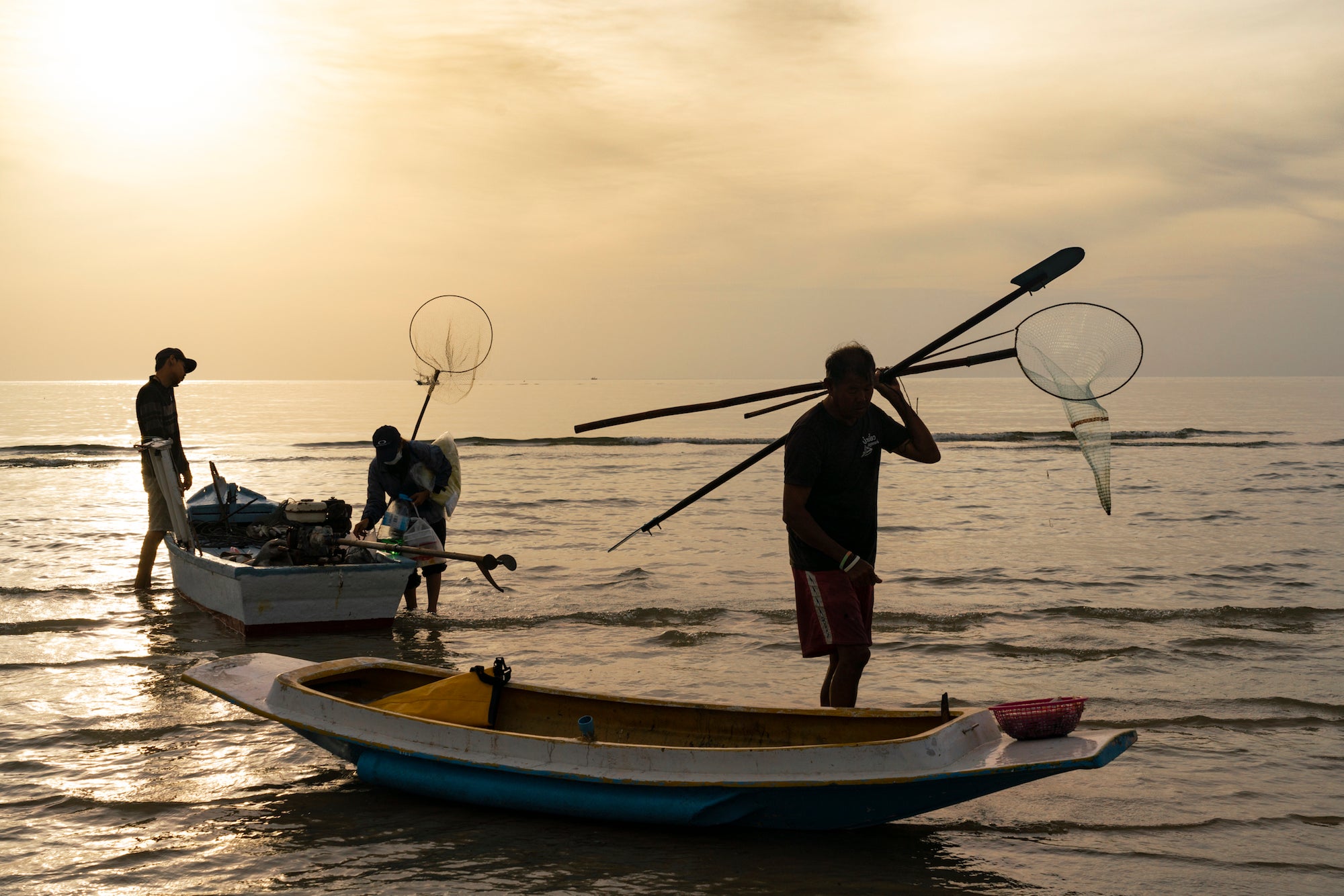 Sony α7R III. Sony 24-105mm f/4 G. 1/500-sec., f/10, ISO 250.
Floating Market
The Floating Market in Damnoen Saduak District, Ratchaburi province, is about 109 kilometers south of Bangkok. It's the most popular floating market in Thailand. You can shoot from the edge of the water or hire a small boat to take you around. And the food is fantastic.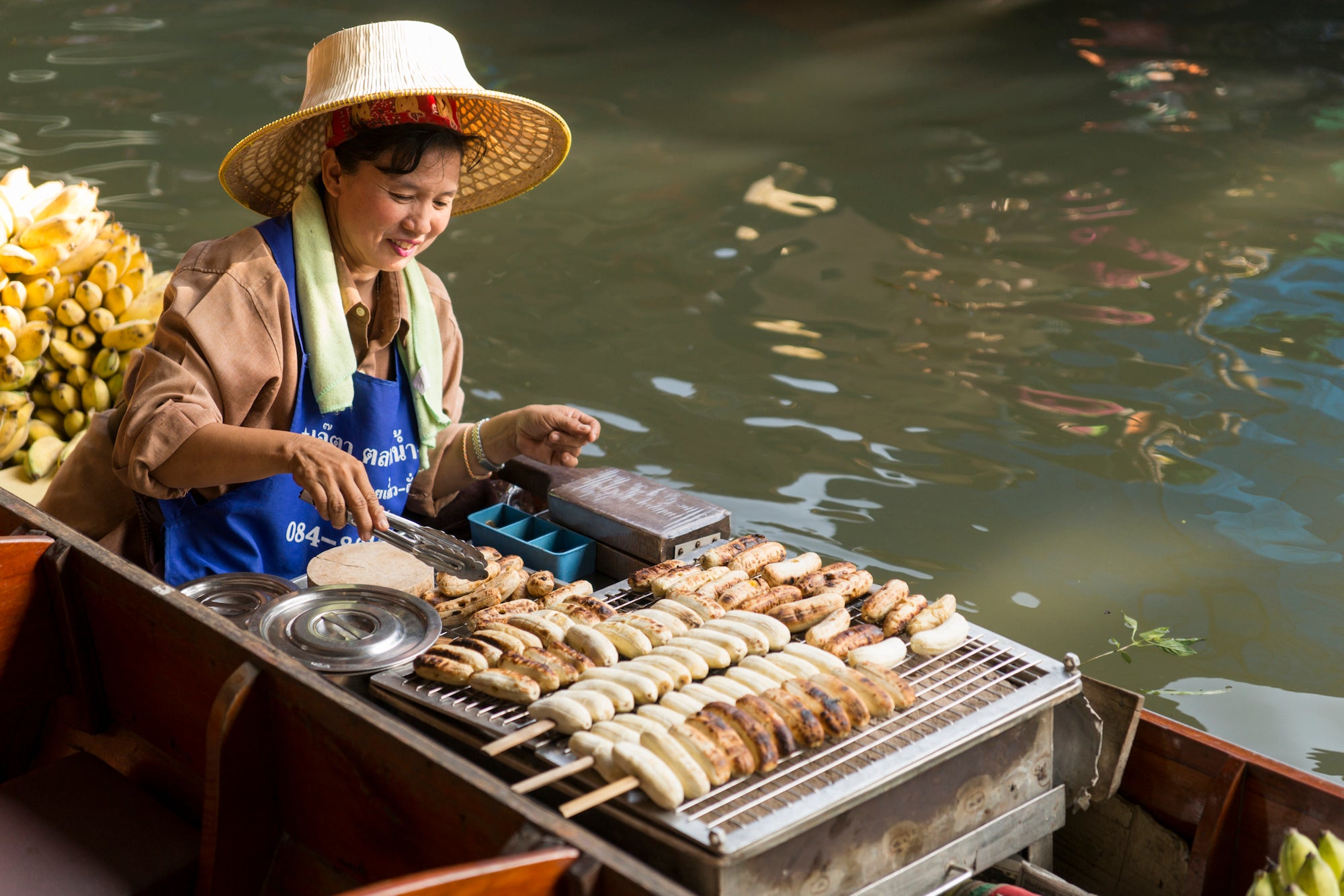 Sony α99. Sony 24-70mm f/2.8. 1/500-sec., f/2.8, ISO 400.
Maeklong Railway Market
Thailand has many markets, but one of the most unusual is the Maeklong Railway market. The market is built along the edge of a railway track. A train comes through from Ban Laem Station (in Bangkok) to the Maeklong Station (just down the tracks from the market) several times a day.
A charming little warning bell goes off over the speaker system just a few minutes before the train comes. Within a few minutes of receiving the warning, vendors pull back their specially designed awnings, sometimes only moments before the train comes through.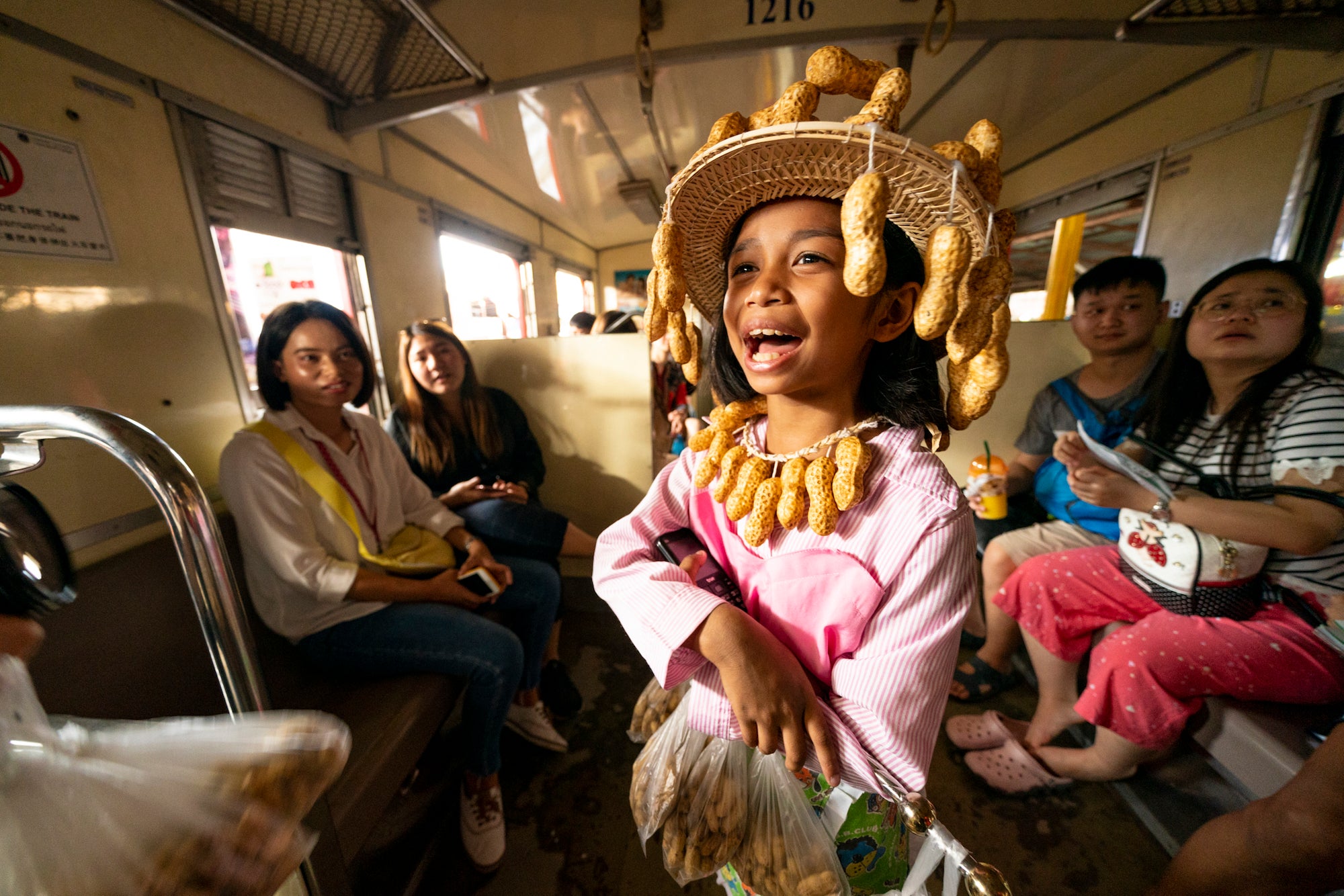 Sony α9. Sony 12-24mm f/4 G. 1/80-sec., f/4, ISO 2000.
Chiang Mai
Elephant sanctuaries are plentiful in Chiang Mai. Elephants were used in the logging trade for many years, and when logging with elephants was outlawed in Thailand, the elephants were literally without a job. As you can imagine it takes a lot of food and money to feed an elephant – this is where the rescue parks stepped in. Now tourist dollars help feed and care for these giant creatures. Without these sanctuaries these elephants could have been sold to people who would use the elephants for back breaking tourist rides.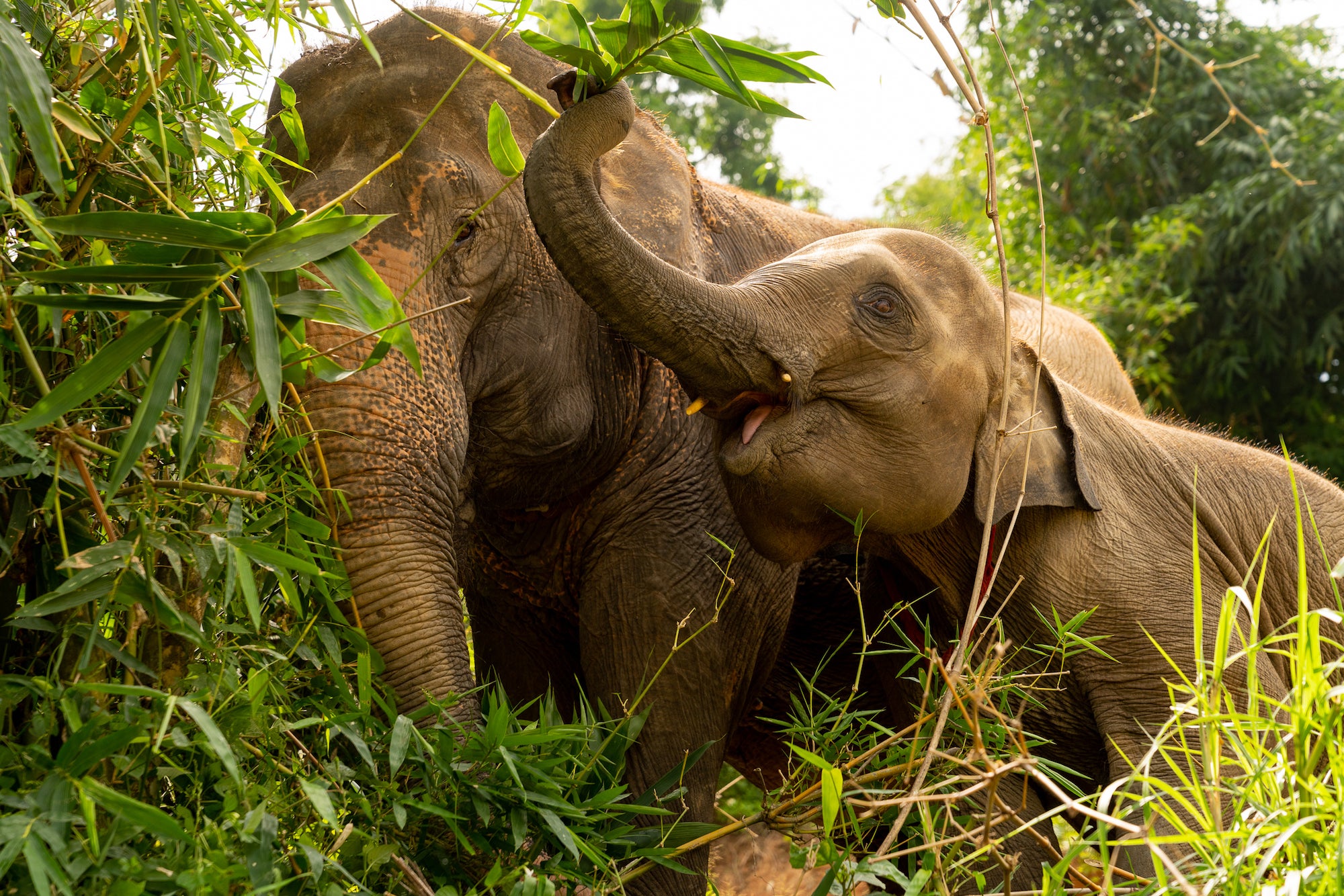 Sony α7R IV. Sony 24-70mm f/2.8 G Master. 1/640-sec., f/5, ISO 400.
Buddhist temples in Chiang Mia. One of my favorites is Wat Phra Singh with its fabulous gold elephants. If you get up before sunrise you watch Alms Giving at some of the temples, it is a fantastic experience. Local people gain good luck and merit by give rice and other food to the monks each do. The monks do not have the money to buy food each day and depend on this practice to eat.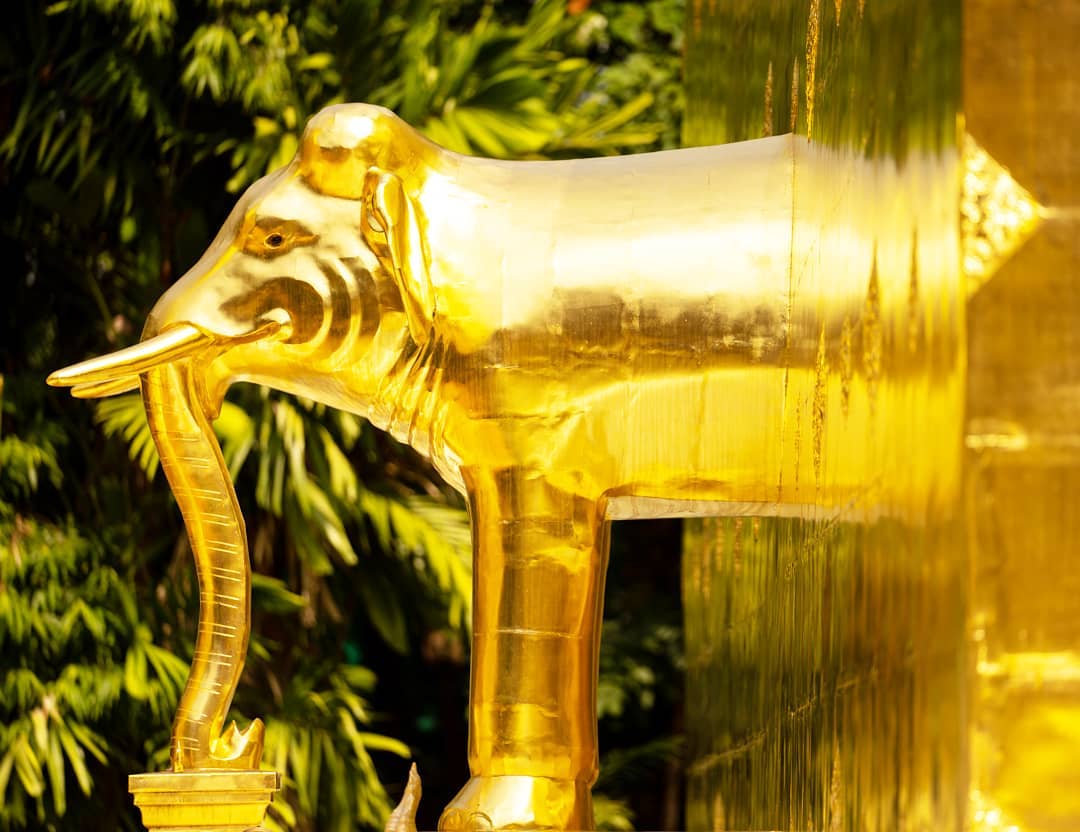 Sony α7R IV.
Muay Thai boxing is the national sport of Thailand. Muay Thai is referred to as the "Art of Eight Limbs" or the "Science of Eight Limbs", because it makes use of punches, kicks, elbows and knee strikes, thus using eight "points of contact", as opposed to "two points" (fists) in boxing and "four points" (hands and feet) used in other more regulated combat sports, such as kickboxing and savate. It is practiced throughout Thailand, especially in Chiang Mai.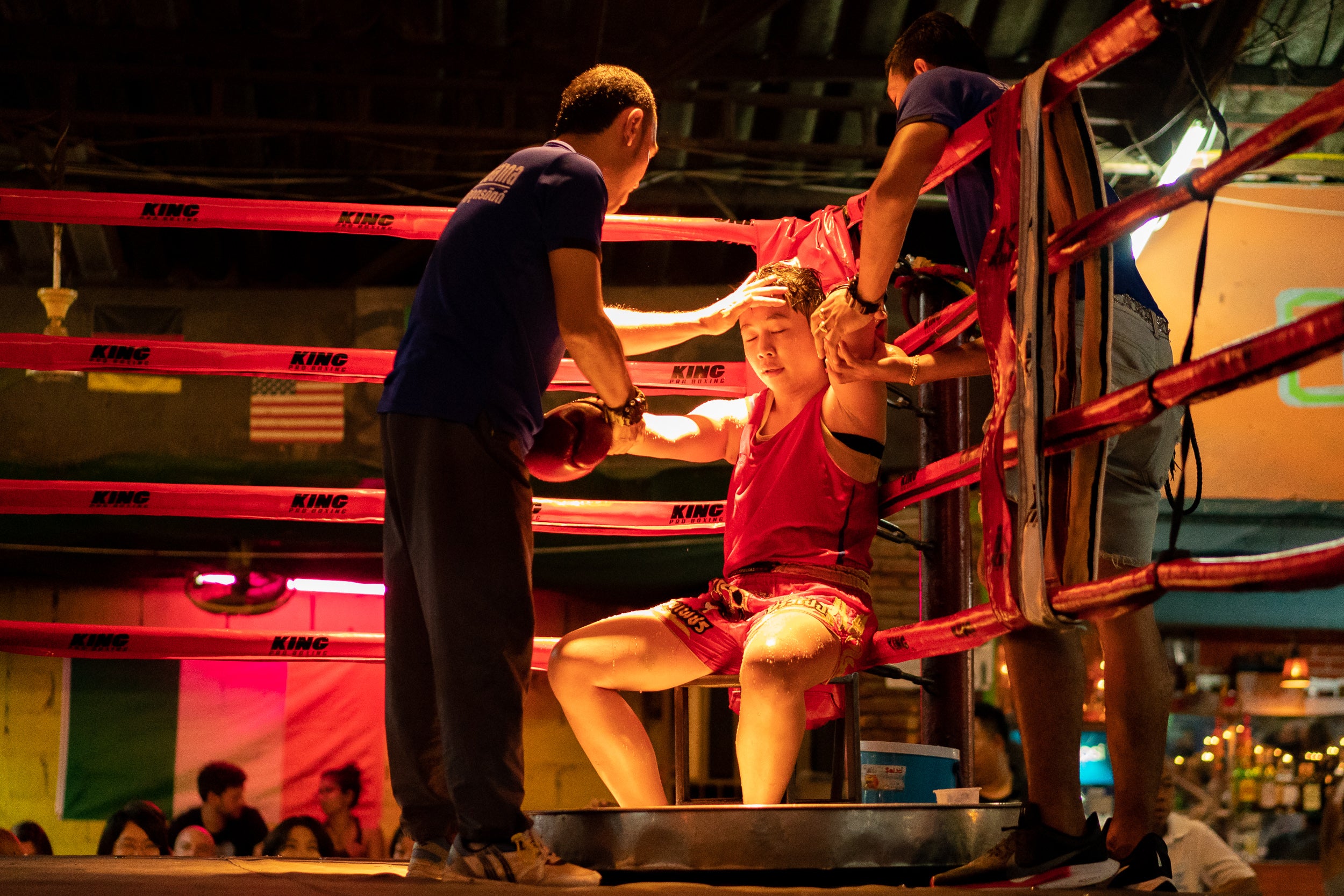 Sony α9. Sony 55mm f/1.8. 1/500-sec., f/2, ISO 8000.
The Yee Peng Lantern Festival is celebrated during the full moon around mid-November and is unique to Chiang Mai. Large paper lanterns are heated up with a fire source and float through the sky, releasing bad luck and misfortune from the previous year. At some of the festivities thousands of lanterns are released into the sky, a fantastic photographic situation. If you go take some time away from getting photos and release a lantern yourself – it is a euphoric experience.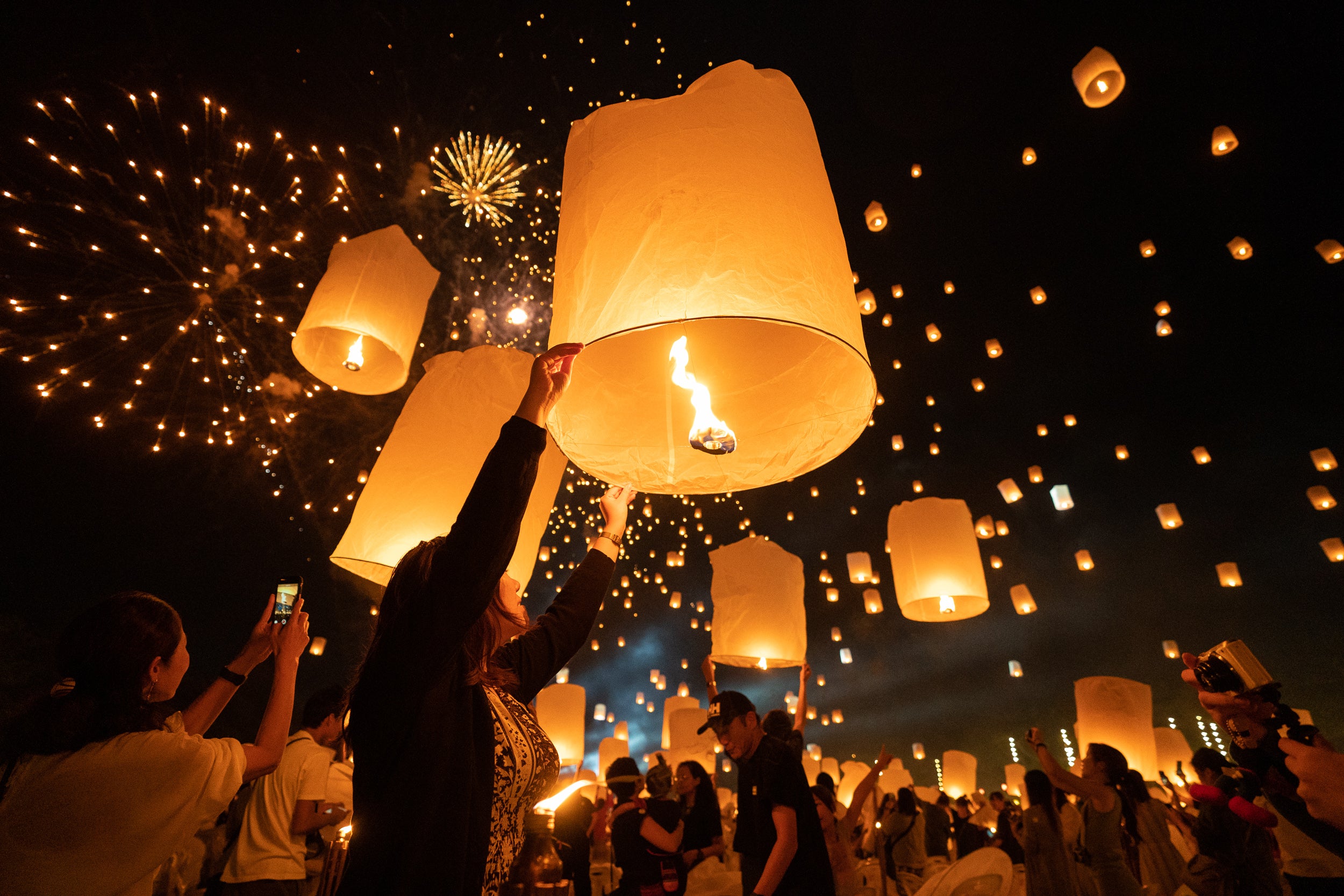 Sony α9. Sony 16-35mm f/2.8 G. 1/160-sec., f/2.8, ISO 6400.
See more from the Yee Peng Lantern Festival here and go behind-the-scenes in Brandon Li's video below.