I travel regularly, sometimes I feel I am spending more time in airport lines than I am at home. In my early career shooting for National Geographic I often traveled with 10-12 cases of equipment. Tons of lighting equipment, backgrounds and grip gear, and even a few cases just to carry film. Digital relieved me of much of my equipment, and when I switched to Sony my load became even lighter – and I have learned to take full advantage of it! This is what I am taking on my trip to Thailand with the Sony Alpha Imaging Collective (#AICdoesThailand).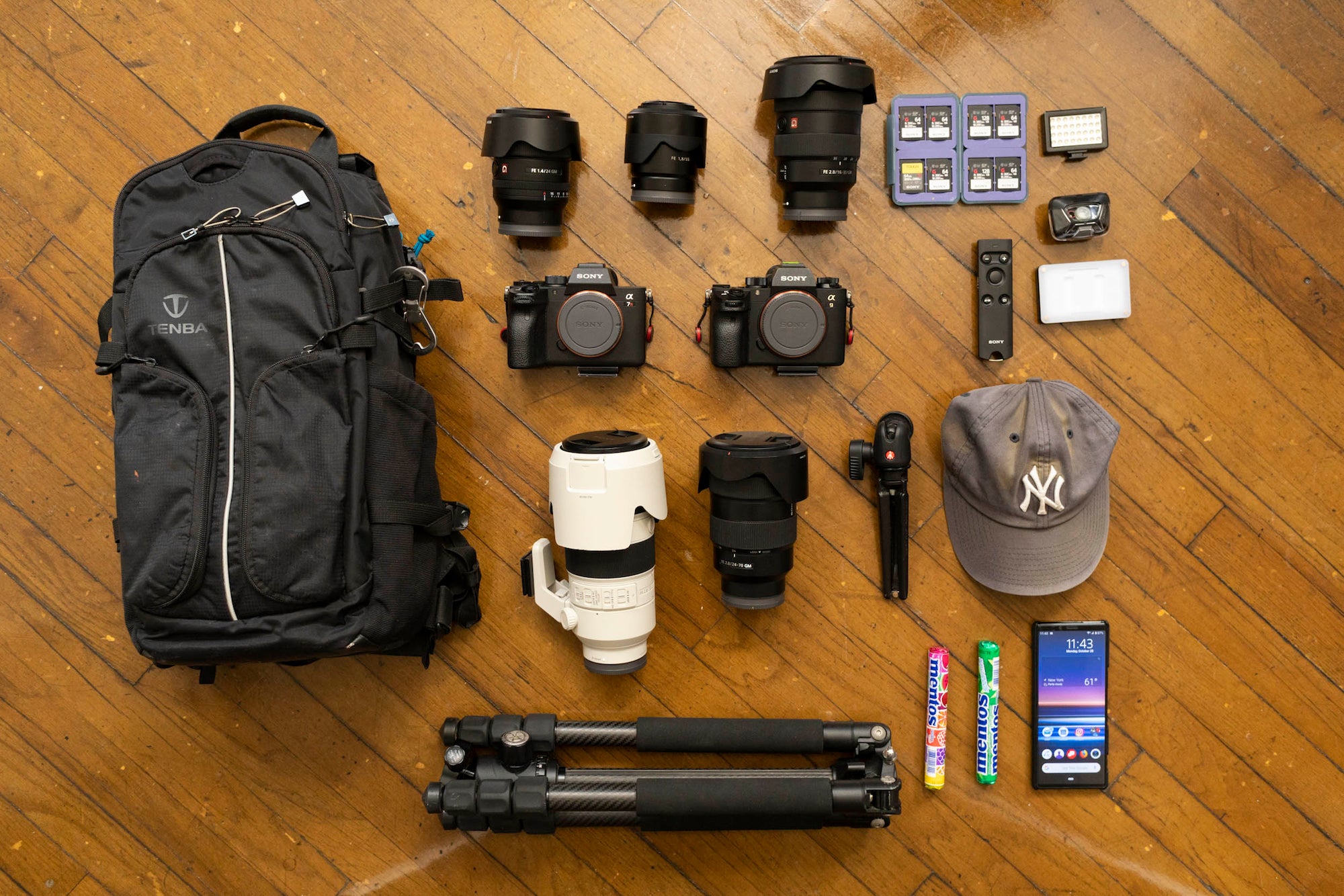 Lenses
Like most working photographers, these three zooms, the trinity of lenses, covers most of what I shoot. All three lenses are sharp and make photos with beautiful color and contrast.
Sony 24-70mm f/2.8 G Master: I do 90% of my shooting with this lens. My style is to get close to people with a medium wide angle and show them in their environment, and the 24-70mm is perfect for that look.
Sony 16-35mm f/2.8 G Master: I use this lens when I am in a tight spot or need to have something large loom in my foreground. It is also a great lens for star photography.
Sony 70-200mm f/2.8 G Master: When I need some serious focal length, I go with this lens. It is perfect when I want a compression effect or need to really blur out the background.
I also always carry a fast-prime lens or two with me for low light shooting or when I want to be unobtrusive with a small lens. I planned our Chiang Mai journey around two festivals of the full moon, Loi Krathong and Yi Peng. For Yi Peng, thousands of paper lanterns fly into the sky, and small baskets of flowers are floated on a river for Loi Krathong. These are night events so I'm bringing these two primes:
Sony 24mm f/1.4 G Master: I normally would carry my 35mm f/1.8, but I opted to bring the 24mm f/1.4 G Master to get more lanterns in the sky.
Sony 55mm f/1.8: The 55mm, like the 24mm, is extremely sharp wide open and creates a really nice contrast to my images.
Cameras
Sony α7R IV: If I need detail and high dynamic range – the α7R IV is the winner. I never had issues with the ergonomics of my α7R III, but the new body style of the IV is even better. As a back button focuser I love the new larger easier to hit button designs. Both cameras work well for me under wet conditions, and I have learned to keep the little tab in the hot shoe, otherwise it could be a point where water can get into the bottom.
Sony α9: When I am photographing people doing things, I go to the α9. It is fast and responsive, and it is my champion in low light.
Sony RX0: During this trip we will be bathing with elephants and heading down river on bamboo rafts – so the Sony RX0 is perfect. Small and totally waterproof.
Accessories
Induro Carbon Fiber Tripod: I have this tripod for lightweight travel because it folds back on itself, so it packs easily. There have been too many times when I have left my tripod at the hotel, so a small foldable table top tripod is always in my bag.
Tenba Shootout 14L Slim Bag: It has a really small profile and is fantastic for getting around crowded streets, like those in Chiang Mai.
Sony Bluetooth Wireless Release: I like using this to fire my cameras, it has nice range and won't shake the camera like a corded release will.
Sony Memory Cards: Of course I take plenty of these with me.
Headlamp: I always have a headlamp in my bag, so I can work with both hands in the dark.
Small LED Lights: A couple of these are great for giving a twinkle to someone's eyes or to fill in when working in really dark situations. They are very inexpensive little lights that I have found visiting various camera shops while I am traveling.
Sony Xperia 1: This is my mobile phone and the camera has great Sony Alpha technology and uses three lenses. And, it also makes phone calls?!
Mentos: If I get hungry and need a sugar rush, Mentos are my go-to candy.
Yankees Cap: How could I travel anywhere without a Yankees cap? I carry the flag everywhere in the world.