If you want to find the world's top fashion photographers, go to New York Fashion Week. It's one of a handful of events during the year that draws everyone who is anyone in the fashion world. This year, a small group of rising fashion photography stars had a special opportunity at NYFW. With help from their school mentors and Sony, six leading students were credentialed and assigned the task of capturing all aspects of designer Nina Tiari's show. And, for this real world assignment, the students put together an exhibition that was displayed in the main gallery space at Sony Square NYC at 25 Madison.
Sony Artisans Nino Rakichevich, Katrin Eismann and Tony Gale – who also happen to be educators in New York City – were tasked with finding students who could make the most of a real world fashion photography experience. Those chosen would be granted an all-access pass to photographing a runway show at New York Fashion Week and being able to go backstage before and after. Their best photos from the experience would then be chosen by the designer to go on display in an actual gallery show in New York City to be seen by many pros in the fashion photography world.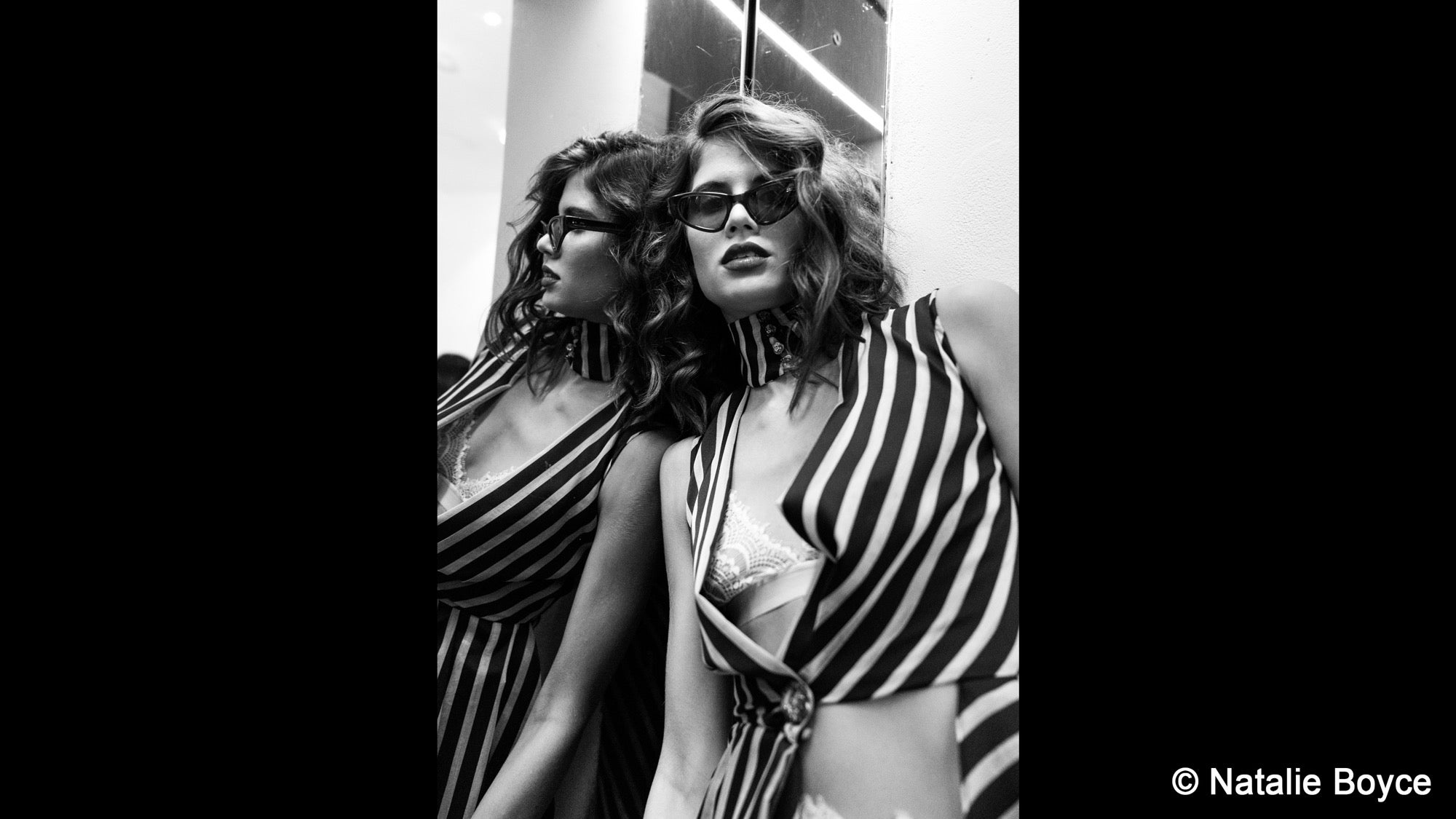 Photo by Natalie Boyce. Sony α7R II. Sony 24-70mm f/2.8 lens at 28mm. 1/125-sec, f/2.8, ISO 2500
The group would be accompanied and mentored by Rakichevich, a leading pro who is a well-known fixture in fashion photography circles, "I photograph Paris Fashion Week every year, so I go to Paris every summer. I stay there usually for two months and during that time there's two fashion weeks. Men's Fashion Week and Haute Couture Fashion Week."
Rakichevich's goal was to give the students a real world experience in the rough-and-tumble realm of fashion photography. The group was put to work with a set list of deliverables. After hours of shooting they would have to edit and get 50 photos to Rakichevich by midnight. From there he would choose 20 each to submit to the designer, Nina Tiari, who would pick her favorites for the gallery show in Sony Square NYC. The deadlines were real and they were tight.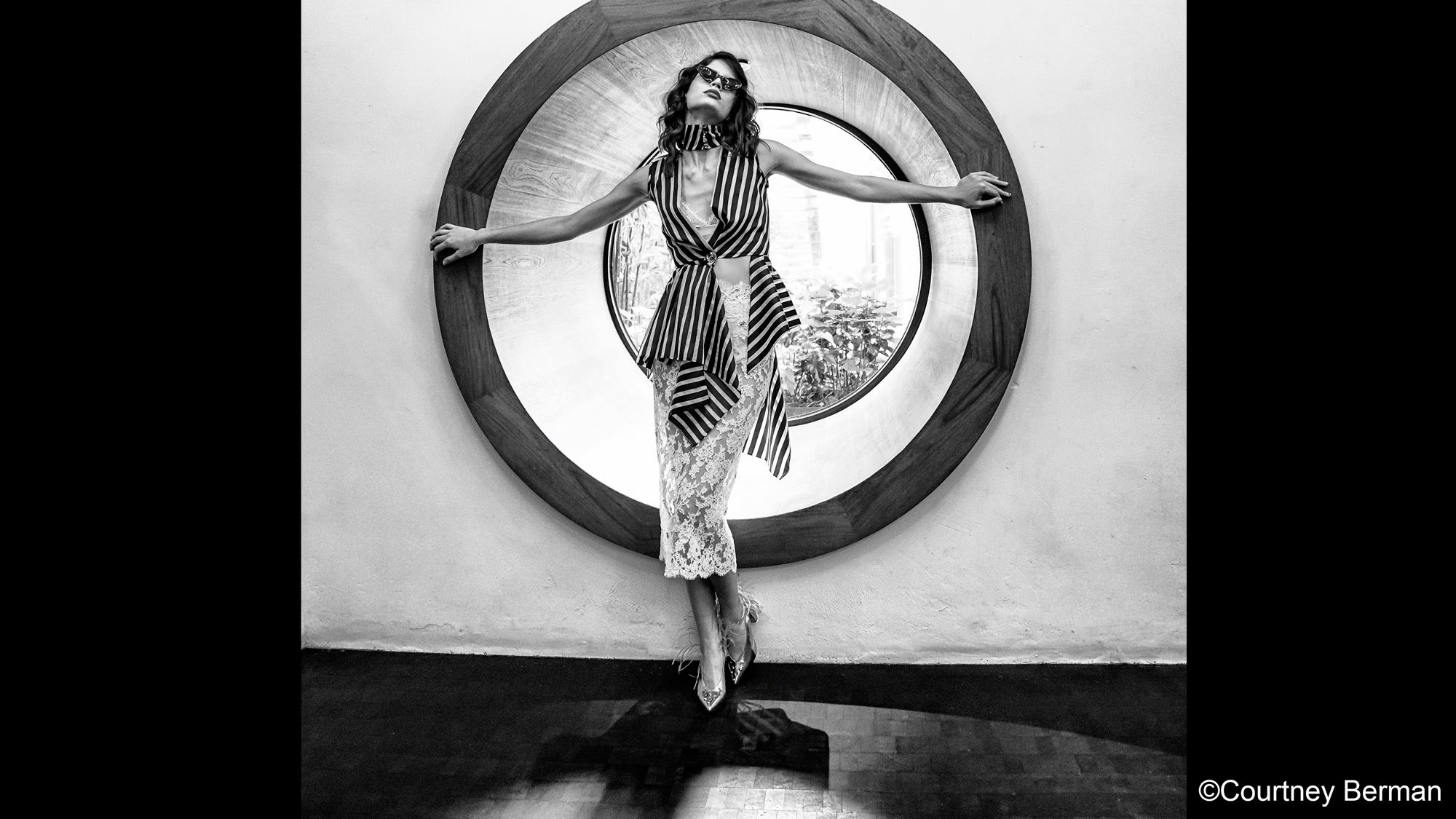 Photo by Courtney Berman. Sony α7R II. Sony 24-70mm f/2.8 G Master lens at 24mm. 1/100-sec., f/2.8, ISO 5000
Rakichevich chose students Courtney Berman and Adrian White from Parsons School of Design, who had both previously accompanied him to Paris Fashion Week for his class. Gale went with his students Natalie Boyce and Lucy Borden from the Fashion Institute of Technology. Being that it was so early in the school year for Eismann, she went with two alumni of New York's School of Visual Arts, Ana Paula Tizzi and Nichole Washington.
"I picked people that I knew were interested in fashion, because to be a fashion photographer, it's a lot of work. You have to stay up on fashion, really be into it, you're constantly shooting because things are changing all the time. I also picked the type of people who can handle a stressful situation because we were really throwing them into this. People who are flexible, independent and ready to go," says Eismann.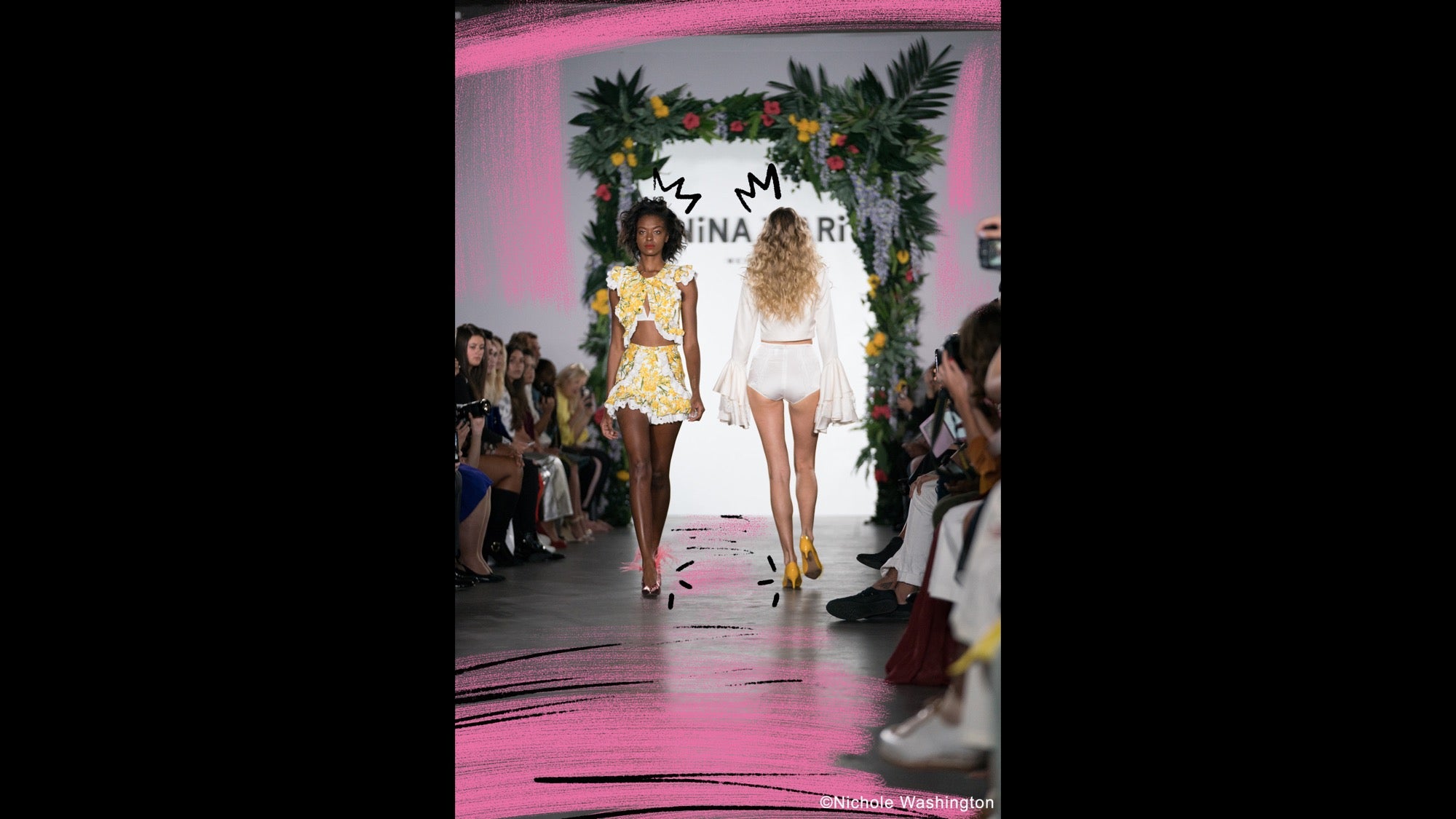 Photo by Nichole Washington. Sony α9. Sony 70-200mm f/2.8 lens at 125mm. 1/2500-sec, f/2.8, ISO 2500
In addition to the students, Pascaline Josette, the young photographer and daughter of Sony Artisan MeRa Koh who was in New York at the time, was given the opportunity to work as a production assistant for the crew. It was an invaluable experience for the young photographer who has already launched her own successful portrait photography business.
The experience started with a meet-up at Sony Square to go over the equipment they would be using. Sony provided the group with the latest cameras so they would have the best focusing and tracking capabilities for the show. Two a9s and four a7R IIs were divided amongst the group, and each were also given the 24-70mm f/2.8 G Master and 70-200mm f/2.8 G Master lenses. "Some of them had never used Sony gear before," says Rakichevich, "So I really wanted to make sure they knew how to operate the cameras and gave them a little tutorial session."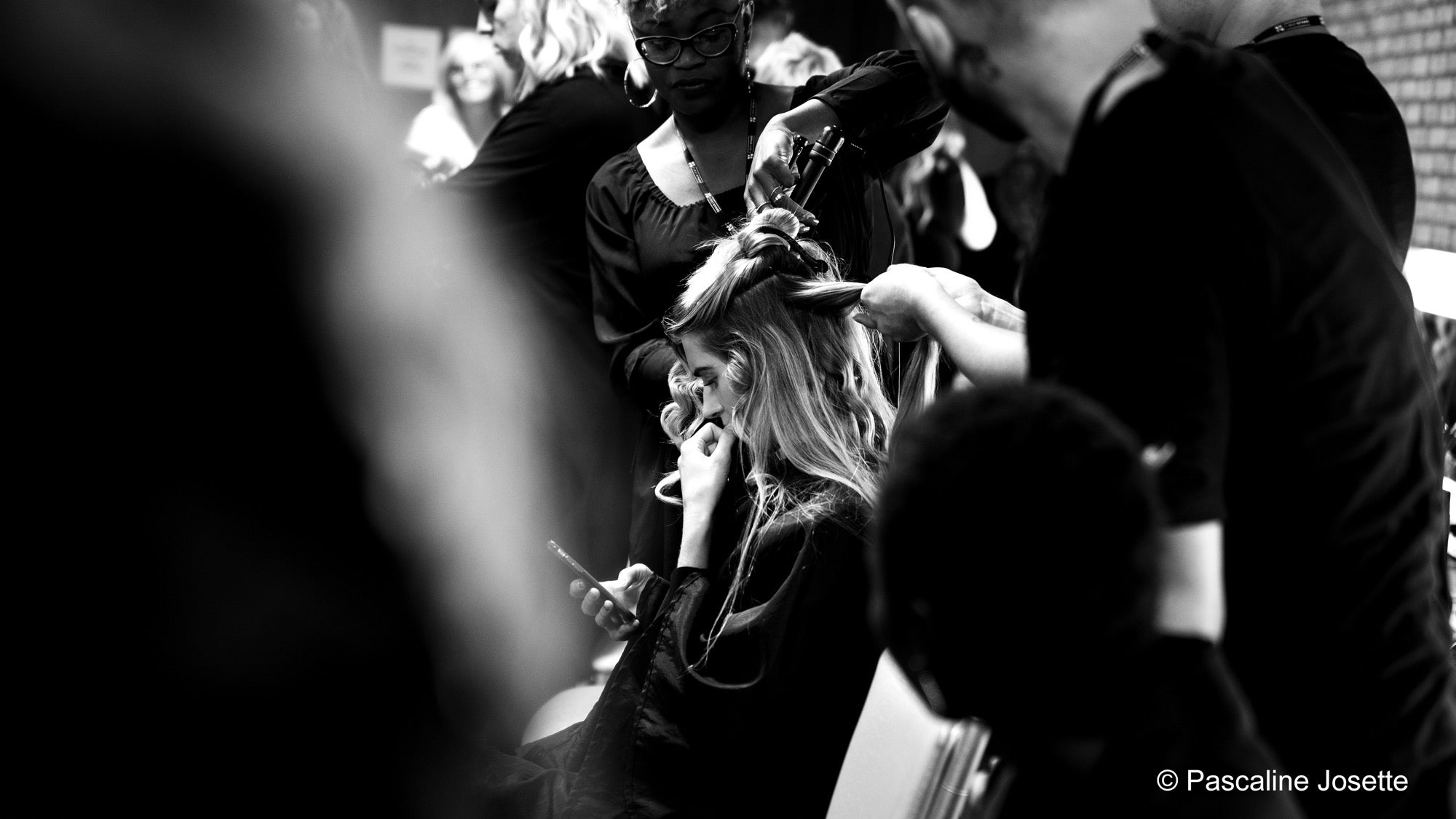 Photo by Pascaline Josette. Sony α7R II. Sony 24-70mm f/2.8 lens at 70mm. 1/250-sec, f/2.8, ISO 320
The next day the group met early for Nina Tiari's runway show. Rakichevich strategically positioned members of the group throughout the show. "Because there were six in the group and we didn't want them all to be at the same spot, I divided two of them backstage, two of them in the middle row and two in the front with all the photographers who were photographing the runway. This way we would have a variety of photos," Rakichevich explains.
White, the only male in the group of six, was stationed down in the pit during the runway show and so he was given an a9 to capture the action. "I got to use the Sony a9, which was the first time I had ever shot with it. That camera is a beast. The focusing on it is seamless; we had several different focusing modes going, face and eye recognition. It focused exactly when it was supposed to, it was so quick. For me it shot SUPER fast, I had to slow it down a bit! That is a crazy camera."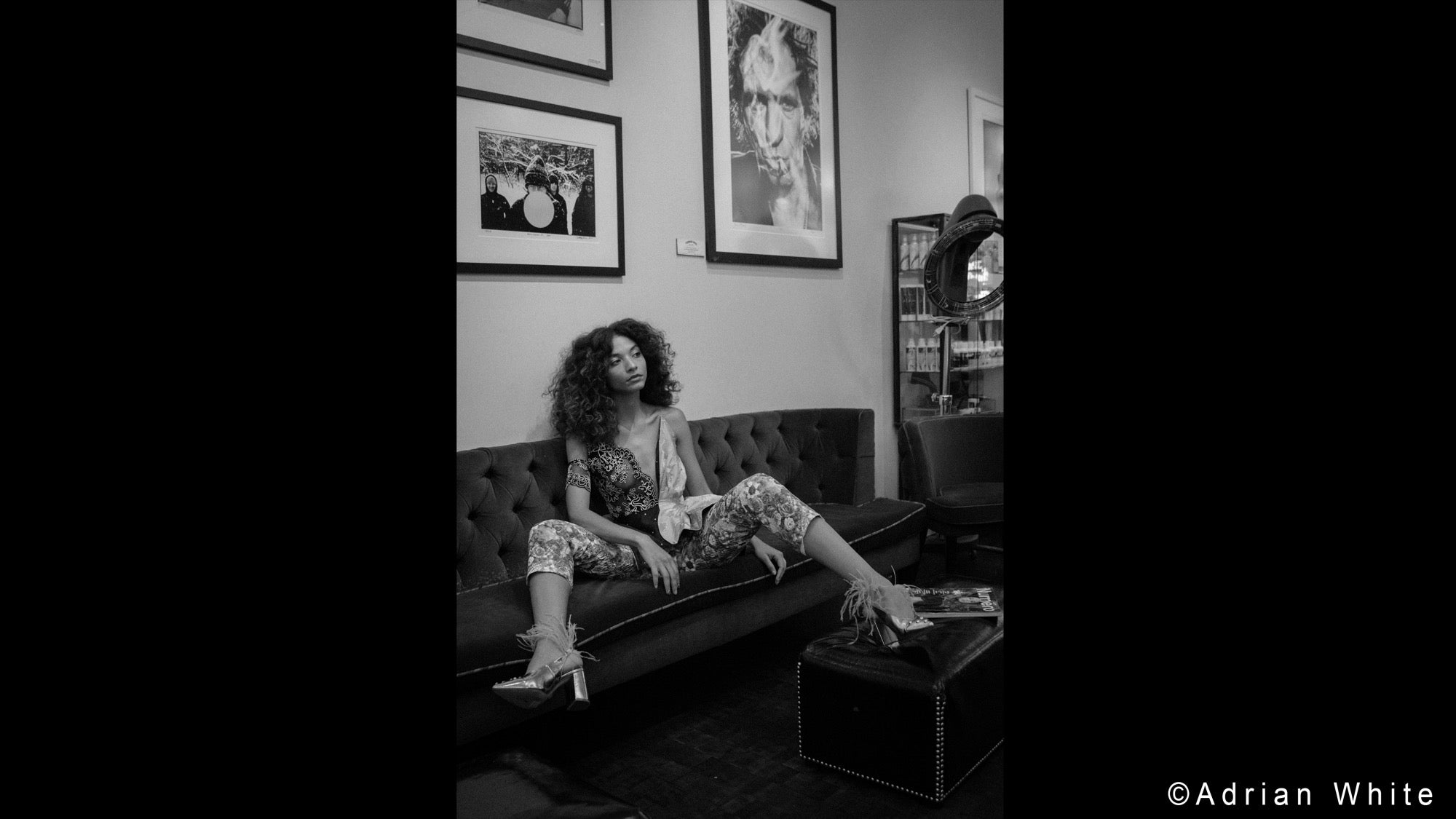 Photo by Adrian White. Sony α6500. Sony 24-70mm f/2.8 G Master lens at 24 mm. 1/200-sec., f/2.8, ISO 5000
Following the show, the group was able to go backstage – something that not just anyone gains access to. "Backstage photo opps happen right after the show. The models will still stay there for another 20 minutes and you can work with them. They'll pose for you with full-on makeup, with the best outfits and everything. That's when you get the most interesting photos," says Rakichevich.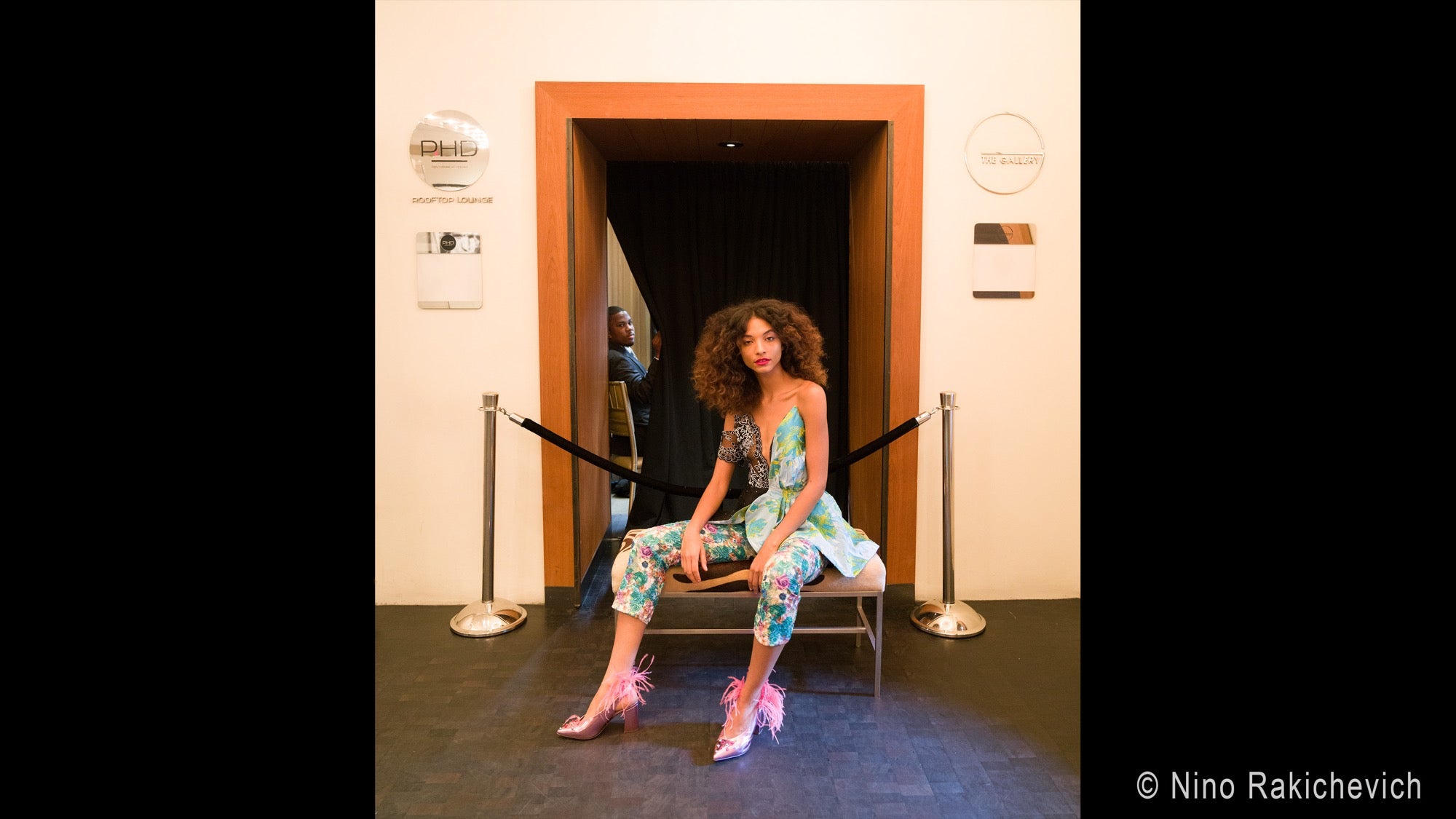 Photo by Nino Rakichevich. Backstage with the Sony α7R II. Sony 24-70mm f/2.8 G Master. 1/100-sec., f/4.0, ISO 3200
The group was blown away by just how real the experience was. They were there as professional fashion photographers and were treated as such.
"It was definitely a real world experience," says Borden. "Everything from walking in from the back and having my name on the list (so exciting) from being seen and respected as an actual photographer. It definitely surprised me the way we were all treated by everyone, so professionally. I didn't expect that, maybe because I'm a student and people tend to walk all over us. It was nice to be considered as a working professional for once. I really enjoyed that."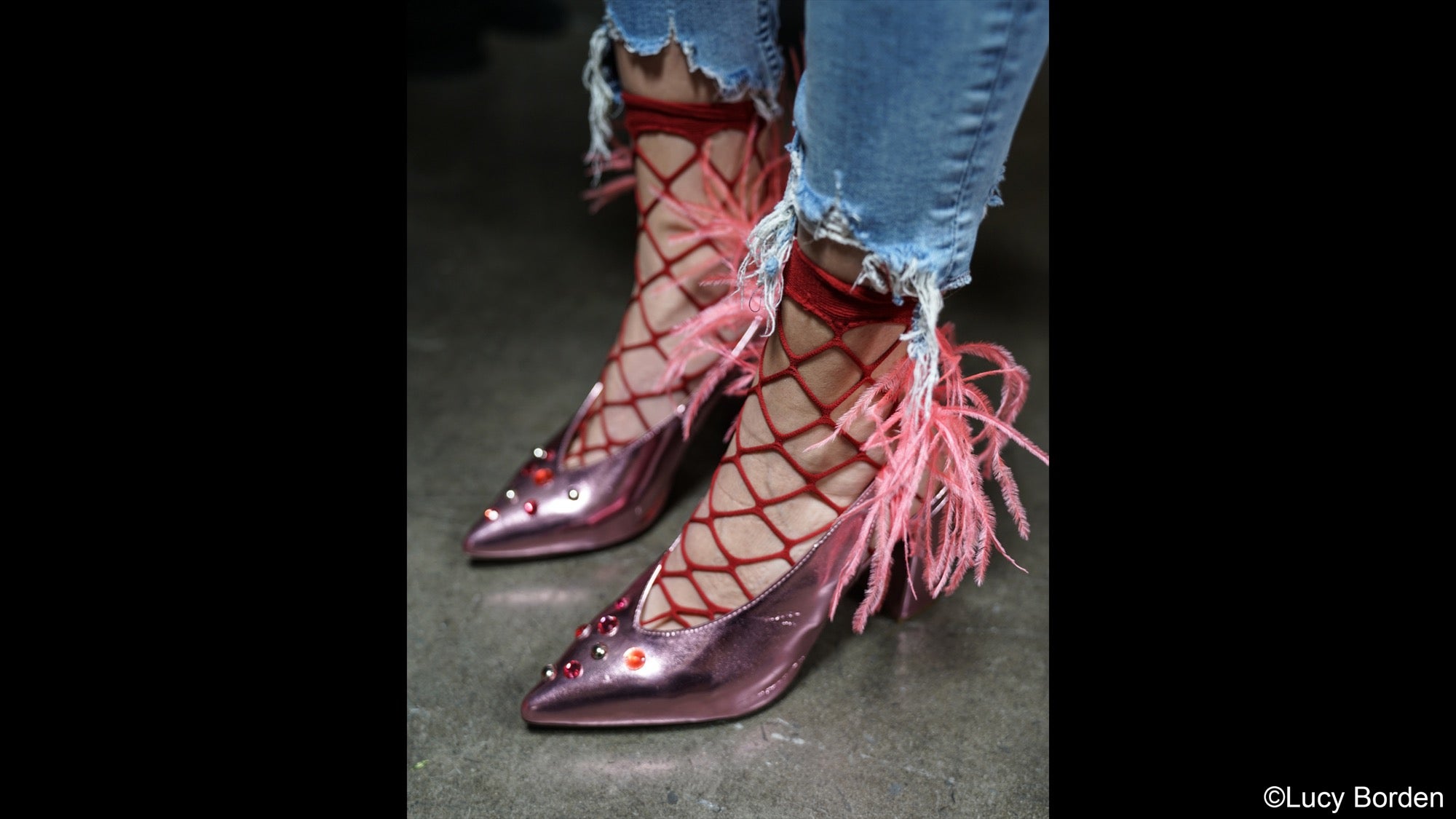 Photo by Lucy Borden. Sony α7R II. Sony 24-70mm f/2.8 G Master at 44mm. 1/100-sec., f/2.8
Once they were done shooting, the group had to begin preparing their photos to submit them by the midnight deadline. Rakichevich then passed his selects along to designer Nina Tiari in the morning. The designer couldn't have been more impressed, "She looked at all of them and said, 'Nino, I love them all. These are the best, I think they're all usable,'" explains Rakichevich.
A few days later, the group's top images were on display alongside Rakichevich's Paris Fashion Week exhibit in Sony Square. "Getting to see Nino's work on the wall, being able to talk to everyone about our experience and seeing our own images huge on the big screen in Sony Square was such a great experience." notes White.
The experience also confirmed for those in the group that they were right where they wanted to be. "The experience was amazing, it really confirmed that fashion and runway photography is the field I want to go into. The fast pace of it was exhilarating. I was surprised by how open the models were to having their picture taken by anyone. I am extremely thankful I got the opportunity to photograph this show," says Boyce.
"The best part of this experience was feeling confident that nothing would go wrong, simply because I had the latest Sony gear on hand, as well as the best team. I knew I could rely on them. All of that, combined with stunning clothes and people who have an amazing story to tell, would be a dream come true to any visual artist. I not only felt lucky but very thankful that Sony provided me with this opportunity," says Tizzi.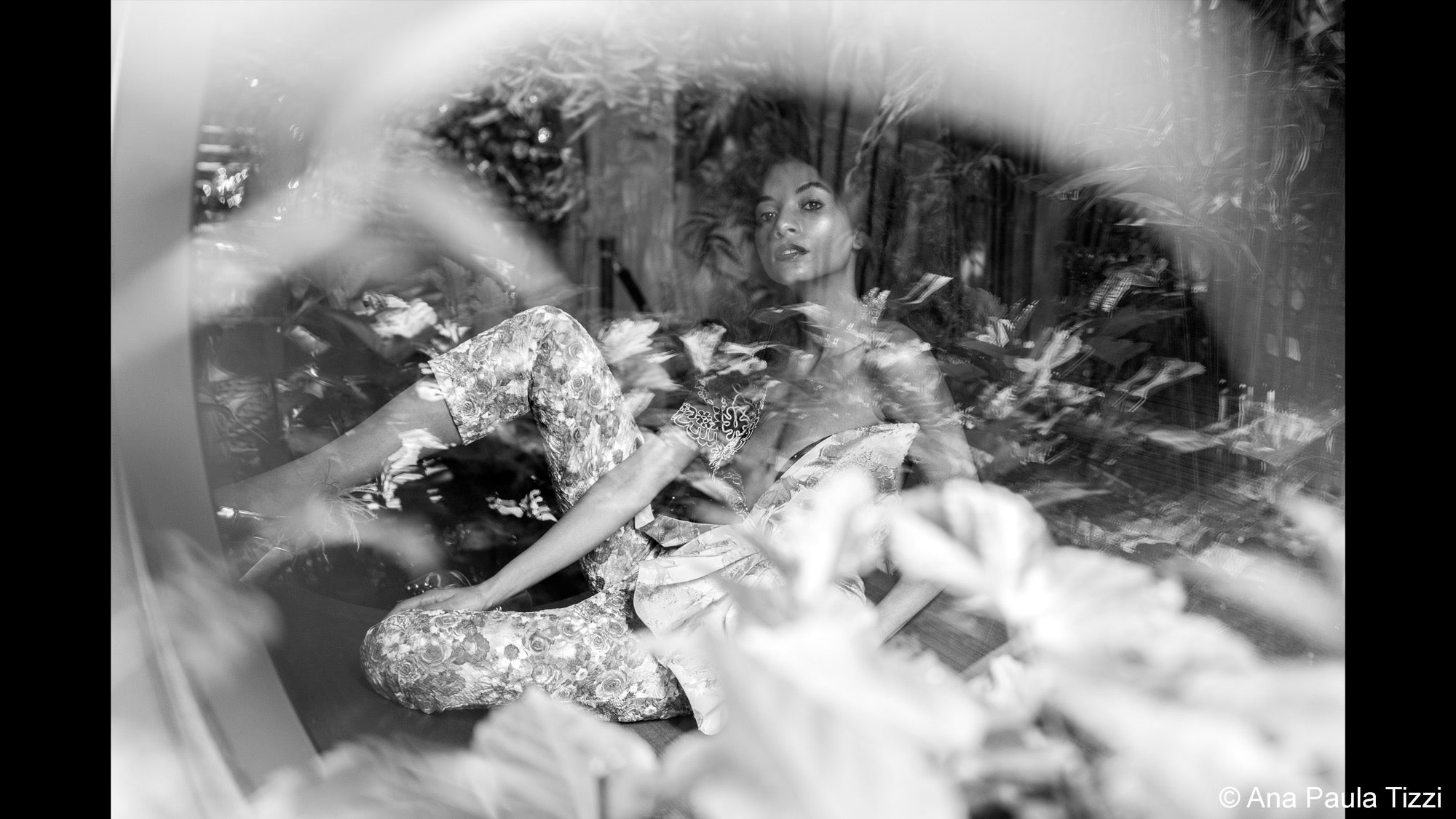 Photo by Ana Paula Tizzi. Sony α7R II. Sony FE 24-70mm f/2.8 G Master lens at 45mm. 1/125-sec., f/2.8, ISO 1000.
Rakichevich was very pleased with the way everyone performed. "They did really, really well. Even for most of them it was the first time dealing with a Fashion Week and also going backstage and all that. They were really good and respectful."
Sony Artisans Eismann and Gale received great feedback from their students and alumni in the group, and had great things to say about the entire experience.
"I think what's really interesting is how open and fast-moving Sony was to this opportunity. It was like we had an idea, here's an opportunity – let's do it. This wasn't something thought up months ago. I think that really shows how you have to be today as a professional photographer. You need to be alert and ready and willing to try new things," says Eismann.
"Fashion Week in New York is a very big deal, and getting access to it if you're not already part of that group is REALLY difficult. There are a lot of people who want to get into the mix and to be one of those people is really challenging because the competition is so high. So for Sony to open this up and bring this group of six in is just huge for these students because an opportunity like that just doesn't happen. I've never heard of anyone doing that at a show like this. What an awesome opportunity," says Gale.