Terrence Drysdale (@tjdrysdale) is a fine art photographer based out of Tampa, Florida. The Alpha Collective member has been traveling with his partner Victoria for the past six years in search of epic landscapes and beautiful scenery in an effort to create moments only seen in fairy tales. "I've been taking pictures for about 12 years now and initially started as a landscape photographer," he says. "I slowly shifted into taking more portraits, but really wanted to keep that nature element. Victoria and I first shot together in 2014, and our instant chemistry was hard to ignore."
He continues, "One year later we took our first trip overseas and our 'Follow Me Away' project hit the ground running. Our style has changed a bit over the years but the end goal remains the same, which is to allow the viewer to create their own story. Why is she out there by herself? Where is she going? Is she running from somebody or to someone? We have so much fun traveling and creating together and look forward to many more trips in the future."
We came across this beautiful image created by Drysdale and had to learn more about it. Keep reading as he explains how he created this shot using his Sony Alpha 7R IV and Sony 24-70mm f/2.8 G Master.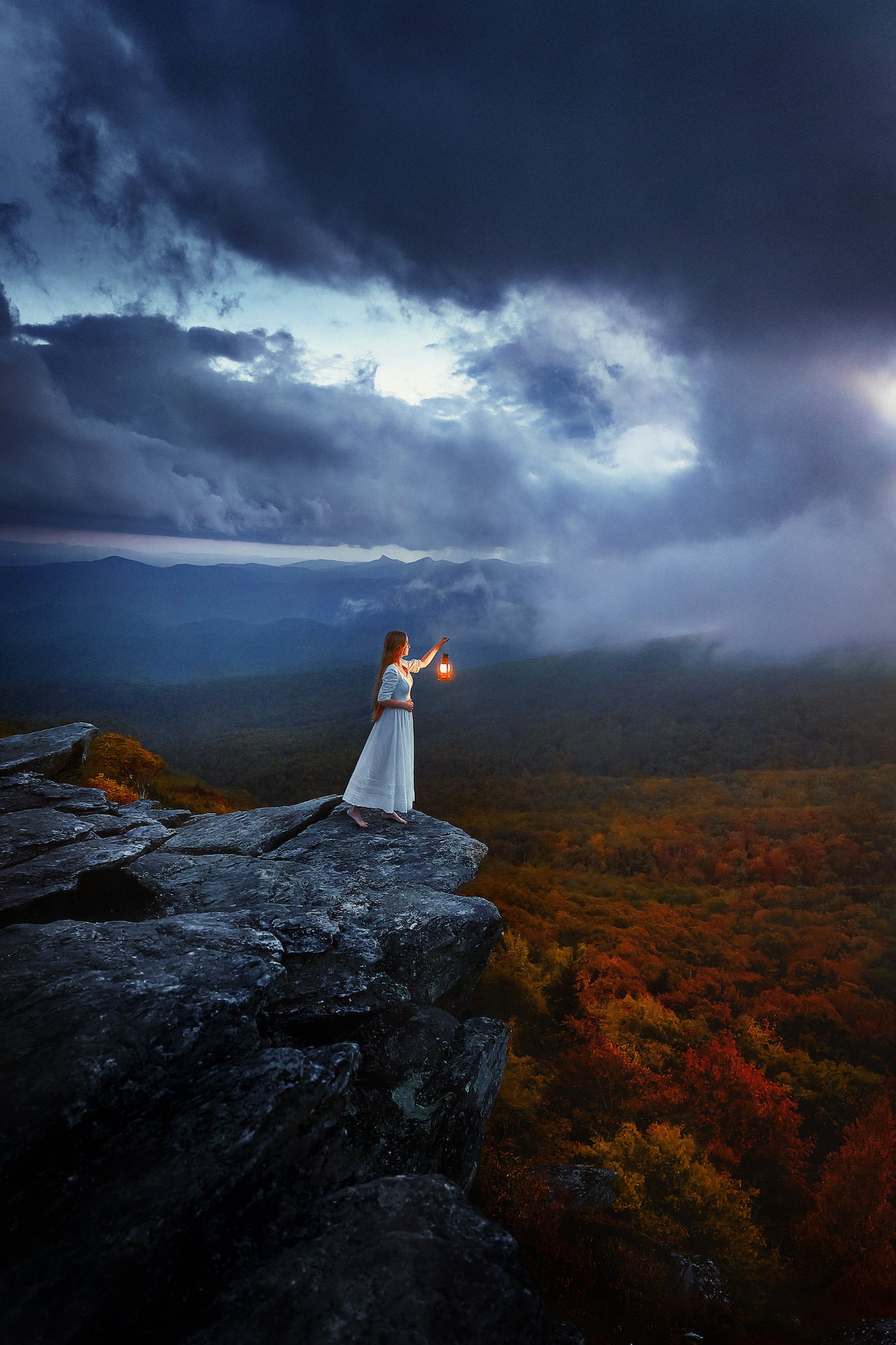 Photo by Terrence Drysdale. Sony Alpha 7R IV. Sony 24-70mm f/2.8 G Master. 1/40-sec., f/2.8, ISO 640
Fantasy-Like Conditions To Set The Scene
This picture was taken in the Blue Ridge Mountains in North Carolina in October of 2021. The viewpoint is called Rough Ridge and it sits along the Blue Ridge Parkway. Our Airbnb was not too far from here, so during our stay we hiked up to the viewpoint multiple times. Each time we went we were met with different weather conditions. On this evening we were super happy to see the fog descend into the valley. It was a last-second decision to bring the lantern with us on the hike. I'm so glad we did because it really added a cool fantasy element to the image.
Using What Mother Nature Gives (Plus A Solid Camera & Lens Combo)
I took this photo with my Sony Alpha 7R IV and my Sony 24-70mm f/2.8 G Master. I shot it at an aperture of f/2.8 and at a very low shutter speed of 1/40-sec. (I have a steady hand, ha!) Then I had my ISO at 640. The light was fading pretty fast and I did not have time to set up a tripod, so I had to become a human tripod for the duration of the shoot! When people see our images, a lot of times they think that there's a big production behind it with lights and reflectors and assistants, but 100% of the time it's just Victoria and I out there using whatever lighting conditions and weather mother nature graces us with that day.
Alpha Collective member Terrence Drysdale shares how he incorporates weather and natural lighting into his photography to create fantasy-like imagery.
Not Rushing Post-Production
I was really happy with how the image turned out in camera but of course, editing it was the next step. I use a program called DxO Pure Raw to process my RAW images. It does an incredible job of cleaning up the pictures and eliminating any noise that may be there. From there, I take the photos into Capture One where I'll adjust the colors brightness, etc, and convert them to JPEGs.
The final step is to bring it into Photoshop where I bring the image to life. I like to take my time when I'm editing my photos. In total it may take me about 3-4 hours to edit an image, but I'll do that over the course of a couple of days. I like to step away and then come back and see if I actually like what I've done. I had a tough time for this one deciding if I wanted to go for more blue tones or more sunset tones, so more of a warm purple-ish hue. But ultimately decided on this edit because I wanted to give it more of a nighttime vibe. I'm very happy with how it came out and I hope you like it as well!
See more of Drysdale's work on his Alpha Universe Profile, on Instagram @tjdrysdale – plus see his adventures with partner Victoria @followmeaway.