Sony Artisan Caroline Jensen loves to photograph prairie conservation and the pollinator habitat. "I really like photographing flowers and bees and birds and butterflies and all the things that go along with that," she explains. "Historically, my approach to trying to photograph insects has been to just get some part of their body in focus because they're moving in all different directions and they're tiny." Now with the new Sony Alpha 7R V and its AI advancements, including the new Insect Eye AutoFocus, Jensen's approach to getting insect images in focus has changed. She recently took the new camera to a butterfly house to test its performance and we connected with her to learn more about her experience using it to photograph delicate and beautiful butterflies. Learn more about the new Alpha 7R V HERE.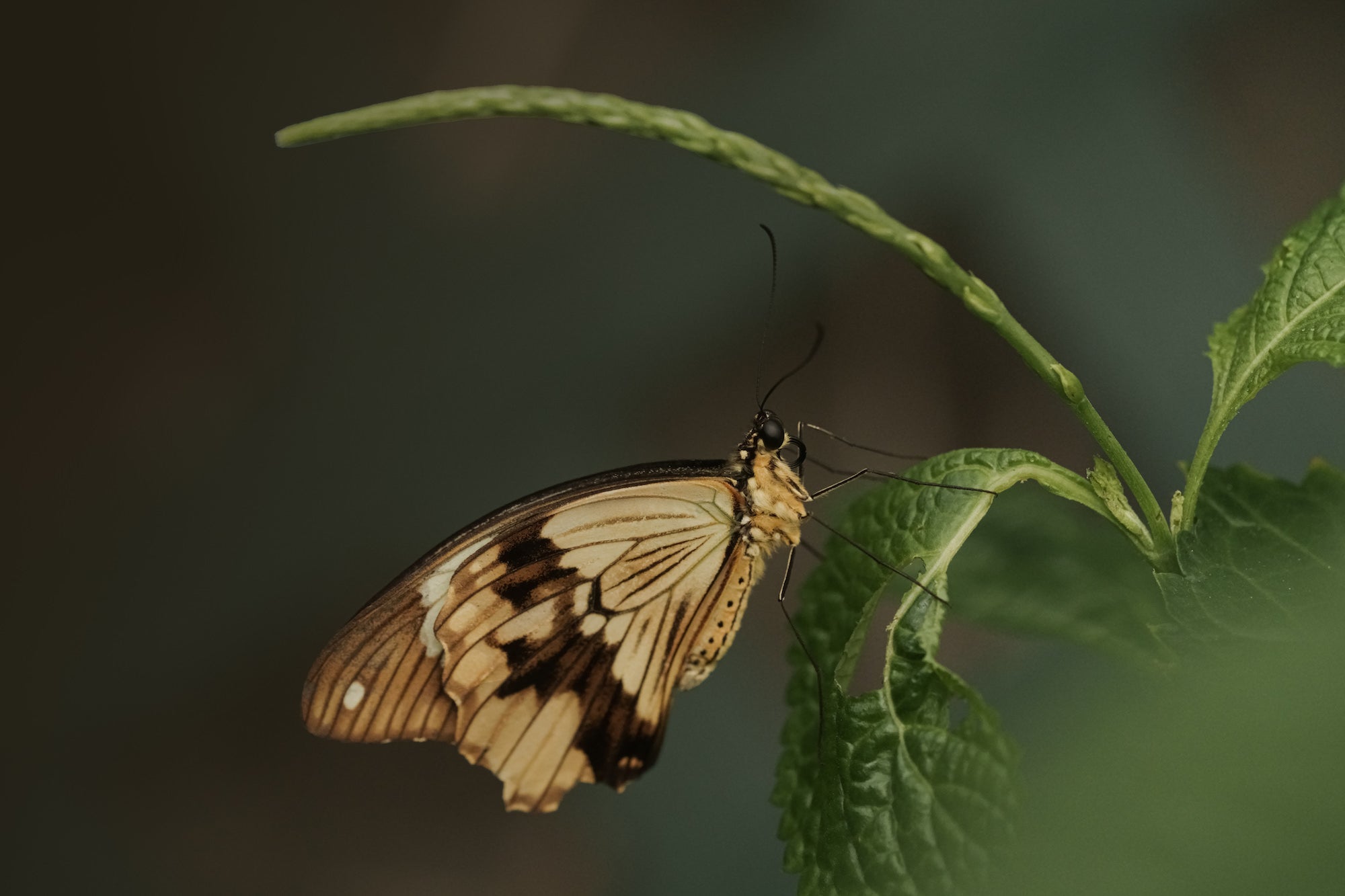 Photo by Caroline Jensen. Sony Alpha 7R V. Sony 90mm f/2.8 Macro G. 1/400-sec., f/4.5, ISO 2000
Sony Artisan Caroline Jensen shares her experience using the new camera's advancements, like Insect Eye AF, to photograph delicate and beautiful butterflies.
A New Approach To Insect Photography
As Jensen mentioned, in the past when she has been photographing insects, her approach was to try to get any part of them in focus. "Up until now, just getting something in focus has been my goal," she says. "There's very little that you can do strategically, photographically speaking, with insects because a lot of it is very hit or miss. Many times you're shooting blind and just hoping that the tracking system is tracking the insect and that you'll get a keeper in there."
When she took the new Alpha 7R V into the butterfly house, she quickly realized that the 'grip and rip' method to photographing insects was no more. The accuracy of the Insect Eye AF actually took her by surprise. In the past if a butterfly were spread out right in front of her, usually autofocus would automatically focus on the wings. With the new Alpha 7R V, it would actually go past the wings, past the antenna and down to the eyes.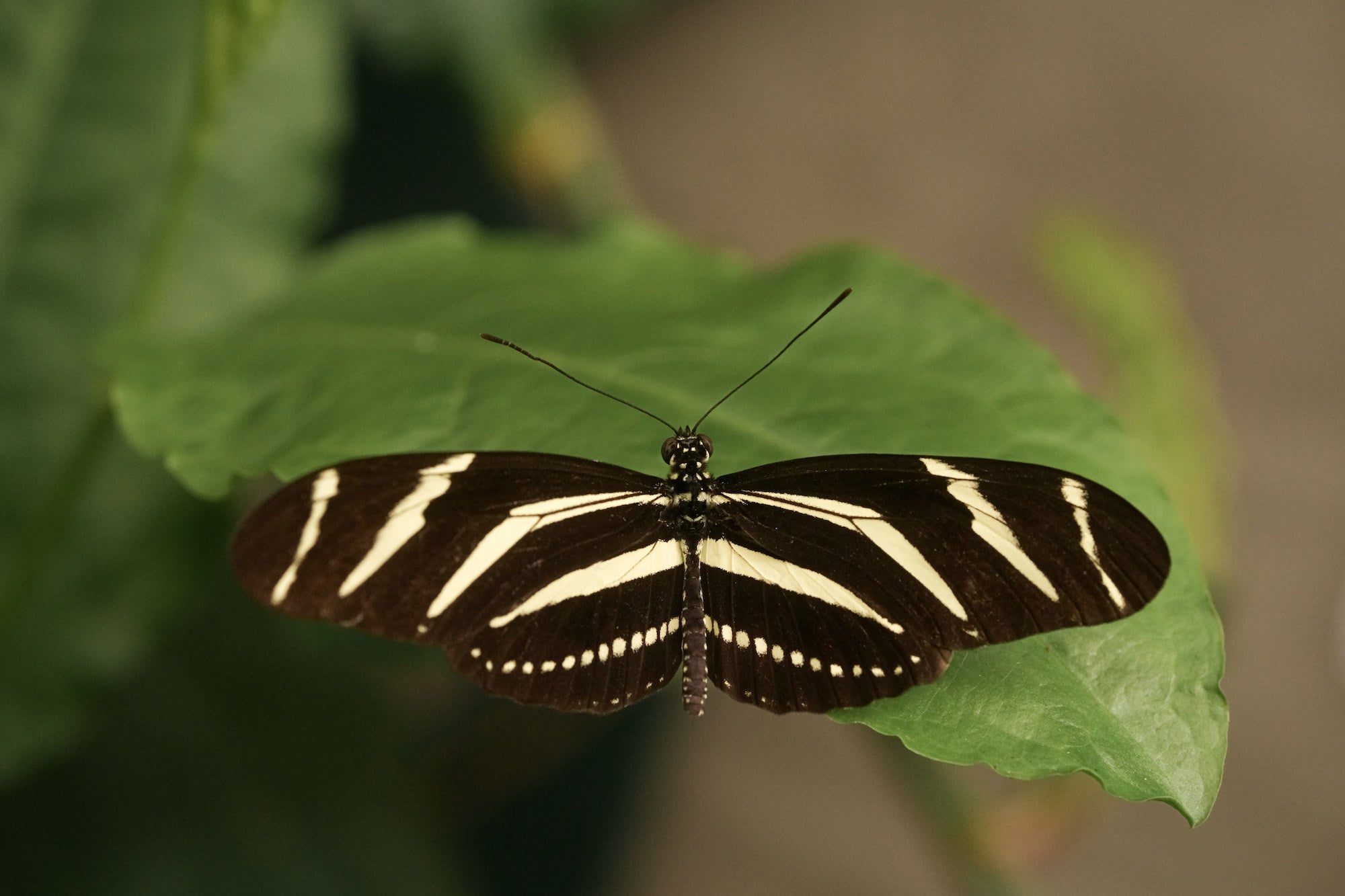 Photo by Caroline Jensen. Sony Alpha 7R V. Sony 90mm f/2.8 Macro G. 1/400-sec., f/5.6, ISO 3200
Butterfly Portraiture With The Alpha 7R V
"I had to kind of regroup and it took me a little finessing to realize how crazy accurate it was," Jensen says. "I had to compositionally decide whether I wanted the eyes in focus or not. If I wanted the wings I could use spot focus, and if I wanted the eyes I could use the Insect Eye AF."
She continues, "When a butterfly's wings are parallel to the sensor, it becomes very important to have those eyes in focus since it's more of a portrait stance. This camera shined so much in that regard. I've never seen butterfly eyes in that much detail ever in my life. It was such a unique experience. The eyes are all very different among the different butterflies. Some are more smooth and kind of marbled, whereas others look very textured and have variations of color. The insect eye autofocus was just incredible and crazy and very hard to wrap my brain around."
Jensen used lenses like the Sony 24-70mm f/2.8 G Master II, Sony 50mm f/1.2 G Master and Sony 90mm f/2.8 Macro G paired with the new camera to photograph the butterflies. "The Sony 24-70mm f/2.8 G Master II is ridiculously sharp. It's more of a workhouse, bread and butter kind of lens. I was really impressed with the bokeh on this new version. It was really pretty and crazy sharp. I also shot some with the Sony 90mm f/2.8 Macro G but the bulk of my photography is with the Sony 50mm f/1.2 G Master. That lens is my favorite - it's really sharp and awesome."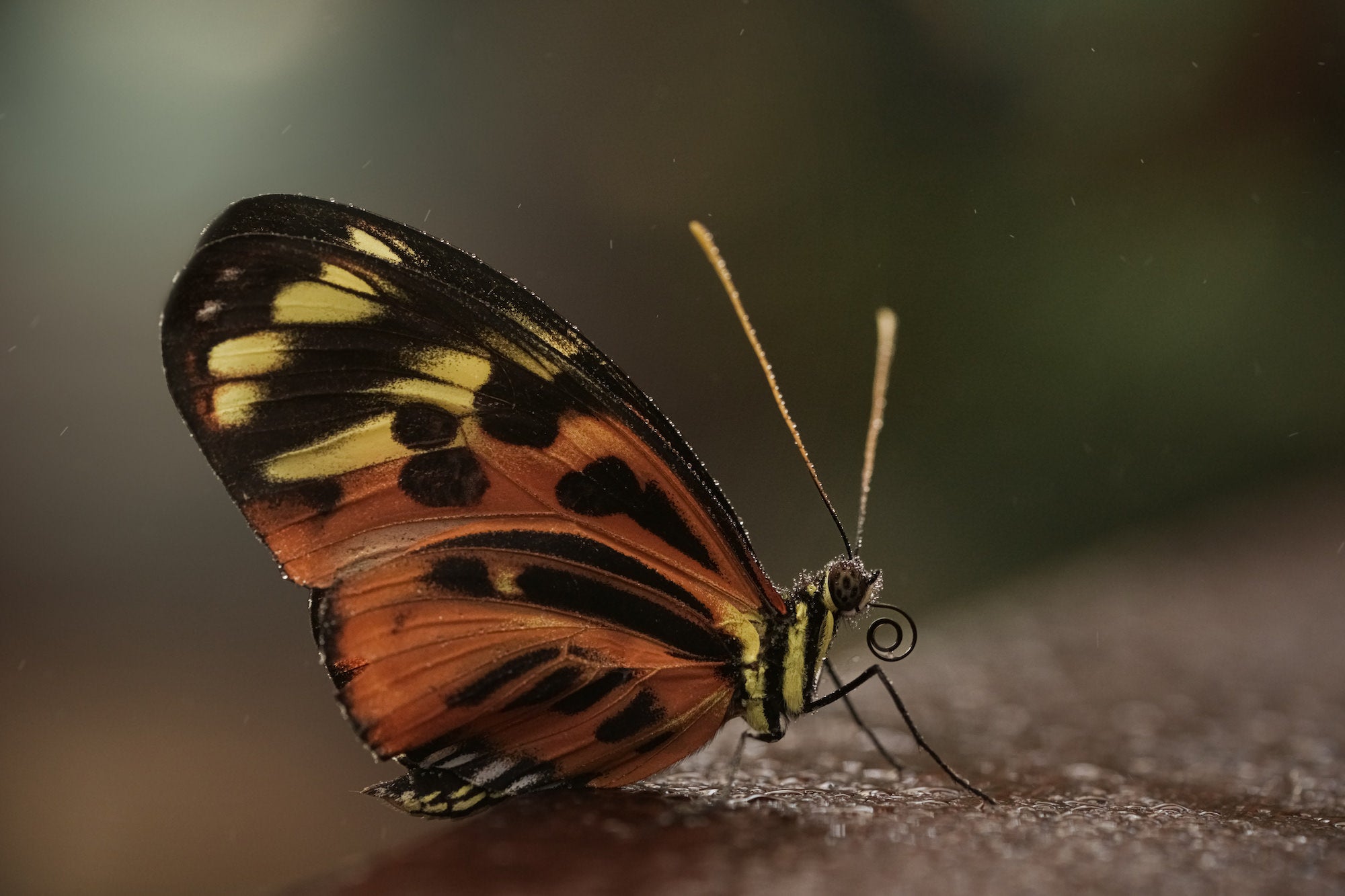 Photo by Caroline Jensen. Sony Alpha 7R V. Sony 90mm f/2.8 Macro G. 1/250-sec., f/5.6, ISO 640
One photo from the butterfly house in particular stood out to Jensen, and she captured it with the new camera and the Sony 90mm f/2.8 Macro G lens. There was a butterfly on the railing of a bridge over a creek and the climate controlled butterfly house had misters going. The water droplets collected on the butterfly, the perfect scene for the new camera and classic macro lens to excel. "The detail of it was just so interesting to me. To get to see the world of a butterfly at that scale."
An All-Around Game Changer
Overall, Jensen says the Alpha 7R V is going to be a game changer for people like her who like to photograph insects. "You are not going to have to rely on as much spraying and praying and hoping that you can capture that elusive great composition," she explains. "Insects can be erratic, they can go up, down, side to side, diagonal. They're never predictable as far as their trajectory. It's really hard to anticipate a great composition, and in the past you had to keep shooting and hope that the stars align."
She continues, "But with the Insect Eye Autofocus, it just changes that stress level because you know that when you hit your mark, it's going to have their face in focus. That's something that is so radical and so off the beaten path for me, that it's really going to cut down on the amount of culling a person has to do. You're going to become used to the fact that you can get the face of a bumblebee, a bee or a dragonfly or anything like that in focus. And that's just revolutionary. It's just mind-blowing that that can be a thing. Shooting from the hip is going to be a lot easier and you'll be able to give the insects plenty of space to get great images."
See more of Caroline Jensen's images and thoughts on the new camera in our First Shots article.
Learn more about the new Alpha 7R V HERE.