Sunsets are always popular to photograph and for good reason. There's one at the end of every day and it's the best free show on Earth. This is also the time of day when you'll likely see the most photographers gathering around to shoot and crowding the more popular spots. That leads us to a good question, how does one go about trying to get a unique perspective highly populated and very popular areas? Here's a list of things I check before I head out to chase those sunsets and features I use in my Sony cameras which help me to line up that perfect shot!
Check the tides daily.

It's crucial when shooting at the beach to understand tides and how the lunar cycle has an effect on them. A lot of people who don't live near the ocean are surprised when they find out not every beach is accessible at all times of the day. The high and low tide times change daily, so keeping tabs on them before you pick a spot to shoot is essential. I use a free app called Tides Near Me (https://tidesnear.me) to check on both high- and low-tide times. If it's high tide, I know quite a few of the coves that I want to get to will be inaccessible so I stick to cliff lookouts or higher up vantage points. This is the perfect time to get those sweeping wide angle vista shots or any angle where you don't need to be directly next to the ocean (for your camera's sake):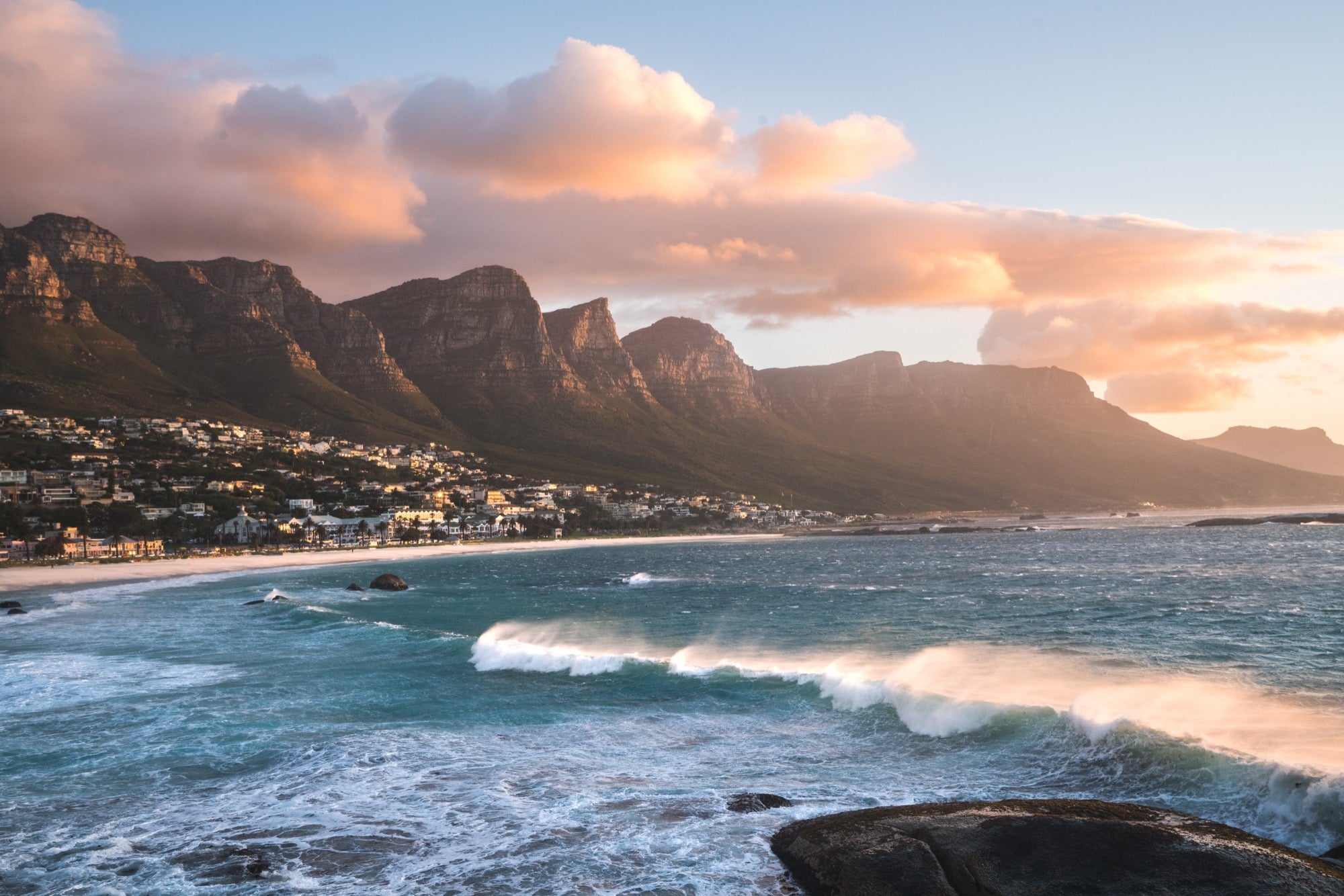 Sony α7R II, Sony 16-35mm f/4 lens at 35mm. 1/200-sec., f/11, ISO 1600. A high-up vantage point looking down the South African coast.

If it's low tide, it's the perfect opportunity to try to shoot tide pools, sea caves, or access parts of the coastline that are obstructed during high tide. I check Google maps to get a good idea of how the coastline looks and try to strategically get to the harder to reach spots for unique perspectives during these opportune times. The key is finding a low tide that lines up with sunset time. It only happens a few times a month so I try to make a point to get out and shoot when they sync up perfectly. The receding tide also presents more opportunities for reflections if you're shooting surfers or piers so keep that in mind as well!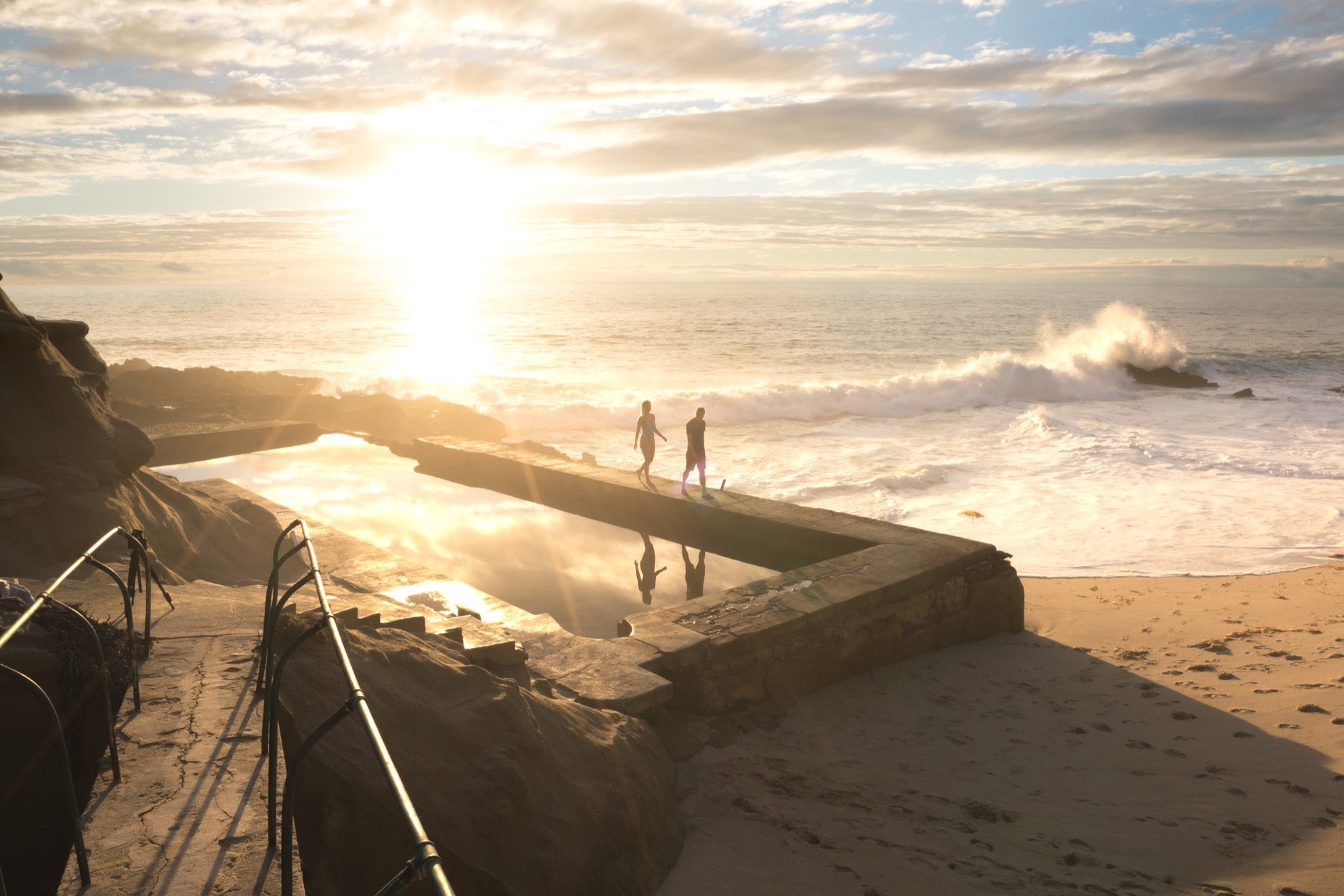 Sony α7R II, Sony 16-35mm f/4 lens at 24mm. 1/250-sec., f/12, ISO 200. This secluded cove is only accessible during negative tides.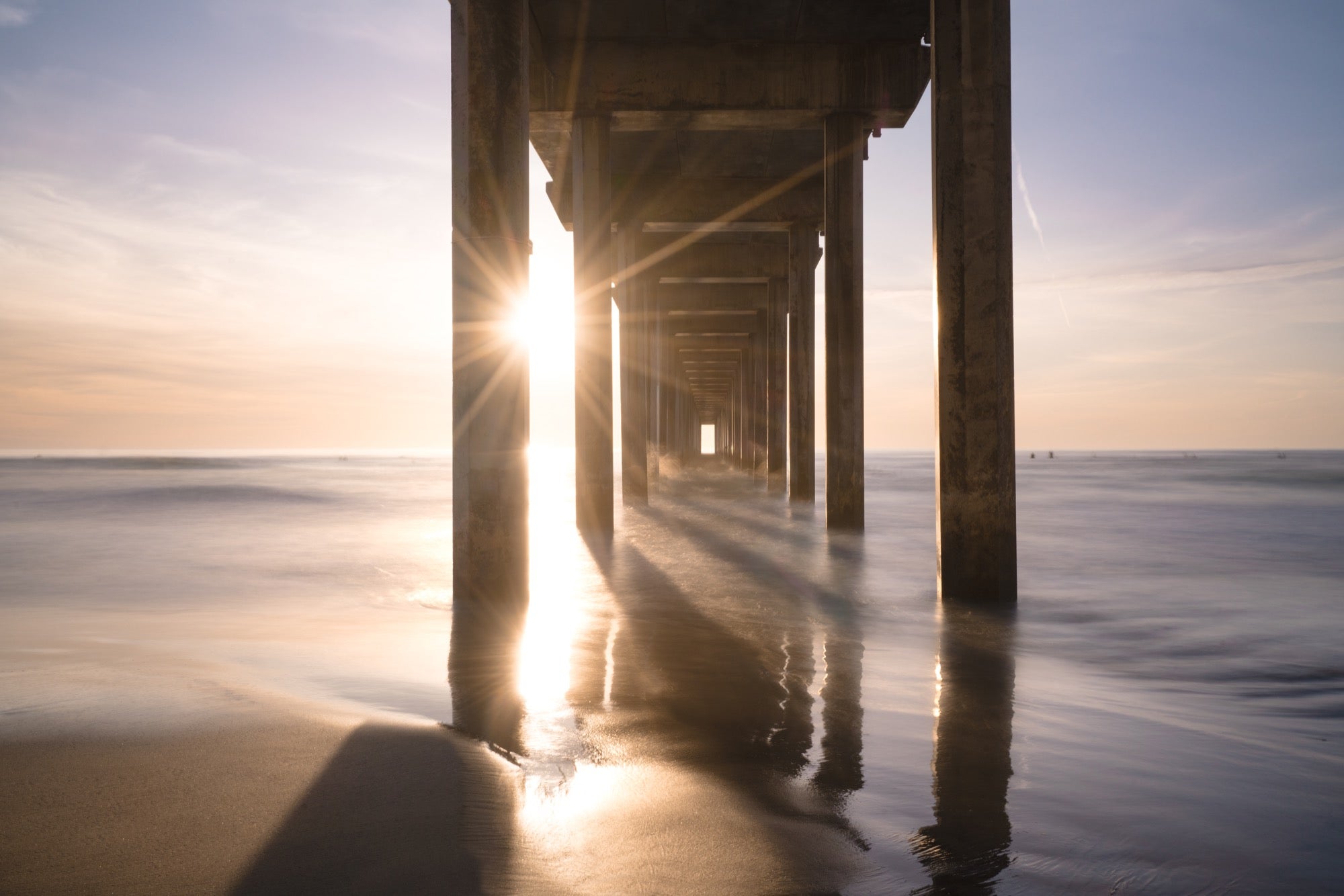 Sony α7R II, Sony 16-35mm f/4 lens at 30mm. 15-sec., f/18, ISO 100. Capitalizing on low tide to shoot a long exposure of Scripps Pier in La Jolla.
Check for clouds
.
Unlike tides, which are easy to predict, determining if there are going to be wispy clouds for an amazing and colorful sunset is a lot harder to forecast. There are quite a few apps and resources out there for predicting the success of the sunset, but I find the best bet is using my own eyes. I typically go outside a couple hours before the sunset and check for clouds. If there's a pure-blue sky with zero clouds, the odds of a crazy colorful sunset are pretty slim. Often times in this case, I'll try to find a place with a beautiful foreground or some scenery that will detract the eyes away from the sky. Shooting wildlife, flowers, people, or objects where the sky is less of a focus for your scene are good bets in this scenario.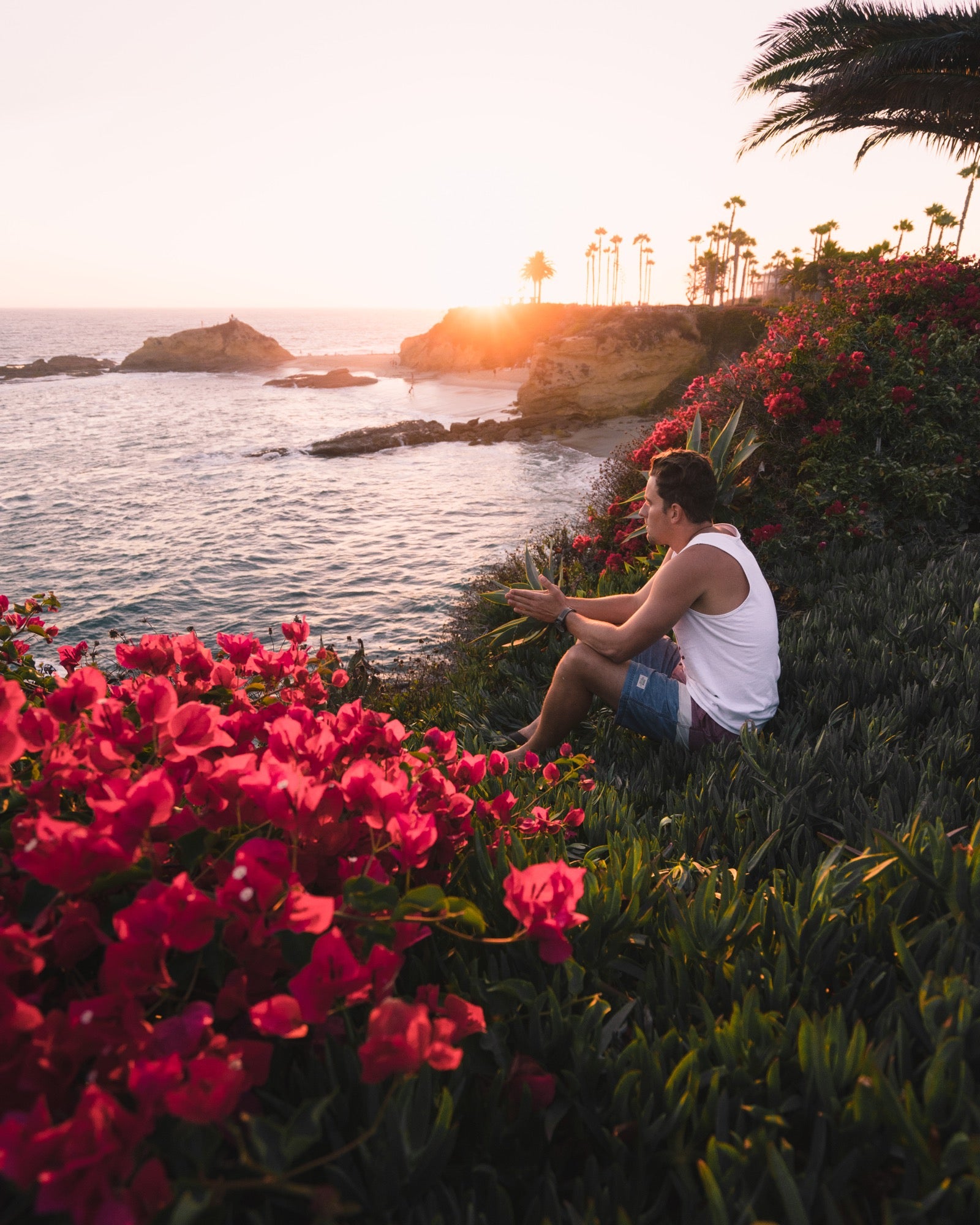 Sony α7R II, Sony 16-35mm f/4 lens at 17mm. 1/800-sec., f/4, ISO 1600. Floral landscape along the Southern California coast.
If I do see a clear horizon and some high wispy clouds above, this is the winning formula. These clouds usually catch color and light once the sun dips behind the horizon and that leads to some jaw-dropping scenes. I generally shooting a bit underexposed and take advantage of the broad dynamic range my Sony cameras can capture to bring out details in the shadows and blacks.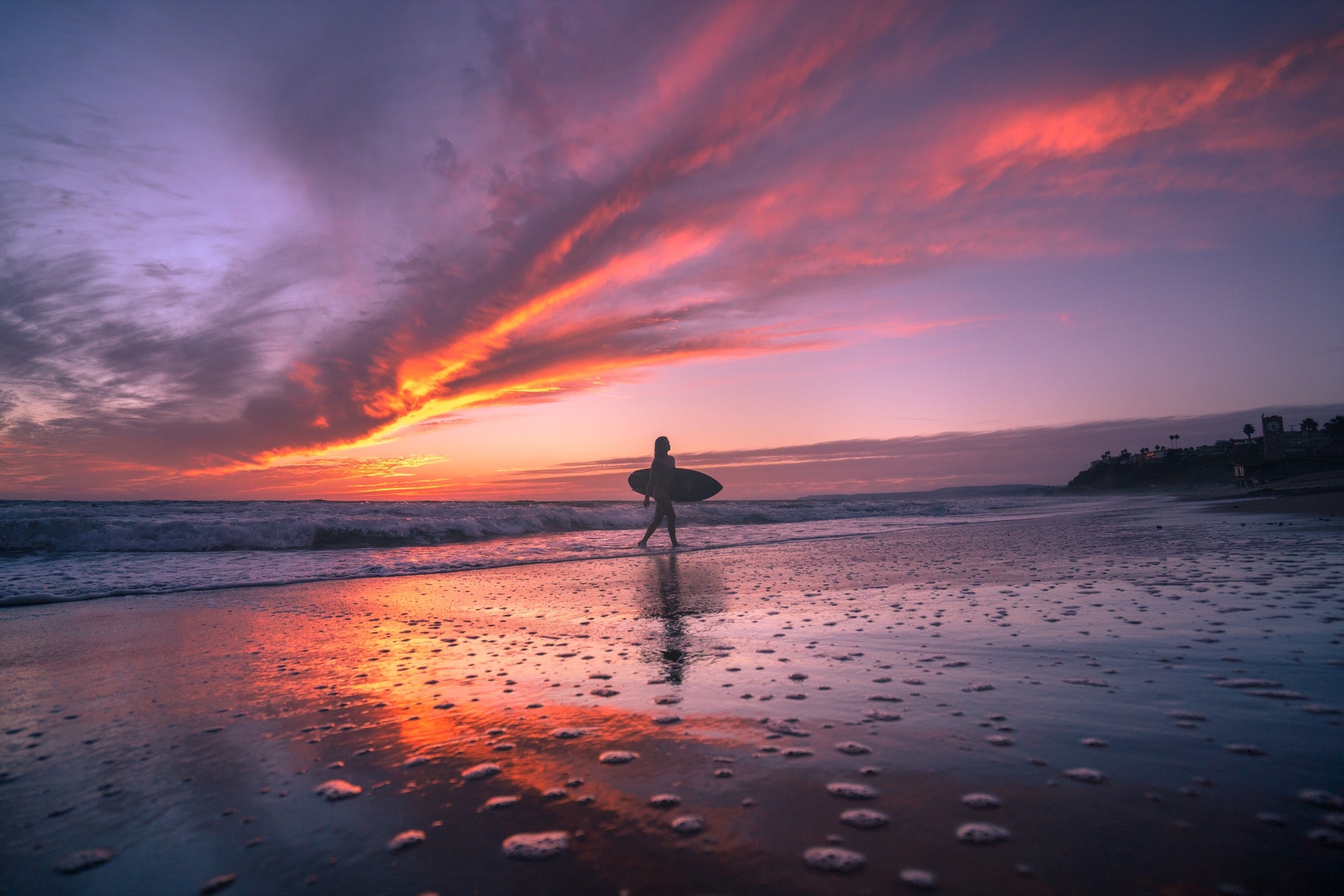 Sony α7R II, Sony 16-35mm f/4 lens at 16mm. 1/400-sec., f/4, ISO 160. Surfer silhouette in San Clemente, CA.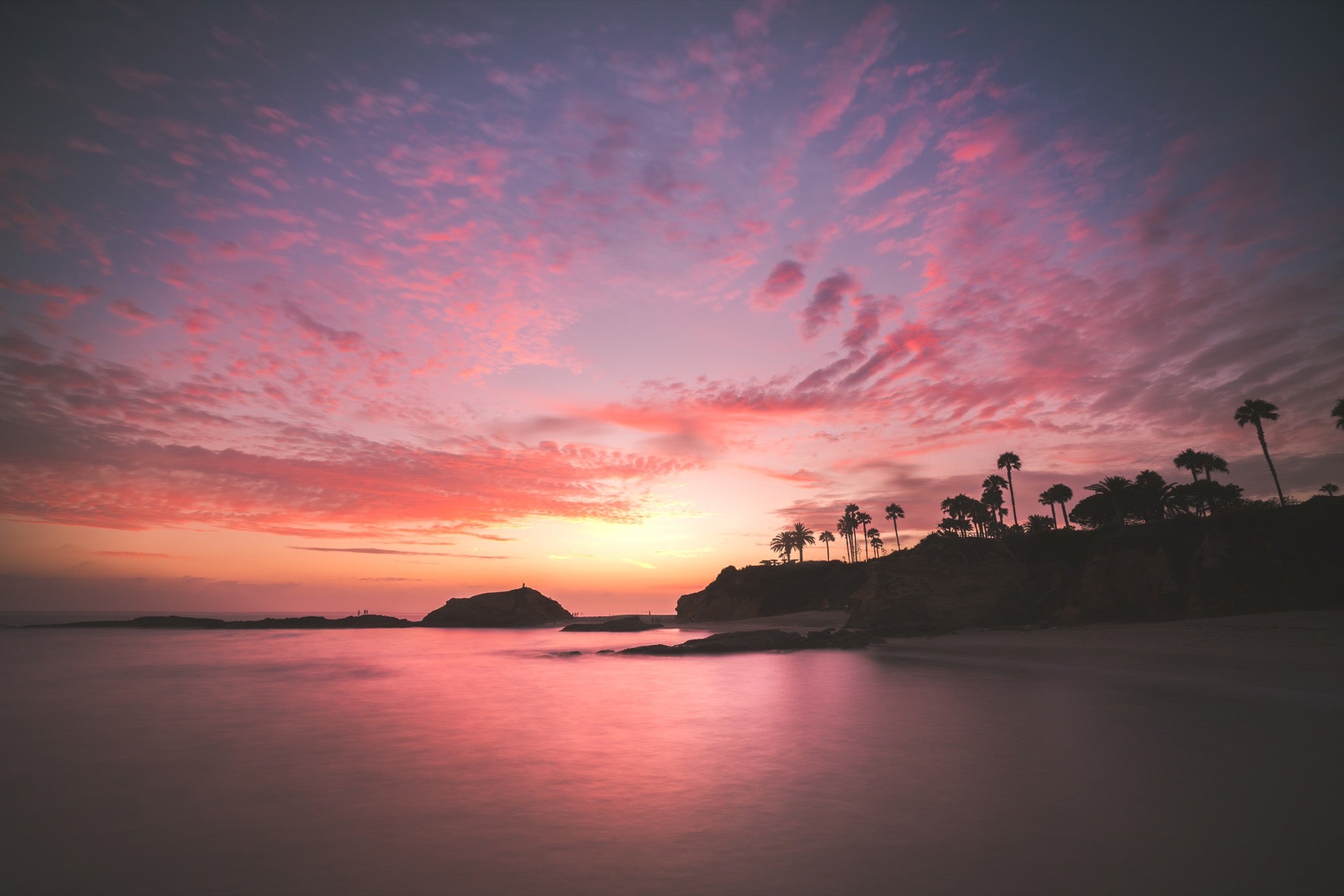 Sony α7R II, Sony 16-35mm f/4 lens at 16mm. 30-sec., f/5.6, ISO 400. Moody skies in Laguna Beach, CA.
Take advantage of your tools

The flip out screen in my Sony cameras is one of the features I use most when shooting beach sunsets. A lot of people shoot from a head high perspective, but getting down low and capitalizing on reflections, water movement and foreground detail will help you get that unique perspective. Flip that screen out, angle it up, drop the camera down, and try to get that one-of-a-kind shot!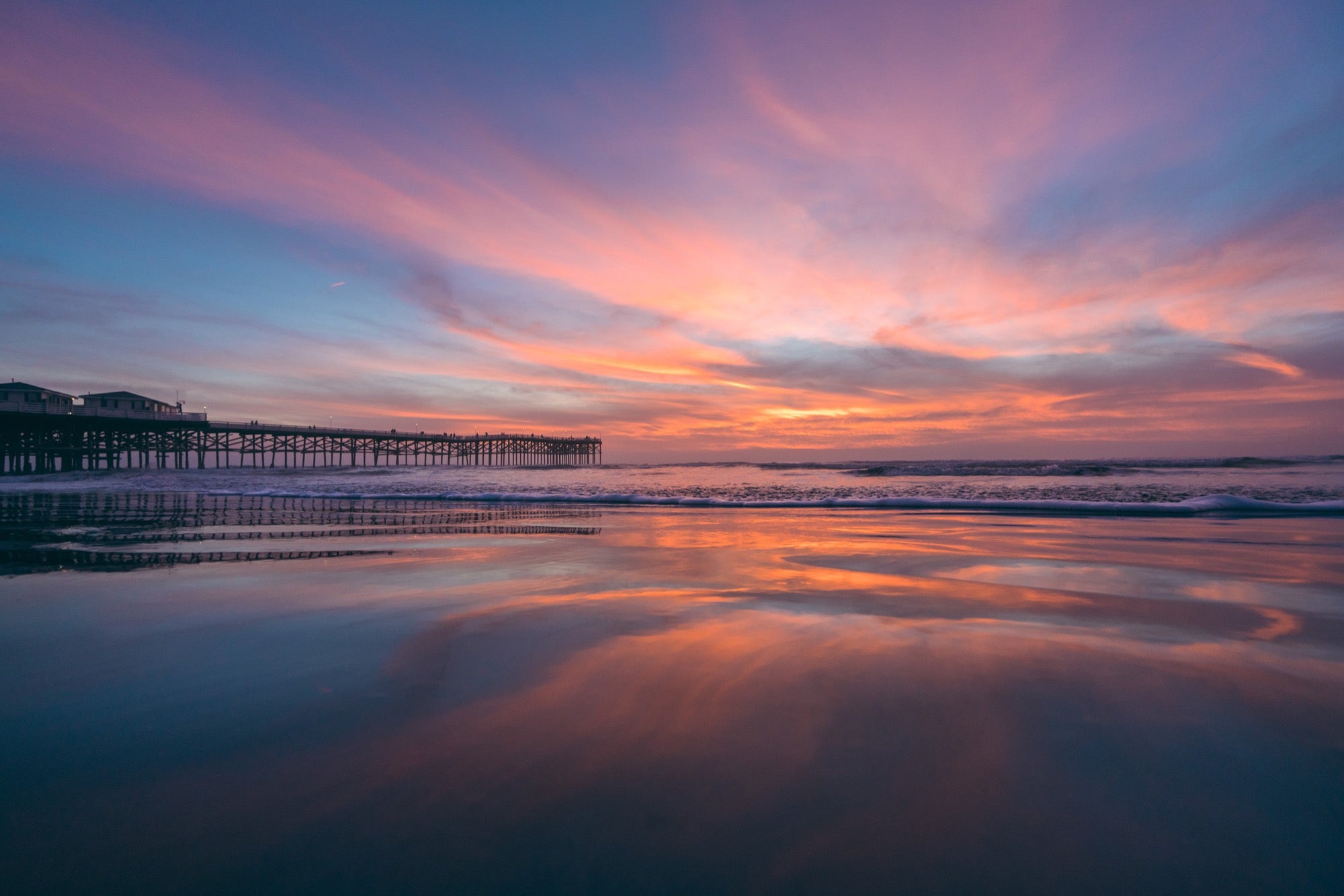 Sony α7R II, Sony 16-35mm f/4 lens at 16mm. 1/250-sec., f/4, ISO 200. Low tide reflections in Pacific Beach, CA.
Eric Rubens is a member of the Alpha Imaging Collective. Follow him on Instagram @erubes1.
See more from the Alpha Collective at #AlphaCollective