Based in San Diego, hybrid travel shooter Jason Frankle (@worldpins) is a member of the Sony Alpha Imaging Collective who likes to capture and share all of the places he visits. He recently joined nine other members of the Alpha Collective on a trip to the Canadian Rockies, where they witnessed and photographed a wide variety of stunning sites with their Sony Alpha full-frame mirrorless cameras and lenses. Frankle shared with us the hybrid shooter's kit he put together for #AICdoesCanada.
I love this lens for unique close-up images of roads, mountains and portraits while traveling in mountainous regions.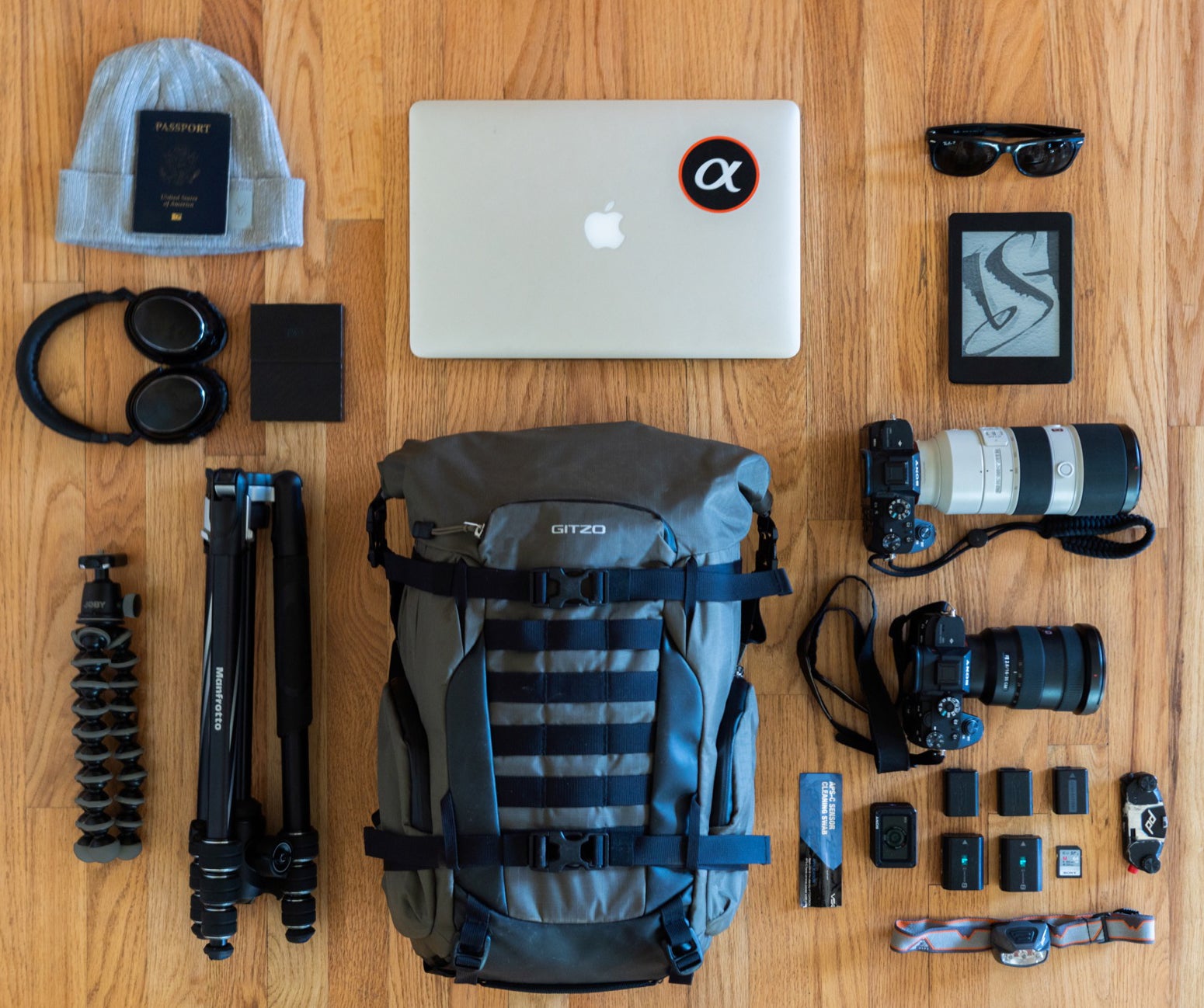 Cameras
Sony Alpha α7R III: This is my favorite camera body to use while traveling. Its lightweight and compact design help me to pack more efficiently on trips and capture amazingly high-resolution images with the help of its 42-megapixel sensor.

Sony Alpha α7R II: This is my second shooter camera on this trip and supports the 70-200mm f/2.8 G Master lens. This setup allows me to capture telephoto images with the α7R II and avoid sensor dust from switching lenses on the camera bodies.
Sony Alpha RX0: The RX0 is a fantastic waterproof camera that takes amazing images and fits easily in any pocket. I love using this camera to get low water perspectives without having to pack an additional bulky camera water housing on trips.
Lenses
Sony 16-35mm f/2.8 G Master Lens: The 16-35mm f/2.8 G Master lens is my primary lens because of how versatile it is. Whether I am capturing expansive landscapes shots or astrophotography, I can count on this lens to reliably take incredibly sharp images in all lighting conditions.
Sony 70-200 mm f/2.8 G Master: I always try to travel with a good zoom lens and the 70-200mm f/2.8 G Master lens is certainly no exception. I love this lens for unique close-up images of roads, mountains and portraits while traveling in mountainous regions.
Accessories
64 GB Sony SD card x 3: Whenever I travel, I always try to bring a backup SD card to use in case anything happens to one of them. Sony memory cards are great because of their fast read and write speeds as well as their durability when traveling.
Extra Batteries + Charger: I always bring extra camera batteries when I travel to avoid running out of charge while I am outside shooting. With the newly redesigned α7R III batteries, I can photograph for multiple days before finally running out of battery life.
Sony Noise Canceling Headphones: The Sony noise canceling headphones are great for plane rides to reduce loud background noise.
Peak Design CapturePRO: The CapturePRO camera clip is a great way to attach a camera to the front of a backpack strap. This helps to reduce camera weight on the neck and maintain quick access to the camera while on hikes.
Manfrotto BeFree Travel Tripod: I love bringing this tripod with me when I need a very sturdy tripod for extended timelapses or astrophotography. This one is great for attaching to the side of my backpack to use while hiking and exploring new areas.
Gitzo Adventury 30L Camera Backpack: The Gitzo Adventury camera backpack is a great bag to securely store all of my Sony Alpha cameras with plenty of room for additional accessories. The rear camera compartment helps me to neatly organize all my camera gear for quick access while shooting in Canada.
Camera Sensor Swab Cleaner: Sensor cleaning swabs are essential to me when spending an extended amount of time shooting outside. There are few things worse than finding sensor dust spots on multiple images after a trip.
Joby GorillaPod: This is a fantastic bendable tripod that is perfect for timelapses and long exposures. Its small and lightweight design means I can bring it with me for any trip without having to think twice about finding space for it.
MacBook Pro: I bring my laptop with me everywhere to quickly edit and share images through Lightroom. This also allows me to continually backup images from my memory cards to both my hard drive and the cloud.
iPhone: I never leave anywhere without my phone. Whether I am playing music, texting friends or doing quick edits on Lightroom mobile, my iPhone is an essential piece of my travel gear.
4TB External Hard Drive: More photos means more hard drive space, and the 4 TB external hard drive is a great way for me to store all of my photos while traveling. When I return from a trip, I backup this to another hard drive for safekeeping of photos and videos.
Kindle Paperwhite E-reader: This is one of my favorite ways to pass time on long plane rides. Its compact design helps me to pack light and always have a good book on hand.
Passport: A passport is a must when traveling internationally so I make sure it is the first thing I grab when I begin packing for a trip.
Beanie: Packing a beanie is a great way to stay warm during night shoots or cold days out in the field while traveling.
Polarized Sunglasses: When shooting in a variety of lighting conditions, I always bring a pair of polarized sunglasses with me to help protect my eyes from the sun.
Headlamp: I always try to bring a good headlamp with me when traveling for emergencies as well as for photographing late at night.