As Scott Wesson's Instagram handle (@thetravelvibe) indicates, he's a photographer on the move. Based in Los Angeles, Wesson is a member of the Sony Alpha Imaging Collective who shoots extensively in the U.S. and abroad. He uses a selection of Sony Alpha full-frame mirrorless cameras and lenses to get the shots that keep his 66,000 followers coming back for more. In September 2018, Wesson was part of a special excursion to the Canadian Rockies with nine other members of the Alpha Imaging Collective where he was undaunted by challenging weather conditions as he shot some epic landscapes. We caught up with Wesson to find out more about the gear he relies on.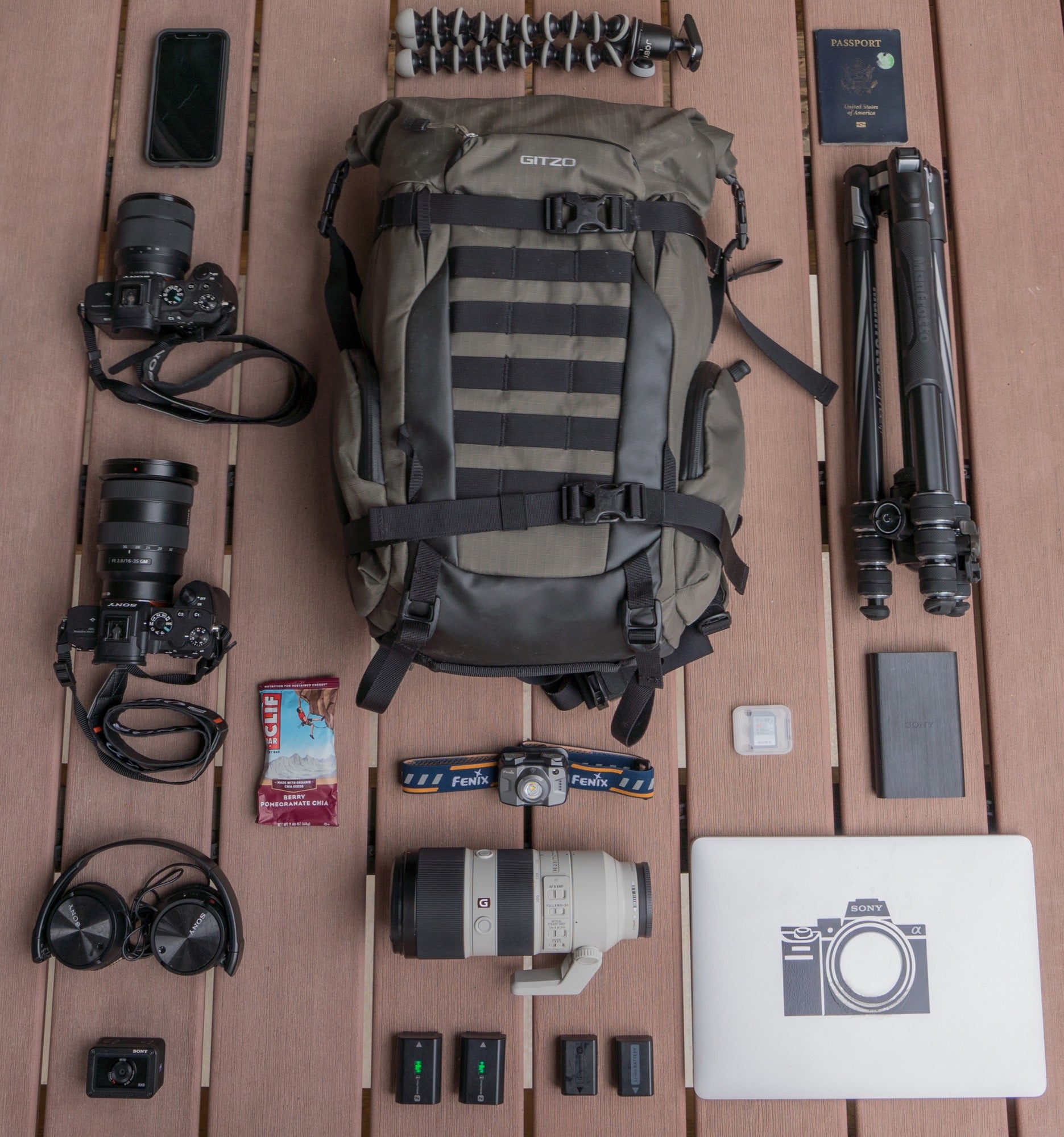 Cameras
Sony α7R III: This is my go-to camera. It's perfect for shooting landscapes in conditions from sunrise shoots to astrophotography. It performs incredibly under any conditions. It's also lightweight. Other features that make it my favorite camera include the 42.4MP sensor, five-axis in-body image stabilization (IBIS), dual memory card slots, and the long-lasting Z battery.
Sony α7 II: The α7 II is my backup body. I always bring a second body in case something happens to the primary. The α7 II is also a fabulous workhorse. Although it's a generation behind the α7 III, it still has incredible image quality and is also lightweight. It's a great secondary camera to have in my kit.
Sony RX0: Thanks to its small size, the RX0 is perfect for unique shooting situations. It comes in handy for quick underwater shots or when I'm on a hike where I don't want to bring a large camera. Since it's so small and waterproof, it allows me to take it to places that I may not have shot otherwise, like while kayaking or climbing. I never know when I'll come across a good shot on a trip so I try to keep the RX0 on me.
Lenses
Sony FE 16-35mm f/2.8 G Master: The 16-35mm G Master is my favorite lens for landscape photography. The wide focal length allows me to catch the whole scene. I find that many of my landscape compositions are shot at 16mm and this lens paired with my α7R III gives me a lot of wiggle room while editing because I can easily crop in if I decide I want a different composition later.
Sony FE 70-200mm f/2.8 G Master: After the 16-35mm, the 70-200mm G Master is my second most-used lens. I love to use this lens to get a close shot of a peak or wildlife. It's also great for photos where I want to show perspective by compressing the scene, such as showing a person in comparison to a mountain.
Sony FE 28-70mm f/3.5-5.6: The 28-70mm is an ultra-portable lens that I carry in the event something happens to my 16-35mm. The lens takes great quality photos, especially for its price and it's so lightweight that it's easy to have in my bag just in case.
Accessories
Sony 64GB SDXC UHS-II Memory Cards: These Sony memory cards are super reliable, fast and give me plenty of storage space.
Sony 1TB Hard Drive: I always transfer my shots to this hard drive each night to ensure that I have a backup. It's small, reliable and the 1TB capacity is plenty when I'm on the road.
Befree Advanced CF: I don't use tripods too often because Sony's in-camera stabilization allows me to shoot handheld in most situations. Shooting handheld allows me to work more efficiently and get angles that may be hard to set up on a tripod. That said, there are some situations when a tripod is called for and this is an all-around great one for those times. It's easy to use, compact and super steady. And, in situations like astrophotography where a tripod is crucial, I've found this one to be very reliable.
GorillaPod: If I'm trying to travel light and I don't expect that I'll be needing a tripod too much, this is my go-to. It's great to have just in case I come across a waterfall or end up shooting in very low light.
Gitzo Adventury 30L: This is my favorite camera bag that I've tried so far. It's super comfortable and has all the compartments that I need. It's also really durable in all weather conditions.
Extra Batteries: Although the α7R III has incredible battery length, often lasting beyond a full day of shooting, I always bring a few extra batteries so that I don't have to worry about charging them up each night.
MacBook Pro: My office on-the-go. This laptop is where I edit my photos in Adobe Lightroom, answer emails and complete most other business related tasks.
iPhone X: My iPhone is a tool for business tasks, recording story content and managing the Instagram account all while I'm mobile.

Fenix HL30 Headlamp: I always keep this headlamp in my bag just incase I find myself shooting past sunset. This one is perfect for keeping my hands free on evening hikes and when I'm shooting astrophotography.

Clif Bars: One of my favorite snacks when I'm on the trail.
Lens cleaning cloth: I always make sure I keep my lenses clean and free of any dust.
Passport: It's my ticket to explore abroad!