Cath Simard (@cathsimard) is a travel & landscape photographer and a member of the Sony Alpha Imaging Collective. Her passion for the wilderness and outdoors has led her on many adventures, like her landscape photographer dream trip to Patagonia. In addition to image quality, size and weight are reasons why Simard shoots with Sony Alpha full-frame cameras and lenses. When she's backpacking she has to be mindful of what she fits into her bag, so each and every piece of gear she takes has a reason for being there. We caught up with her to learn more about the gear she packs for a day in the wild and why each piece gets a place in her bag.
Alpha Collective member Cath Simard (@cathsimard) gives us an inside look at the gear she packs for a photo adventure in the wilderness.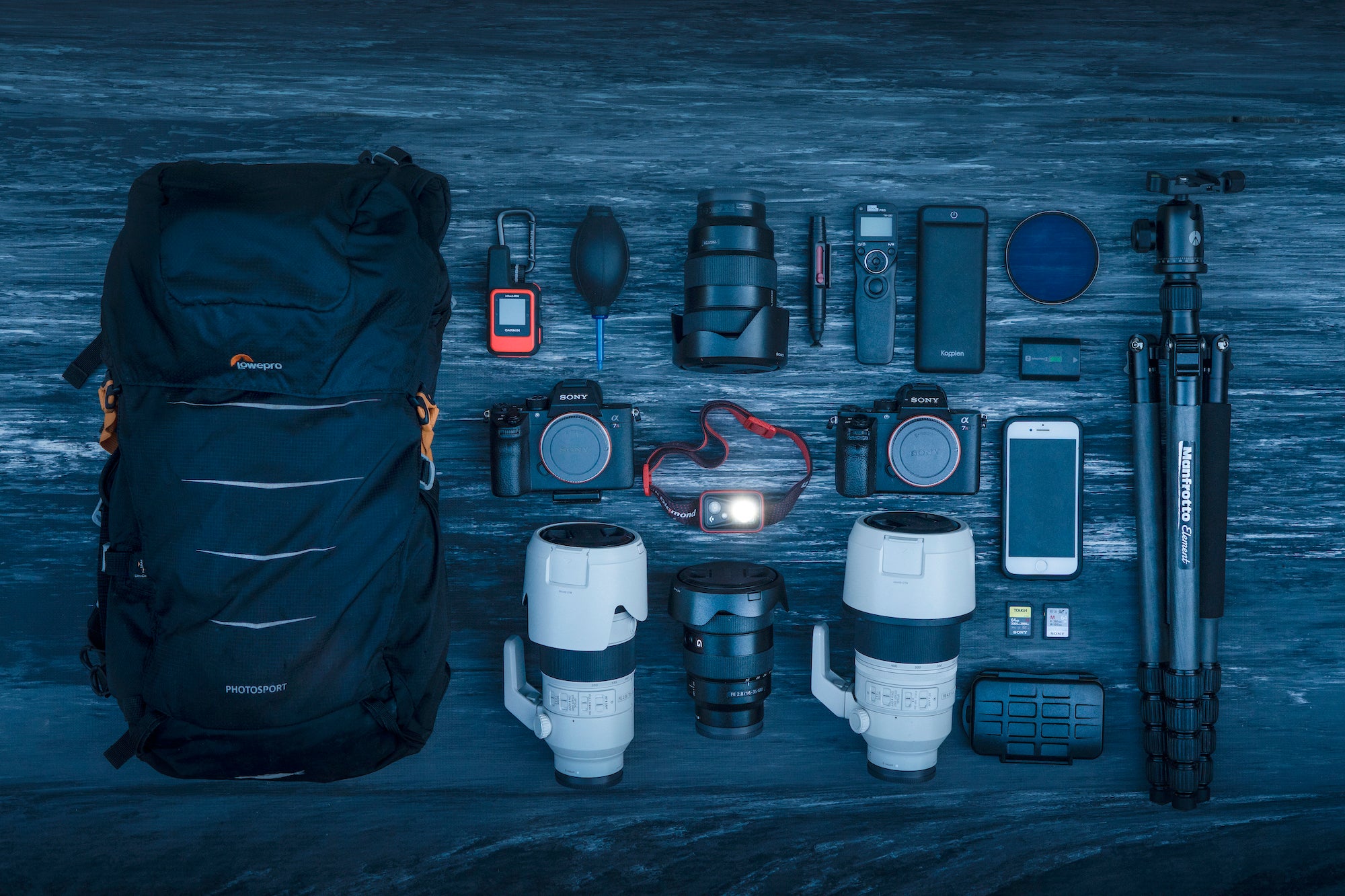 Cameras
Sony α7R III: With its 42 MP and broad dynamic range, the α7R III is my absolute favorite camera. My work requires shooting a lot of long exposures, particularly blue hour and night scenes, which requires good ISO performance to get as little noise as possible; the α7R III has these important qualities. Its 16-bit files reveal an impressive color range and its live view and focus peaking features allow me to nail my focus at night in a matter of seconds. The Eye Auto Focus feature is great for snapping candid lifestyle shots which I love to do on treks and hikes – and that's always great for portraits so I can go around and do more lifestyle shots and be more mobile. It's also lightweight which is important for me when I go on multi-day backpacking trips and treks where every gram counts. The long-lasting Z battery allows me to go on long trips without having to bring a charging system, 3-4 batteries will usually be enough for me on a 10-day trek.
Sony α7R II: I use it as a backup camera. The α7R II was my first full-frame camera, I have been using it since it came out and I'm still loving it. Its 42MP sensor and 14 stops of dynamic range makes it a great camera for landscape photography.
Lenses
Sony 16-35mm f/2.8 G Master: About 90% of my landscape photos are with this lens. Its sharpness is absolutely incredible and its maximum aperture of f/2.8 makes it the perfect lens for astrophotography. I absolutely love the versatility of this lens for more advanced techniques such as focal length blending for which I shoot my foreground at 16mm and background at 35mm without having to change the lens. I can also take a shot at 16mm and take a quick panorama at 35mm and have both options with this one lens.
Sony 24-70mm f/2.8 G Master: My go-to lens for travel and lifestyle shots in the outdoors. The 24mm is usually enough to capture a wide field of view and the 50-70mm range is great for portrait/animal photography while having that little bit on background compression. It is also the lens I usually use to shoot panoramas at 50mm to avoid any distortion. This lens is recognized to be one of the sharpest on the market, even at f/2.8. On my last trekking trip in Nepal I was photographing a group of trekkers and I could only bring one lens. I chose this one which allowed me to shoot landscape, night, lifestyles, wildlife and tighter mountain peaks shots. Perhaps one of the most versatile and sharpest lens out there!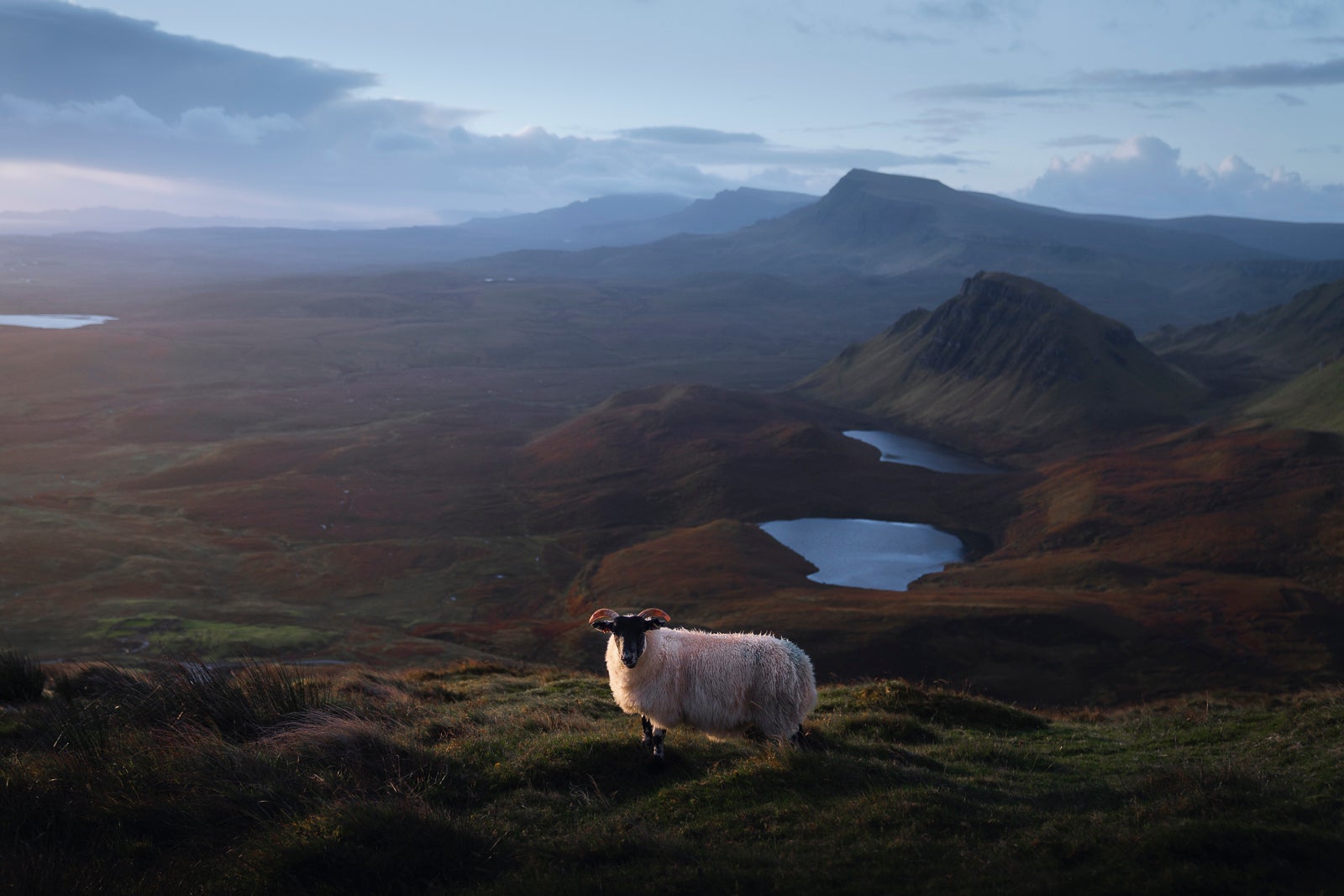 Sony 24-70mm f/2.8 G Master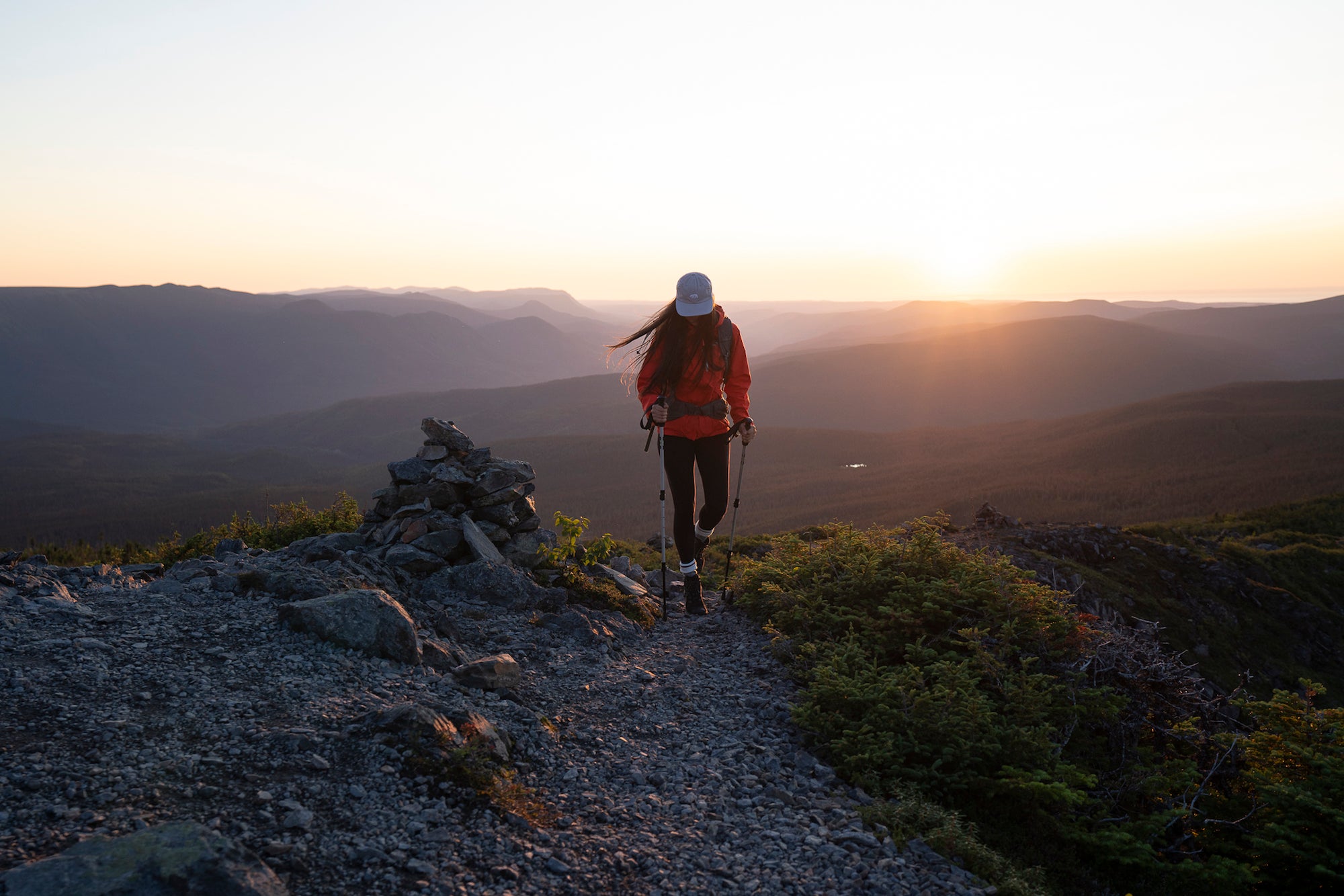 Sony 24-70mm f/2.8 G Master
Sony 70-200mm f/2.8 G Master: I bought this lens for having the versatility of shooting lifestyles and tighter mountain/landscape images. It's great for compressing a scene against a person and showing the immensity of the mountains. When shooting in an environment that the peaks are already close to me and don't require anything longer than 200mm, this lens is the perfect choice. Its wide aperture of f/2.8 allows me to shoot handheld in low light conditions and it provides a shallower, better-subject-isolating depth of field.
Sony 100-400mm f/4.5-5.6: This is my second most-used lens for my work. Its amazing image quality and razor-sharp details makes it the perfect lens to capture landscape details, wildlife or compress a scene greatly. I particularly love shooting minimalistic scenes such as mountain peaks and that's when the 100-400mm range comes handy. I use the built-in Optical Steady Shot image stabilization during sunrise, sunset or extremely windy conditions such as I've encountered in Patagonia.
Accessories
Camera Bag: I own a couple of Lowepro Backpacks but my favorite are the Flipside Trek BP 350 AW, the Photosport BP 200 AW and the Whistler BP 450 AW II which is the one I use the most and that can fit all my gear.
Batteries: I often go on multi-day backpacking trips and shoot long exposure so I always bring a couple of extra batteries both for my α7R II and α7R III although the battery life of the α7R III is quite amazing.
Memory Cards: I use SONY SF-G Series and SF-G series TOUGH cards and store them in a Promaster Weatherproof Extreme SD/MSD Card Storage Case.
Manfrotto Elements: My lightweight travel tripod.
Smartphone for apps for planning shots: Google Earth, Photopills, maps.me, Earthmate, Aurora Forecast
Battery Pack: To charge my phone.
B+W Polarizing Filters, Circular Polarizer
Microfiber Towel
Pixel Pro Wireless Remote
Cleaning Kit
Inreach Mini
Trekking Poles
Platypus Hydration Pack
Black Diamond Headlamp