With the pro football season in the books, the pro sports spotlight shifts to basketball. For photographers, basketball offers the opportunity to get particularly creative through the use of remote cameras, different focal lengths and even lighting. Football and baseball photographers spend most of the game with their longest telephoto lenses, but in basketball the photographer can be right up close to the action and bring wider lenses to bear to get dramatic images. Legendary sports pro Patrick Murphy-Racey takes us through his bag and describes how to capture the decisive moment.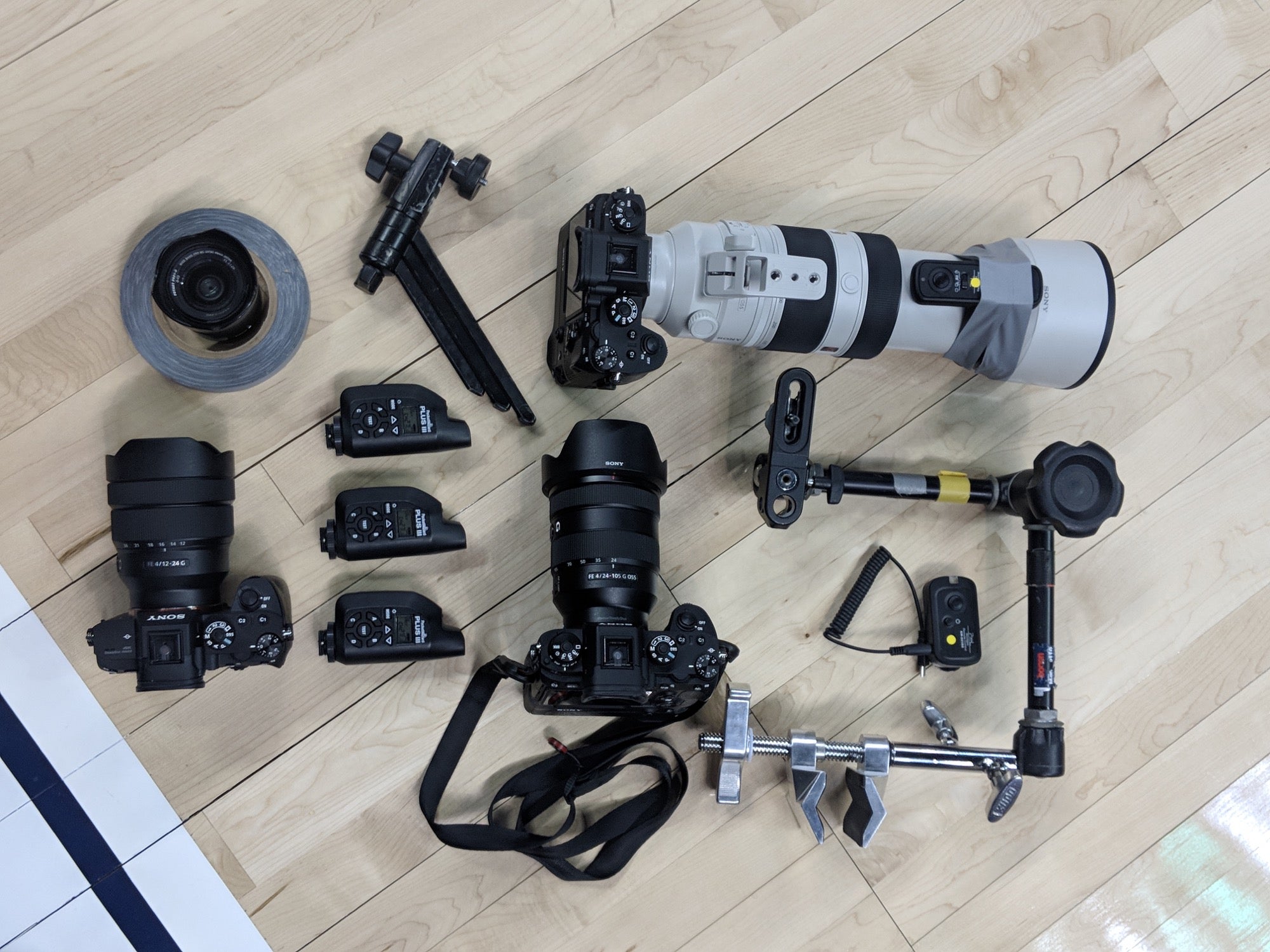 Cameras:
Sony α9: The α9 is the king. I carry two α9 bodies with vertical grips. In terms of AF performance, especially in low light, I just love these bodies. The fact that they're half the size of pro DSLRs makes them even more sweet. I use the pair of α9 bodies as my in-hand shooting cameras. 24 megapixels is more than I need, especially as I often compose tightly, but even if I need to crop in post, it's never an issue. Also, even in the low light of the arena, I can use Eye AF when the point guards drive the ball towards me from the other end of the court. I mostly use small or medium "lock on flexible spot" because basketball just has too many people flying in and out of the frame in front of the player you want to lock in on to trust wide area or other AF options. These two bodies are always set for back button focus. The shutter release AF activation is turned off so only my right thumb can turn the AF on and off and the shutter button only activates the shutter.
Sony α7R III: I use the α7R III as my remote camera because of the massive file sizes it can make. With 42 megapixels to play with, I can set the α7R III up on the floor on a small tripod or plate, or attach it to the backboard structure (post) and use a super-wide lens. This allows me to crop to wherever the action was for each play. When used as a remote camera, I mount the Sony FE 12-24mm G lens on the α7R III.
I tape a Phottix transmitter to a longer lens so I can fire the α7R III camera even when I'm holding one of the α9 bodies. You get blocked a ton when shooting hoops, so sports photographers figured out a long time ago that remote cameras that are carefully placed away from your position on the floor can mean getting the moment even when you can't see it yourself. Players on defense, refs, cheerleaders and dance team members can all conspire to ruin your night when they get in between you and the action. Later on, you can just open up the files and crop to the action easily.
Lenses:
Sony FE 12-24mm f/4 G: The new FE 12-24mm G is nothing short of amazing. It's about half the size of ultra-wide rectilinear lenses, and twice as sharp. It's absolutely ideal for a remote lens because of its lack of weight, bulk, and its comparatively low price.
Sony FE 24-105mm f/4 G: This is what sports photographers call the short lens. Typically in the old days the short lens would have been an 85mm, but this 24-105 is much more versatile. I can move closer to the goal and shoot wider (28-50mm close in) or tighten up in the 70-105mm range for sitting where the 3 point line comes to the edge of the court. No matter what happens, I can frame things up on the fly and the f/4 aperture allows the camera's AF to function well, even when I'm shooting action in Eye AF mode at the longer end of the zoom range.
Sony FE 100-400mm f/2.8 GM: Shooting downcourt requires long lenses. The FE 100-400mm GM lens is a dream to shoot on strobes. I just set it at f/5.6 and dial the ISO in to make a perfect exposure every time. Being able to zoom from 100-400mm is a huge benefit. I want to be loose enough to not have to change cameras on a fast break headed my way so the 100mm range is great for that.
Downcourt, I am primarily shooting defense, blocked shots, and action at the other goal and so 325mm or so is about right for the men's game (I shoot about 350mm for women's NCAA). Coaches can be elusive so that's where the 400mm comes into play. Even from the opposite end of the court, I can just zoom in to make nice, tight frames of the coaches doing their thing.
I mentioned I keep the remote trigger for my α7R III taped to the 100-400mm lens. While it takes some getting used to, when I shoot downcourt I keep my right thumb on the AF-ON button on the back of α9 as I track the action and my left thumb is resting on the trigger for the α7R III remote camera that is actually looking back at me from the other end. If I get blocked with the long lens, I press the trigger and shoot that remote. If it looks like the ref is in the way down there, I can just fire the camera in my hand. At bigger games and during tournaments, I set up two remotes, one on each end so even though I'm by myself, I can cover 360 degrees of the game…times two! Last, when I go way tight, even at f/5.6, I'm finding I can count on the Eye AF to work well for action. It sounds crazy, but it works!
Sony FE 28mm f/2: I never leave home without a small, compact, wide lens. I never know when I might be invited into the locker room or have to shoot something with available light at the end of a big win. I always need a sharp fast wide lens with me, no matter the assignment.
Remote support:
The support for my remote α7R III has to be extremely reliable and sturdy. I use the following components:
Manfrotto Variable Friction Arm
Manfrotto Super Clamp
Kupo "Super Viser Clamp" (4")
1" gaffesr tape (grey)
Accessories:
Generic table tripod
Pocket Wizard III transceiver units for triggering strobes only.
Phottix radio remote transmitter & receiver for triggering my remote α7R III.
Lighting gear (not shown in the photo)
Four Elinchrom EL500 strobes with MaxiSpot sports reflectors positioned in the catwalk.
Avenger super clamps with 4" pins.
Avenger 18" steel safety cables to lock the strobes onto the catwalk.
500' of 18/2 sync-line wire to connect all four strobes together on the catwalk.
Vertical grips: Vertical grips are really important for shooting basketball. At bigger games where there are a ton of media, you can really irritate other shooters by blocking their shot with your right elbow. The grips allow a more comfortable and compact shooting stance that keeps the right arm down where it's supposed to be. Even though the grips hold two batteries, I only ever use one. I can shoot about 10 games on one charge pretty easily.
Pocket Wizards: Each camera body I use for a game has a Pocket Wizard on the hot-shoe to "trip" the strobes for each frame I make. High above the court, I have four Elinchrom strobes mounted with sport reflectors that concentrate the light down onto the playing surface (this setup varies between arenas where I set up my own strobes and arenas where they are already permanently installed). Each time I shoot a frame, all four of these strobes fire and "synchronize" with the camera's shutter.
Gaffers Tape: Any sports shooter will always have some gaffers tape on them as well as a black Sharpie. You can write on grey tape too, so I rarely use black tape. I tape the table-top tripod legs to the court surface when doing floor remotes, I tape up the wires from my remotes so they look clean, and I will even tape on lens shades to keep them from falling off.
Not Shown:
There are two other very important pieces of equipment that are not in the photo that are essential. I always have a Crazy Creek chair with me to give my back relief when shooting games. I also never set foot in an arena without foam ear plugs, or, noise-cancelling headphones. Shooting sports takes a toll on the body, and there are long-term effects on the back and hearing that should not be ignored. It also helps me to concentrate on the game with the earplugs in. I feel like I keep track of the clock better, make sure I keep an eye on the coach throughout the game, and I'm not rattled when a game goes into OT.
Lastly, I only use Think Tank rolling cases. Everything I use for the game fits into an Airport Security bag, including my chair. Rolling from a parking lot, through security, then around the depths of each arena, and to the shooting location on the court can be a mile or more—at least it can feel like a mile. Rolling weight is always better than carrying it, period.
Patrick Murphy-Racey is a Sony Artisan Of Imagery. See more about him here. Follow him on Instagram @murphyracey.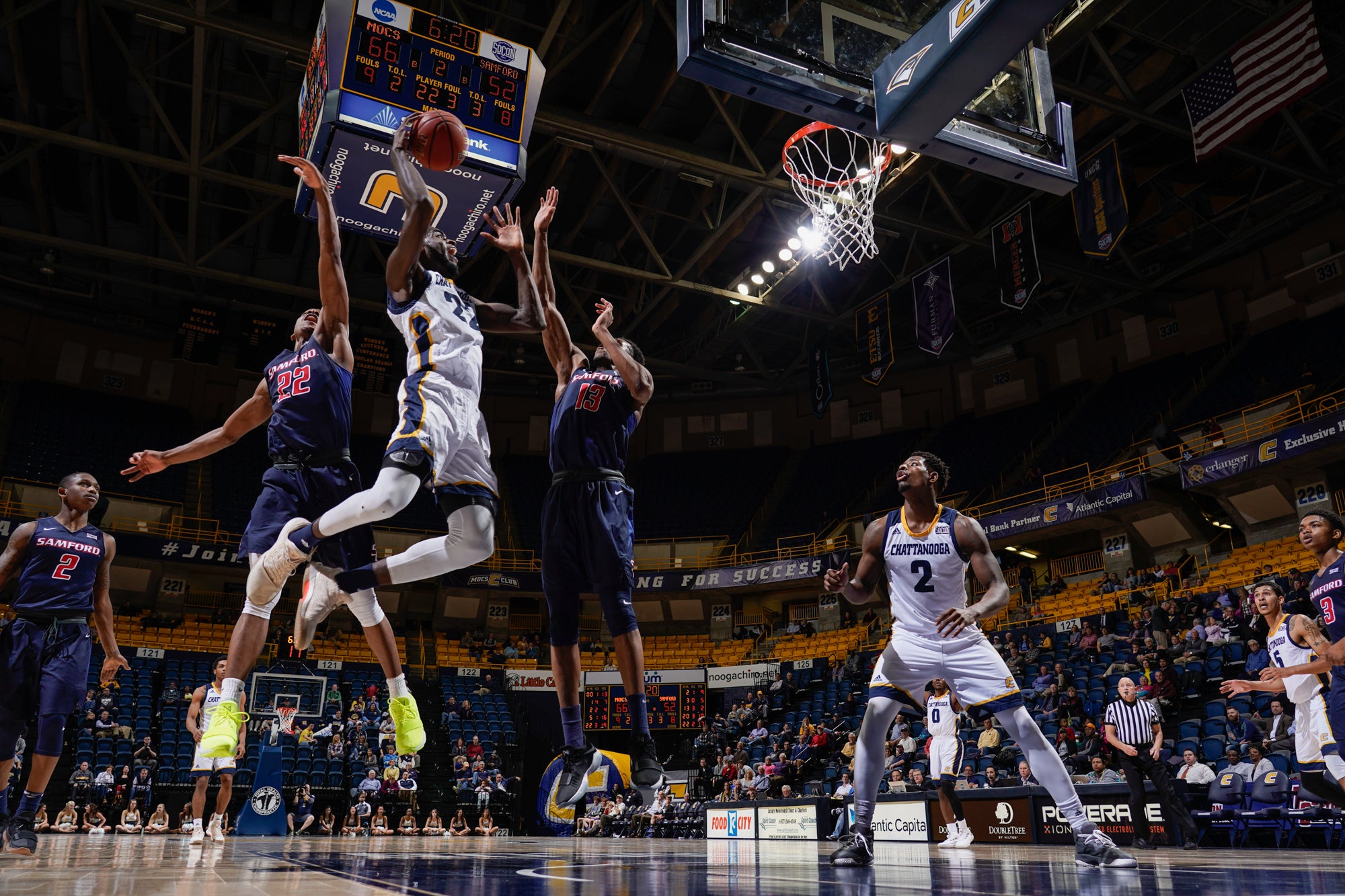 Sony α9. Sony 24-105mm f/4 G OSS lens. 1/200-sec., f/4.5, ISO 200.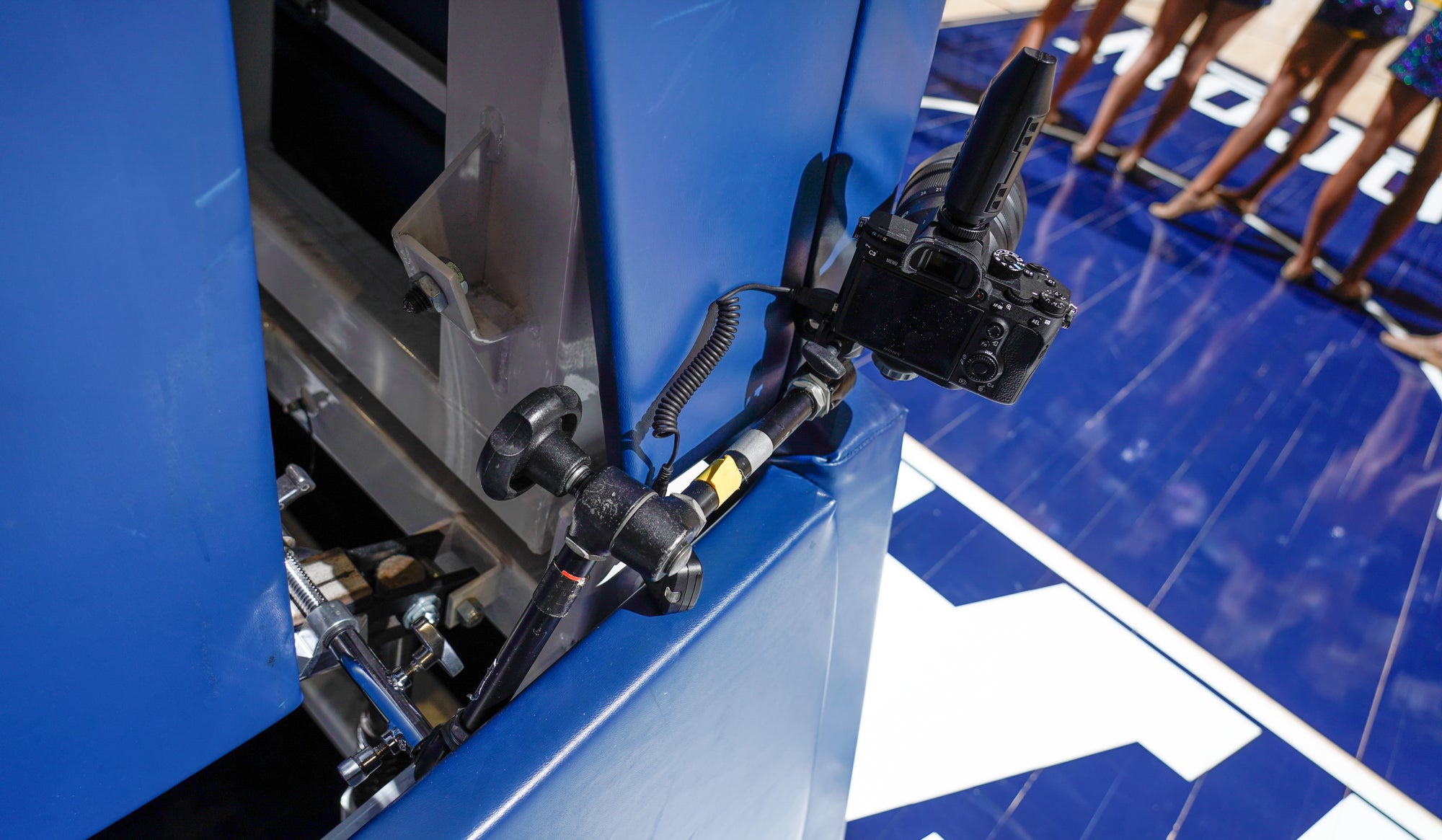 Patrick Murphy-Racey's remote Sony α7R III rig mounted beneath the basket.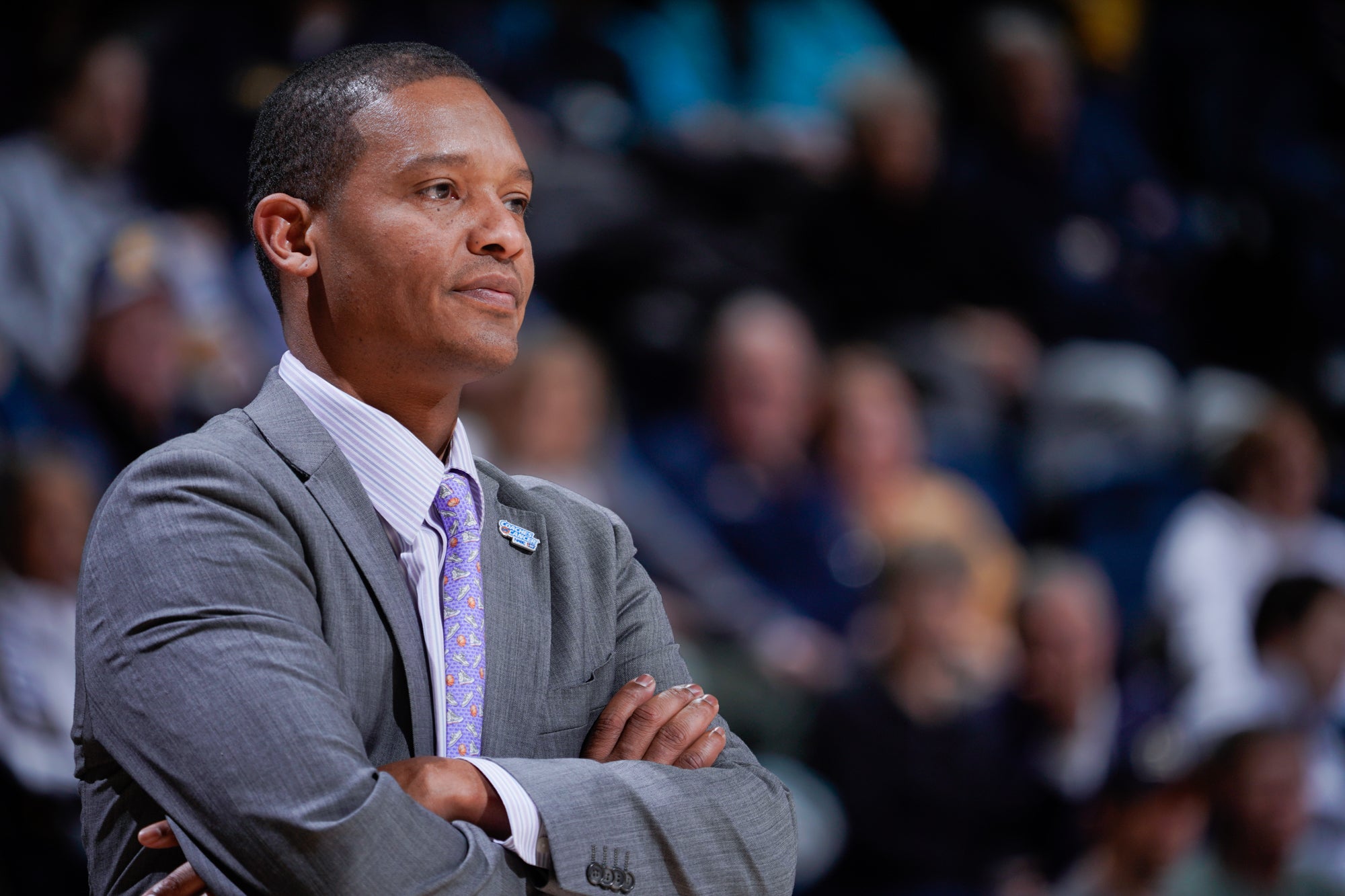 Sony Sony α9. Sony 100-400mm f/4.5-5.6 G Master lens. 1/200-sec., f/5.6, ISO 200.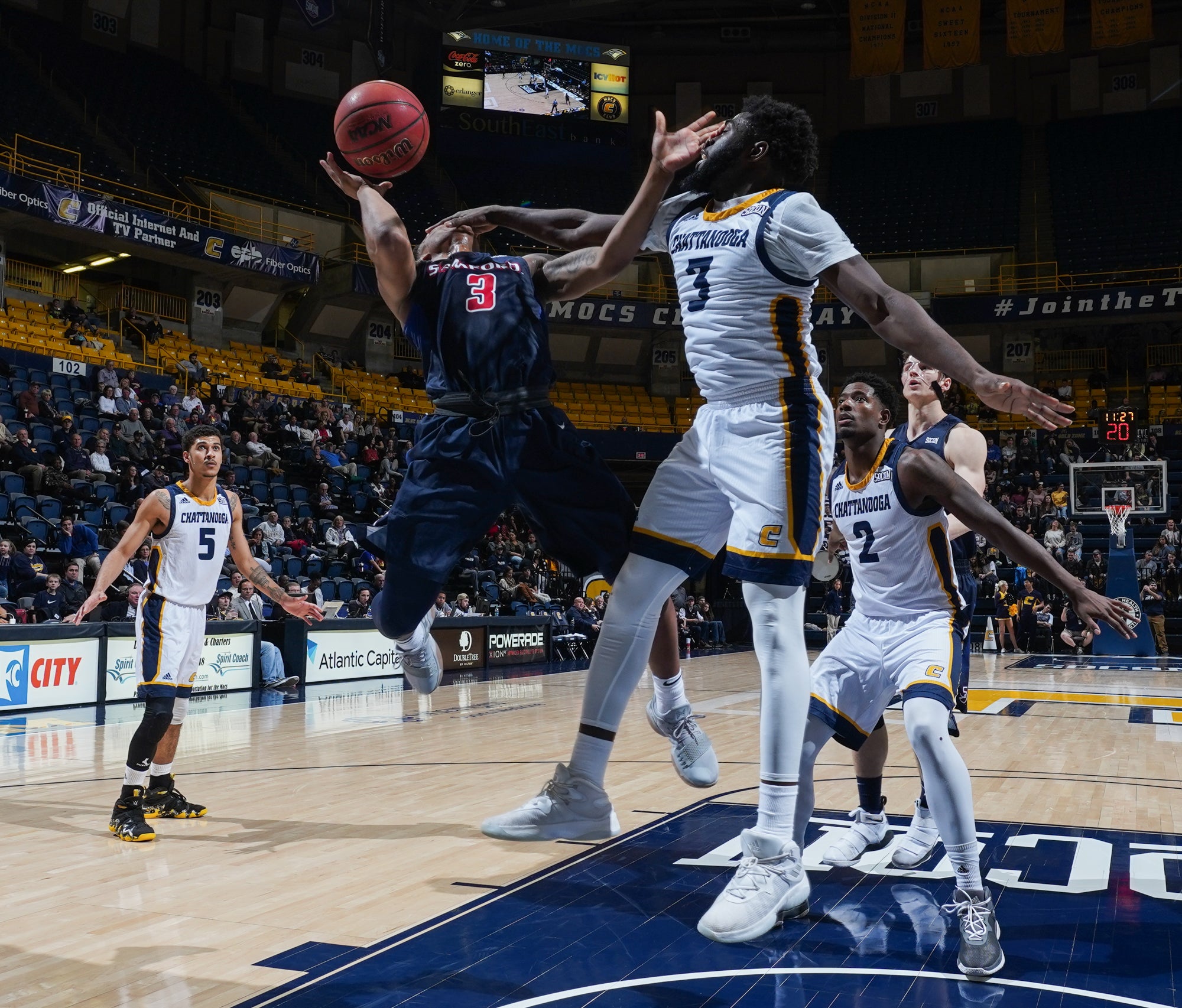 Sony α7R III remote camera. Sony 12-24mm f/4 G lens. 1/200-sce., f/5.6, ISO 320.