Before I switched to mirrorless, I carried pretty much the same gear for years and years at a time. Cameras were updated less frequently, and lenses were too. Since switching to Sony Alpha full frame cameras in 2014, I have been gradually acquiring a new, completely up-to-date collection of bodies and the latest native mirrorless lenses.
In addition to the fast pace of mirrorless camera innovation, Sony is developing to keep pace with the current tech, and to be ready for future image sensor technology as well. Part of the reason I switched to Sony in 2014 was because I became convinced of their long-term commitment to photographers. I've moved to having all native mirrorless lenses (no legacy DSLR lenses mounted with adapters) to future-proof my gear. For this article, I wanted to explain the gear I'm using now as well as my plans for the near future as I round out my full collection of tools.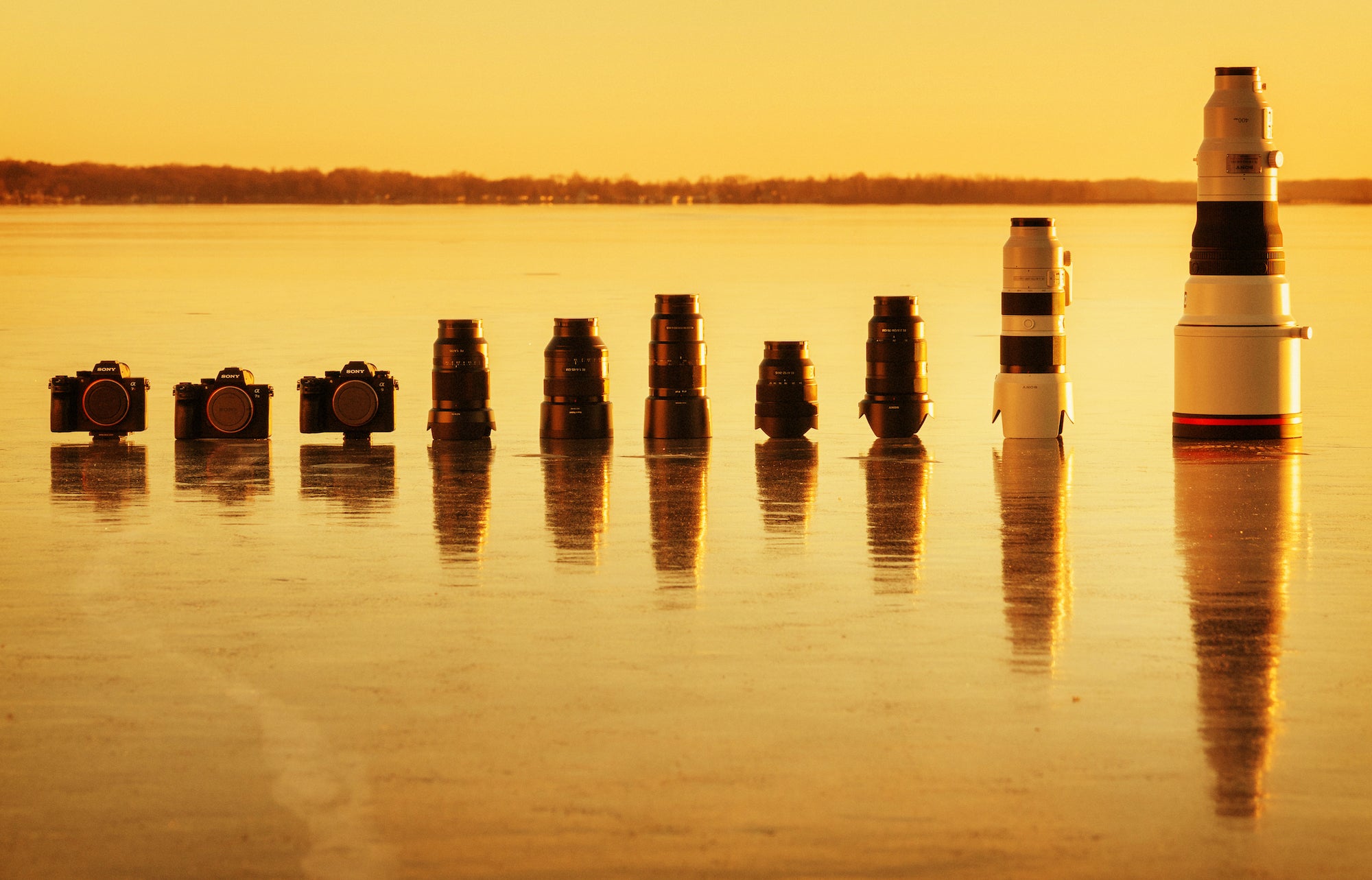 Cameras
Sony α9: Simply the best camera for sports action and silent shooting (as in a church for a wedding or on a production set) that I have used. 20 fps, 24 megapixels and tracking Eye AF and Face Tracking in AF-C makes this the camera when I'm shooting sports and fast action as well as parts of the weddings I photograph.
Sony α7R III: This is an amazing camera that is perfect for portraits and for most of my general, "all-around" work. Fast and responsive (10 fps in electronic and mechanical shutter), this is my also my go-to camera for flash photography because of the mechanical shutter.
Sony α7 III: This little gem of a camera was announced at WPPI in Las Vegas last spring and was the show-stopper, especially when you consider the price and features. 10 fps, 24 mp file, with an excellent price tag and you've got yourself the camera that made many switch to Sony and away from DSLR.
Lenses
I have what I call my "Core Four" lenses that I can use for so much of the work I do. They are…
Sony 35mm f/1.4: Fast aperture (and the ability to de-click the aperture for video (this is a BIG deal for me) and amazing sharpness even wide open makes this lens awesome.
Sony 85mm f/1.4 G Master: Like the 35mm f/1.4, the 85mm G Master is a fast aperture lens, with a manual aperture ring that can be de-clicked. When I couple this lens with the Eye AF of the current cameras, I have a potent and powerful portrait combination, that's, frankly, the best I have ever used in my 35-year career.
Sony 24-70mm f/2.8 G Master: This is an exceptional lens for weddings and even for studio portraits. Solid build and tack sharp at maximum aperture, it has become one of my favorite lenses. I write that because with my previous camera system, I was not a fan of the 24-70mm zoom because it was tough to get the lens sharp (and I had several copies).
Sony 70-200mm f/2.8 G Master: A go-to performer for my portraits and also superb for sports, weddings and photojournalism. The 24-70mm and 70-200mm f/2.8 G Master lenses have become the defacto standard issue lenses for so many photographers (including me) in so many genres.
Beyond my Core Four, I have several other lenses that I use in various situations.
Sony 12-24mm f/4 G: A superb lens for expansive views of churches (for weddings) as well as a great lens for interiors and architecture. This lens is also very good on the right gimbal for video real estate walkthroughs. I'm always especially careful of the front element when I use the 12-24 because it does not accept a threaded filter over it.
Sony 35mm f/2.8: My first Sony lens ever and one that I still use regularly because of its small size. The 35mm focal length is one of my favorites for weddings and documentary work, so having a small backup that I still use is a bit of safety measure.
Sony 55mm f/1.8: One of the original lenses announced with the Sony a7 camera back in 2013 and still an incredible value. Super sharp, even at maximum aperture, this lens is great for portraits and when I'm traveling given its light weight.
Sony 90mm f/2.8 G Macro: A lens that can be used for portraits, though I primarily use it for wedding detail work.
400mm f/2.8 G Master lens: A sports photographer's dream lens, especially when combined with the a9. This lens is a revolutionary design that incorporates extremely light weight and unique lens element design and placement in the lens barrel. Additionally, Sony engineered the lens with a linear motor which helps minimize size and weight and also increases speed of focus. While this lens has an obvious interest in the pro sports and news gathering markets, it came incredibly useful for me on a recent job photographing a Catholic church wedding in Chicago where I was restricted to the back of the church and could not go close to the altar.
Flash Units
Godox V860-IIS: What makes this flash unit particularly compelling for my wedding photography is that the power supply is a lithium ion battery pack (much like a battery pack for the camera), which helps speed recycle time. Since I will often bounce flash off ceilings at wedding receptions, this power feature is a big deal because it means no off camera pack and unwieldy cords to get tangled (at weddings I typically use two cameras on my shoulders).
Godox AD200: This 200-watt second strobe unit is only slightly bigger than most conventional speed lights and yet packs a wallop that is three to four times more powerful than the speed light. Plus this unit has a variety of interchangeable heads, from an old-school bare tube to a fresnel head. Recently they added a rounded head that is quite similar in style to the Profoto a1. The AD200 is also battery powered off of a long lasting lithium ion battery.
Godox AD400Pro: This is the newest addition to my lighting arsenal and the reason I got it is to have an elegant and powerful flash unit for studio and on location. While I could combine two power packs and two bare bulb units of the AD200 into the Godox AD-B2 Mount, I like having the efficiency of one unit. Plus the AD400 Pro has a high quality color stable mode that keeps the color temperature within a 75º Kelvin range over the full power range of the flash.
All of the Godox strobe units can be triggered by the V860II-S speed light or the X1, R2 Pro and R2 Pro2 transmitters and all have the ability to do High Speed Synch (HSS).
Being able to trigger and adjust flash units right from the camera is a critical part of the work that I do. In fact I recently sold my older manual-only studio flash units that could only be adjusted at the flash because of the speed gains and efficiency of the Godox.
LED Lights
PRL Lighting Lustra L50 3 light kit: My go-to LEDs for location work are these great units that have tight color tolerances and are small and efficient. The three light kit includes AC adaptors, a backpack and a small softbox modifier for each of the lights. They can be powered by the ubiquitous Sony NPF video batteries, making them perfect for video on location and location portraits and commercial work.
Bags
I absolutely love, love, love these Think Tank bags, backpacks and rollers. My bags of choice are:
Think Tank Airport Security: One of the nicest features of this bag is that the 70-200mm f/2.8 can be stored vertically, freeing up room in the bag for more stuff. It's large enough to get a lot of gear in it for weddings. It's sized a bit big for international, but for domestic, I have never had a problem.
Think Tank Airport International: When I travel abroad or don't need as much gear, then this roller fits the bill.
Think Tank Airport Antidote: I'm loving this bag more and more. It's smaller than both the Security and the International and is very light and yet strong. The front flap will hold a MacBook Pro too, so that's an extra bonus.
Think Tank Airport Essentials: This has become my main wedding backpack. I find I like having a backpack because it spreads the weight evenly while walking. Shoulder bags can be convenient but over time they have caused back pain for me (of course I started with shoulder bags a long time ago). This backpack can easily handle my Core Four lenses and two bodies (and my MacBook Pro 15" Retina fits in the front pocket too!)
If I use anything over my shoulder I use the Think Tank Speed Phreak belt pack which can be hooked onto my waist in addition to using a shoulder strap.
Think Tank Video Tripod Manager 44: For carrying tripods, monopods and light stands (and even the Godox AD400 Pro and a Cheetahstand QSB-34 for wedding family formals) – this case is robust and yet lightweight and allows me to keep everything on me when I do a wedding.
My most recent Think Tank bag addition is the Think Tank Glass Limo. This bag is specifically designed for long fast lenses like the 400 2.8 G Master to safely transport and protect while going to cover events.
It also has their ingenious lashing system that allows you to attach accessory lens bags or pouches onto the exterior of the Glass Limo to safely transport them and there is also a very cool way to attach your Think Tank belt pack (commonly used by sports photographers).
What I plan on adding in 2019:
Sony 16-35mm f/2.8 G Master: I'm finding that for video coverage this is a lens I really want to add primarily because I can use an 82mm Variable ND Filter by Sirui when shooting 24P video (locking shutter down at 1/50th).
Sony 24mm f/1.4 G Master: As soon as I saw this lens, I knew I wanted to get it. As the smallest fast aperture (f/1.4) 24mm lens (weighs less than 16 oz.!), it's a perfect choice for my gimbal work in low light. It also has the linear motor technology that's in the 400mm f/2.8 G Master.
Sony 50mm f/1.4: This will complete my "cinema style" lenses with the 35mm f/1.4 and the 85mm f/1.4 G Master. All of these lenses have manual aperture rings that can be de-clicked, making them perfect for video work. And while I will add this lens, I plan on keeping the 55mm f/1.8 for travel and as a very capable backup.