Urbex is one of Max Boncina's (@max.bon) passions. The Alpha Imaging Collective shooter explores tunnels, abandoned buildings and more with his Sony Alpha mirrorless cameras and lenses. We'd be remiss if we didn't point out that this kind of photography has its own hazards and should have a "do not try this at home" label on it in many cases, but when proper precautions are taken, the images can be stunning. In addition to exploration, Boncina sometimes works with models when he shoots among the vestiges of urban decay and he's built a natural-light photography kit that enables him to stay work with the conditions he's dealt. We caught up with Boncina to learn about what he carries to explore and shoot in hollowed-out urban spaces.
Given my penchant for extreme shooting conditions that arise in many abandoned locations, my photo backpack has some unusual items as well as the more common ones.
Without his utility belt, Batman would certainly be at a loss. For photographers, our backpack is our utility belt. A vital necessity – ensuring our performance and maximizing our potential. Given my penchant for extreme shooting conditions that arise in many abandoned locations, my photo backpack has some unusual items as well as the more common ones. I like to have a bag that's simple but has what I need to get the job done. Without things like plumbing, central air and just electricity in general, shooting in or from abandoned locations means finding unique ways to use natural light and architectural imperfections to enhance my work. Here's my kit for when I'm preparing to shoot from an abandoned locale.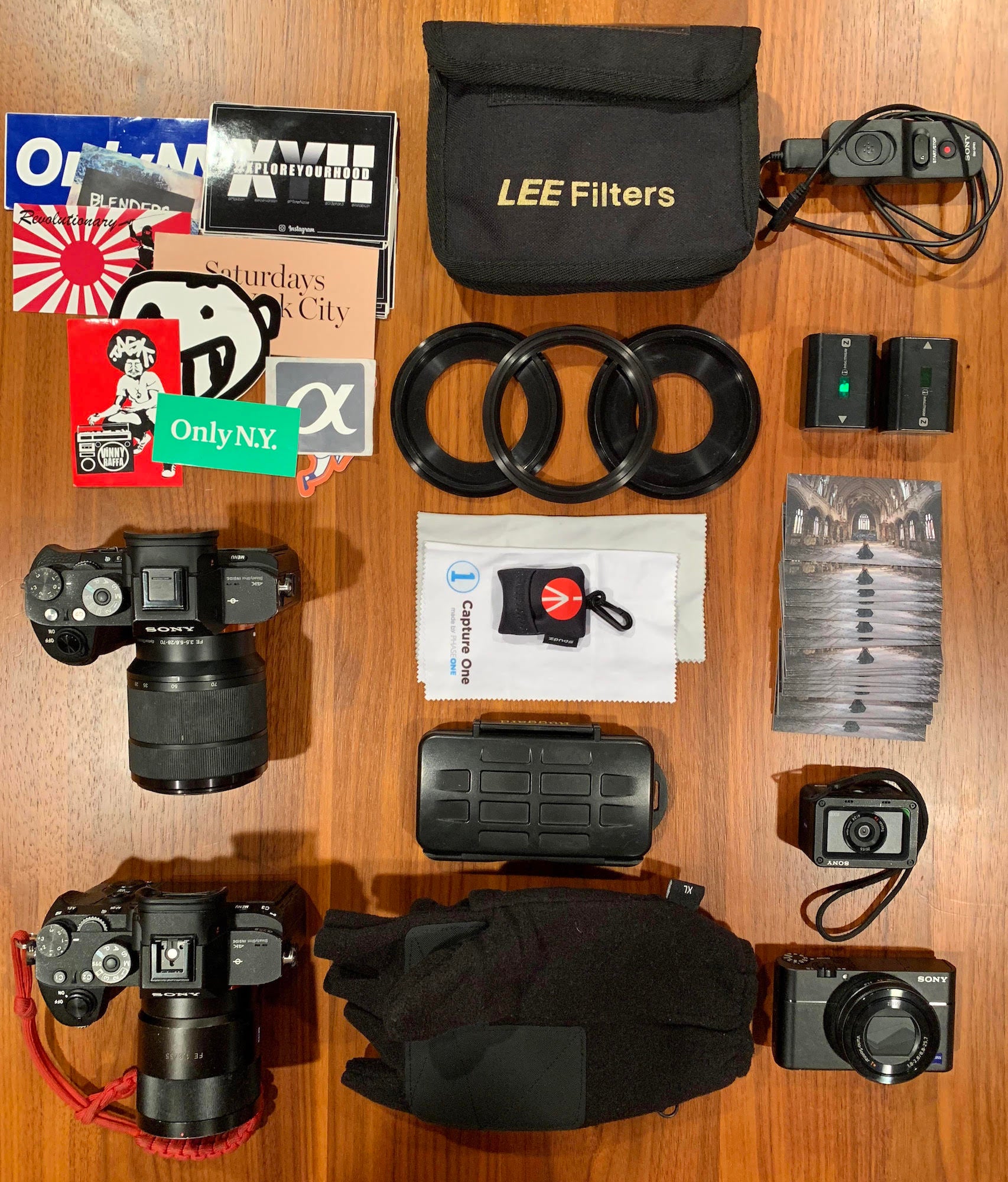 Cameras
Sony α7R III: Most important of all would be my camera, and it is a beast. The Sony α7R III fulfills all demands I place on it and always executes stupendously. This upgrade from my previous cameras addressed any and all issues, in a comprehensive and ingenious fashion. Possibly my favorite feature in the α7R III is the continuous 10 fps with full AF in Hi+ mode. This allowed me to absolutely nail the photo shown below. That image was made in Buffalo's Central Terminal, a sprawling Art Deco space that was once as ornate and majestic as Grand Central Terminal itself, but has sadly sat abandoned since 1979.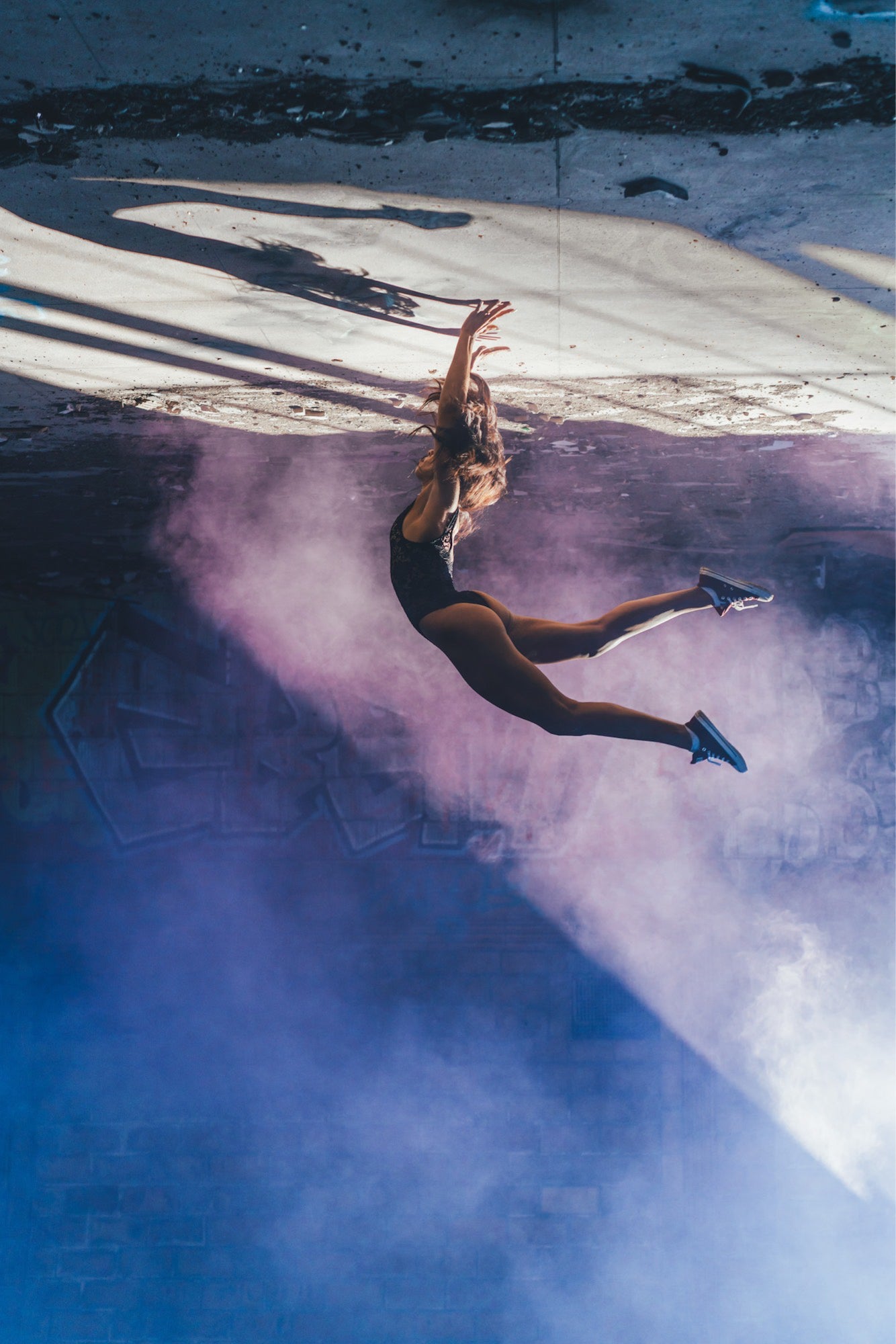 Sony α7R III. Sony FE 55mm f/1.8 lens. 1/2000-sec, f/1.8, ISO 640. I had asked @art_ashleykay, who to my great fortune, happened to be a former gymnast, to do a somersault across the room. After checking the viewfinder the idea of flipping the image came to me. It gave a sense of weightlessness and it just looked so cool.
Sony RX100: This camera does an incredible job for its size. I can take it out of my shirt pocket, point, shoot, put it back in my shirt pocket and have myself a ridiculously high quality photo. It's a great backup urbex camera or for a quick grab shot.
Sony RX0: The RX0 is an invaluable part of any photographer's kit. It empowers me with a unique and incredibly rugged tool for a day of shooting. It's shockproof, it can be submerged in saltwater, chlorine water and that dirty New York street water. A camera with this kind of durability is nice to have when I never know for sure what I might encounter at a location.
Lenses
For my urbex lenses, I have a few options, but these are a few that I rely on most.

Sony FE 55mm f/1.8: The perfect portrait lens and three years after I purchased it, it's still golden. The qualities I most value are its compact size and weight and it's stunning sharpness. I can fit my camera with this lens on it in my jacket pocket! It's extraordinary and so useful when I need to be nimble and discreet, but most of all it's unequaled in sharpness and brilliance. The lens delivers such a strong visual impact that some describe it as having a 3D rendering. The portrait below, I feel, demonstrates the prowess of this lens. It was taken in the surgery rooms of an abandoned hospital. As I explored that space, I turned and saw my model through the shattered glass of this once bustling medical center and I realized that this point of view would make for an intriguing portrait.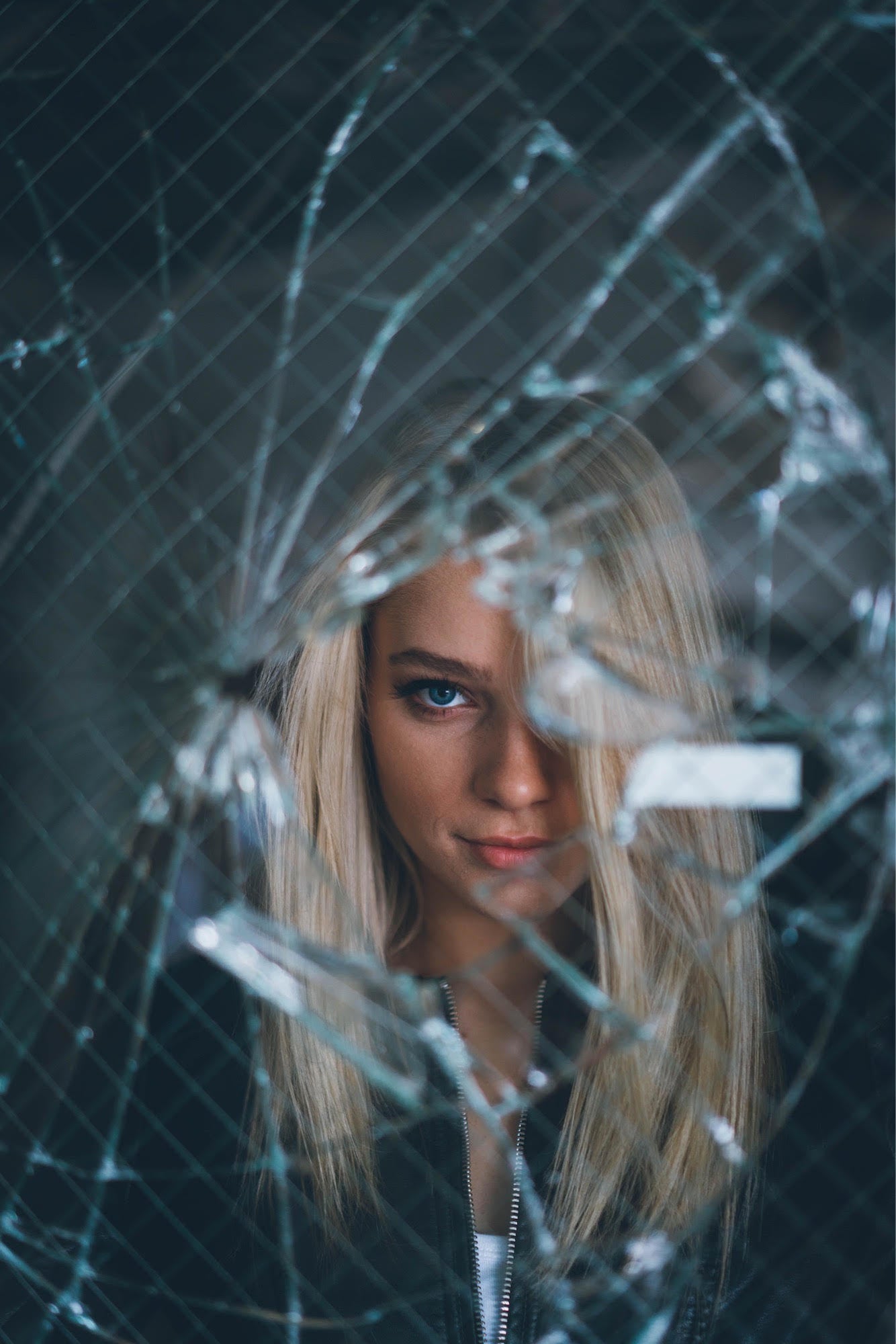 Sony α7R III. Sony FE 55mm f/1.8 lens. 1/125-sec, f/1.8, ISO 200. This photo was photographed in the surgery rooms of an abandoned hospital. As I explored within, I turned and saw my wonderful model @madeleinemichael through the shattered glass of this once bustling medical center. The point of view just so intriguing; the beautiful model juxtaposed with the sharp broken shards of glass. Creating a stark contrast inside a photograph is something I always strive for. A main reason why I gravitate towards shooting portraits in abandoned locations.
Sony FE 16-35mm f/2.8 G Master (not shown in my gear shot above): My current infatuation with wide angle photography is quite possibly due to this lens. Let me share some of its strengths; minimum distortion, super fast focus, solid build quality, but best of all, super sharp. After all, we are photographers, and we should value the most basic value of all; how crisp and sharp an image is.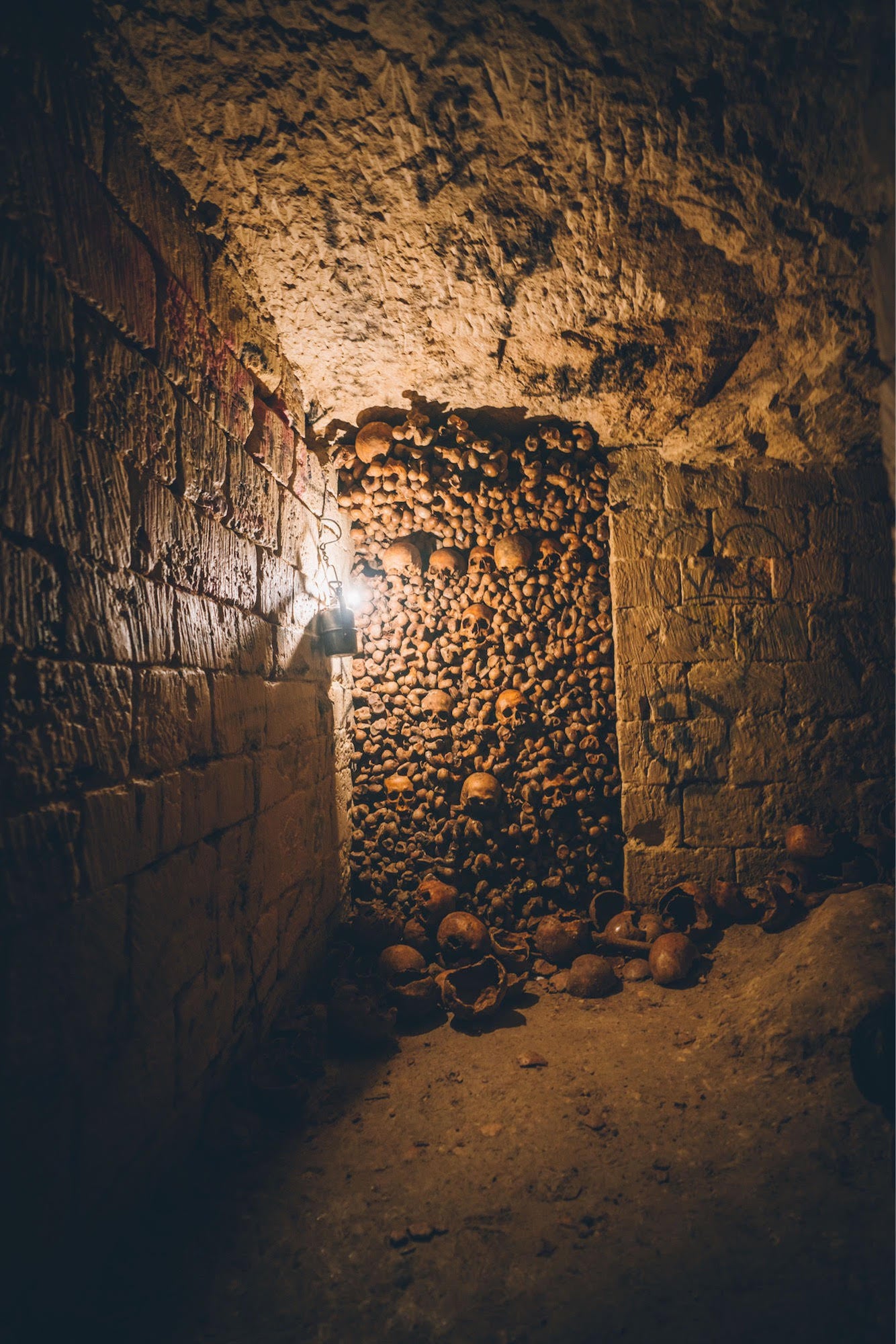 Sony α7R III, Sony G Master 16-35mm lens, ⅛-sec., f/2.8, ISO 640. Now you might be asking yourself, "Is that a door of skulls?" It is. Frederick (@freed_o_gram) turned to me and said, "we are at the final gate." I looked to my right and saw a small crevice barely wide enough for me to squeeze through, with jagged rocks framing its entrance. I crawled through the opening into darkness. In this minuscule passageway I could not stand and only crawl forward. I shined my headlamp into the inky depths and was greeted by a carpet of bones; thousands of human bones. All having a brownish hue, reminiscent of leather. I suppressed the sickening feeling in my stomach for I had to now crawl forward. The remains inches from my face. Thankfully the tunnel soon opened up and I could now stand, walk and inspect my surroundings. I had found the inner sanctum of the Paris catacombs, and the G Master had captured it all perfectly.
Sony FE 28-70mm f/3.5-5.6: I defy anyone to find a better lens for the price. For just a few hundred dollars this lens is durable, light and has a strong zoom versatility that is great to have on shoots. The crispness is unreal – one of my favorite photos of my daughter (ever) was using this very lens!
Accessories
Sony RM-VPR1 Remote: For controlling my camera without touching it or when I'm not within arm's length. Having a remote is especially handy in urbex when the camera is placed in a tricky location.
Spare Batteries: The Z battery in my α7R III easily lasts all day, but I still always have spares with me. you never know when you might forget to fully charge and just to have peace of mind, it pays to carry a spares.
Gloves with finger flaps: Whoever invented these things – genius! And do not think they are only for bitterly cold occasions. The abandoned locations I photograph demand this accessory. I'm not putting my hands on a 30-year molded doorway, or a rusted sharp metal fence or on an unidentifiable foul smelling substance barring my entrance, without these gloves.

Lens Cloths (I carry several): Such a basic necessity and yet overlooked by so many. Rarely do I see other photographers cleaning their lenses before shooting. Plus with the autumn and winter weather conditions in NYC, a lens cloth has often insured my equipment is dry, clean and most of all, can take a photo!

Lee ND filters: For the times when I like to take "pretty" photos. I've always loved long exposure (LE) photography, and especially daytime LE. A slightly cloudy sky with a beautiful sun and an even more beautiful landscape is a recipe for magical images. The longer the exposure and those clouds become streaks of white, creating an utterly dramatic scene. I have set of step-down rings so I can carry one set of filters that will work on all of my lenses.

Stickers: I've always had a slight obsession with stickers. And given the people I meet and places I go, I often pick up some super amazing ones – which I like to place in the most insane spots. It is the little things in life that provide happiness.

Moo Business cards: As a freelance photographer you never know how an unexpected meeting can lead to a potential gig. For those moments I am fortunate to have found the best business card maker in the world and a local company as well. These cards are insanely good and have certainly aided me when promoting myself as an artist.