With New Year's Eve coming, street photographers are getting ready for one of the most vibrant dates of the year. Dennis Cacho (@denn_ice) is a member of the Sony Alpha Imaging Collective who can't get enough of the stories that unfold on the streets. New York is his muse and to translate the energy he sees there to images, Dennis uses a compact kit made up of a Sony Alpha α7R III and ultra-compact Sony RX 100 and RX0 cameras along with a refined collection of native mirrorless lenses. Some photographers capture the streets from afar, relying on long telephotos and keeping their distance. Looking at Dennis' Instagram feed, you see that he prefers to get up close and personal with fast Sony prime lenses that max out at 85mm, because to really tell a story, you have get close.
We talked to Dennis to learn more about the tight collection of gear he brings with him and why.
The autofocus is superb and using the Sony Continuous Tracking Eye Autofocus has helped me nail shots all the time.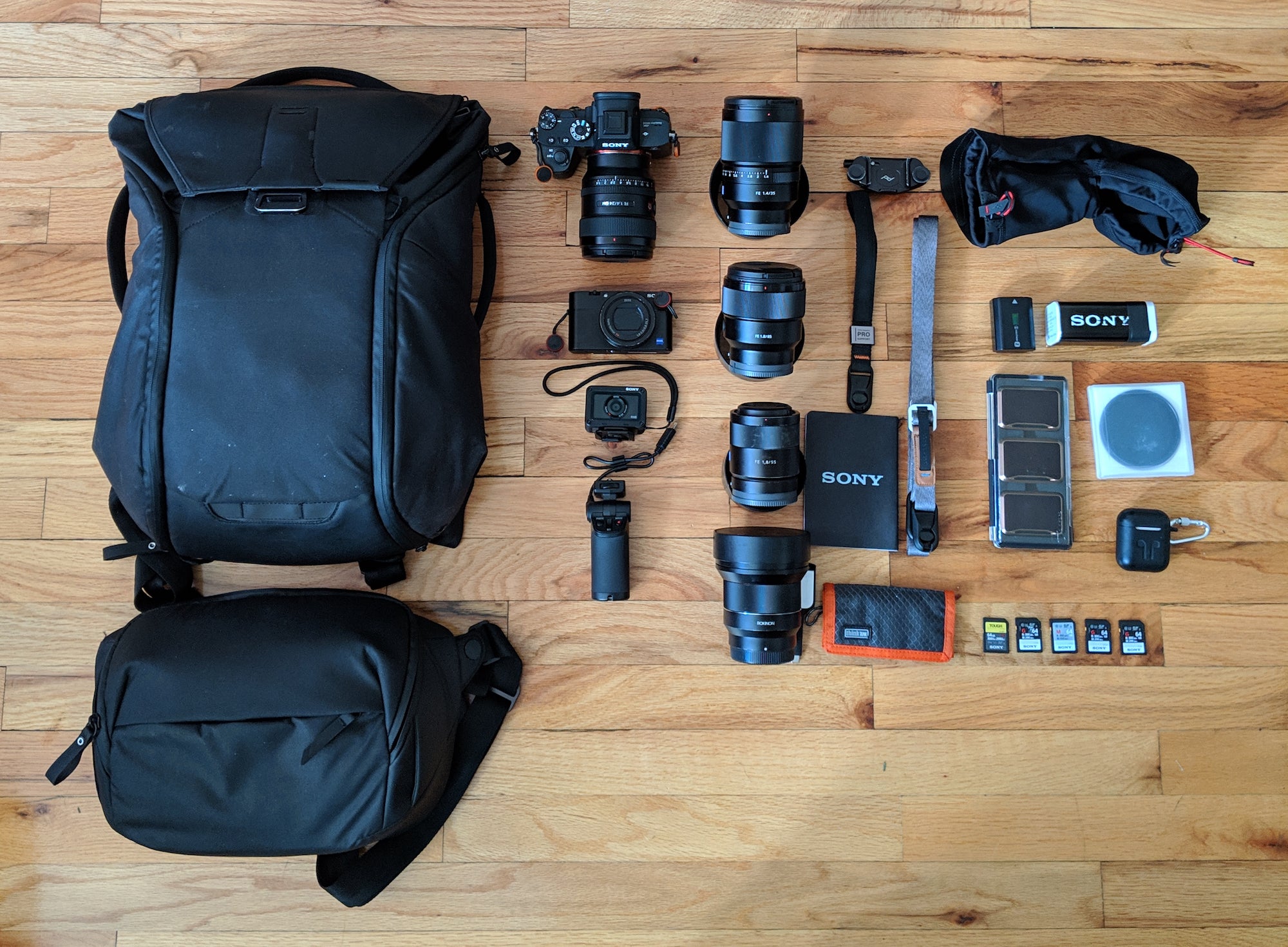 Cameras
Sony α7R III: This is my main camera for photography and video. The image quality from the 42.4 megapixels is amazing. The autofocus is superb and using the Continuous Tracking Eye Autofocus has helped me nail shots all the time. The low light performance is also outstanding and lets me get some amazing shots at night.
Sony RX100 V: This compact point-and-shoot delivers quality over and over again. I've taken this camera with me to locations where bigger interchangeable lens cameras aren't allowed, and it just delivers every time. I love it for street photography because people aren't intimidated by it. It's also my go-to camera when I want to get behind the scenes footage of myself shooting video.
Sony RX0: The RX0 is always in my bag since it's so compact and easy to carry. The image quality is great for a one-inch sensor. I like to use this for b-roll when I'm shooting video, and also for hard-to-reach locations when I'm taking photos and I need something rugged and compact.
Lenses
Sony 24mm f/1.4 G Master: Since I got it, this lens has been glued to my camera. I was always a fan of the 24mm focal length, so when Sony came out with this fast 24mm f/1.4 G Master, it was a no-brainer. The size and weight make it great for street and cityscape photography. Having the aperture ring and AF/MF switch on the lens really come in handy.
Sony Sonnar T* 55mm f/1.8: The 55mm f/1.8 was my second lens when I switched over to the Sony Alpha line and it's still one of my favorites. It's so sharp and compact that I don't leave home without it. I use it a ton for street photography and even for video. It gives a nice 3D rendering that you don't see in many lenses, especially in this size. To me this lens is a must for anyone getting into Sony.
Sony Distagon T* 35mm f/1.4: This is my go-to portrait lens. If you check out my Instagram feed, you'll see that I shoot a lot of portraits a little wider than normal. This 35mm is super sharp and it's awesome in low light.
Sony 85mm f/1.8: Not only is this another great portrait lens, but it's also a great lens to carry for street photography when you want some separation. It's sharp, compact and very affordable.
Rokinon 14mm f/2.8: 14mm can be too wide for some, but here in NYC 14mm is good for look-up shots and when shooting the skyline.
Accessories
Sony SD Memory Cards: You can never have enough memory cards with you. I keep them spread out through my bags and even in my car just in case. The Sony TOUGH cards are phenomenal and it makes me feel good to know they can withstand pretty much anything.
Sony NP-FZ100 Battery: It's always good to carry an extra battery, even though when I go out shooting I usually don't even drain one. For me, this Z battery is one of the best features in the α7R III.
Sony Portable USB Charger: This stays in my bag just in case my phone is low on charge or when I need to get a quick charge on my camera body. It also has a nice flashlight feature.
Polar Pro ND Filters For RX0: I use this for sunny days when I'm using the RX0 for b-roll. Great packaging and it comes with ND8, ND16 and ND32 filters.
Hoya NDX8 ND Filter: I mainly use this for video work so I can stick to the 180-degree rule.
Peak Design Straps: I prefer hand straps over neck straps and I mostly tend to use the cuff strap on my camera bodies. I also like the size of the leash camera straps for when I want to use it as a sling strap. It's so easy to change from the hand strap to neck strap with the Peak Design anchors.
Peak Design Capture Clip V3: This comes in handy when I don't want to put the camera back inside my bag. It attaches to the strap of my bag and makes it easy to access my camera when on the go.
Peak Design Shell Cover: Perfect for protecting my α7R III when the weather isn't ideal. It's great to use when I want to shoot in the rain or snow and not have to worry about my camera dealing with the elements.
Apple Airpods: Music is a must when I go shooting and these are a must-have when I'm out in the streets.
Peak Design Everyday Backpack 20L: This is my go-to bag for everyday use. I love the layout and how rugged it is. It has a lot of pockets and fits the gear I need. I also have the 30L version, but I use that for when I need to carry everything on a gig.
Peak Design Everyday Sling 5L: When I want to go light for street stuff and keep it simple with one or two lenses, this is the bag to take. It's very light, can hold my camera with a lens attached and I can also throw in a compact lens or two. I can put extra batteries and portable USB charger, memory cards in here and still have a nice light setup.