I am a photographer with Lindblad Expeditions/National Geographic and National Geographic Student Expeditions. It is my job to bring people to some of the few remaining untouched locations, to show them the importance and uniqueness of each place, and to help share the story in the hopes that we might protect similar ecosystems around the world. When I travel through the forests, fjords, and islands of Alaska's Inside Passage I'll be shooting with Sony Alpha cameras and lenses (and one film camera!) to capture the story of this legendary landscape along the way.
"This lens has been a game changer in allowing me to create images with an ultra wide focal length and incorporate as much visual information as possible." -Alex Krowiak
Cameras
Sony α7R III: The Sony α7R III has changed the way I capture the stories of the destinations I visit. The 10fps continuous shooting on the Sony α7R III makes sure that I can capture the exact moment at which the action is most exciting and the photo is most compelling, the lightweight body allows me to more easily carry my gear to some of the most wild and remote locations, and the silent shooting ensures that I go unnoticed by the wildlife. And of course, the overall image quality is outstanding.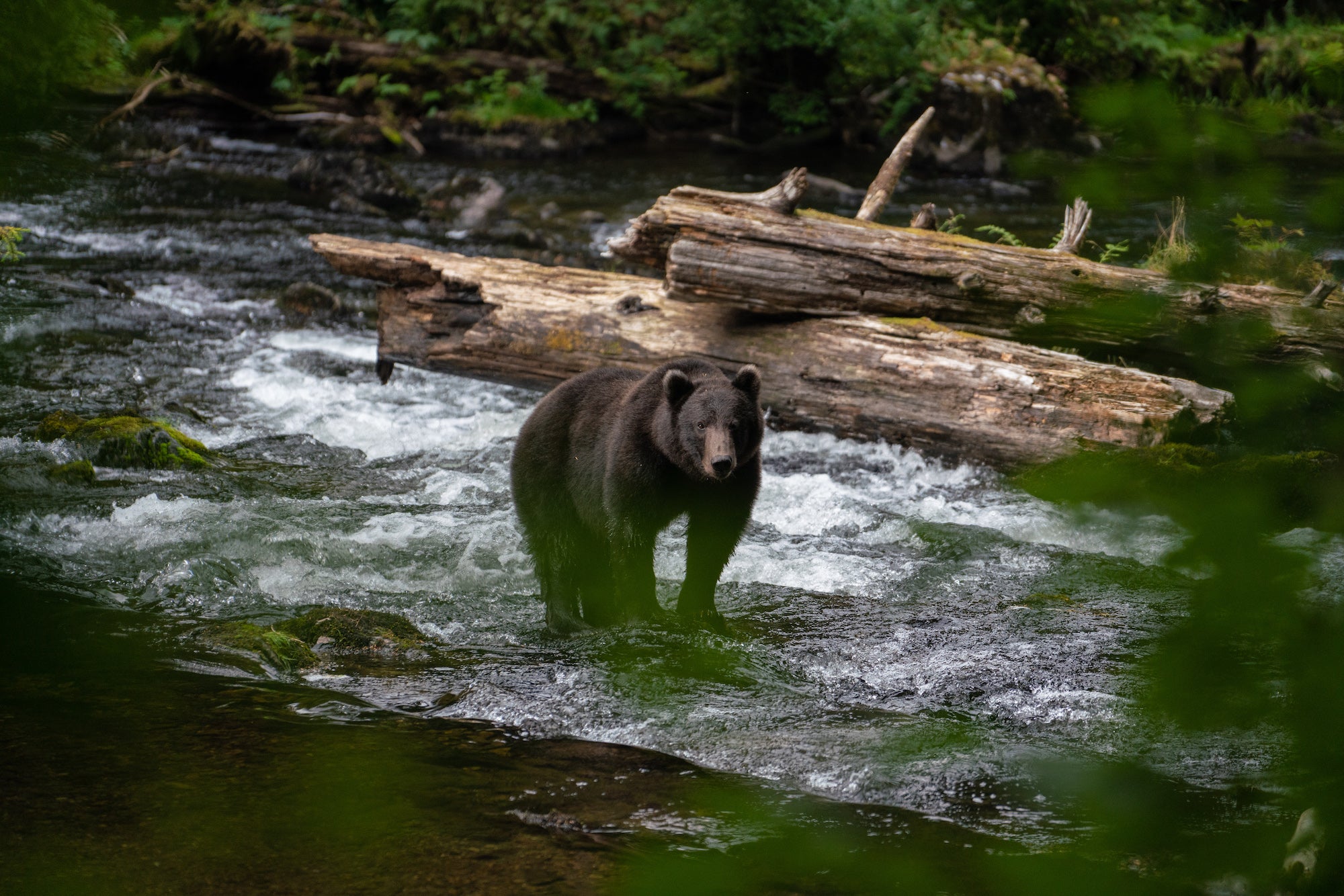 Sony α7R III. Just as the summer begins to peak, the streams of Southeast Alaska begin to bubble with salmon making their multi-year journey back to their natal streams. Predators, like this coastal brown bear I captured using silent shooting, wait near waterfalls within the forest to feast.
Sony α7 III: The Sony α7 III is the perfect secondary body for me in the field. Because conditions change dramatically and the wildlife we encounter can move through a scene quickly, I need to be versatile and ready to press the shutter without having to change lenses.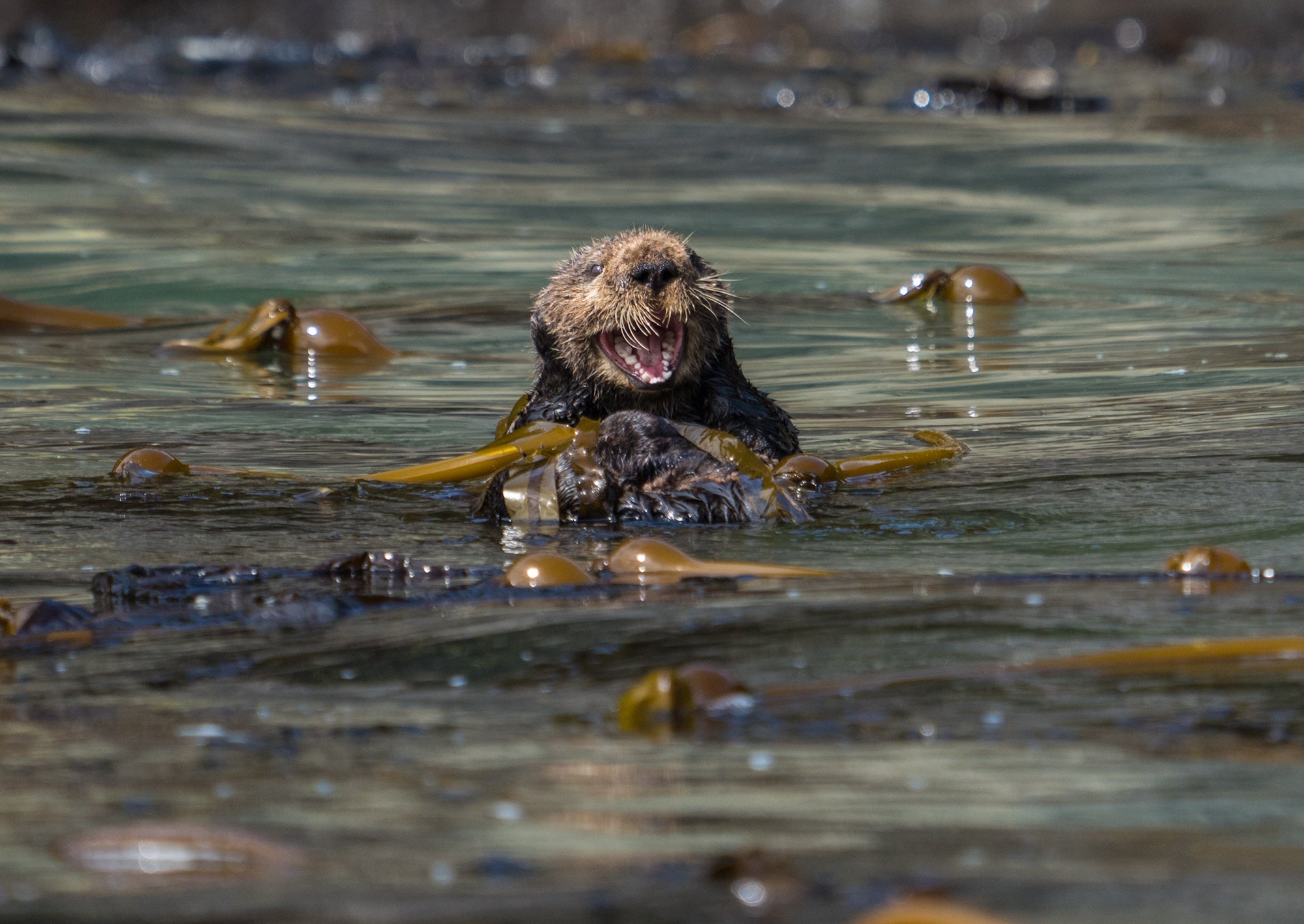 Sony α7 III. Sea otters aren't only adorable; they're also highly important to the balance of the ocean ecosystem in Alaska. As a keystone species, they are dominant predators, keeping populations of urchins low and maintaining the overall biodiversity of the Alaskan kelp forests.
Pentax K1000: The original workhorse I used in my first college darkroom course. Because I normally take several thousand photos over the course of one expedition with my Sony, I occasionally bring out this hand-me-down film original to force myself to slow down the process and to challenge myself creatively.
Lenses
Sony 100-400mm f//4.5-5.6 G Master: My 100-400mm G Master has been invaluable in all the locations to which I have guided. From Baja to Belize, the Caribbean to the Channel Islands, the zoom capabilities of the 100-400 allows me to get as close to the action as possible and create intimate photos of everything from whales to bears.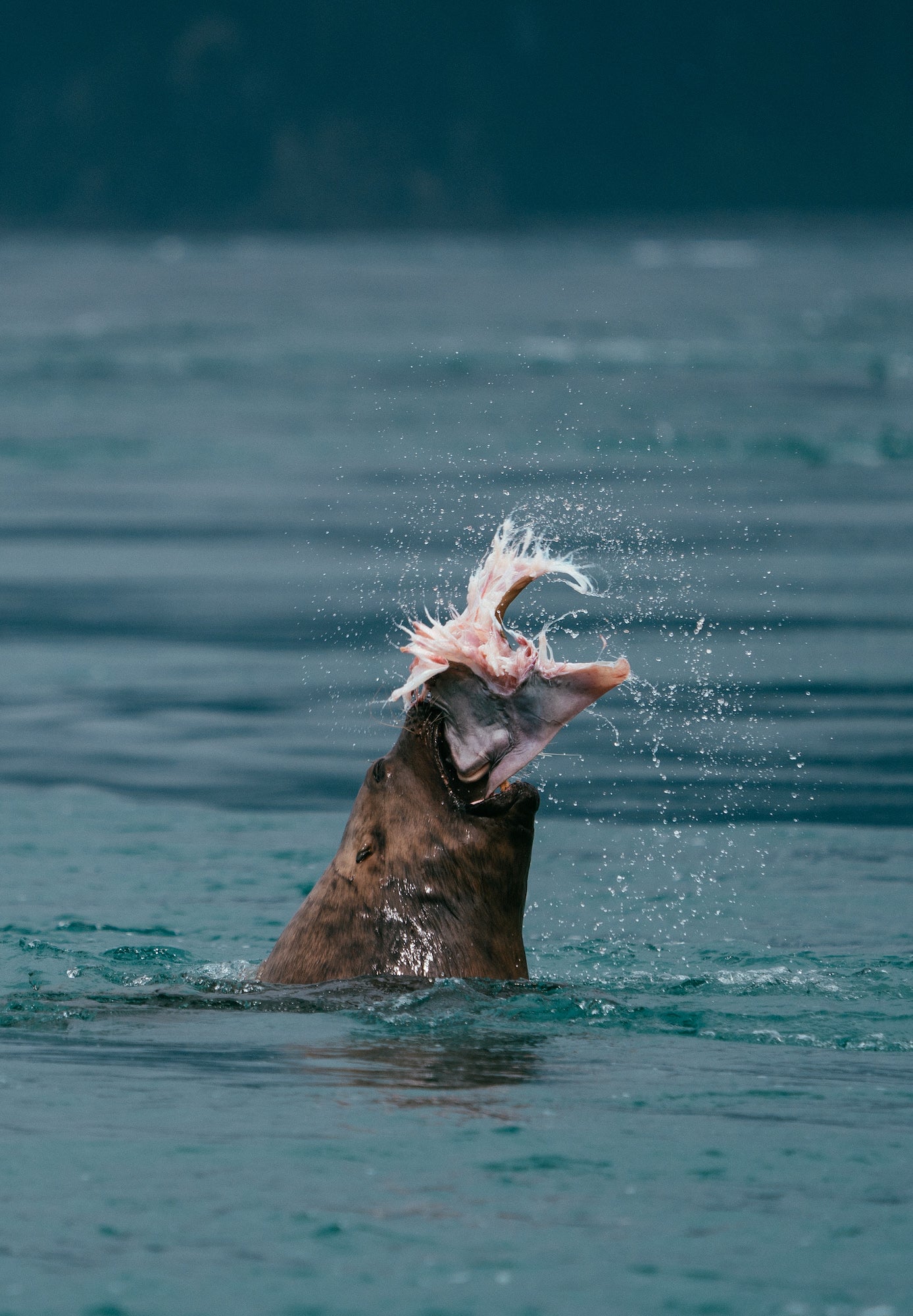 Sony α7 III. Sony 100-400mm f//4.5-5.6 G Master. A Steller sea lion tears apart a fish at the Inian Islands, an area of intense upwelling and abundant productivity at the northernmost inlet of Alaska's Inside Passage. A frozen snapshot of one of the most exciting and high-energy sites we visit in Alaska.
Sony 24-105mm f/4 G: When shooting wildlife, it is important to have a versatile lens that can respond to action quickly. My 24-105mm f/4 G does just that and gives me the ability to capture both wide-angle establishing shots and zoomed-in detail shots. All without having to change lens while the action is happening.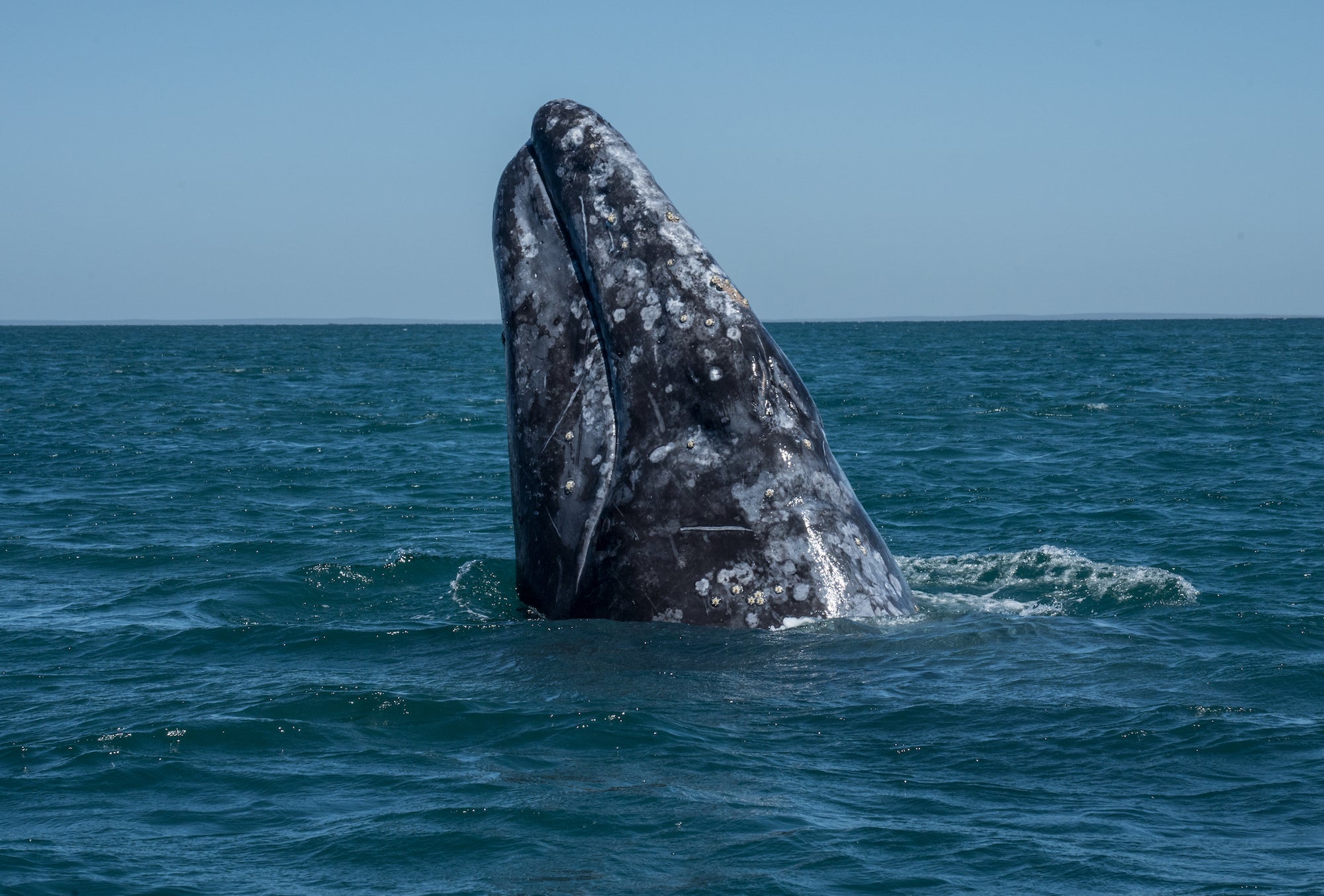 Sony α7 III. Sony 24-105mm f/4 G. One of the most exciting parts of my job is being able to connect the stories of the different destinations I visit. Gray whales make the longest migration of any mammal, traveling 12,000 miles round trip from winter breeding grounds in Baja California to summertime feeding grounds in the Bering Sea of Alaska. I get the chance to view and photograph these animals in both environments.
Sony FE 12-24mm f/4 G: This lens has been a game changer in allowing me to create images with an ultra wide focal length and incorporate as much visual information as possible. Often times while on expedition we are constrained by the boats and kayaks on which we explore so the 12-24mm f/4 G is incredibly fun in the creative freedom it gives me.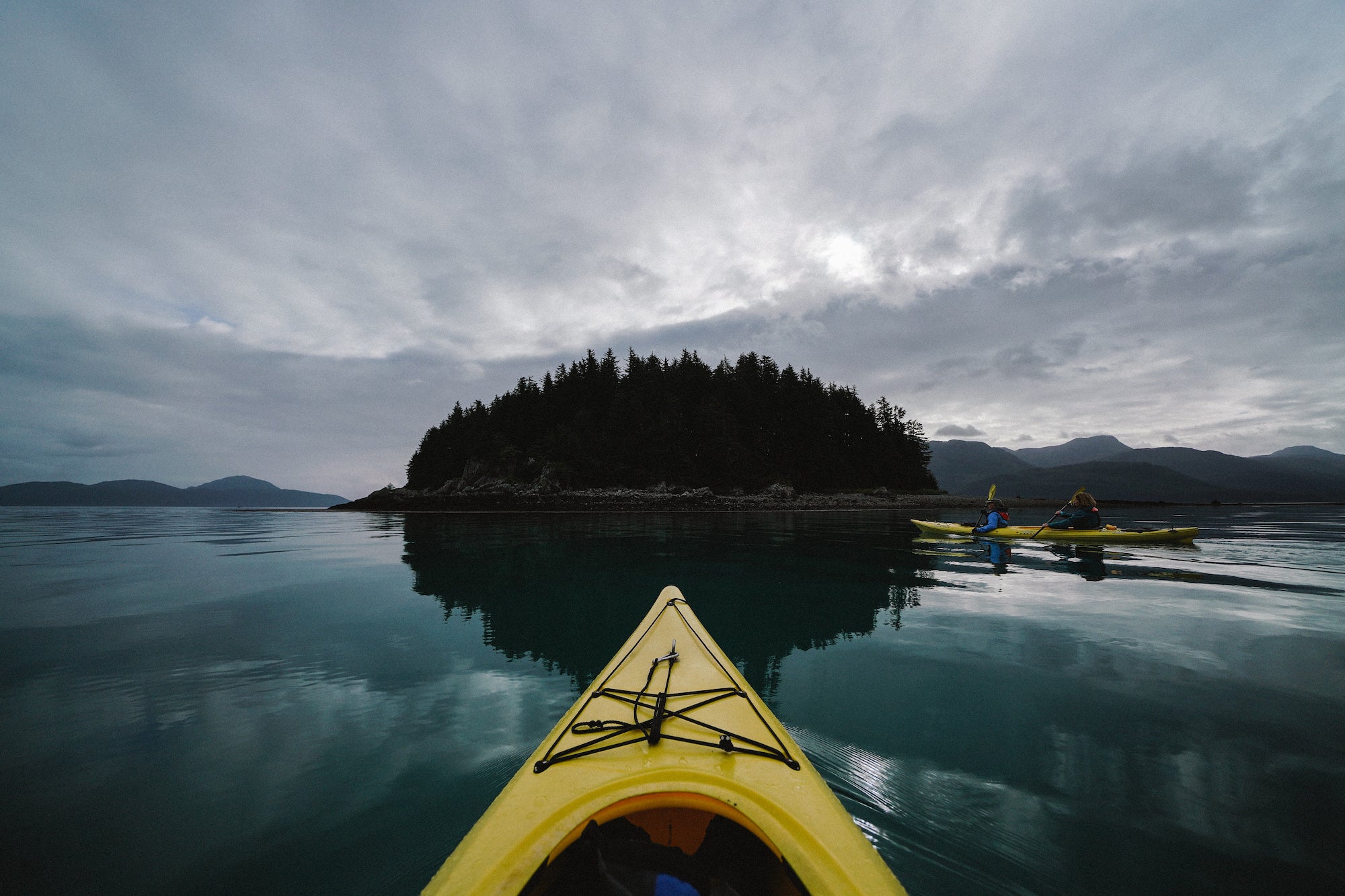 Sony α7R III. Sony 12-24mm f/4 G. Incorporating elements like leading lines in the foreground builds the frame and creates a more dynamic image. The FE 12-24mm f/4 G Lens allows me to do this even when I am guiding kayaks.
Accessories
Swarovski EL 8X32 Binoculars: Before photographing wildlife, you need to spot it. Much of my time is spent on the bow with naturalists scanning the horizon with these binoculars.
Sony α7R III. The humpbacks of SE Alaska display a behavior that can't be seen anywhere else in the world - bubble-net feeding. This is a cooperative feeding method where each individual has a specialized role as they repeatedly dive, corral herring, and resurface to filter feed. The high frame rate of the α7R III ensures that I am able to capture the exact moment when each whale surfaces.
Log from the Sea of Cortez: Traveling to remote destinations means that I spend significant time on planes with a good book (an actual book with paper pages and a cover). For this trip I am revisiting The Log from the Sea of Cortez, the story of John Steinbeck's 1940 expedition from Monterey Bay to Baja California to document the diversity of the area's tide pools.
Atlas Athlete Camera Backpack: A versatile gem. This pack has reconfigurable camera storage and dozens of hidden features like a built in rain fly (a life saver in Alaska) that have allowed me to use it anywhere from city weekends to weeklong backpacking trips.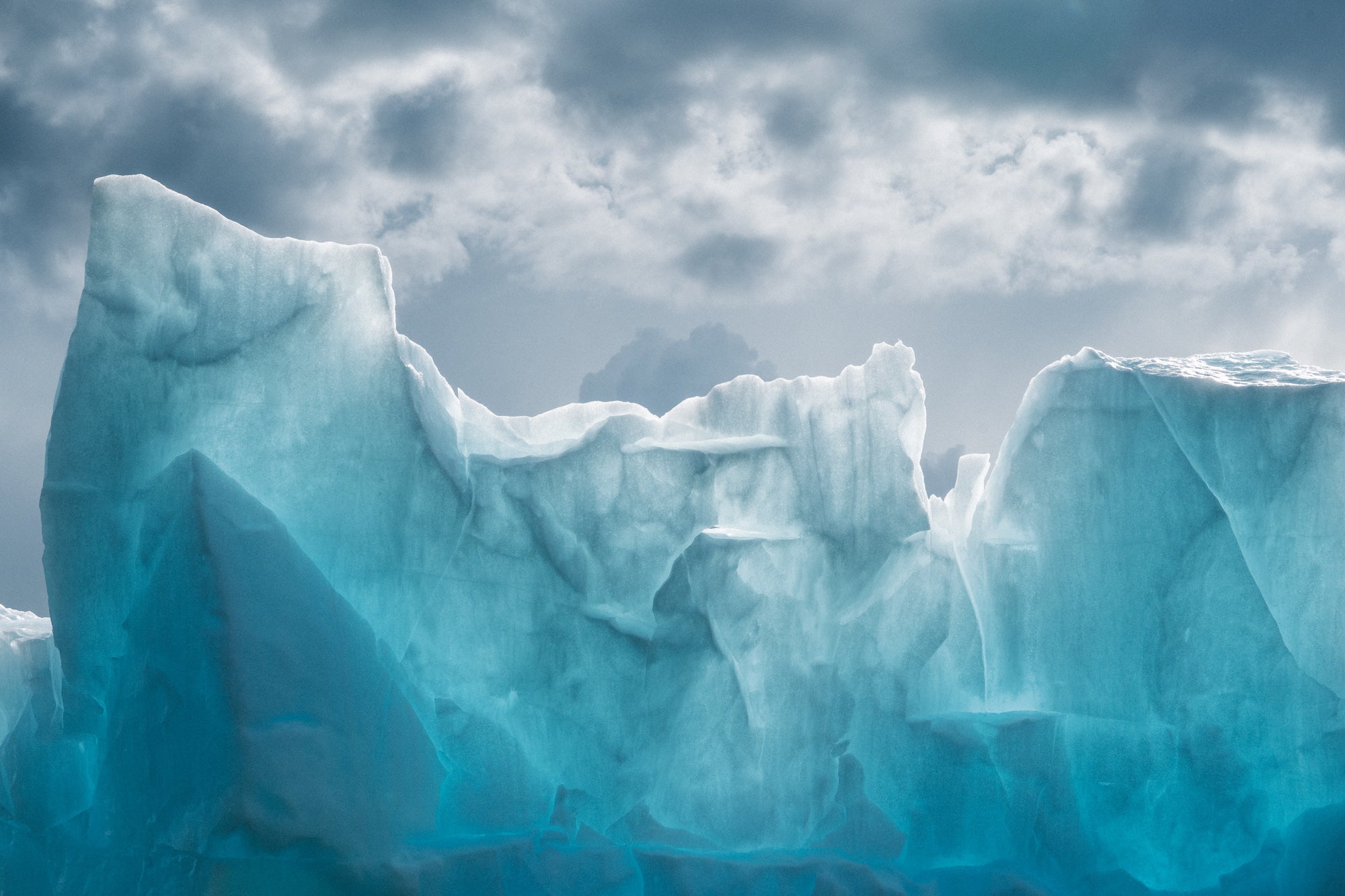 Sony α7 III. Mesmerizing light is reflected and refracted by an iceberg larger than most houses near Laconte Glacier. These lagoons of glacial ice are constantly changing and one of the most fun and dramatic subjects to photograph.
Moleskin Field Notebook: This journal comes everywhere with me so that I can take notes on observations of wildlife in the field and record ideas that I have for the images and stories I want to create.
Miscellaneous B+W Neutral Density and Polarizing Filters: On expedition we are almost always on water so these polarizing and ND filters are invaluable in controlling the light coming off of the water's surface.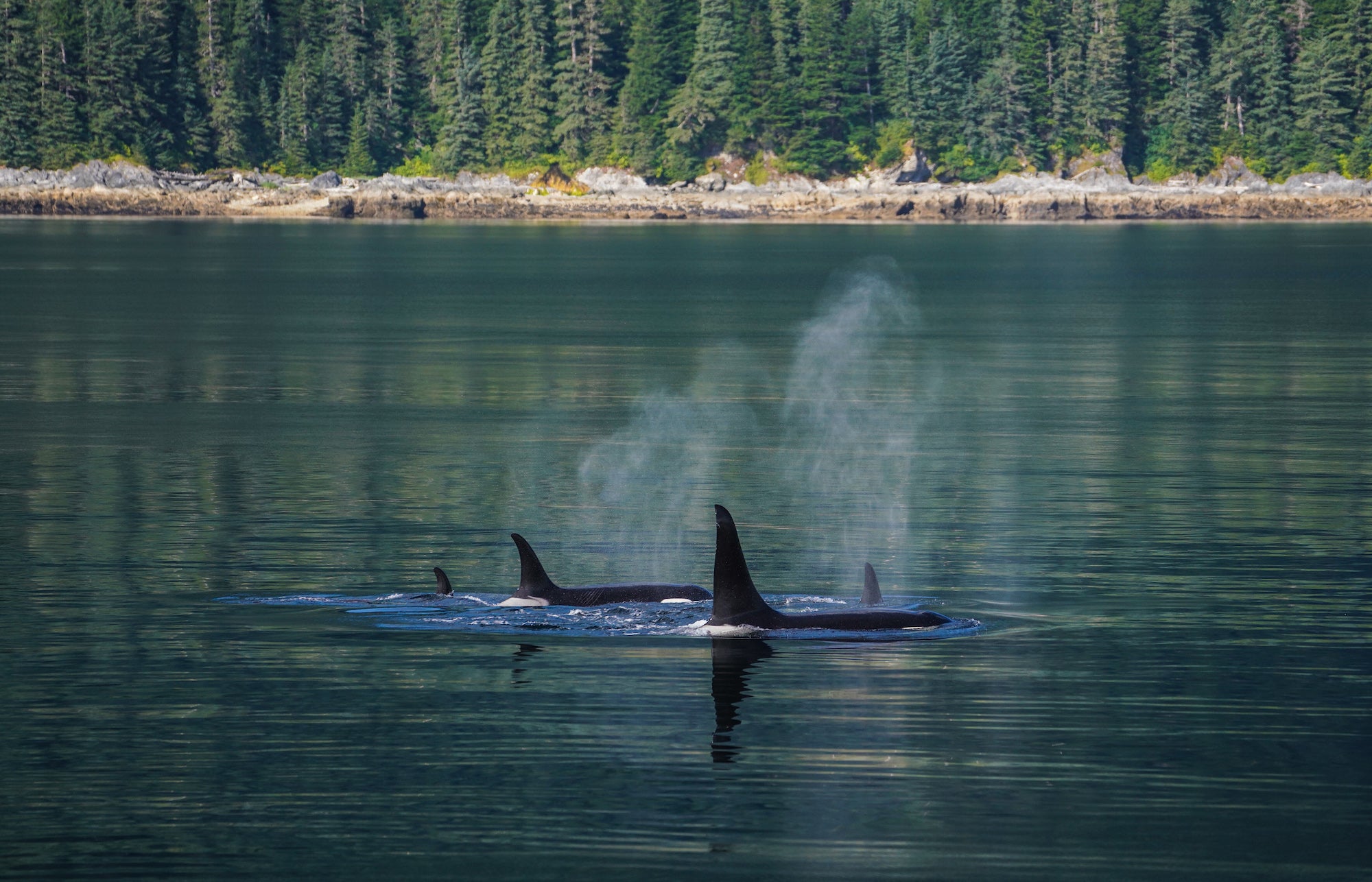 A pod of resident killer whales cruises alongside the banks of the Tongass National Forest. Instead of only zooming in on the wildlife, I like to incorporate the background layer to provide a sense of place and show how unique the landscape of Alaska really is.
See more of Alex Krowiak's work at alexkrowiak.com and on Instagram @alex_krowiak.