Mihail Minkov (@fineartshot) is a photographer with a focus in astrophotography. He has been honored in many awards from prestigious international competitions for astro and night photography, his shots shared by major media outlets such as National Geographic, BBC Science Focus and Sky At Night Magazine. "I have always been fascinated by the stars, I can even say that as a child I was in awe of the night sky," he says. "Over the past four years, I have dedicated much of my free time to capturing the magic of the night sky and the Milky Way in particular. Using my Sony Alpha camera and two of the best lenses in the world, I am able to capture details and colors invisible to the naked eye. I like to add my own personal touch to what is captured on camera to give the shot a finished look and story." Keep reading as Minkov shares the key to astrophotography and the gear he uses to make it magic.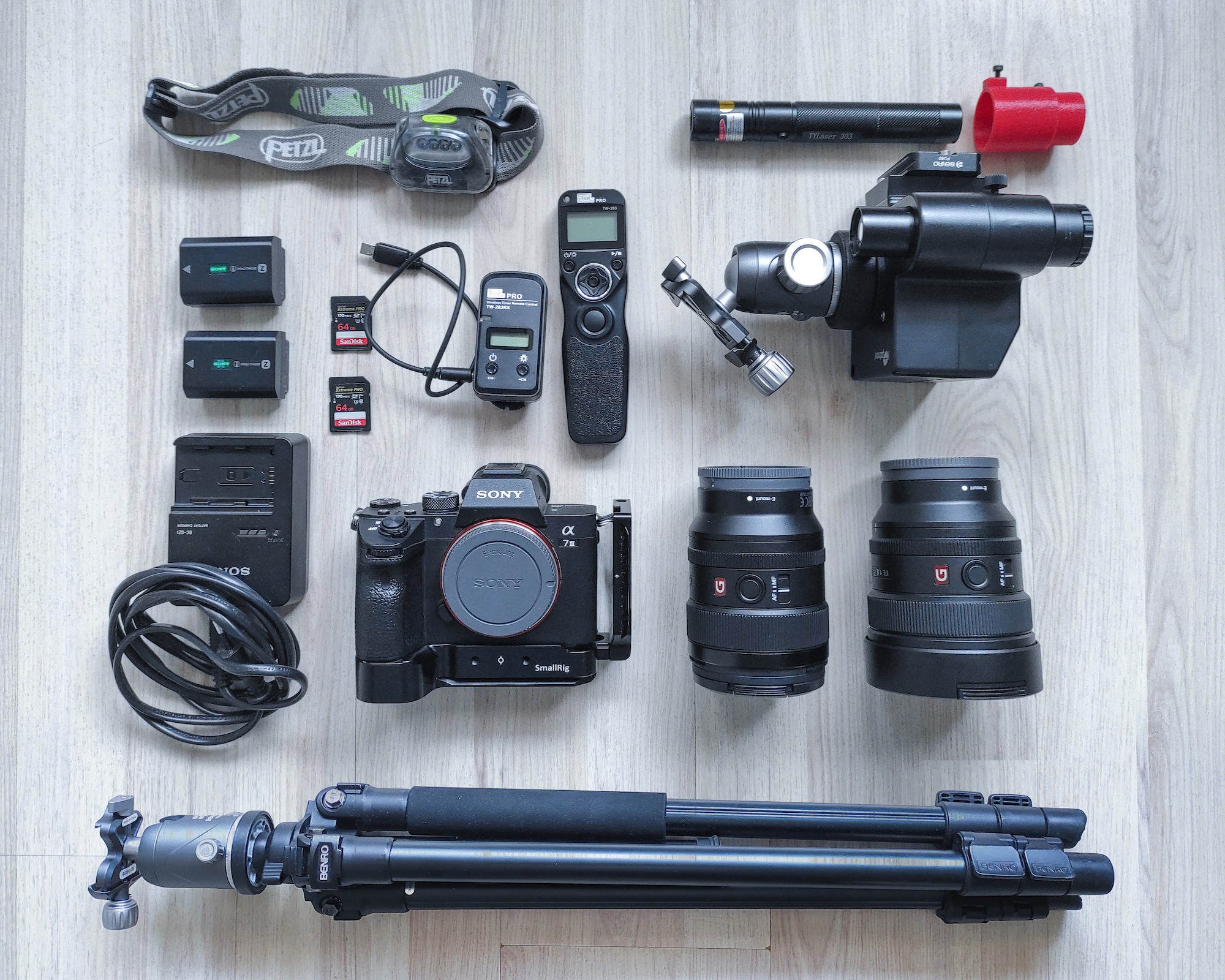 Using a Sony Alpha camera and two fast G Master primes, this astrophotographer creates stunning imagery imbued with his own personal touch.
Patience Is Key

Night photography is a difficult and complex hobby, as various factors have to be taken into account: planning the location, the weather, the phase of the moon, putting in the time and effort to prepare the composition and, respectively, the frame itself. I can't just get up, go outside and shoot. I have to wait for the period of the month when there is a new moon, the weather should be suitable, there should be no clouds, the location should be in a sufficiently dark place, away from the light pollution of the cities, which is also the biggest problem for observing the stars and the Milky Way. Last but not least, I have to have a good idea for a shot, find the right model and props to make it happen.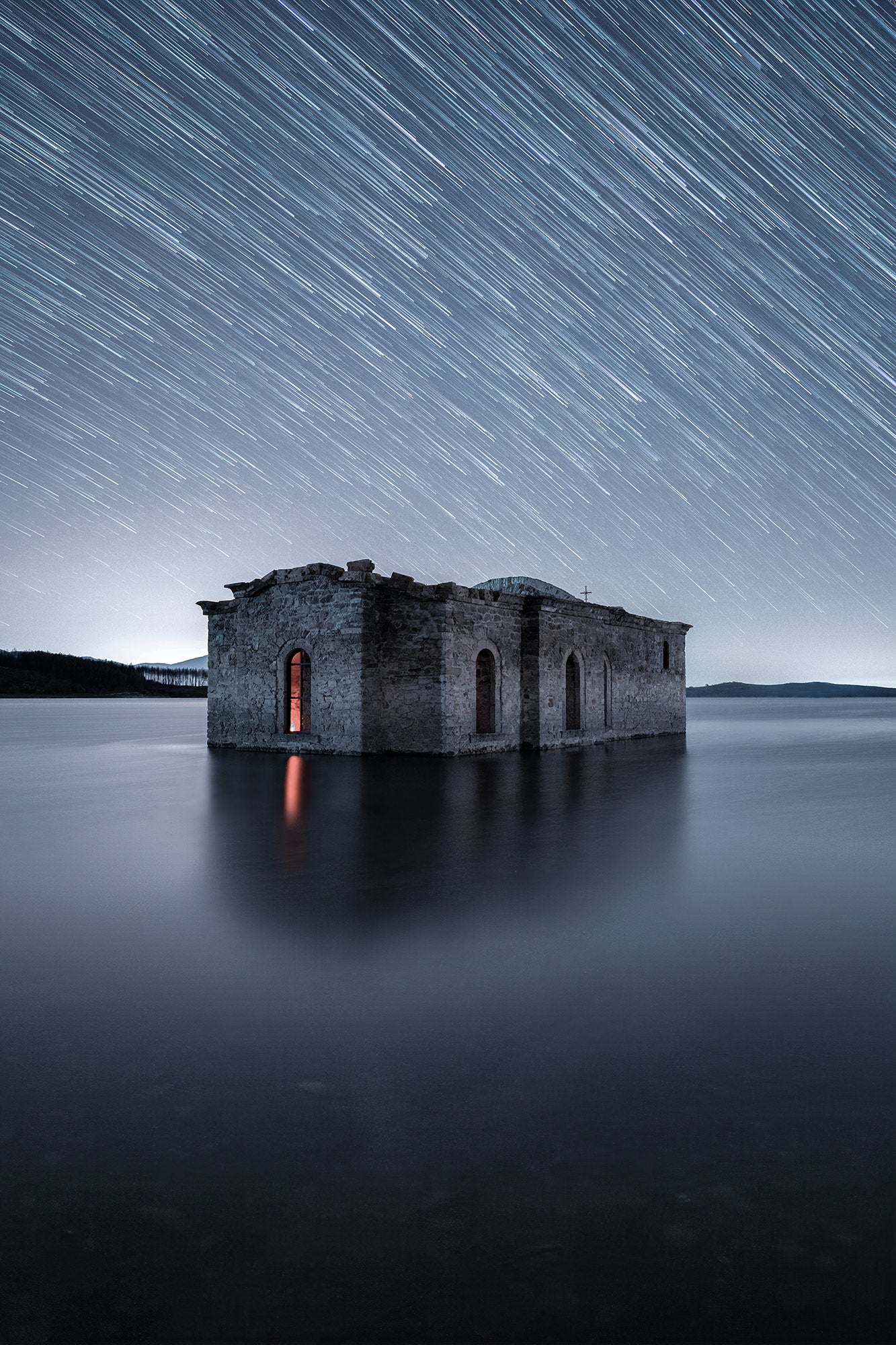 "The submerged church at Jrebchevo dam, Bulgaria." This image was one shortlisted in one of the most prestigious competition in the world "Astronomy Photographer of the Year 2022," run by the Royal Observatory Greenwich, London. 500 Single Exposures, Stacked For Star Trails. Photo by Mihail Minkov. Sony Alpha 7 III. Sony 24mm f/1.4 G Master. 15-secs., f/1.6, ISO 2000
Camera

Sony Alpha 7 III: I have used the Sony Alpha 7 III for the past five years, and I don't have a plan to change it. I just astro modified it in order to capture more of the h-alpha from the night sky. I love how the camera performs with higher ISOs. It's very light and compact, and the dynamic range, especially for the night shots is excellent. This allows me to create the shots I have in mind and post process it in a more artistic way.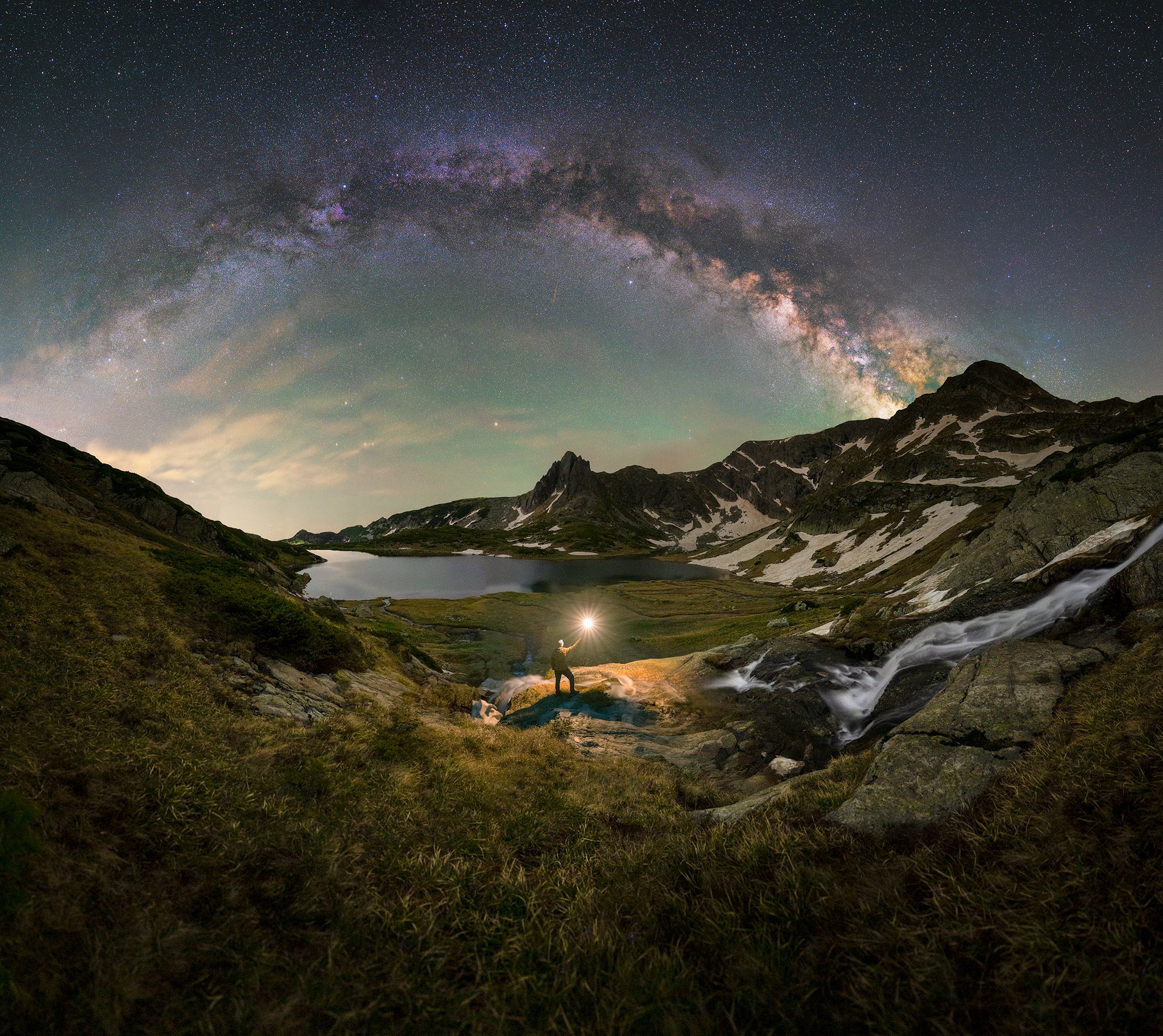 "The arch." Photo by Mihail Minkov. Sony Alpha 7 III. Sony 14mm f/1.8 G Master.
Lenses
Sony 14mm f/1.8 G Master: After four years of shooting astro photography and experimenting with a various of lenses, investing in myself with practicing this type of photography, workshops and online courses, I finally decided to invest in two of the best lenses for astro photography and take advantage of the quality they are offering. I was waiting for some time to get me hands on this lens. Since I've purchased it, it has become one of my go-to lenses, especially when I have an interesting foreground that I want to highlight. I love a fast aperture lens because I want to use a lower ISO, in order to have less noise, more dynamic range, and once I post process my shots, I want to print them large and keep all the quality and details my camera and lens offer. The lens is ultra-sharp from corner to corner, very light with no coma and chromatic aberration.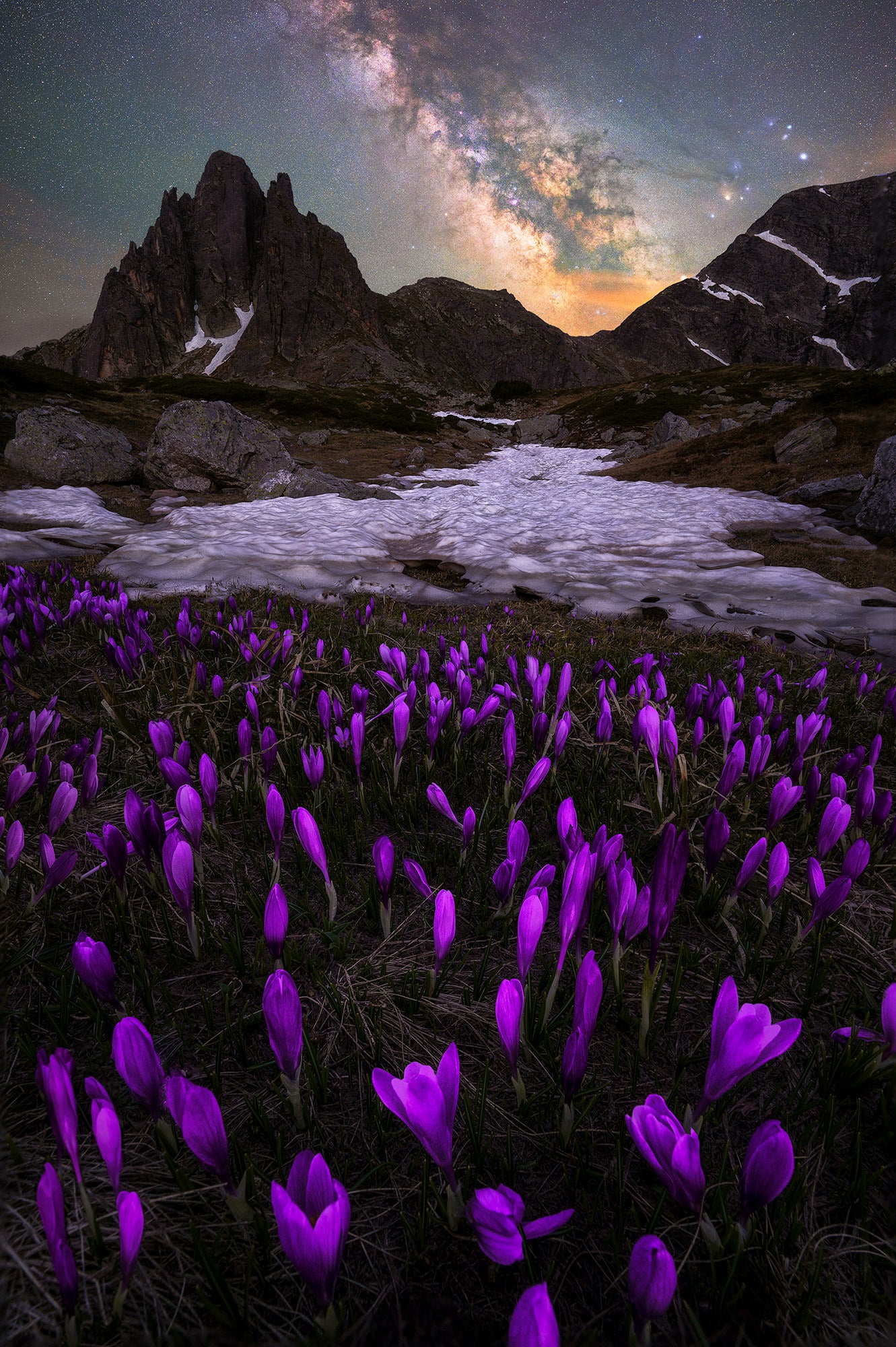 "Spring is here." Photo by Mihail Minkov. Sony Alpha 7 III. Sony 14mm f/1.8 G Master.
Sony 24mm f/1.4 G Master: If I could only bring one lens on an astro photography trip it would be this lens. I can do everything with this lens, from single shots to panoramas. With its supper fast aperture, I can shoot night portraits of my wife, under the Milky Way core and keep the ISO as low as possible without compromising the detail and the sharpness. It is super sharp straight from f/1.4, it's very lightweight, it's weather sealed, and I can use any filters I want if need be. I love the details of the Milky Way core through the 24mm, especially when I use my star tracker, which allows me make an exposures for three or four minutes. In that case, I close the aperture to f/2.4 – 2.6 and lower the ISO to 640 for a super sharp and clean star images. I also love to shoot single shot exposures, which for me is the most difficult and skill consuming technique, because for a balanced and well-exposed shot, you have to take in to consideration a lot of factors. Thanks to this lens, I can create single shots, that after post processing, can be printed without compromising the quality.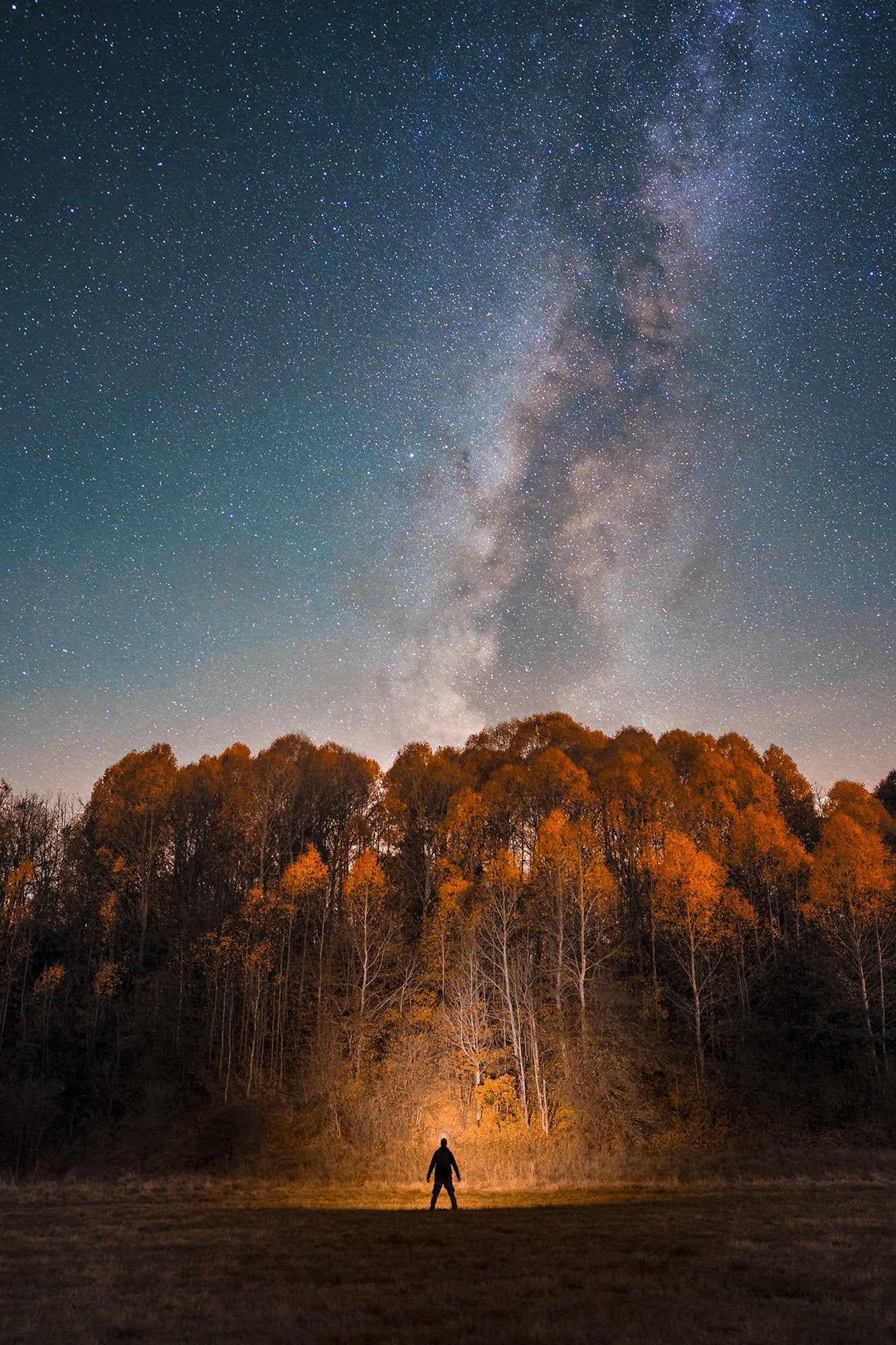 "In front of the autumn forest." Photo by Mihail Minkov. Sony Alpha 7 III. Sony 24mm f/1.8 G Master. 13-secs., f/1.4, ISO 3200
Accessories
Benro Tripod & Bullhead + Sky Tracker: Very light and compact and I use it for long exposures 3-5 minutes or more. That is how I get images of the sky with perfectly sharp stars, more details and colors.
3D Printed Accessory: I also have a 3D printed accessory to mount my laser on for easy and quick polar alignment.
Extra Batteries: Always having two original batteries and charger by Sony, one in my camera and one fully charged in case one of them runs out.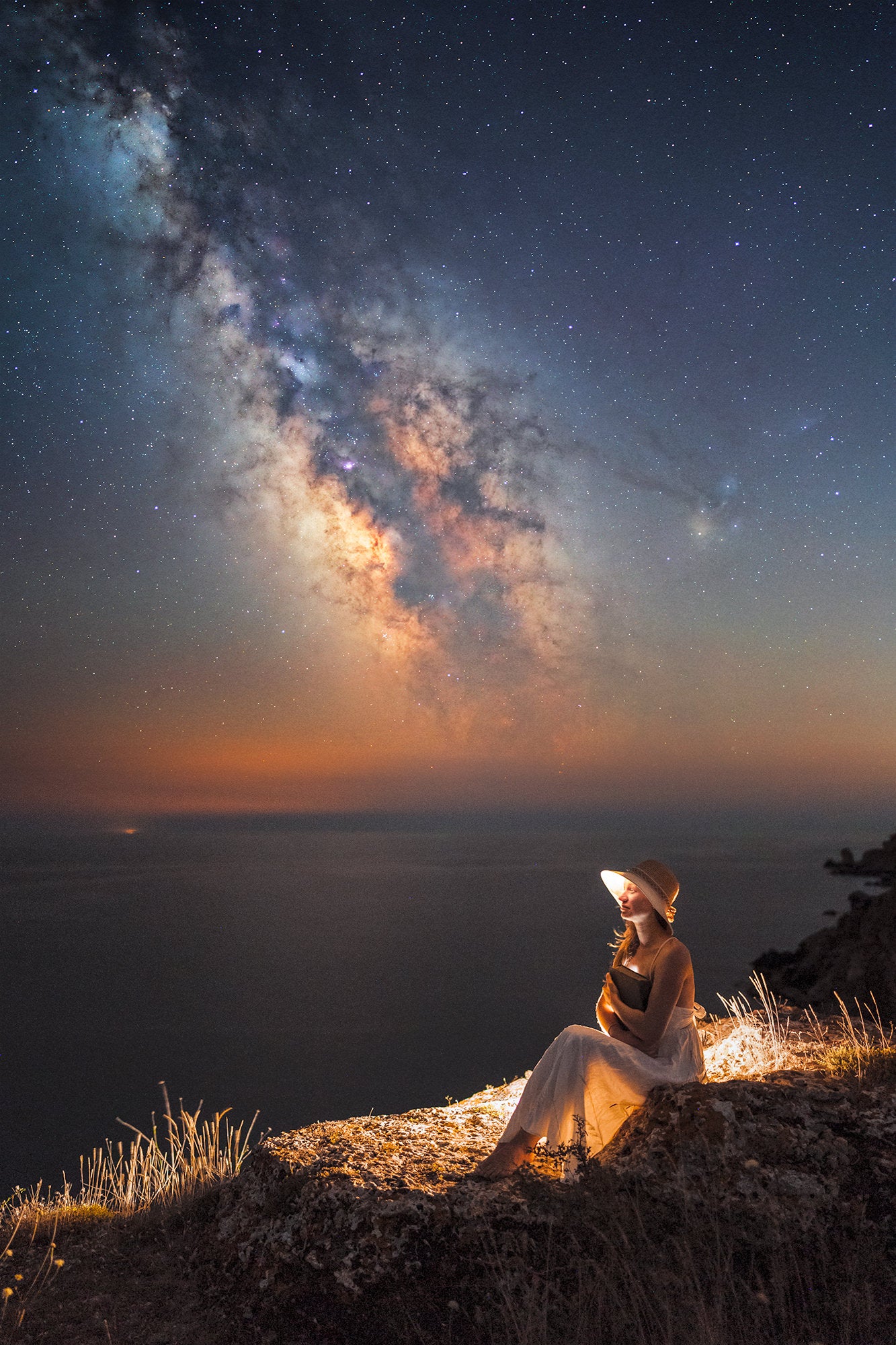 "The bookkeeper." Photo by Mihail Minkov. Sony Alpha 7 III. Sony 24mm f/1.4 G Master.
SD Cards: I have two SD cards so I'm fully equipped to create and make my night photography ideas a reality.
Wireless Remote Shooter: Also, I love my wireless remote shooter, for astro selfies, I can move up to 50-70 meters from the camera and still trigger the shutter.
Head Lamp: What is a night photographer without a head lamp?! I have few of them always with me, but the one I really like is 10 years old PETZL one, which still works perfectly.
See more of Mihail Minkov work on Instagram @fineartshot.