David Dinette (@daviddinette) is an outdoor enthusiast who specializes in backcountry landscape photography. David's spirit for adventure took off when his grandfather introduced him to fly fishing as a child, in the Eastern Sierra Nevada Mountains. It was there that he would explore some of the most stunning backcountry landscapes all throughout the "Range of Light." With the mission of inspiring others to pursue adventure, the focus of his work is to capture powerful images that represent the feelings, emotions and spiritual connection that he felt in the moment. We caught up with this Sony Alpha shooter to learn more about the gear he uses to make vibrant, richly-detailed prints of the moments he discovers in his backcountry travels.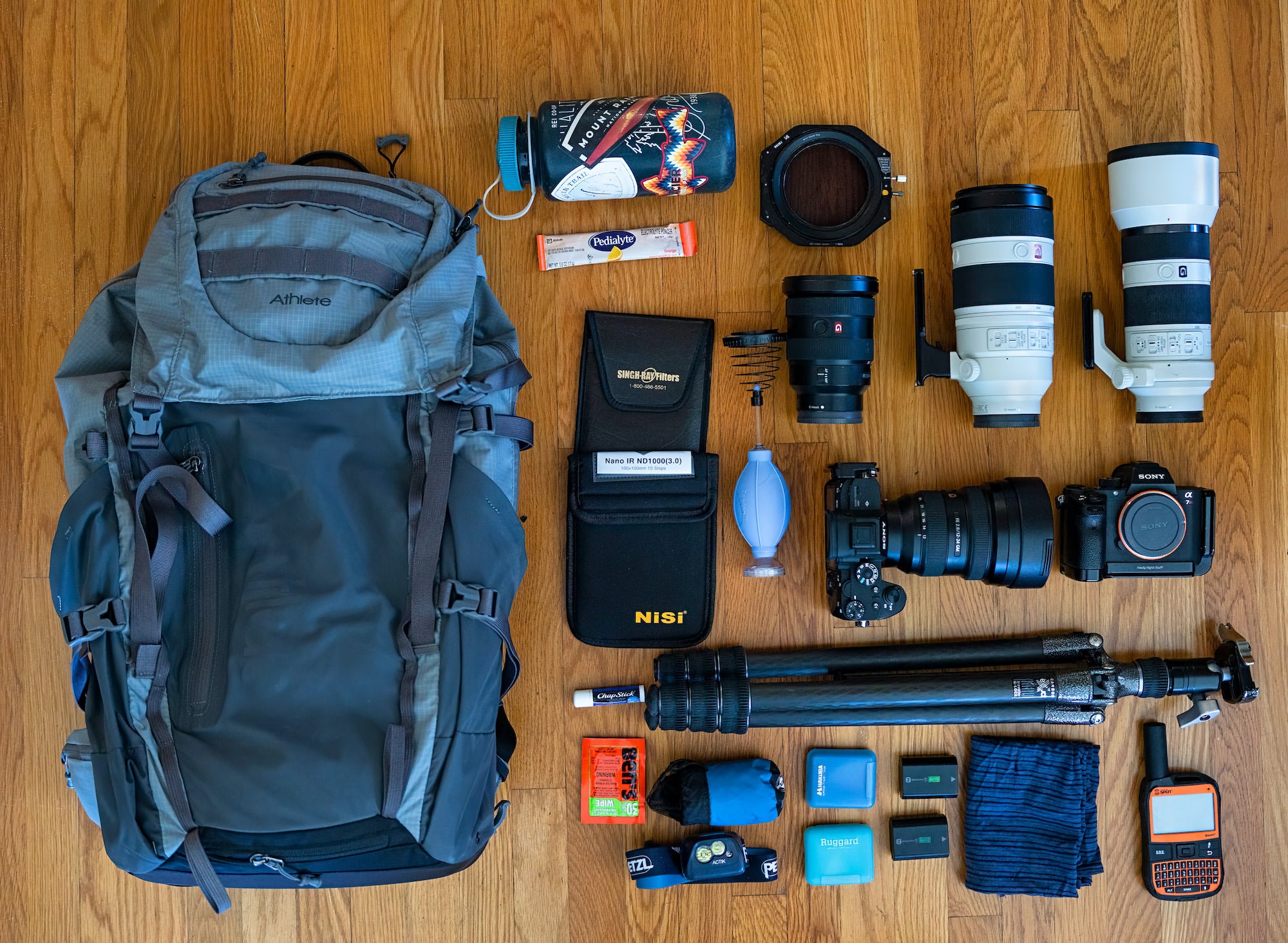 An outdoor adventurer and dedicated print maker takes us through the pair of high-res cameras and G Master foursome inside his bag for backcountry landscapes.
Cameras
Sony Alpha 7R III: As a landscape photographer, the gear that I select is based on what camera will enable me to achieve my creative and artistic vision. In pursuit of unique and rarely photographed landscapes, my photography adventures often lead me down the path less traveled, which often means hiking into the backcountry for multiple days at a time. The Sony Alpha 7R III is much lighter and takes up less space in my already over packed backpack. Over the years I have had many iterations of the Sony Alpha 7 family of cameras, and for me, this is the model that has every function that I need as a landscape photographer. With a 42 MP Full Frame Sensor, the image quality is fantastic, the dynamic range is great and the autofocus is fast and accurate. The improved battery life was a huge upgrade, especially when photographing in cold weather. However, for me, it all comes down to the final print and the images produced from the Alpha 7R III and sharp and vibrant.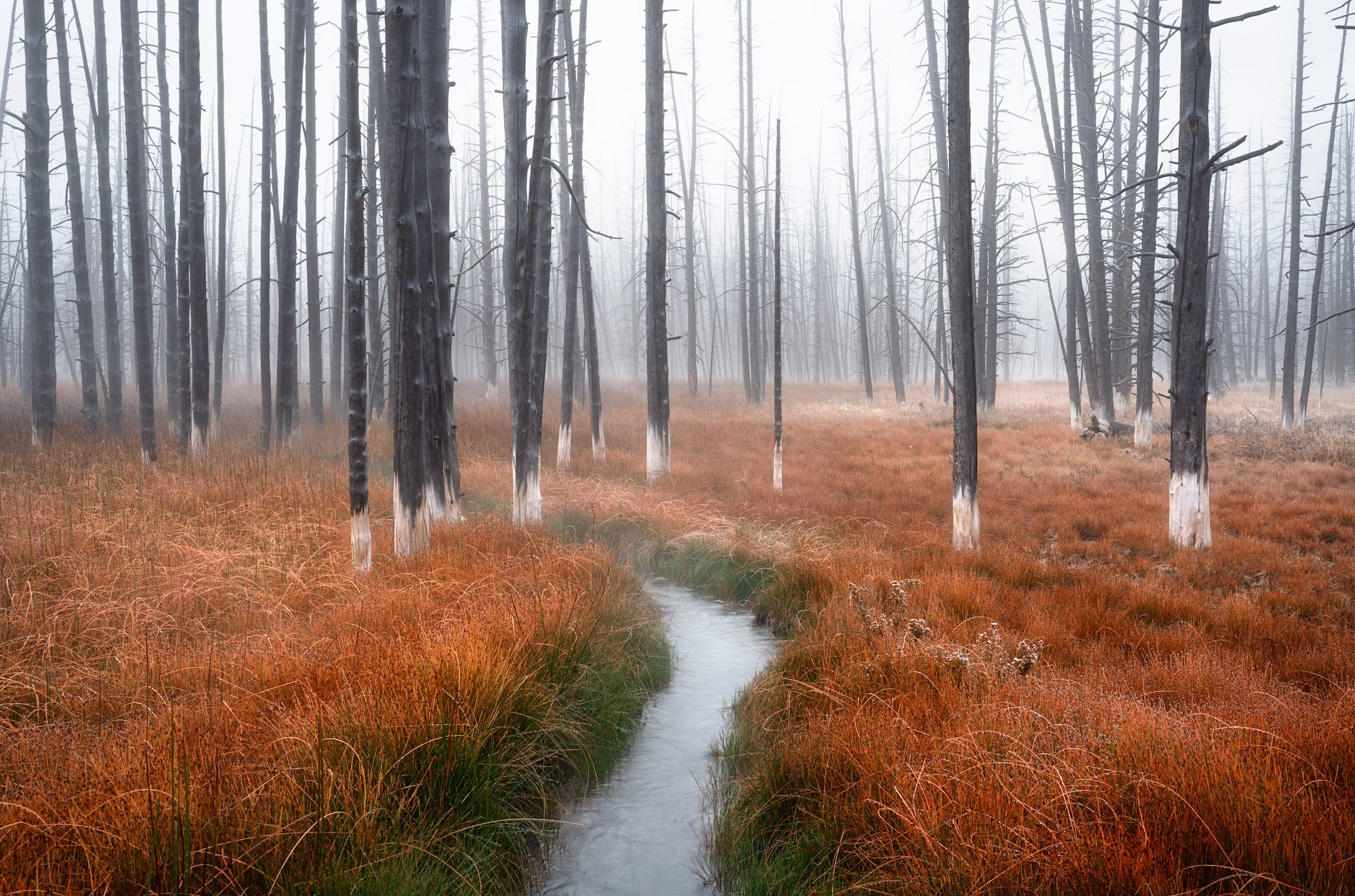 "I captured this image on a foggy morning in Yellowstone National Park. The fog was thick, and the light was flat. However, the fall colors came out nicely after the image was processed." Photo by David Dinette. Sony Alpha 7R III. Sony 16-35mm f/2.8 G Master. 1/4-sec., f/16, ISO 100
Sony Alpha 7R II: Have you ever gone on a big photography trip, only to have your camera end up getting swept out to sea by a sneaker wave? Well… I have, and that is exactly why I always carry a backup camera, which is the Sony Alpha 7R II. Let's be honest, as a landscape photographer, this camera gives me all the creative control that I get from the Alpha 7R III, except for the shorter battery life. I have a lot of trust in this camera as it has been my workhorse for many years before the release of the Alpha 7R III.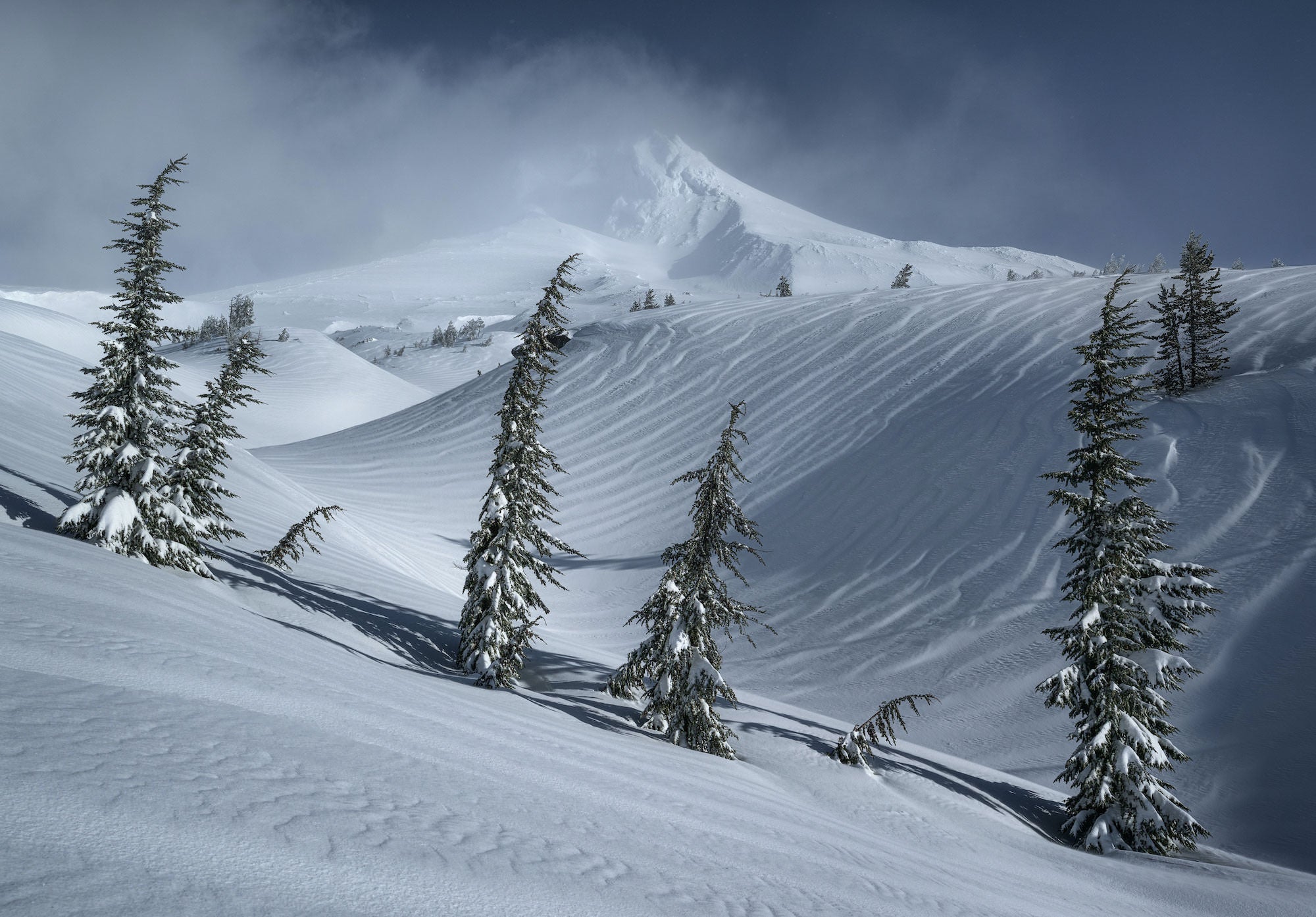 "This image is the definition of patience and perseverance. I spent four long days at Timberline Lodge in Oregon and didn't see the mountain once. However, my fate would change on the final morning of my trip. I snowshoed out to this location and at sunrise and waited two hours for the storm to break and this was the reward for my efforts." Photo by David Dinette. Sony Alpha 7R II. Sony 16-35mm f/2.8 G Master. 1/400-sec., f/9, ISO 125
Lenses
Sony 12-24mm f/2.8 G Master: This is the latest addition to the camera bag. I never thought I would need to capture images at 12mm. However, you don't know what you're missing out on until you try it. Some landscapes are so grand that it would take multiple vertical image panoramas to photograph its grandeur. However, with the addition of this lens, a lot of that extra work has been eliminated and I can capture these grand landscapes in a single frame.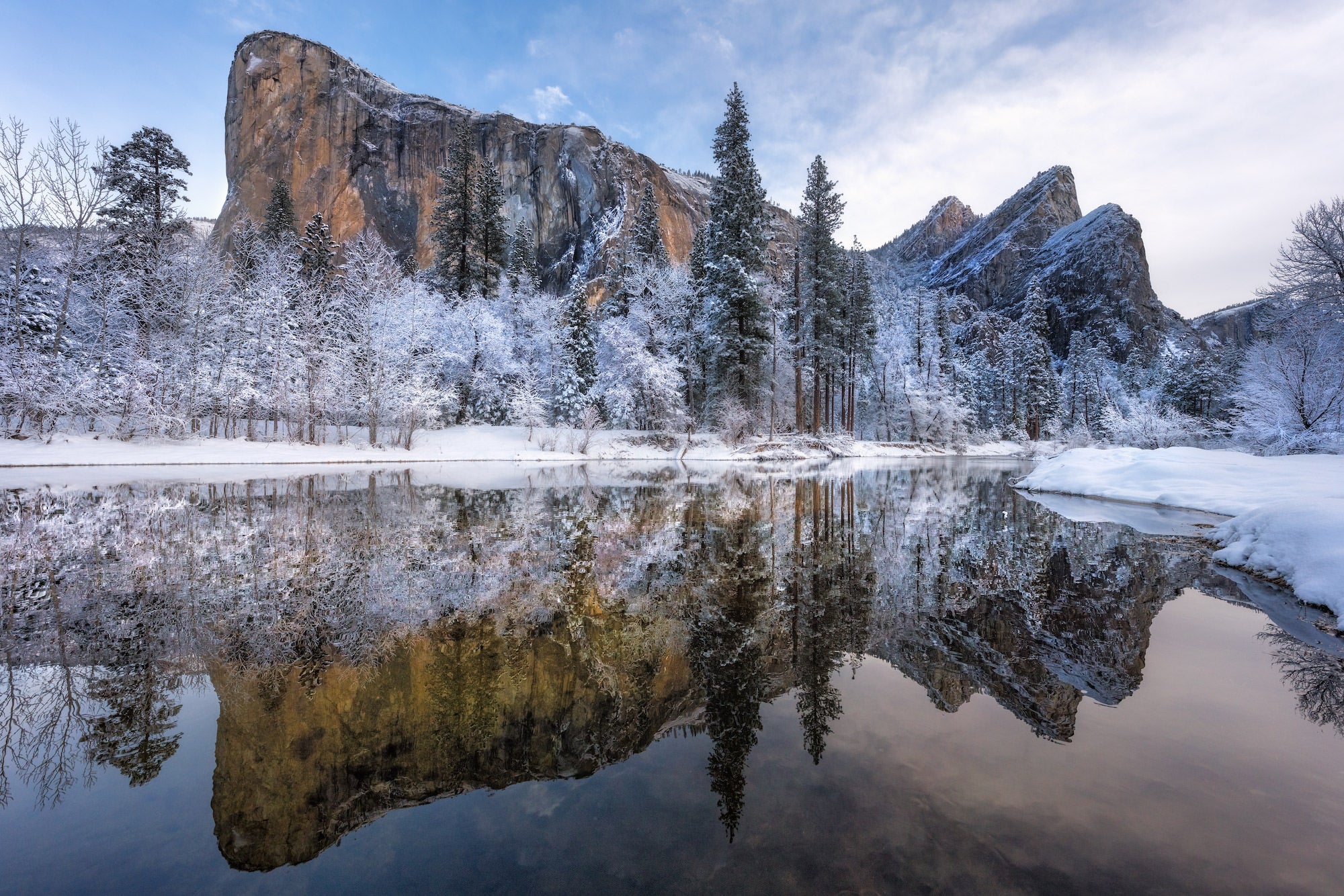 "I've photographed this location in Yosemite many times. However, with a 16mm focal length, I could never get the entire scene in one frame. However, at 12mm, I had the ability to capture the entire scene in a single frame." Photo by David Dinette. Sony Alpha 7R III. Sony 12-24mm f/2.8 G Master. 1/250-sec., f/8, ISO 400
Sony 16-35mm f/2.8 G Master: Every photographer has a favorite lens, and for me, this is it! The versatility of this lens is unmatched. When backpacking into the backcountry, I often will limit the amount of gear that I carry. However, I have never set out on an adventure without this lens. This is the lens that is always on my camera. When approaching a grand landscape, I like to start wide and survey the entire scene through the viewfinder, and once I lock in on my subject, and zoom in accordingly. The focal range of 16-35mm allows me to capture the majority of my images without ever having to change my lens.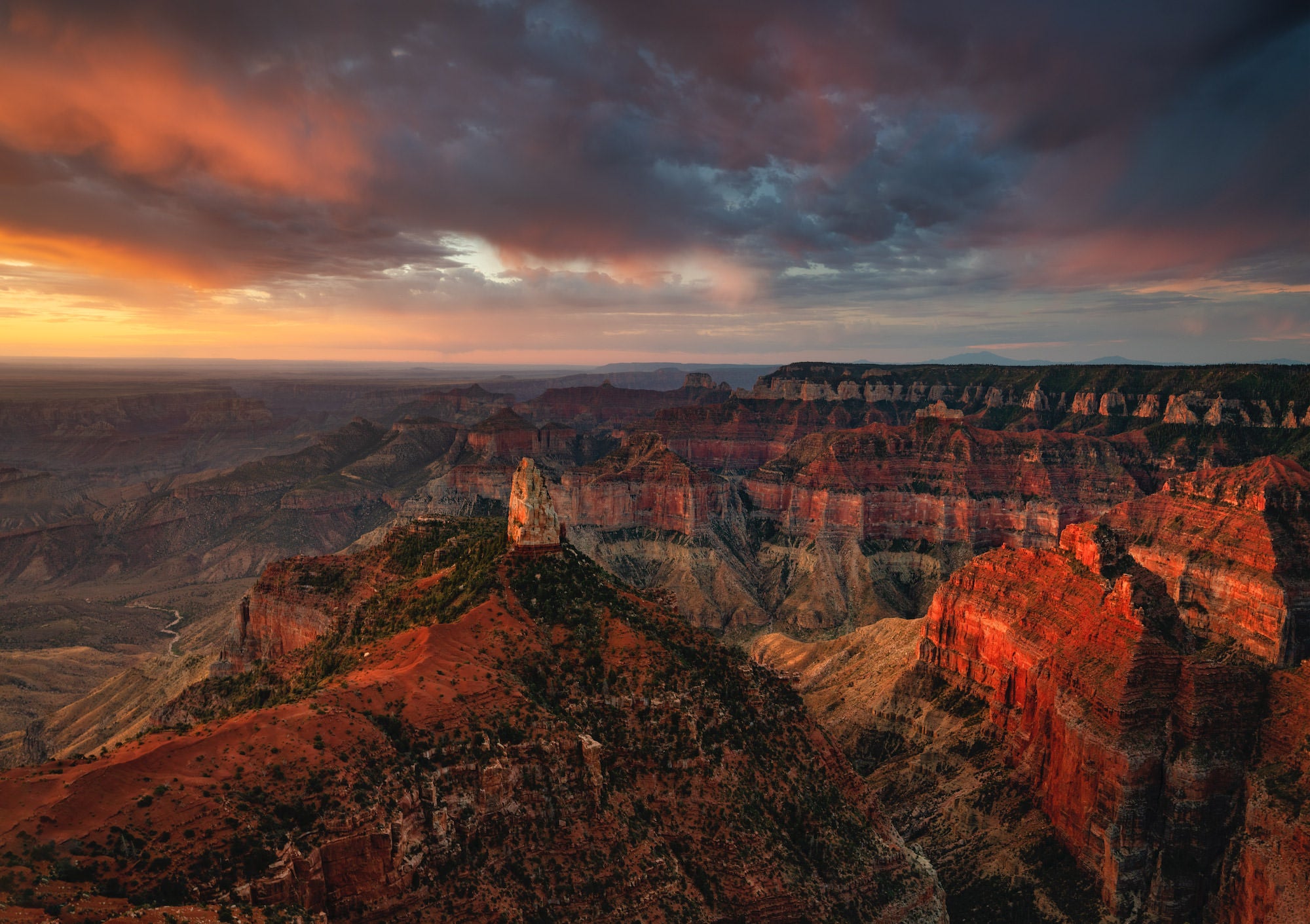 "I have always been drawn to dynamic landscapes that have unpredictable and chaotic weather patterns. That is why I have always been so drawn to the Grand Canyon. After a long night of thunderstorms, the storm cleared out and Point Imperial along the North Rim of the Grand Canyon put on a show." Photo by David Dinette. Sony Alpha 7R II. Sony 16-35mm f/2.8 G Master. 1/2-sec., f/9, ISO 100
Sony 70-200mm f/4 G: When I converted to Sony, this was the first telephoto zoom lens that I purchased, and it has been a staple in my bag ever since. This is my preferred telephoto zoom lens for a couple reasons. First, the image stabilization is outstanding when shooting handheld. Second, it is much lighter than other telephoto zooms. The fact that the lens is an f/4 doesn't bother me since I am photographing landscapes and I rarely go that low due to the loss in depth of field.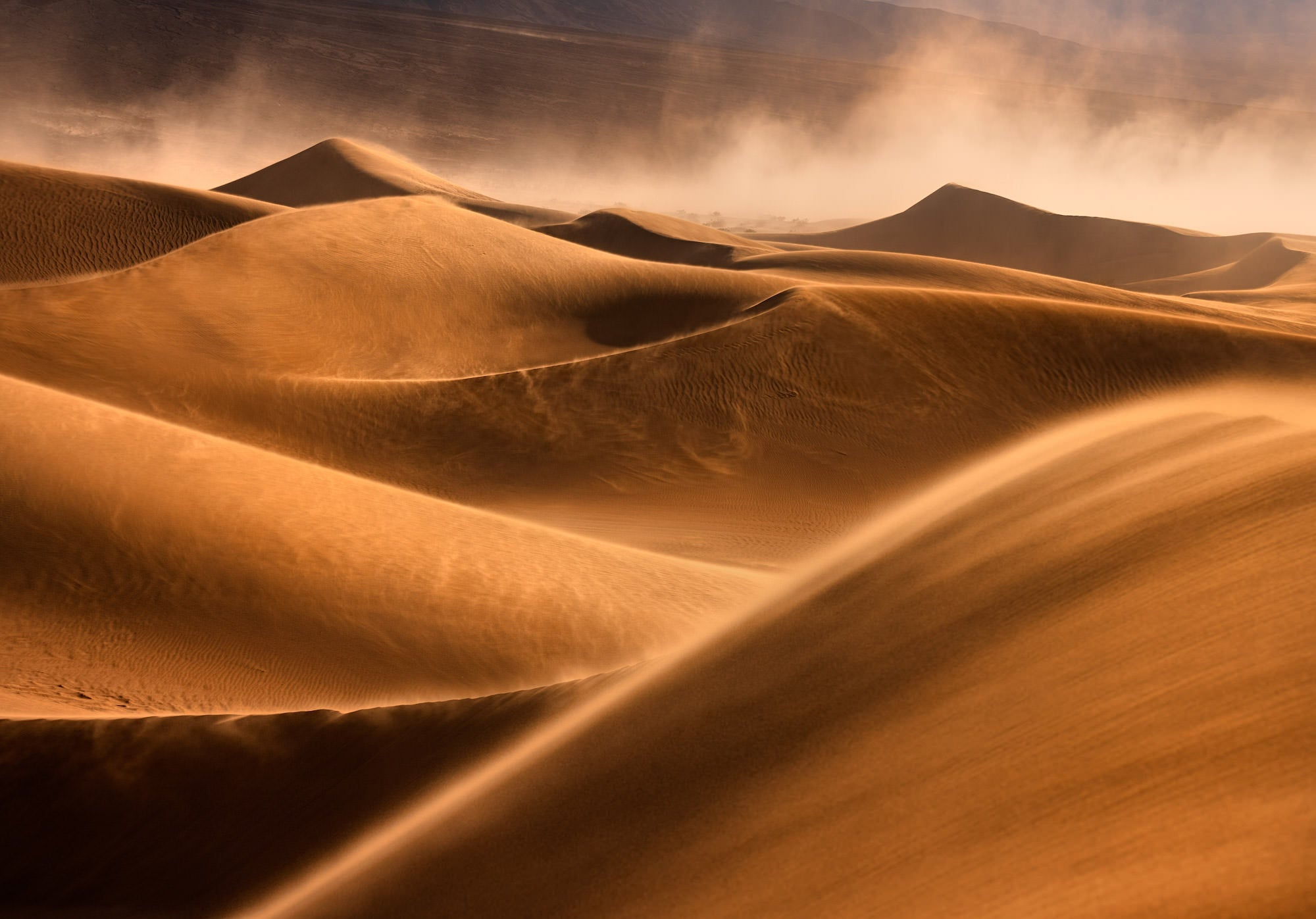 "Living in Southern California has its advantages, as Death Valley is only four hours away. This area is known for windy conditions in the spring. After tracking the weather for a few days, I saw a big windstorm coming into the park, so I drove up for the day and captured this golden light at sunset." Photo by David Dinette. Sony Alpha 7R III. Sony 70-200mm f/4 G. 1/320-sec., f/10, ISO 100
Sony 100-400mm f/4.5-5.6 G Master: This is another recent addition to my bag. Over the years, I have become more fascinated with the intimate scenes that can only be captured at focal lengths that go beyond 200mm. While planning trips, I always debate on whether to bring this lens along with me, but when I do, I always find a way to use it. This is especially true if I hike 20 miles into that backcountry with this extra weight.
"I don't spend a lot of time photographing wildlife. However, when visiting Iceland in the summer, these handsome little Puffins are everywhere. I mean, look at that face. So cute. To capture this image, I had to crawl on my stomach to get into a position that would allow for a desirable composition. Without a 400mm telephoto lens, this image wouldn't have been possible. Also, look at that bokeh!" Photo by David Dinette. Sony Alpha 7 II. Sony 100-400mm f/4.5-5.6 G Master. 1/800-sec., f/5.6, ISO 500
Accessories
Gitzo Traveler Series 1 Carbon Fiber Tripod: When venturing in the backcountry, every ounce counts and this is the sturdiest, lightest and most dependable tripod that I have used.
NiSi V6 100mm Filter holder Kit with Circular Polarizer: I love a good reflection, and a circular polarizer is essential. This is a great kit with adapter rings that fit all my Sony Lenses. Not to mention, the circular polarizer rotates independently and can be locked into place, which is essential when focus stacking images.
Singh-Ray Filters: I use the Galen Rowell Graduated Neutral Density Soft Edge Graduated ND.
NiSi 100x100mm Nano IRND 10-Stop ND: This is a great filter when the wind is not cooperating, and you need to flatten the water or create an artistic feel to an image. I will also use this filter in the backcountry when I come up on a scene in the middle of the day. 10 stops will allow me to achieve the desired shutter speed to get the right texture in scenes that have flowing water.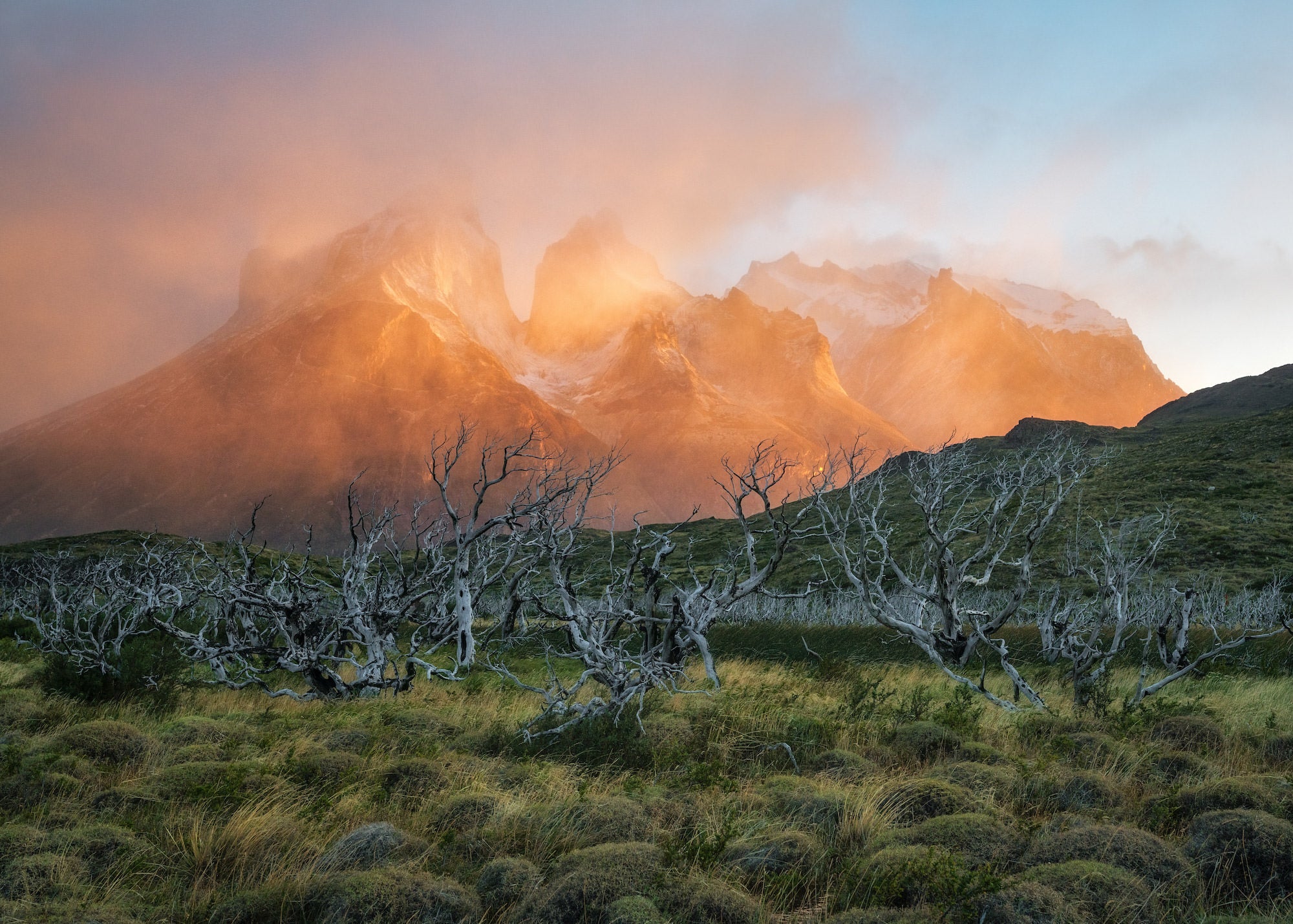 "If you've been to Patagonia, you know the wind is intense. This image was captured during a windy sunrise in Torres Del Paine National Park. The wind was blowing nearly 50mph, but that didn't stop me from capturing sharp images." Photo by David Dinette. Sony Alpha 7R II. Sony 16-35mm f/2.8 G Master. 1/400-sec., f/5.6, ISO 640
Static Blower: Undoubtedly, you will accumulate dust spots on your sensor when changing lenses outdoors, so this is a necessary tool that is incorporated in my nightly gear clean ups.
Spot-X: You never know when you might need help, so why not be prepared?
Atlas Athlete Camera Pack: Honestly, I have never been a fan of camera bags. This is due to the fact that I have always packed my gear in my backpacking backpack, or a day pack. However, this pack is perfect. It has enough room to fit all my gear, whether I am going on a day trip, or a short overnight hike. This pack was built to address all the needs of the adventure photographer.
3 Spare Batteries: Because who wants to snowshoe a mile into the mountains, only to have their batteries die after 30 minutes?
SanDisk 64GB Extreme Pro UHS-II SDXC Memory Cards: I travel with 6 cards. These are my "go to" cards because they have a maximum write speed of 260 MB/s which is very helpful when capturing raw photos at high-speed bursts. They are also shock, temperature and waterproof, which gives me peace of mind when photographing adverse conditions in remote landscapes.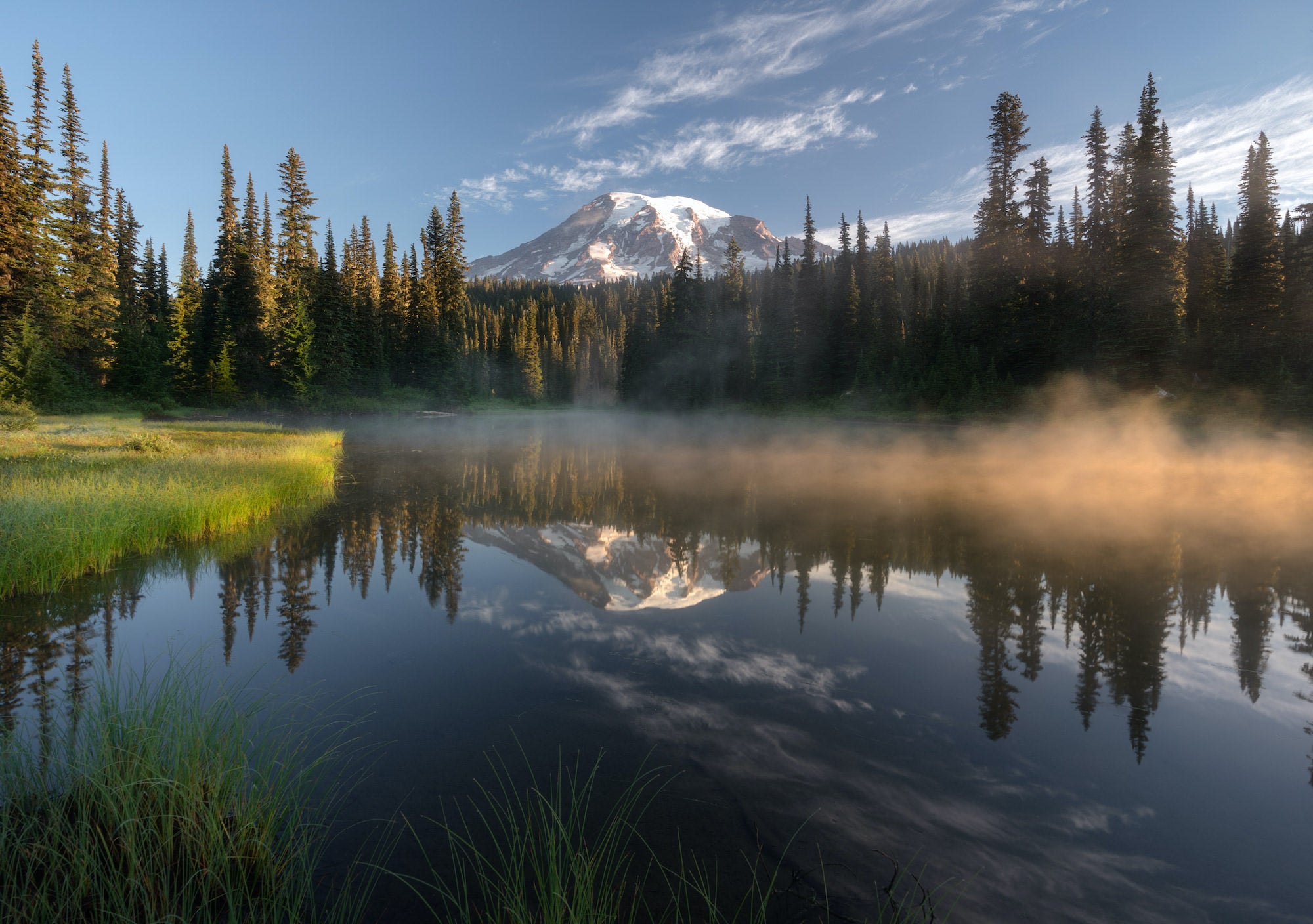 "When I arrived at Reflection Lake in Mt. Rainier National Park, the fog was thick, and the mountain wasn't visible. However, as the sun got higher, the fog dissipated and the fog on the water caught the light as the mountain made its big reveal." Photo by David Dinette. Sony Alpha 7 II. Sony 16-35mm f/2.8 G Master. 2/5-sec., f/10, ISO 100
Buff Neck Gaiter: This is the jack of all trades. It can be used to protect yourself from the sun, keep sand out of your eyes, or wipe your lens if it gets wet.
Petzl Actik Headlamp: If you're pursuing sunrise or sunsets, you will be hiking in the dark and this headlamp gets the job done.
Pedialyte: Stay hydrated!
Ben's Insect Wipes: I hate mosquitos!
Sea To Summit Bug Net: Nothing is more distracting than looking through a viewfinder while getting bit on the forehead by a mosquito.
See more of David Dinette's work on Instagram @daviddinette.