Siya Zarrabi is half of the Kristen and Siya vlogging team, documenting all of his travels and experiences with partner and fellow Alpha Collective member Kristen Sarah. Their YouTube Channel has over 320K subscribers and their videos get thousands of views. We connected with Zarrabi to learn more about the gear he uses to create their popular adventure vlog videos. Keep reading as he shares what's in his bag.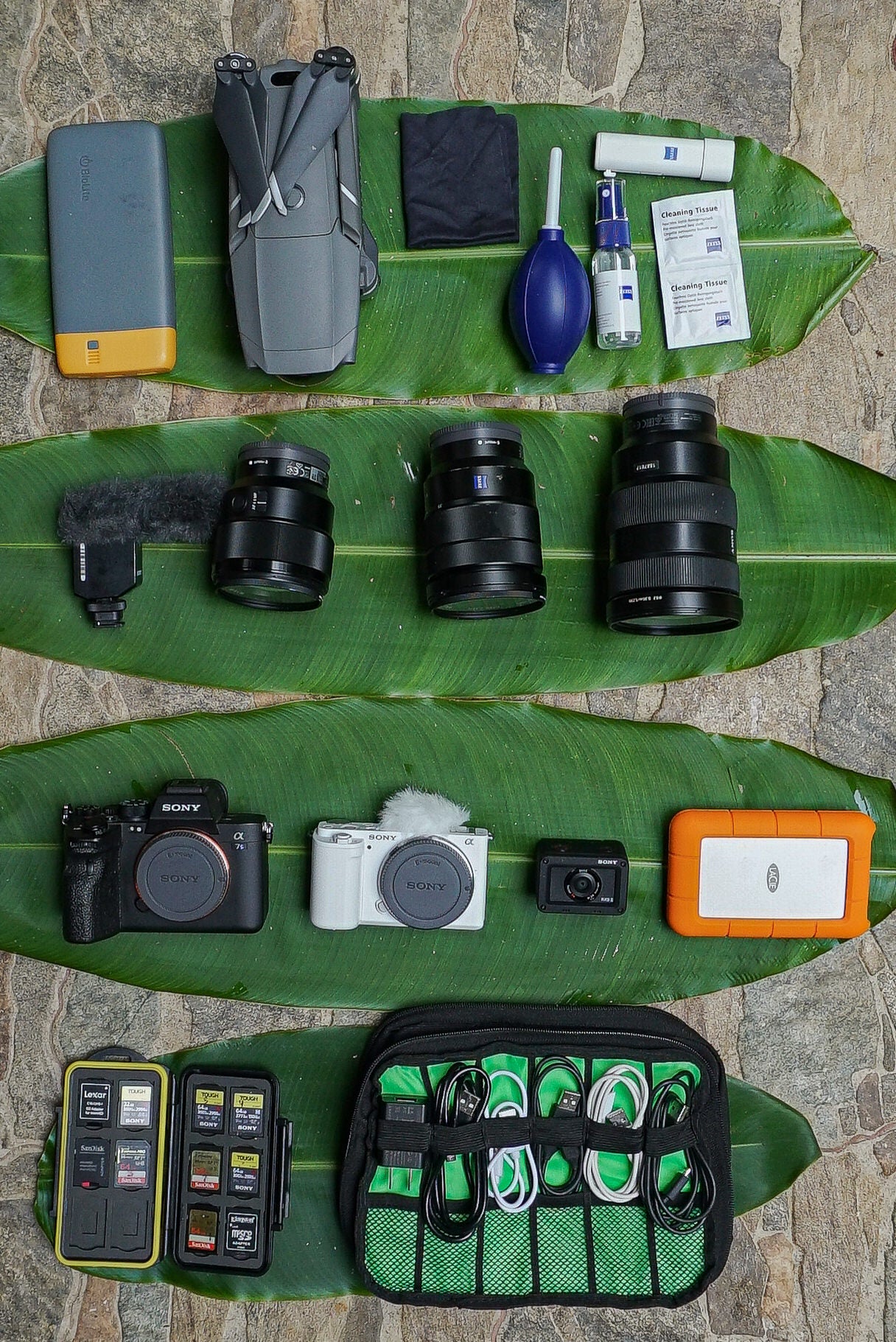 After vlogging 65 countries in some of the harshest conditions imaginable, I can confidently say these items are a must-have in my bag. Both for capturing phenomenal footage and also keeping my gear safe. I like to imagine that my cameras have personalities, after all, they have memory and a glass eye so of course they enjoy being on adventures with me. Not being afraid to get dirty, but keeping our gear secure, dry and dust-free is all part of being a good camera owner. I also live in a 1976 Airstream so space is limited and every item counts.
Content Creator and Alpha Collective member Siya Zarrabi gives us a glimpse inside his bag for creating adventure vlogs and videos.
Cameras
Sony ZV-E10: This is the new kid in the bag and has only been on one cross-US road trip so far. Before the ZV-E10 I would have grabbed my Alpha 7S II body or the RX100 V but I like the ability to use different lenses while having a flip screen, external mics and a lightweight body. I was hesitant at first to use this as my secondary camera, but I've been pleasantly surprised with the quality when editing. If I'm headed into an extremely messy or rough situation, like ATVing in mud and rain, I'll bring this camera as it's easily tucked away under my raincoat and can fold the screen in, protecting it from damage. The internal 3-directional mic has a windscreen which saves me from having to glue mic muffs on (like I did for my Alpha 7S II). I look forward to taking this buddy on more adventures.
Sony Alpha 7S III: Also off the camera shelf and into the bag is the Alpha 7S III, freshly cleaned after filming in the misty mountains of Costa Rica. I couldn't be happier with the performance of this beauty. Filming in 4K 120fps stretches super enriching moments so the viewer can spend more time with the subject. The flips screen seriously changed the quality of my vlogging. Having the ability to frame yourself, see the camera settings and recording time are immensely valuable pieces of information to speed up the flow of filming. Some other features I enjoy are the dual SD-card slots, 5-axis stabilization, touch screen and eye-autofocus. I mainly focus on video but photography is also important to me and being able to quickly swap from video mode into full manual controls for photography is great. The 12.1MP sensor is perfect for my needs.
Sony RX0 II: My adventures have taken me to the extreme places of this beautiful planet. Some of these adventures have been over icebergs in Greenland, zip-lining in cloud forests in Costa Rica and riding on the rooftop along the most dangerous highway in Pakistan. Filming in these extreme conditions requires special cameras equipped for such circumstances. I always travel with a an action cam like the Sony RX0 II. It's great for very muddy and wet experiences. I also love the ability to mount, strap and suction this bad boy almost anywhere. My favorite places to mount it is where traditional cameras wouldn't fit (like beneath my car) to get unique shots for the vlog.
Lenses
Sony 24-70mm f/2.8 G Master: My absolute go-to lens is the 24-70mm f/2.8 G Master. I won't travel without it. It's perfect for self-vlogging at 24mm while also offering a bit of zoom for creative play. I like having the AF/MF switch and focus hold button built right into the lens. As I'm typically on the move filming real-live moments I sometimes don't have the luxury of time to open camera settings...I need physical buttons for certain features. I use this easy AF/MF switch and focus hold button in nearly every video. I also always use a lens protector/ND filter to protect the glass and also film in bright scenes. I'm looking at this lens on my desk right now and can see some dirt from our trip to the desert in Utah, which brings me to my next point. This lens is robust! It's been with me on maybe 500 different adventures and hasn't had any issues. What a great investment. I'll dust you off and into the bag you go.
Sony 16-35mm f/4: Next lens into the bag is the 16-35mm f/4. When me and my wife want to both be in frame, this is the lens we need. One day I may upgrade to the 16-35mm f/2.8, but for now this is great for our needs. Wide lenses are favored by vloggers these days as having more in the frame helps tell your story better. When I walked around the vibrant market of Souk Semmarine in Marrakesh, Morocco; it benefits the viewer to be able to see far off the sides of my facial expressions while exploring these fascinating alleys. It's important to know that wide angle lenses have some warping near the edges so you want to keep your face close to the center of the frame. You can fix this in post, but it's better to be aware of it while filming.
Sony 85mm f/1.8: The final lens in the bag is the 85mm f/1.8 prime! *Kiss fingertips* Muah! This beauty is so much fun to play with when getting super crispy accent shots. Just like the 16-35mm wide-angle lens helps tell the story of your scene, this 85mm gets you deep into your subjects' details. The veins of a leaf, the fur of an animal or the wrinkles on a 102-year medicine woman. I use this lens to get my viewer to pay attention to what our eyes can't see. It's also the lightest lens of the collection so it makes for easy portability. It's my favorite portrait lens of the bunch and great for creating moody atmosphere with beautiful bokeh. This lens also has a focus hold button and physical AF/MF switch, another reason to add this lens into the bag.
Accessories
The Bag: I used a dozen different camera bags over the years and I have two that have made it to the finish line. For big trips I use the Wandrd Hexad Access Duffel Backpack. For smaller trips I use the Lowepro Protactic 450 aw. I also have a large Pelican case for extreme harsh conditions but for now, we can keep that one at home. For this trip we have a bit more gear so we're going with the Wandrd bag. *bag unzips*
Sony ECM-B1M Shotgun Mic: Ninety percent of the audio I record is with the Sony ECM-B1M digital shotgun mic. I use this for on-site vlogging as well as voice over recordings (mainly under a blanket on our bed). But it sounds studio quality so I'm happy! The mic has a sensitivity dial to adjust the dB (volume) of the sound input which gives the user flexibility in controlling levels. There's nothing worse than recording an interview and the volume was way down, or recording a loud scene and the audio is blown out.
Wireless Mic: For certain circumstances my wife and I use a lavalier mic on shoots. We use the Seinheiser EV-100 with some rechargeable batteries. When we want to film more host-style videos we use the lav as it ensures clean consistent audio throughout the video, no matter how far away the speaker is from the camera.
Drone: I love the ability to get angles from the sky to help tell my visual story better. Let's be honest, is a travel video really a travel video without a cinematic drone shot?
Misc. Items
SD Card Hard Case – Holds 16 SD cards & 16 micro SD cards
20,000 mAh Portable Battery Charger With USB & USB-C
4x AA Rechargeable Batteries & Charger
5TB LaCie Rugged Hard Drive
Manfrotto BeFree Live Tripod
Rain Jacket
2x USB to USB-C cables
Drone Pilot Certificate
Multi-tool
Bag Waterproof Cover (Built-into bag)
Gear Safety & Cleaning
Sensor Cleaning Kit
Camera Cleaning Kit
Silica Gels & Plastic Bags (I keep some of these loose in the camera bag to soak up any moisture)
Extra Lens Eipes
Thanks for reading! I'm all packed. Time to go. *Zips up bag*
Follow Siya Zarrabi's adventures on Instagram @siyazarrabi and on the Kristen and Siya YouTube Channel.