Craig Turpin (@risingsunphotog) is a professional freelance photojournalist and landscape photographer based in Snowmass Village, Colorado. Whether on assignment for a local newspaper or contributing my photos to national and international media outlets, Turpin works to capture the pulse of the community and iconic beauty of Aspen and the Roaring Fork Valley. While many adventure and landscape photographers prefer to use wide angle prime or zooms lenses, Turpin is different. He shares what's in his bag and why he chooses a pair of Sony telephoto zooms when he's embarking on an adventure in photography.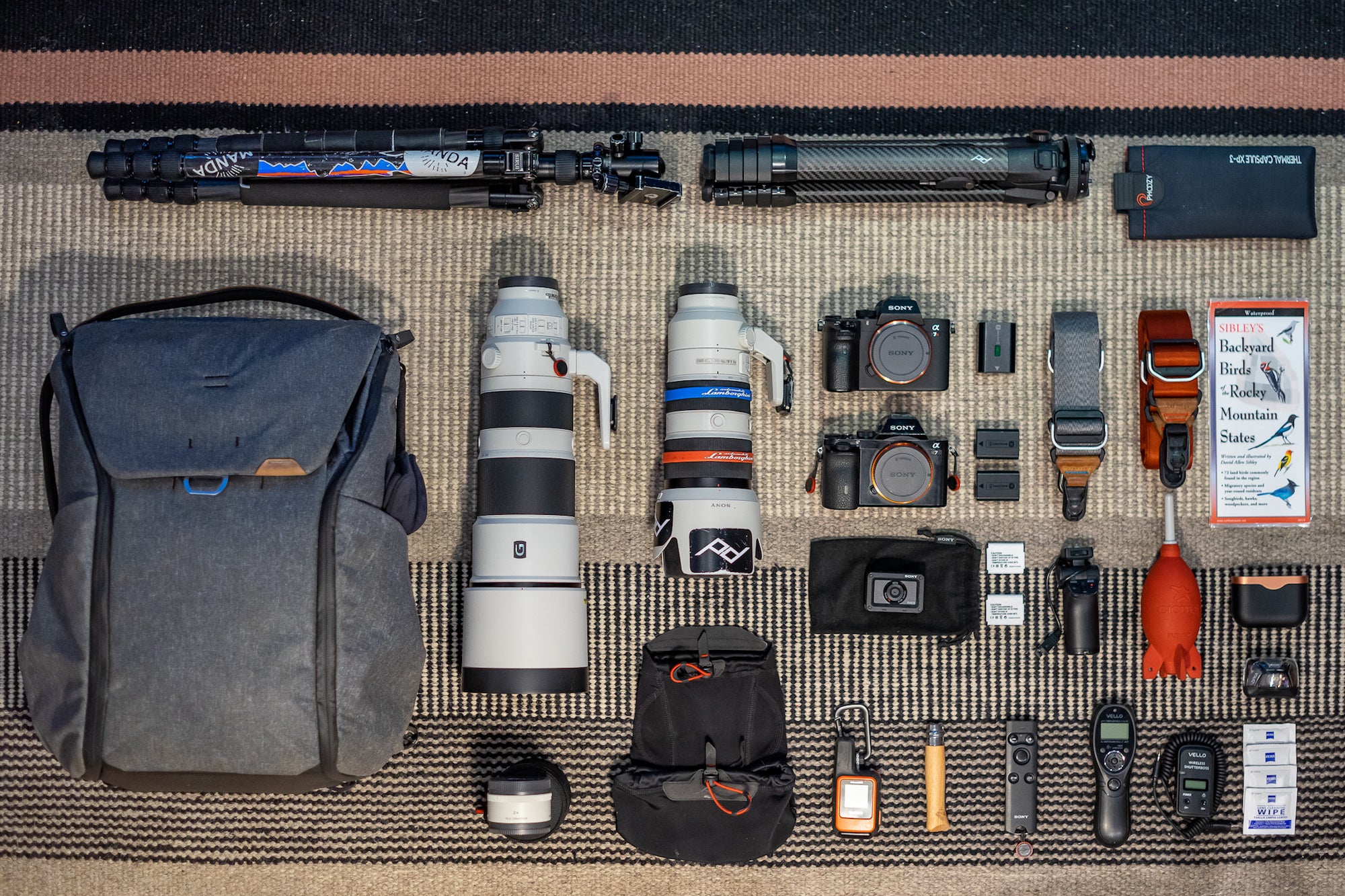 Eschewing wide-angles for his landscape & adventure photography, see how Craig Turpin relies on a pair of Sony tele-zooms to capture the towering landscapes of Colorado.
Cameras
Sony α7R III: My primary camera is the Sony α7R III, which is usually paired with my Sony 70-200mm f/2.8 G Master lens. This setup is a strong performer in nearly every category of photography from action shots of skiers shredding fresh powder to late-night long exposures, captured in ultra detail. I often attribute my best images to the trifecta of preparation, timing, and luck, however, it also has a lot to do with having the right gear. A wireless remote, sturdy tripod, and the perfect camera and lens pairing make for a lethal combination when shooting long exposures. The Sony α7R III with the Sony 70-200mm f/2.8 G Master lens has been an incredible addition to my camera bag.
Photo by Craig Turpin. Sony α7R III. Sony 70-200mm f/2.8 G Master. 1/10-sec., f/16, ISO 50
Sony α7: I also always carry with me the OG Sony α7 I purchased in 2016. It's been sent in for repairs a couple of times (it went for a dip in the Yampa River, which nearly killed it) and continues to perform well regardless of where I take it. From Iceland to Sicily to Japan, I've captured so many memorable images with this camera, it's hard to quantify its value to me. Depending on the conditions, I switch between a 70-200mm and the 200-600mm lens on this body when I need it. I mount the Vello Wireless ShutterBoss Remote to this camera and either run it in ultra long-exposure timelapse mode or for wireless single exposures.

Photo by Craig Turpin. Sony α7. Sony 200-600mm f/5.6-6.3 G. .4-sec., f/9, ISO 100
The photograph above of Sam's Knob on Snowmass is a six-image panorama I captured with my Sony α7 and Sony 200-600mm f/5.6-6.3 G lens. What I like about this image is the crispness and clarity of the entire composition. If you look closely, you can count a total of six chair lifts across the mountain. It also features a little community of homes at the base of the mountain. This image captures just one-third of the total skiable terrain (3,342 acres) on Snowmass. I am thankful Snowmass is in my own backyard and offers so much endless inspiration to make unique photographs.
Sony RX0 II: The last (but certainly not least) of the cameras in my bag is the Sony RX0 II paired with the VCT-SGR1 Shooting Grip. Most often, I use the RX to capture behind the scenes footage and low-angle timelapses. For "selfies," I set the intervalometer to shoot every few seconds and let it fire away for a couple of minutes while I'm working with my primary camera. This camera also works well to shoot wide-frame timelapses and I take full advantage when I am in a set location for sunrise or sunset. With my long-focus lens setup and this camera firing away, I'm able to capture the entire scene, while also pinpointing far-off peaks lit by the first rays of sunlight.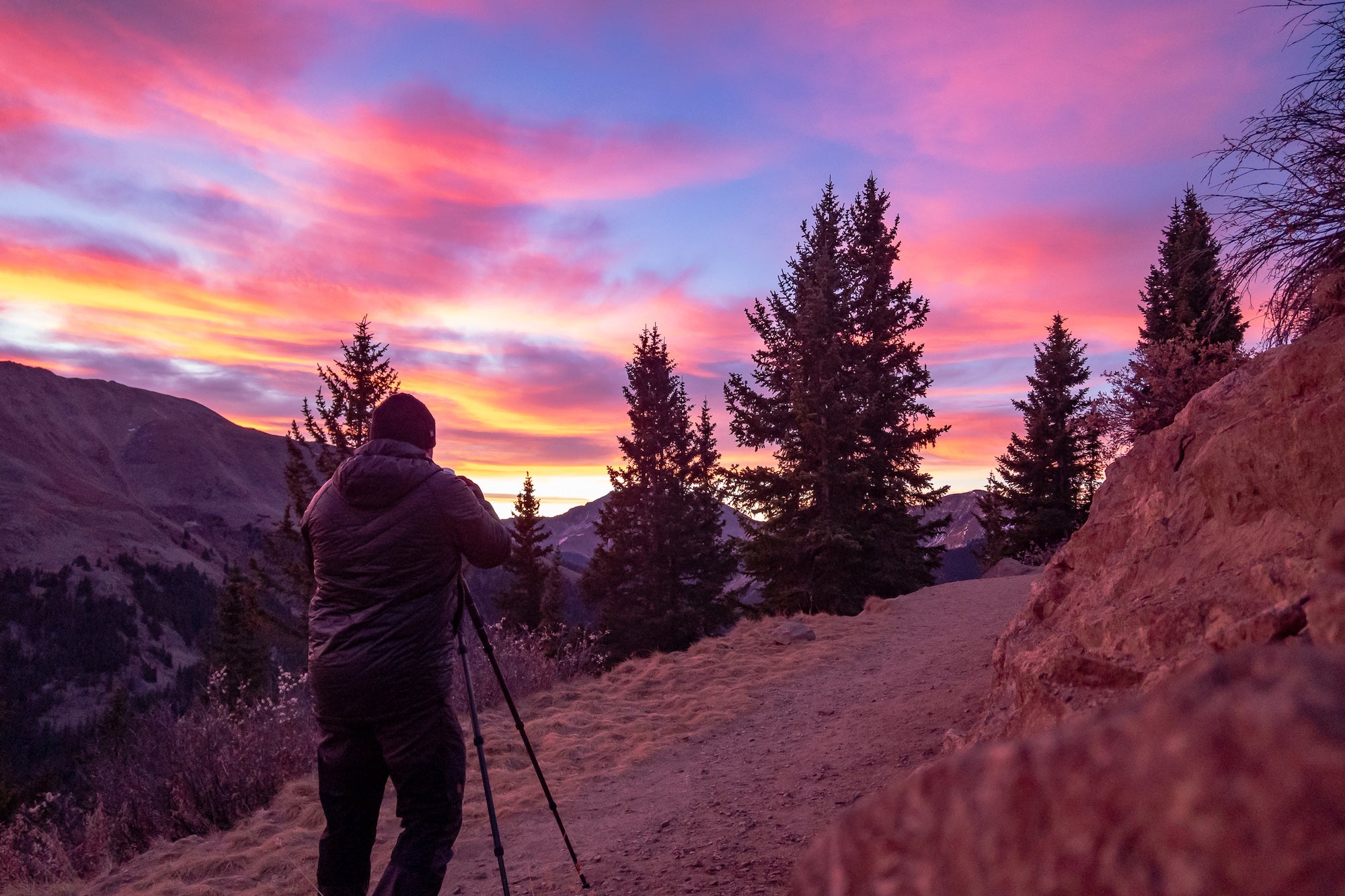 Photo by Craig Turpin. Sony RX0 II. 1/50-sec., f/4, ISO 1000
This image above was captured using the Sony RX0 II set up on a rock behind me. I programmed the intervalometer to take a picture every ten seconds for two minutes, while the sky was bursting with color.
Lenses
Sony 70-200mm f/2.8 G Master: Most recently, I've been interested in using the towering landscapes around me as the focal point of my sunrise and sunset landscape photography. I originally started experimenting with telephoto photography by adding a Sony 2X teleconverter mounted to the Sony 70-200mm f/2.8 G Master lens.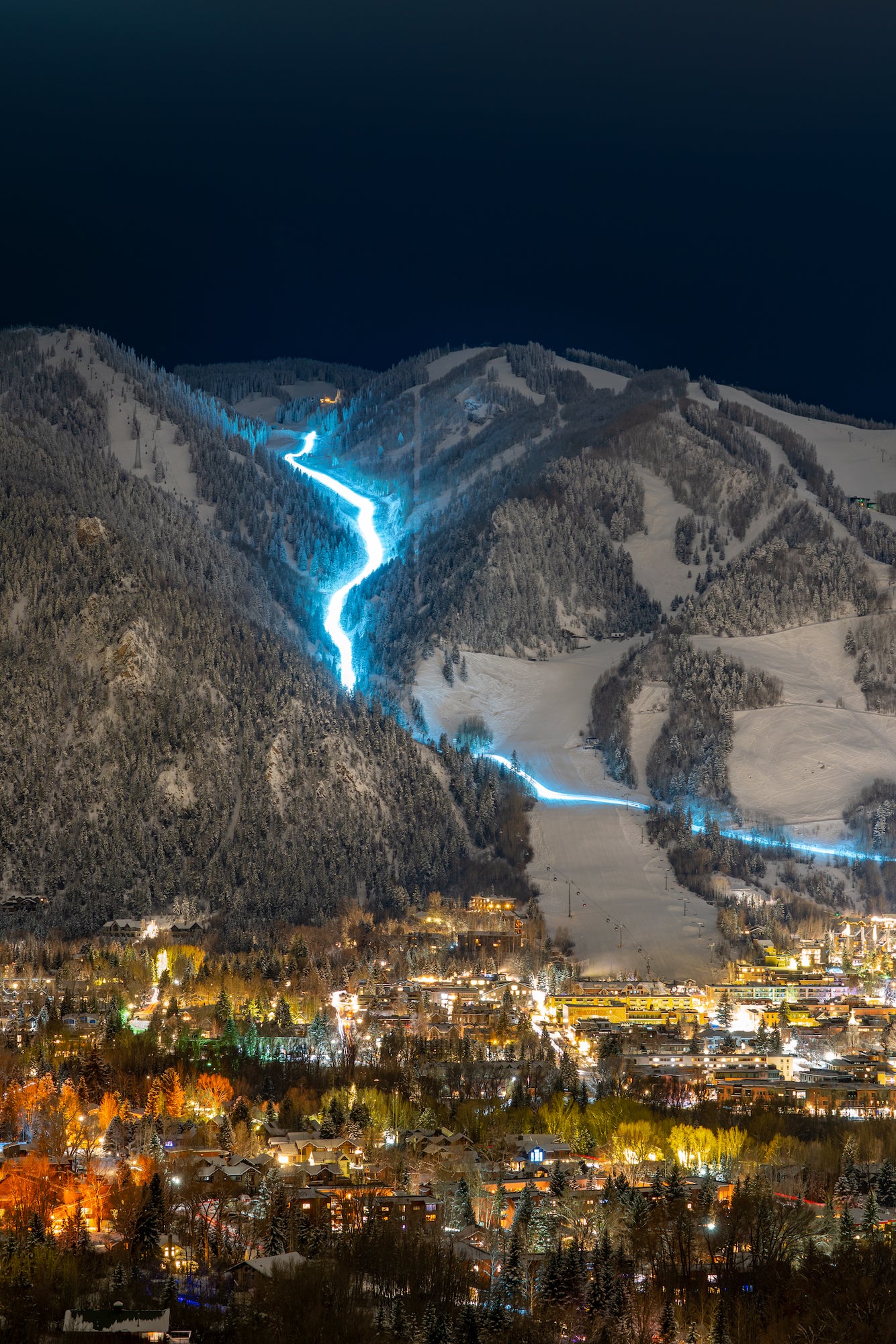 Photo by Craig Turpin. Sony α7R III. Sony 70-200mm f/2.8 G Master. 471-secs., f/7.3, ISO 50
The long-exposure image above took almost two hours to get just right. I had actually packed up my gear to leave when I quickly set up my tripod and started one last long exposure as I noticed snowcats starting their descent down Aspen Mountain. I had planned on shooting a six-minute exposure, but as the first two cars edged closer to the right side of the frame, I waited and ended the long-exposure after the second car slipped into the trees. The result was a bright blue vein of light down the center of the mountain as the city shimmered from holiday lights, helping to illuminate the shot. I had hoped to include the starry sky, too, but as midnight approached, it was diffused by a light layer of clouds. For a single ultra long-exposure, I'm really happy how it turned out.
Sony 200-600mm f/5.6-6.3 G Master: While I enjoy the results of the Sony 70-200mm f/2.8 G Master with the 2X teleconverter, shooting across the valley toward opposing mountains offers incredible new perspectives and I yearned to capture even more. Last month, I added the Sony 200-600mm f/5.6-6.3 G Master lens to my kit and ever since, have been working solely with this powerful lens.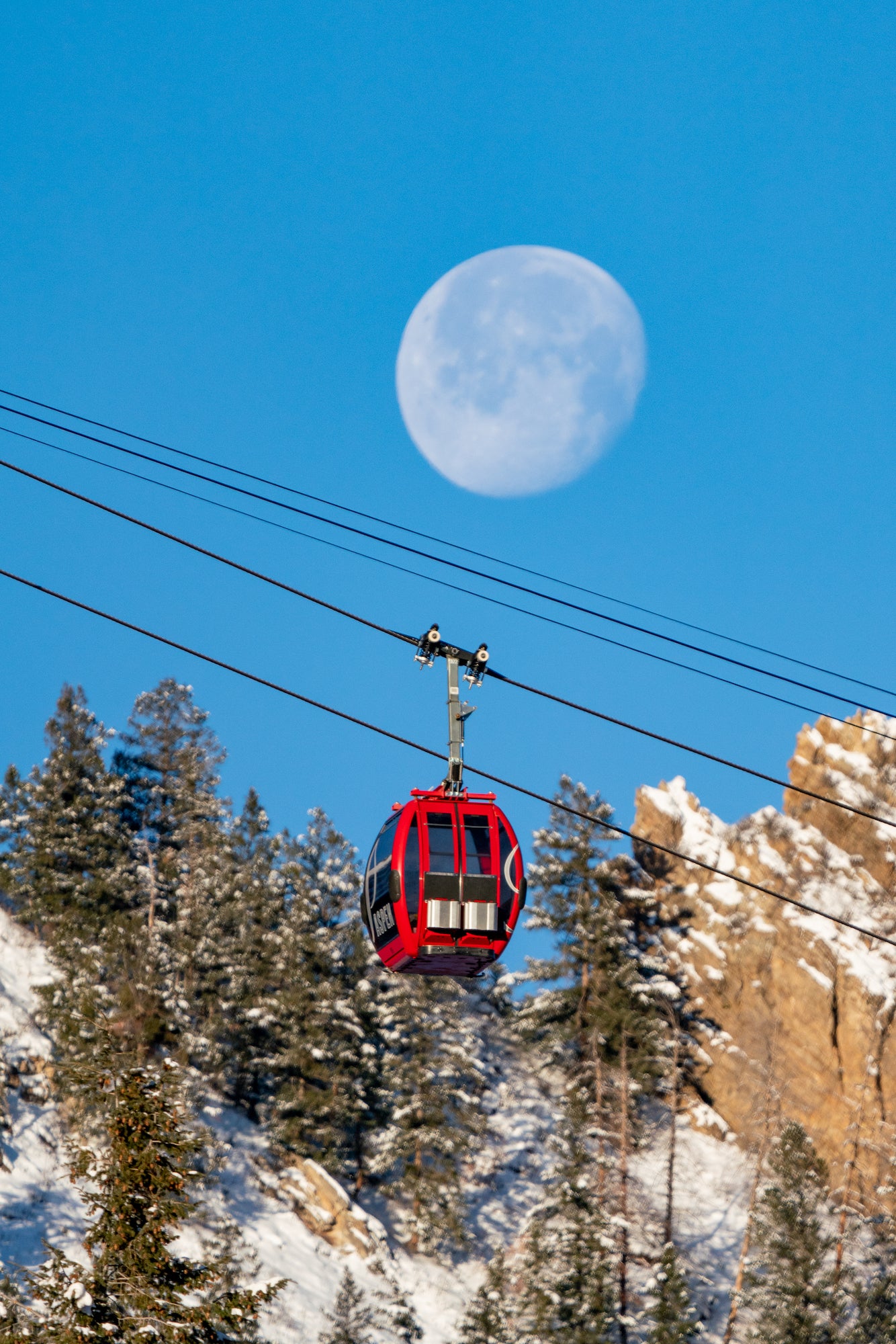 Photo by Craig Turpin. Sony α7R III. Sony 200-600mm f/5.6-6.3 G. 1/2000-sec., f/6.3, ISO 800
For the above shot with the Sony G Master telephoto maxed out at 600mm, I was able to capture the moon, Shadow Mountain, and Aspen Mountain's iconic red gondola car all in the same frame. It took me a few test shots to get my timing right, but I was stoked to finally create an image I had envisioned in my mind for so long.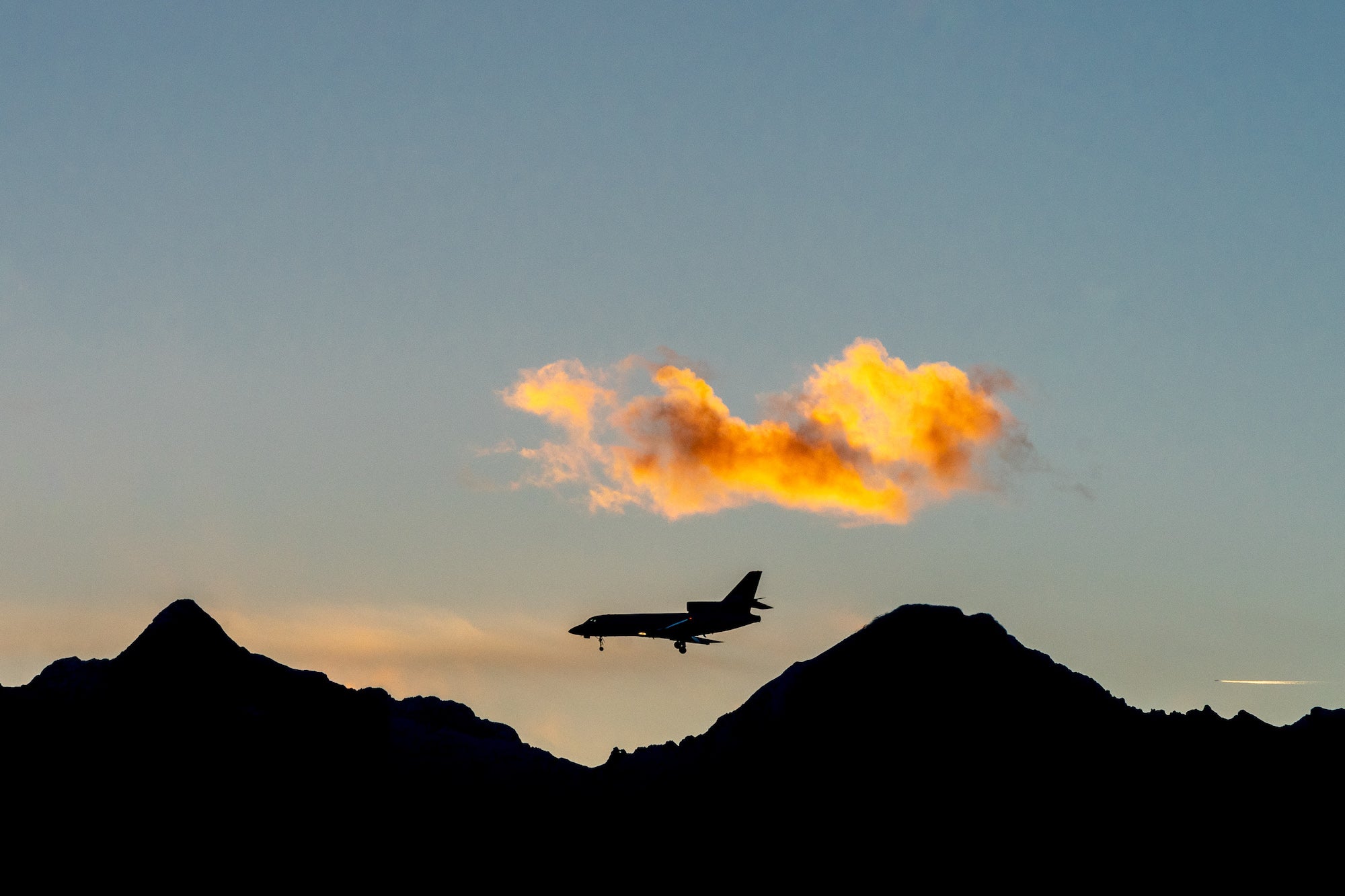 Photo by Craig Turpin. Sony α7. Sony 70-200mm f/2.8 G Master. 1/1000-sec., f/11, ISO 500
What I like about shooting with telephoto lenses is the power to compress the perspective, offering a unique view of the mountains the plain eye sees every day. The image above truly captures that. Capitol Peak (left) and Mount Daly (right) often make for stunning landscape photos. By positioning myself in just the right spot and waiting patiently for planes to enter the frame, I was able to capture a private jet, on approach into Aspen, in silhouette with the mountains as the sunset bursts with color in the background.
Accessories
Peak Design 30L Everyday Backpack: I fill this pack with gear for two specific types of work: photojournalism and landscape photography. I switch between these two camera bag setups depending on which type of work I'm heading out to do.
Peak Design Carbon Fiber Travel Tripod and Sirui N-1204SK Carbon Fiber Tripod with G-10X Ball Head: A good sturdy tripod, especially necessary for shooting long exposures.
Sony Bluetooth Remote (RMT-P1BT): I use this linked to my Sony α7R III.
Vello Wireless ShutterBoss Remote: I use this linked to my Sony α7.
Petzl Zipka Headlamp: I usually use the red-light mode for night photography and white light for hiking in.
Opinel No6 Utility Knife: I never leave home without it.
Sony Wireless Noise-Canceling Headphones: I listen to the Grateful Dead or pre-downloaded podcasts when I hike and these lightweight, long-lasting earbuds help make every switchback along the trail a breeze.
Peak Design Quick-Connecting Camera Straps (2): Easily and quickly connect and disconnect to your camera.
Peak Design shell camera cover: This is a great tool for shooting in timelapse mode to keep the gear dry and a wee bit warmer.
Batteries: I carry a couple of extra batteries for each of my cameras, however the longevity and durability of the newer NP-FZ100 series batteries for the α7R III mean two fully charged batteries can get me through a long, cold overnight shoot without issue.
Garmin InReach: Safety first, then teamwork! The Garmin InReach does both. It makes me feel safe and secure knowing that if I do get injured in the field and I am out of cell range, help is within reach.
Zeiss Lens Wipes: When a fingerprint or other mark beyond the power of the blaster I bust these out to wipe away the smudges to ensure a clean, crisp shot every time. They also work great to keep my sunglasses and goggles spot-free.
Phoozy Thermal Capsule XP-3 Case: This unique storage device was originally designed for cell phones by race car driver and Phoozy CEO Kevin Conway. Bonus points because it also works amazingly well to keep batteries fresh and ready in both hot and cold conditions. I added one to my camera bag two years ago and it's been integral on every adventure since.
Giottos Rocket Air Blaster: It goes without saying one of these is a must to fight dust. It helps save time before the shutter clicks instead of having to manually edit out the spots in post. I also make sure to change lenses in a safe location and always give both the lens and the sensor a little blast of air when changing setups.