When Sony Artisan Justin Jung is on location shooting some of the greatest surfers on earth, he has to pack a calculated balance of firepower and precision in his gear bag. Photographing an elite surf competition is a demanding task even for a pro like Jung; it requires razor sharp resolution, lightning fast shutter speed, vibrant colors, and the ability to zoom in close from a distance... all without any compromise. Below, Justin curates the gear that he depended on to capture the U.S. Open of Surfing in Huntington Beach, CA.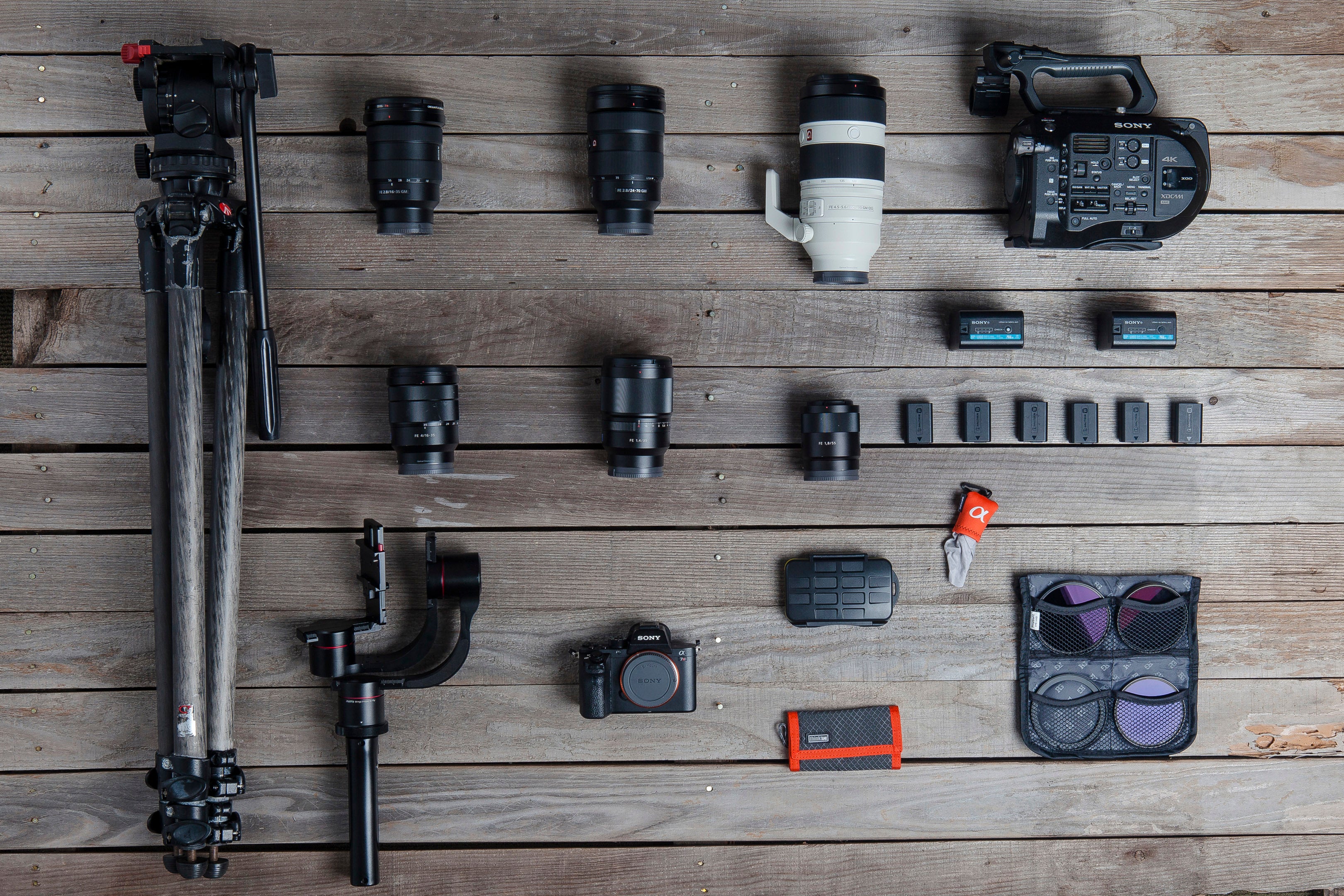 Cameras:
α7R II: I bring my α7R II for capturing landscape/lifestyle photos, and also lifestyle video as well. I like to pair this camera up with the 16-35mm f/2.8 G Master for landscapes, and the Sony 35mm f/1.4, or 16-35mm f/4 for video on my gimbal.
Sony FS7: This is my go to camera when filming surfing. The super slow motion, 180fps in HD allows me to slow down those critical moments in a surf edit. Being able to shoot 4K 60fps is also powerful for the price point you can get this camera at, the quality is very impressive!
Lenses:
Sony 16-35mm f/2.8 G Master: I just added this lens to my kit recently and it's my new favorite. Corner to corner sharpness, and the color and clarity is incredible. This lens travels with me everywhere now.

Sony 16-35mm f/4: This lens is a workhorse of a lens! I love how light it is, and the quality it outputs for an f/4 is outstanding. I always use this in combination with my handheld gimbal because the weight is low enough to balance the system perfectly. This lens will still always be in my kit when shooting video.

Sony 35mm f/1.4: Each time I use this lens I fall more in love with it again! It has great bokeh, very sharp, and the f/1.4 aperture allows for a very shallow depth of field. I always find myself capturing street, portraits, and lifestyle moments with it.

Sony 55mm f/1.8: I've had the 55 in my kit since I first picked up an α7S back in the day. I love how extremely sharp it is, as well as the shallow depth of field I can get - great for portraits and video interviews.

Sony 24-70mm f/2.8 G Master: The 24-70 G Master is another lens hard that I wouldn't travel without. This lens is the perfect with my FS7 in "run and gun" video situations. Shooting both telephoto and at the wide end, I find myself switching often for capturing different moments during documentary filming. Also a very sharp lens that produces great color.

Sony 100-400mm f/4.5-5/6 G Master: This lens is so powerful and it has a fasntastic range. And when I couple it with a 2x teleconverter, I can't believe the level of sharpness it retains. Compared to other brands I've used, this lens really delivers. I use the 100-400 G Master for shooting both surf and nature.
Tripod:
I use the Sachtler 0707 FSB-8 Fluid Head, this tripod is extremely durable, and does well with traveling. I will typically mount the FS7, with the Sony 100-400mm G Master and my 2x converter for filming surfing. I also use a rigging system [not pictured] to keep the camera and lens solid together, and to take off the weight from the front of the lens mount from the FS7.
Accessories:
ThinkTank Photo Airport TakeOff V2.0: This roller backpack fits all of my cameras, lenses, batteries, filters and cards perfectly. Having rolling wheels is easy on my back and when I need to roll other bags this bag converts into a backpack!

PilotFlyH2: My go-to handheld gimbal. Lightweight, easy to assemble and works on the fly. It's small enough to take with me when I'm traveling internationally.
Other "must have" items:

(6) α7R II batteries
(2) FS7 batteries
(4) 64 GB Sony XQD Cards
(2) 32 GB Sony XQD Cards
(4) Sony 64GB SD Cards
Learn more about Sony Artisan of Imagery Justin Jung here and follow him on Instagram @justinjjung.