When you're traveling to a photo destination, planning out the the gear you bring besides your cameras and lenses can be every bit as important to making it a successful journey. Between the challenges of air travel, multiple time-zone transits and just being able to stay flexible during the trip, packing light and having versatile clothing and other items is a pretty big deal. As her blog readers and 390,000+ Instagram followers know, the Sony Alpha Imaging Collective's Renee Hahnel (@reneeroaming) is a global travel adventurer whose photos bring the viewer around the world with her. As she was preparing to head off to Iceland with the Alpha Collective, we caught up with Renee to find out more about how she packs—from boots to electronics to photo gear—for a trip where she'll be doing everything from hiking in the landscape to exploring in the city:
Renee Hahnel (@reneeroaming) here, Alpha Collective member and professional travel photographer/blogger. I'm excited to be with other members of the Alpha Collective, as well as Sony Artisan Chris Burkard, for a week of exploring in Iceland (#AICdoesIceland)! It's going to be seven days jampacked full of adventure, epic scenery, great company, and no doubt some beautiful photography opportunities. I've visited Iceland two times previously, once during the summer and once in winter, so I feel that I have a pretty good idea of what to pack. Keep reading to get an insight into what camera gear I am taking along, as well as some of my other go-to items and travel must-haves.
Alpha Collective member Renee Hahnel (@reneeroaming) shares the travel essentials she packs for a global photography adventure.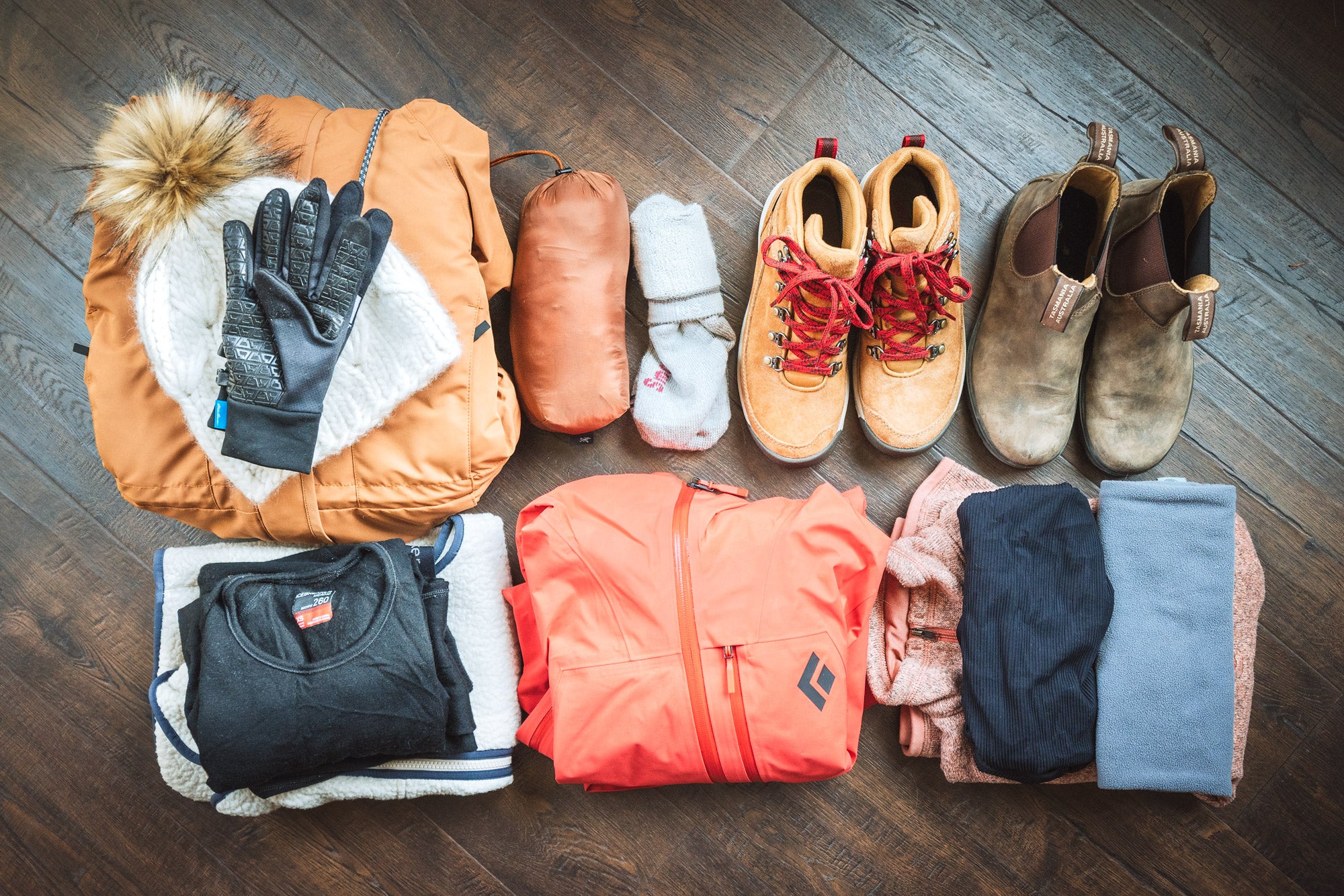 I am packing plenty of essentials to keep me warm, comfortable, well-rested, and entertained during those in-between moments of travel. One big consideration for me was ensuring that I will be adequately dressed for the conditions. Iceland can get very cold, windy, rainy, and even pleasantly sunny on the odd day! In addition to clothing, there are certain items that I always pack for every trip I take, simply because they help make travel a lot easier.
Travel Essentials
Waterproof Layers: You'd be silly to travel to Iceland without a waterproof rain jacket. I'm packing the Black Diamond Liquid Point Shell, which I will likely also use as a wind protection layer over the top of my down jacket. I also plan to throw in a pair of waterproof pants, as a "just in case" layer.
Warm Layers: I am one of those people that get pretty cold… so I will be packing multiple insulating layers. Firstly, my Icebreaker merino wool base layers are an absolute must, followed by a cozy sweater, my Arc'teryx Cerium Down Jacket, and then my Columbia South Canyon Parka on top for when it's reeeaaallly cold. In addition, I am packing some wool socks, warm gloves, a beanie, and a neck warmer.
Swimsuit: I just went on about how cold it can get in Iceland and now I'm talking about packing a swimsuit?! Yep! Iceland is home to some incredible natural springs… so you bet I am packing some swimsuits in case any soaking opportunities arise.
Waterproof Shoes: Waterproof shoes are another must-have for a trip to Iceland. I am packing the Danner Boots Adrika Hikers and my good old trusty Blundstones. Both these boots are durable and waterproof, though I will likely stick to wearing the Adrika's for hiking and the Blundstones for more casual and urban moments.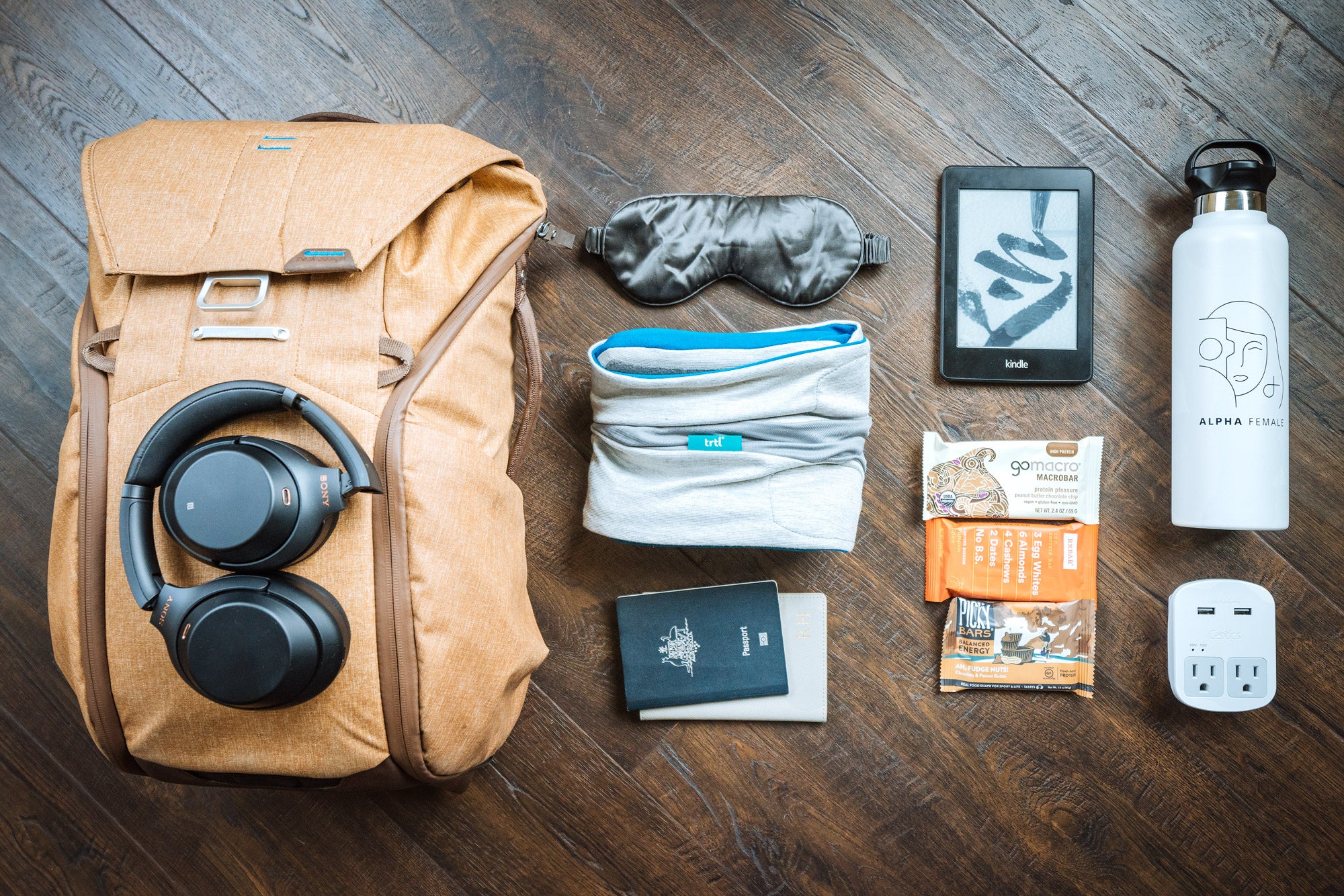 Noise Cancelling Headphones: I don't take a long-haul flight (or long car drive) without a pair of noise cancelling headphones. Being someone who likes quiet time, they make a HUGE difference to my overall travel experience. This trip I will be taking along the Sony WH-1000XM3 Wireless Noise Cancelling Headphones.
Neck Pillow, Eye Mask & Ear Plugs: Like above, I always pack a travel neck pillow, eye mask, and ear plugs when taking long haul flights or long car commutes. These sorts of trips are often go-go-go and the more hours of rest I can get, the better!
Kindle E-Reader: I am a big book lover and love reading during moments of downtime. It gets bulky traveling with a physical book so I typically opt to pack my Kindle E-Reader instead.
Portable Charger: My Anker portable charger comes with me on every trip. It's super handy to throw in my bag for moments where my electronics are running low on battery or the cold has drained them faster than expected.
Reusable Drink Bottle: I never travel without a reusable drink bottle and try to avoid buying single-use plastic water bottles whenever possible. Iceland has some of the cleanest drinking water in the world, so I am sure refilling won't be a problem! I am also packing a reusable coffee mug and some bamboo cutlery.
On-The-Go Snacks: On a trip like this you never quite know when you are going to have a chance to eat… I mean, if the conditions are amazing I will absolutely forgo mealtimes haha. For this exact reason I am packing some emergency snack bars to have handy in my camera bag.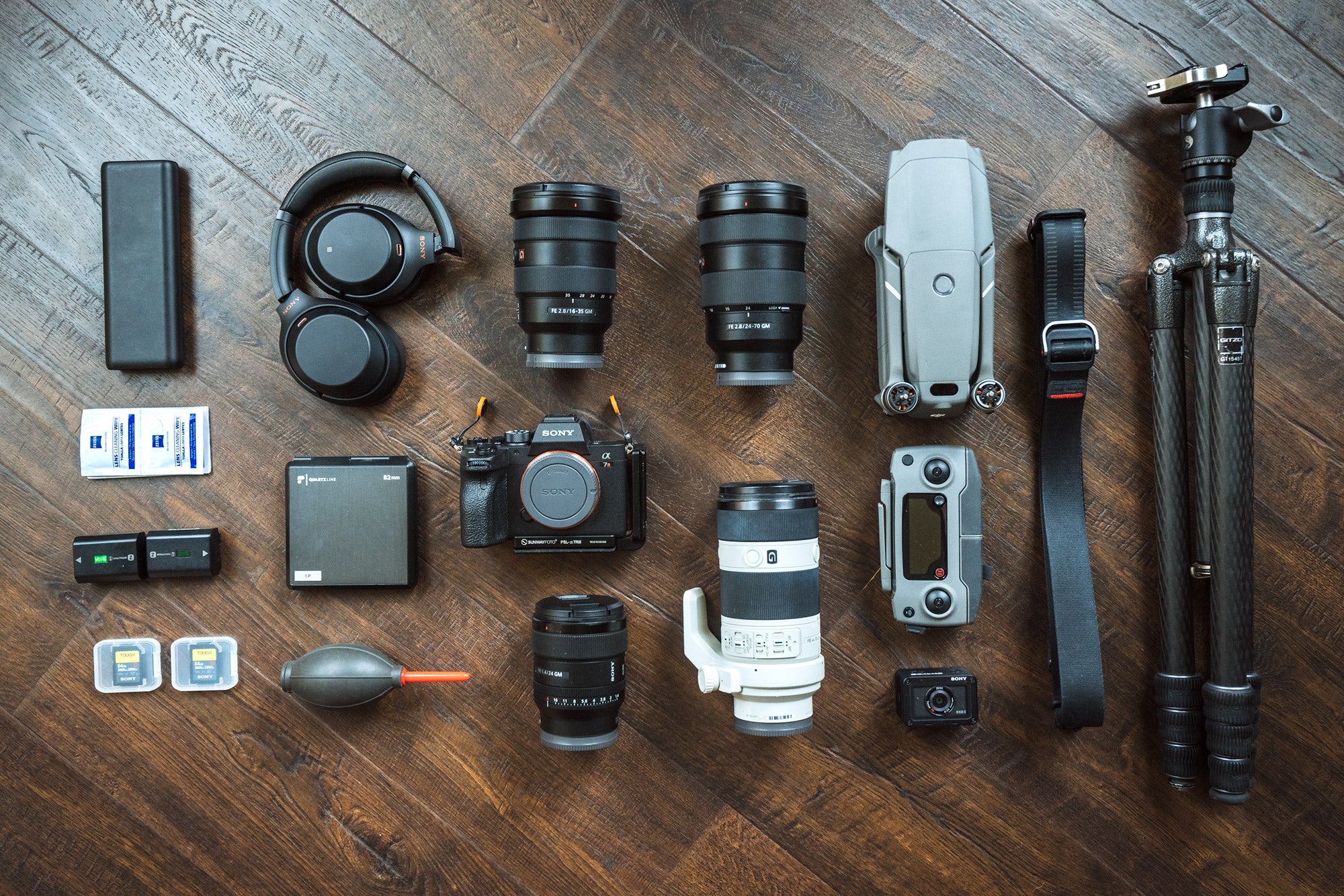 My main focus for this trip will be capturing Iceland's unique landscapes, including (fingers crossed!) the northern lights and also some adventure lifestyle content. I also don't want to carry too much gear with me as many of our activities will involve hiking and moving around… and I don't want to break my back! After much consideration, here are the items I have chosen to take along to Iceland.
Cameras
Sony α7R IV: I will be taking the new Sony α7R IV to Iceland, which will be my first time trying it out on a trip! The α7R III has been my workhorse for the past couple of years, and if the specs of the IV are anything to go by, I'm excited for some extra room to crop in my images, improved weather sealing (much needed in Iceland!), better autofocus performance, and the upgrades to buffering times when shooting in burst mode. I often shoot in burst mode when photographing a person out in nature, so more buffer space is always a welcome addition. I'm very excited for some 61 megapixel Iceland landscape goodness!
Sony RX0: We will be taking a snorkel tour of the Silfra fissure in Thingvellir National Park, which has some of the clearest water in the world! I plan to use the Sony RX0 ultra-compact waterproof camera to shoot some underwater content.
Lenses
Sony 16-35mm f/2.8 G Master: I pack the Sony 16-35mm f/2.8 GM lens on pretty much every trip I go on. It's sharp, is perfect for capturing those grand scenes, and it can create a beautiful sun star. In a place as scenic as Iceland, I will be using this to capture wide landscapes, but also to help me fit in the huge, dramatic waterfalls that you can get so close to. Another situation in which this lens will excel is when the aurora (hopefully) pops out... having the ability to shoot at f/2.8 will be incredibly useful for this.
Sony 24-70mm f/2.8 G Master: The 24-70mm f/2.8 GM is probably my most used lens, and based on two previous trips to Iceland I know this lens will be a go-to of mine. The 24-70 focal length is perfect for so many situations, whether it be landscapes, lifestyle, or detail shots. It's always comforting to know that I can have this lens on and rarely miss an opportunity for a photograph.
Sony 70-200mm f/2.8 G Master: I will be using the 70-200mm f/2.8 lens for when I really want to focus in on a smaller part of the landscape, or when trying to capture portraits of the dramatic mountains. It will be especially useful in the Landmannalaugar region for capturing abstract images of the colorful hills there. I find that this lens is also useful for shooting portraits due to the beautiful separation created by the 2.8 aperture, as well as the creamy bokeh it provides.
Sony 24mm f/1.4 G Master: Recently I have been finding myself reaching for the Sony 24mm f/1.4 lens more and more frequently. I plan on bringing it Iceland to capture astro and the aurora, as well as portraits and some lifestyle images. You just never know when the speed of this lens might come in handy!
Photography Accessories
Mavic 2 Pro: I plan to use the Mavic 2 Pro Drone for shooting some aerial images and video during this trip to Iceland. I love how small and lightweight it is to pack.
Circular Polarizer: I'm packing a PolarPro QuartzLine circular polarizer for moments where I want to reduce glare and increase saturation and contrast. This will particularly come in handy for capturing waterfall images.
Camera L Bracket: I always have an L bracket on my camera body to ensure I can quickly switch between vertical and horizontal compositions when using my tripod.
Rocket Blower & Lens Wipes: Due to Iceland's infamous winds and ever changing conditions, a rocket blower and lens wipes are a necessity. The rocket blower is also great for getting waterfall spray off the front of the lens.
Tripod: I take a tripod with me on almost every photography adventure. I value having clean, noise-free, and sharp images, so a tripod is key to achieving this in low-light situations. It will also be vital when the sun sets and the aurora comes out. My current tripod of choice is the Gitzo GT1545T with Really Right Stuff BH-25 ballhead.
Sony TOUGH Series Memory Cards: I'll be bringing along multiple Sony TOUGH Series UHS-II SDXC memory cards to ensure my photos stay safe no matter what weather we encounter.
Extra Batteries: I find that the Sony NP-FZ100 batteries typically last a really long time, but I am still packing at least 3 spares to ensure that I am always charged and ready.
Camera Strap: I'm packing my Peak Design Slide Lite Camera Strap for any situations where I want to have my camera out and ready to shoot. This will particularly come in handy for the afternoon we are shooting around Reykjavik.
Camera Bag: All this camera gear will be coming along in my Peak Design Everyday 21L Backpack. Being fairly petite, this camera bag is the perfect size to suit my small frame whilst still fitting all the gear I need for our activities in Iceland.