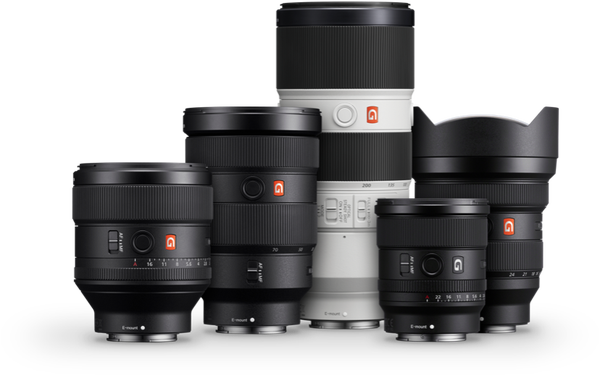 The purchase period for this rebate program has ended. Claims must be submitted no later than January 31, 2023. Please see the steps below to submit a claim. Claims are subject to the eligibility rules, limitations, and additional terms listed below.
Here's how to earn your lens promo rebates:
Step 2:
Complete claim form including details for 2 - 5 eligible Sony products purchased within October 1 – December 31, 2022 ("Program Period"). Purchases must be made at Sony Authorized Dealers, but not at the same time so long as purchased during the Program Period. Images of purchase receipts and full UPC labels (clearly cut out of the packaging) are required. Your claim must be submitted no later than January 31, 2023.
Step 3:
Once your claim has been submitted, you're done! You'll be notified via email once your claim has been processed. You will then receive your rebate via a prepaid debit card!
Learn More about Cameras and Lenses
*
*Please check final pricing at participating retailers. Reseller prices may vary.
**
By participating in this Premier Customer Rebates program ("Program"), participant voluntarily acknowledges and agrees to the following terms and conditions:
The Program is being offered by Sony Electronics Inc. ("Sony") to select participants who purchase select Sony products from Sony authorized dealers for which Sony is offering a rebate. Once a rebate claim submission is approved by Sony, participant will receive an email from prepaid.do.not.reply@northlane.com with instructions to redeem the payment. Participant may be able to choose payment in the form of a Sony Prepaid Mastercard card* received either via U.S. mail or e-mail, or a direct deposit (fees may apply).
Eligibility:
1) Offer is extended to customers who purchase 2 - 5 eligible Sony products for personal use within October 1 – December 31, 2022 ("Program Period"). Purchases must be made at Sony Authorized Dealers, but not at the same time so long as purchased during the Program Period.
2) Each rebate request ("Claim") must be submitted online no later than January 31, 2023, subject to details:
www.premiercustomerrewards.com
.
3) Every item claimed must be substantiated with
a) Details 2- 5 eligible Sony products (may be purchased separately, but must be purchased within the Program Period).
b) Image of the original UPC label clearly cut out of the packing for each item claimed and including the UPC code, model number, and serial number.
c) Image of the purchase receipt for each of the Sony products claimed including the dealer's name, purchase date, purchased model(s), purchase price(s) and total purchase amount.
Limitations:
1) Each claim must contain details for a minimum 2 and a maximum of 5 eligible Sony products.
2) Products do not have to be purchased at the same time or from the same Sony Authorized Dealer, but purchases must have been made within the Program Period.
3) Offer cannot be combined with promotions outside of National Instant Rebates and/or National Bundles.
4) Products purchased with trade-in rebates, Student/EDU pricing are ineligible.
5) Only new (factory fresh), in-the-box purchases are eligible for the Program. Open box or refurbished items are ineligible for this rebate.
6) Participant must submit claims no later than January 31, 2023.
7) Products purchased under the Program should be for personal use only.
8) Valid only in US. Offer nontransferable and nonredeemable. Offer valid on in-stock items only. No substitutions or rain checks issued. Offer not valid for prior purchases. Other restrictions may apply. Sales tax, shipping & handling not applicable to offer. Offer may be changed or canceled without prior notice. Offer may be void if qualifying purchase is returned or exchanged for a nonqualifying product.
9) Claim review may take up to eight (8) weeks from the date of rebate claim submission. Participant will be notified via email if there are issues or questions about the submission. Failure to adhere to these terms and conditions may result in disqualification from the Program and nullification and cancellation of the rebate offer. Product models and/or categories may be added, changed or removed from the Program at any time.
Additional Terms: Participant acknowledges and agrees s/he shall repay or refund to Sony any payment issued to participant in connection with any Claim that is determined to be fraudulent, inaccurate or invalid for any reason. All determinations by Sony shall be final. Sony reserves the right to change, suspend, cancel or terminate the Program, in whole or in part, at any time, with or without prior notice. Offer non-combinable, nontransferable and void where taxed, prohibited or restricted by law. Offer good only on purchases made in the 50 United States and D.C. to current U.S. legal residents. Exception for U.S. military personnel overseas. Sony reserves the right to audit any Claims by contacting the dealer and it may nullify any Claims that cannot be substantiated. All Claim information becomes the property of Sony. In the event of any discrepancy or inconsistency between these terms and conditions and any statements contained in any Program related materials, including but not limited to the submission form, point of sale, television, print, or online advertising, these terms and conditions shall prevail, govern, and control. Program participants agree to waive any and all claims of liability and hereby, release, indemnify and hold harmless Sony Electronics Inc., its parent, subsidiaries, affiliates and their shareholders, directors, officers, agents and employees, from and against any accident, loss, or injury occurring as a result or consequence of the Program, or any award received, or not received, in connection with the Program.
*Card is issued by Sunrise Banks N.A., Member FDIC, pursuant to a license from Mastercard® International Incorporated. Mastercard is a registered trademark, and the circles design is a trademark of Mastercard International Incorporated. This card may be used everywhere Debit Mastercard is accepted. Registration, activation, acceptance, or use of this card constitutes acceptance of the terms and conditions stated in the Prepaid Card Agreement. Cards will not have cash access.
©2023 Sony Electronics Inc. All rights reserved. Reproduction in whole or in part without written permission is prohibited.
RELATED CONTENT