Street photography is one of the first ways humans began to document our everyday lives. It began in the late 1800s as a collaboration between painters and photographers wanting to capture the unique and spontaneous moments of people and spaces outside of the studio.
The desire to capture those moments of everyday life has not changed for most photographers, but the technology and equipment available certainly has come a very long way. If you are inspired by the likes of Cartier-Bresson or Garry Winogrand, who mostly shot on a 28mm lens that allowed him to capture the vibrant life and chaos on the streets of 1960s New York, a prime may be for you.
Lightweight, compact and unobtrusive – five Sony prime lenses for street photography.
Small and fast prime lenses allow photographers to shoot quickly and keep up with fast-paced environments while remaining discreet, making them a great fit for street photography.
Prime lenses invite you to act quickly, be in the moment and keep up in fast-paced ever-changing environments. Zoom lenses are assuredly versatile, but the focal length options within the zoom range can be a distraction that results in you missing a unique moment.
Depth of field is also something to consider. Prime lenses tend to be faster than their zoom counterparts, giving you broad creative options with regard to bokeh and depth of field. And that extra bit of aperture you get with a prime lens can also be beneficial in the fast-changing lighting conditions inherent in street photography.
In this article we're particularly looking at smaller lenses. Having a small lens on your camera is less intrusive than a big one with a large barrel and front element. Great street photographers know that you're able to interact with people much easier when your camera and lens combination is less in their face.
You will also notice that our roundup doesn't have any long telephotos. Shorter focal lengths are much more conducive to being close and a part of the story as it unfolds. The great photojournalist W Eugene Smith noted that to see the truth, you have to be close. Longer lenses do have a place in street photography, but they can also be a crutch for less experienced street photographers who use that focal length to lurk in the background. Indeed more than one street photography workshop leader has started a "photo walk" with a requirement that students leave any lens longer than 100mm out of their bag.
Sony 24mm f/2.8 G
The Sony 24mm f/2.8 is a new compact wide-angle lens that captures the finest details and has a fast and quiet autofocus so you don't miss any action on a busy street. The 24mm lens allows you to tell a broader story of your environment, making it ideal for those of you wanting to get those high rise buildings or more details of a bustling, busy street in your images.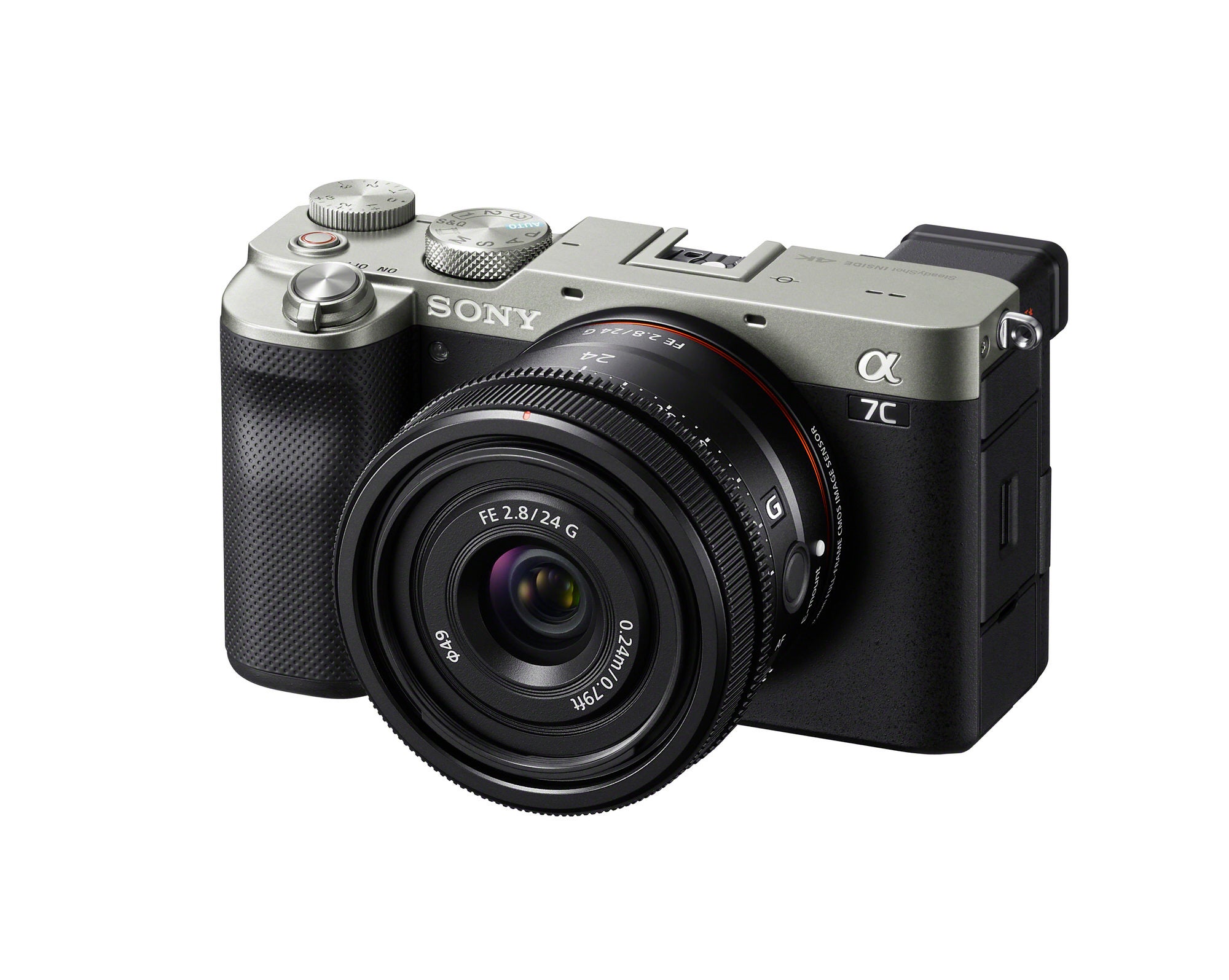 Sony 24mm f/2.8 G lens on a Sony Alpha 7C
National Geographic photographer Ira Block likes to pack primes to add redundancy and versatility to his lens selection while on assignment. "24mm is one of my favorite lengths. When photographing people I'm able to put them in the foreground and their environment in the background. It is also good for landscapes or cityscapes when you can use a foreground/background relationship with another object close to the lens in the composition. And of course if you are in a tight space, having that wide lens is a necessity." – Ira Block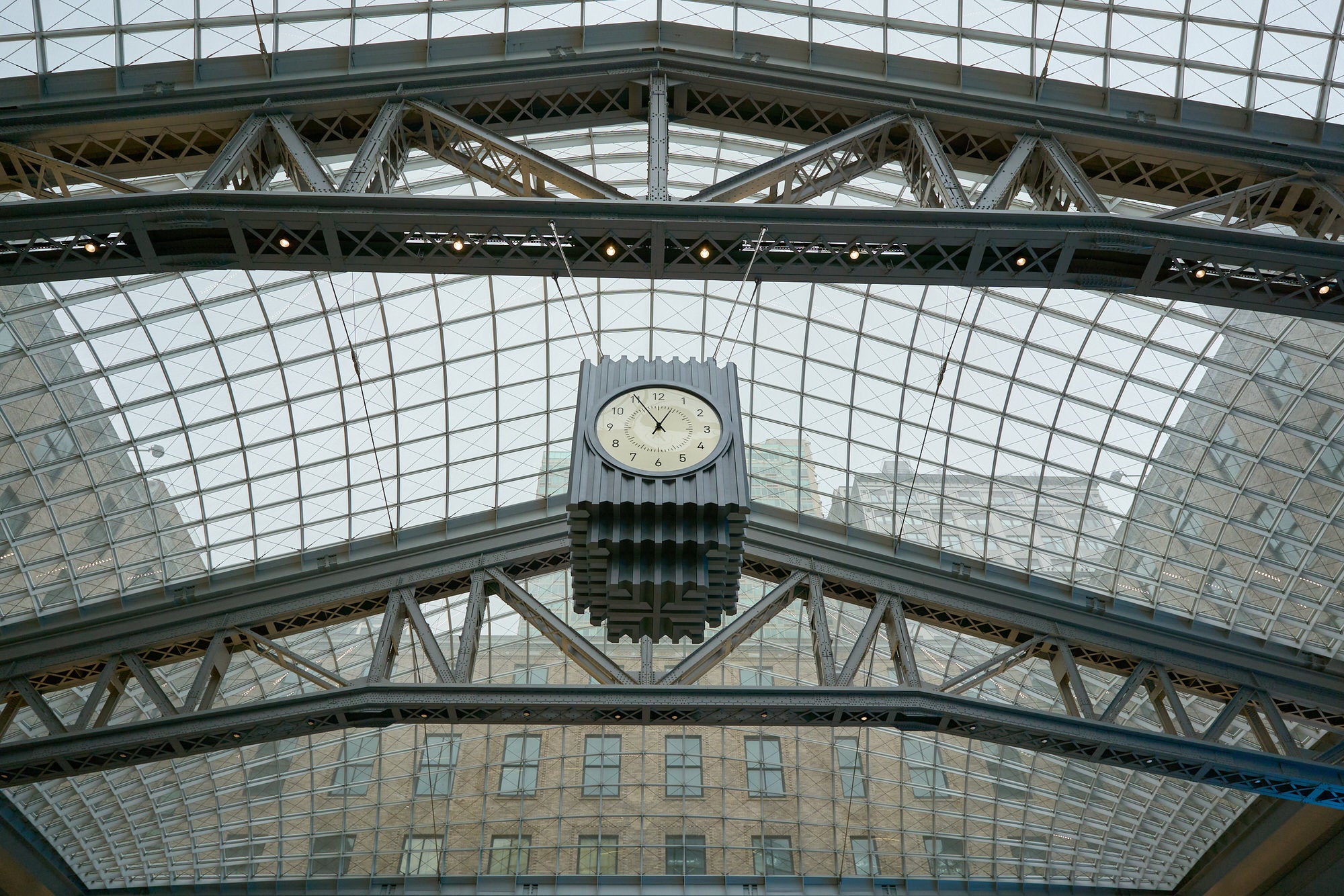 Photo by Ira Block. Sony α7C. Sony 24mm f/2.8 G. 1/400-sec., f/4.5, ISO 400
Sony 28mm f/2
The Sony 28mm f/2 is another go-to for street photographers as it gives you a wide depth of field and like the 24mm, you can capture the whole scene in your frame so you can shoot those moments on the street from a little more distance. In addition, the 28mm pushes you to think more creatively about your composition and lighting, making it a great lens if you want to produce more dynamic street photography. It's also an affordable, lightweight and compact option.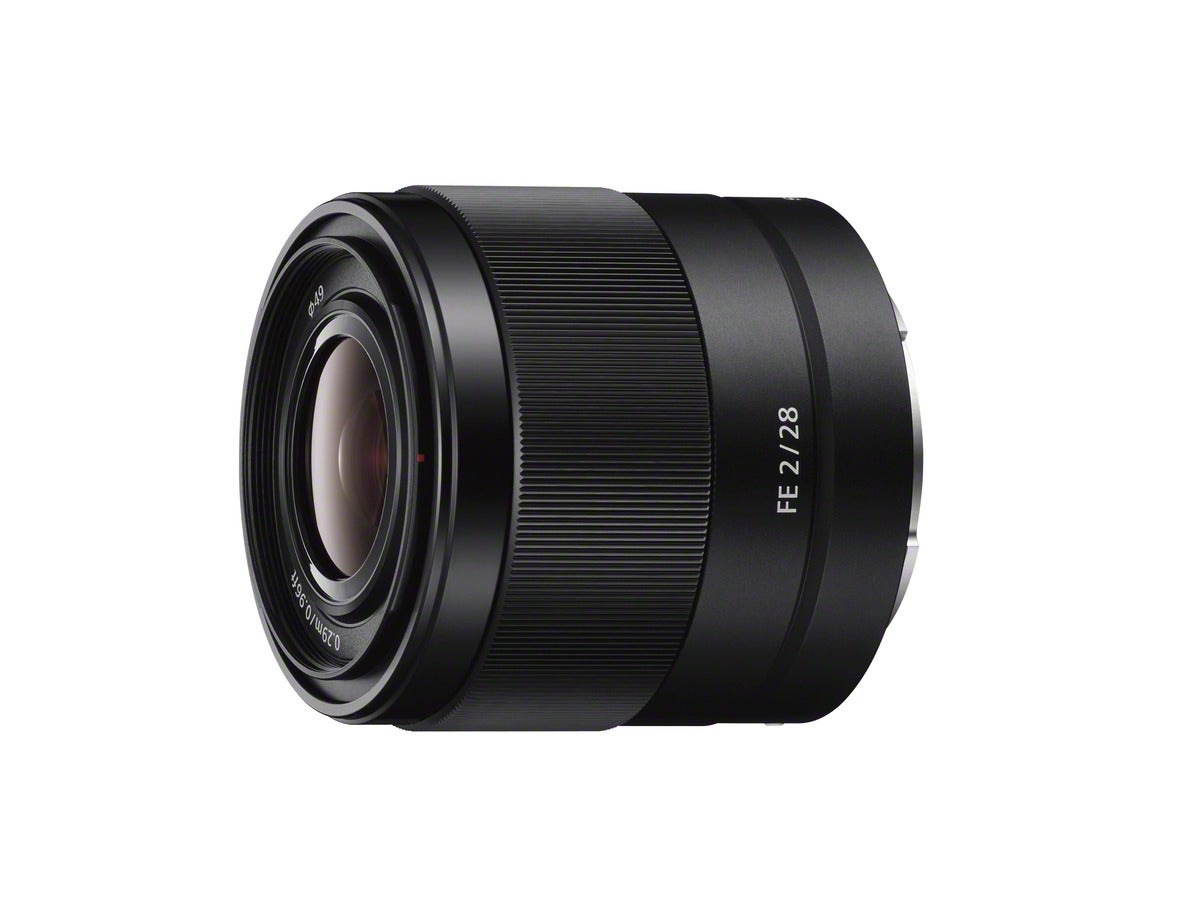 Sony 28mm f/2
The Sony 28mm f/2 can be found in Nino Rakichevich's kit for street photography. He says, "The 28mm is an under-appreciated lens. I find it to be super sharp, very light and 28mm is a perfect focal length for street photography because it allows me to show some of the environment without making too many distractions."
National Geographic photographer Ira Block also likes to pack this lens as an unobtrusive option for street photography and portraits when in low light environments. "I was at the Gandan Monastery in Ulaanbaatar, Mongolia and spotted a family lighting some candles behind a well-known statue. It was fairly dark, but I had the Sony 28mm f/2 lens on my α7S body and was able to shoot at ISO 2000 1/80 at f/2.8. I really appreciate the 28mm in a situation like this because it is such a small and very unobtrusive lens. The 28mm f/2 is a terrific lens for low light shooting, and it's nice and small."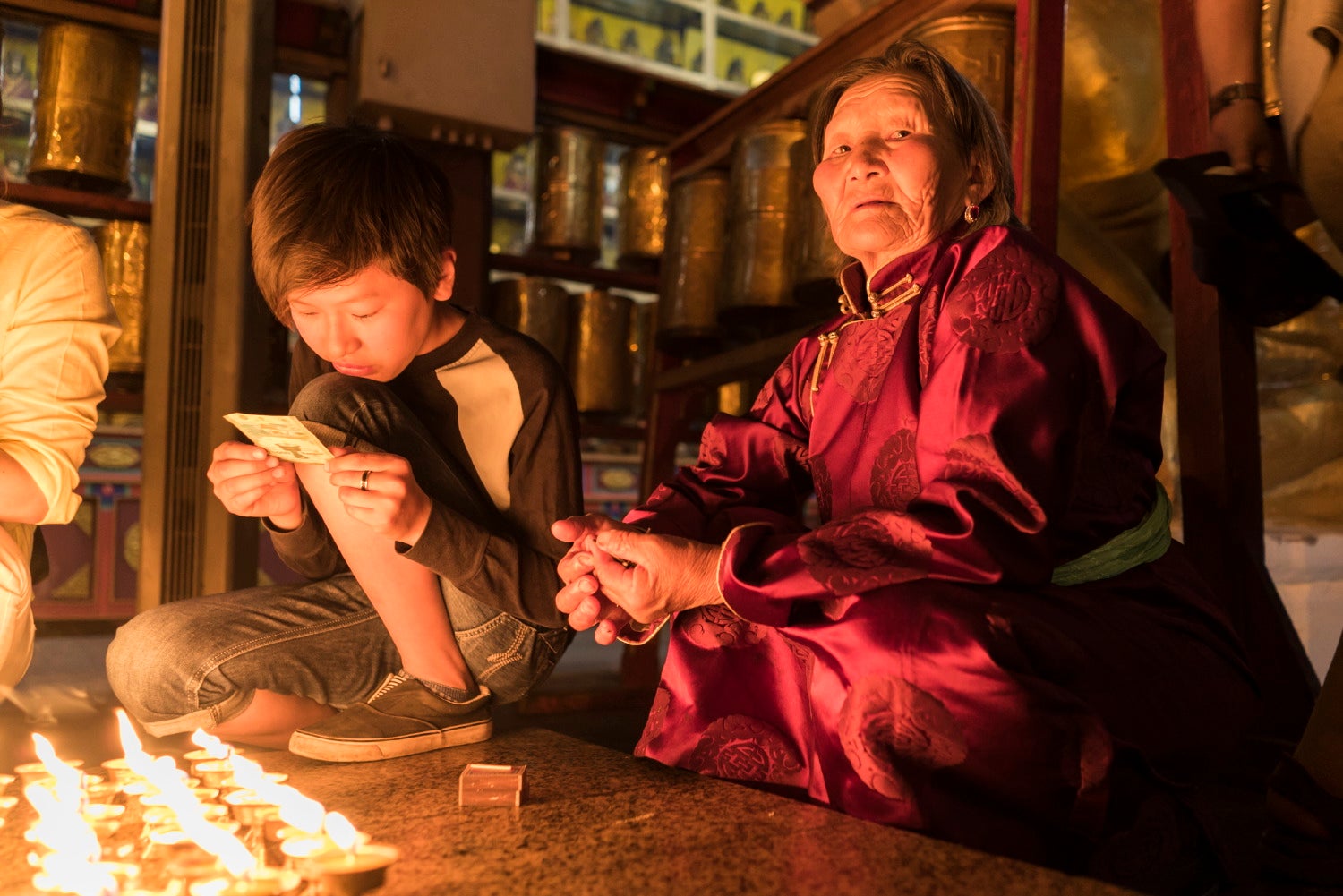 Photo by Ira Block. Sony 28mm f/2
Sony 35mm f/1.8
The 35mm focal length is a street photography classic, and the Sony 35mm f/1.8 is a modern lens that has quickly become a favorite among street photographers and photojournalists. It allows for crisp and clear low light shots, plus you can be close to your subject to portray the moment cohesively. This lens has a sharp focus and is quick, reliable and silent. It can also be used on a crop sensor camera (or in crop-sensor mode on a full-frame camera) to give a 50mm look, giving you a tighter frame. This is the perfect lens if you're after more of a traditional aesthetic for your street photography.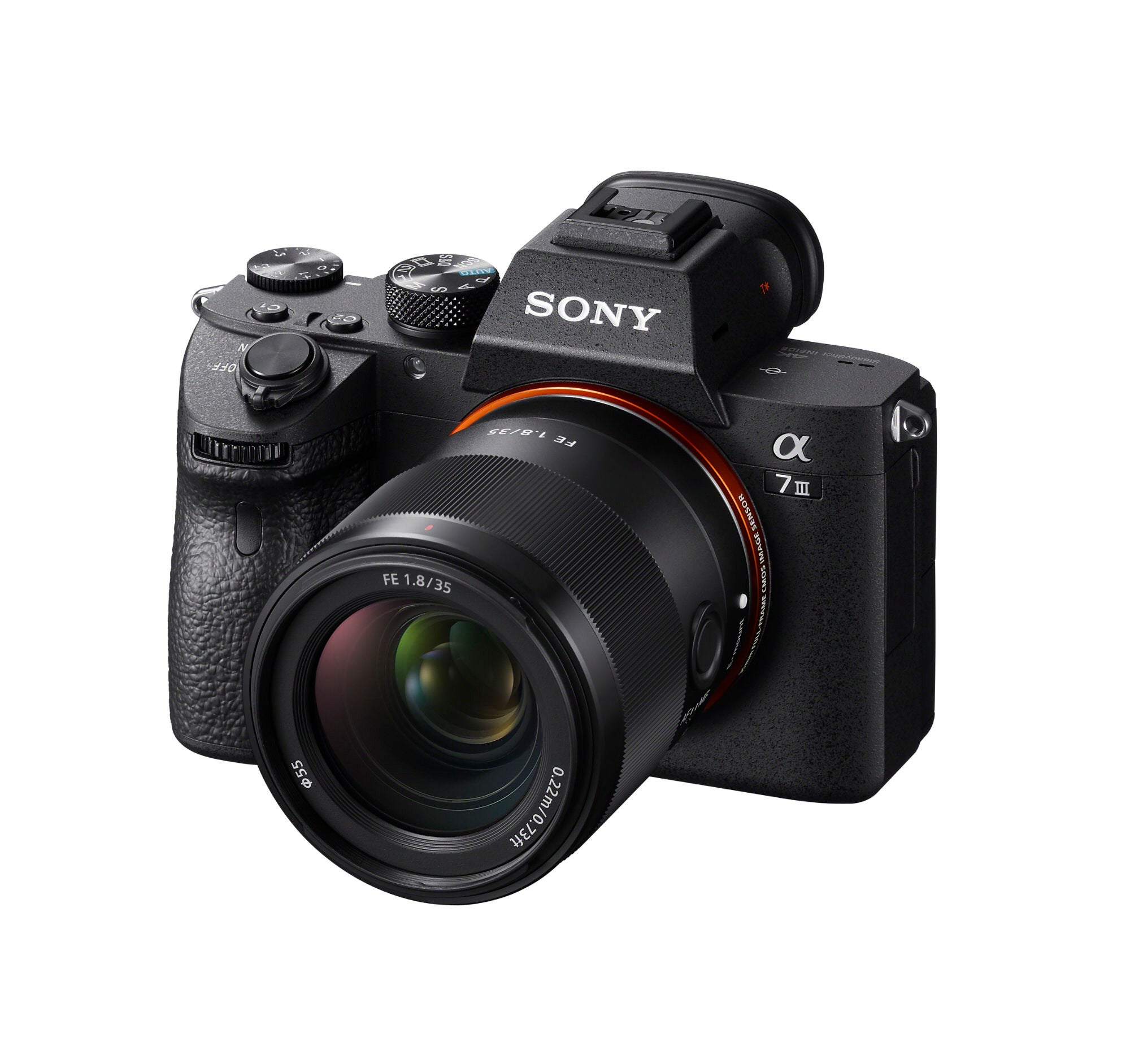 Sony 35mm f/1.8 on a Sony Alpha 7 III
Street and portrait photographer Chad Wadsworth uses the Sony 35mm f/1.8 in a variety of shooting scenarios. Wadsworth writes in his review of the lens, "One of the things that attracts me to a fast 35mm is the dual personality it presents. I love doing street scenes and portraits at opposite ends of the aperture scale to create completely different looks. This is a lens that can produce both an evocative shallow focus portrait or a deep focus image with an incredible amount of detail."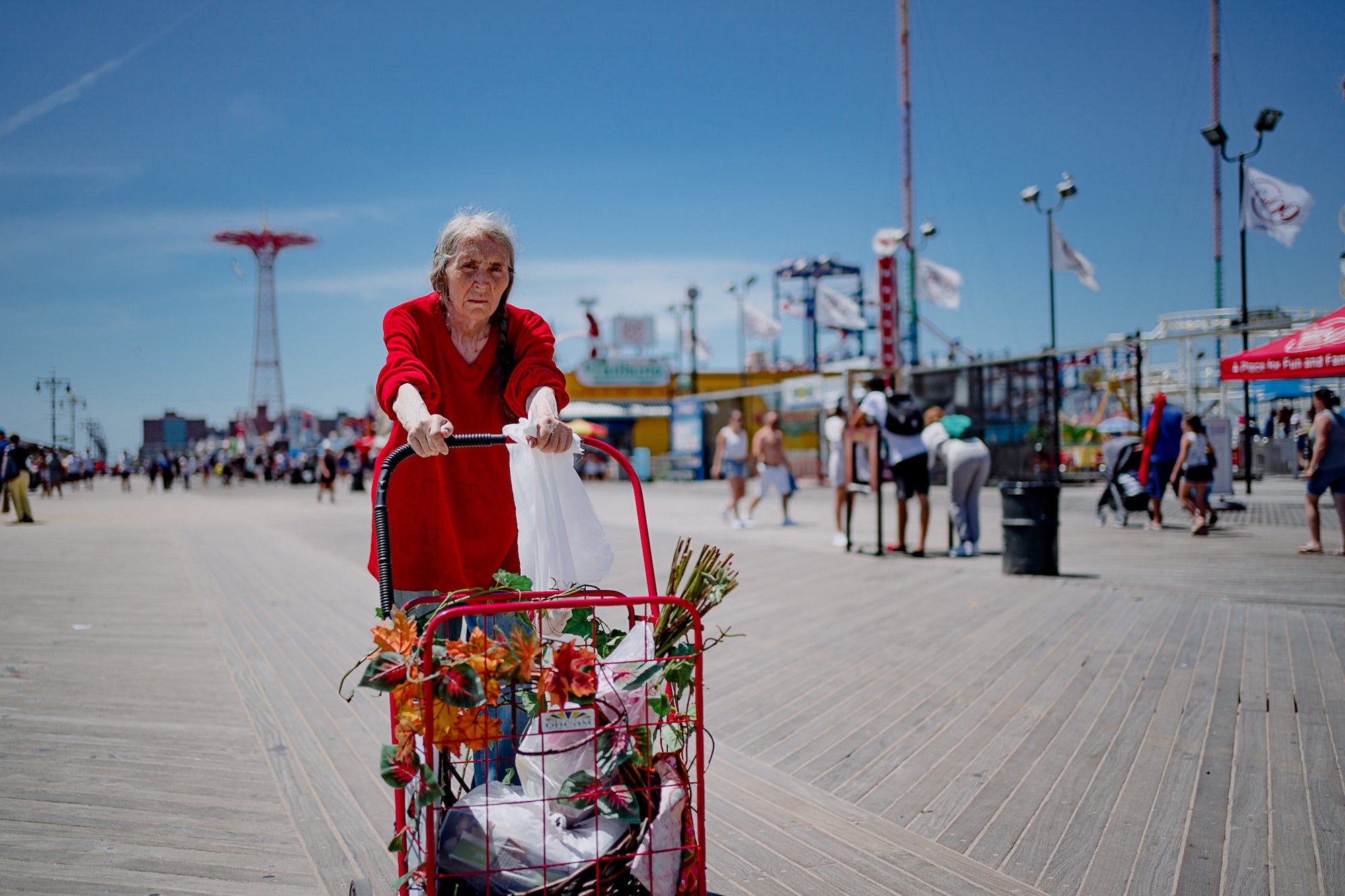 Photo by Chad Wadsworth. Sony α9. Sony 35mm f/1.8. "The α9 perfectly tracked this woman's eyes as she walked towards me – I was also walking."
Sony 40mm f/2.5 G
The Sony 40mm f/2.5 G is a new lens that's quite versatile. It gives you slightly more space than a 50mm, yet keeps the frame tidy, making the shot cleaner than a 35mm. It's small and lightweight, making it a less intrusive lens.
Sony 40mm f/2.5 G on a Sony Alpha 7C
Street and portrait photographer Oveck Reyes has a unique style that's well-suited for the Sony 40mm f/2.5 G. After a hands-on test of the new lens Oveck says, "The 40mm is not uncommon for me at all, I've shot on my film camera with a 40mm before and loved the focal length. It's the perfect in-between lens. The size, weight and overall performance of the 40mm f/2.5 G lens definitely stand out. This will absolutely have a regular place in my kit moving forward."
This is another prime lens that National Geographic photographer and Ira Block plans to pack for future assignments. After trying out the new lens he says, "40mm is a different length. It's just a bit tighter than the 35mm but it does have a nice feel. People think the 50mm gives you a 'normal' perspective and compression, so this 40mm f/2.5 G lens is in that middle area. I was surprised that I enjoyed using it so much. I'm looking forward to adding the 40mm G lens to my kit. It will be fun to look at the world through a new length lens."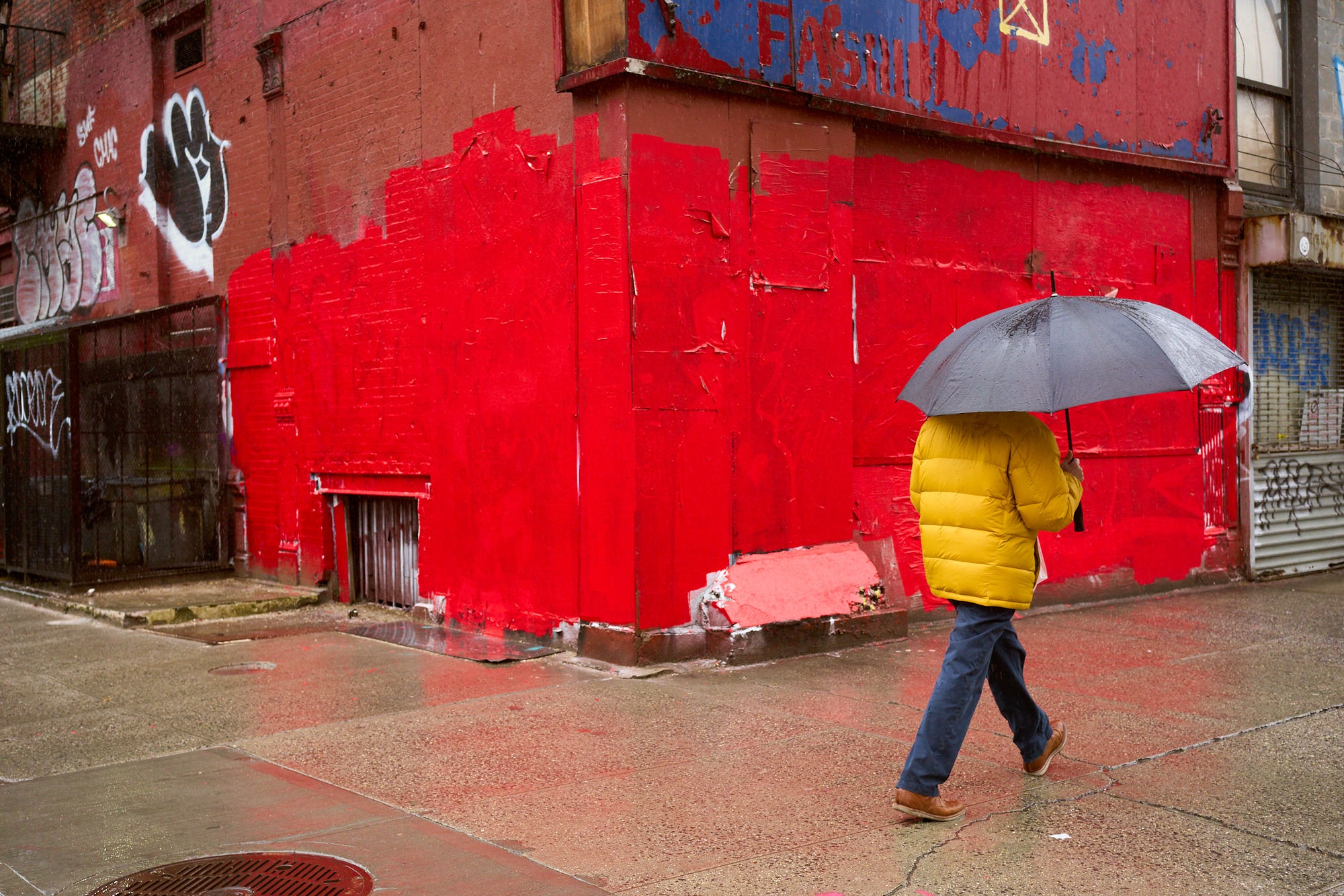 Photo by Ira Block. Sony α7C. Sony 40mm f/2.5 G. 1/400-sec., f/4, ISO 800
Sony 85mm f/1.8
The Sony 85mm f/1.8 isn't a lens that many people often think of when it comes to street photography, but it's one that's perfect for experimenting. The 85mm focal length allows you to create a bit of distance from your subject while keeping a more intimate feel to the image. Compared to wider lenses, this gives you a chance to slow down and figure out how you want to photograph people in busy surroundings without getting too close and disrupting the scene. This lens would be a good choice for someone looking for a slower-paced approach to street photography.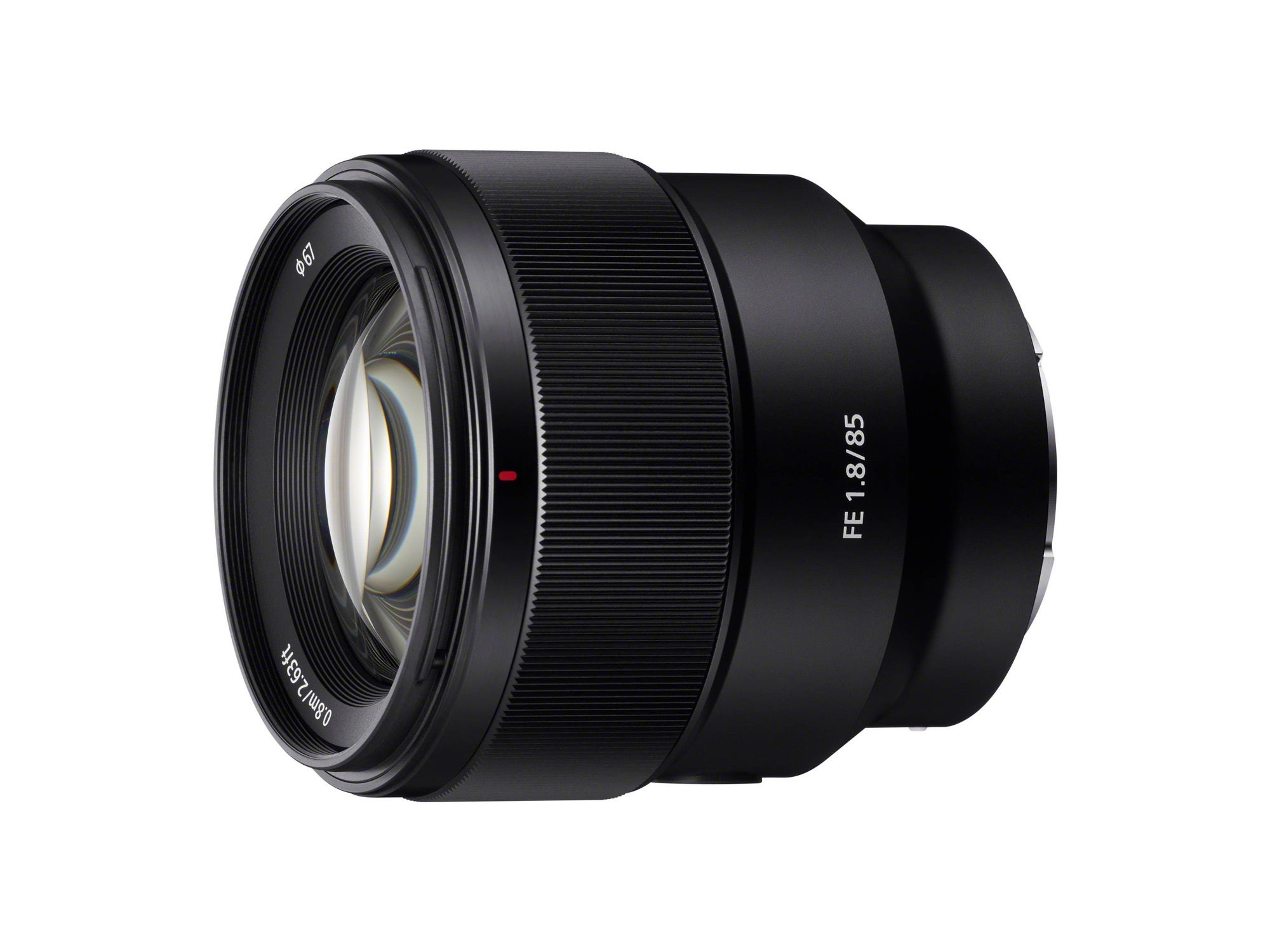 Street photographer Paola Franqui has used the Sony 85mm f/1.8 to bring a new perspective to her work. "The 85 can definitely keep up with glass more than twice its price. As a street photographer, I'm always on the move and one of the things I love most about my 85mm is how small and lightweight it is. I shoot a lot wide open and I'm also very impressed by the sharpness at f/1.8 and its creamy bokeh. Last but not least, one of its most important attributes is how fast it focuses; it helps me capture every moment!"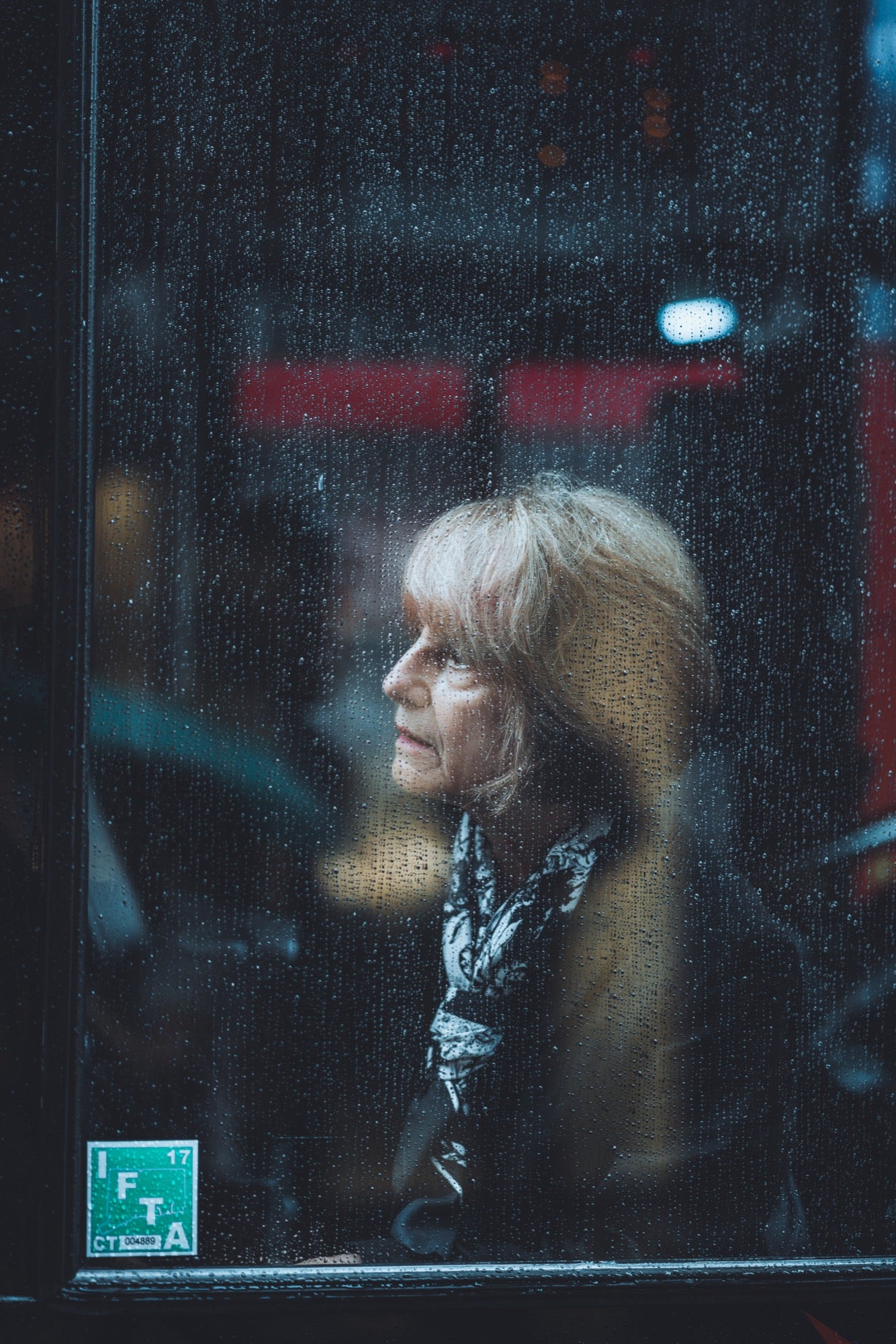 Photo by Paola Franqui. Sony α7R II. Sony 85mm f/1.8 lens. 1/200-sec., f/1.8, ISO 250