These images were taken just four days after the initial landfall of Hurricane Irma, on Florida's southwest coast. I had the opportunity to document three different communities as they dealt with the outcomes of the storm – Bonita Springs, Marcos Island and Immokalee. Traveling light and using a single compact camera, the goal was show the impact of this storm on people's lives after most of the news media had moved onto their next big headline. In the wake of the drama of a storm's landfall, the full stories unfold more slowly and I went to Florida to try to tell those stories.
The low-income neighborhood of Bonita Springs is mainly full of migrant workers and blue-collar families. This neighborhood had been gravely impacted by the flooding of the Imperial River. Many people still haven't returned to their homes, and some don't even have the choice, as over 1,000 homes have been declared uninhabitable. When I was there, some of them had five feet of water inside and there was sewage creeping into the streets with an overwhelming smell.
When you first come across the flooded neighborhoods in Bonita Springs it takes your brain a moment to understand what exactly it is you're seeing. The whole scene looks normal but pieces are out of place. Where you would expect asphalt streets, you see water. Where you would see cars, you instead see canoes, paddleboards and boats. But then other things are in place when you look down the streets like the mailboxes and homes, except everything seems a bit shorter because of the five to six feet of water bringing the ground closer to you. The water is a dark, dirty brown with an oil sheen over the top, the humidity is so thick you could cut it with a knife, and eventually a breeze comes by, a strong waft of backed up sewage mixed in with the dirty water hits your nose and becomes nauseating.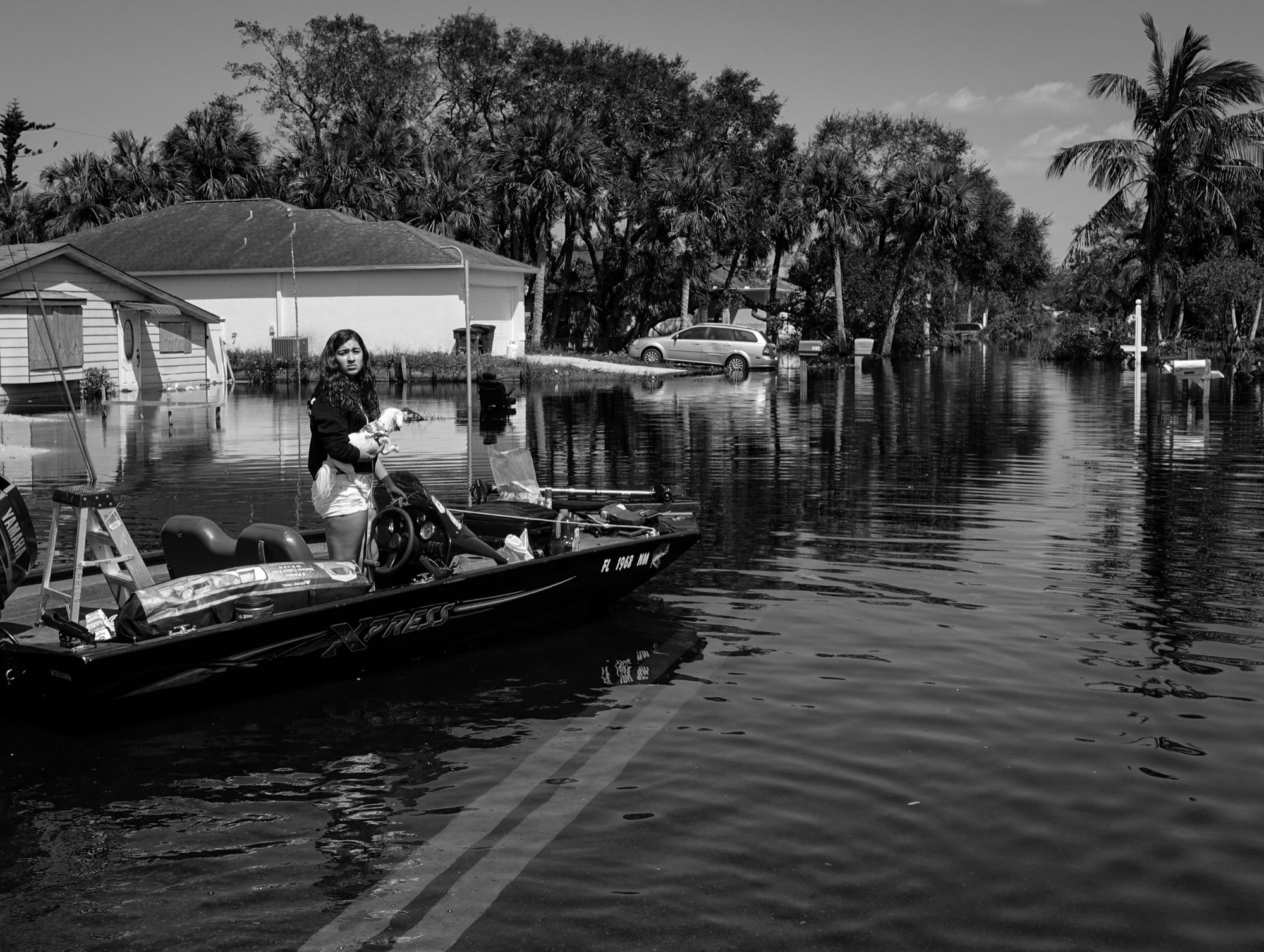 Sony RX100 V. 1/1000-sec., f/4.5, ISO 160
Before I started my walk through a flooded street in Bonita Springs, I came across a boat where a young teenage girl stood holding her small dog that looked like a maltese but I couldn't tell for sure. Her parents were both wearing waiters and making trips back and forth with supplies given out by the FEMA Aid tent located on the corner behind me.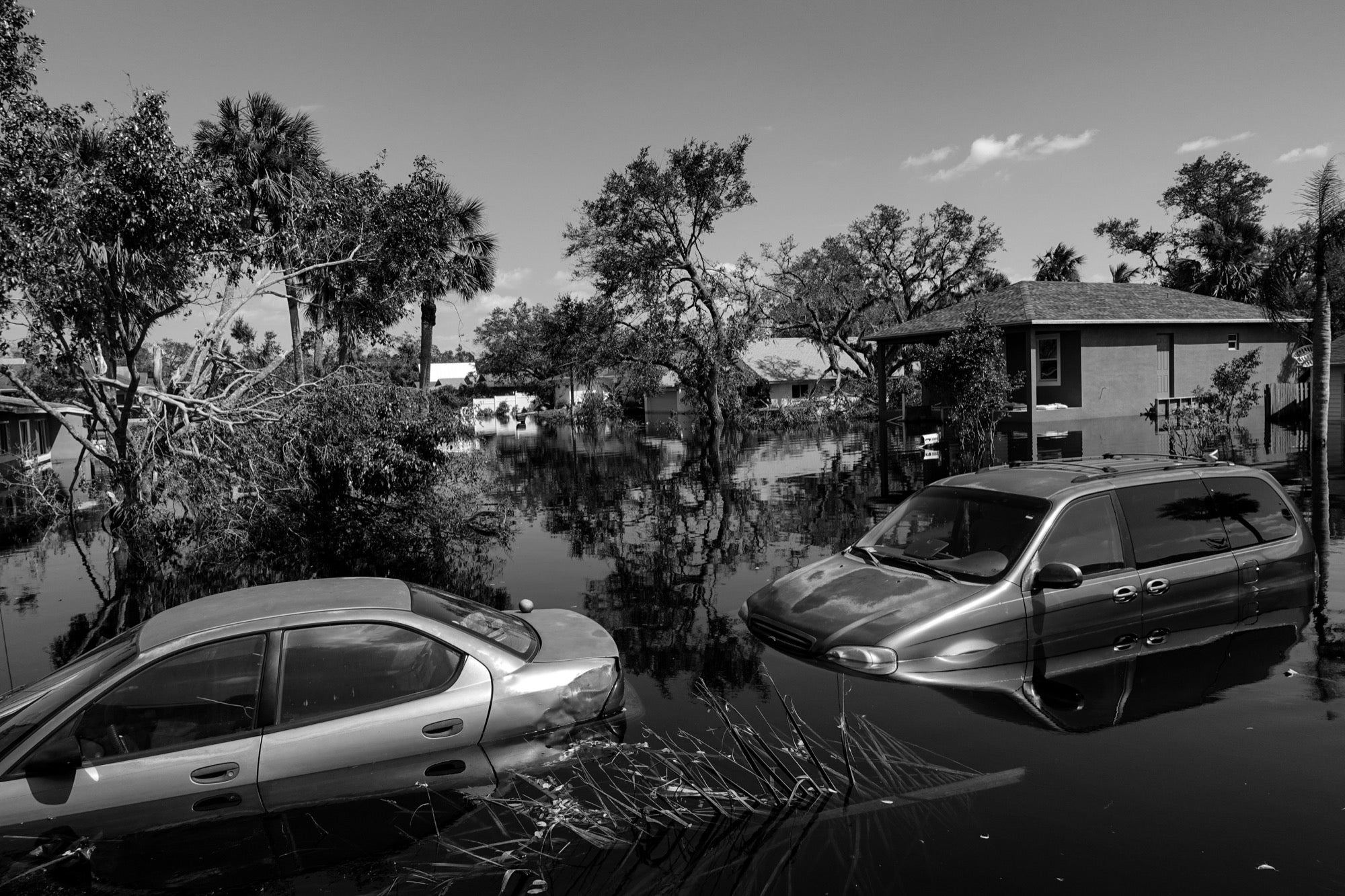 Sony RX100 V. 1/1000-sec., f/4.5, ISO 160
I started my walk through the oily waters down the neighborhood street. There was a post-apocalyptic feeling in the air. You see a few people here and there, but the neighborhood is pretty much abandoned. It was very quiet and all I could hear was the sound of me slugging through the water. I kept an eye out for alligators or large pythons. I'm definitely paranoid because of the dark color of the water, fallen trees and other objects that made for a lot of places for savage reptiles to hide. I spoke briefly with a gentleman before heading into the water, he mentioned that alligators had been spotted and how they could hear their heavy rumbling breathing from time to time. Cars pop out from the water like artifacts of a fallen society.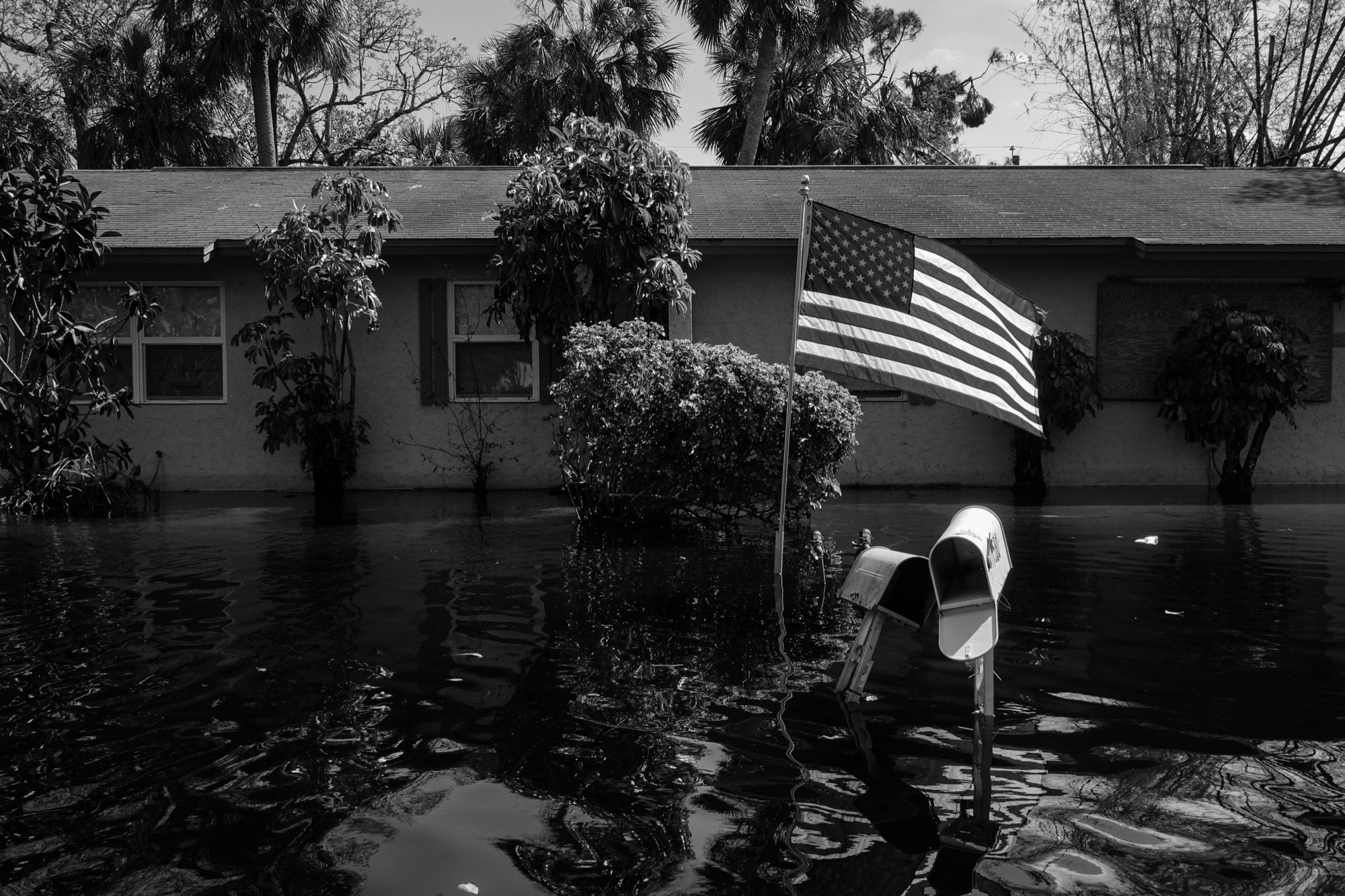 Sony RX100 V. 1/800-sec., f/4.5, ISO 160
I made my way down to the first intersections, and right before getting there I came across a house with a flag pole popping out of the water. The American flag blew in the hot air and two mailboxes were poking out of the water. This was a common image in the neighborhood.
Sony RX100 V. 1/1000-sec., f/3.5, ISO 160
When I got to the intersection, the street sign pole leaned and looked like it was about to fall over after it's intense battle with the strong winds thrown at it by Irma. Trees were hanging out over the streets that couldn't stand up to the winds, chain link fences meant to keep out intruders and keep in pets couldn't handle the the overwhelming amount of water creeping through the holes.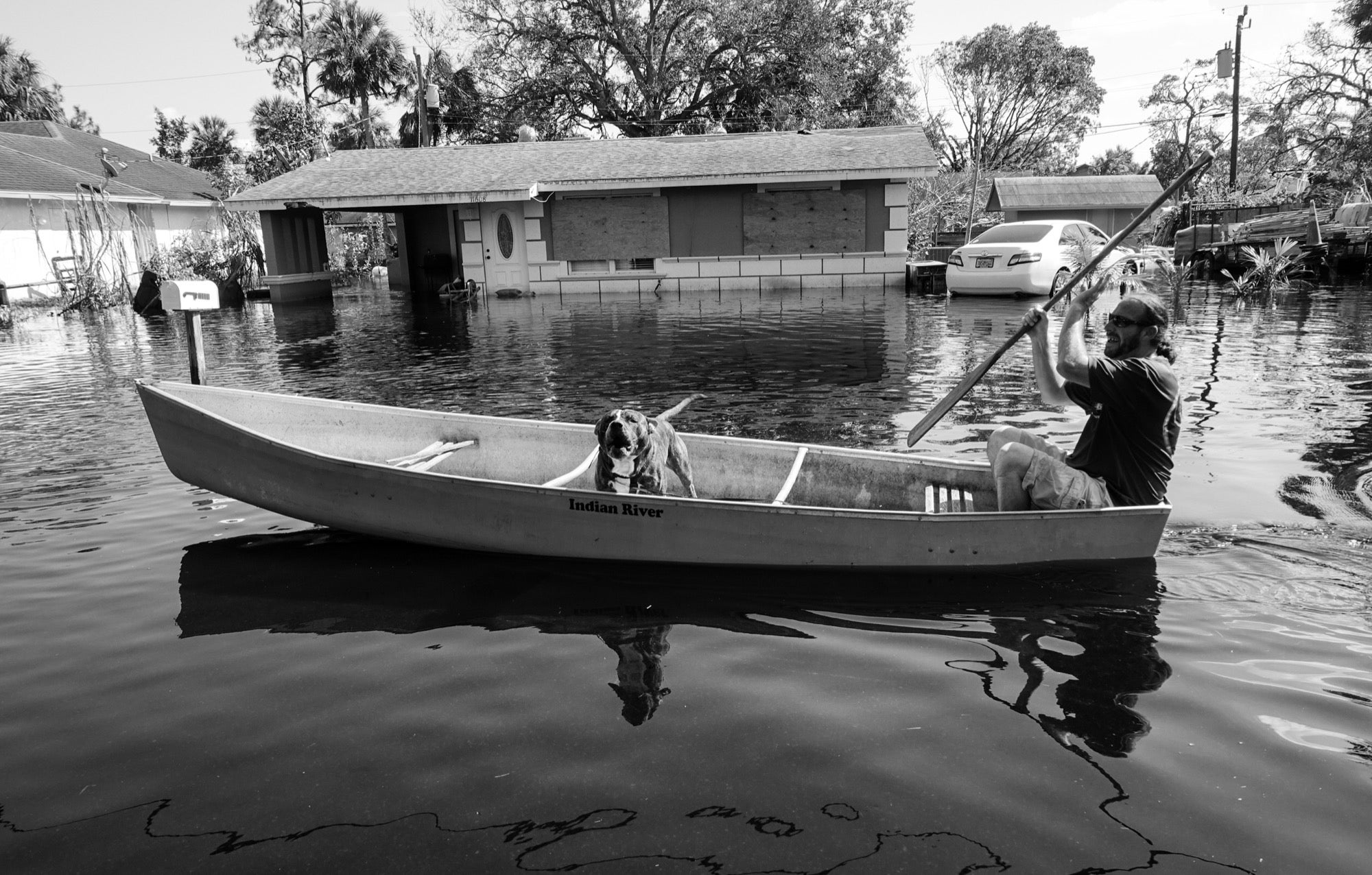 Sony RX100 V. 1/640-sec., f/4.5, ISO 160
I turned the corner onto the next street and I could see a canoe coming toward me from 200 yards away. As the canoe got closer, I could see a man sitting in the back trying to paddle and guide through the debris, with his canine companion standing up front as a lookout. He paddled by me while his dog barked at me warning me not to get any closer. They disappeared as quickly a they had appeared, like a mirage in the middle of the desert.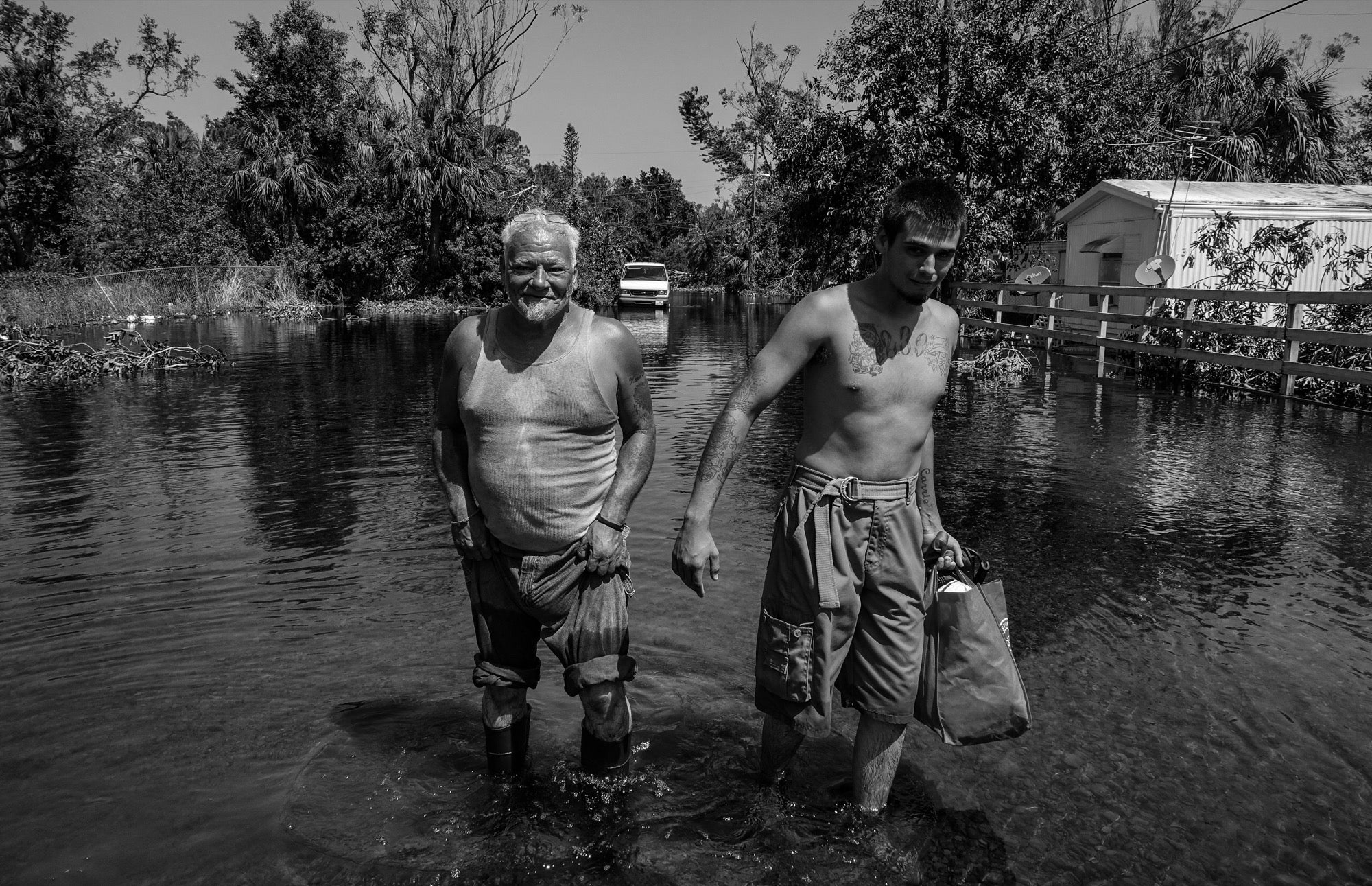 Sony RX100 V. 1/1600-sec., f/4.5, ISO 250
I walked down a few streets and came across a small trailer park community snuggled deep in the back of the neighborhood – closer to the flooded streets. A couple of guys walking away from the trailers came toward me. We talked a little and they gave me the lowdown on the trailer park community with was mostly inhabited by migrant workers. The flooding was caused by the massive rainfall from the hurricane, overflowing the Imperial River right behind the trailer park and pouring water into the streets. There were a lot more people here, most of them had nowhere else to go and all they could do is just stick around hoping help would come. They told me to be careful and keep an eye out for creatures in the water.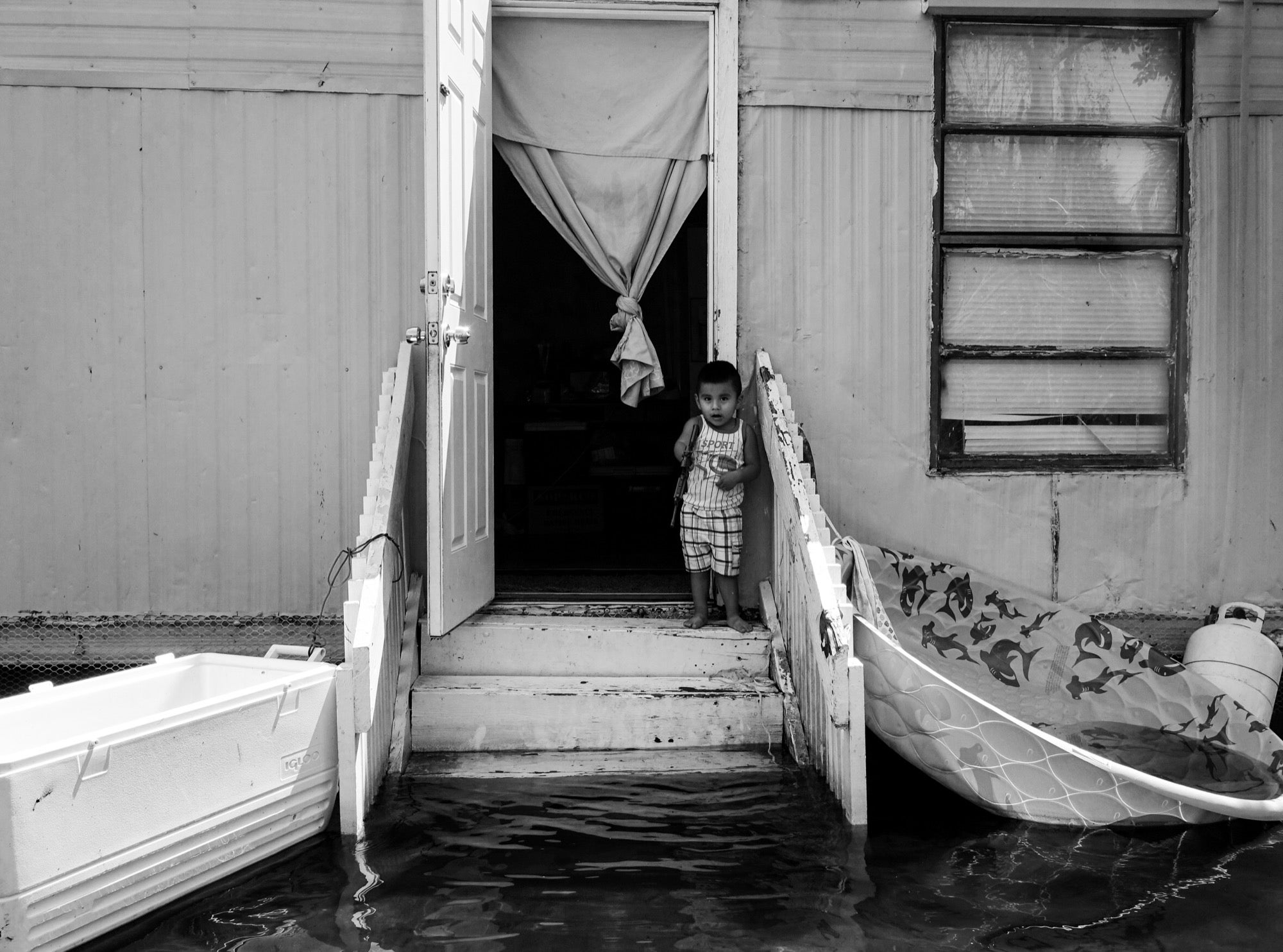 Sony RX100 V. 1/800-sec., f/4.5, ISO 250
I continued down the road until I came across the first trailer, where a young boy stood on his front stairway guarding the house from intruders with his toy gun. We smiled at each other, then he started fake shooting as his duties had begun. I ducked back and forth dodging his imaginary bullets and crept down to take his photo. I started to walk away and we smiled at each other one more time. I don't know why, but the innocence of this young boy gave me some sort of relief during this disaster. I guess seeing his imagination and positive view despite the horrible situation somehow helped battle the sadness in the air.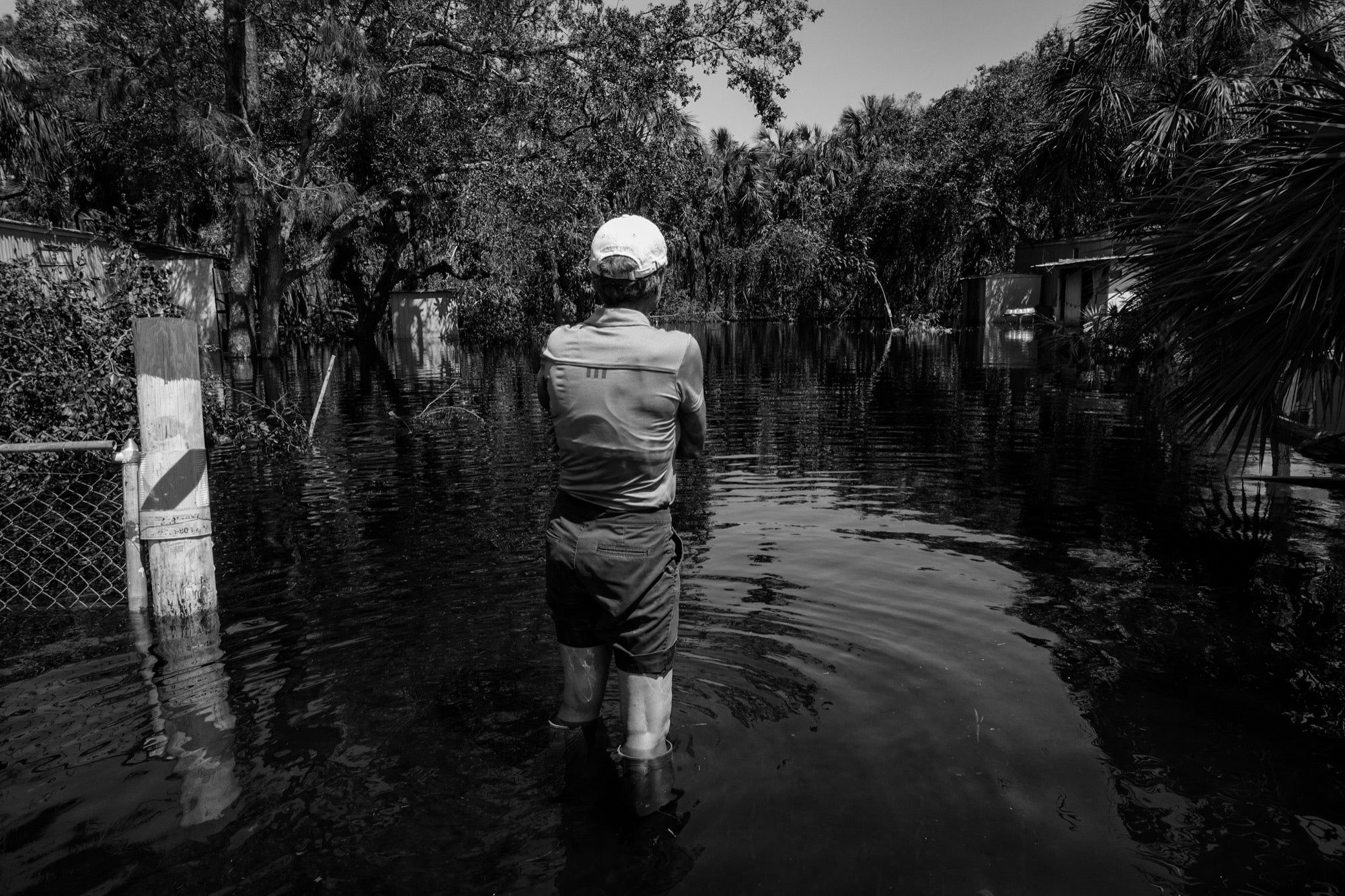 Sony RX100 V. 1/1250-sec., f/4.5, ISO 250
I walked deeper into the wooded area where a few more trailers were located. I came across a group of five who were out looking for pets left behind during the evacuation. I walked with them for a while in their search.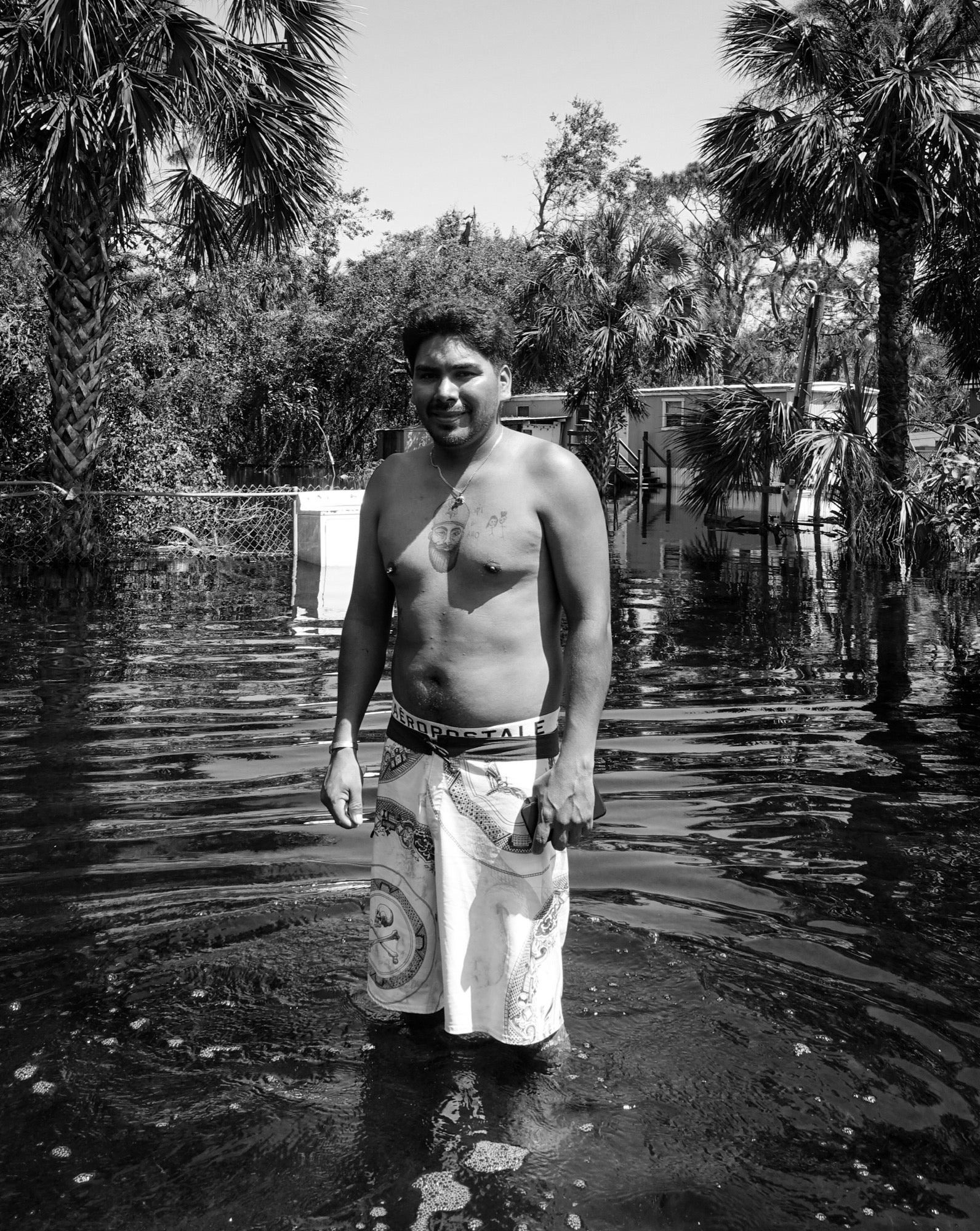 Sony RX100 V. 1/800-sec., f/4.5, ISO 250
At some point I decided to break from the group and made my way to a young man sitting on the front steps of his trailer. His name was Marcos and he lived with his mother, who was out grabbing some supplies for the house. We chatted for awhile and he explained to me that I was the first person to come by and check on how they were doing. They have been on their own since the flooding and no aid had come by to offer any help. He then pointed at a Chihuahua tattoo on his right calf, and with a sigh of sadness explained that someone had actually killed his dog during the flooding. He couldn't understand how someone would do such a horrible thing under such terrible circumstances. I was thinking the same thing and had a hard time wrapping my head around it as well. We chatted for little bit more and I ask if he would be willing to have his portrait taken. He happily agreed, and told me to tell his story. "Make sure to tell people what we are going through, and that we all still need help. Even if the mainstream media is no longer interested in our current situation." Marcos had a good point, by this time, Hurricane Maria was in the crosshairs of all major news channels and Irma seemed like old news.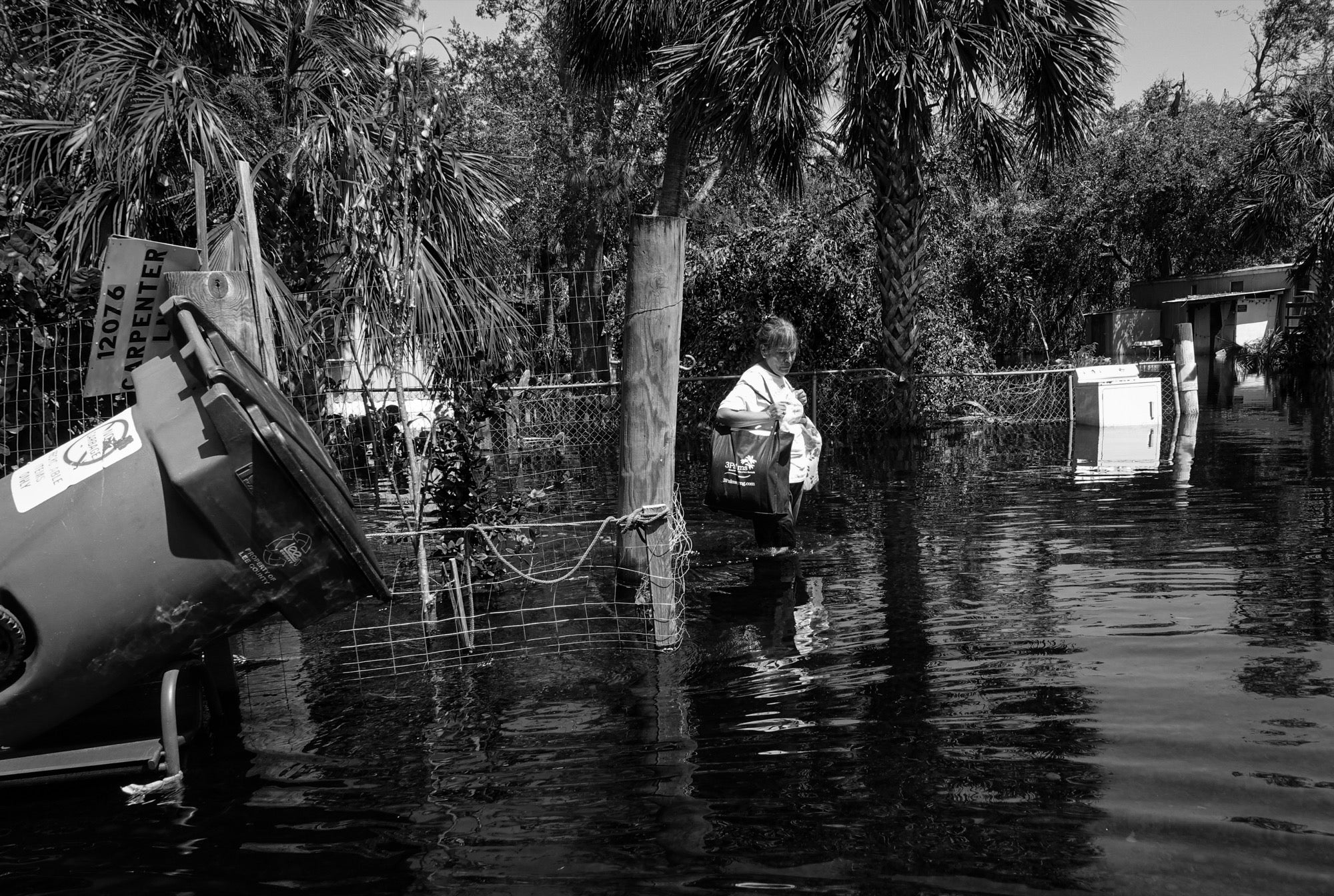 Sony RX100 V. 1/800-sec., f/4.5, ISO 250
All of a sudden his mother came around the corner with her supplies. We both grabbed the bags from her and carried them into the house. I said goodbye to Marcos and headed out to the main road as the cheap rubber boots I bought started cutting up my feet. With fear of the dirty water creeping into my bloodstream, I felt like it was a good time to get out of the water before an infection could start to develop.
Sony RX100 V. 1/1000-sec., f/4.5, ISO 160
On my way out of the neighborhood, a man passed me pushing some of his personal belongings in a kiddie pool through the water. A nude statue stood in the background like an Ancient Roman relic. Something about the statue gave a feeling of a fallen society with everyone picking up the pieces to rebuild from what remained.
I decided to spend my next of couple days on Marco Island. Unlike Bonita Springs, this community was devastated by the massive winds of Irma. When I arrived, trees were leaning on houses, garbage was scattered everywhere and power lines laid across the streets. Homes were badly damaged with roofs blown into neighbors' yards. Many were declared unlivable, leaving residents left with no choice but to start over from nothing. Similarly though to Bonita Springs, that eerie feeling was still in the air. People were gone and the blocks were now inhabited by vacant and boarded-up houses.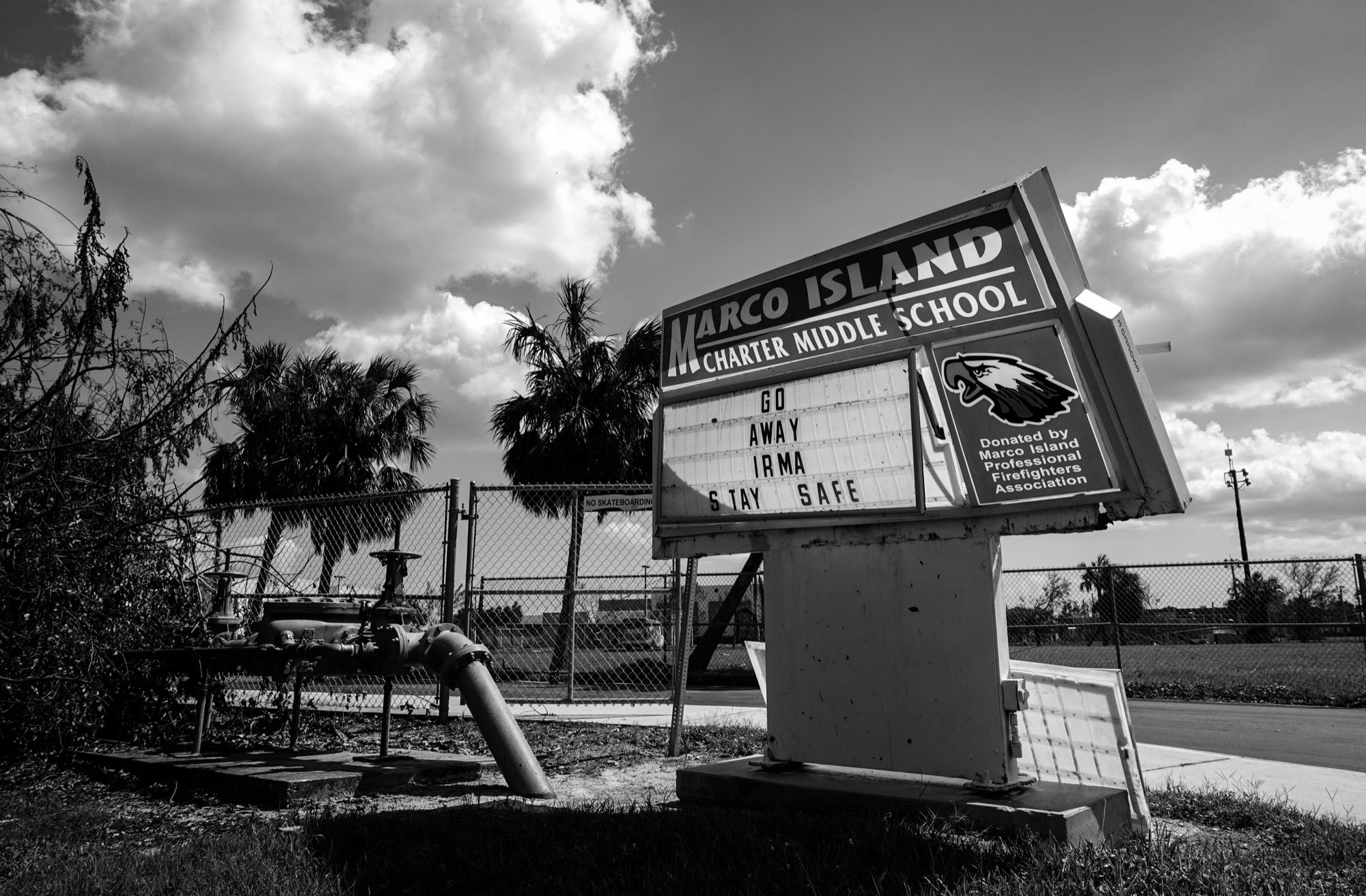 Sony RX100 V. 1/1250-sec., f/4, ISO 100
I parked at Marco Island High school, where the monument sign looked like two large hands grabbed each corner of it and twisted it like a wet washcloth. Amazingly the letters were still up on the sign asking Irma to go away, but it was obvious Irma didn't listen. I walked around the neighborhood for a couple hours, stepping over downed power lines and fallen trees, before deciding to make my way into the trailer park community called Riverwood Estates. You could really see the power of Irma's winds here. Carports completely ripped down and some houses blown entirely in half, exposing the interiors of living rooms and kitchens.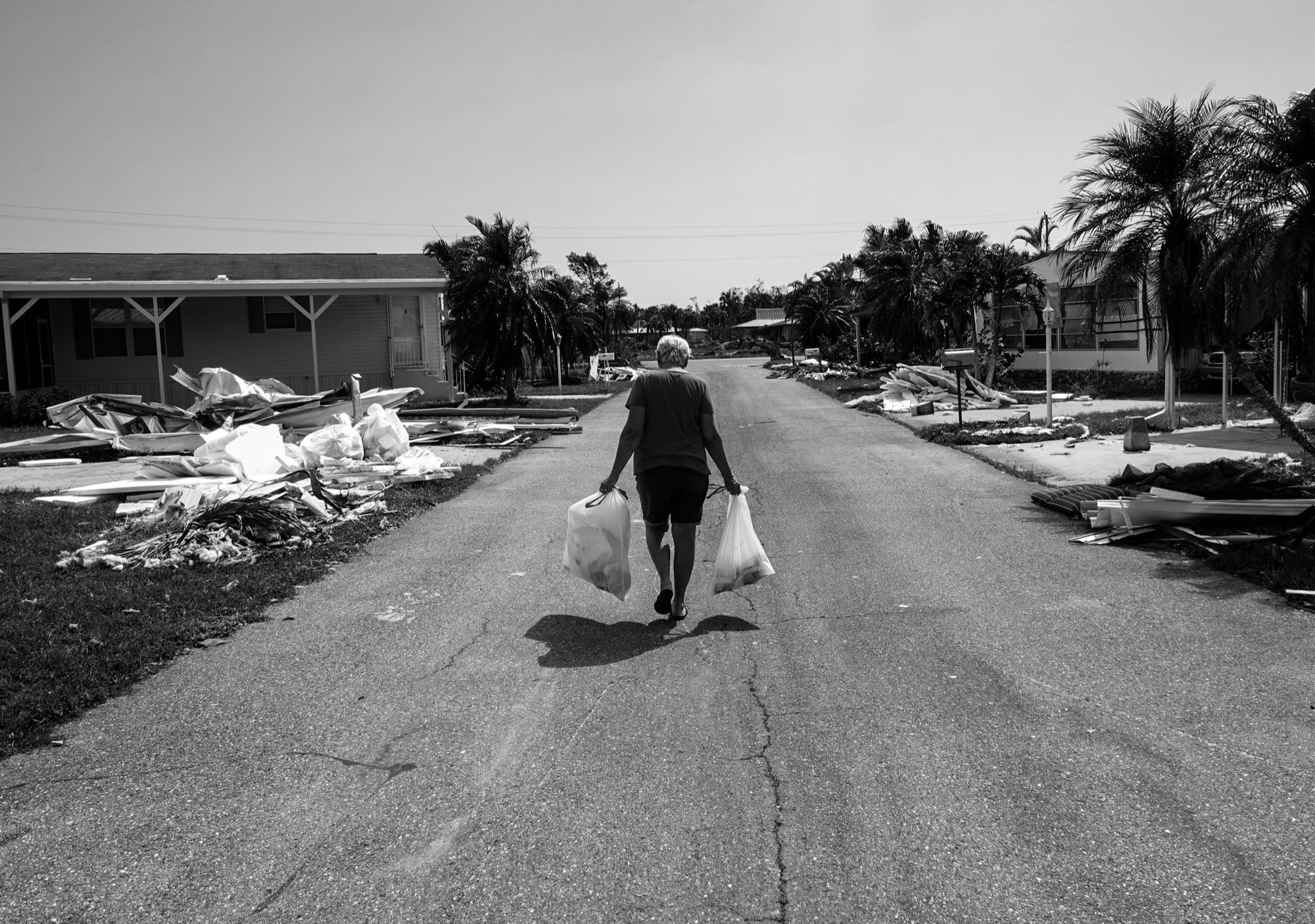 Sony RX100 V. 1/1250-sec., f/4.5, ISO 125
An elderly woman walked by me holding two trash bags as she made her way down the debris-ridden street to add to the growing pile of garbage at the end of the main road. I asked her if she needed any help and she refused several times. We talked briefly and she described how tough it was to leave during the evacuations. The highways were pretty much parking lots because of the massive amount of people trying to leave at the same time. A normal three-hour trip would take at least ten times longer. She was just relieved to be back home and not stuck in traffic anymore. We went our separate ways and I continued to walk around soaking in the devastation around me.
The place I visited was a small migrant farming town called Immokalee. This town already suffered from extreme poverty and a growing HIV epidemic. Struggling with the existing poor living conditions, now people had to deal with the hurricane taking away their homes and resources. Many homes, mostly uninsurable trailers, were gone or heavily damaged. The crops where they work had been flooded or destroyed by the wind. These families still had people to support and mouths to feed, and were living with no idea of when they would have an income again.
One of the first things I noticed in Immokalee was the group of large pickup trucks with cases of water and volunteers tossing out water to people like participants in a parade tossing out candy to children watching. In a four-block-square, almost every corner had volunteers from the community and other outside communities were offering free food to the local residents. I walked by a young boy enjoying a hotdog with ketchup smeared all over it, and on the other corner a few people stood at a plastic table receiving food from deep tinfoil trays.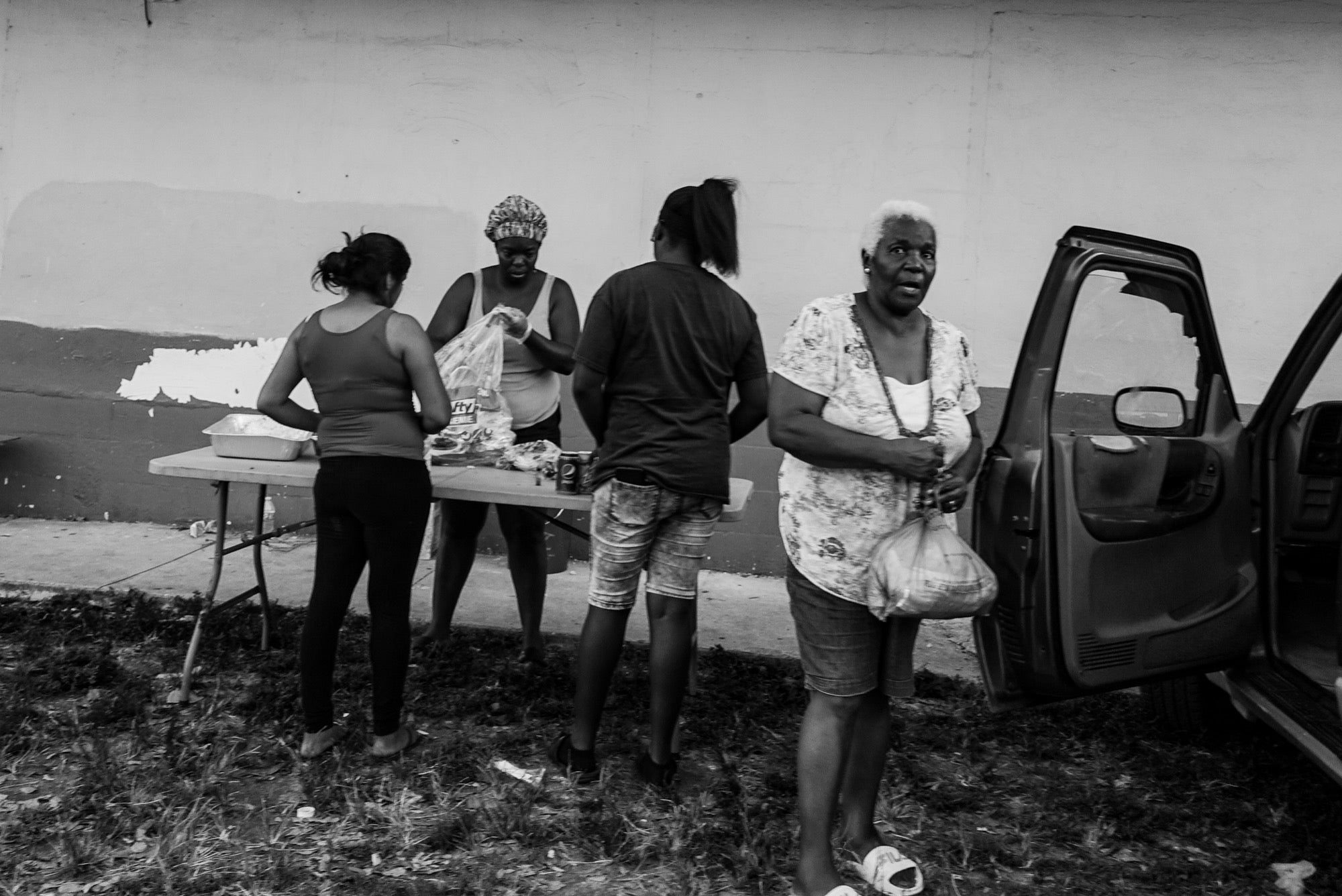 Sony RX100 V. 1/200-sec., f/1.8, ISO 100
I walked around the neighborhood racing the sun while it was in the process of setting. Chickens were running loose in the streets and clothes were either draped over chain link fences or hanging on makeshift clothing lines. The whole neighborhood was still without power and it seemed like it would stay that way for awhile. I came across a house with a women cutting large broken branches into small pieces with her chainsaw. The whole yard was covered in the severed limbs from the large tree that stood in her front yard.
Sony RX100 V. 1/200-sec., f/1.8, ISO 100
This day was my last for taking photos and on the drive home I tried to process everything I had witnessed and all of the people I had connected with. The real story comes after the storm with the community left picking up the pieces. Florida has a lot to recover from, but I witnessed strength and optimism from everyone I encountered.
Robert LeBlanc is a documentary photographer based on the West Coast. His photojournalism is all about grittiness and authenticity. See more on his website. Follow him on Instagram @photosbyrobertleblanc