This article is part of a series with Kamran Ali (@kamranonbike). Kamran left a career as a software engineer in Germany to ride his bike around the world and to photograph his travels. You can see more in our other articles about his journey, From Argentina To Alaska: Traveling The World, Slowly, With A Camera, The True Value Of A Photograph and Do You Believe In Ghosts? How I Captured A Sunrise Like No Other.
Over the last five years, I have been on a journey. I traded in my life as a software engineer in Germany, packed a pair of Sony cameras, a handful of lenses, some clothes and supplies and I got on my bicycle to get a unique look at the world. In that time, I've ridden some 50,000 kilometers and visited 43 countries, all on my bike. But traveling by bicycle isn't always traveling and during the last five years, I've spent numerous nights in all sorts of places—in the camped in wilderness, in all sorts of abandoned buildings, ghost towns, bus stops, offices and even a bathroom. Looking back on it, part of the adventure was finding some of the unusual places where I spent the night. Here's a look at some of the most unusual places where I slept as I rode from Argentina to Alaska from 2016—2019.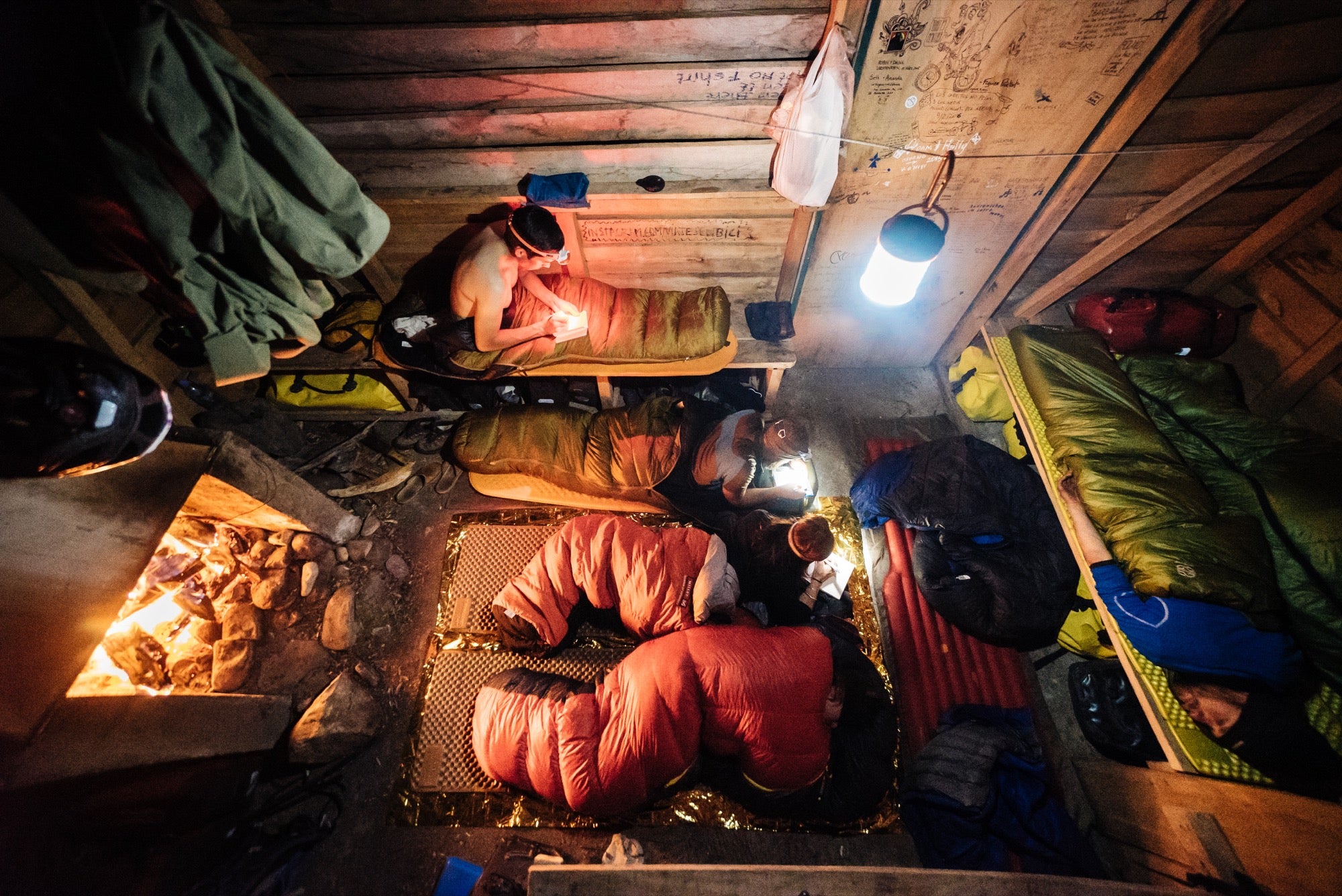 Sony α7s. Sony 10-18mm f/4. 1/13 sec, f/4, ISO 12800.
While cycling in Southern Patagonia, I took shelter in a roadside hut. We were seven cyclists from different parts of the world crammed in a tiny cabin. We collected wood from the forest to make fire, cooked food, gave treats to each other, and shared stories. We felt lucky that we could find a place which protected us from cold rain and wind for the night. That day, we all agreed on one thing – that we don't need much to be happy in life.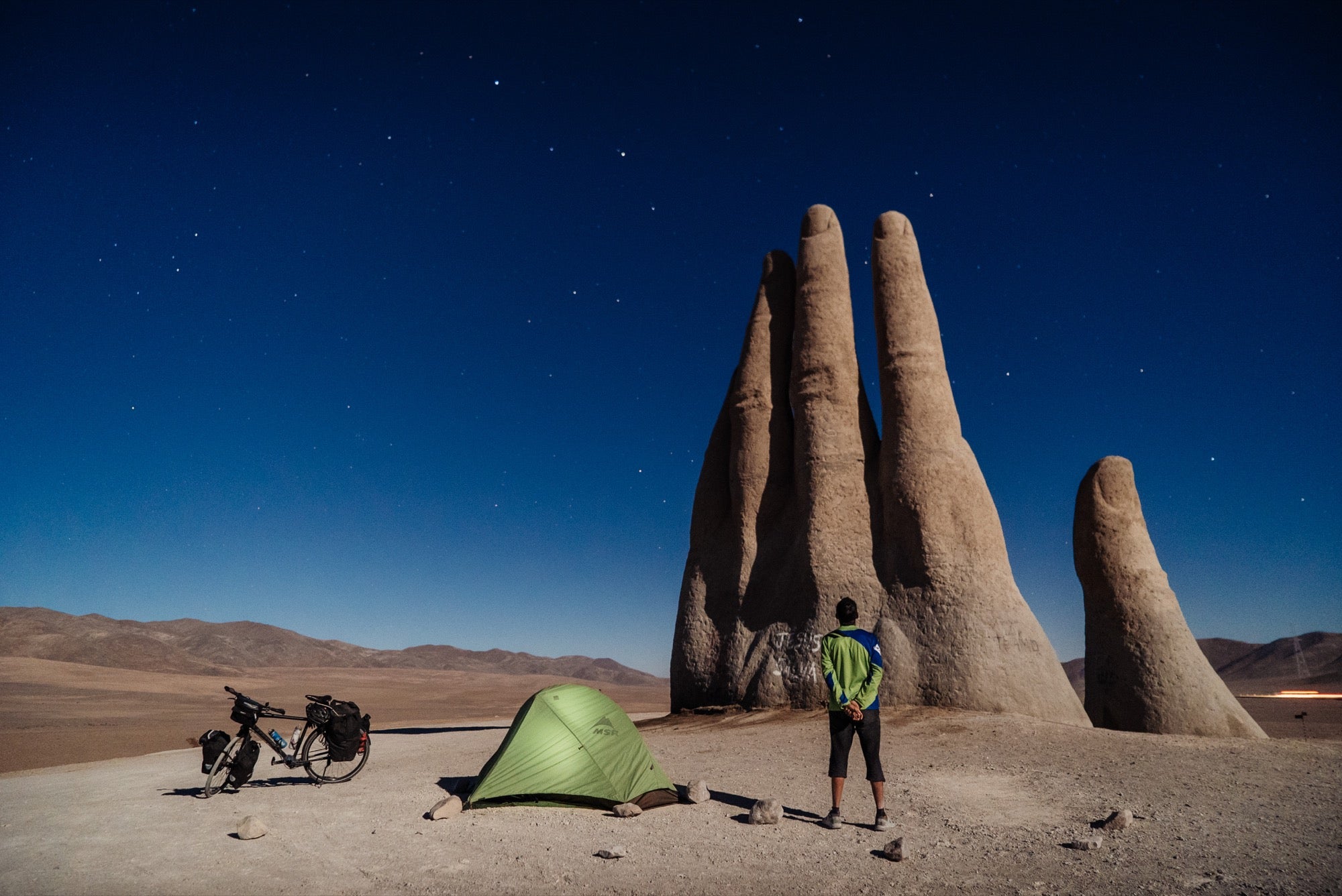 Sony α7s. Sony 24-70mm f/4. 2.5 sec, f/4, ISO 3200.
They call this place "Mano del Desierto" or, "Hand of the desert!" It is an 11-meter tall hand breaking through the sand of the desert moonscape in Northern Chile. This surreal sculpture represents human vulnerability and helplessness with a universal "stop" sign, a gesture I often used to stop passing vehicles and ask for water in the driest place on the planet. I spent a night behind this hand, which protected me against the wind. I captured this shot in the moonlight.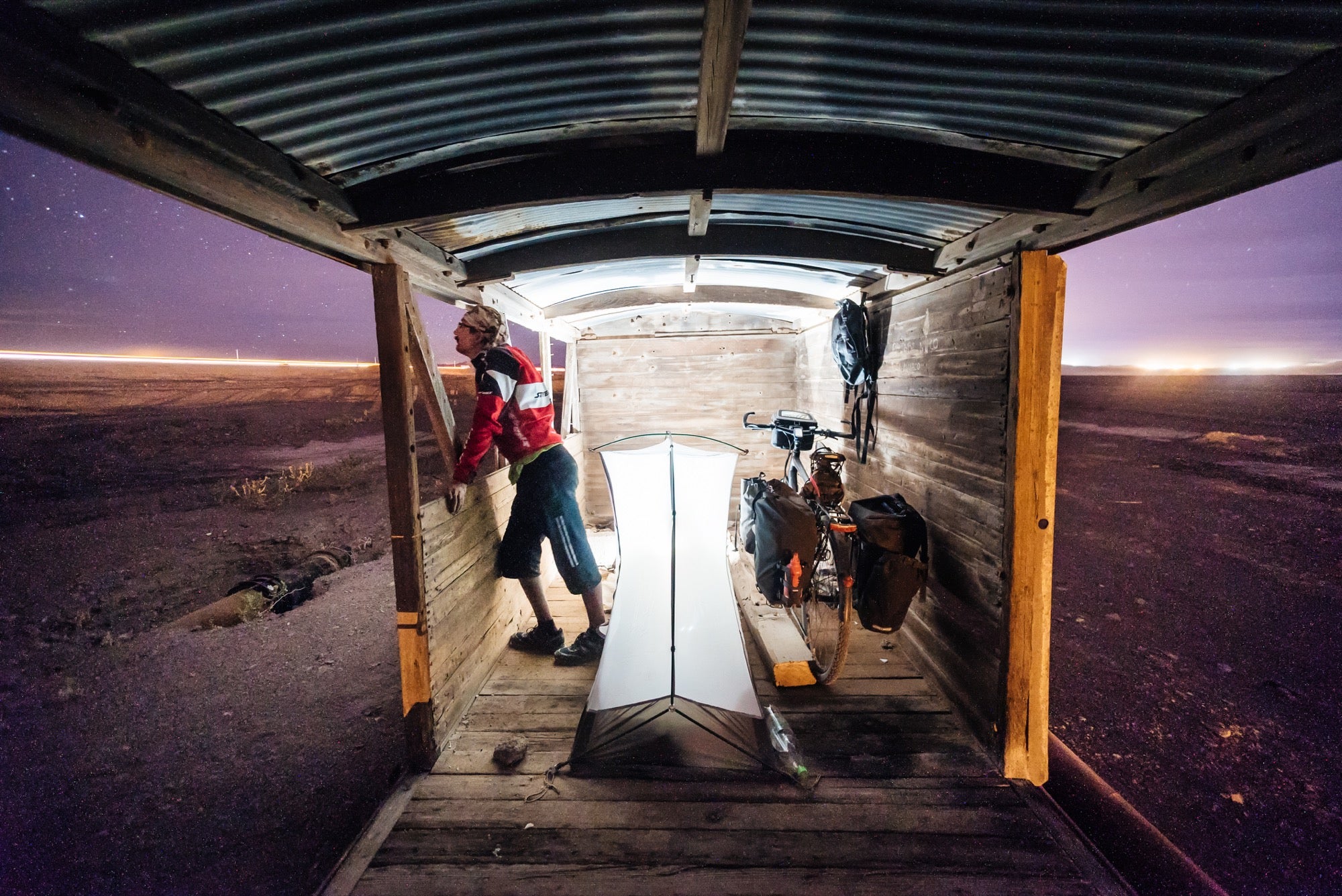 Sony α7s. Sony 10-18mm f/4. 30 sec, f/4, ISO 3200.
As the darkness fell on the Atacama Desert in Chile, I spotted a cabin away from the road. I pushed the bicycle through the sand and found out it was an abandoned railway wagon. The door and window panels were missing, but the wooden floor was intact with barely enough space to pitch the tent. Despite the light pollution from the traffic and some clouds, the Milky Way was clearly visible.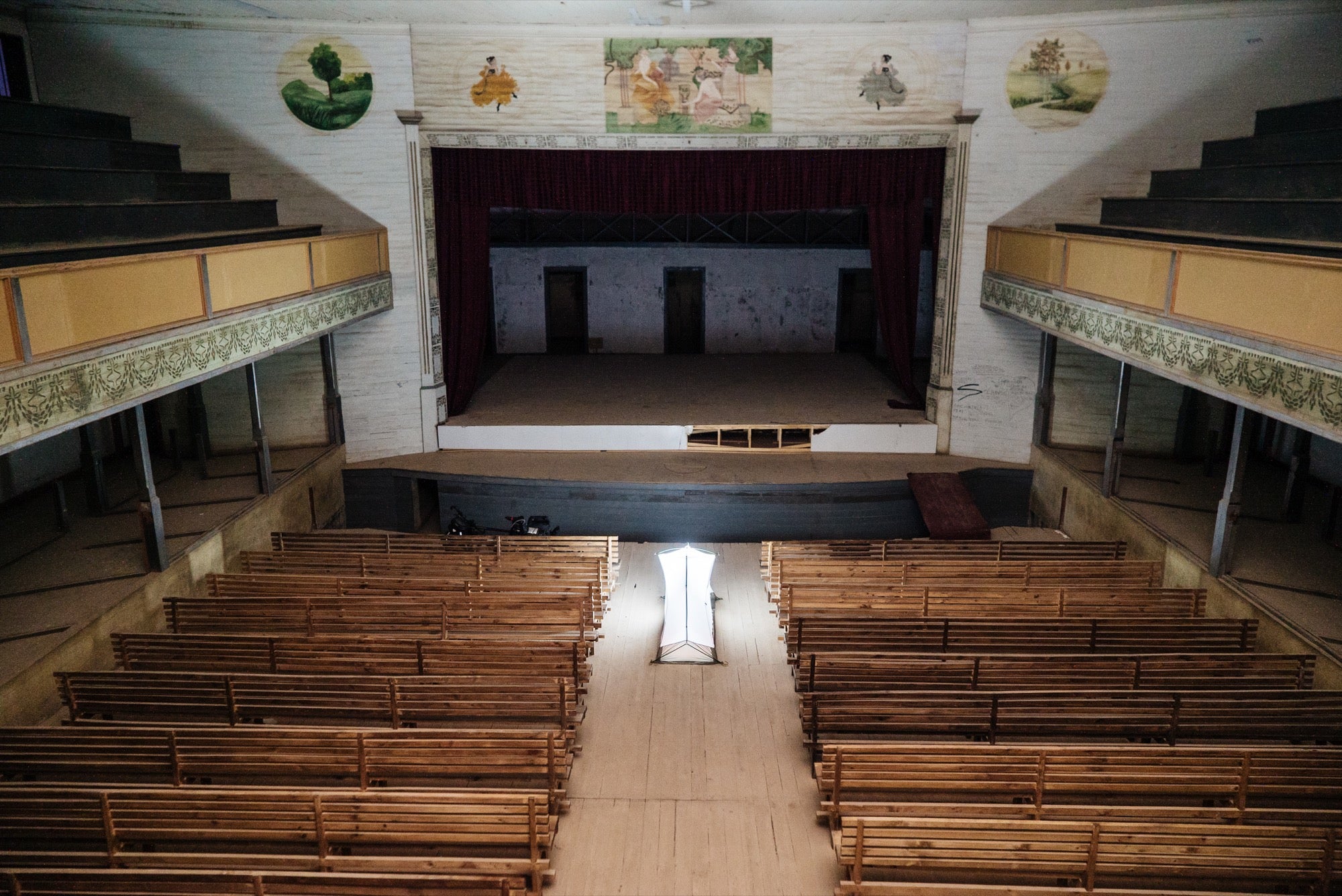 Sony α7s. Sony 24-70mm f/4. 25 sec, f/4, ISO 3200.
For once, I got to camp inside an abandoned theatre of a ruined city in the Atacama Desert. Chacabuco used to be a community of 5000 inhabitants who worked for nitrate mining back in the 1920s. It turned into a concentration camp in the 1970s. Now it consists of hundreds of abandoned houses and other building structures. As if spending the night in the crumbling theatre in a ghost town wasn't spooky enough, I would hear the creaking door sound from time to time. Despite the strong urge to pee, I didn't dare to come out of the tent until the morning.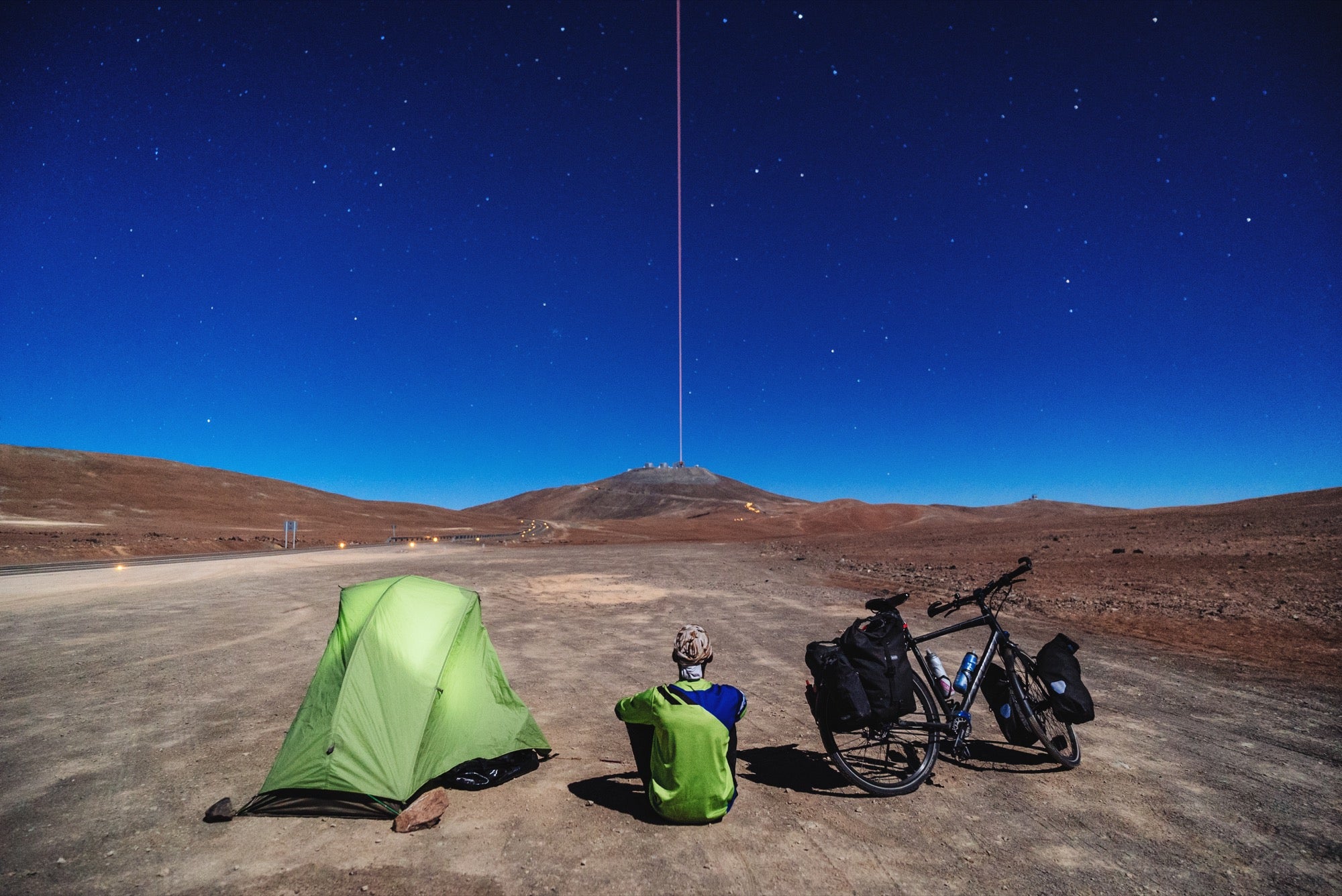 Sony α7s. Sony 24-70mm f/4. 5 sec, f/4, ISO 3200.
While camping in the parking lot of the Paranal Observatory in the Atacama Desert, I had to be careful not to create light-pollution. Paranal is the second-largest optical-infrared observatory in the world. Due to the atmosphere of the earth, the images of the celestial objects appear blurry. To address this issue, the observatory shoots four laser beams into the sky, creating an artificial guide star in the earth's upper atmosphere. By looking at the shape of this artificial star, the adaptive optics system can measure the image blur caused by the earth's atmosphere and compensate to get sharp images. In the morning, I cycled to the observatory to and got to see giant telescopes from up close.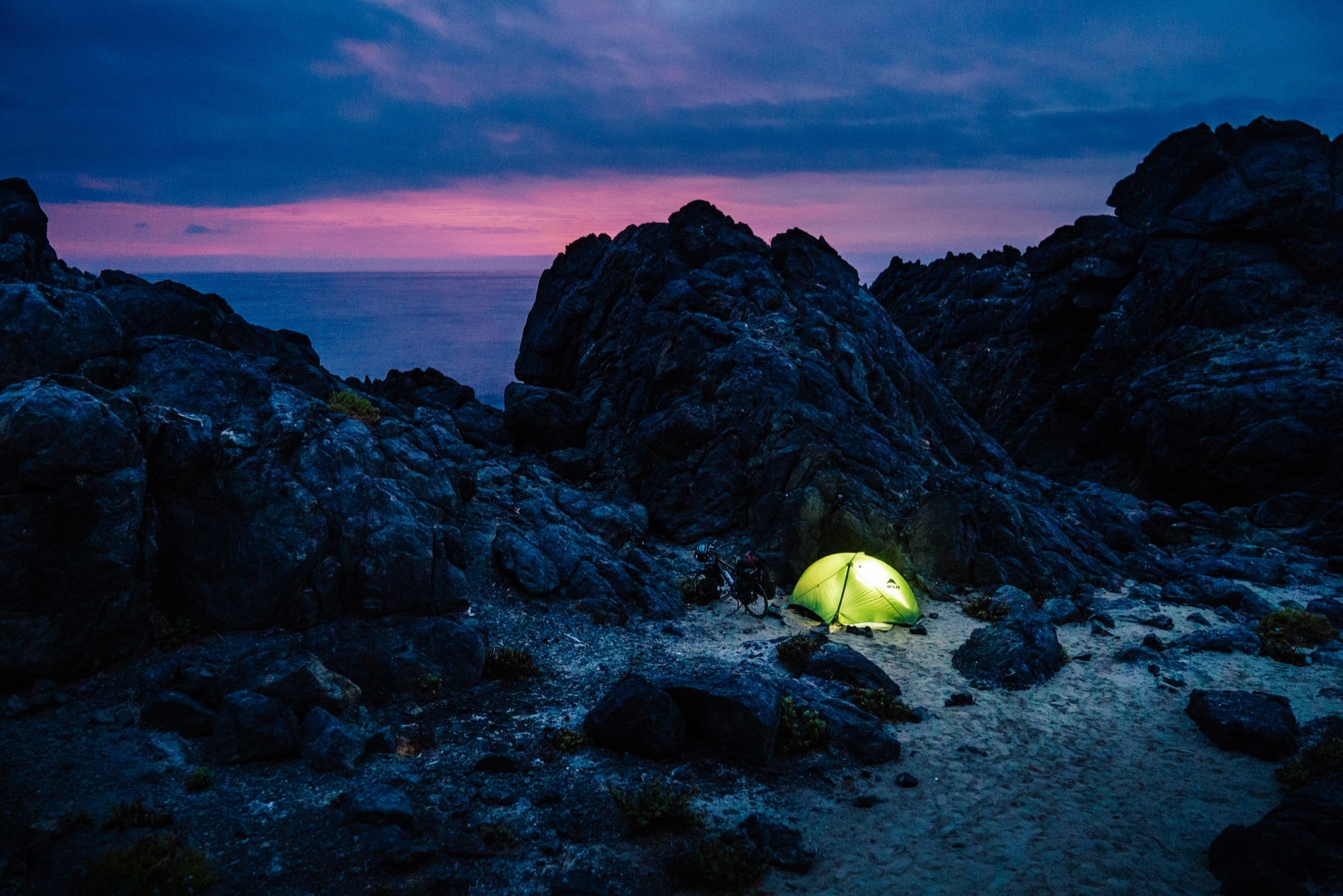 Sony α7s. Sony 24-70mm f/4. 10 sec, f/4, ISO 3200.
While camping along the Pacific Coast in South America, I secured the food by fastening it on the tripod before going to bed. At night, I heard a ruffling sound and hurriedly came out of the tent. I saw a bunch of rats hopping around as if doing a dance of death around my camp. Lest they attack my tent, I decided to surrender some food to the rats. I took a loaf of sweet bread and placed it in a plastic bag far away from the tent. In the morning, there was no trace of the bread, not even the plastic bag. It was all gone. Throughout the day, I couldn't cope with losing from the rats.
Sony α7s II. 2.5 sec., f/2.8. ISO 3200.
Cycling the Baja California in Mexico, I ended up staying with Coco, who had built an oasis in the desert. He had decorated this place with colorful panties, bras, and other memorabilia. Coco's legs were amputated, and he was an unusual character full of contrasts. He gave me a warm place to stay.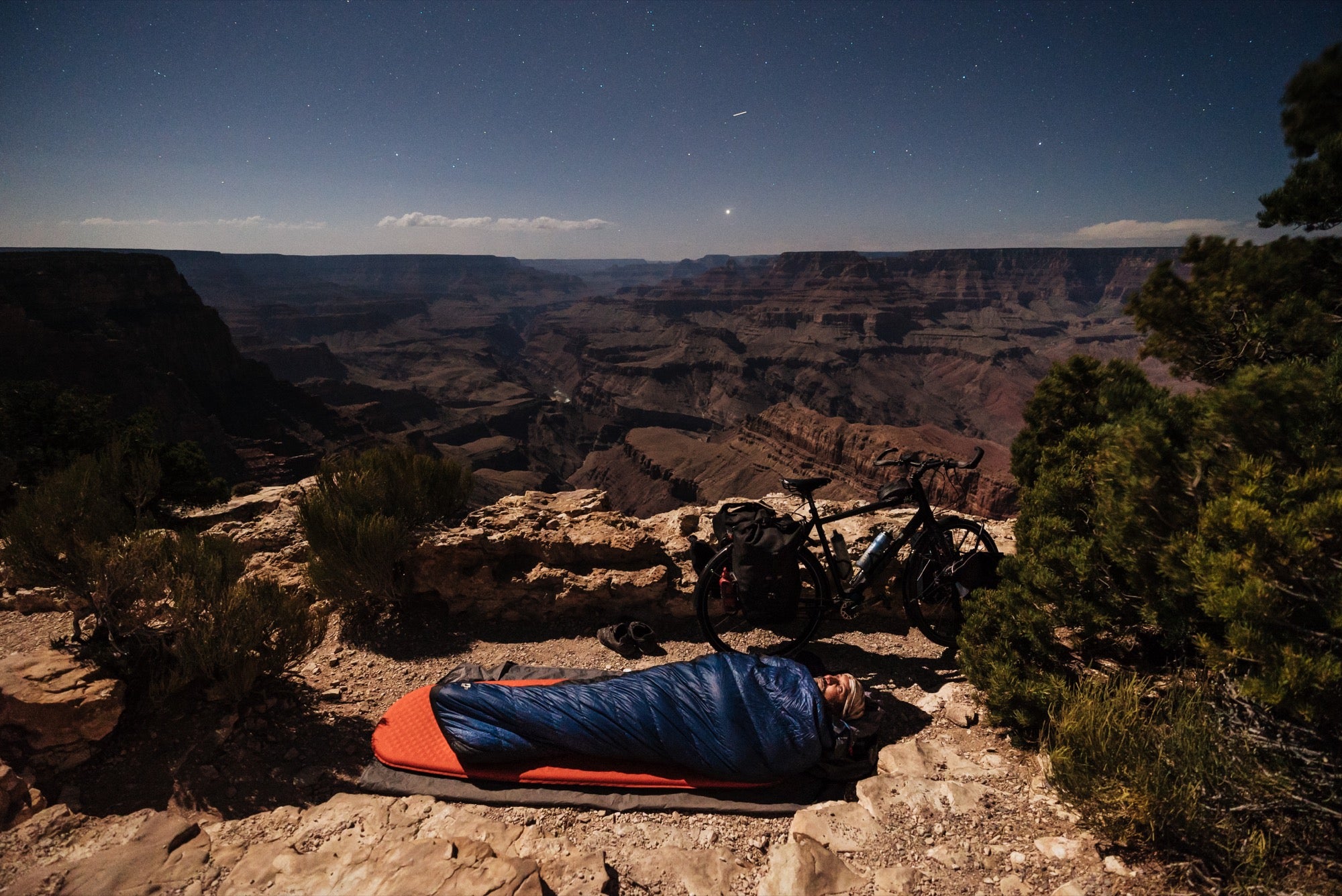 Sony α7s II. Sony 16-35mm f/2.8 G Master. 4 sec, f/2.8, ISO 3200.
I spent a little too much time taking pictures of the sunset at Lipan Point in the Grand Canyon, Arizona. It was already dark, so cycling wasn't an option. Due to the "No Camping" sign, I ended up sleeping on the ground under the open sky. A cold wind was blowing, so I took shelter behind a tree in a relatively secluded place. I took this picture in the moonlight. I had hardly slept for five hours when a bus full of Japanese tourists arrived at the viewpoint long before the sunrise. I packed everything and joined them for photography.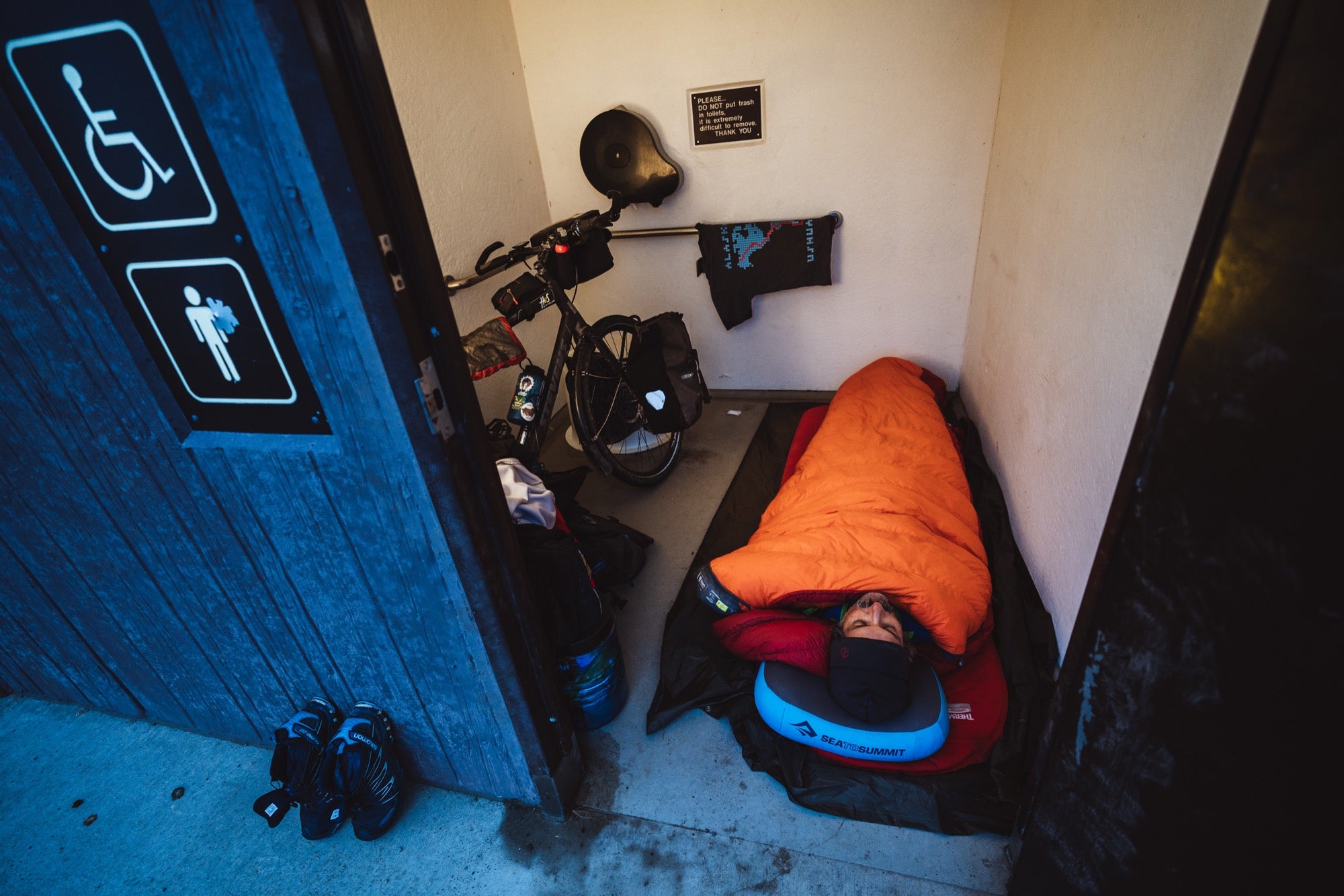 Sony α7R III. Sony 16-35mm f/2.8 G Master. 1/4 sec, f/2.8, ISO 1250.
After having slept in all sorts of strange places, when I thought the challenge was almost over, non-stop rain and cold wind forced me to take shelter in a restroom during the last week of my travel. There was no place to hide on the Dalton Highway in Alaska, and I felt miserable outside. I spent over 24 hours in this restroom and made myself at home. I cooked food, read a book, wrote my journal, and had a good long sleep in it. That day, I learned that no matter where we sleep, we dream the same way.