Sony Artisan Renan Ozturk and writer Mark Synnott have gone on many adventures together, capturing stories for National Geographic. For years they've dreamed of going on an ocean expedition through the 8,000-mile Northwest Passage, and the dream finally came to life when they were assigned a NatGeo story in the Arctic. This assignment was much different from those they've done in the past because the boat that would be making the journey belonged to Synnott, and he would be the one in control – the captain. With the help of Inuit guide Jacob Keanik, what results is an incredible tale showing the delicate balance between storytelling and survival.
We caught up with Ozturk to learn more about the challenges faced during their polar passage and how he balanced getting the content he needed while also staying safe and helping crew the boat. Watch the behind-the-scenes below and keep reading to see what Ozturk says he took away from the experience and how he managed to capture the stunning Arctic scenery in such an intense shooting environment.
A Careful Balance Of Storytelling & Survival
Throughout the journey while Synnott captained the boat, Ozturk and his camera assistant, Rudy Lehfeldt-Ehlinger, had their hands full with a variety of content projects in addition to the Sony behind-the-scenes and NatGeo story, including producing a show for streaming on Disney+ and an Inuit perspective short film for Yeti Coolers. "When you say yes to an assignment of this nature, it's a really unique situation," Ozturk explains. "Normally any single one of those things can be a full-time job. Crews for shows can be from five to upwards of 100 people. But there were just two of us for a lot of it. It's like we couldn't have had more things stacked against us."
Beyond the challenges of having a lot of content to shoot and only two of them capturing most of the footage, Synnott also made it very clear that they weren't going to be able to shoot every time they wanted to shoot. Since everyone onboard was also a part of the crew, the captain needed everyone focused on doing their part with the boat over capturing what was happening.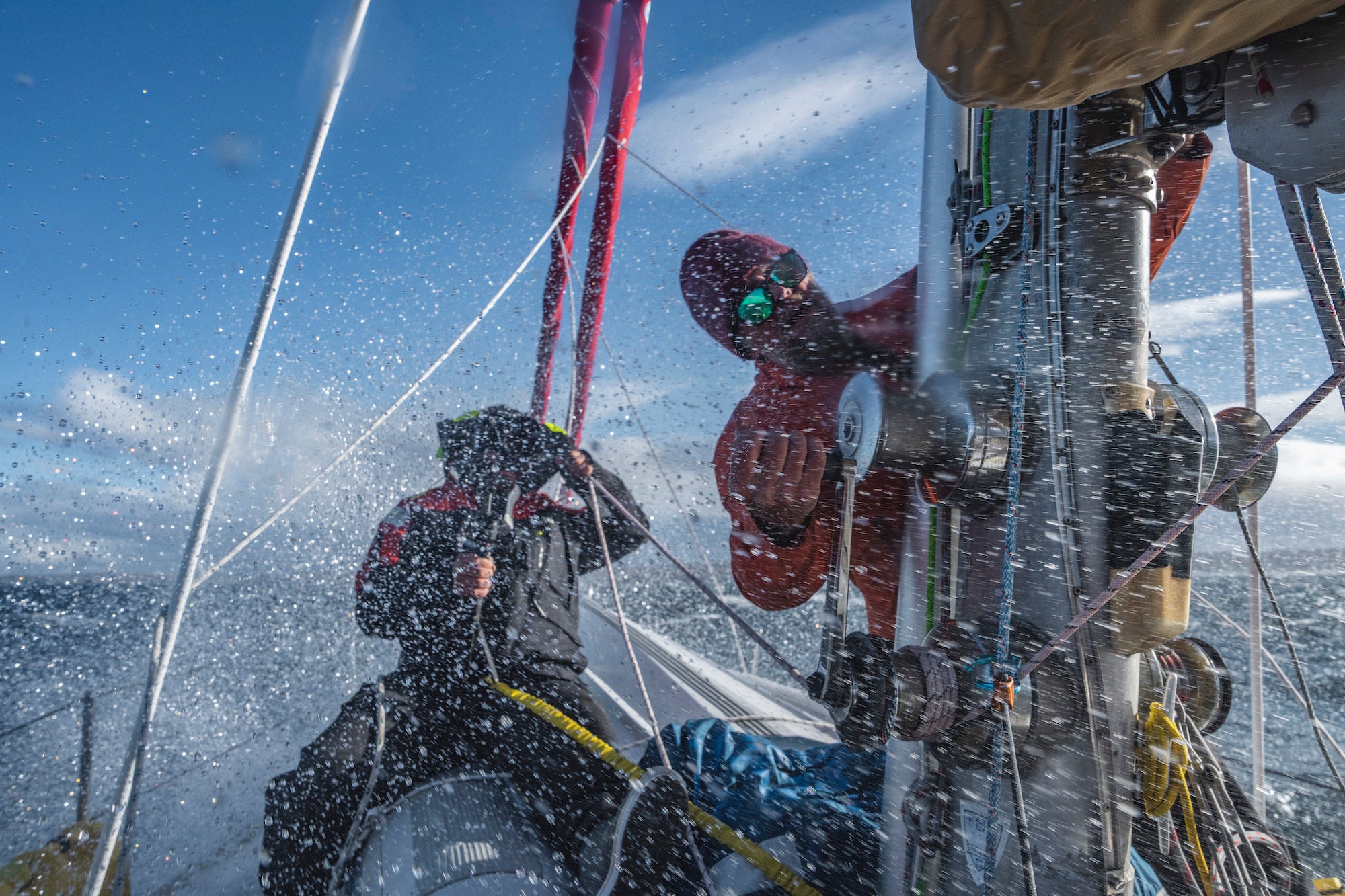 Photo by Renan Ozturk. Sony Alpha 1. Sony 24-70mm f/2.8 G Master II. 1/1600-sec., f/9, ISO 500
"I've worked with Mark before but this was such a new level of stress since he had to make the decisions as captain and our lives were kind of in his hands," Ozturk explains. "The times where we would really want to shoot would be when everything was going wrong, and we had to be all hands on deck. It made shooting very difficult but I started equating it to getting yellow cards and red cards in a soccer game. I knew I would have to break Mark's trust at some point to get a shot and save the moment…I would have to get a 'red card.'"
Ozturk faced a few of those "red card" moments where he knew he would be scolded by Synnott but wanted to get specific footage. "Every time you get into the water with a dry suit in the Arctic, it's a dangerous situation," he says. "You're putting yourself in danger because you're out there with polar bears and other wildlife. You can also get hypothermia and nobody can really go and help you. So just by doing it you're kind of adding to an already dangerous situation, which isn't necessarily appreciated by a captain."
While this was dangerous for Ozturk to do, it actually ended up being lucky that he was in the water filming when the boat ended up getting stuck in the ice. "We had to anchor to a moving piece of ice with ice screws, and then there eventually was nowhere we could anchor. We had to get a rope around this giant ice boulder, and because I was already in the water filming in my dry suit, I was able to swim it around the boulder. At that time I was able to contribute as a crew member so it was lucky."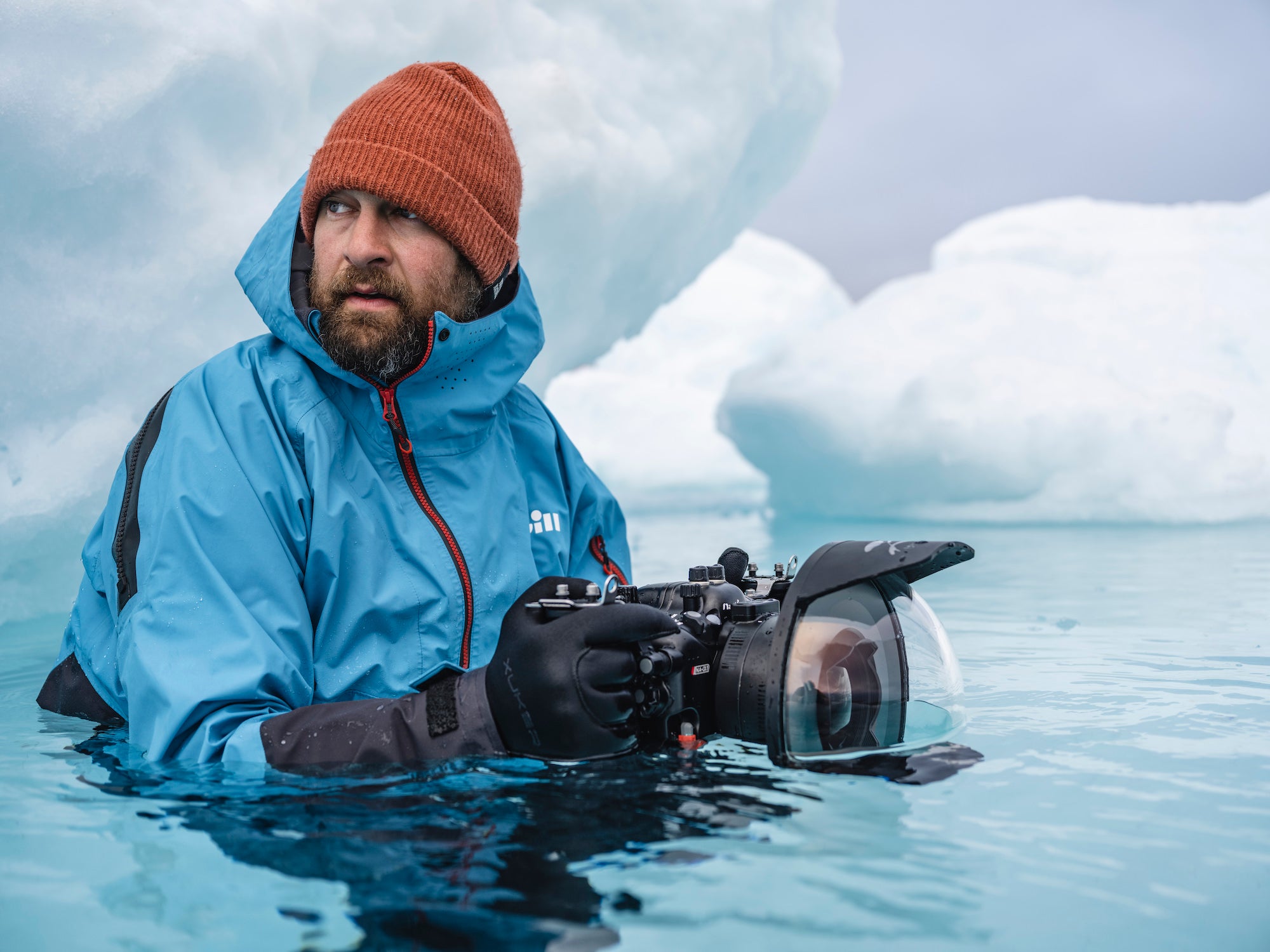 Sony Artisan Renan Ozturk
How To Capture A Place As Powerful As The Arctic
Capturing a bunch of compelling content from a boat is a major challenge. "You're kind of shooting the same angles, and showing scale is really difficult," Ozturk explains. "So one of the biggest things we did before the expedition was work super hard to get some support to get these red sails, a color called tan bark. We worked with our highly-skilled film colorist who helped us pick out this color for the sails because I knew that was going to be key to the whole thing."
He continues, "You see a lot of images of boats with lightweight fake prop sails, but we wanted to do it for real and make real sails with those colors, and have those sails go the entire 8,000 miles from Maine to Alaska. We wanted them to be this iconic thing to shoot, and to have them pop off the landscape to help create that sense of scale with the human element the size of the boat. It's kind of the same way I've done for years in the mountains capturing Alex Honnald with a red jacket on a big climbing wall. It helps to show just how grand."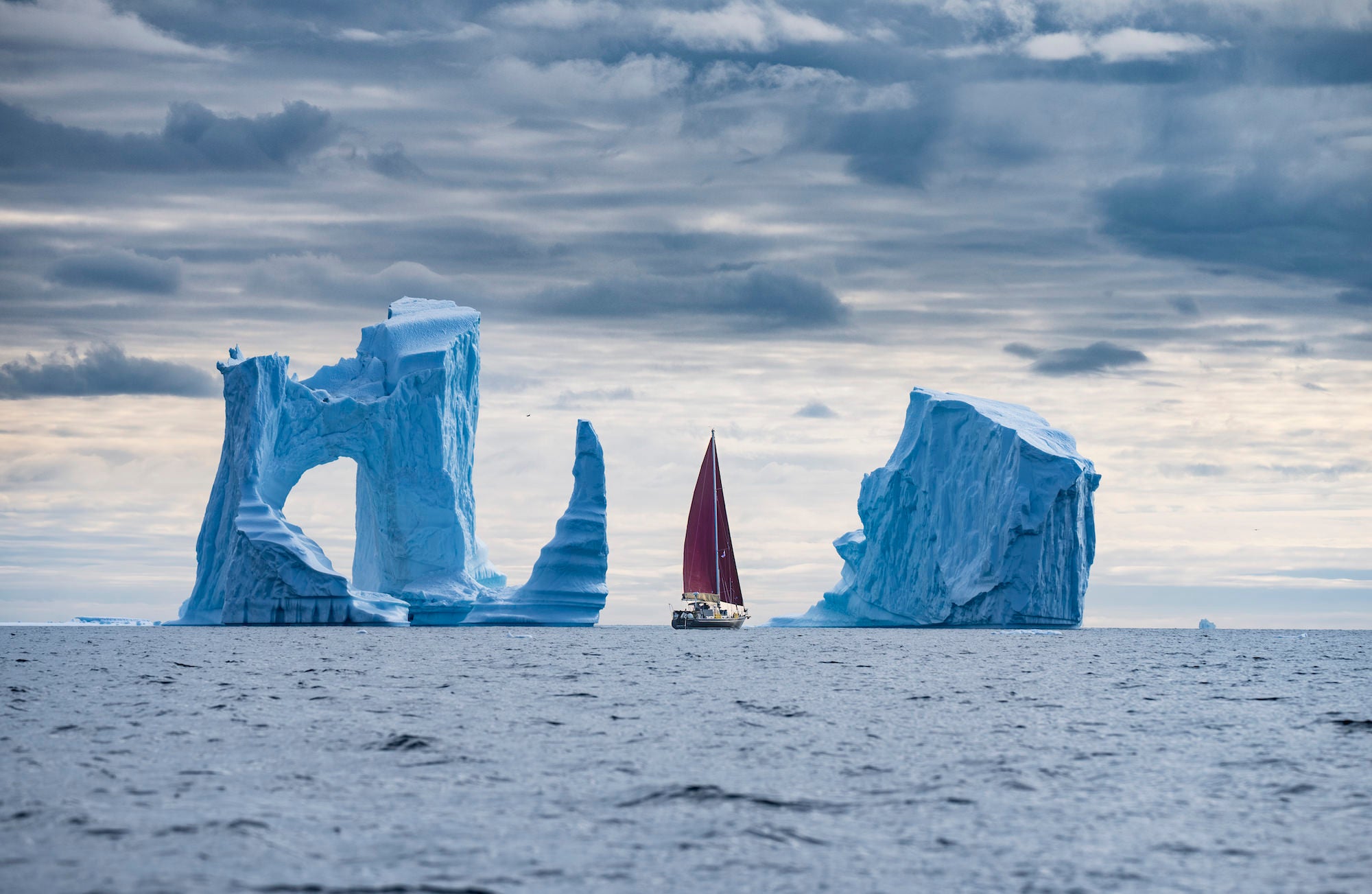 Photo by Renan Ozturk. Sony Alpha 1. Sony 100-400mm f/4.5-5.6 G Master. 1/500-sec., f/8, ISO 125
Another vital part of successfully documenting the journey was having Inuit guide Jacob Keanik on board. Ozturk knew that Keanik's experience with the Arctic was a must-have, as was capturing the perspective from a local. "Jacob lives in Gjoa Haven, above the Arctic Circle," Ozturk explains. "He's a master hunter, and one of the only guys who still hunts and provides food for his family. He's one of the few who can translate between the elders and youth in his community. He's an absolute master of the land, but nobody from his community has ever done a trip through the Northwest Passage the way we were. He was always home with this family and just didn't have those opportunities."
They asked Keanik to join them on the journey, but not without plenty of disclaimers. "We told him we didn't really know what was going to happen," says Ozturk. "You could not get back to your family for months. If we get stuck in the ice, we might get rescued. Things could go horribly wrong. And he said, 'Yes, I'm down. This is the adventure of a lifetime.' So he came with us and provided a whole other dimension to the entire adventure, especially when we got stuck in the ice and barely made it out. That was probably the most meaningful part of it because you move so quickly, you can't really spend time and embed in those communities. You're just there for a day refueling and getting food and then cruising on. So spending this time with him was really the only way to really get that intimate perspective from a local."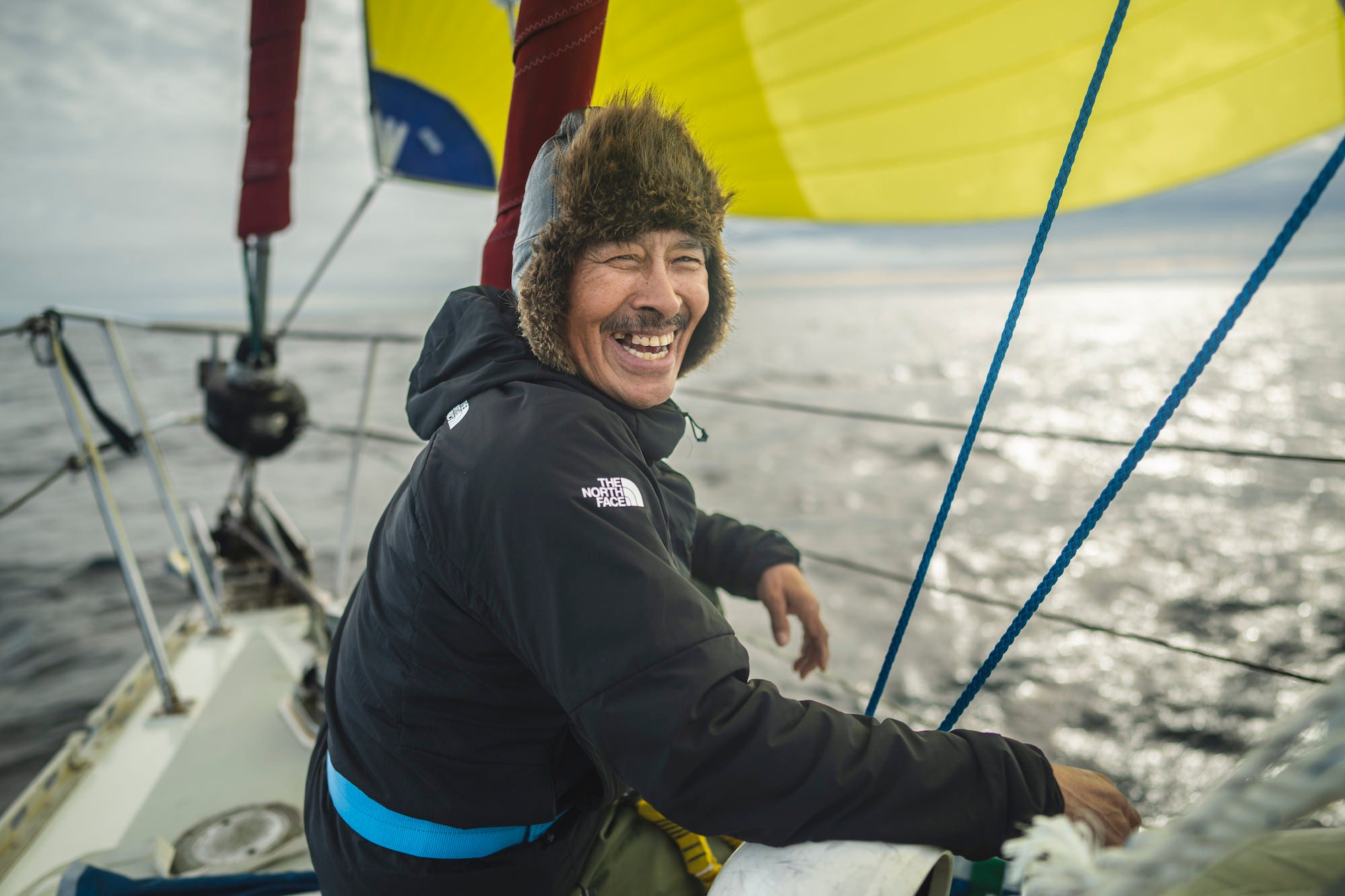 Photo by Renan Ozturk. Sony Alpha 1. Sony 24mm f/1.4 G Master. 1/640-sec., f/1.4, ISO 80
Choosing Gear That Won't Miss The Moment
Ozturk was directing and serving as the director of cinematography for the show, as well as photographing for the magazine. In order to wear so many hats at once while being in such an intense environment, he chose to shoot with the Sony Alpha 1. "The Alpha 1 gives the best balance of clicking between photo mode and stills mode quickly," he explains. "Being able to shoot 120, slow motion at 4K in 10 bit, all of those things make it the best of all worlds."
"It's also light enough that I could do things like get to the top of the mass, or put it in a water housing and always have it on me. That was the biggest advantage of it. We did have bigger cameras on the shoot, but those take too long to turn on, so by the time they're ready to shoot you've missed the moment. With the Alpha 1 you don't miss because it turns on instantly and you can be recording within two seconds."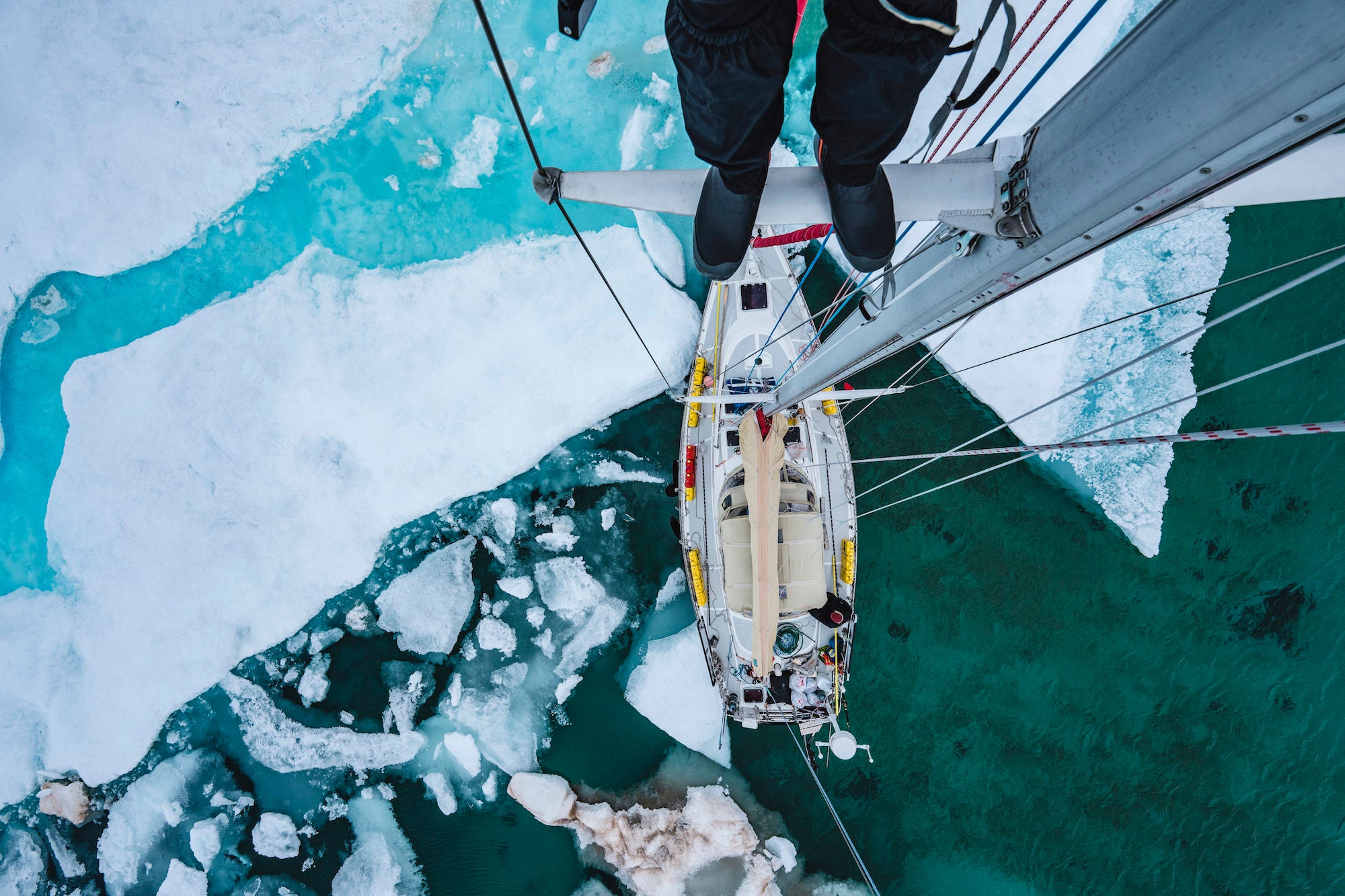 Photo by Renan Ozturk. Sony Alpha 1. Sony 14mm f/1.8 G Master. 1/400-sec., f/7.1, ISO 200
Throughout the journey, Ozturk had two go-to lenses that he paired with the camera – the Sony 35mm f/1.4 G Master and the Sony 200-600mm f/5.6-6.3 G. "I always rely on the 35mm f/1.4 G Master," he says. "I think it's the ultimate journalistic and artistic workhorse. I know I can shoot everything from a portrait to a wider sense of place, and there's going to be no distortion in anything. And especially when you're shooting for National Geographic, you don't want to go too wide. If there's any distortion in the frame, they're most likely not going to pick that image. So I think that that's always been a go-to for these types of stories that are more heavy like journalism and less experimental commercial."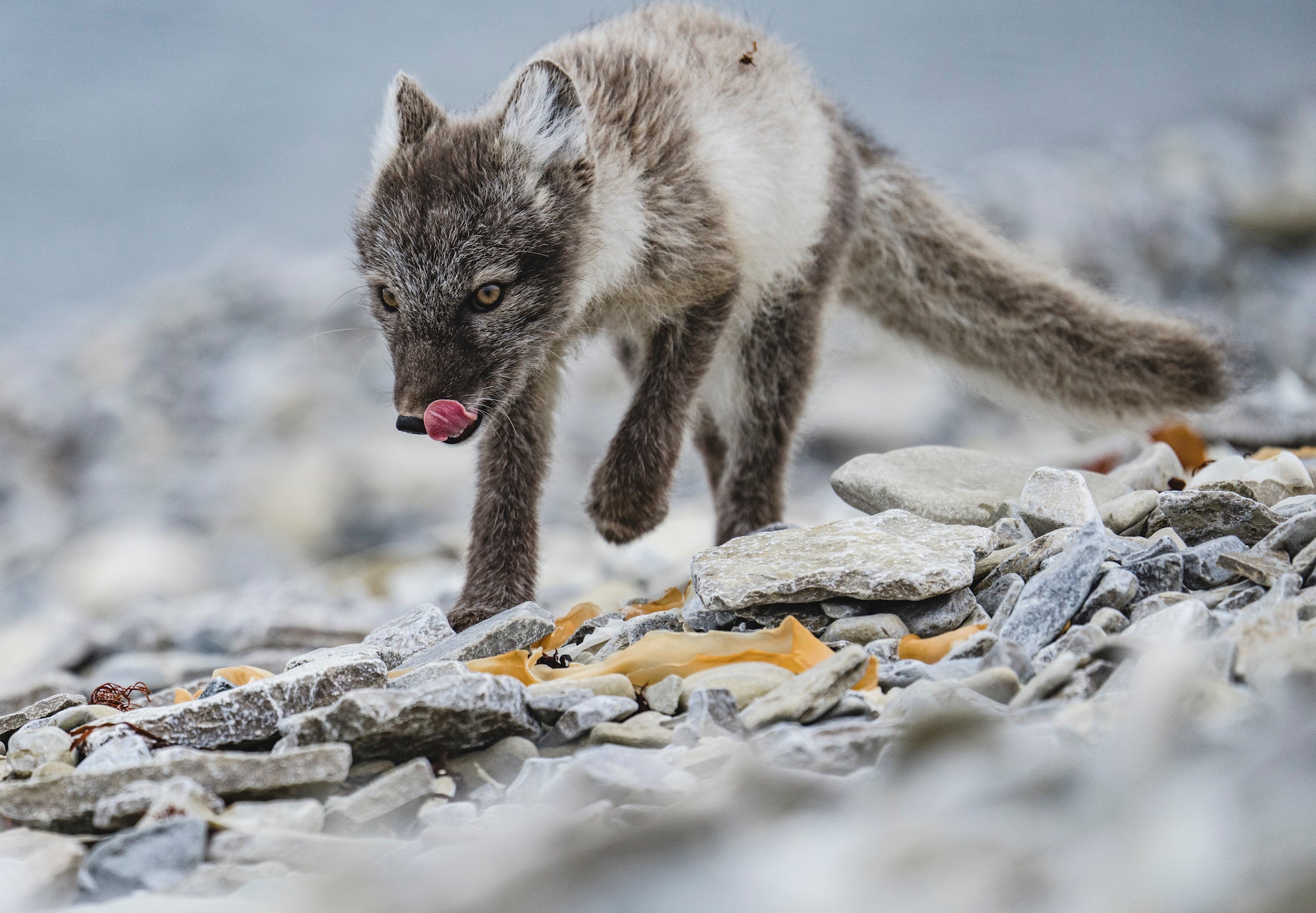 Photo by Renan Ozturk. Sony Alpha 1. Sony 200-600mm f/5.6-6.3 G. 1/800-sec., f/6.3, ISO 500
He continues, "The 200-600mm f/5.6-6.3 G was a staple because we're constantly trying to photograph wildlife off the boat so having that 600mm focal length in that size and that light is perfect. So we would just have these couple of lenses that live up on deck that you could quickly grab to get those moments, like a whale breaching, a polar bear or trying to get a tight shot of a seabird."
See more of Renan Ozturk's work on Instagram @renan_ozturk.
For more videos like this one, subscribe to the Sony Alpha Universe YouTube Channel.