Mike Colón is an experienced wedding and fashion photographer. The Sony Artisan of Imagery specializes in celebrity weddings and campaign shoots for high-end designers. "I've been shooting now for about 27 years and am so lucky to still absolutely love what I do! I love taking my shoots outdoors into the urban streets of NYC or into the SoCal deserts and mountains." We recently came across this stunning fashion shot Colón took at a designer's recent campaign shoot and had to learn more about how he got that high-fashion style. Keep reading as explains how he captured it with his Sony Alpha 1 and Sony 12-24mm f/2.8 G Master.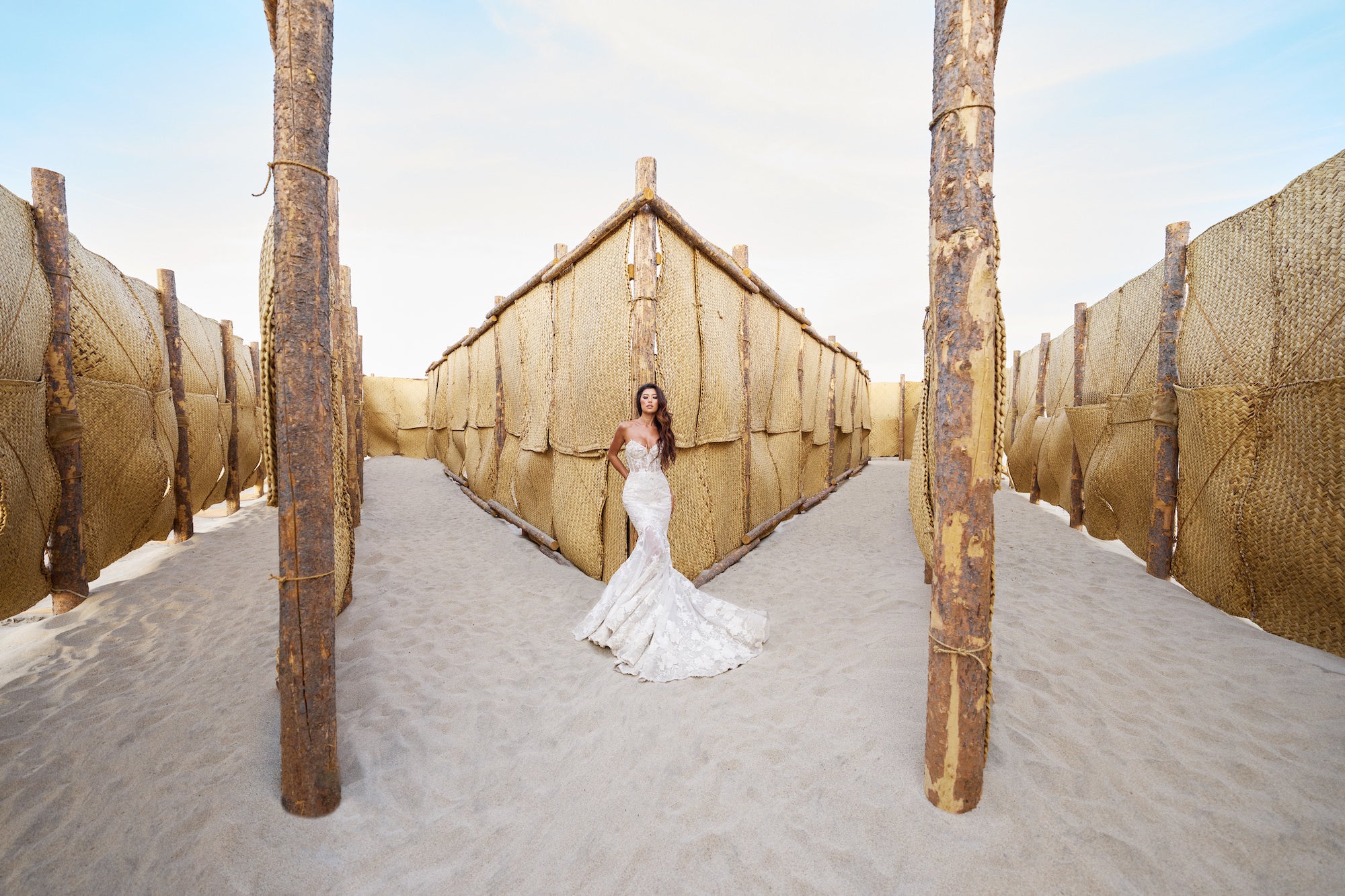 Photo by Mike Colón. Sony Alpha 1. Sony 12-24mm f/2.8 G Master. 1/100-sec., f/2.8, ISO 400
See how Sony Artisan Mike Colón created this stunning image during a fashion designer's campaign shoot using the Sony Alpha 1 and Sony 12-24mm f/2.8 G Master.
Scouting The Location For Lighting & Leading Lines
This photo was taken during a campaign shoot for Tara Lauren, a talented designer based here in the Los Angeles area. Fortunately she gave me complete control planning the shoot, finding the model, hair, makeup and choosing a location. I chose to shoot in a very cool art installation called DesertX out in Palm Springs. I also decided to double-dip on this one and take along a video team to film a class that would stream online for the Palm Springs Photo Festival.
I scouted the location beforehand to make sure I could shoot in this very specific spot of symmetry without the sun hitting any of the walls and blowing them out. I loved this spot for my hero shot because of its smooth color tones and geometry of leading lines with amazing detail. The creator of the installation, Eduardo Sarabia, named this labyrinth "The Passenger" and designed it to be an arrow tip-shaped maze inspired by stories of the desert. It was made from walls of petates — traditional rugs hand-woven from palm fibers.
We had originally planned to move locations to shoot in some of the other installations at DesertX but I opted to stay put to make sure I didn't miss this shot right before sunset.
Creating The Image
I shot this on the Sony Alpha 1 paired with the Sony 12-24mm f/2.8 G Master. The 50MP sensor and razor sharp super wide lens was the perfect pair for this job. I needed to work in tight spaces and make it look spacious. The 12-24mm f/2.8 G Master does a quite surprising job of keeping the vertical lines straight even when zoomed all the way out to 12mm. I also utilized the 8K video on the Alpha 1 to grab some handheld detail footage for the designer.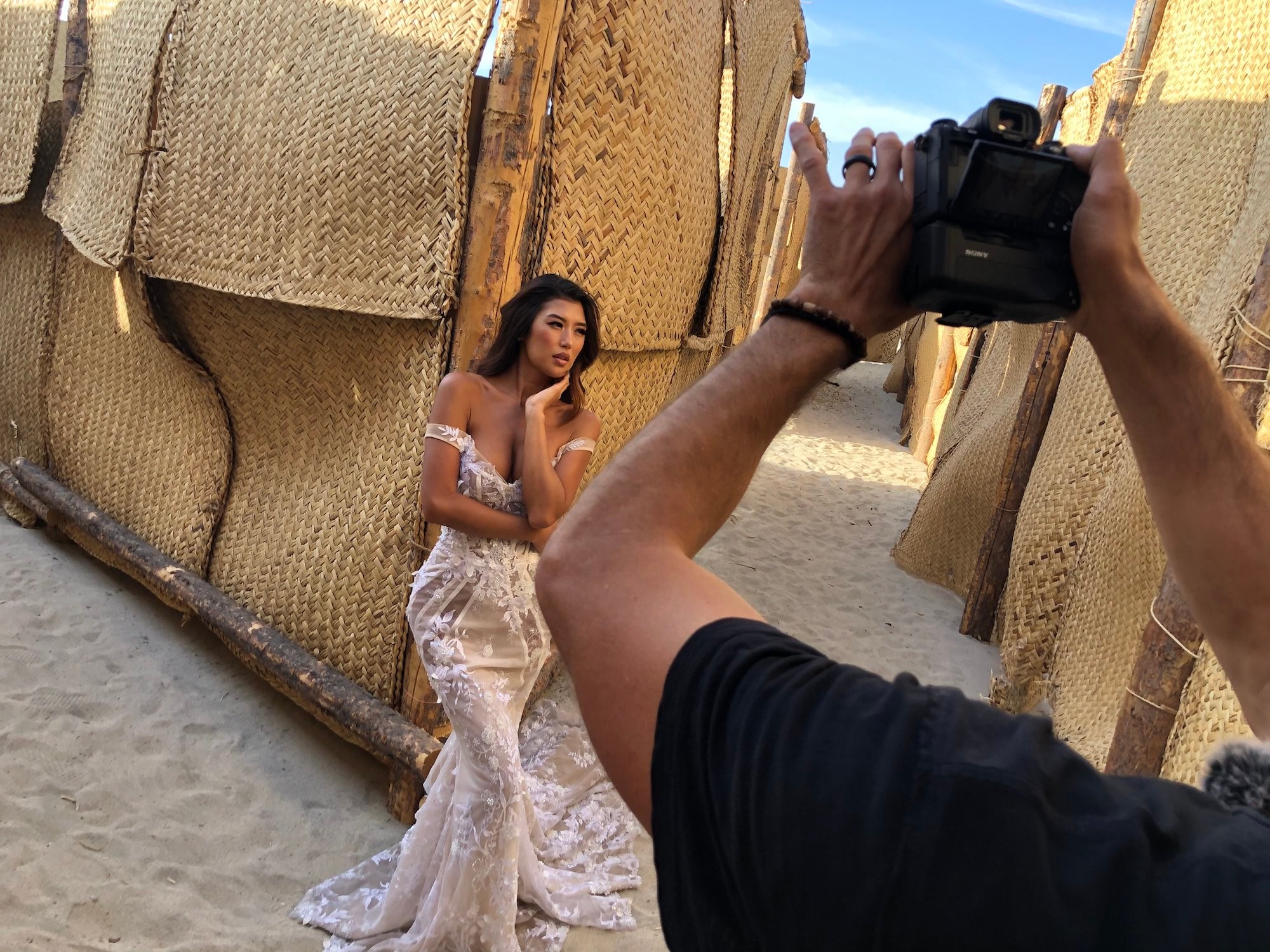 Sony Artisan Mike Colón behind the scenes
I shot this image wide open on the Sony 12-24mm f/2.8 G Master at f/2.8 which gave me just enough depth to do the textures on the walls justice while keeping that creamy surreal feeling that I love this lens for. I had to make sure I got my horizon and vertical lines right because I didn't want to lose any edges with a crop or straighten in post, so I utilized the level feature on the Alpha 1's monitor. I shot at 1/100-sec. and at ISO 400 to get the exposure I wanted.
The articulating screen on the Alpha 1 also helped a great deal – I remember having to put my camera against the wall for a little extra space. When shooting wide open and unable to look through the viewfinder, I used the Alpha 1's Eye-Autofocus tracking and it worked for this situation. I shot this image with available light to get that raw and unpolished feel. I shot in Kelvin white balance mode and adjusted in-camera for correct skin tones. I just did a small amount of editing in Photoshop to clone out any distraction in the sand and added a bit of film grain in Capture One to finish off the image.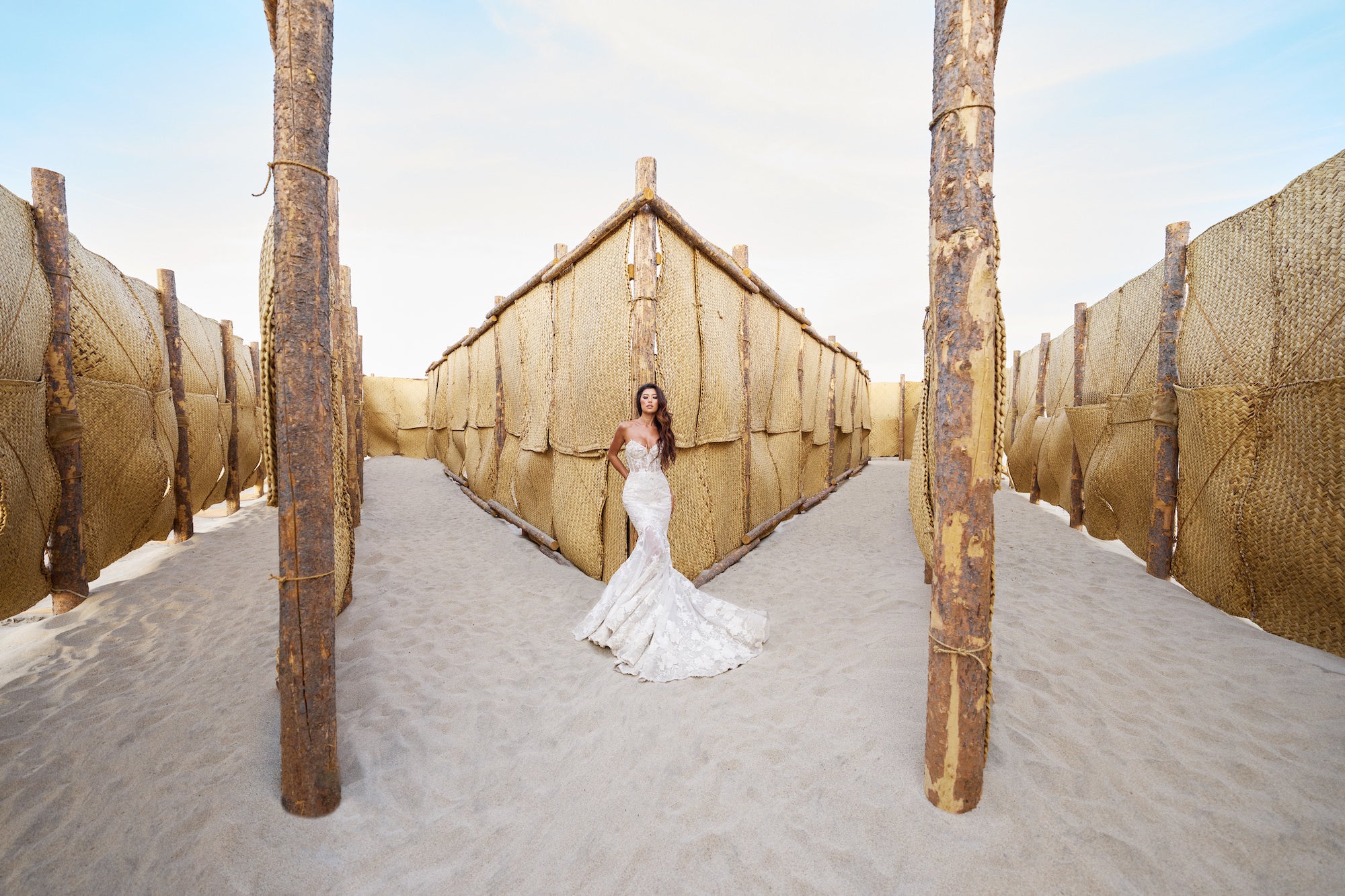 The Final Image. Photo by Mike Colón. Sony Alpha 1. Sony 12-24mm f/2.8 G Master. 1/100-sec., f/2.8, ISO 400
See more of Mike Colón's work on his Alpha Universe Profile and on Instagram @mikecolon.