Marc and Brenda Bergreen, the husband and wife duo behind Bergreen Photography, are adventurous destination wedding photographers based in Evergreen, CO. They specialize in capturing people in nature and documenting the stories of adventurous couples. They'll follow couples off the grid to spectacular settings in order to capture their intrepid spirit and give them a one-of-a-kind memory. Since their work can take them to extreme places, their need for durable and reliable equipment that produces high-quality results is also extreme. The duo use Sony Alpha full-frame cameras and a core selection of Sony lenses. We caught up with them to learn more about the gear they use and why.
"[The camera] excels in such a wide variety of scenarios and hasn't failed us yet even after shooting in pouring rain, dusty deserts, sandy beaches, and extremely cold mountain environments."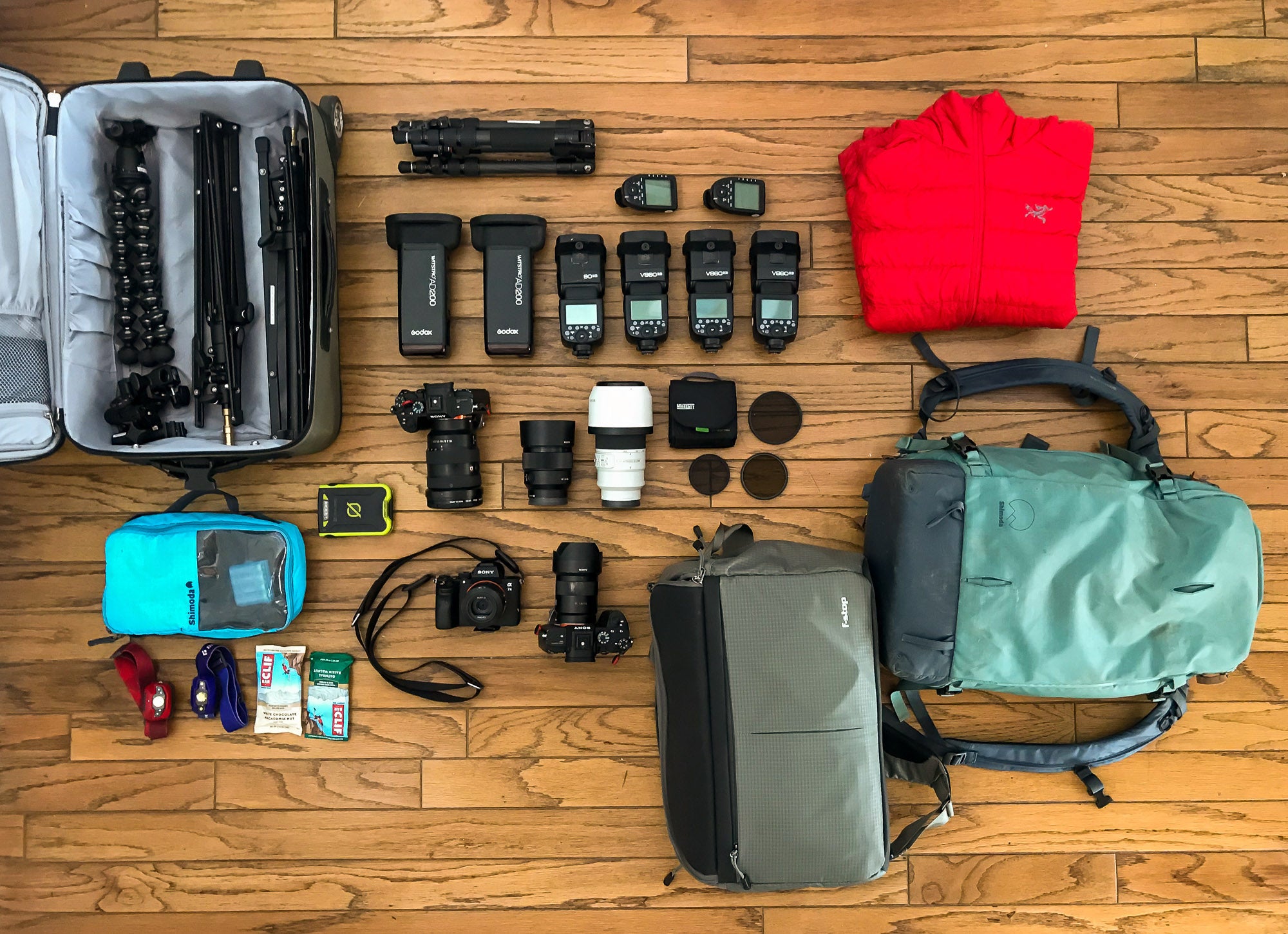 Cameras
Sony α7 III (three bodies): We've become familiar with a variety of the cameras in the Sony family and settled on the α7 III because of the balance of dynamic range, low light performance, file size (our clients rarely need the high resolution of the α7R III), and price. It excels in such a wide variety of scenarios and hasn't failed us yet even after shooting in pouring rain, dusty deserts, sandy beaches, and extremely cold mountain environments.
We're always on the road or the trail. In fact, we're currently traveling for a variety of shoots throughout California before heading home to Colorado. As we explore the Redwoods, skip on the beach, and head up into the mystery of the Giant Sequoias it's important that we have camera gear that can keep up with us and isn't too heavy and bulky. Especially now that we have two young kids in tow too. The Sony α7 III is a perfect fit as it's powerful yet compact and lightweight. Being able to wirelessly send photos to our phone for immediate sharing and know that our photos are shot onto two cards is invaluable when we're on the road. Also, the silent shutter has been making us smile lately. It allows us to be completely unobtrusive during intimate moments.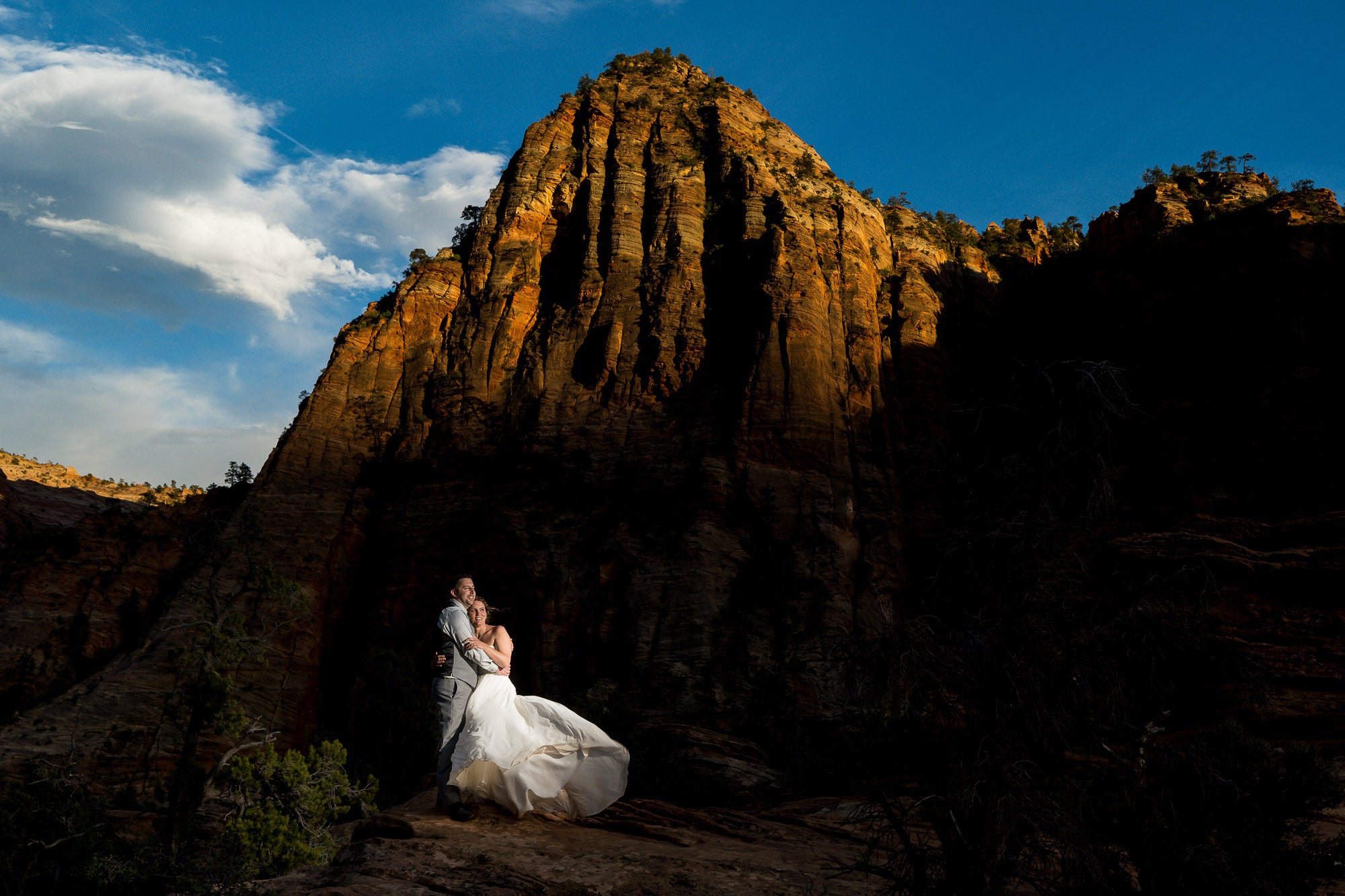 Sony α7 III. Sony 16-35mm f/2.8 G Master lens. 1/200-sec., f/8, ISO 100. This image was shot during a recent session in Zion NP, Utah. This is a great example of how nice the incredible dynamic range combined with a bit of off camera light can really make a stunning landscape portrait.
Sony α7 III. Sony 16-35mm f/2.8 G Master lens. 1/60-sec., f/2.8, ISO 1600. We love the low light performance of the α7 III because it allows us to recover the shadows in dimly lit scenes like this evening first dance.
Lenses
Sony 35mm f/2.8: This is our everyday lens for capturing the adventures of our family and we also rely on it heavily for photojournalism during wedding days. We love how small, light, and sharp this lens is. With the 35mm f/2.8, our camera literally fits in a pocket. Sony has heard the cry of "the best camera is the one you have with you" and taken away all barriers to having the best camera with you! Our only problem with the lens that it's so small it can be hard to find if you don't pay attention to where you put it, and that's a good problem to have!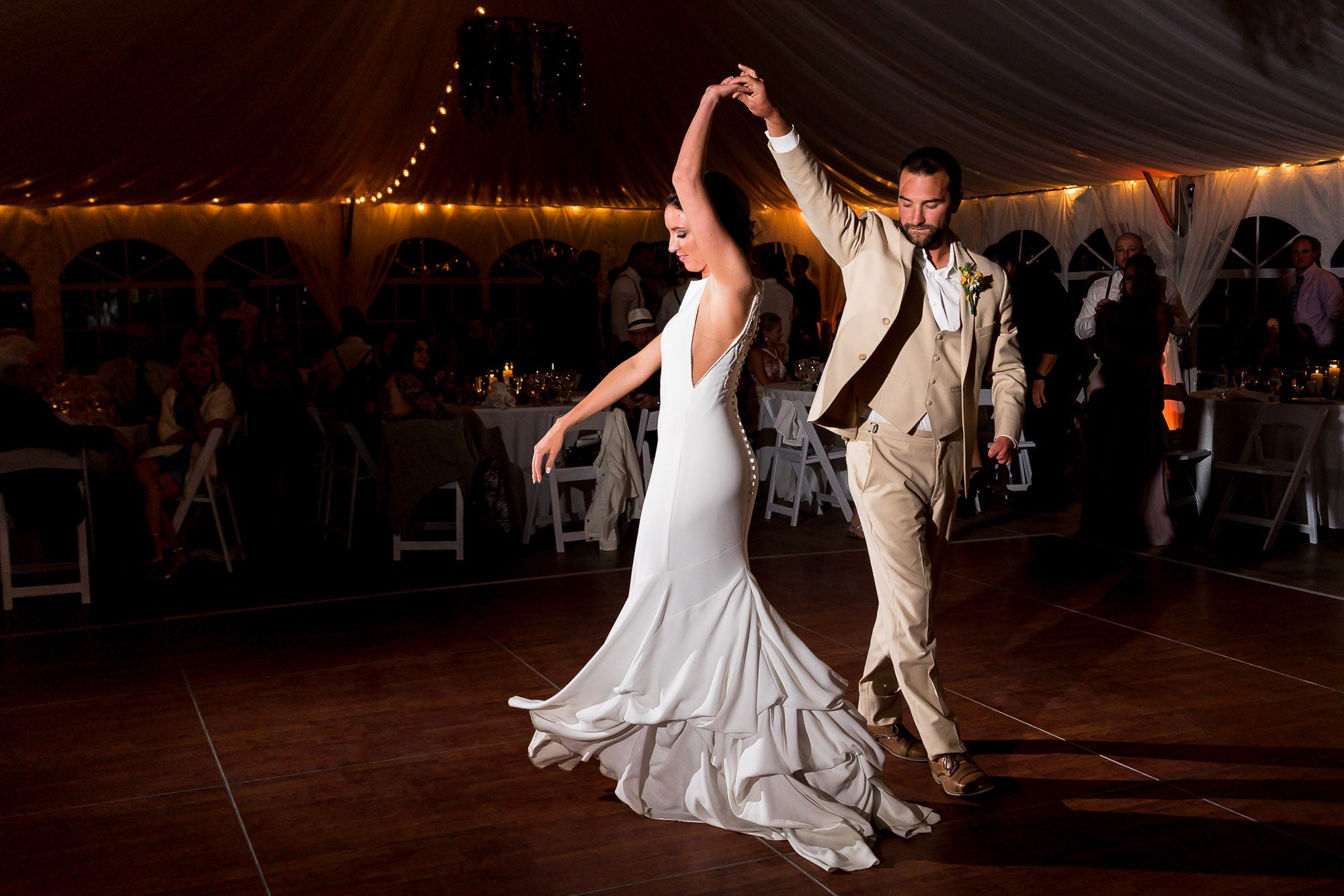 Sony α7 III. Sony 35mm f/2.8 lens. 1/200-sec., f/5.6, ISO 1600. The super light and compact 35mm f/2.8 lens is awesome for capture candid moments at receptions. It is so small and compact that we feel much less obtrusive when getting in close storytelling images.
Sony 16-35mm f/2.8 G Master: If you glance through our portfolio, many of our favorite shots have been created with the 16-35mm f/2.8 G Master. It's perfect for capturing stunning landscapes and people that explore them. Before we were professional photographers, we loved shooting landscape photography on our many backpacking trips and other adventures. That, and our admiration for the likes of Ansel Adams, has contributed to our style of photography. We rely on the 16-35mm throughout the day and it keeps us working the scene for the best composition while also giving us the freedom to shoot when we can't move around. We never have to worry about nailing the sharpness with this lens.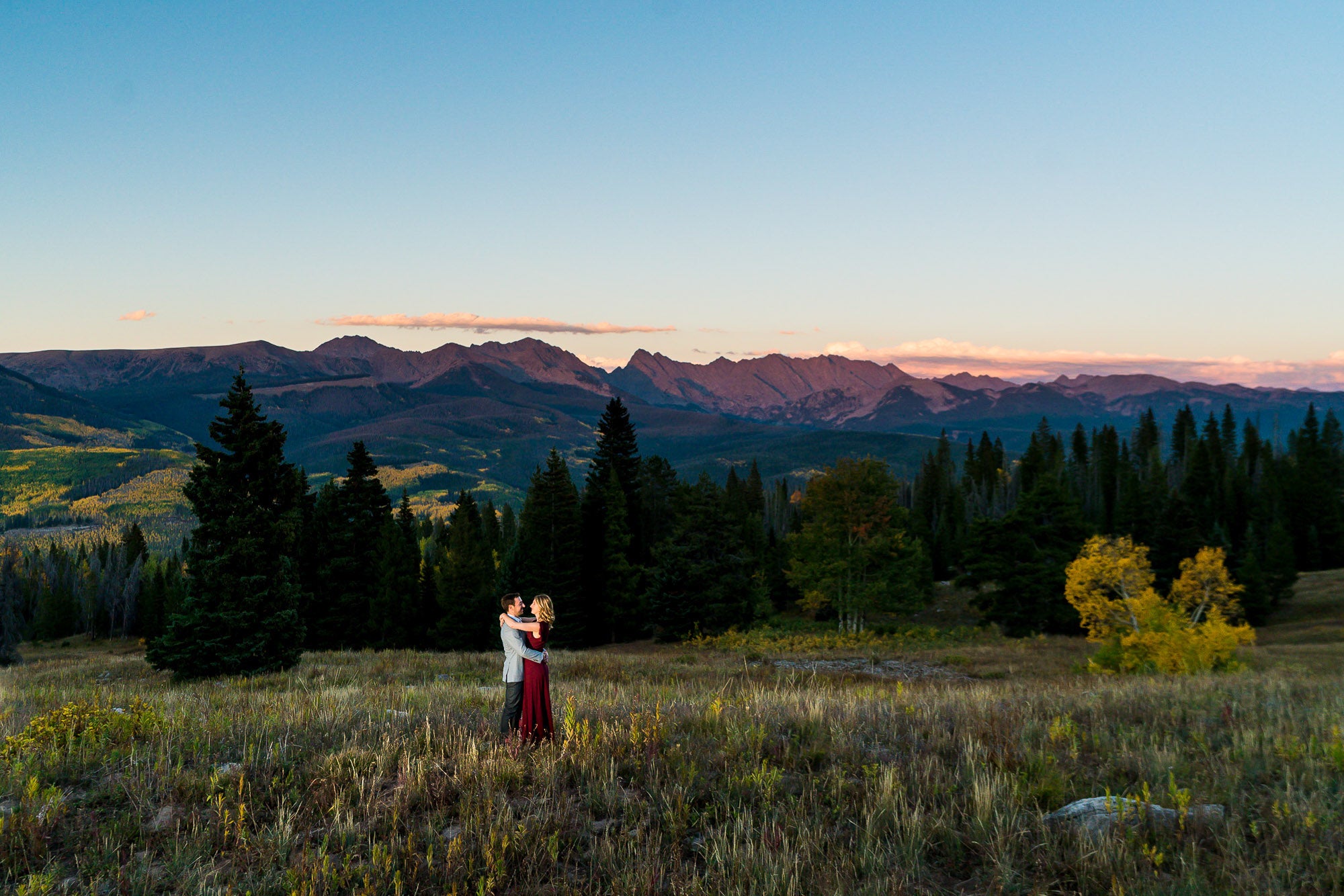 Sony α7 III. Sony 16-35mm f/2.8 G Master lens. 1/250-sec., f/4, ISO 320. We love the detail and sharpness of the 16-35 G Master lens for wide landscape portraits in the Colorado mountains. This was taken during a fall engagement shoot near Vail, CO.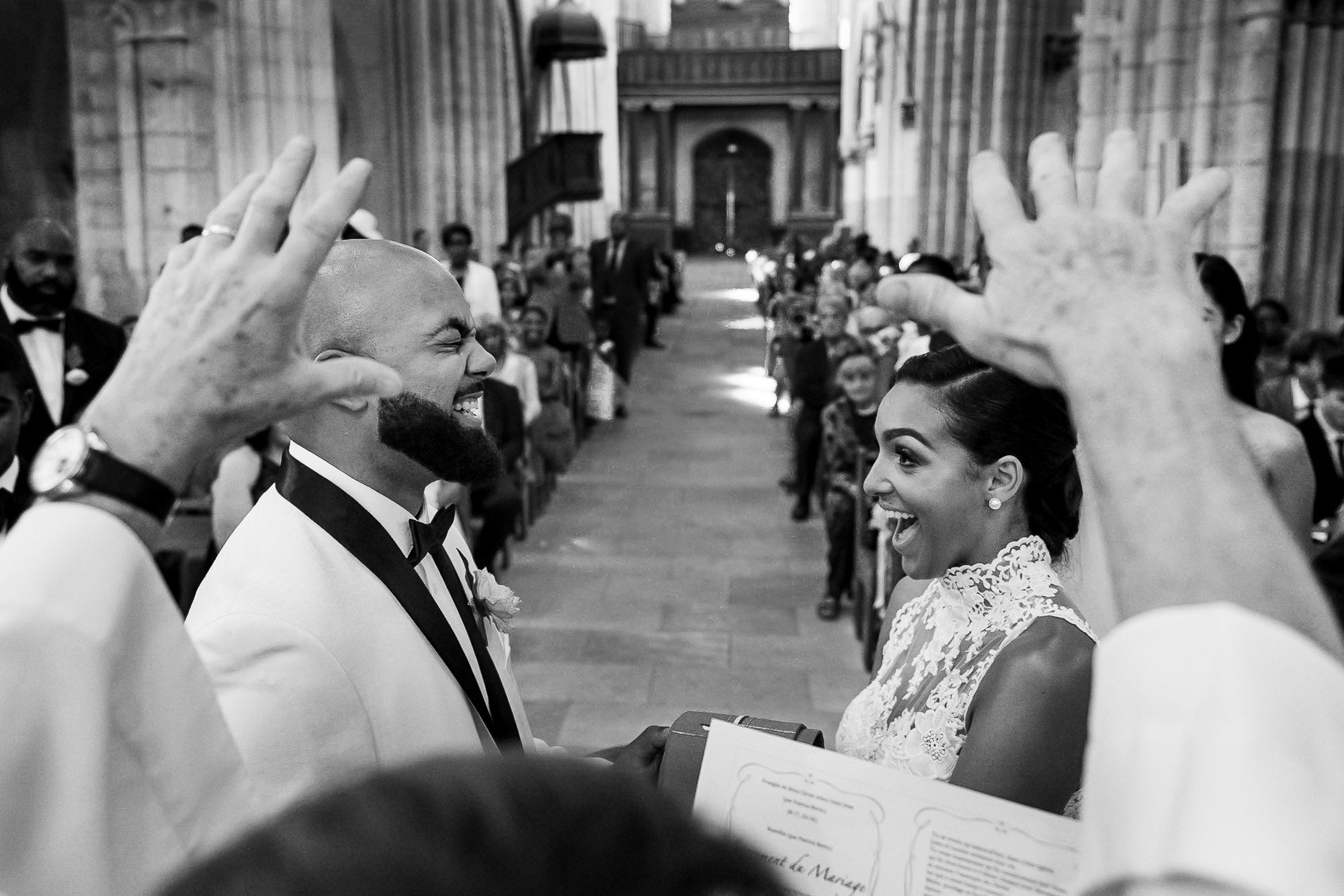 Sony α7 III. Sony 16-35mm f/2.8 G Master lens. 1/400-sec., f/2.8, ISO 3200. The silent shutter on the α7 III is an incredible thing! Without it, there is no way I would have been brave enough to reach over this priests head with my camera!
Sony 55mm f/1.8: We love this little lens. It regularly comes out during getting ready with when we are in a larger space, during couple portraits, and sometimes during the ceremony when we are able to get closer to the couple without being disruptive. It is tack sharp and very compact for its faster f/1.8 aperture. We can always rely on the 55mm f/1.8 to deliver a sharp, quality shot.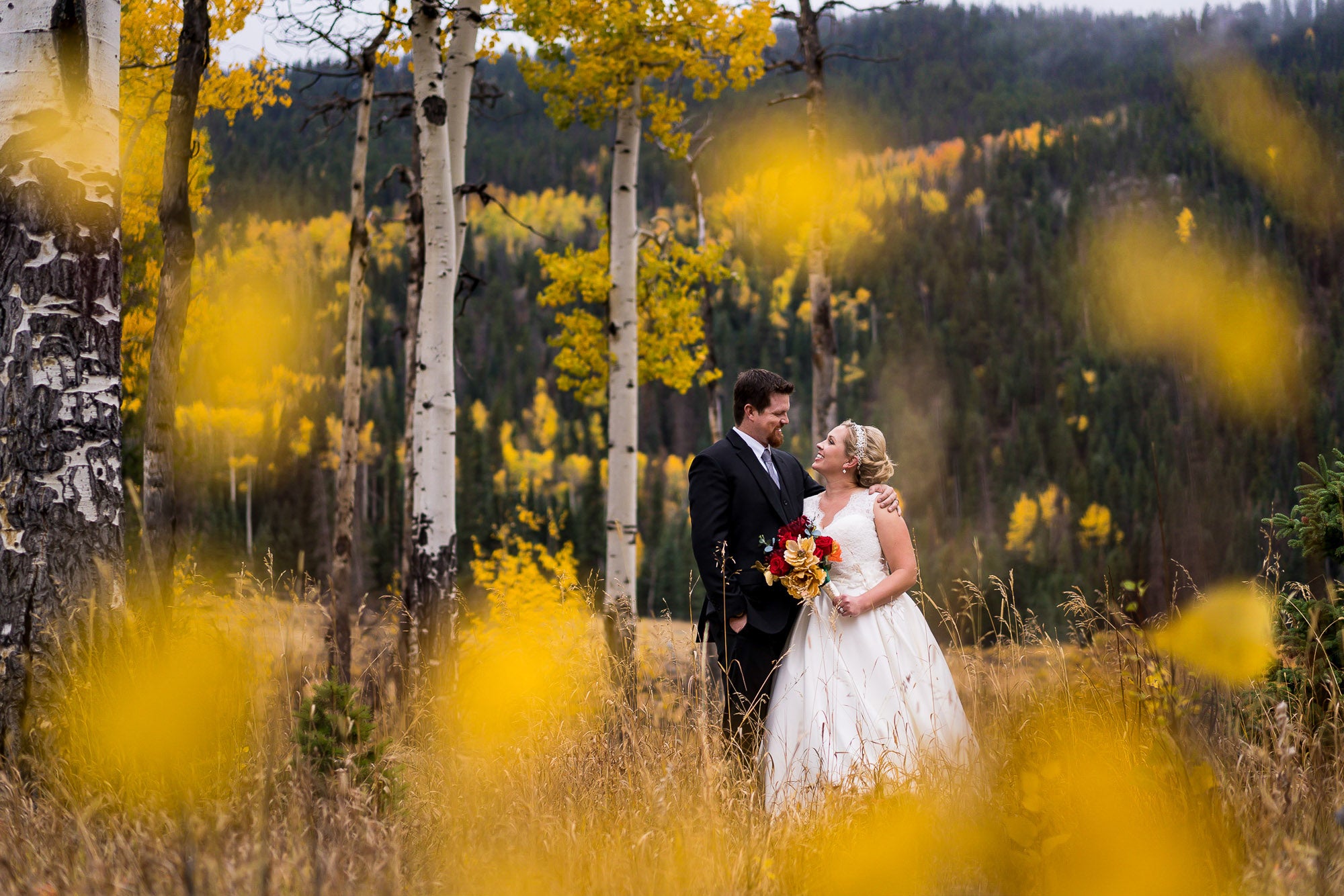 Sony α7 III. Sony 55mm f/1.8 lens. 1/250-sec., f/2, ISO 200. During a fall colors portrait session in Rocky Mountain National Park, CO, we used the fast aperture on the 55mm f/1.8 lens to emphasize the yellow aspen leaves while keeping the couple tack sharp.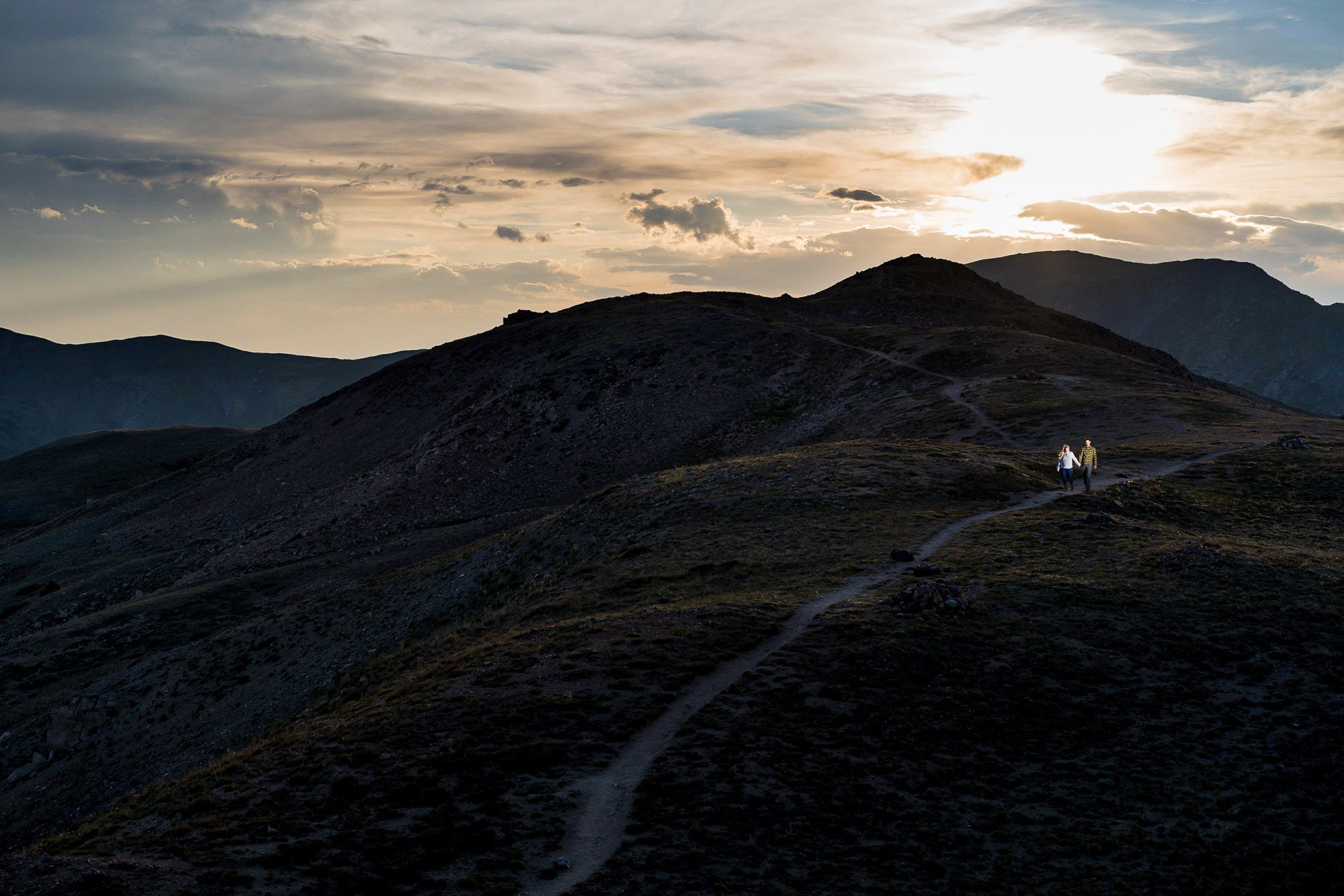 Sony α7 III. Sony 55mm f/1.8 lens. 1/250-sec., f/5, ISO 100. One of our favorite lenses for its sharpness and fast aperture, the 55mm f/1.8 is an invaluable addition to our camera bag.
Sony 85mm f/1.8: This is one of our go-to portrait and reception lenses. The 85mm f/1.8 most often comes out during first dances and speeches because of its ability to isolate the subject in a crisp and clean way. The focal length lends itself nicely to couple portraits with beautiful bokeh and the fast aperture allows us to shoot in very dark receptions. We don't always grab the 85mm f/1.8, but when we do it has a purpose and it nails it with precision. The 85mm captures emotion and feeling in the faces of our couples preserving something that happened in an instant. This is the lens that we probably use the least and yet it has a big impact.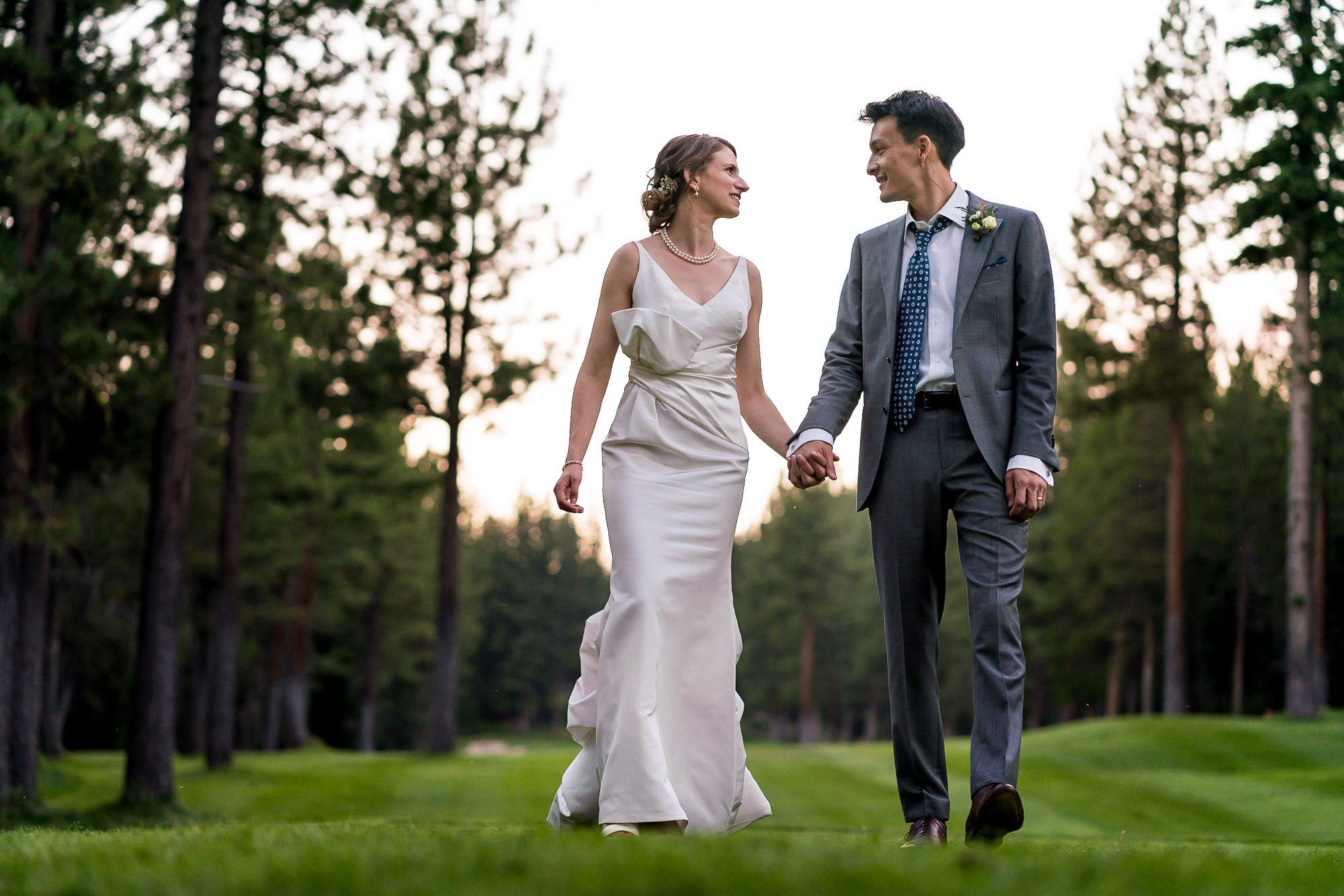 Sony α7 III. Sony 85mm f/1.8 lens. 1/200-sec., f/2.8, ISO 800. A classic portrait lens, this is a favorite for delivering very sharp subjects and beautiful background bokeh.
Sony 70-200mm f/4 G: For a longer lens we've always loved the 70-200mm. It's a must-have even if it's the heaviest piece of gear we own (although lightweight and compact for its focal length). The 70-200mm f/4 G is one of our go-to ceremony lenses that allows us to get in close on emotional moments when it feels intrusive to get close physically. We also love to use this lens for compressing backgrounds (especially in the mountains) to make the people look closer to the backdrop. The 70-200mm also has a nice lens flare if you shoot directly into the setting sun to create a dramatic blend of a silhouetted couple and golden light.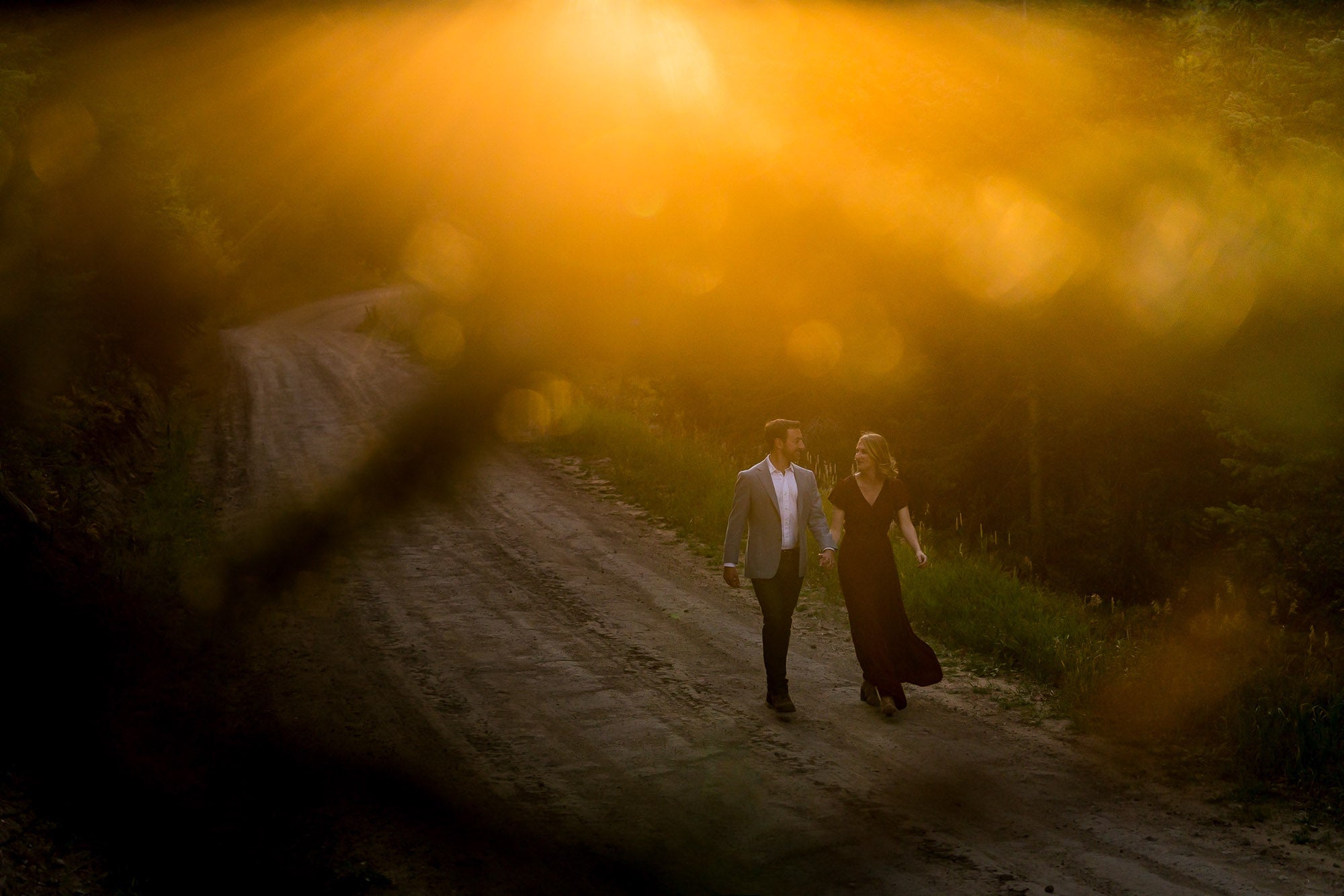 Sony α7 III. Sony 70-200mm f/4 G lens. 1/1250-sec., f/4, ISO 800. We love using the 70-200mm to shoot backlit sunset scenes because of the fun lens flair it creates!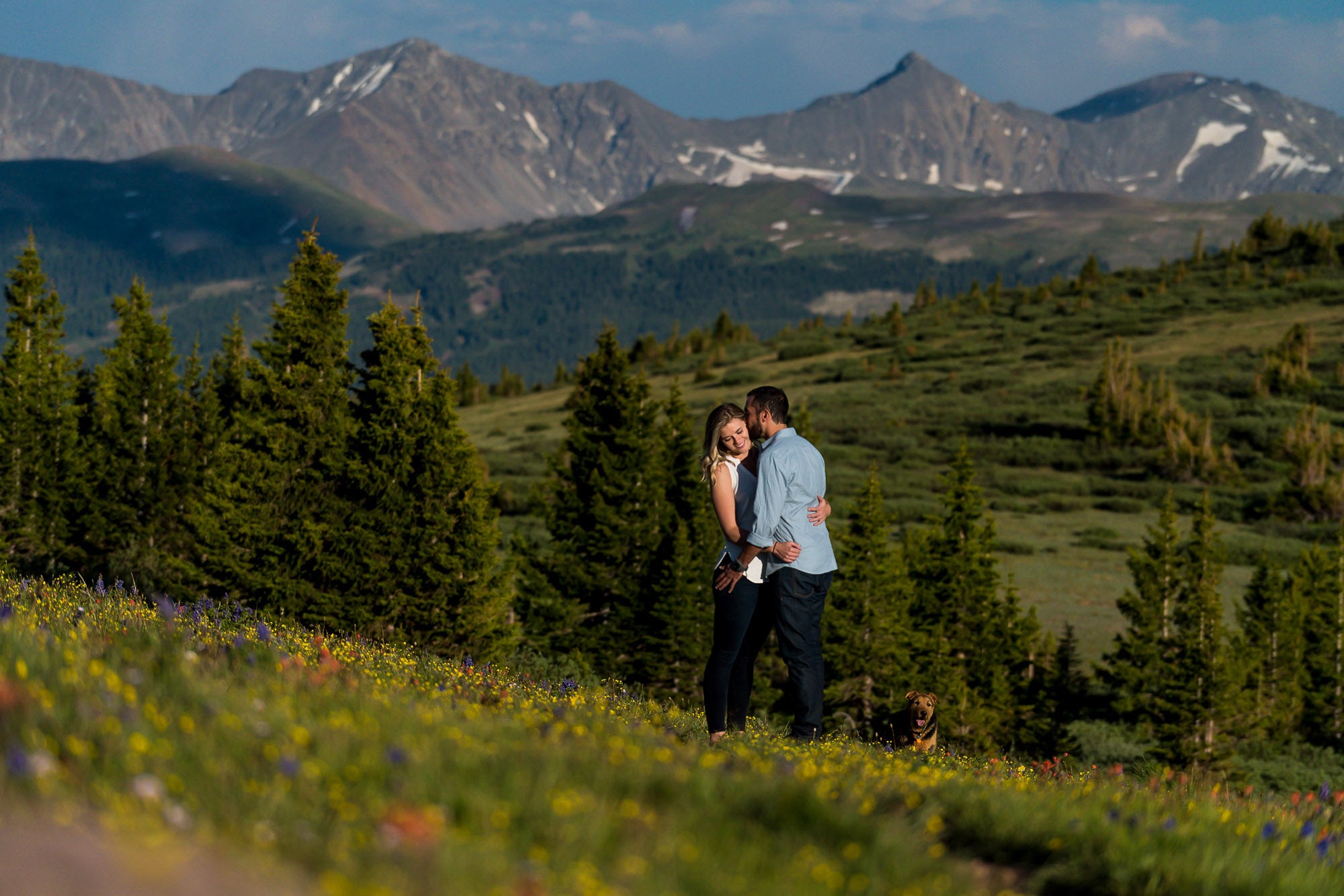 Sony α7 III. Sony 70-200mm f/4 G lens. 1/3200-sec., f/4, ISO 200. This is an example of how we use the compression of the 70-200 to bring the wildflowers, couple, and mountains together in one frame.
Accessories
Godox V860II-S, Godox AD200, Godox Xpro-S: While we prefer to chase natural light, sunrises, and sunsets, it's important that we're able to create light where we need it. Our Godox lighting system allows us to highlight our subject in a landscape or expose what's happening in the disco lights of the dance floor. These lights have proven reliable and effective. We also really appreciate the additional power that the AD200 offers. It is compact enough to take everywhere yet powerful enough for almost any scenario we encounter!
Oben CT-3535 Folding Carbon Fiber Travel Tripod with BE-208T Ball Head, JOBY GorillaPod Focus with Ballhead X, LumoPro LP605 Lightstands (fit nicely in our suitcase): While at home we have some big, beefy, and tall lightstands, it's important that we have a reliable lighting setup that travels well and sets up quickly.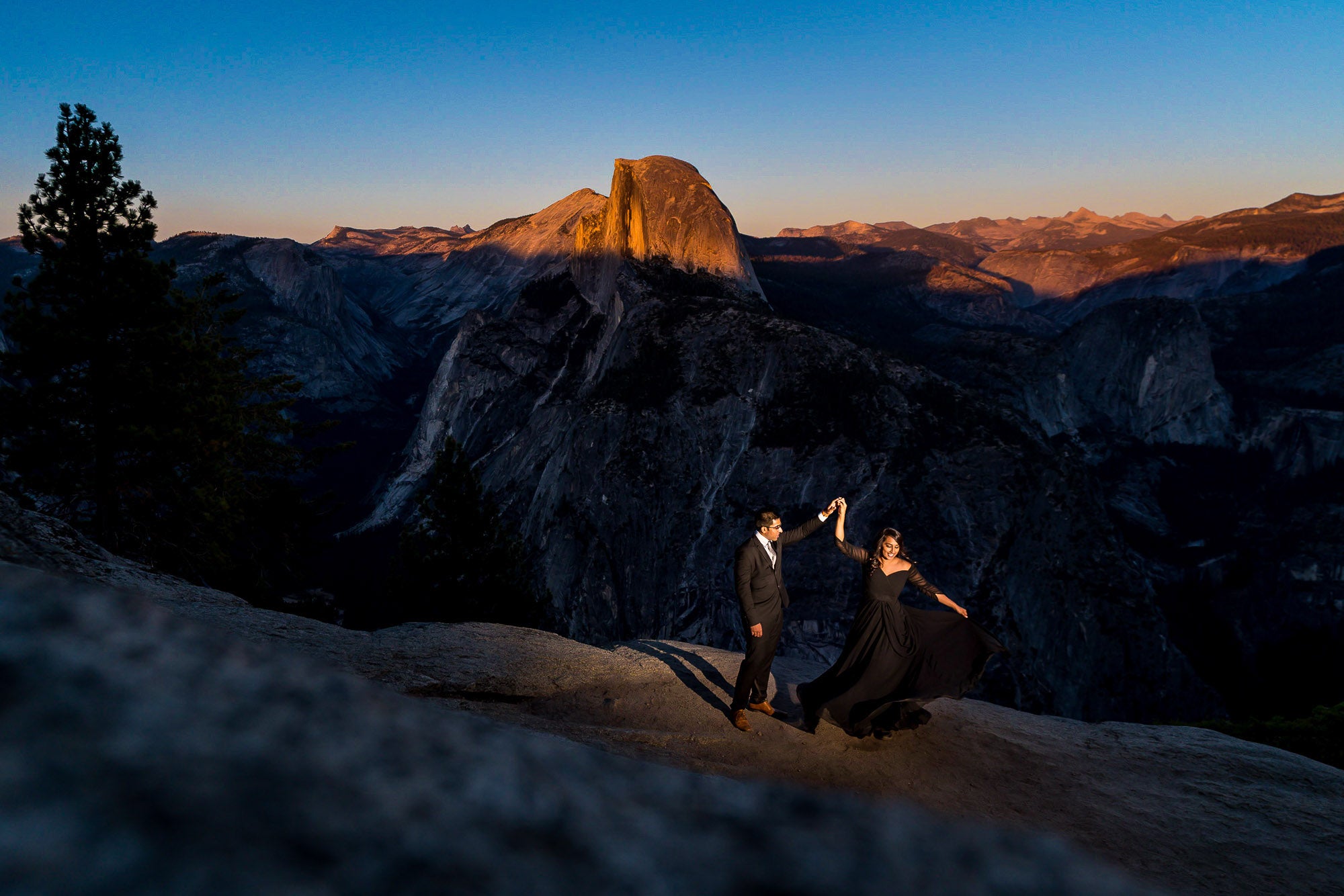 Sony α7 III. Sony 16-35mm f/2.8 G Master lens. 1/250-sec., f/4, ISO 200. During this portrait session in Yosemite, the wide dynamic range of the α7 III was essential to allow us to capture the foreground and the alpenglow backdrop of Half Dome.
Singh-Ray 100 x 150mm, Graduated ND Filter, Polarizing Filters – Hoya HD3: Since sunset doesn't last all day, polarizing filters are a must have in our bag. They help cut reflection during midday ceremonies and really bring out the color of the landscape! The only time we don't really use these is near/after sunset or when it's really cloudy. The graduated ND Filter helps to balance the exposure if we are shooting a backlit sunset portrait. The α7 III has amazing dynamic range but when you combine that with a polarizer and a graduated ND filter, it really makes the landscape look incredible.
Goal Zero Venture 30: Being on the road it's crucial to always have a way to quickly charge something so this little power pack has become an essential tool in our camera bags. We typically use it to charge phones or headlamps but it's nice to have the security of knowing we could charge a camera with it if needed since the α7 III has a charging port built in.
Shimoda Explore 40, F-Stop Gear Shoulder Bag: Marc loves gear and packs are high on the list of gear he loves. He's been extremely satisfied with the Shimoda Explore 40. It has room for everything he needs while being comfortable to carry up the mountain or on the airplane. I, on the other hand, would rather have an assistant to carry my bag for me as I hate feeling like anything is slowing my down and taking me out of my creative headspace. I just started using the F-Stop shoulder bag and it seems to be a good fit for me as it has a simple design without too many bells and whistles distracting me. It's also quick on and quick off.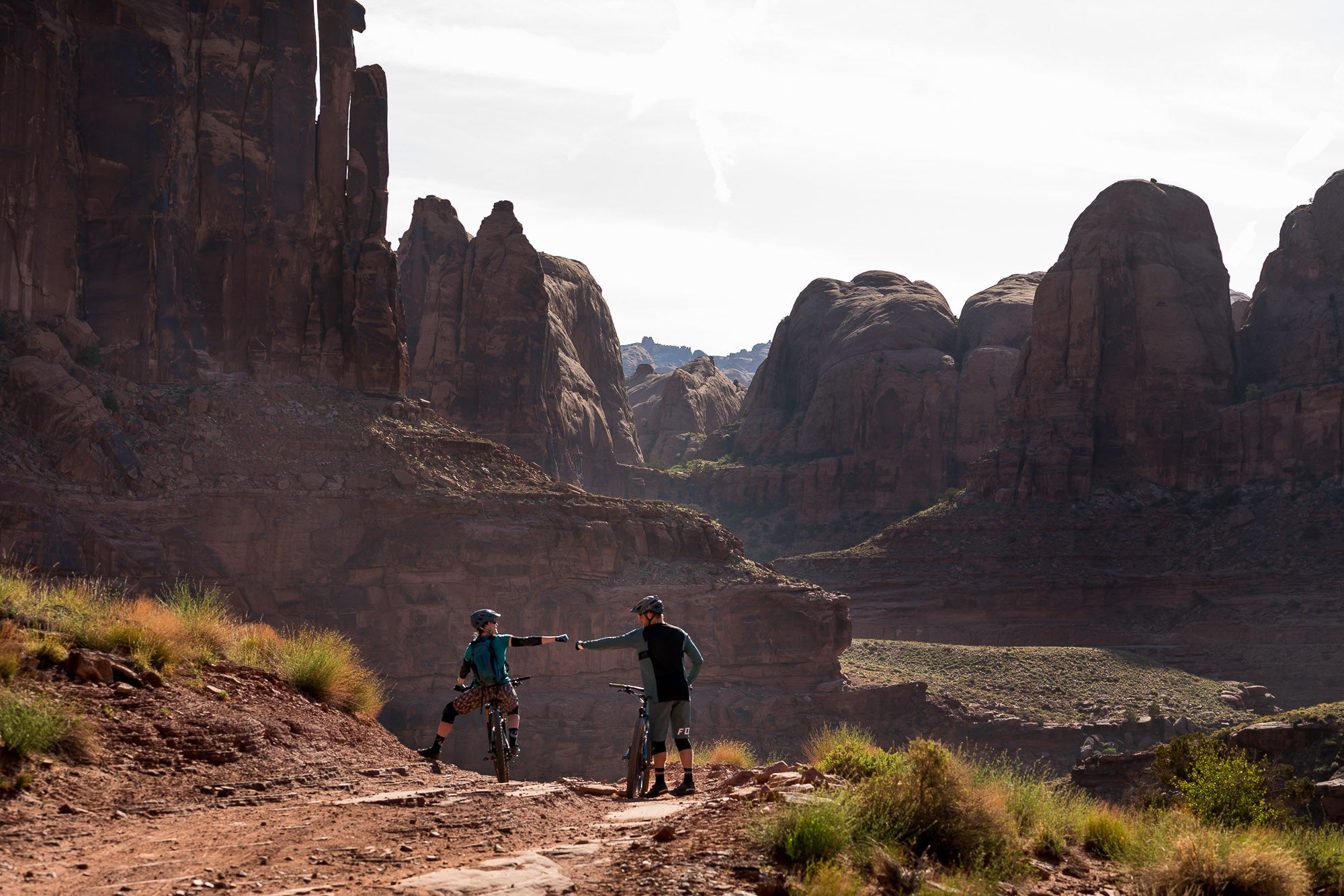 Sony α7 III. Sony 70-200mm f/4 G lens. 1/125-sec., f/7.1, ISO 100. During this mountain biking engagement shoot we used the 70-200 to compress the scene and make the desert towers in the background feel closer. We love that it's compact and light enough even for a riding mountain bikes during engagement shoot!
Other Necessities
The rest of our accessories make working together and battling the elements smoother. The key for us is making things simple, reliable, and avoiding discomfort where we can. We like to remove stresses and distractions so that we can stay in our creative mindset. This allows us to serve our clients in the best possible way!
Midland – LXT600VP3 Radio

SpiderPro Holster with SpiderLight Plate

Peak Design Slide Lite Strap

Black Diamond Storm Headlamps

Snacks to Combat Hanger: Fruit Leathers, Cliff Bars, Ritz Crackers

Warm Layers: Arcteryx Atom SL Jacket