My name is Dave Krugman (@dave.krugman), I'm a photographer and creative residing in Brooklyn, New York. My work spans many genres but I particularly like street photography, travel photography, and portraiture. No matter where I'm working, I always have some sort of well planned kit with me. Though the tools don't make the artist, certain pieces of equipment are essential for me to tell my stories the way I want to- bringing the viewer into a world full of visual richness and depth. I'm currently traveling in Thailand with the Sony Alpha Imaging Collective on a trip that will give us a chance to shoot everything from street scenes to nighttime festivals. Here's a look at the cameras and lenses I'm bringing.
See how Dave Krugman packs light and plans for day and night shoots with fast Sony prime and zoom lenses.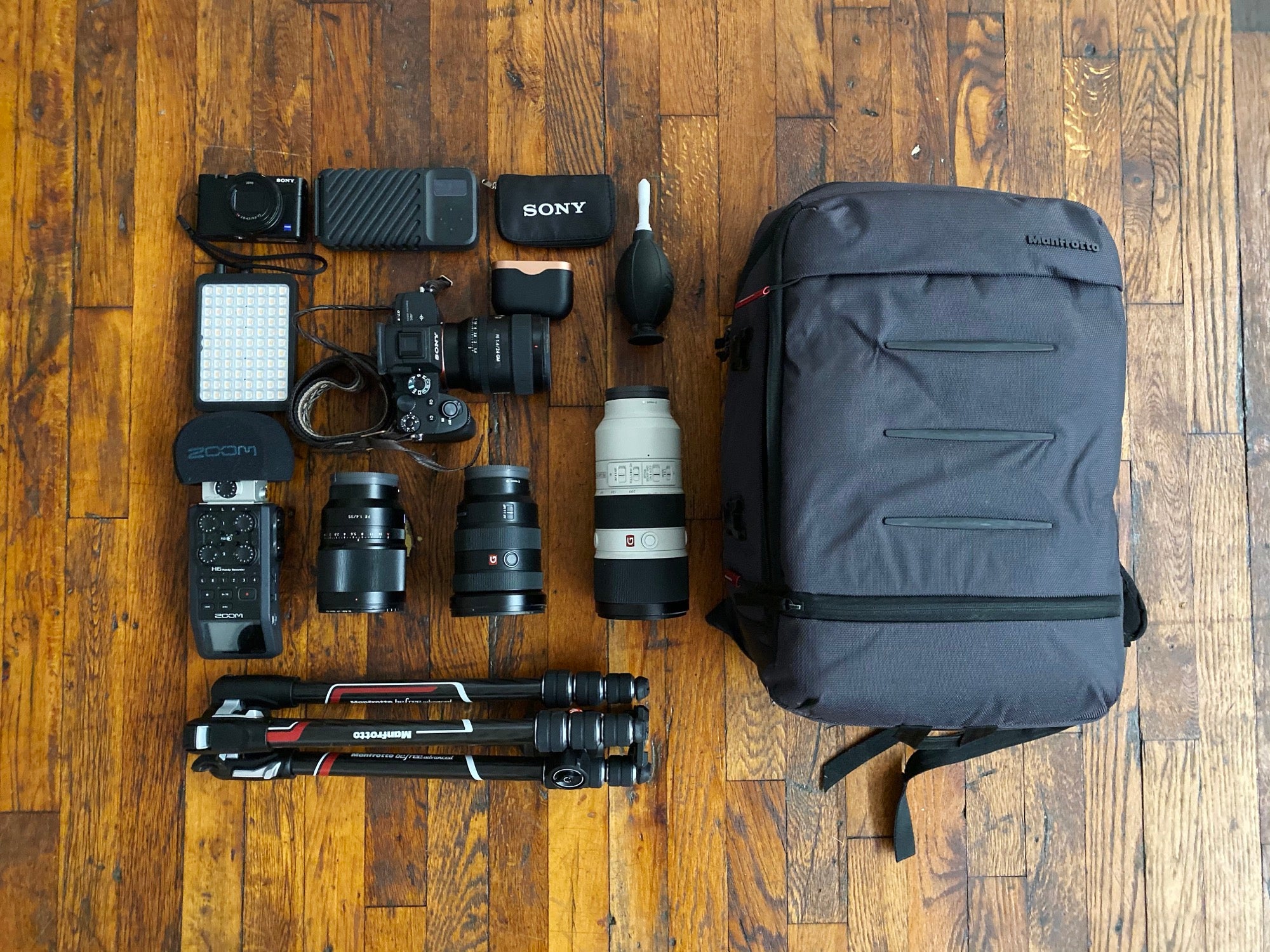 Lenses
For this trip, I'm taking a wide range of glass that will help me get coverage from varying perspectives. I'm brining both zooms and primes with some specific situations in mind.
Sony FE 70-200mm f/2.8 G Master: The 70-200mm f/2.8 GM is essential to bring distant subjects closer, with tack sharpness and a shallow depth of field. I love this lens because I can show detail and emotion without ever inserting myself into the scene. To me, 200mm is like a short telescope, where I can enhance my own vision just by looking through the lens.
Sony FE 16-35mm f/2.8 G Master: I also am packing the 16-35mm f/2.8 GM, for those closer scenes where I want to get the surrounding context as well. The wide angle is key to pulling everything into a frame, with beautiful leading lines to create perspective.
Sony FE 24mm f/1.4 G Master: Since we are heading to a lantern festival, I decided to make sure to bring some fast glass. In this case I have the 24mm f/1.4 GM. I love the sharpness of this lens, even when it is wide open. Light spills into the camera, and since the body is great in low light, this is the perfect lens for late night shooting in those darker scenarios.
Sony FE 35mm f/1.4: I also packed the 35mm f/1.4 since it's another great, fast lens and I expect a lot of nighttime opportunities and this one gives a very natural perspective. I love working on the darker end of the spectrum, so fast glass is essential.
Cameras
Sony Alpha α7R IV: For my camera body, I'll have the Sony Alpha α7R IV, an absolute workhorse of a camera. With its incredible 61 megapixel resolution, I'm able to create raw files that I can really dial into when I'm editing. I have dynamic range to work with, resolution that allows me to make images within images, and a usability that is wonderful for keeping my mind on the scene in from of me, not lost in menus. The camera's video capabilities stand out for me as well, and I plan to create some short films from my time in Thailand with the Collective.
Sony RX100 VI: As a smaller option, and because I like to have options, I also have the Sony RX100 VI. This is a camera that fits in my pocket, shoots 4K video and has a 24-200mm (equivalent) lens. It also has a built in flash. I love taking this thing around because its a quick way to make completely different work without relying on the bigger, bulkier body.
Accessories
Zoom recorder: On this trip I'm also bringing a Zoom Field Recorder to capture some sounds of the city. I intend to use audio cues as another tool for my storytelling on this trip, and I'm excited to see what we are exposed to on our various adventures.
Blower: I'm bringing an air blower to keep my lenses and sensor dust free while switching gear on the go
Extra memory cards: I have a small bag full of SD cards because you can never have too many.
External hard drive: I carry an external drive for overflow from my computer, which will inevitably happen after a week of daily shooting.
Sony Wireless MX10003 headphones: I bring headphones to get into the zone on the plane and when I'm editing.
Tripod: A necessity for longer exposures at night and during the day as I plan to pay attention to the movement of the city around me.